Do you have different forms on your website and want to know how are they performing? By setting up form tracking, you can understand how people interact with your forms and which form converts the best.
But if you go try to use Google Analytics to track form submissions, then sadly there is no direct way. That's because Analytics doesn't track forms by default.
You would have to create custom events and custom tracking codes to trace your forms. Unless you're a developer, this is not easy, as a lot of things can go wrong which can mess up your tracking.
This is where plugins like ExactMetrics come in handy. You can use them to track form conversions with just a few clicks and you don't have to do any coding.
In this article, we'll show you how to track form submissions in Google Analytics. Let's start…
Why Do You Need Google Analytics for Form Tracking?
Form tracking helps you get valuable insights about your user's behavior and how they engage with different forms on your website. And with Google Analytics, you measure important metrics like:
Form Conversion Rate – You can find out how each of your forms is converting on your website
Most Popular Forms – Using the data, you can see which form performs better than others and gets the most submissions, so you can create similar forms
Optimize Your Forms – Tracking form submission helps you optimize your forms that didn't perform so well
A/B Test Your Forms – If you're not sure which form design will work, then you can run A/B test your forms and see which one will convert more
Now, are you ready to learn how to use Google Analytics for tracking form submissions?
How to Set Up Form Tracking in Google Analytics?
As we said earlier, Google Analytics won't track your forms automatically. You would need to do additional configuration to set up tracking.
Now this can be difficult and time-consuming, especially if you don't know how to code. So, is there an easier way?
With the help of ExactMetrics, you can set up form tracking in no time. It's the best premium WordPress analytics plugin and makes using Google Analytics very simple.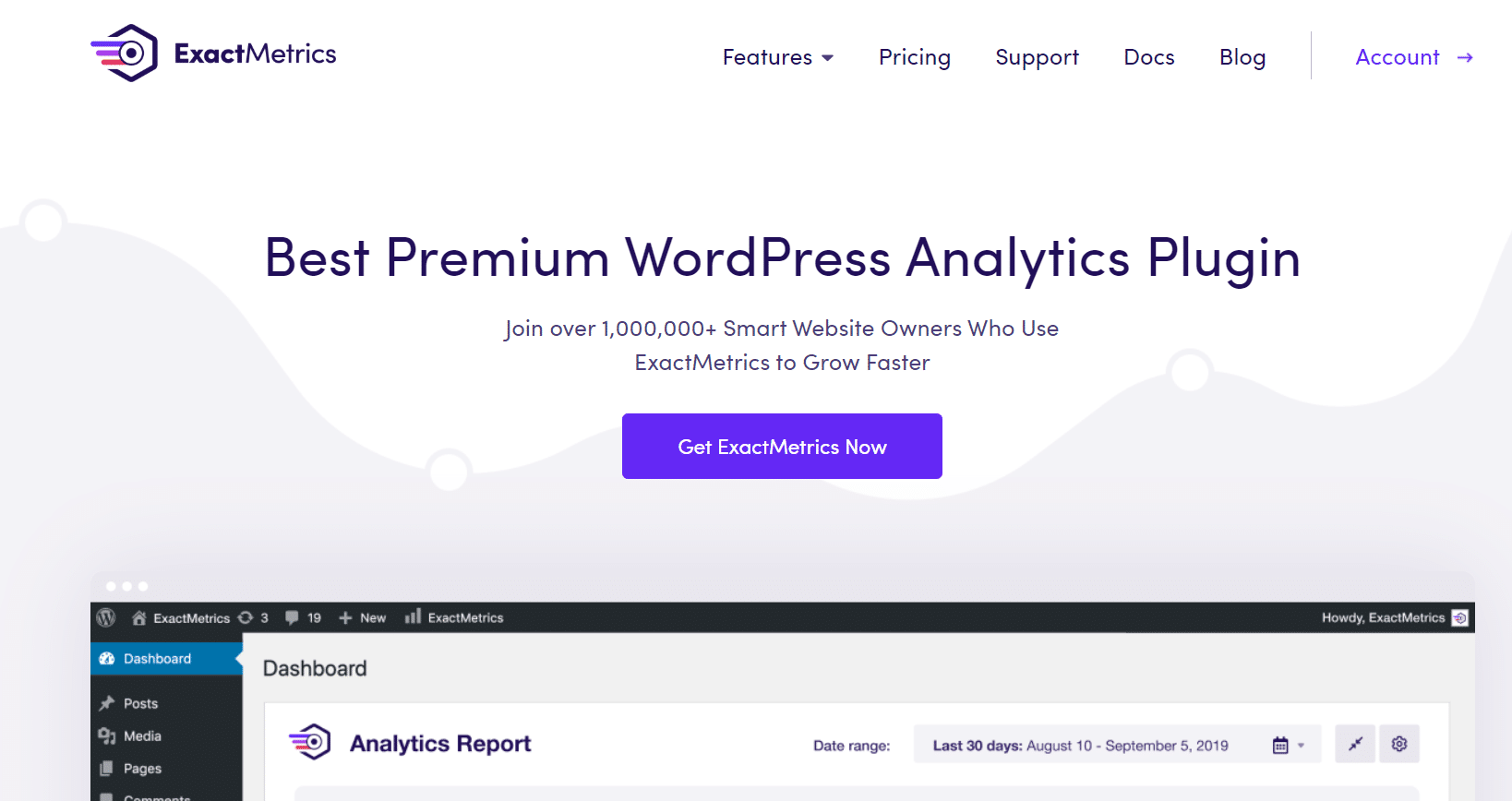 Using the plugin, you can add Google Analytics to your WordPress site without any coding.
Besides that, you can also use it for advanced tracking like measure the performance of your WooCommerce store in just a few clicks.
With that, just follow these steps to get start…
Step 1: Install ExactMetrics Forms Addon
The first thing you'll need to do after installing ExactMetrics plugin on your website, is to get hold of its Forms addon.
To do that, go to your WordPress dashboard and then navigate to ExactMetrics » Addons. Next, go to Forms and then click Install. The addon will automatically activate.
Do note that you'll need ExactMetrics Pro or higher account to access the plugin.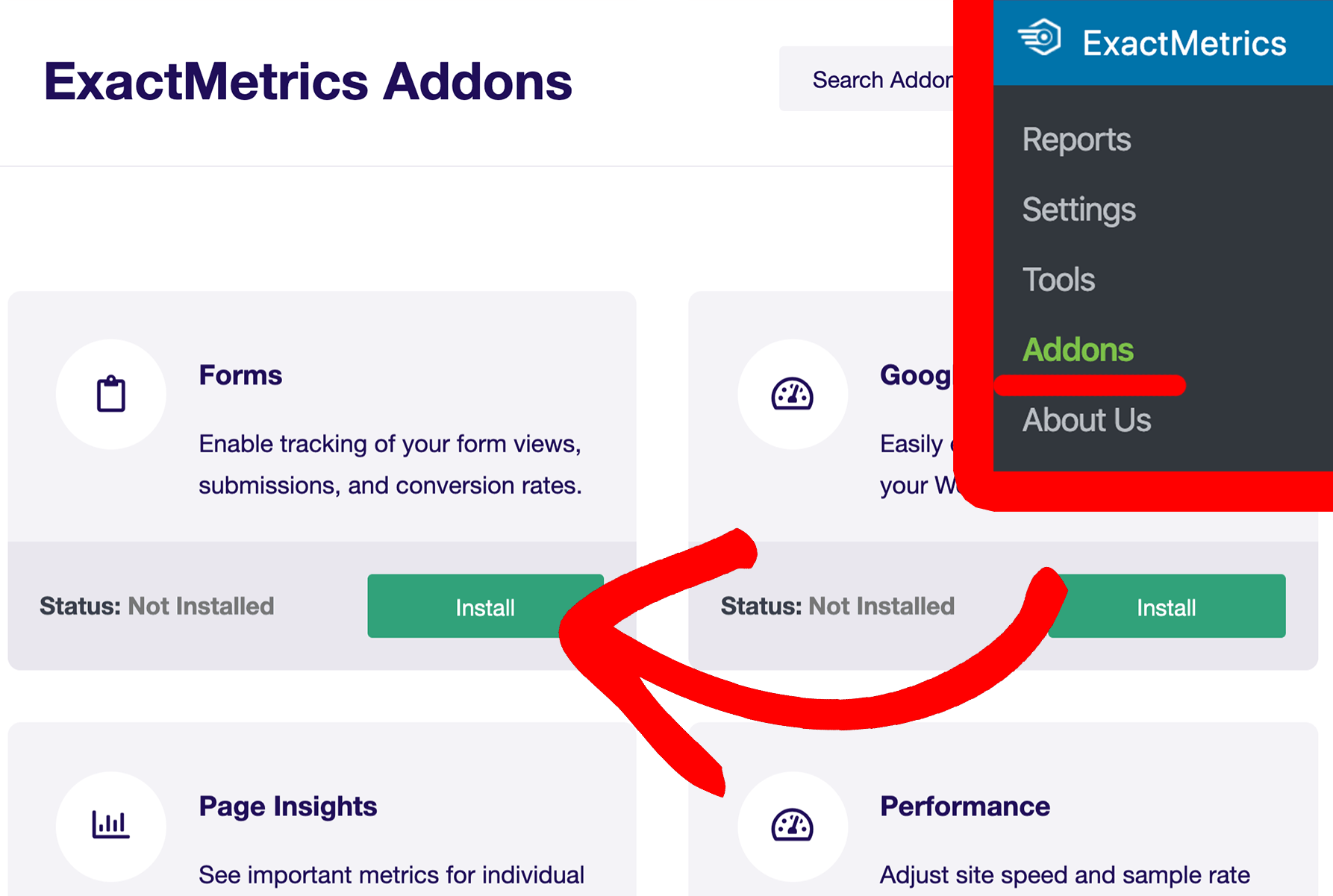 Step 2: View Form Tracking Report in WordPress
After you've installed the addon, ExactMetrics will automatically start to track your form submissions. But it could take 24 to 48 hours for data to start showing up in Google Analytics.
Once the data starts to gather, you use ExactMetrics user-friendly forms report in your WordPress dashboard to get insights.
You can find the report by going to ExactMetrics » Reports » Forms.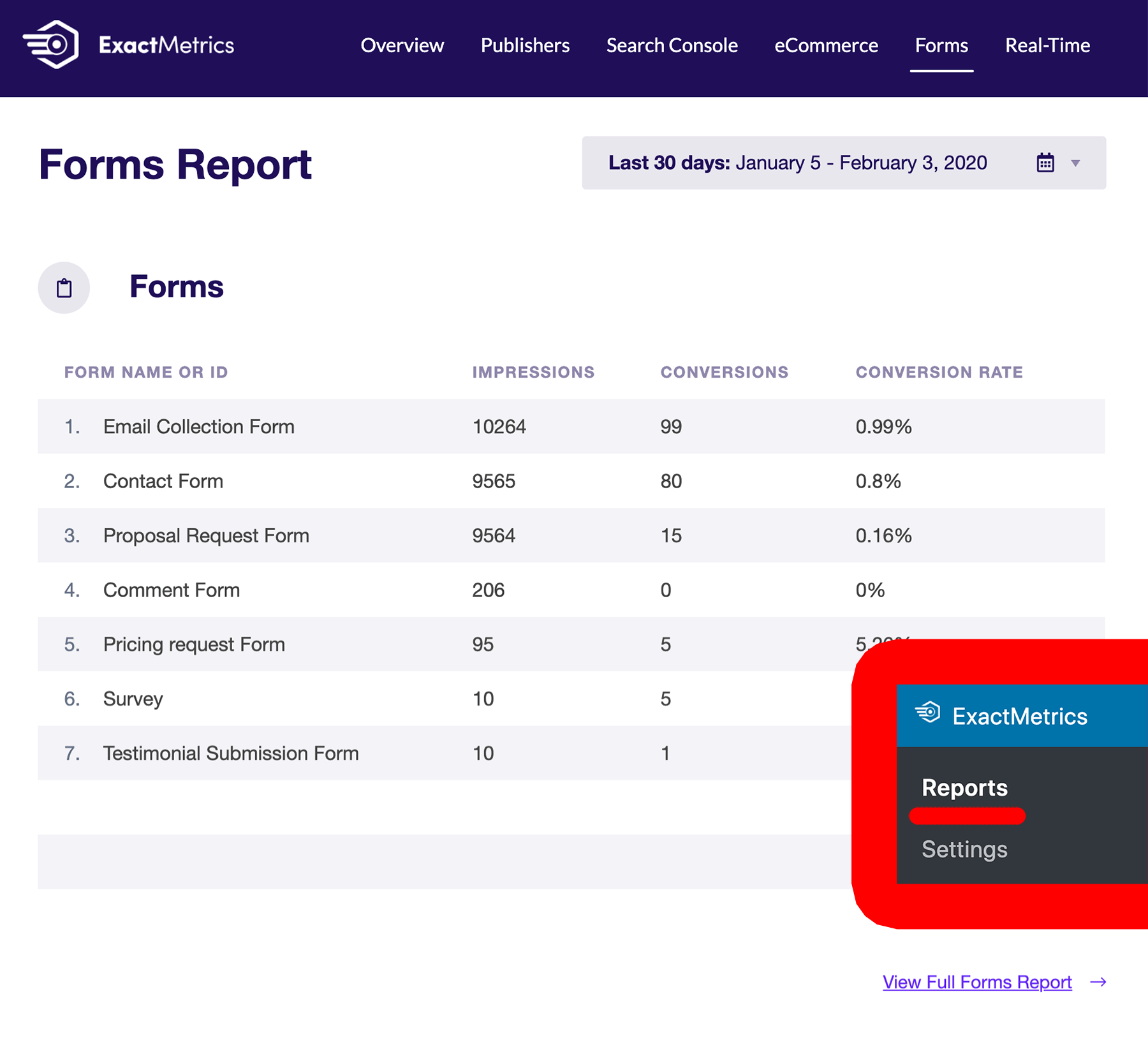 The report will show all your forms that are on your website along with their performance. You can find out how many impressions did a form get, how did it perform in terms of conversions, and what was its conversion rate.
This data is extremely useful for optimizing your forms. You can see which forms to use more and which to avoid or optimize. And if you're running a campaign and use forms to collect leads, then you can also measure your campaign's performance.
Step 3: View Form Conversions in Google Analytics
One of the upsides of using ExactMetrics is that it automatically creates events, so you can view your form conversions in Google Analytics without having to do any additional configurations.
To view the report, login to your Google Analytics account. Next, go to Behavior report and then click on Events » Overview.
Now click on form under the Event Category.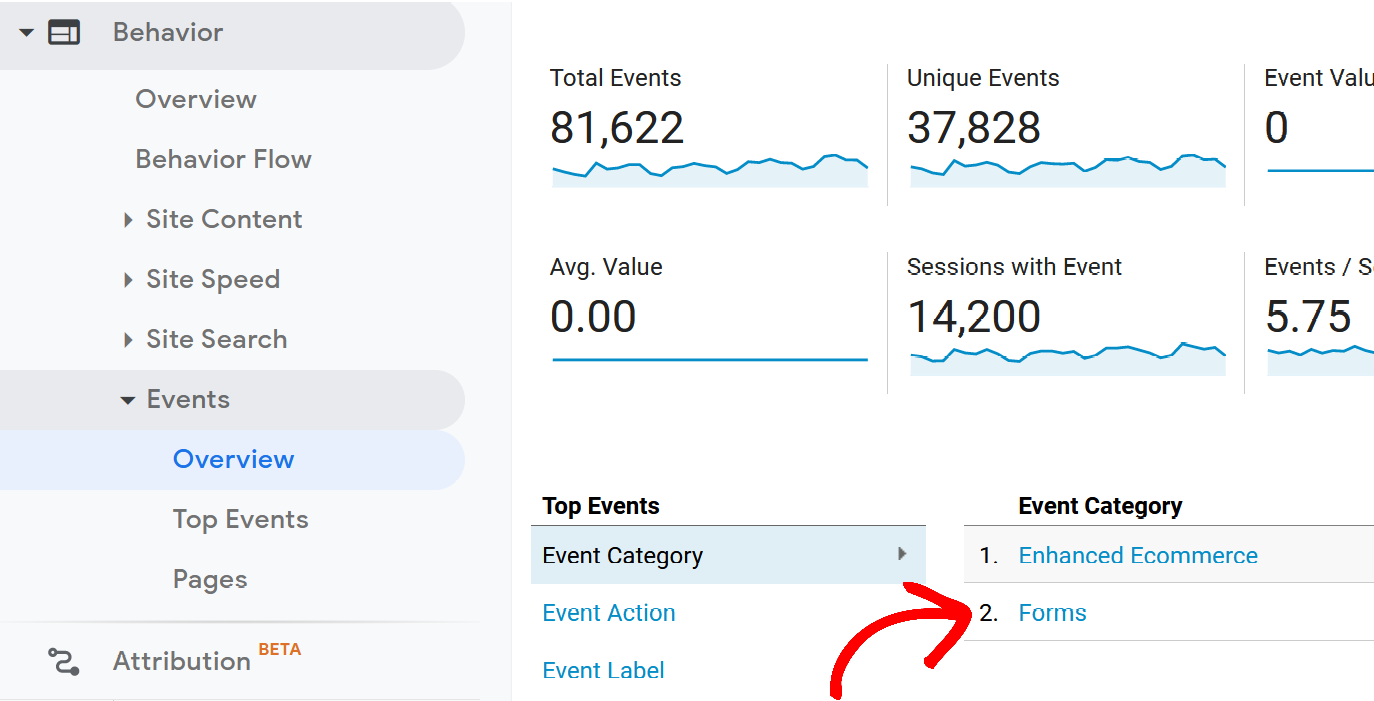 This will take you to your form conversion report. If you want to see stats for each of your forms, click on Event Label on the top.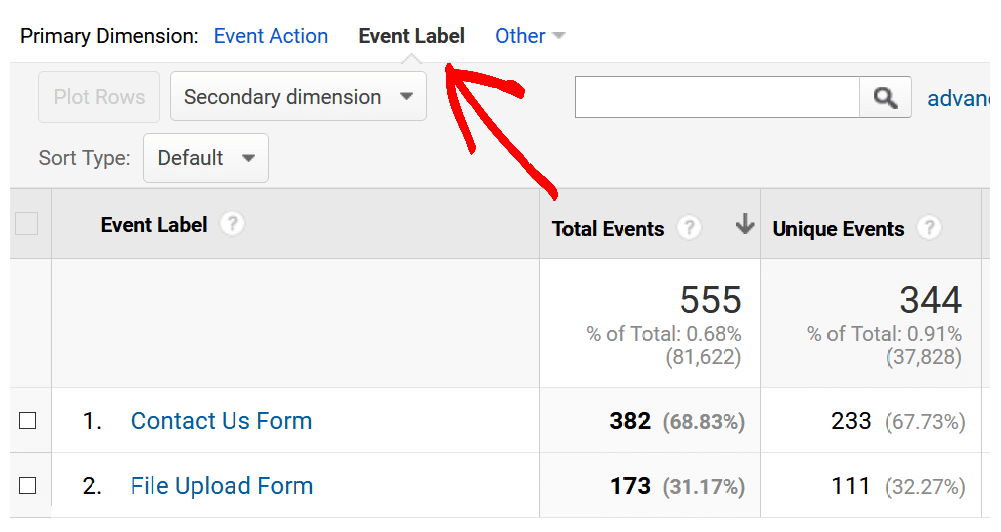 And if you want to see impressions and conversions, just click any of your forms.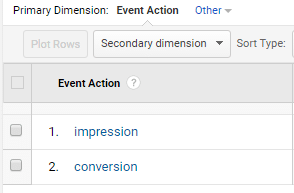 You can even add a Secondary Dimension from the drop-down menu to get more detailed information about your form conversions.
And that's it!
You now know how to track form conversions in Google Analytics. Go through the data and see which forms work and which don't. Then optimize them to get maximum engagement and conversions.
We hope you liked our article on how to track form submissions in Google Analytics. You can also take a look at our guide on which goals are available in Google Analytics.
Don't forget to follow us on Twitter and Facebook to stay updated with the latest guides on Google Analytics.