Last Updated on December 10, 2014 by Chris Christoff
The upcoming updates to Google Analytics Dashboard for WP will all be about improving user experience. The first set of updates will tackle the front-end UX while the following ones will try to bring some UX improvements to back-end.
You've probably noticed that GADWP (due to its design) has zero impact upon page loading speeds for logged out users and logged in users that don't have access to GADWP reports (assuming that we can ignore the tracking code load time, being a Google Analytics requirement).
That's great, but administrators or any other users capable of viewing these reports are definitely experiencing higher page load times! The times needed to retrieve, generate and display the analytics reports, for each post or page, can become annoying and may have a negative impact on user experience (even if it only affects administrators, editors, authors and / or contributors).
Due to the above-mentioned issues, I managed to come up with a solution that will:
improve page loading times without giving up on front-end reports
considerably reduce the number of requests to Google API servers
retrieve analytics reports on request, without blocking the normal page loading flow
After updating the plugin to its latest version you'll notice a link called GOOGLE ANALYTICS REPORTS ▼ at the end of each post / page (see the screenshot bellow):
Depending on your WordPress theme, the above link may look different (because it will inherit the CSS properties of your content links).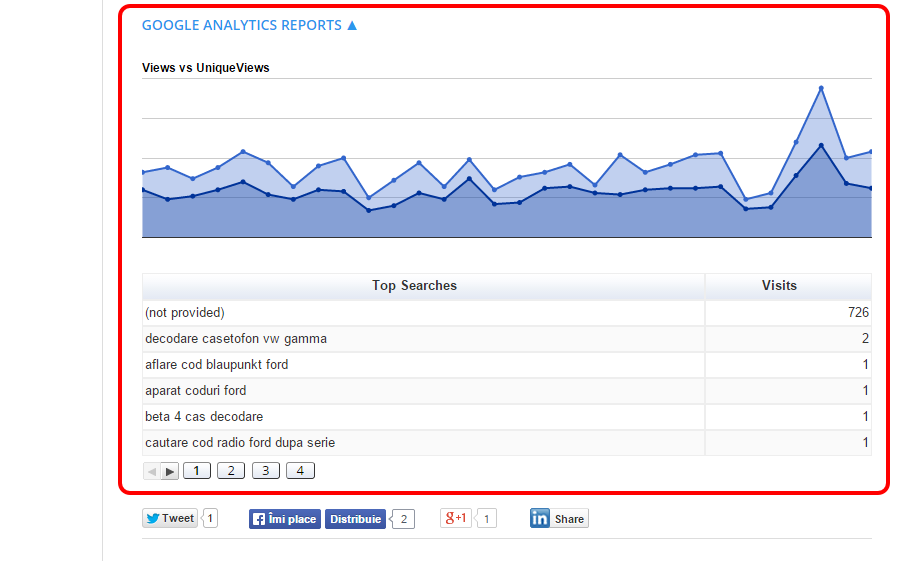 You can easily check the analytics reports corresponding to a page or a post, by clicking the GOOGLE ANALYTICS REPORTS ▼ link.
A blue progress bar will keep you informed about the process of retrieving, generating and displaying the requested report.
After applying a similar concept to the front-end widget, I'll move on to optimizing things in the back-end.