Are you interested in sharing ExactMetrics and making money online?
Then you're in the right place! When you sign up for the ExactMetrics affiliate program, it's easy to make money with your referral link. You'll earn a 20% commission on every sale made through your unique affiliate link.
You can follow the steps below to get started and create your referral link. Then promote in on your website, email newsletter, and social media to start earning a commission.
Why Join the ExactMetrics Affiliate Program?
ExactMetrics is the best Google Analytics plugin for WordPress. ExactMetrics makes it easy to set up Google Analytics on your website and automatically track all the data you need. It also generates reports to give you detailed and actionable insights on your users' behavior.
Tracking and reporting features include file download tracking, event tracking, popular pages, popular authors, referral sites, audience demographics, ad tracking, and so much more.
ExactMetrics is designed to never slow down your site. The support team is knowledgeable and quick to respond to any question. That's why over 1 million sites use ExactMetrics!
As an ExactMetrics affiliate, you'll be able to share the best analytics plugin for WordPress and earn 20% of every sale you refer.
Here's the commission structure:
Plus License sells for $99.50 – you earn $19.90
Pro License sells for $199.50 – you earn $39.90
Agency License sells for $399.50 – you earn $79.90
Pro 100 Site License sells for $699.50 – you earn $139.90
Pro 200 Site License sells for $849.50 – you earn $169.90
Pro 500 Site License sells for $999.50 – you earn $199.90
As an affiliate, you're our partner and we want to help you earn money. Follow the steps below to join our affiliates who are earning thousands per month.
How to Become an ExactMetrics Affiliate
The first step is to join our affiliate program on ShareASale.
Click here to join our affiliate program
Note that by joining the ExactMetrics Affiliate Program, you agree to abide by the Affiliate Terms and Conditions.
We manually review and approve all affiliates, so it can take up to 48 hours before you get approved.
Once you're accepted into our VIP affiliate program, you'll need to login to your ShareASale account.
Then, you can click on Links » Get a Link / Banner in the top menu.

Next, scroll down to find ExactMetrics.com, and then click on the Get Links button.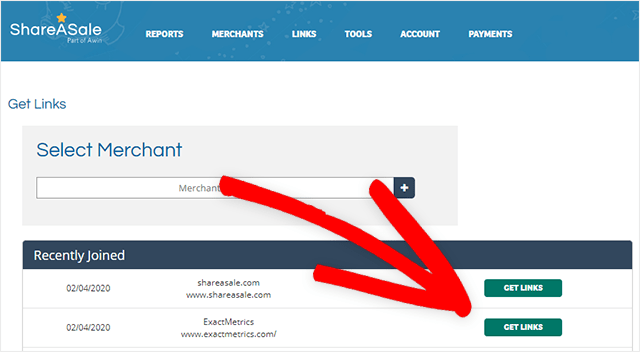 On the next page, you'll see your affiliate link along with different banners. On the right, click on Get HTML Code.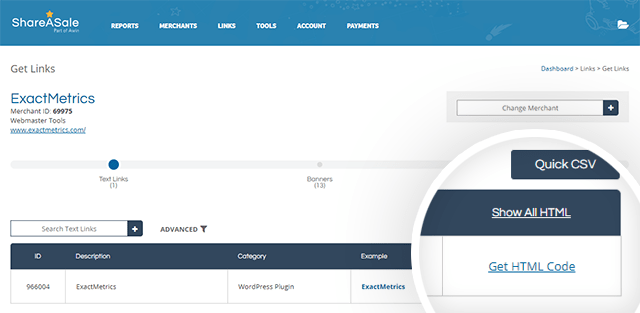 The box will expand and show your affiliate link. It will look something like this:
http://www.shareasale.com/r.cfm?B=601672&U=123456&M=49337&urllink=
If you'd like to use a banner instead of a text link, you can click on the Banners tab to see all the different banners that you can use. Then you can simply click on the banner to see the code you need to display it on your site.
That's it! Now you can start promoting ExactMetrics and making money!
Thank you for choosing the ExactMetrics affiliate program. If you have any questions, please contact us and we'd be happy to help.