We're often asked, is there a way to know which affiliates perform the best? By tracking affiliate links on your website, you can get insights about boosting your revenue.
Using Google Analytics, you can see the number of clicks an affiliate link generates. It helps you understand your user's behavior and the effectiveness of your campaigns.
However, using Google Analytics isn't that simple. If you're a new user, then navigating your way around Analytics and setting up affiliate tracking can be tricky. But there is an easier way.
In this article, we'll show you how to track affiliate links in WordPress. We'll also go over a WordPress plugin that you can use to manage your affiliate links on your website.
If you already have your affiliate links set up, you can click here to skip ahead to the link tracking tutorial.
Let's begin…
What are Affiliate Links?
Affiliate links are URLs that you can use to track the performance of different affiliates on your website. These are links have a unique ID, also known as affiliate ID or offer ID.
The purpose of these IDs is to help you distinguish between different affiliates and see which is performing better. Here's what an affiliate link would look like:
https://www.example.com/?aff_id=1234_&sdjs32_xzy
With that, let's look at the benefits of tracking affiliate links.
Why Should You Track Affiliate Links?
By collecting data about affiliate links, you can get valuable insights that you can use to grow your website and increase sales.
Here is why tracking affiliate links is important:
Identify High Earning Affiliates – You can find out which affiliates generate lots of clicks and convert the best, so you can promote them more on your site to maximize profits.
Find New Content Opportunities – When you track affiliate links, you can also see which type of content is performing the best and getting you sales, so you can find similar topics and create content around them to promote affiliates.
Measure Effectiveness of Marketing Campaigns – If you run different affiliate marketing campaigns on your website, then affiliate link tracking can help you measure the ROI of each campaign and highlight top traffic sources.
As you can see, there are many benefits of tracing affiliate links. But what if you have a link on multiple pages and now you need to change the link. Is there a way to automate this process? Let's find out…
How to Manage Affiliate Links in WordPress?
When you first start an affiliate website, it's easy to manage different links since there are few pages and posts. You can manually edit, add, or remove affiliate links.
But as your site grows over time, it becomes incredibly difficult to manage so many links. It will take you several hours to go through each blog post and web page to update affiliate links.
This is where you can use an affiliate link management plugin like Pretty Links. It's the best WordPress plugin you can use to manage affiliate links.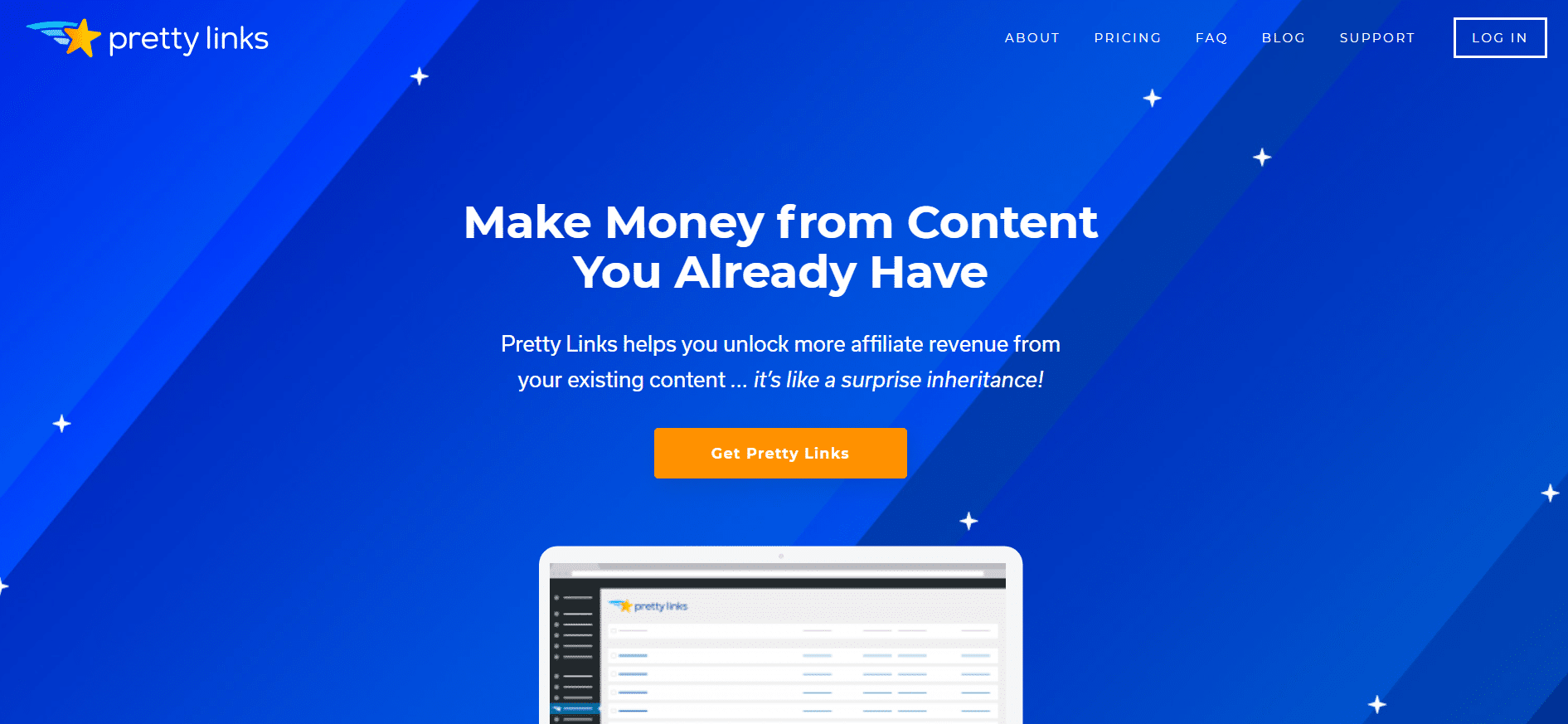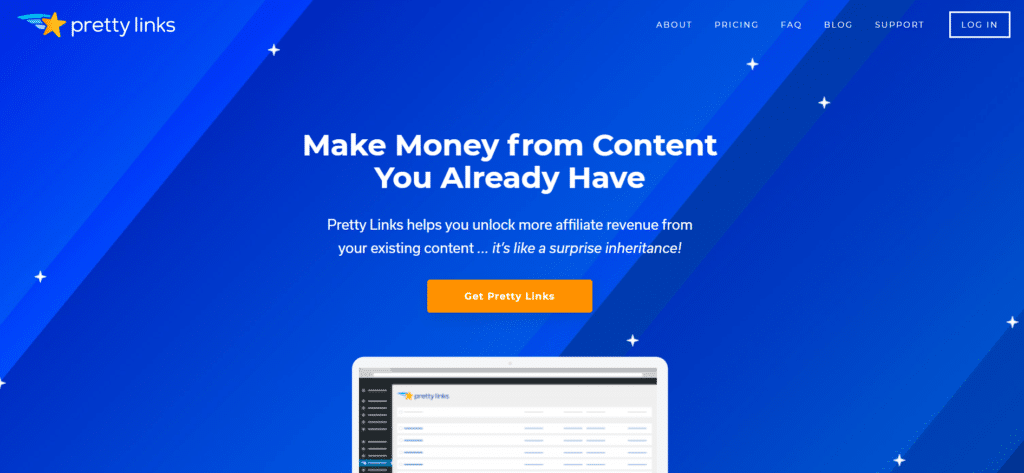 With the help of Pretty Links, you can organize all your affiliate links and update them with a single click without having to go through each page manually. You can create categories and tags to sort different affiliates on your site.
The plugin also makes your affiliate URLs more user-friendly to read. Instead of showing a long string symbols and characters in your links, you can convert them into something that's easier on the eye.
For instance, you can create a URL like this:
https://www.example.com/refer/ABC
Using Pretty Links, you can set up redirects in WordPress with ease. You can configure permanent redirects (301) or temporary redirects (302 or 307).
So, how do you use Pretty Links?
Pretty Links is very easy to use. just follow these steps and you'll be managing different affiliate links in an instant.
Step1: Install Pretty Links Plugin
Download and activate the Pretty Links WordPress plugin. You get hold of the plugin from your WordPress dashboard. Go to Plugins and then Add New. Now, search Pretty Links to install and activate the plugin.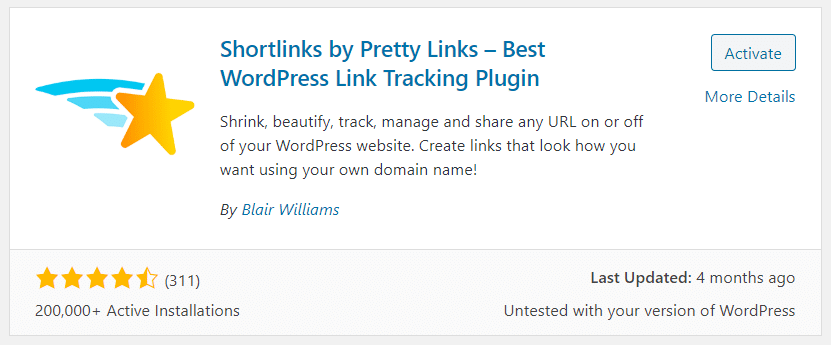 Step 2: Enter an Affiliate Link
After activating the plugin, you can now start to add your affiliate links into the plugin. Click Add New to get started.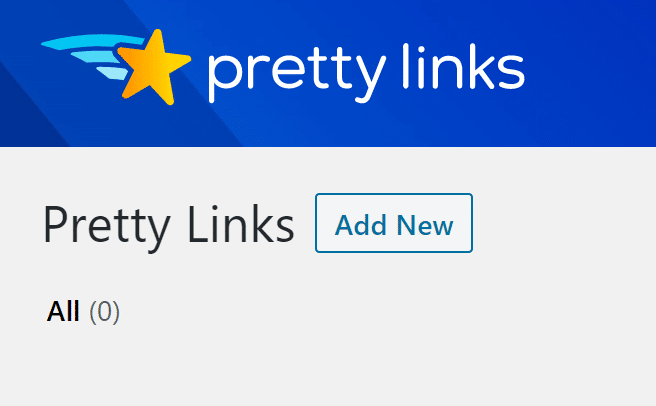 Step 3: Add Details of Your Affiliate Link
The next step is to enter details of your affiliate link. You can specify the redirection that you want on the link (301, 302 or 307).
Then add the target URL, Pretty Link URL, and any notes that you want for the affiliate link. Once you're done, click Update to save the changes.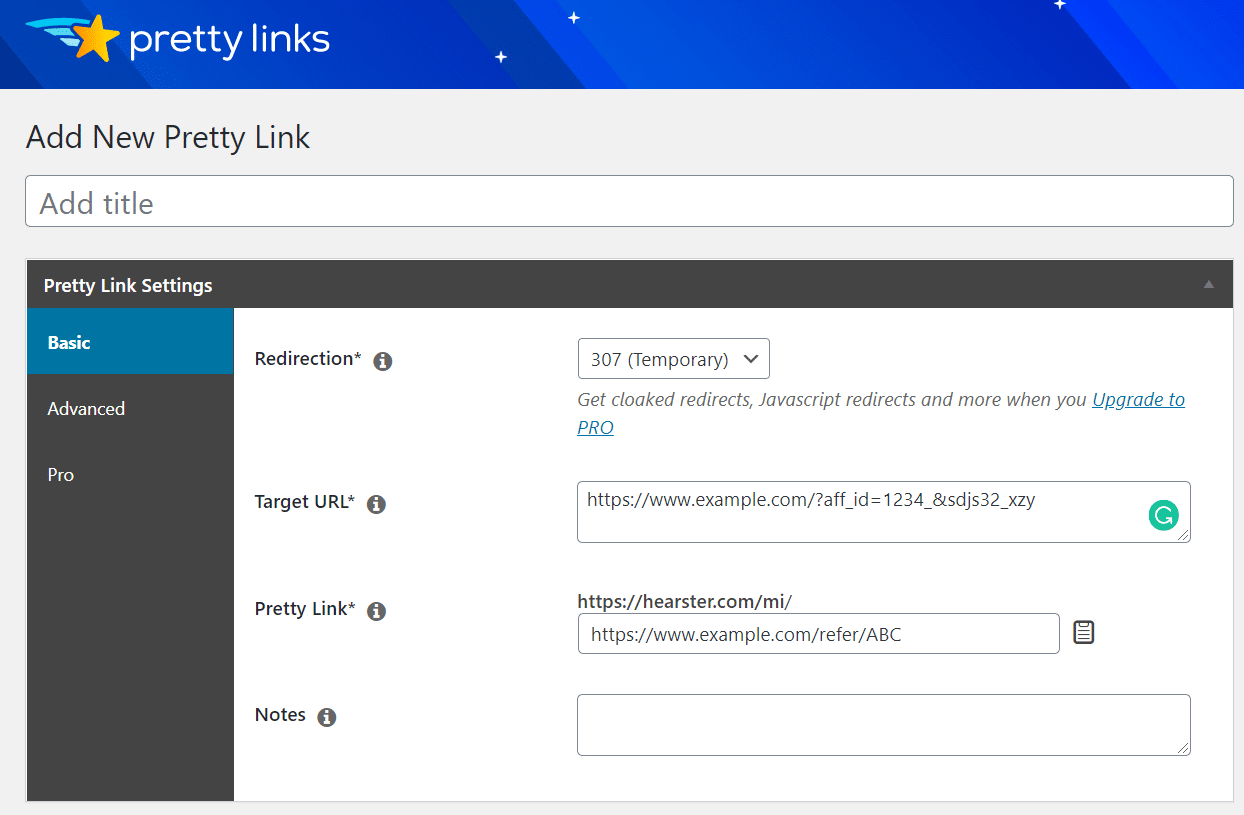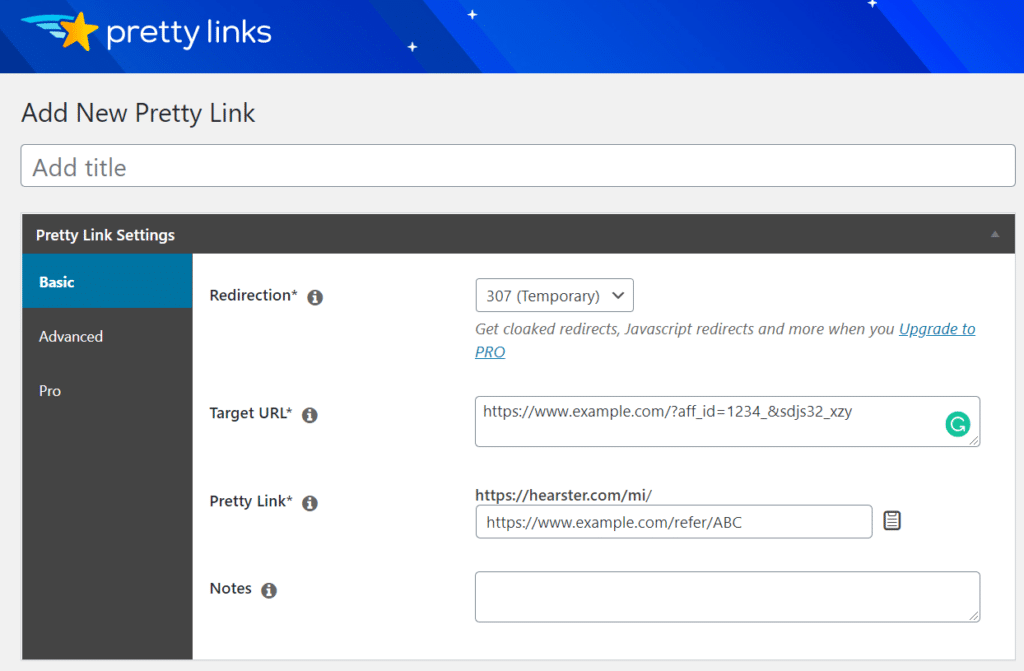 In the advanced settings, you can enable more options like do you want the link to be no-follow, add parameter forwarding, and tracking.
And for Pretty Links Pro users, there are additional settings like you can set an expiration date for a URL. You can even replace links with specific keywords or phrases in your content.
Now that you know how to manage different affiliate links on your WordPress site, are you ready learn how to track them?
How to Track Affiliate Links Using ExactMetrics?
To track affiliate links, the best way is to use ExactMetrics. It helps you connect Google Analytics with your WordPress website without the need for any coding. You can also perform advanced configuration using the plugin.
And with its Affiliate Link Tracking feature, you can automatically track the performance of different affiliates across your site.
You may ask at this point, how to use ExactMetrics for tracking affiliate links? Just follow these steps…
Step 1: Install and Activate ExactMetrics Plugin
First, install and active ExactMetrics on your website. To access the plugin, go to Plugins and then select Add New.
Now search ExactMetrics and install the plugin. Upon activation, it should appear in your WordPress dashboard.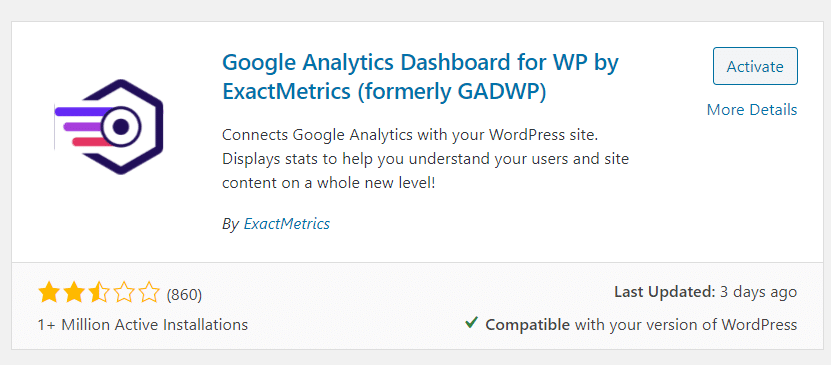 Step 2: Configure Affiliate Link Tracking
Now, go to ExactMetrics » Settings and then select Publisher from the top menu. The first option you'll see will be of Affiliate Links.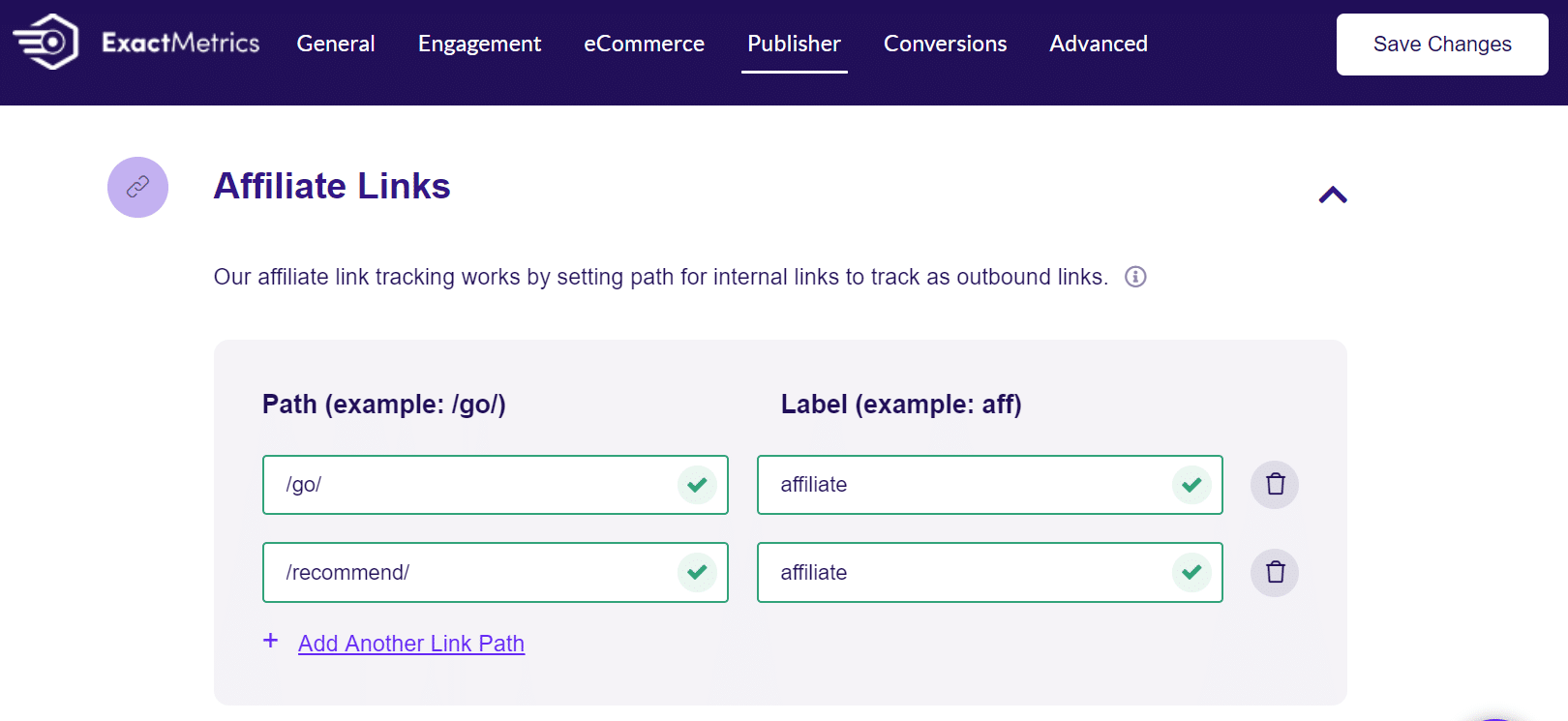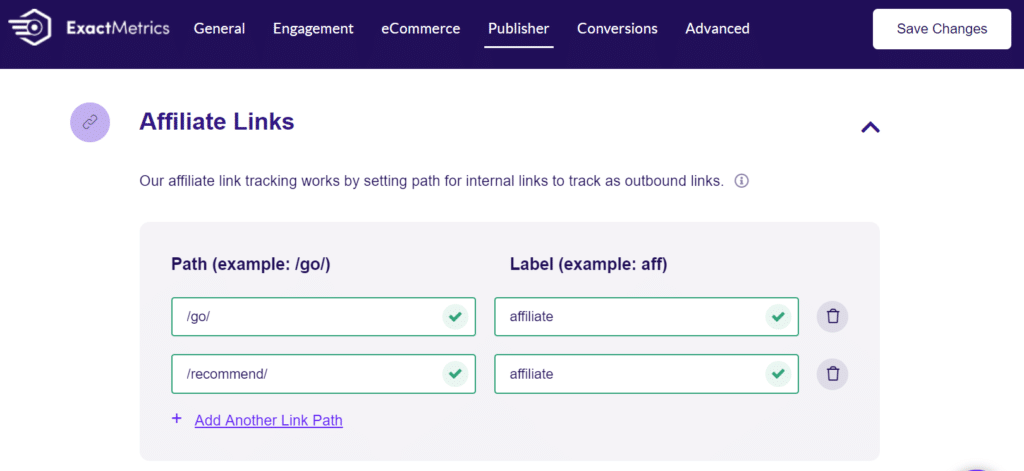 You can enter the Path of your affiliate link to help Google Analytics differentiate between affiliate links and other links. It works by setting the path for internal links to track as outbound links.
For instance, since your URL contains the Path /recommend/ or /go/, Google Analytics will record these URLs as affiliate links. And it will know that these links are different from other outbound links on your website.
As for Label, this helps you trace the clicks from each affiliate link. They are added at the end of the URL and would look like this: outbound-link-affiliates. So, if you want to view these links in Google Analytics, you'll know these are affiliate links.
Step 3: View Affiliate Link Report
After setting up affiliate tracking, you can now view their performance using ExactMetrics reports. To access the report, go to ExactMetrics » Reports » Publishers.
Now scroll down and view the Top Affiliate Links report. You can see which affiliate is performing the best and generating the most clicks.
Using the data from this report, you can optimize your pages to increase your revenue.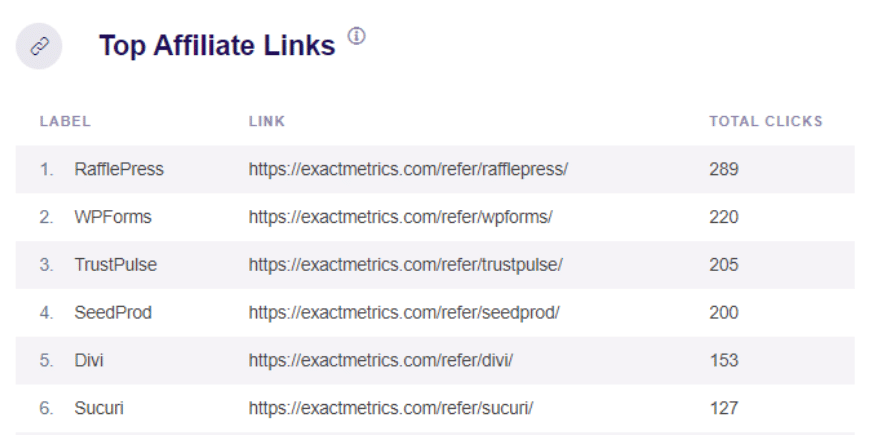 Congratulations!
You now know how to track affiliate URLs on your website.
With the help of ExactMetrics, you can automate tracking and get insights about your affiliates. And with the Pretty Links plugin, you can keep your URLs organized.
We hope you liked our article on how to track affiliate links in WordPress!
Don't forget to follow us on Twitter and Facebook to stay updated with the latest guides on Google Analytics and WordPress.