The latest update is out, with a number of key improvements and fixes in ExactMetrics 7.9!
The most exciting new feature for ExactMetrics users is the introduction of our ExactMetrics Website Badge! This badge shows that your website has been connected and verified by ExactMetrics and Google.
When you display the ExactMetrics badge on your website, visitors will see that you have successfully set up and connected to ExactMetrics.
To quickly add the new badge to your site's footer, simply go to ExactMetrics » Tools in the WordPress dashboard menu. Then click the Website Badge tab to go to this page: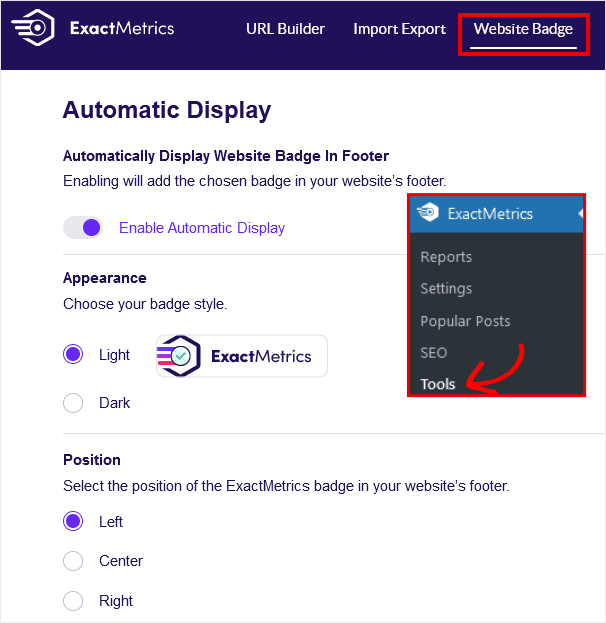 Switch on Enable Automatic Display to show the badge at the bottom of all your web pages inside the footer area. You have two badge styles and three locations to choose from when you select auto-display.
The tool also offers a shortcode so you can display the badge on any post or page on your site. Just switch Off the automatic display and you'll see the shortcode to copy and paste.
In addition to the new badge, ExactMetrics 7.9 includes minor changes to improve user experience and speed. If you have ideas for new features or beneficial addons, please get in touch!
Update your ExactMetrics plugin today to make sure you're getting the most complete, accurate Google Analytics data for WordPress!
Not using ExactMetrics yet? What are you waiting for?
Don't forget to follow us on Twitter and Facebook to see all the latest reviews, tips, and Google Analytics tutorials.