If you manage a WordPress website, you really should create regular backups of your site's files. Fortunately, plugins have made this task incredibly simple. In this article, we'll show you the best backup plugins for WordPress to prevent disasters and keep your site running perfectly.
What Is a Backup Plugin?
A WordPress backup plugin is a piece of software that helps you make copies of your website's content and data. Then, if your site has a technical issue that causes it to malfunction, you may be able to use these backup files to restore your site to working order.
One of the best features of backup plugins is the ability to automate the backup process. So, once you set up your backup routine, you won't need to spend much time managing it.
Why Do You Need a Backup Plugin?
The files that make up your website are vulnerable to a number of threats: hacking, environmental disaster, user error, and technical malfunctions. Any of these factors could result in you losing data or content, and may even break your site so that it's completely non-functional.
A backup plugin for WordPress can save copies of all these files on a regular schedule. Many of them also include tools to help you recover and rebuild your site in the event of a problem. And, you don't need a lot of experience or technical skills to use them effectively.
Are you convinced that you need a backup plugin to protect your website from disaster? Then let's jump right into our list of the best WordPress backup plugins….
Our Top 5 Backup Plugins for WordPress
UpdraftPlus gets our #1 score in backup plugins for its robust free version, plus the excellent value of its premium subscriptions. With 4.8 out of 5 star rating from over 6,000 reviewers at WordPress.org, UpdraftPlus is also a hit with over 3 million users.
UpdraftPlus free gives you all these essential features:
Backs up all your WordPress files and databases to a remote storage location
Back up files manually or set an automated schedule
You can schedule backups from every 2 hours to monthly, depending on your needs
Keep as many previous backup copies as you like
Includes restore function to repair corrupted or missing files
Back up files to popular locations like Google Drive, Dropbox, Amazon S3, or email
Include or exclude WordPress directories and create custom exclusion rules
View backup files in WordPress dashboard
As you can see, this is a powerful free tool. This version is probably all you need if you don't have a large site and don't need more frequent backups than every 2 hours.
UpdraftPlus doesn't have a huge number of settings, so it's quite simple to learn and use.
The Premium version of UpdraftPlus does add some impressive features for less money than many competitors.
These are a few highlights of the paid version of UpdraftPlus:
Incremental and partial backups
Automatic backups before theme, plugin, and core WordPress updates
Clone and migrate WordPress websites
Set the time for backups to run, so you can avoid busy hours
Save backups to multiple locations
Works with WordPress multisite installation
All in all, UpdraftPlus is our most highly recommended backup plugin for WordPress, for both free and paid versions. It has all the options and tools that the majority of WordPress users need to back up and restore their site files and data. Plus, all of this comes in a simple package that anyone can navigate.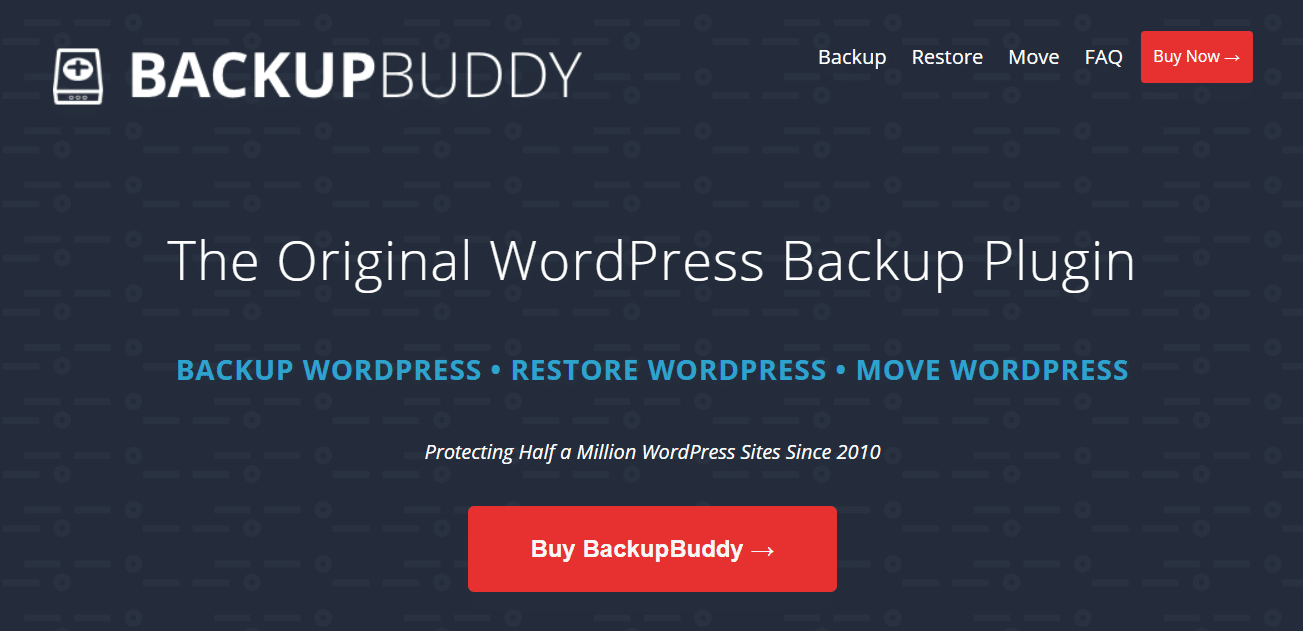 BackupBuddy is one of the all-time favorite backup plugins on WordPress, with over one million installations. First released in 2010, it's also one of the first backup plugins developed for WordPress.
Unlike our top choice, UpdraftPlus, BackupBuddy is a premium plugin with no free version. In addition, the menus and interfaces in BackupBuddy are a little more complex and have a steeper learning curve to figure out.
Like UpdraftPlus, BackupBuddy covers these 4 essential functions of a WordPress backup system:
Saves all WordPress files and databases to allow for a complete website recovery
Scheduled, automated backups at set intervals
Backup files are stored in a remote, secure location
Tools included for restoring a site from backup files
A few notable extra features included in BackupBuddy:
Stash Live is cloud-based, dedicated backup storage with realtime monitoring and 1 GB included
Ability to restore individual WordPress files, just the database, or the entire website
Migrate websites between hosts or servers, with automatic URL rewrites
Scan your site for malware or database errors and repair database automatically
While the features offered by BackupBuddy are comparable to UpdraftPlus, its pricing is significantly higher. That's why we've placed BackupBuddy at #2 on our list of best WordPress backup plugins.
If you've been around WordPress, you probably know the Jetpack plugin. It includes a collection of tools for WordPress sites, mostly related to site security and performance.
Jetpack is made by Automattic, the same company that created the WordPress platform. So, if you want a backup solution that is guaranteed to work with the WordPress core software, you may be interested in VaultPress.
VaultPress is the name of Jetpack's WordPress backup plugin. You can purchase VaultPress as a standalone product, or bundle it with other Jetpack components. There's no free version of VaultPress.
One thing that makes VaultPress stand out is its realtime backup process. It saves and creates backups as you edit your site, and you can restore from any of the saved backups from the previous 30 days.
Outside of the realtime monitoring, VaultPress offers these features and benefits:
10GB of cloud storage included in the base plan
Supports WooCommerce data backups
Redundant cloud backups stored in separate locations
Priority support from WordPress experts
One click website restore
Because you need to purchase a subscription for every individual website you run, VaultPress can be a little more pricey than the competition. But, if you need realtime backups, Woocommerce support, and 10 GB of secure cloud storage, it may be worth it for you.
With over a million active installations and a nearly 5-star average rating, Duplicator is the #4 backup plugin on our list. This plugin makes it easy to save, migrate, and restore WordPress websites.
Duplicator is designed as more of a migration and cloning tool than simply a backup plugin. It creates a package that contains all your site's plugins, themes, content, database and WordPress base files into a zip file. This file can be used to migrate a complete WordPress site to any other host or server.
One of the coolest features of Duplicator is that this package file includes the WordPress core files, so you can instantly create a WordPress site on a server where WordPress isn't installed.
Of course, Duplicator can also save your WordPress files as a backup in case of emergency. The first thing you are asked to do after installing Duplicator is to click a button to create an archive of your current site in a package.
While Duplicator's free version provides all the functionality we described, you need to upgrade to Duplicator Pro to get these critical features:
Ability to schedule the creation of new packages
Recovery points that allow you to roll back site changes to a previous version
If you need to clone a site and install in multiple locations, or migrate a complete WordPress site including core files, Duplicator might be your best solution.
At #5, last but not least on our list, we have BlogVault. This backup plugin for WordPress makes our top picks thanks to its enterprise-level feature set and slick dashboard.
Both free and premium versions of BlogVault are incredibly easy to set up and use. When you activate BlogVault, it automatically begins syncing your WordPress site with a backup copy stored on the cloud.
The free and Basic subscriptions give you one daily automated backup, and their included cloud storage has no limits on size. These plans come with 30 days of stored backups. If you need more frequent backups or a longer time period of saved backups, you'll need to upgrade to the Plus or Pro level.
BlogVault has the most flexible choice of pricing plans out of our list. Each subscription level can be licensed for use on 1, 3, or 10 websites, so you can save money if you run a larger network of sites.
Outside of the basic features, premium versions come with some other advanced capabilities:
Realtime backups for WooCommerce sites and WordPress multisite support
Automated malware scans and removal
Uptime monitoring and integrated staging site
Includes activity logs so you can see exactly what changed on your website, and when
Protection from bot attacks and realtime firewall
All in all, BlogVault is a highly capable WordPress backup plugin with a bunch of additional security features built in. If you operate an eCommerce site or some other site with mission critical data and uptime requirements, you should consider getting BlogVault.
And that's all for our roundup of the best backup plugins for WordPress. All of these tools are proven to work great, and they all offer something a little different depending on your business needs.
If you liked this article, you might want to read about the best WordPress tutorials and resources for beginners.
And remember to follow us on Twitter and Facebook to see more tips and tools for Google Analytics and WordPress.