Today, we rolled out a new ExactMetrics website along with a completely redesigned version of both ExactMetrics premium and free plugin.
It is by far the biggest update to ExactMetrics since the launch itself.
Over the last eight months, our team did a complete rewrite of the ExactMetrics plugin code (now in Vue.js), created a new guided setup experience, designed 7 custom reports, and built 10 powerful analytics addons.
On top of that, we also revamped the underlying infrastructure to make it more reliable, scalable, and faster to see your reports in real-time.
To say that it was a challenging task would be an understatement, but we couldn't have done it without the support of our amazing users who helped us through the beta testing phase.
Thank you so much, we truly mean it!
This new direction will help us bring one step closer to our goal of: Helping smart website owners grow faster with data-driven decisions.
Let's take a look at all what's new in ExactMetrics.
New Design + Improved Onboarding Experience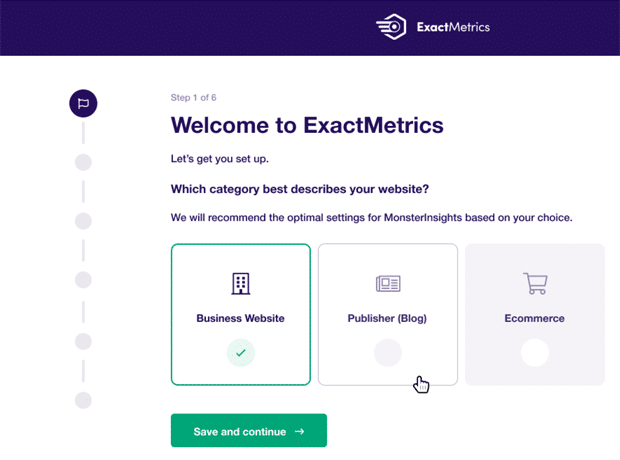 When we first acquired the plugin, our #1 priority was to improve the user experience which really starts with onboarding.
We wanted to make it easy for beginners to connect WordPress with Google Analytics and be able to setup all the right settings for their needs.
Our guided setup wizard does just that.
On top of that, we also redesigned our Settings area to better organize the configuration options as well as removing some outdated options in favor of industry best practice decisions.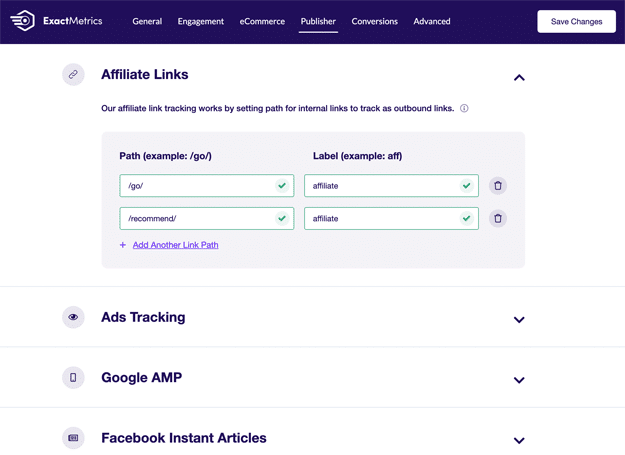 The new design and onboarding experience should help make it even easier for new users to get started.
Beautiful New Reports with Detailed Insights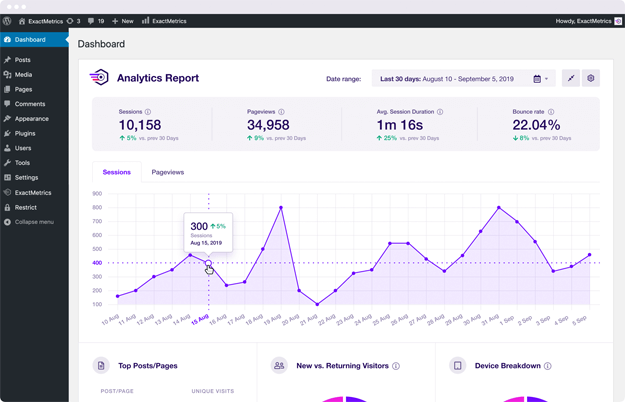 Our goal at ExactMetrics is to help smart website owners grow faster with data-driven decisions.
To make that goal a reality, we designed several custom reports that will help you improve your overall web strategy with detailed insights.
Our Overview report makes it easy for you to see the most important Google Analytics data in an easy to understand report, right inside your WordPress dashboard (save 5 minutes each day).
Our Publisher report shows you exactly which content gets the most visit, which affiliate links are performing the best, what new partnership opportunities you should pursue, and more.
Our Ecommerce report helps you see all your important online store metrics in one place such as total revenue, conversion rate, average order value, top products, top conversion sources, etc.
Our Search Console report shows how well your website is ranking in Google, so you can optimize your SEO to grow your traffic.
Our Forms report shows your conversion stats for various contact forms and lead forms on your website to improve conversions.
Our Custom Dimensions report shows useful stats like most popular authors, best publication times, popular categories, tags, Yoast focus keywords, SEO score, etc.
Our Real Time report helps you see who is online on your website in real-time, right inside your WordPress dashboard.
Aside from that, we also added a customizable Google Analytics dashboard widget which allows you to have quick access to your most important stats at the moment you login to your WordPress dashboard.
Some users wanted an easy way to quickly see their analytics for specific posts and pages while browsing their website. This is why we have added a brand new Page Insights area in the admin bar that lets you do just that.
10 Powerful New Analytics Addon
As part of this new version of ExactMetrics, we also made the plugin less bloated by taking a more modular approach with addons.
We have added powerful new analytics addons to ExactMetrics premium including:
eCommerce addon – enables Google Analytics enhanced eCommerce tracking for WooCommerce, Easy Digital Downloads, MemberPress, and LifterLMS.
Custom Dimensions addon – allows you to track custom dimensions like authors, categories, tags, searches, users, SEO score, and more.
EU Compliance addon – helps improve Google Analytics compliance with GDPR, CCPA, and other privacy regulations.
Forms Tracking addon – enables Google Analytics form tracking of views, submissions, and conversion rate for all top WordPress form plugins like WPForms, Contact Form 7, Gravity Forms, Formidable Forms, etc.
Page Insights addon – helps you quickly see important Google Analytics stats for individual posts / pages in your WordPress dashboard and in the front-end admin bar.
Analytics Performance addon – helps you adjust site speed and sample rate in Google Analytics.
Aside from the addons, we also added several other powerful features like scroll-depth tracking, integrations with popular affiliate link plugins like PrettyLinks and ThirstyAffiliates, enhanced permission control, and more.
What's Coming Next?
Yes we did a lot in the last several months, but we're just getting started. The plugin rewrite will allow us to add more new features faster, and I'm really excited for ExactMetrics.
In the coming months, we will be launching useful features like email summaries, better integration with other third-party eCommerce and advertising platforms for more accurate attribution, contextual education, site search report, better popular posts, and more.
As we add more features, smaller ones will be released as part of the core plugin, but larger features will be released as addons to keep the plugin lean and fast.
Backward Compatibility
This ExactMetrics version is a complete rewrite of the previous version, and it brings us up to date with the new Google Analytics standards as well as better coding standards.
We have done our best to keep backward compatibility for most of the features. In cases where the feature was extremely outdated and is no longer applicable, we have removed it for new users.
With the best of our abilities and help of our beta testers, we have extensively tested all backward compatibility scenarios to ensure this upgrade process is smooth for everyone.
However if you're a developer and have third-party extensions for ExactMetrics, then you may want to check your extension for compatibility.
When can I use the new version of ExactMetrics?
You can access both the new ExactMetrics Lite and Pro version immediately. It is live for all users.
If you have any questions, please feel free to get in touch using our contact form.
Thanks again for all your support. We are excited to bring more new features your way very soon.
Syed and the ExactMetrics team