Do you want to know how your visitors interact with your website? With the help of Google Analytics, you can see how people find your site, which posts they like, and which device they use to view your site.
But when it comes to setting up Google Analytics, it's not straight forward. To properly configure Analytics, you'll need to understand coding. This can be tricky, especially for new users.
However, there's an easier way, thanks to ExactMetrics. It's the best premium WordPress Analytics plugin that lets you configure Google Analytics without any coding.
In this article, we'll guide you on how to add Google Analytics to your WordPress site using ExactMetrics.
Ready? Let's dive straight in…
Step 1: Log-in to Your Google Account
The first step is to create an account on Google if you don't already have one. To start, go to Google Analytics website and then click Start for free or Sign in to Analytics located in the top right corner.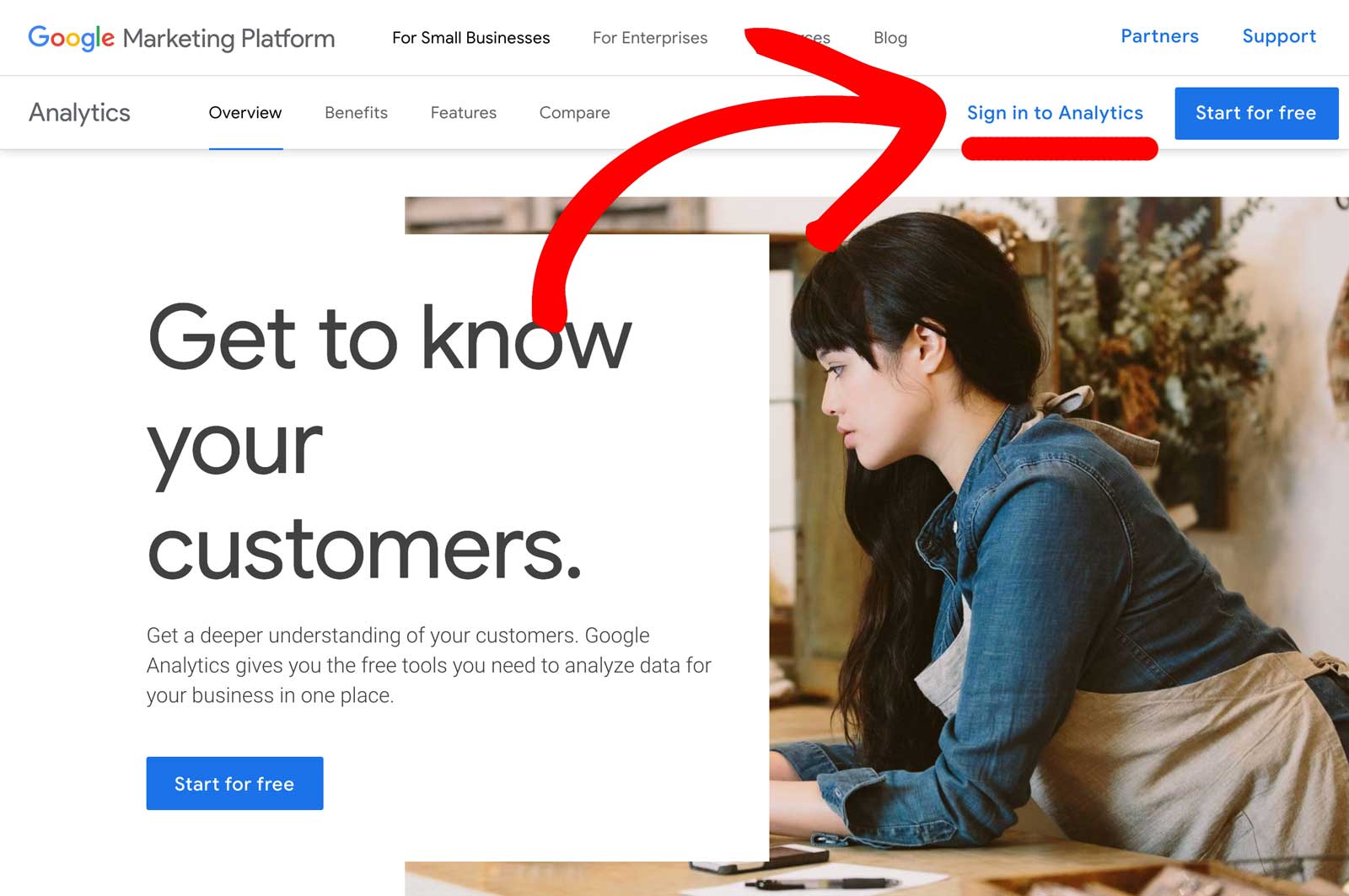 You can now enter your existing Google email address or phone number to log in. On the other hand, you can click on Create account to create a new account.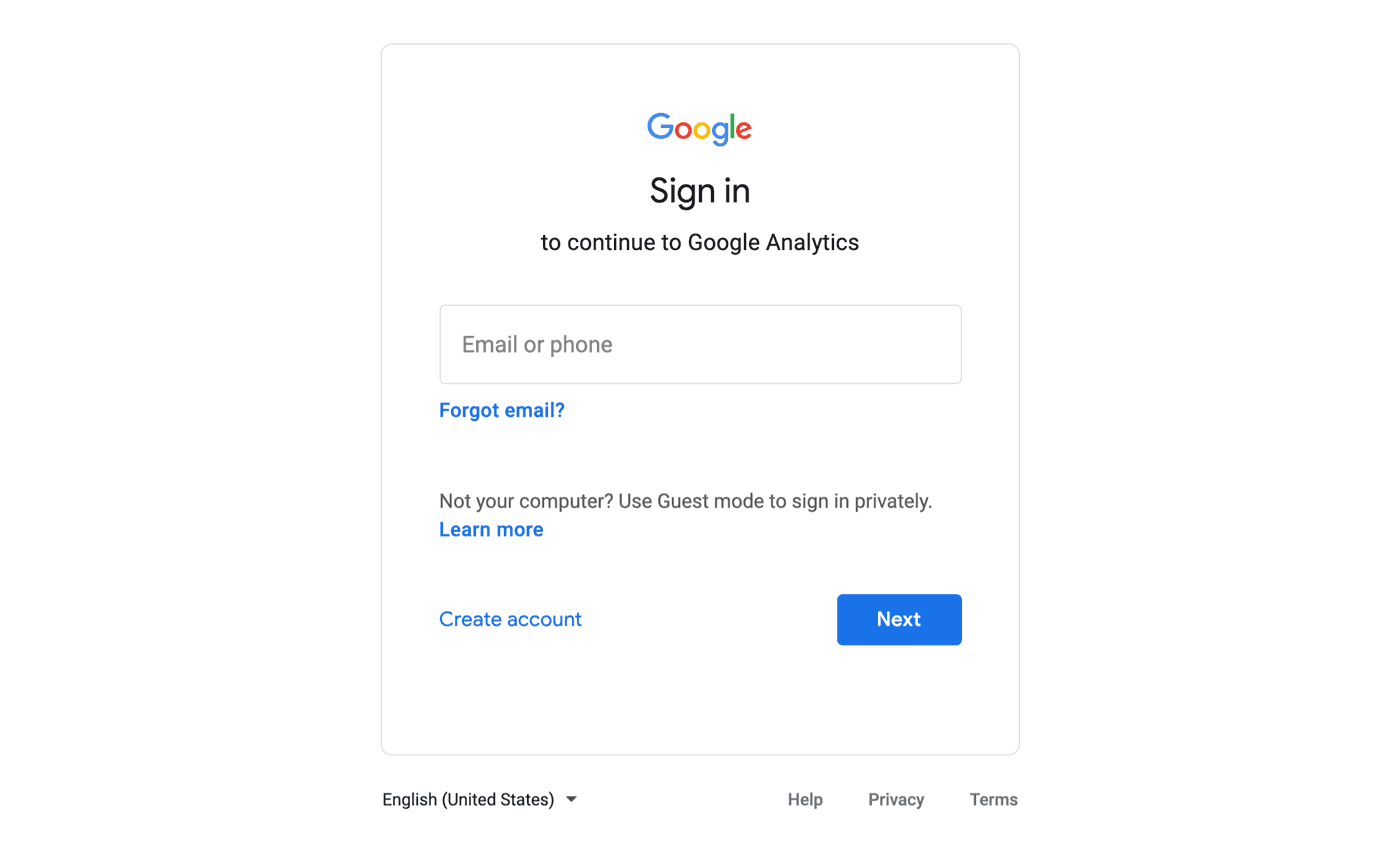 Step 2: Create a Google Analytics Account
Once you're logged in to your Google account, the next step is to sign up for Google Analytics. Click Sign up to get started.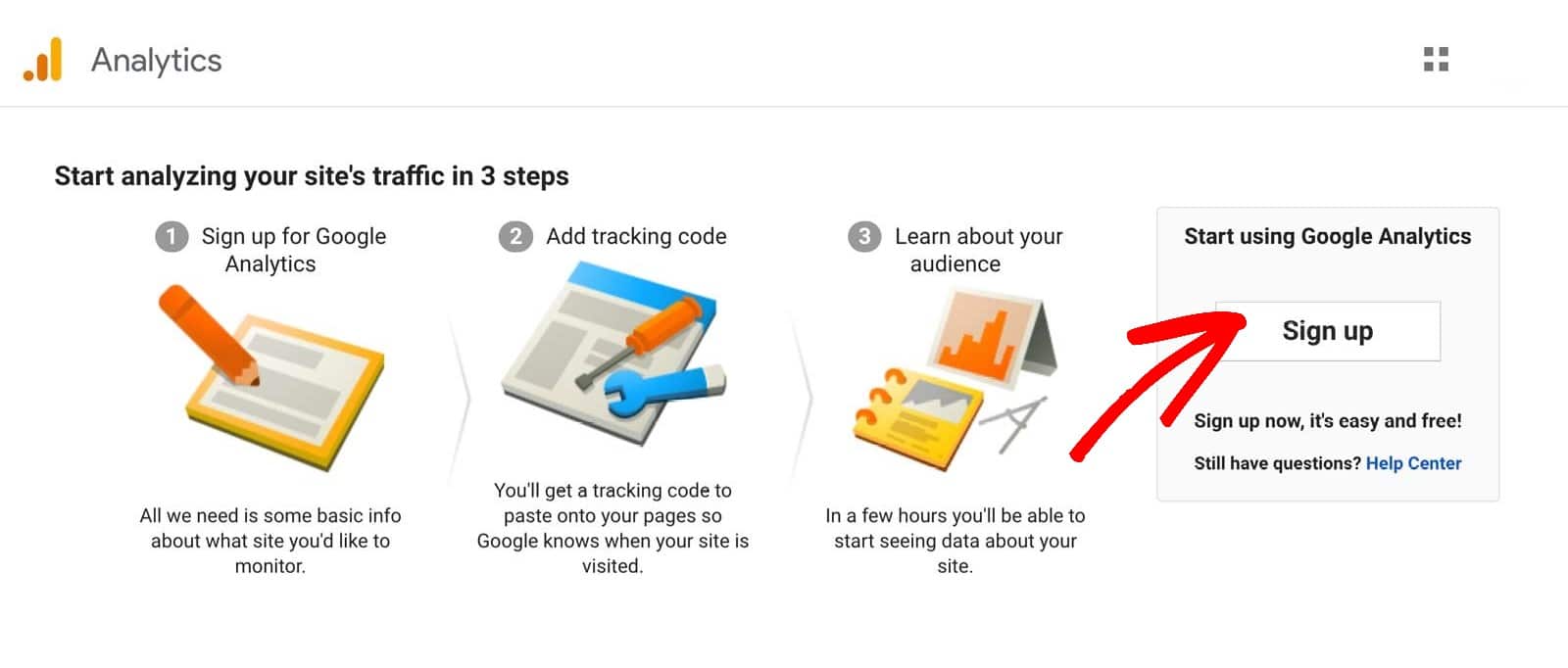 Now enter an Account name for your Google Analytics account. Make sure you've checked all the options listed under Account Data Sharing Settings. Then scroll down and click Next.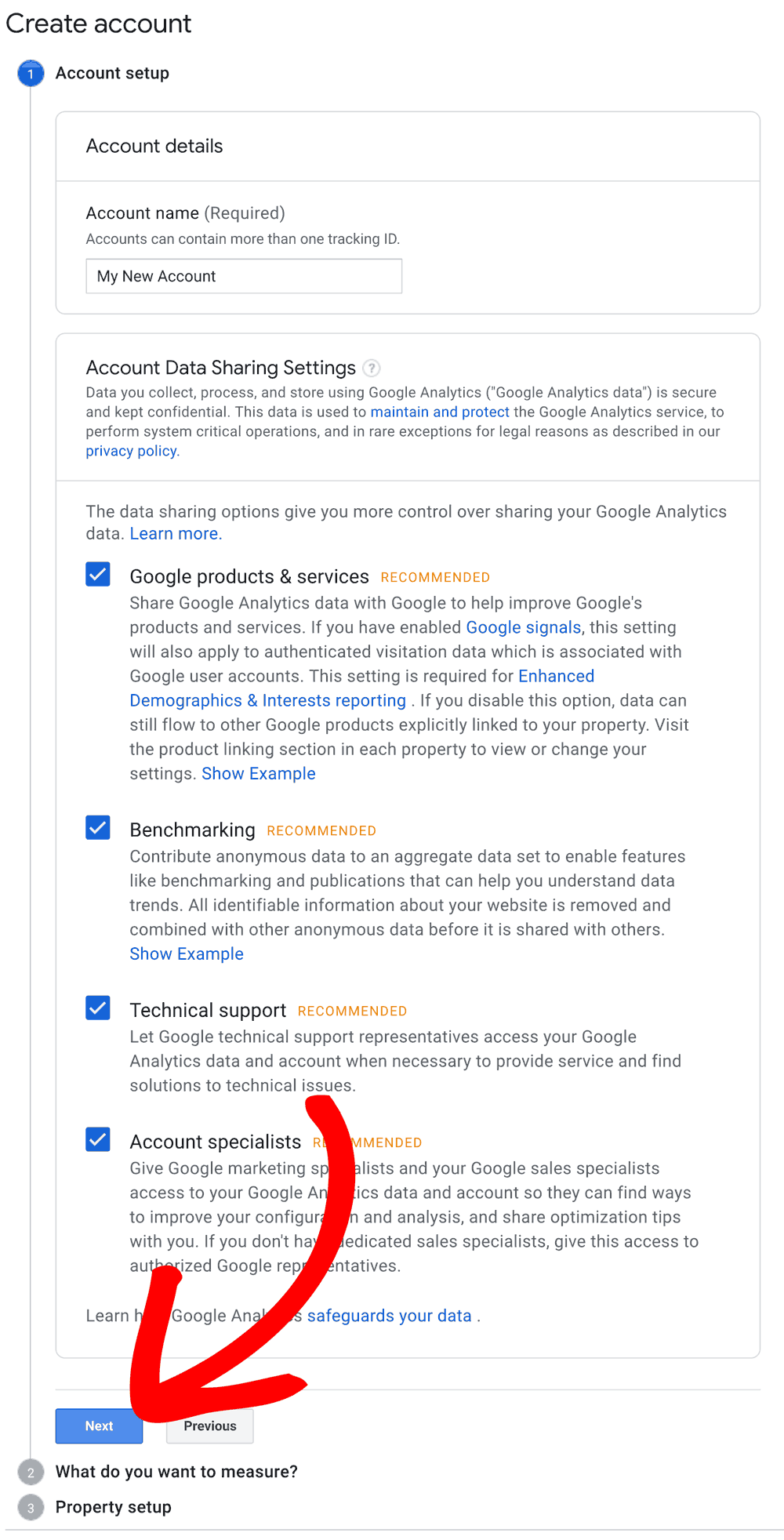 Next, you'll have to select what do you want to measure. Since you want to track the performance of your WordPress website, select the Web option, and click Next.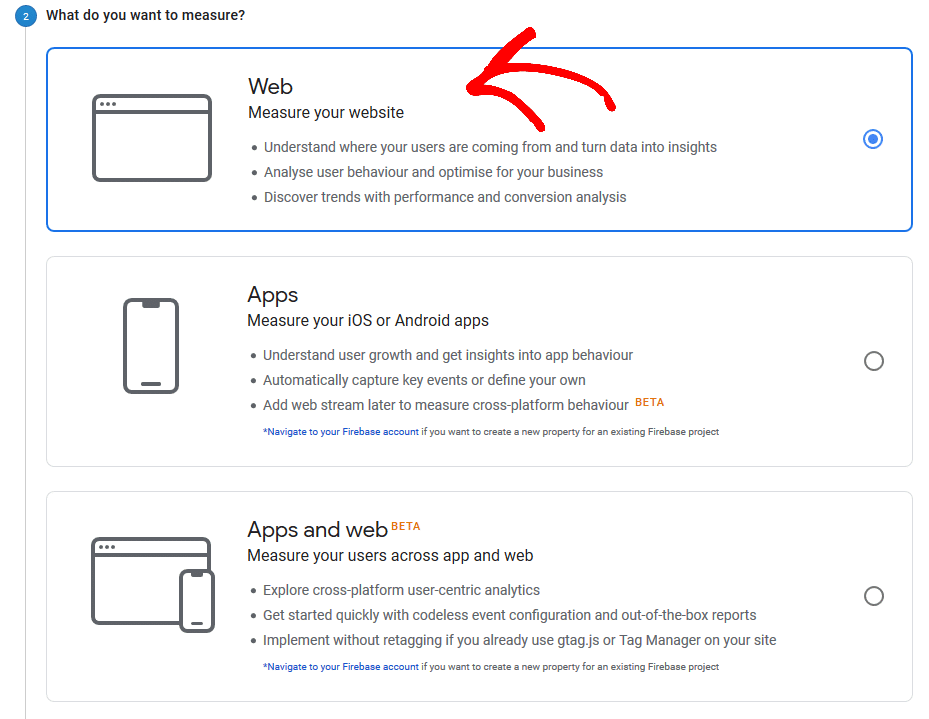 The third step in creating a Google Analytics account is to provide the details of your website. Enter the name of your WordPress site, its URL, which industry does it belong too, and a reporting time zone.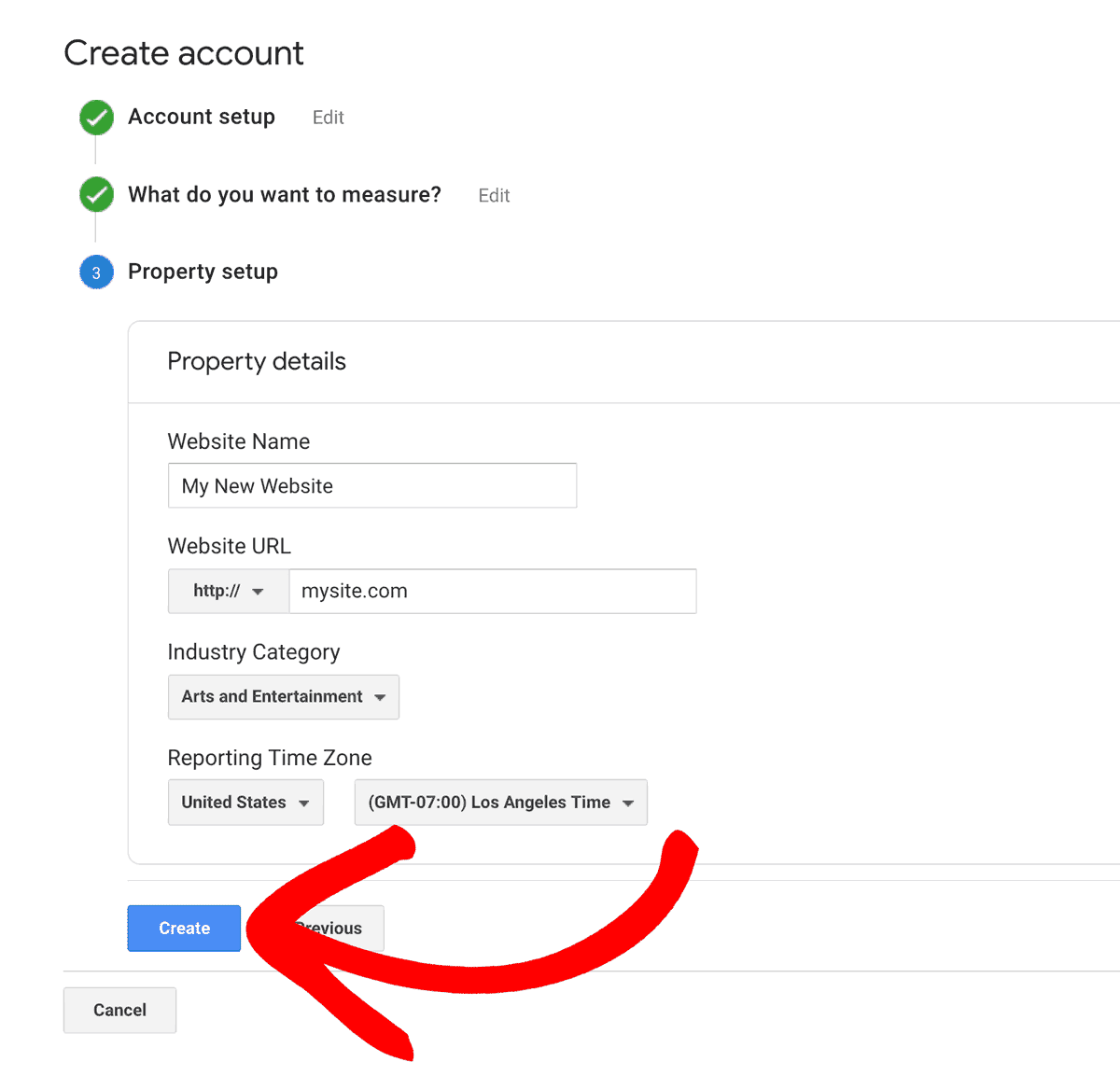 Once you've entered the information, click Create.
A popup window should now appear that contains Google Analytics Terms of Service Agreement.
Review the terms of service and then check the box for both, Data Processing terms and Measurement Controller-Controller Data Protection terms. Then scroll down and click I Accept.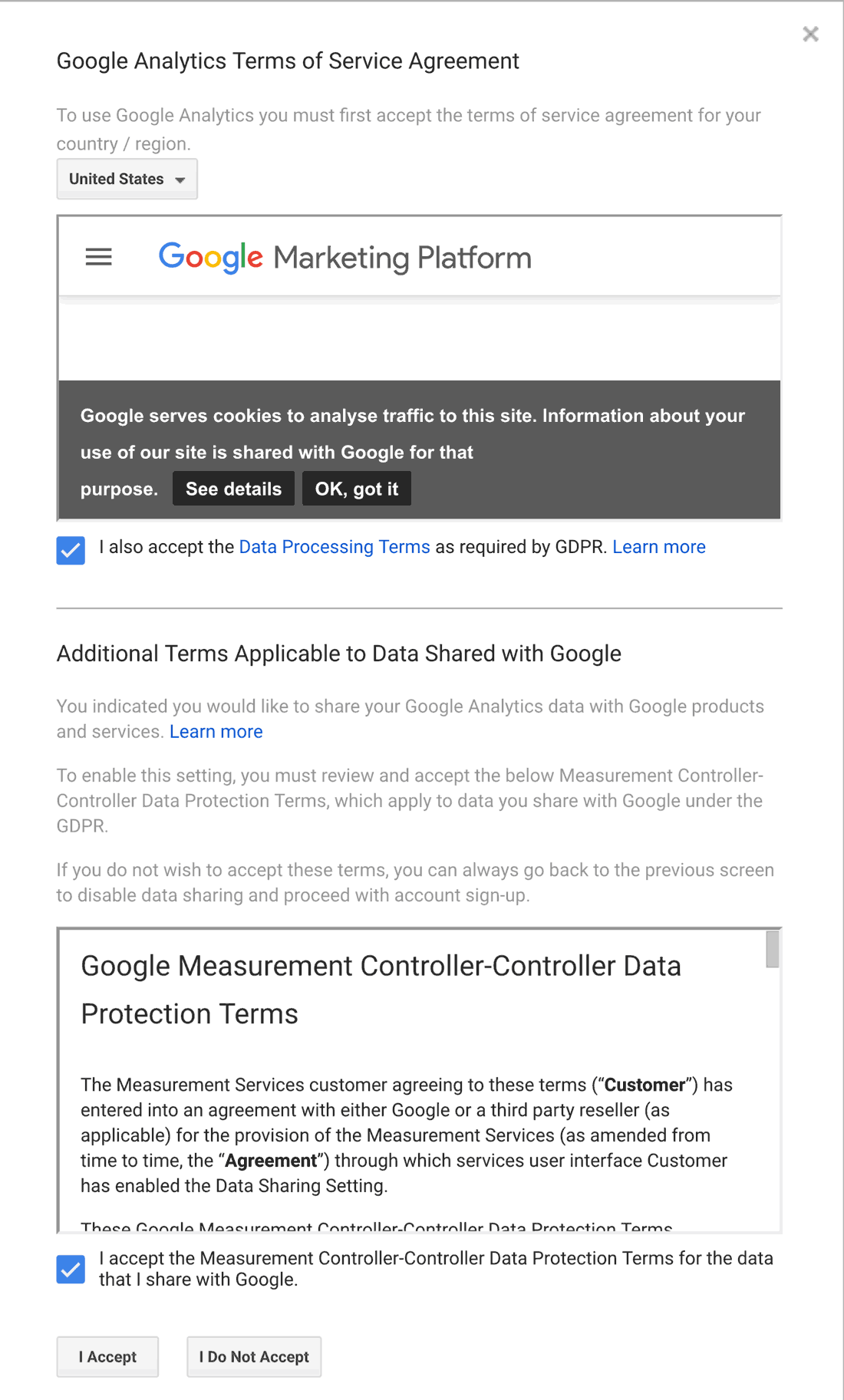 And that's it! Your Google Analytics account is now up and running. In the next screen, you'll see a tracking code and tracking ID.
Since it requires coding, we have a simpler way of adding Google Analytics to your WordPress site. Just follow the next step.
Step 3: Download ExactMetrics Plugin
ExactMetrics is one of the best Google Analytics plugins on WordPress. It makes setting up Google Analytics a piece of cake and you don't have to touch a single line of code.
In addition to configuring Analytics, you can do a lot more with the plugin. Using its reports in the WordPress dashboard, you can get insights to boost your site's performance.
To install the plugin, go to ExactMetrics website and login to your account. Once logged in, go to Downloads tab from your account area.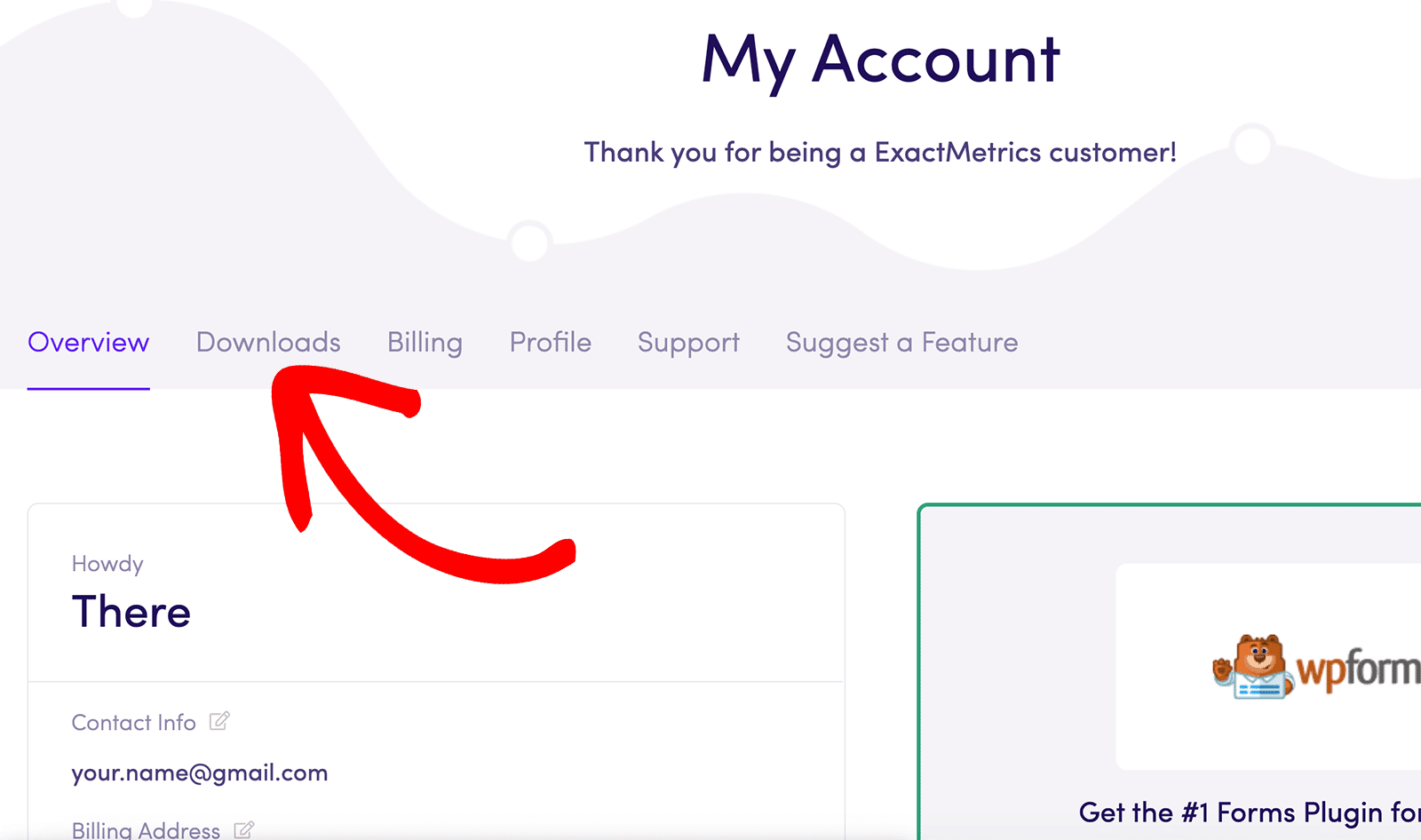 Now click on Download ExactMetrics and download the ZIP file of the plugin.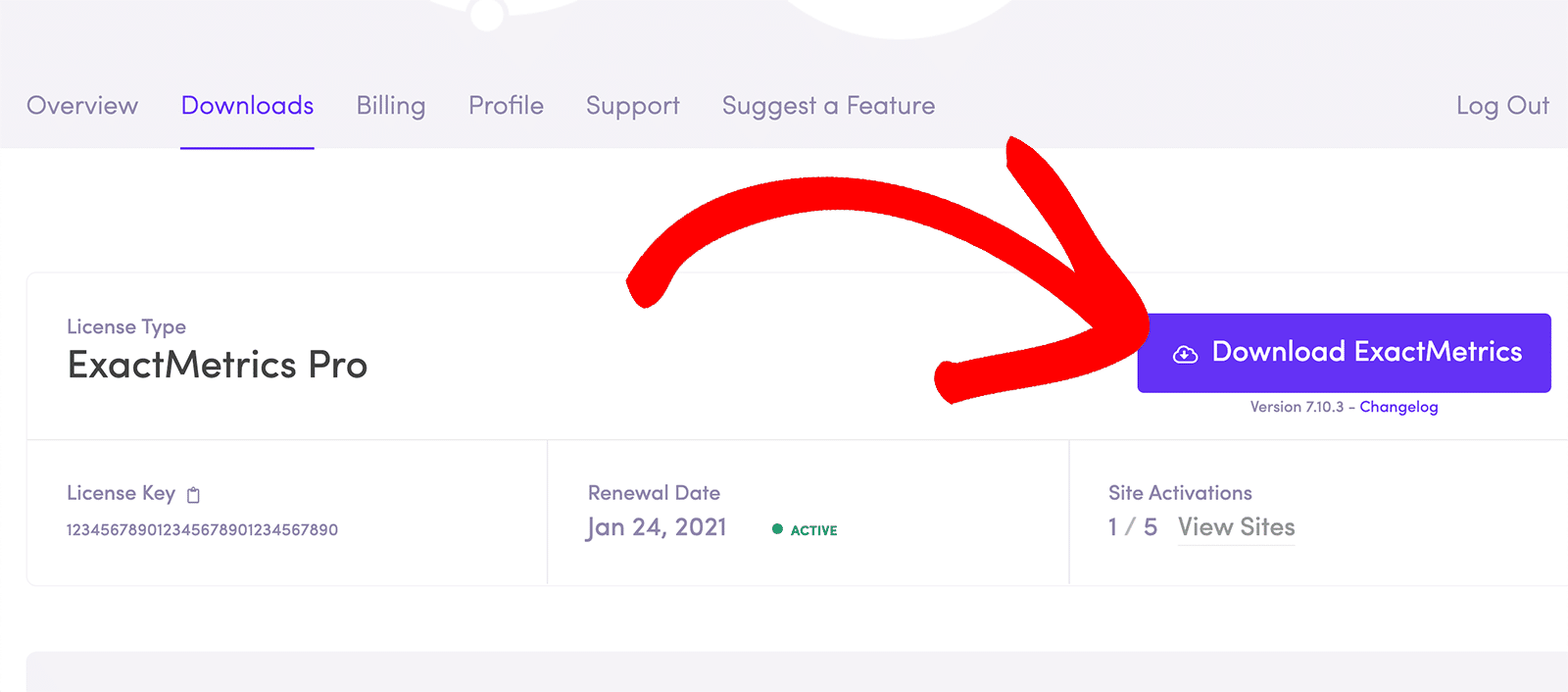 Step 4: Install ExactMetrics Plugin on Your Website
Once the setup files are downloaded, it's time to install the plugin. For that, go to your WordPress admin dashboard and log in.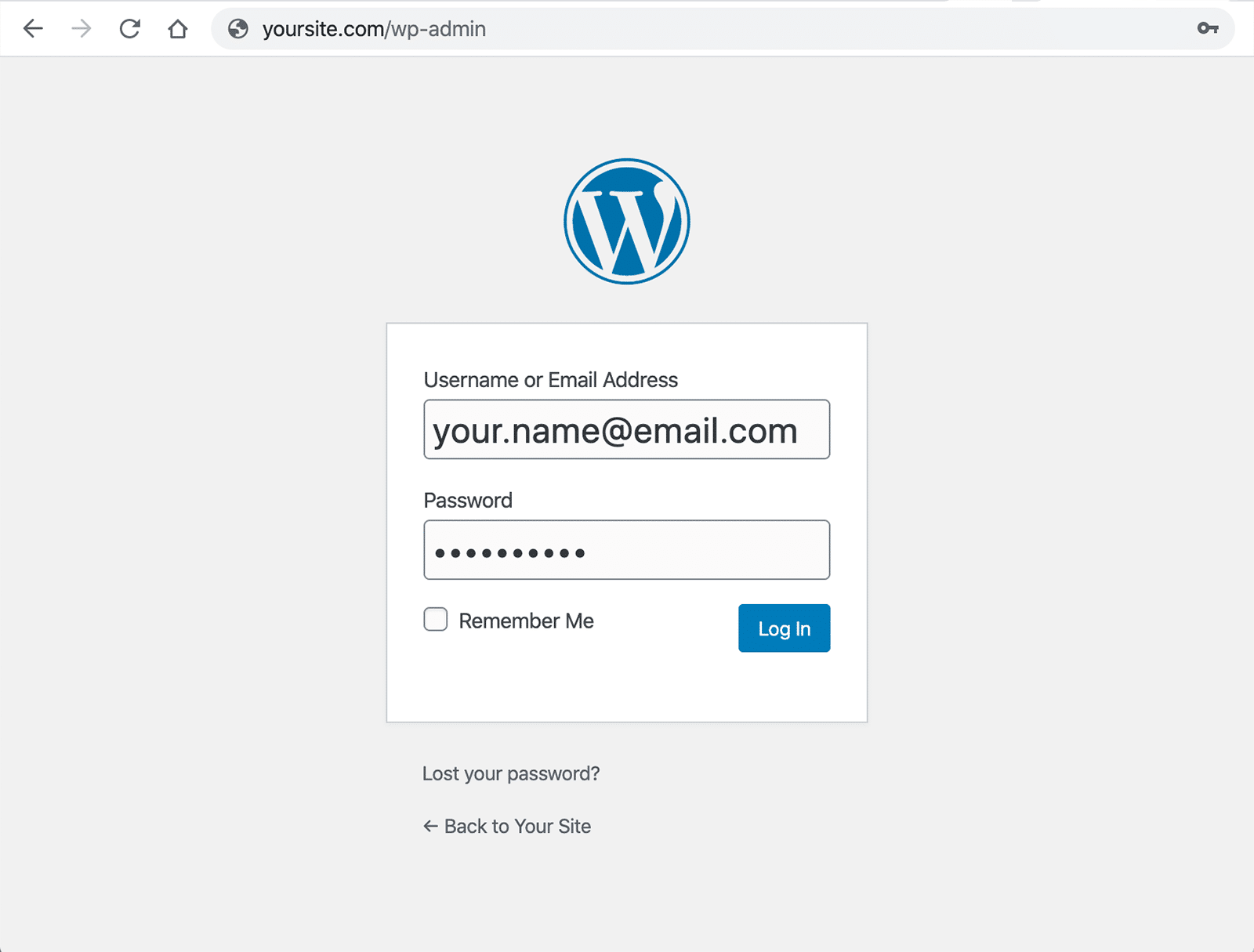 Then navigate your way to Plugins and click Add New. At the top, you'll see an option Upload Plugin, click on it to install ExactMetrics on your website.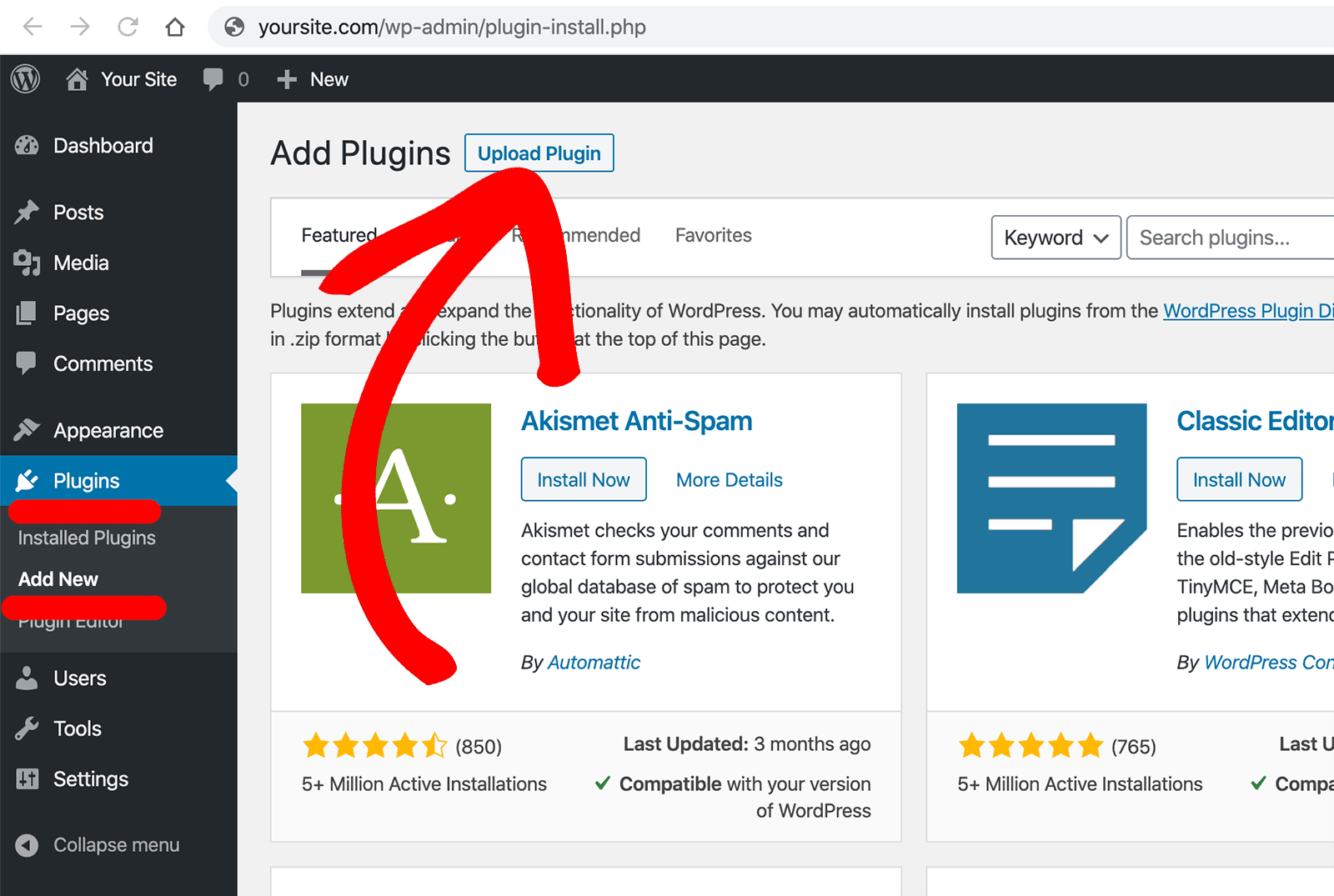 Next, click Choose File and go to the folder where you downloaded the ZIP file of ExactMetrics. Then select the ZIP file and click Install Now to upload the plugin.

After the plugin finishes installing, click Activate Plugin to use ExactMetrics.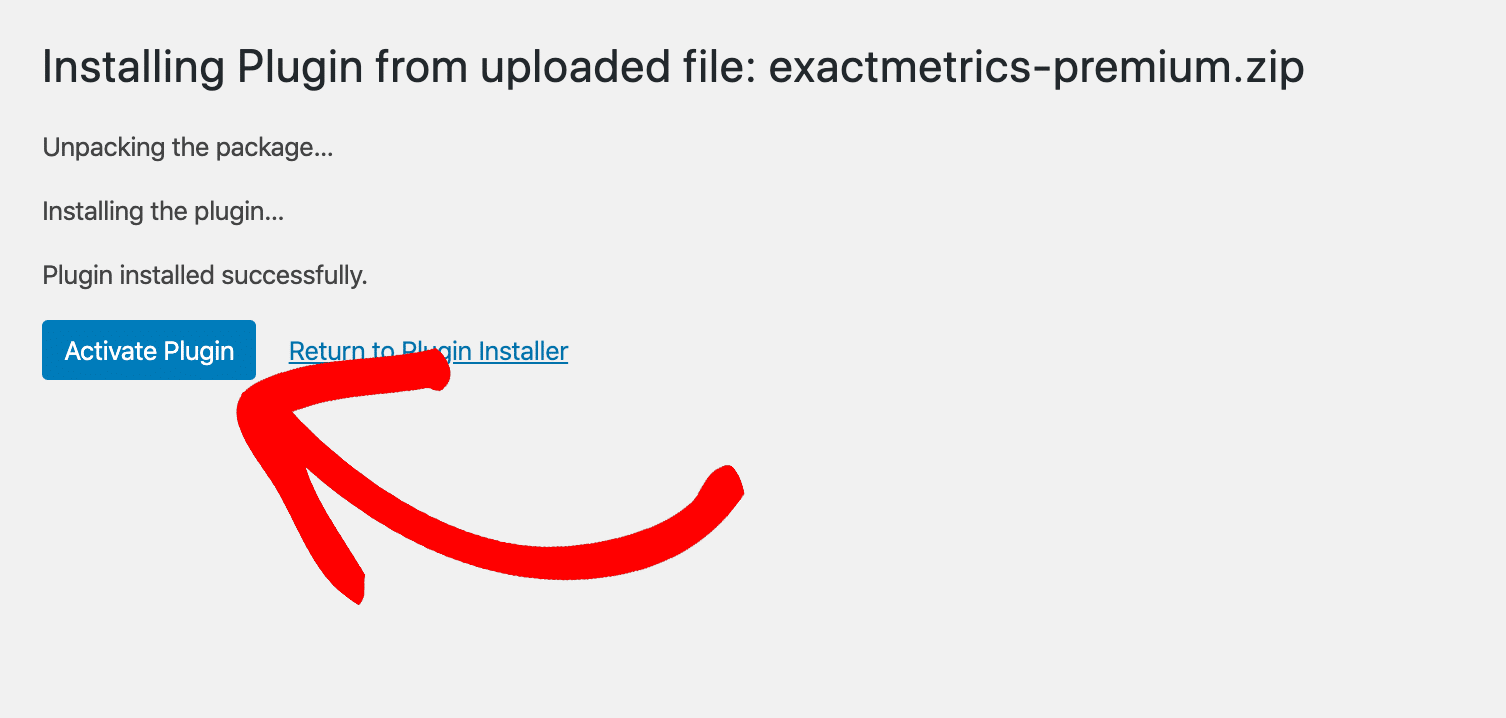 Step 5: Connect Google Analytics Using ExactMetrics
Now that ExactMetrics is successfully installed on your website, you can now connect Google Analytics to your WordPress website.
ExactMetrics offers a simple wizard that takes you through each step and makes sure your Google Analytics is correctly set up on your site.
To start, you can access it by going to ExactMetrics and then click Settings from your dashboard. Then navigate to the wizard and click Launch Setup Wizard.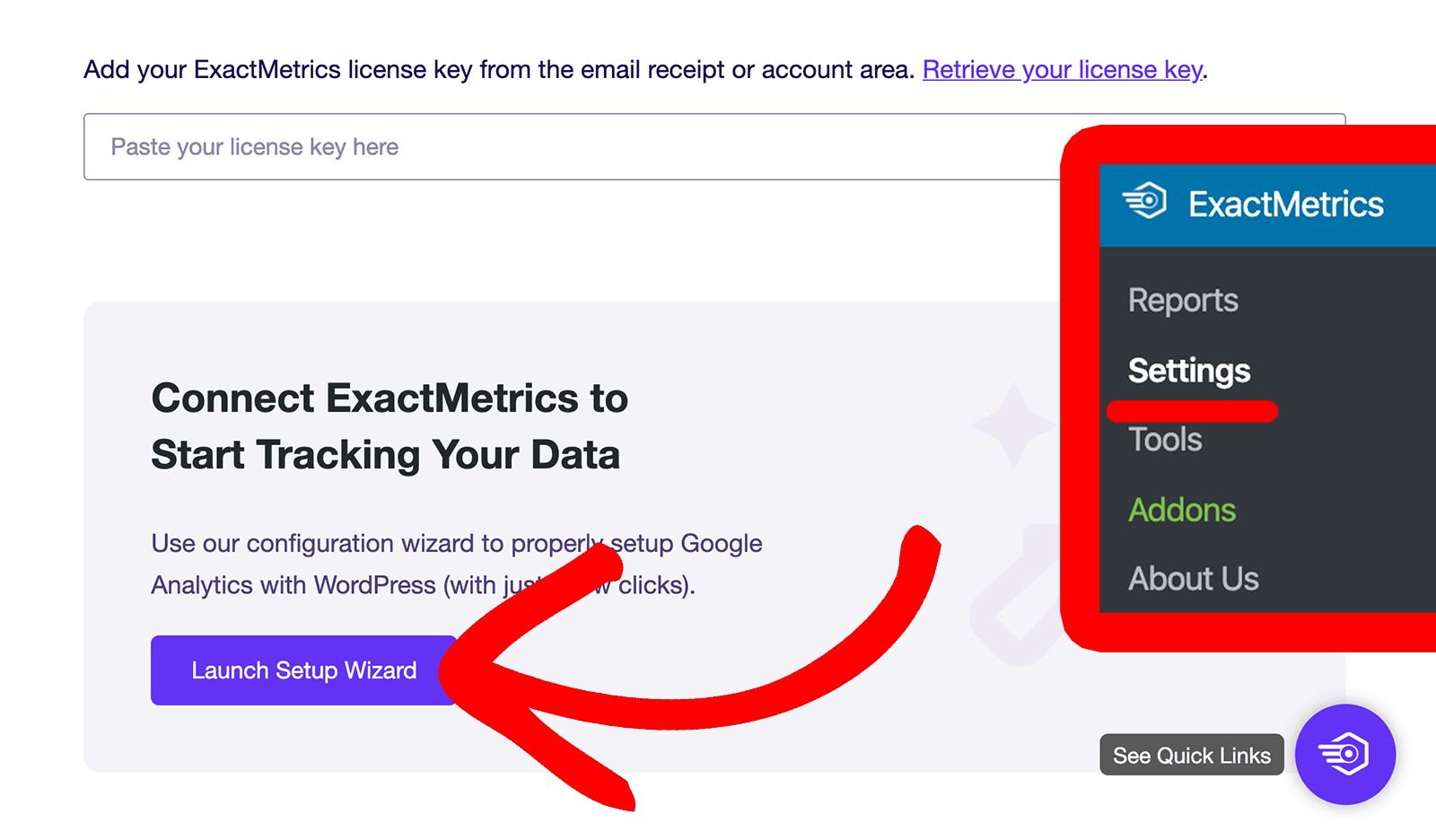 Next, you'll have to select a website type. You can choose from 3 options that best describe your site and these include Business Website, Publisher (Blog), or Ecommerce. Based on your choice, the wizard will offer additional settings for tracking your site's performance.
Once you've selected an option, click Save and Continue.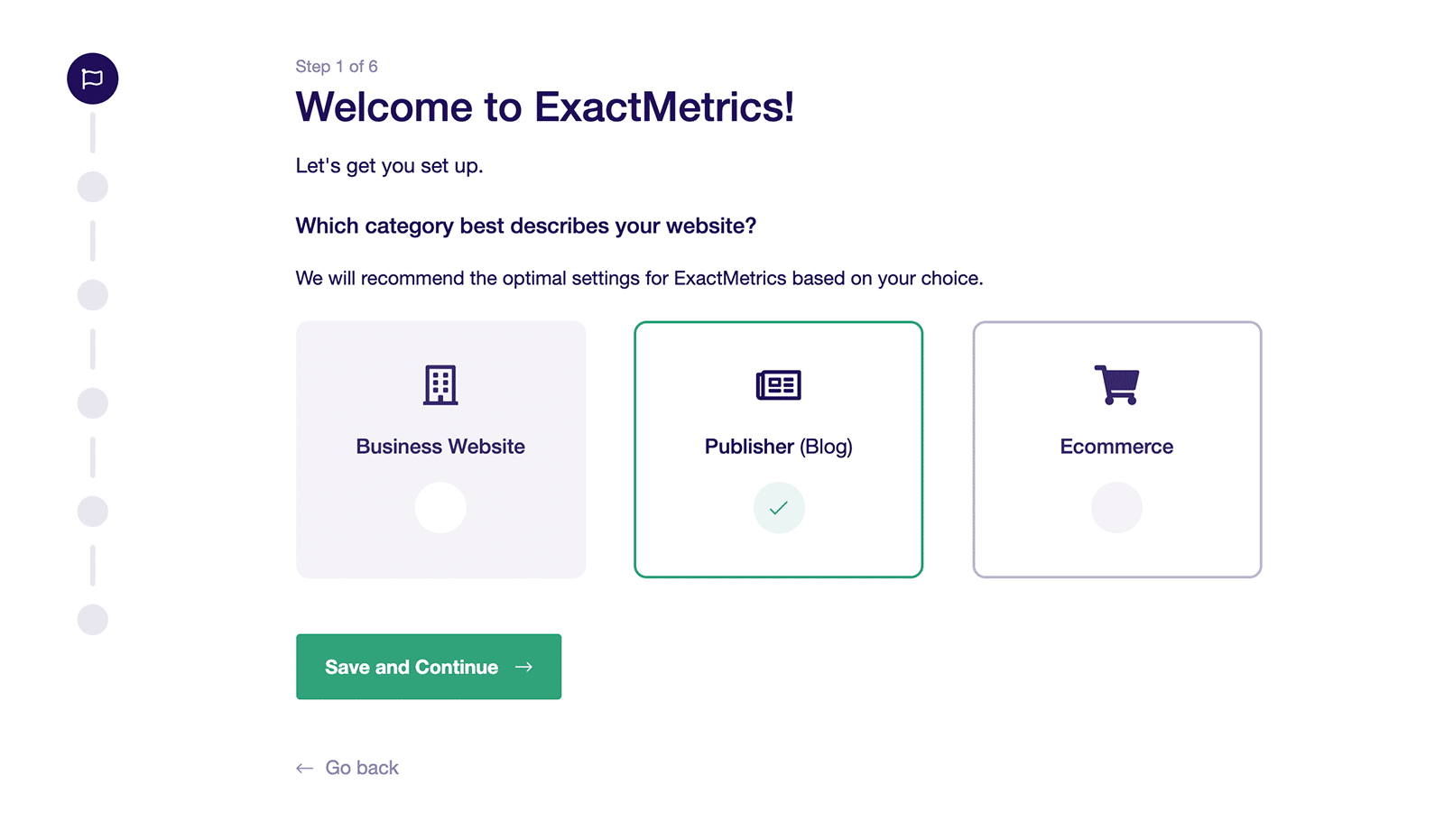 The wizard will now ask you to connect your Google account. Select the account that contains the Google Analytics profile.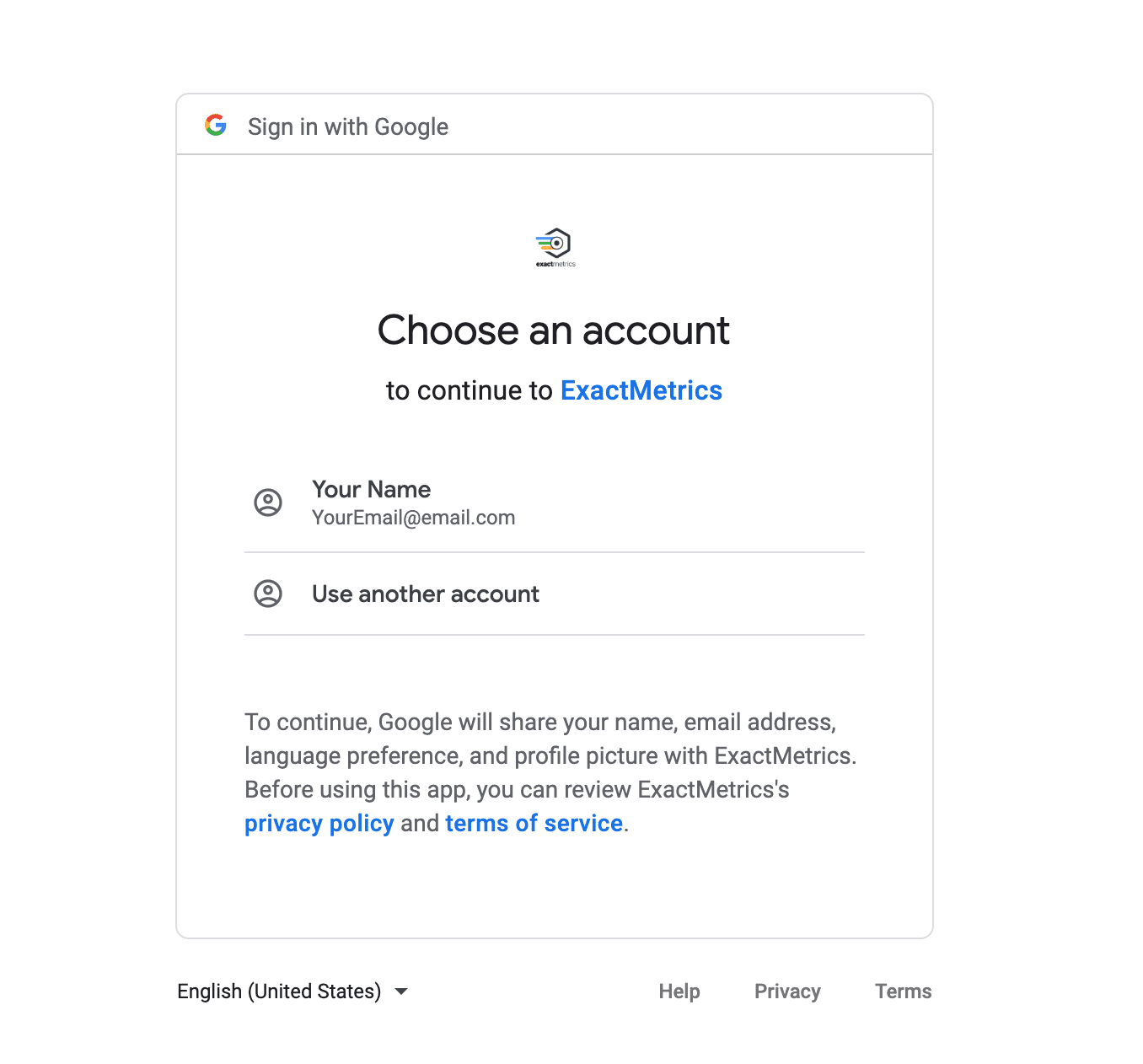 After selecting your Google account, you'll have to give permission to ExactMetrics. It's important you allow all the permissions or the plugin won't function properly.
Make sure all the options are selected and then click Allow.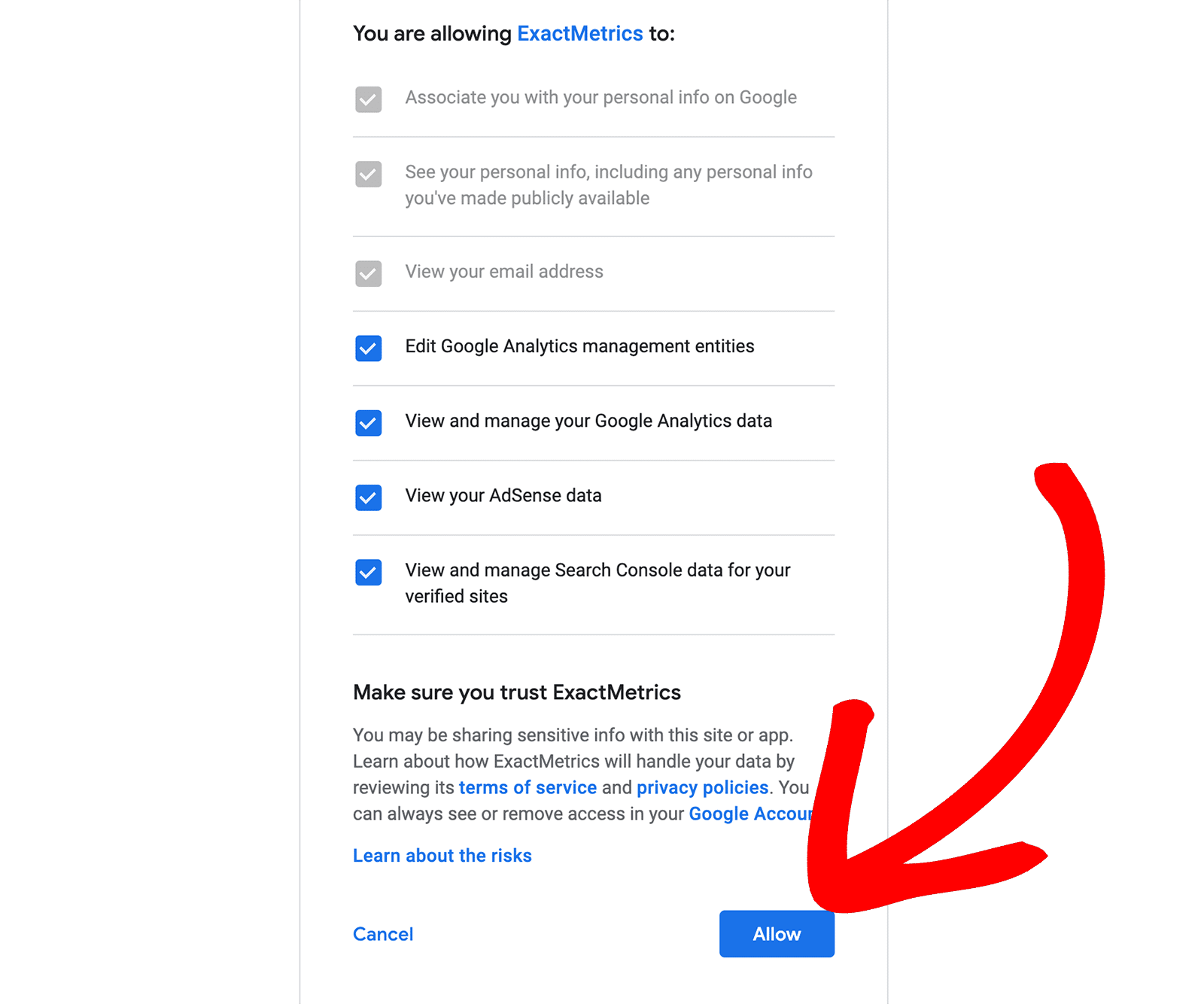 Next, you'll have to select a profile to finish connecting Google Analytics. Do note that if you have multiple websites connected to your Google Analytics account, you'll have to select the right website property for tracking.
Once you've selected the correct profile, you can click on Complete Connection.
Step 6: Set Up Recommended Settings and Addons
ExactMetrics will then offer some recommended settings based on the website type you selected earlier.
For instance, it will enable Events Tracking and Enhanced Link Attribution by default. And the plugin will automatically track some file type by default. But you can add more file extensions for tracking.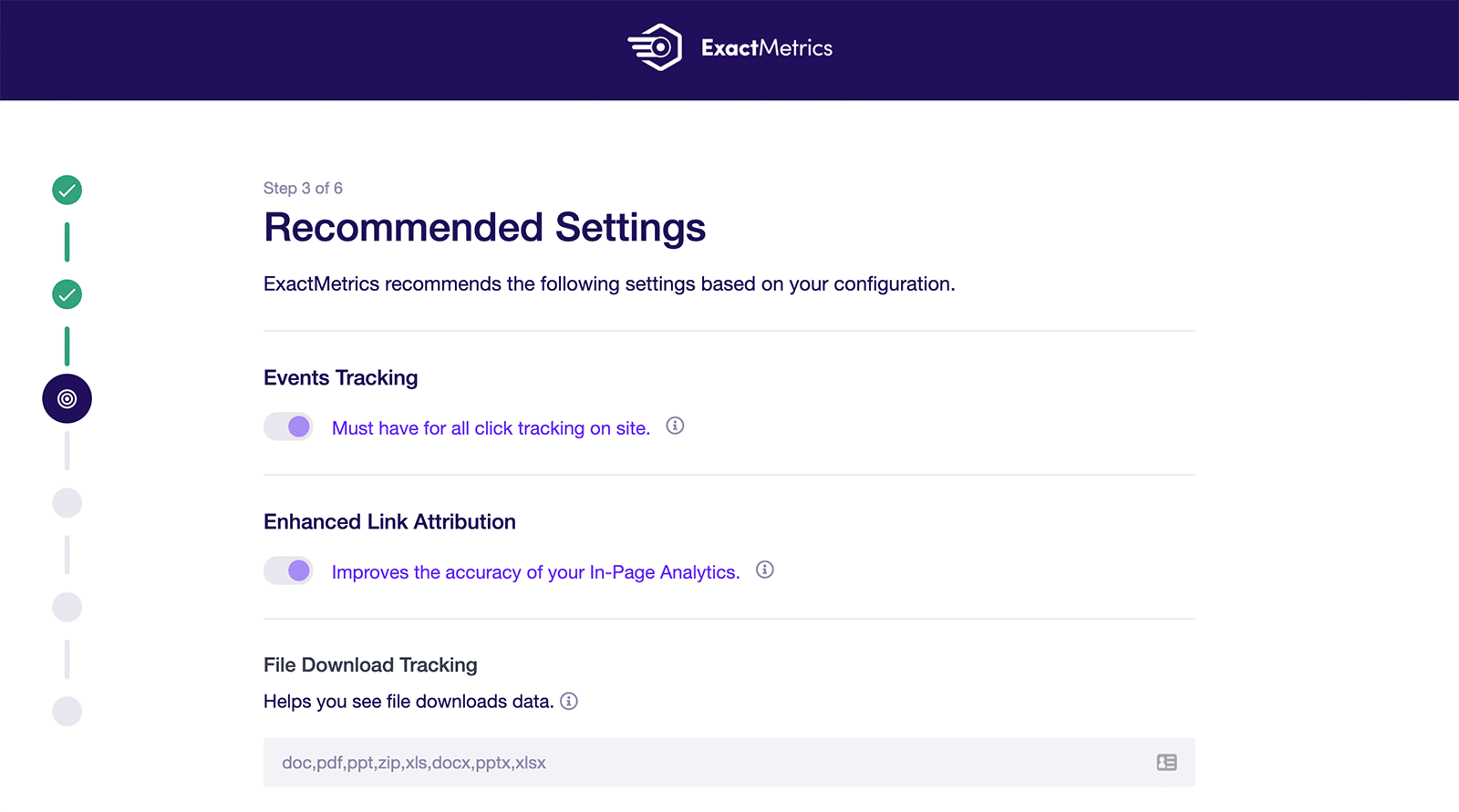 If you scroll down, you'll see more settings. These include Affiliate link tracking, which already has two paths set and you can add more to track affiliate links in WordPress.
You can also select the user roles who can view ExactMetrics reports in the WordPress dashboard. Once you're satisfied with the settings, click Save and continue.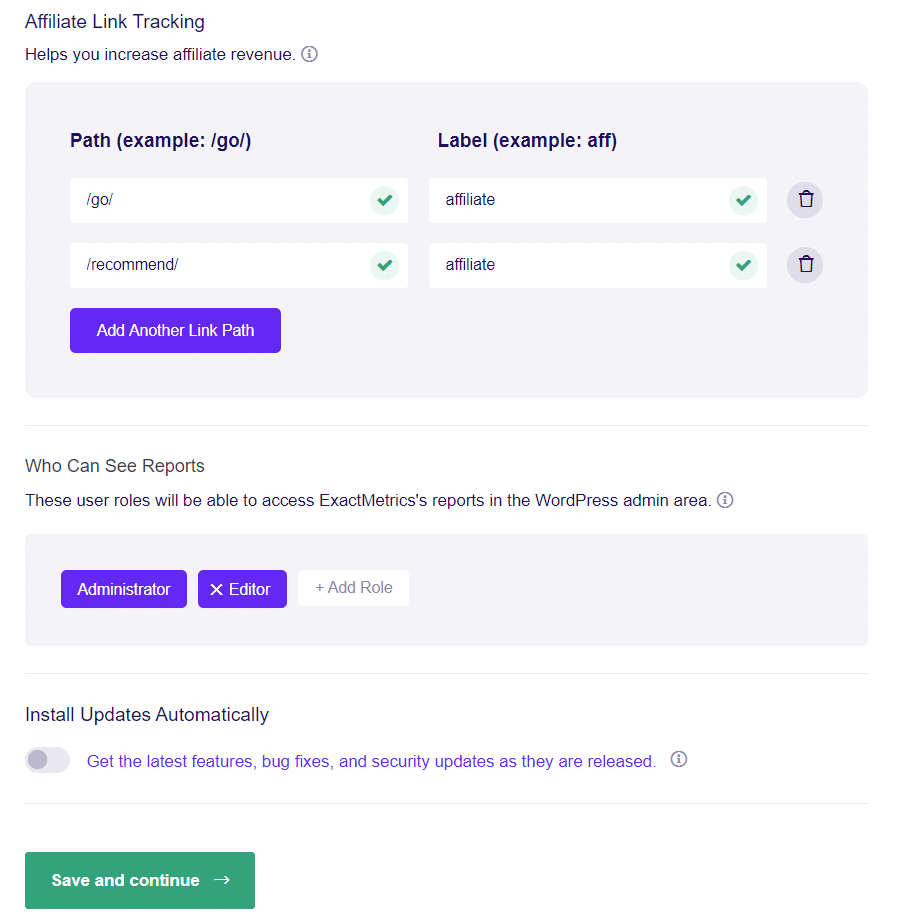 In the next step, ExactMetrics will recommend different addons. These ExactMetrics addon will help you gather insights about your user's behavior, so you can make the right decision to grow your business.
For example, by setting up ExactMetrics Dimensions, you can track which authors get you the most traffic or which content categories bring in the most visitors.
Similarly, you can enable ExactMetrics AMP addon to accurately track your AMP-enabled pages.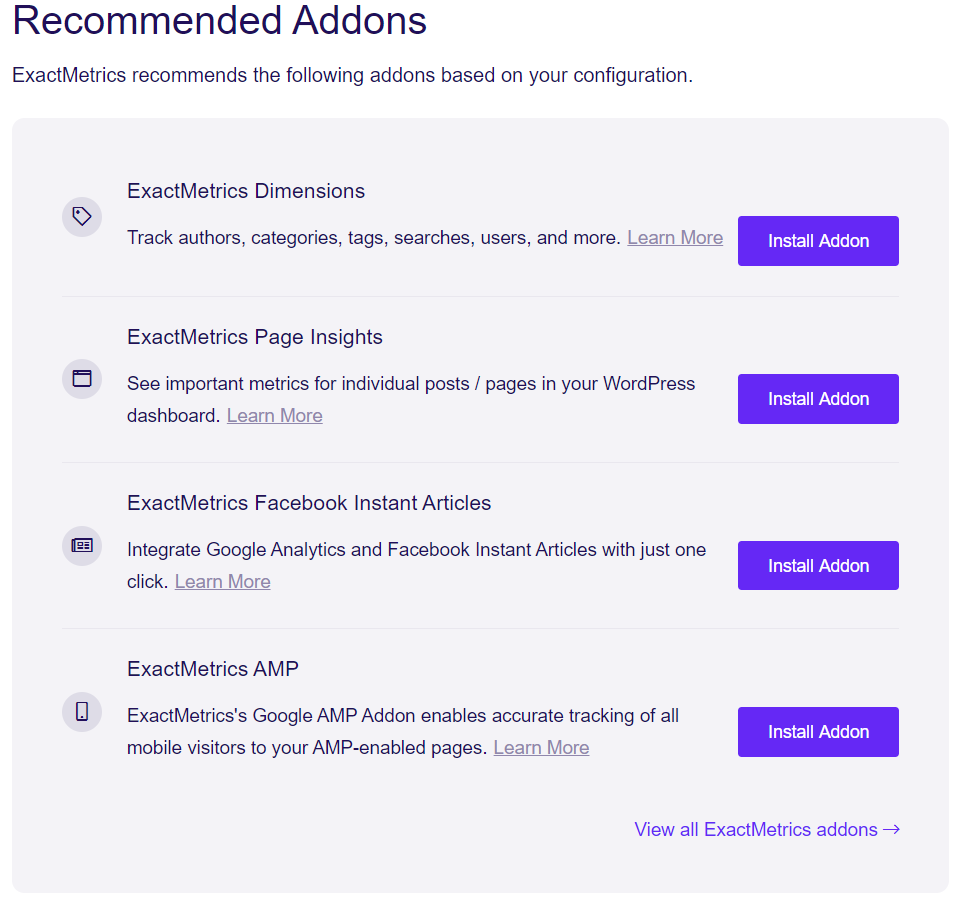 After installing the addons, the setup wizard will then recommend installing another plugin created by the same team that's behind ExactMetrics.
In this case, it's WPForms. It's the best WordPress form plugin and you can create different types of forms in an instant. Click Continue & Install WPForms to move onto the last step.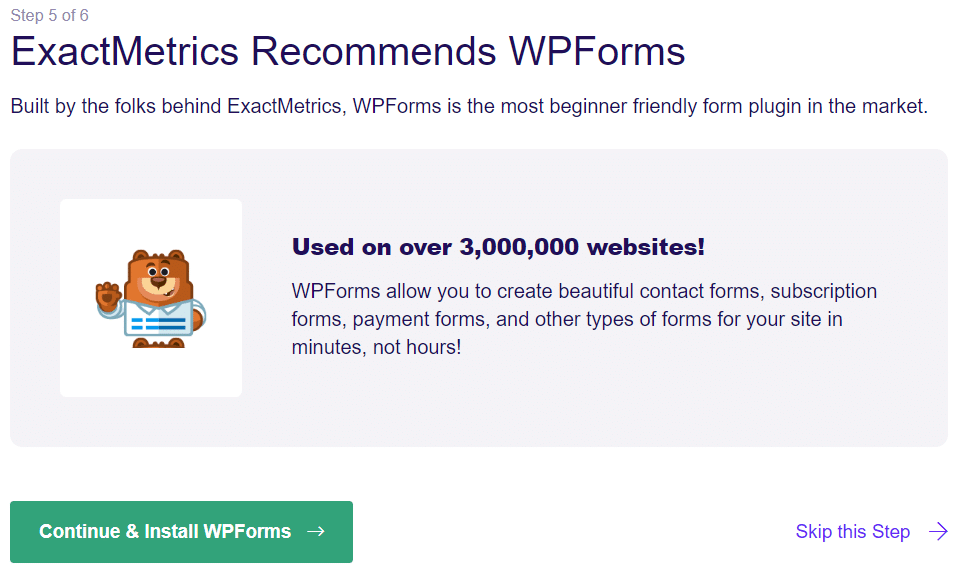 You've now reached the final step in the setup wizard. You've successfully connected Google Analytics to your WordPress website.
Do remember that it could take a few hours to 24 hours for the plugin to gather the data and show you reports in your WordPress dashboard.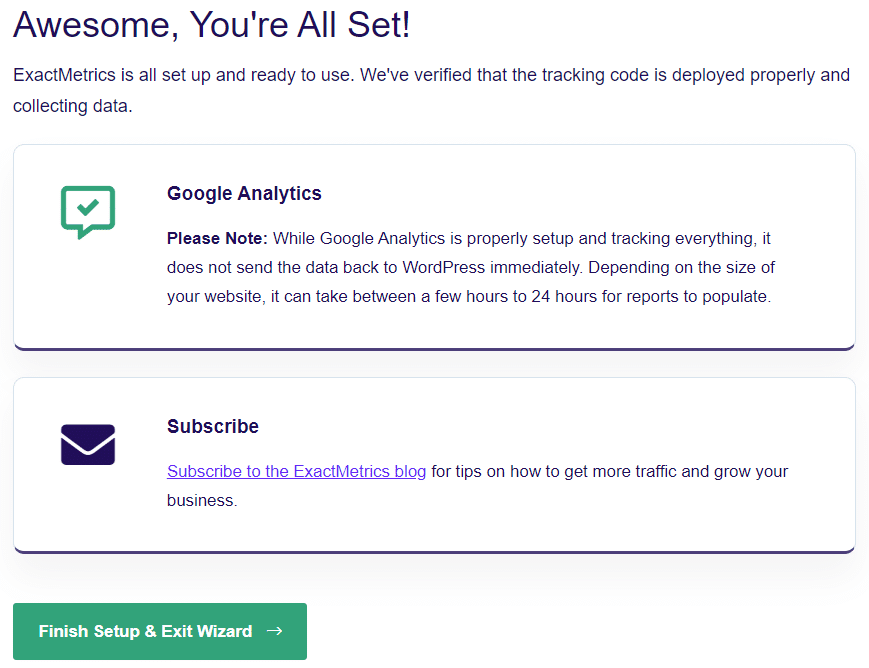 And that's it! Click on Finish Setup & Exit Wizard.
Step 7: View Your ExactMetrics Reports
Now that you've completed the setup process for adding Google Analytics, it's time to see your ExactMetrics Google Analytics reports.
You can do that by simply going to your WordPress dashboard. ExactMetrics Overview report will show the number of sessions, pageviews, average session duration, and bounce rate of your site.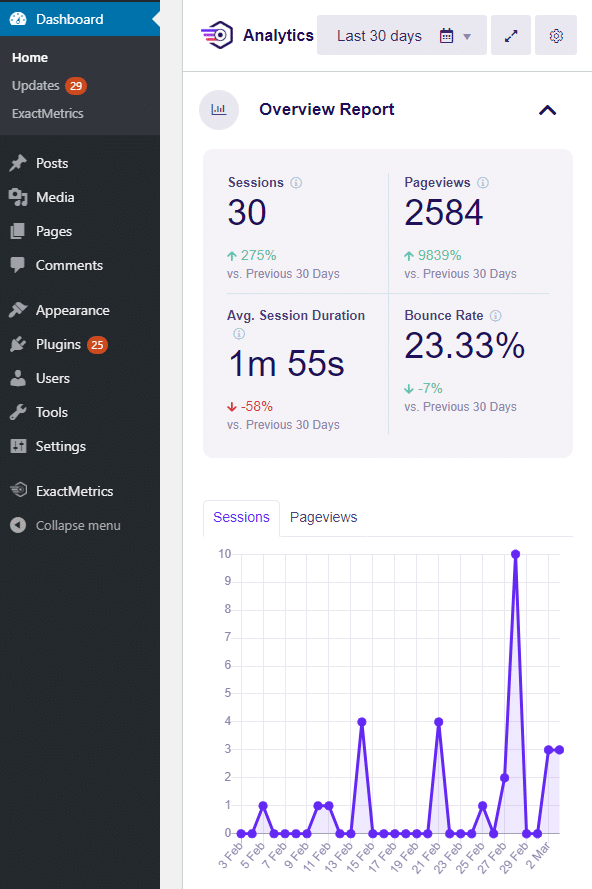 And if you scroll down, you can view other metrics such as top posts and pages, new vs. returning visitors, and device breakdown.
There you have it, folks!
We hope you liked our article on how to add Google Analytics to your WordPress site. If this guide was useful, then you might also want to read our article on how does Google Analytics work and how to run a split test in WordPress with Google Optimize.
And don't forget to follow us on Twitter and Facebook to get to know the latest guides on Google Analytics and WordPress.