Do you want to know how your visitors interact with your website? When you add Google Analytics to WordPress, you can see how people find your site, which posts and pages they view, which devices they use to view your site, and much more.
But when it comes to setting up Google Analytics, it's not very straightforward for beginners. To properly configure Analytics, you might need coding skills. This can be tricky, especially for new users.
However, there's an easier way for WordPress users, thanks to ExactMetrics. It's the best premium WordPress Analytics plugin that lets you configure Google Analytics without any coding.
In this article, we'll guide you on how to add Google Analytics to your WordPress site using ExactMetrics.
Step 1: Log in to Your Google Account
The first step is to create a Google account if you don't already have one. To start, go to the Google Analytics website.
Enter your existing Google email address or phone number to log in. Or, you can click on Create account to create a new account.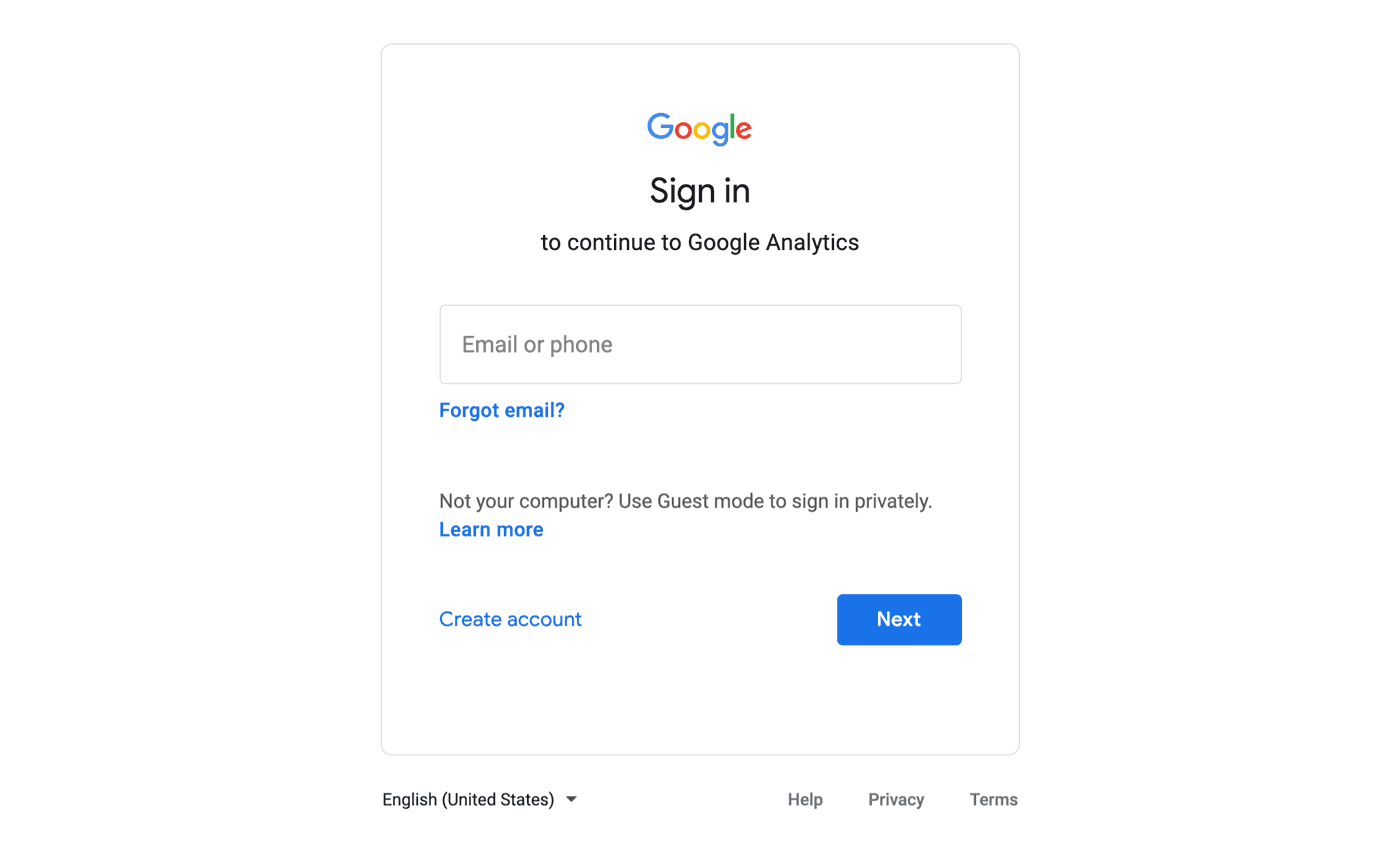 Step 2: Create a Google Analytics Account
Once you're logged in to your Google account, the next step is to sign up for Google Analytics. Click Start measuring to get started.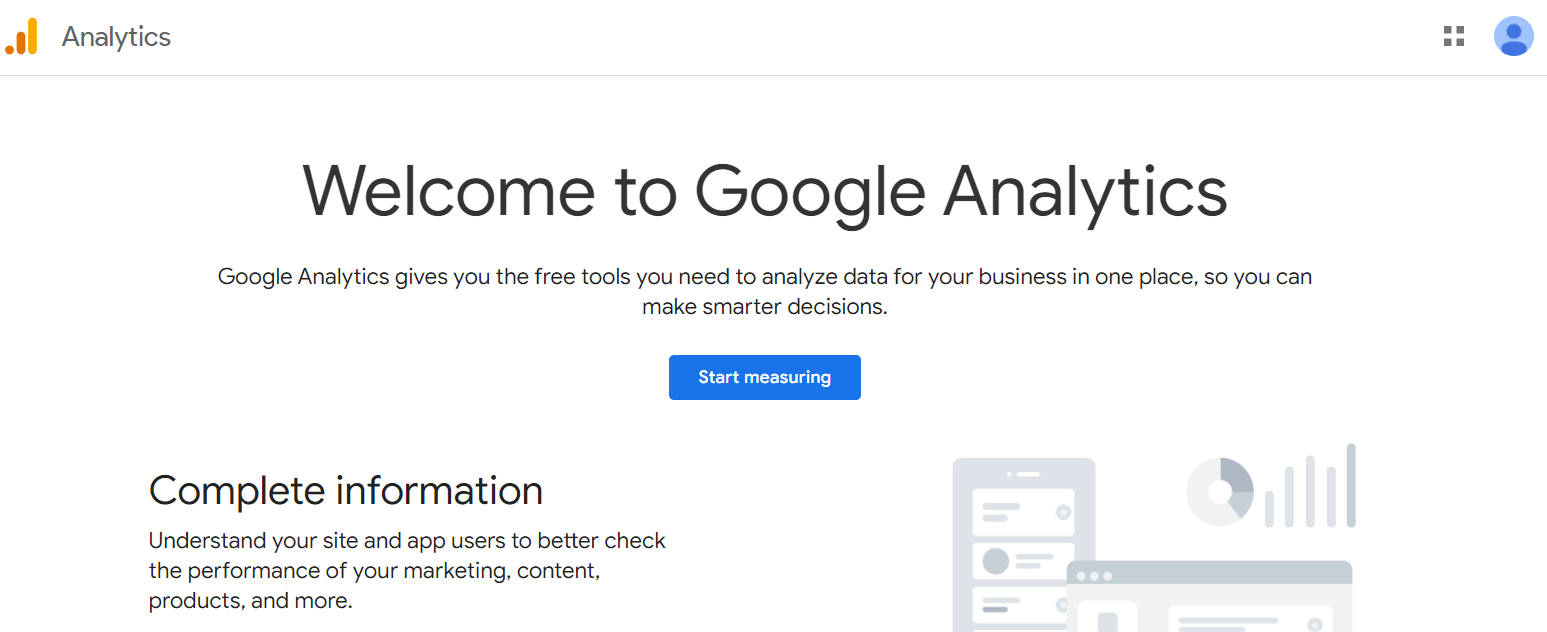 Now enter an Account name for your Google Analytics account. Make sure you've checked all the options listed under Account Data Sharing Settings. Then scroll down and click Next.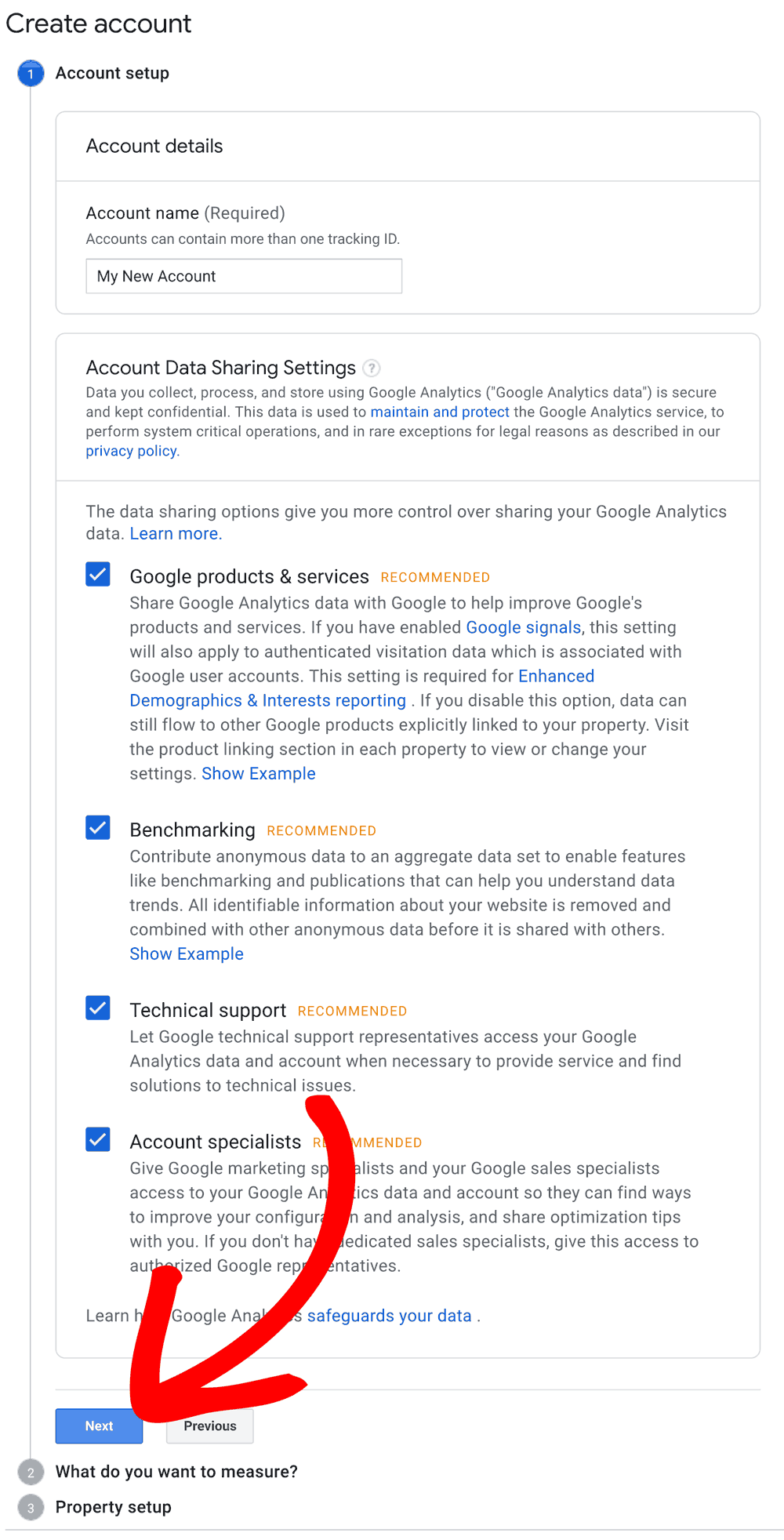 Next, you'll enter a name for your Property. Most people choose the name of their business or website. Choose your time zone and currency, then click Next.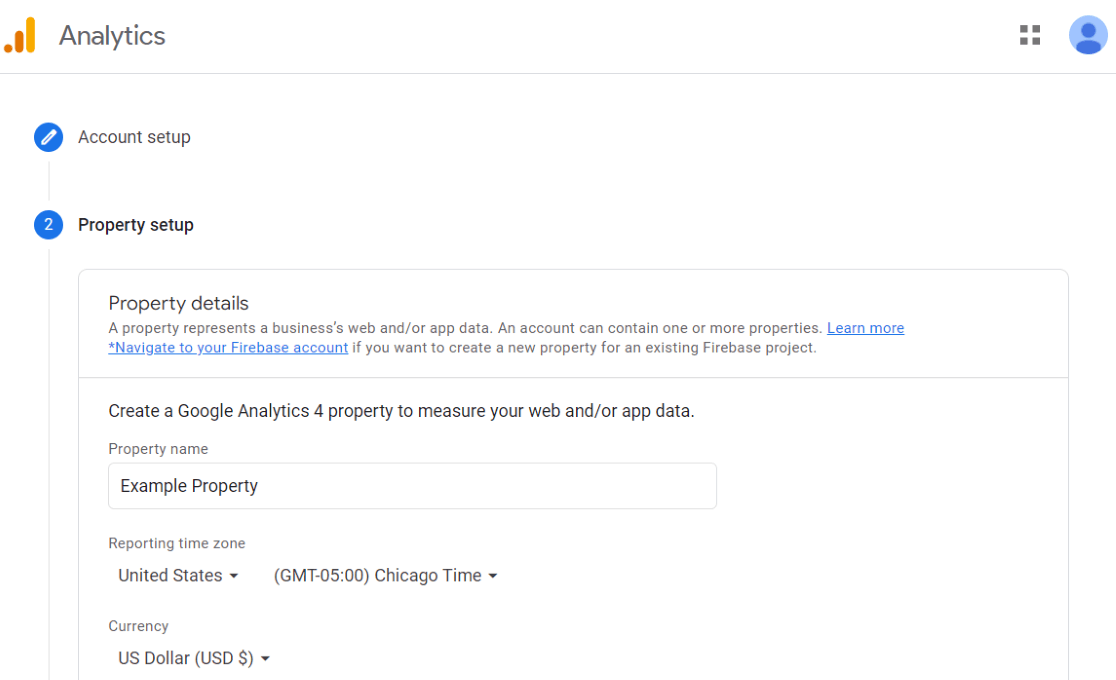 The third step in creating a Google Analytics account is to provide some business information. Choose your category, business size, and what you'll be using Analytics for.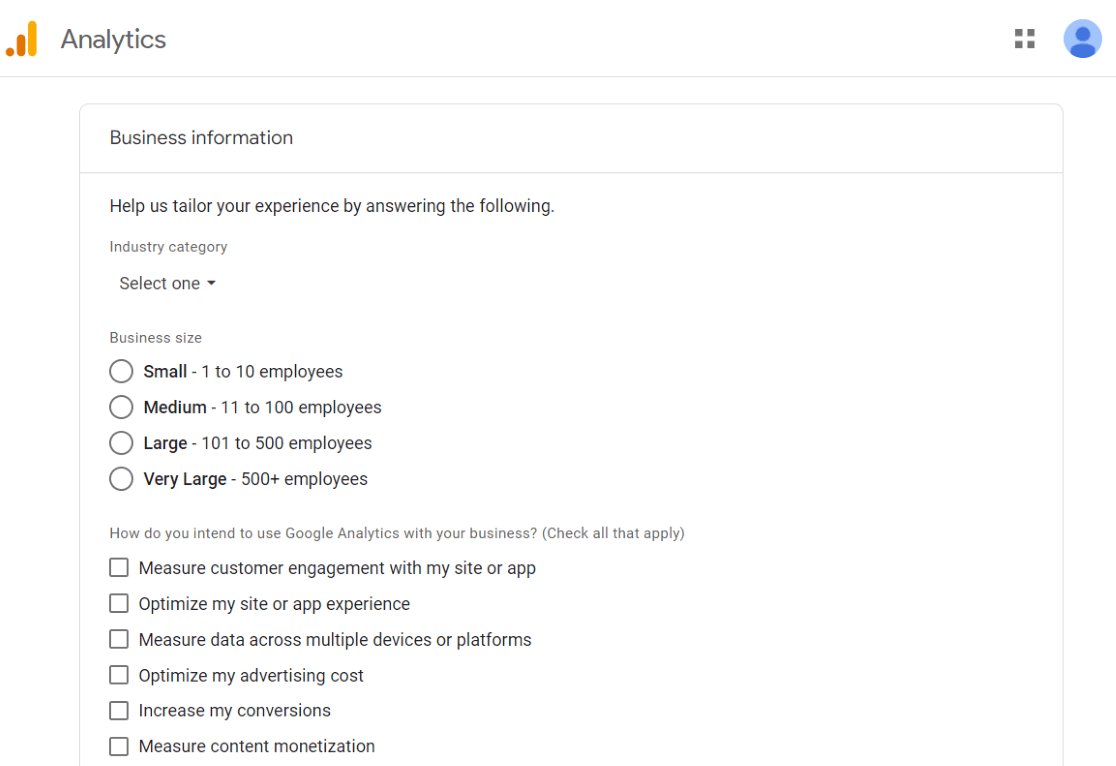 Once you've entered the information, click Create.
A popup window should now appear that contains Google Analytics Terms of Service Agreement.
Review the terms of service and then check the box below the terms about GDPR.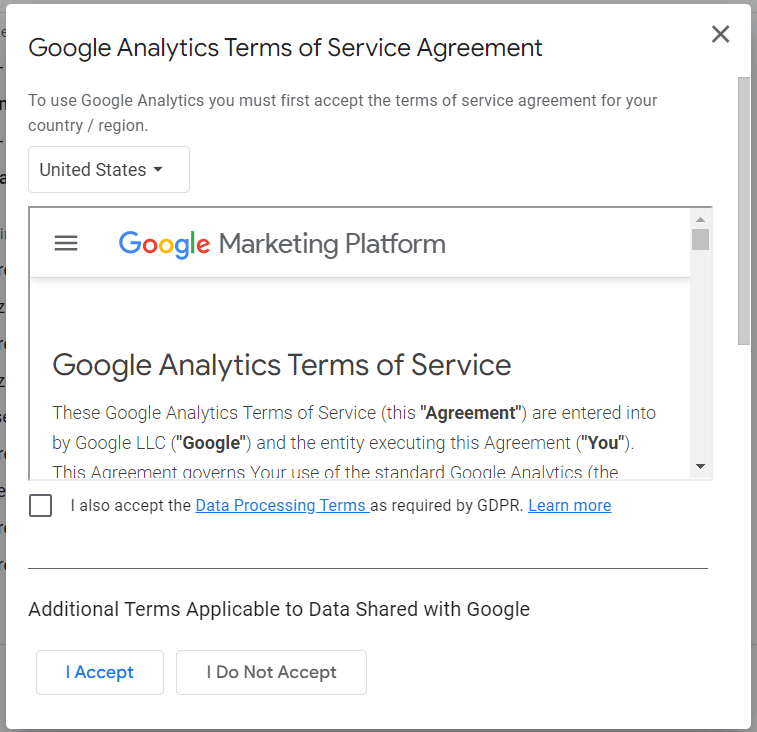 That's it! Your Google Analytics account is now up and running.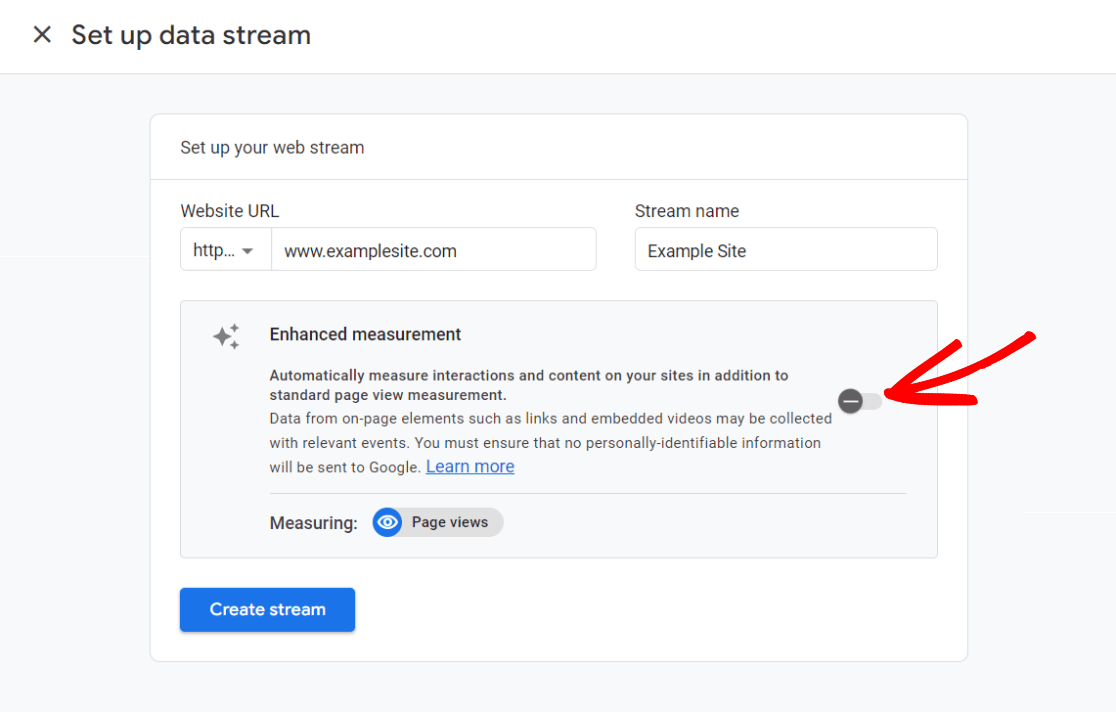 Once you create your stream, you'll land on the Web Stream Details page. Here you can toggle on and off enhanced measurement, access your tracking code, and find a lot of other options and settings. We're going to leave this page open for now and move on to the next step.
Step 3: Download the ExactMetrics Plugin
ExactMetrics is the best premium WordPress analytics plugin. With ExactMetrics, there's a whole list of things you can set up and monitor in Google Analytics and your WordPress dashboard without touching a line of code.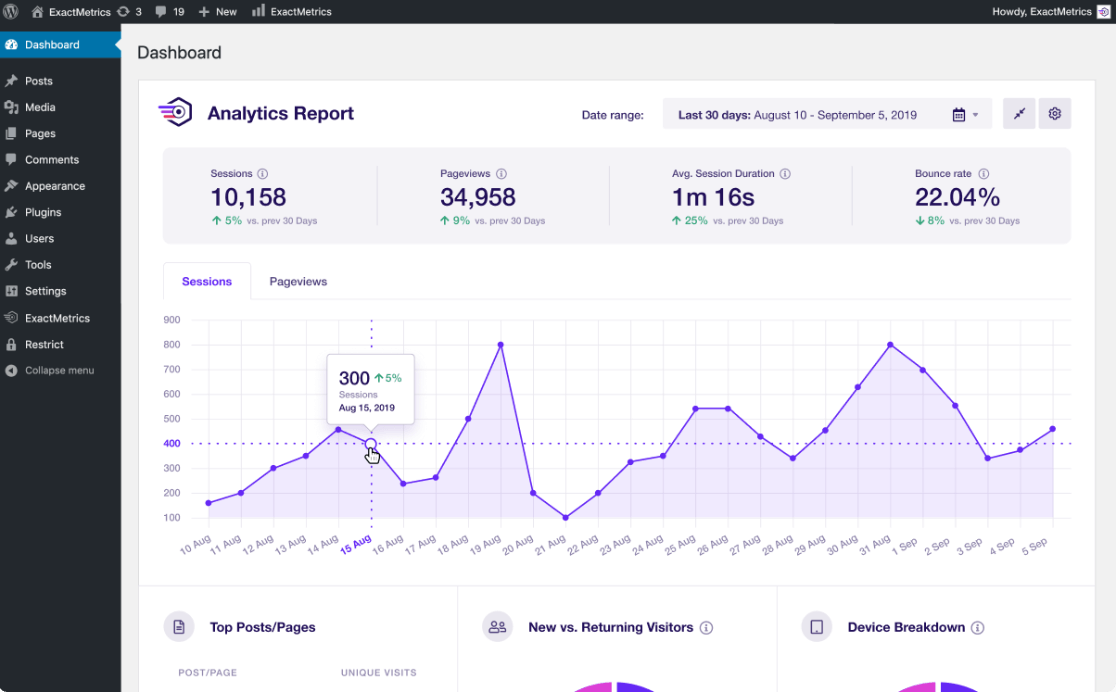 Our most popular features include:
With ExactMetrics, all your most important metrics are right there in your WordPress dashboard.
To start, head to the Pricing page and choose the level that's right for your site and your goals.
Then, to install the plugin, go to the ExactMetrics website and login to your account. Once logged in, go to the Downloads tab from your account area.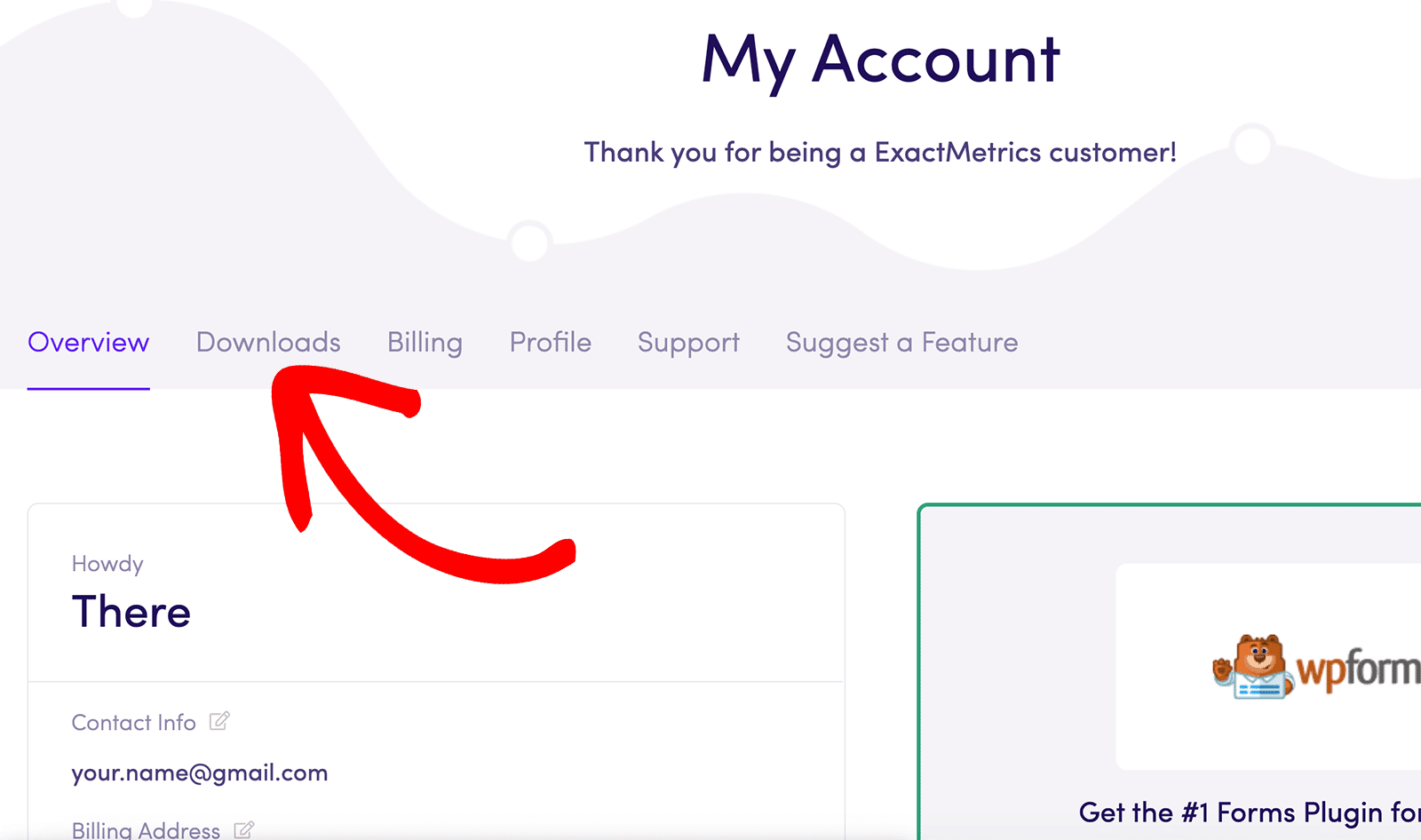 Now click on Download ExactMetrics and download the ZIP file of the plugin.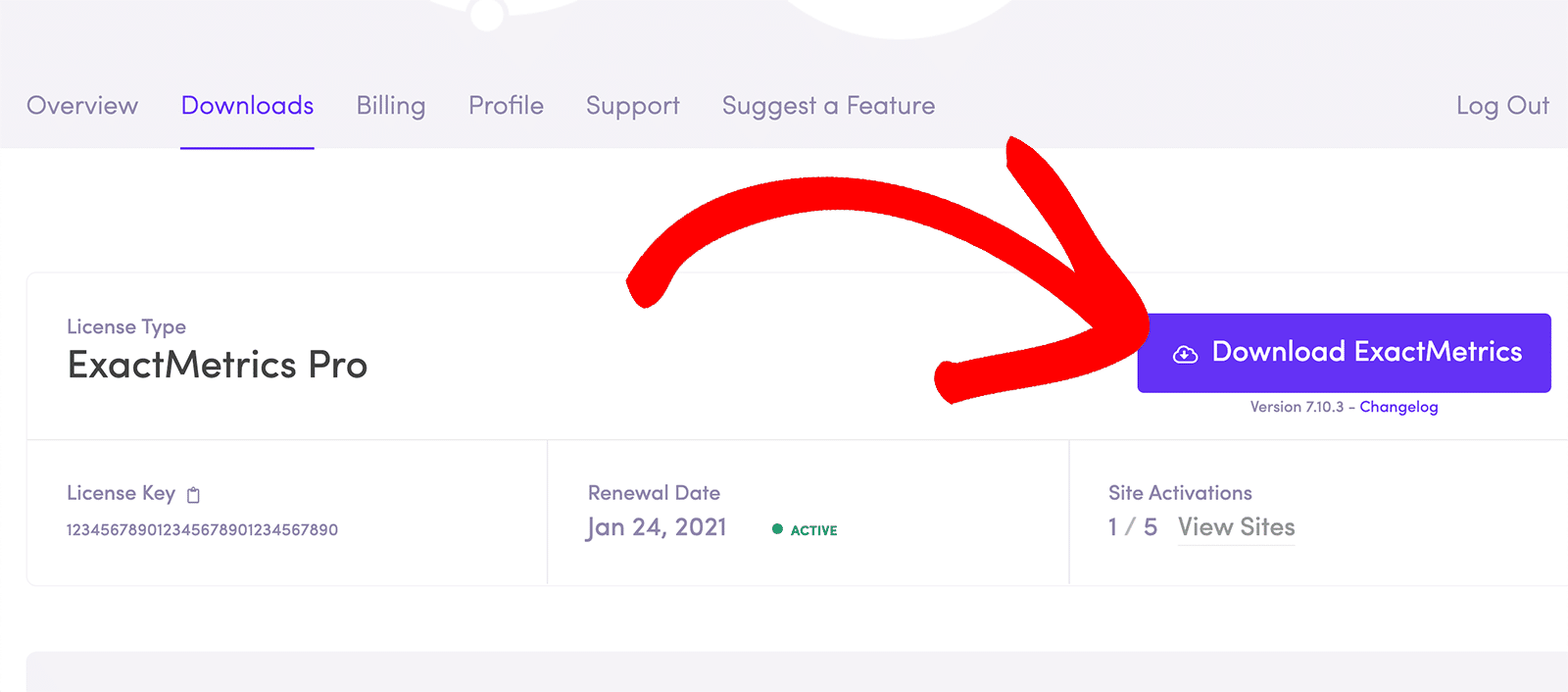 Step 5: Install ExactMetrics on Your Website
Once the setup files are downloaded, it's time to install the plugin. For that, go to your WordPress admin dashboard and log in.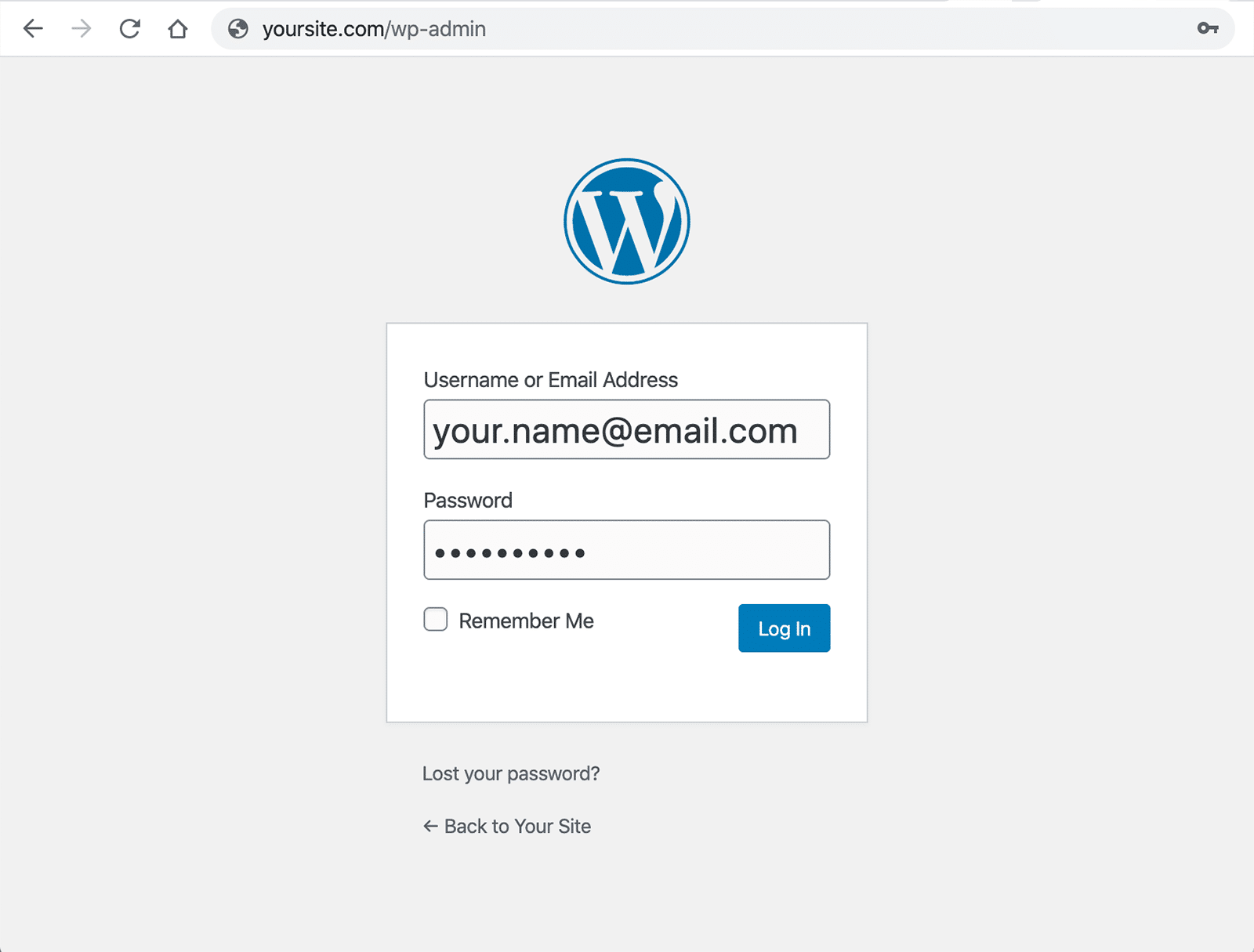 Then navigate your way to Plugins and click Add New. At the top, you'll see an option Upload Plugin. Click on it to install ExactMetrics on your website.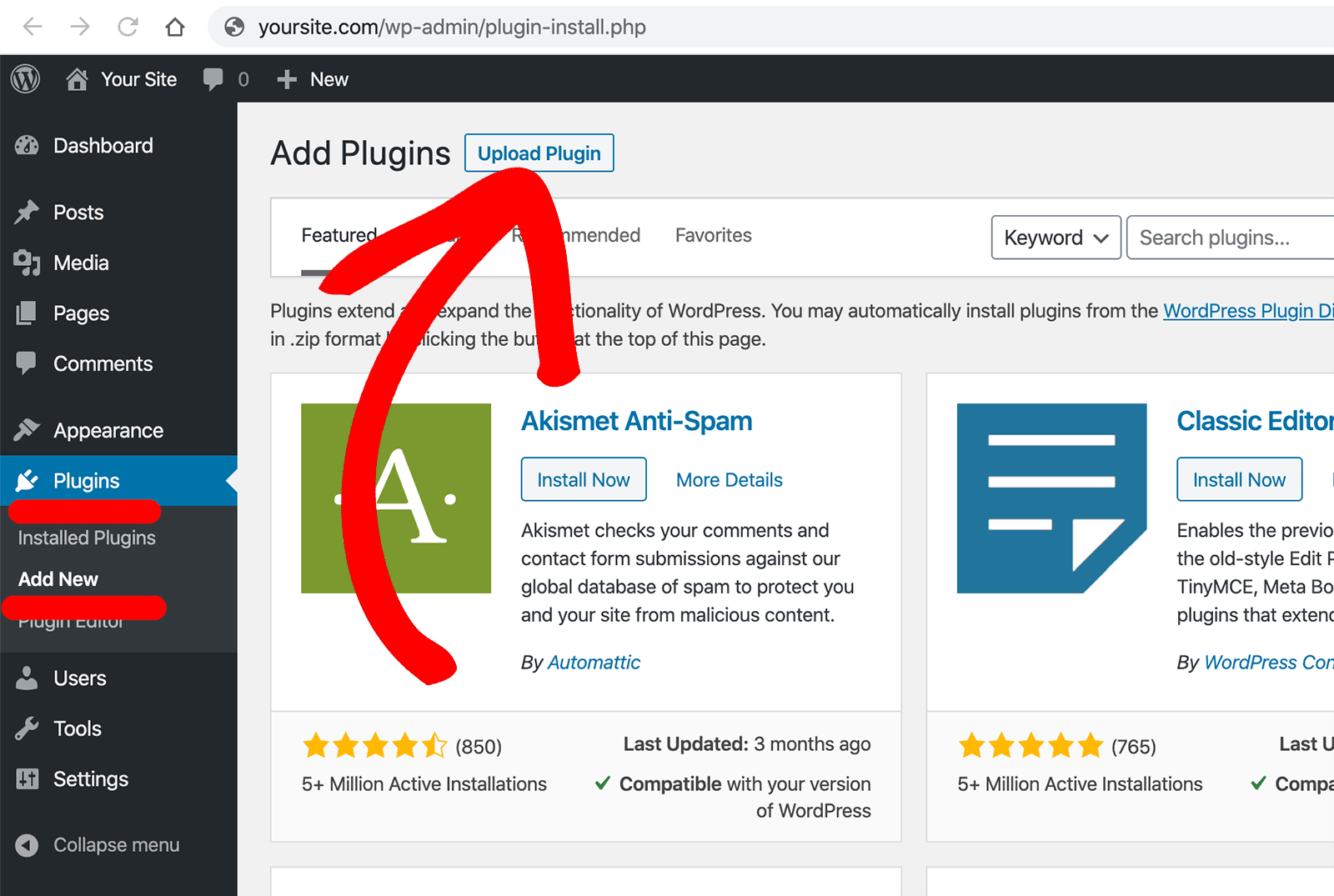 Next, click Choose File and go to the folder where you downloaded the ZIP file of ExactMetrics. Then select the ZIP file and click Install Now to upload the plugin.

After the plugin finishes installing, click Activate Plugin to use ExactMetrics.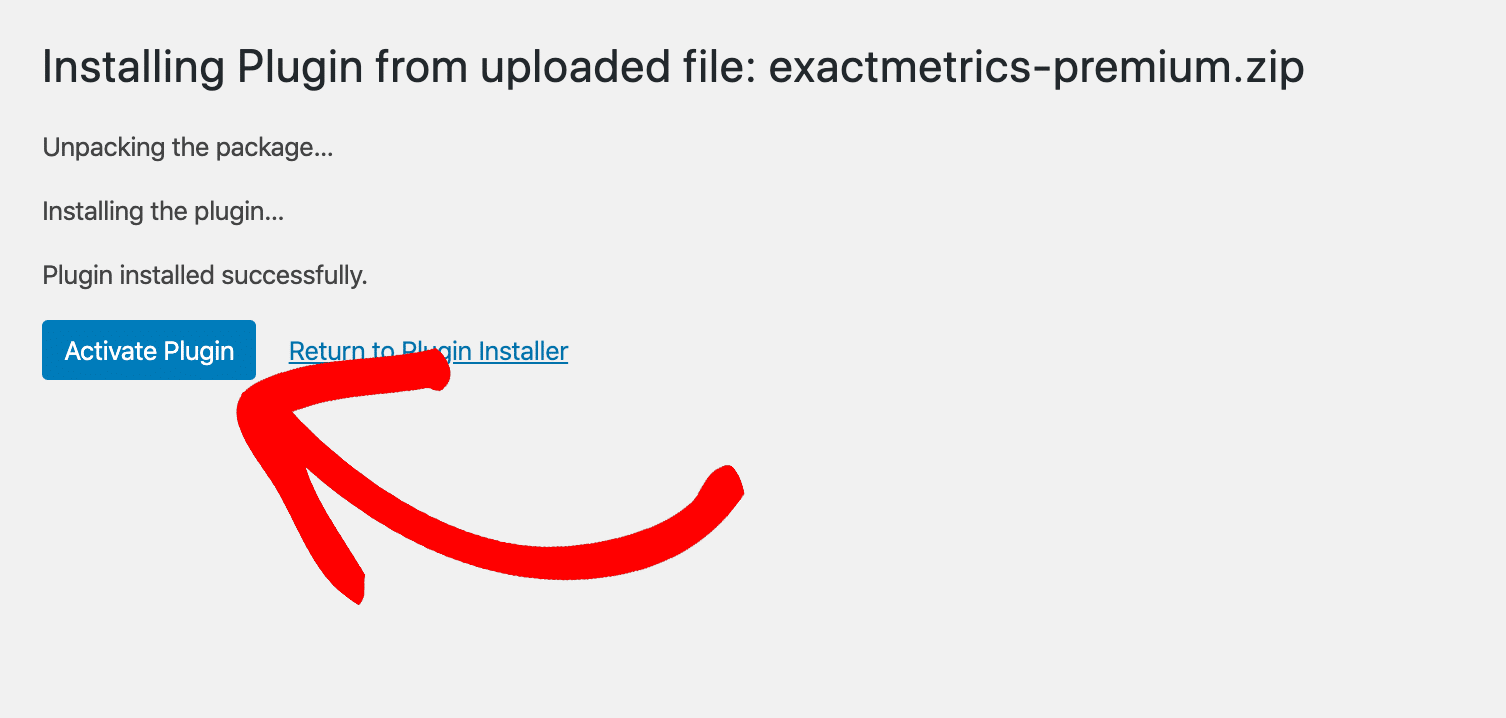 Step 4: Connect Google Analytics
Now that ExactMetrics is successfully installed on your website, you can connect it with your new Google Analytics data stream.
ExactMetrics offers a simple wizard that takes you through each step and makes sure your Google Analytics is correctly set up on your site.
To start, click Launch Setup Wizard.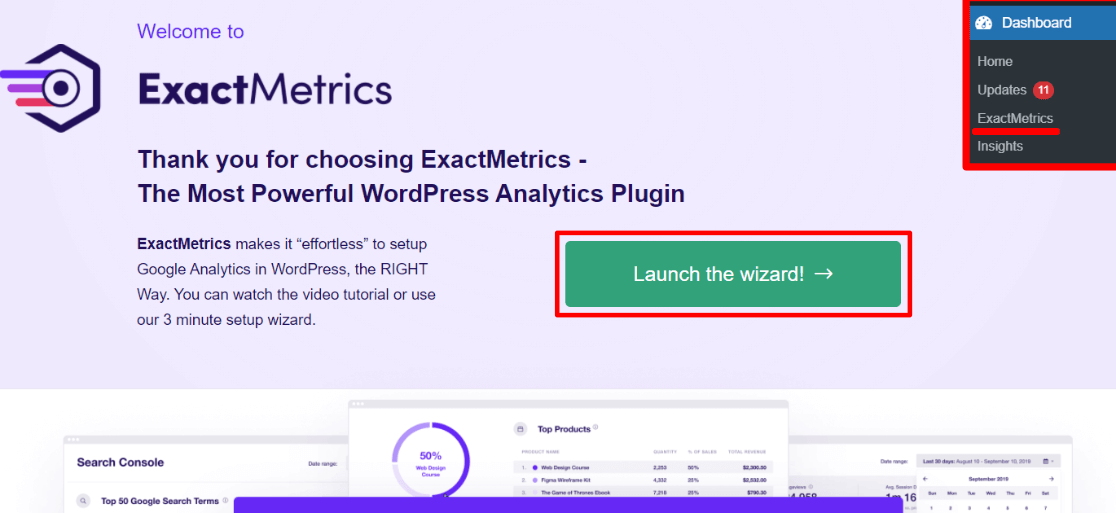 First, you'll have to select a website type. You can choose from 3 options that best describe your site: Business Website, Publisher (Blog), or Ecommerce. Based on your choice, the wizard will offer additional settings for tracking your site's performance.
Once you've selected an option, click Save and Continue.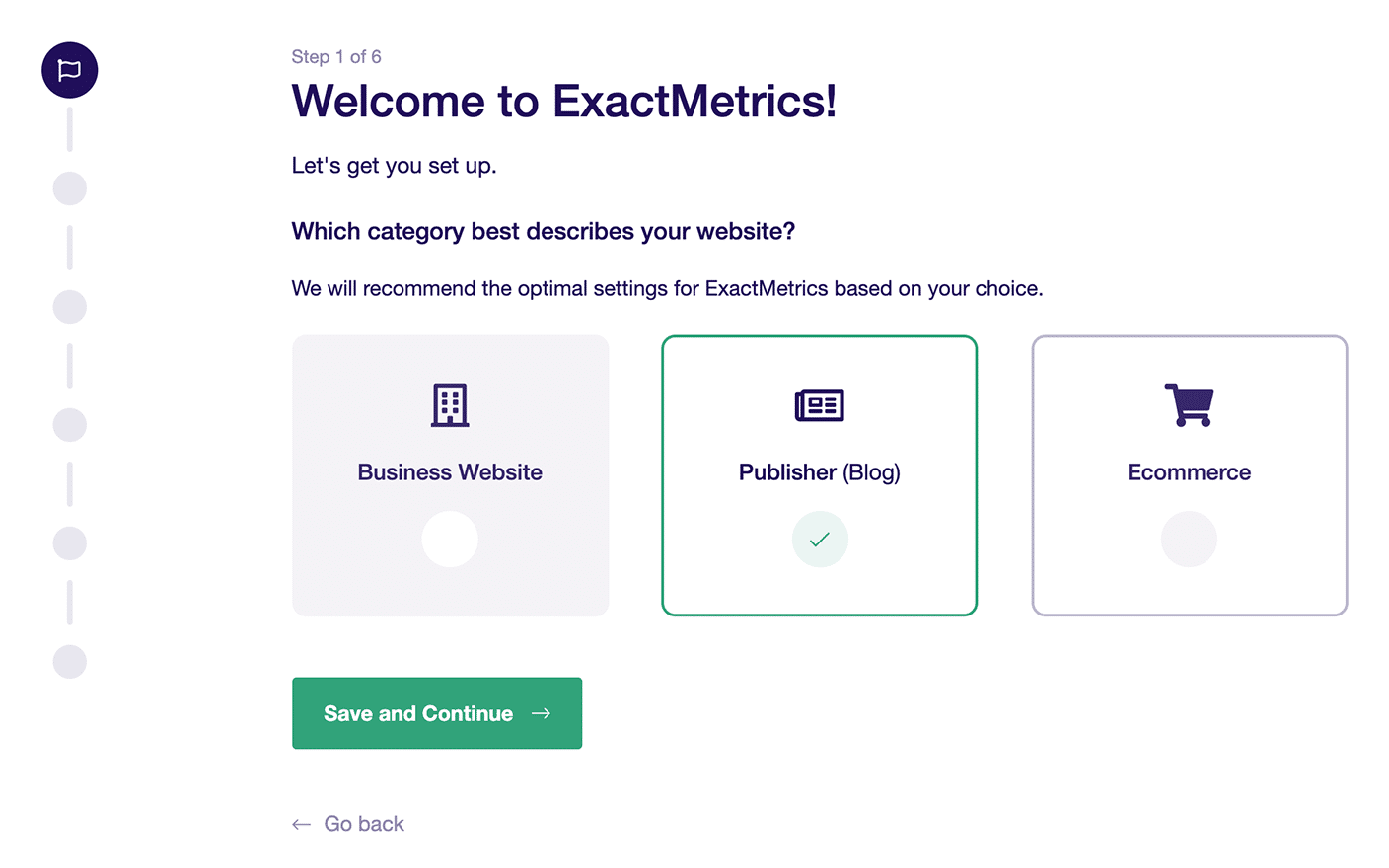 The wizard will now prompt you to enter your license key and then click the Connect ExactMetrics button: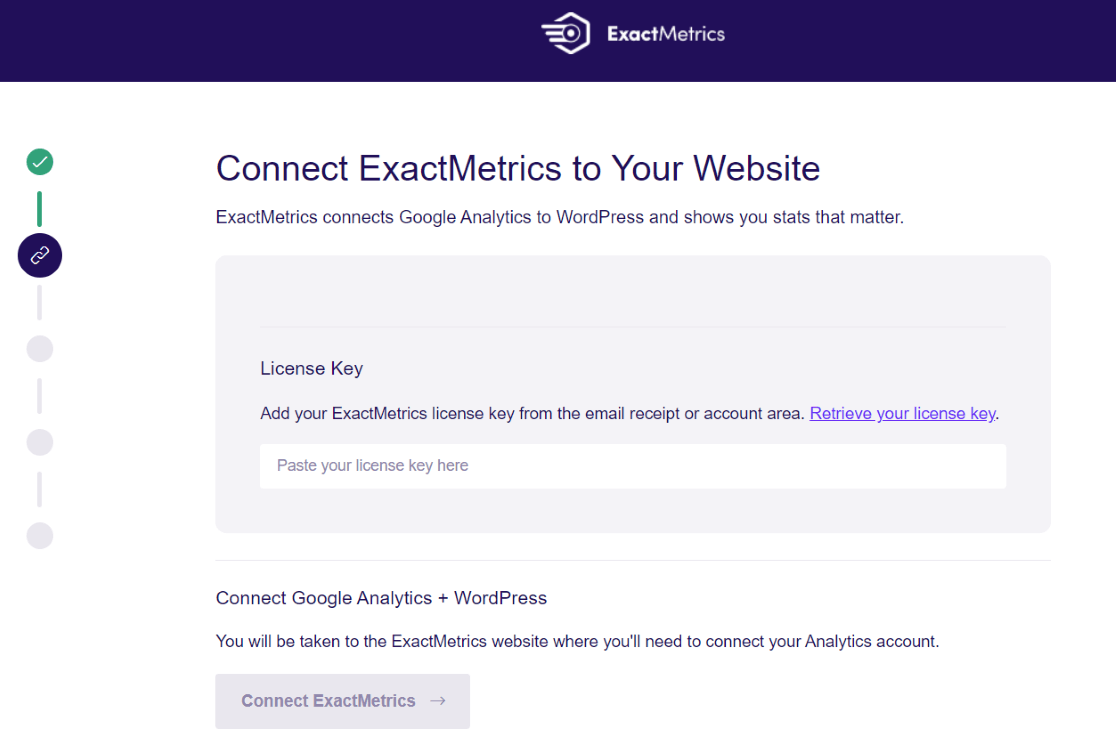 Next, it'll ask you to connect your Google account. Select the account that contains the Google Analytics profile.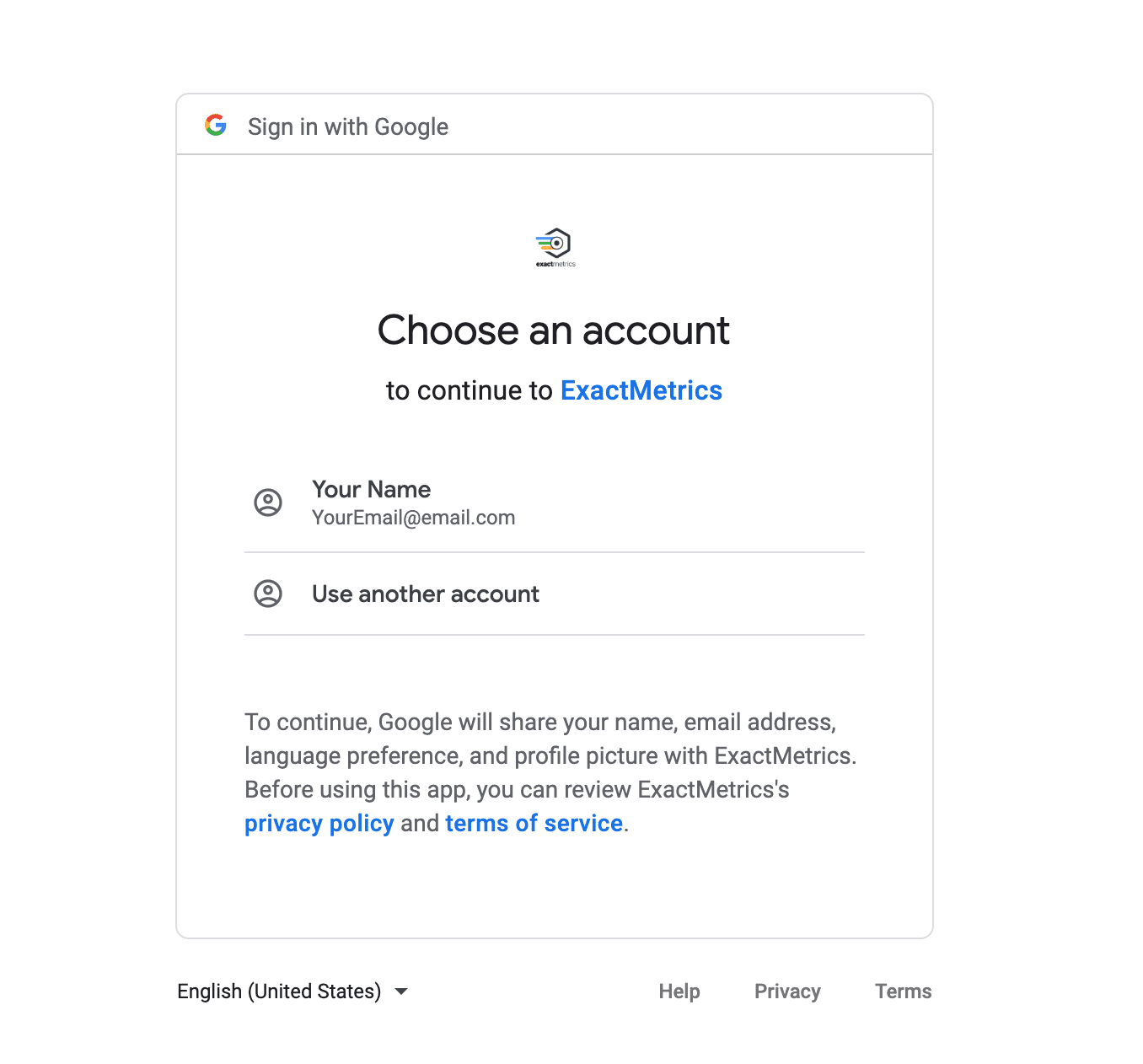 After selecting your Google account, you'll have to give permission to ExactMetrics. It's important you allow all the permissions or the plugin won't function properly.
Make sure all the options are selected and then click Allow.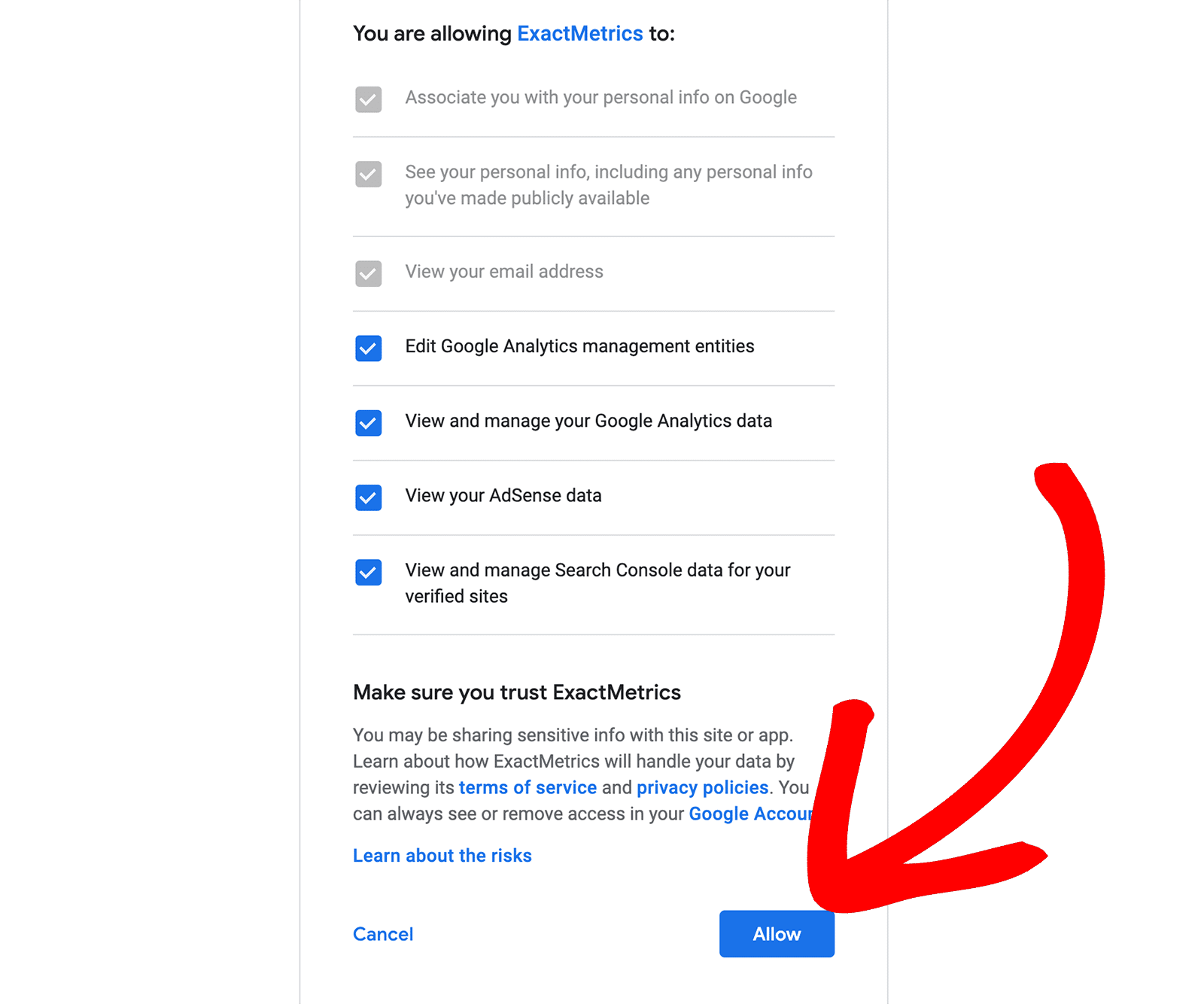 Next, you'll have to select a profile to finish connecting Google Analytics. Do note that if you have multiple websites connected to your Google Analytics account, you'll have to select the right data stream for tracking.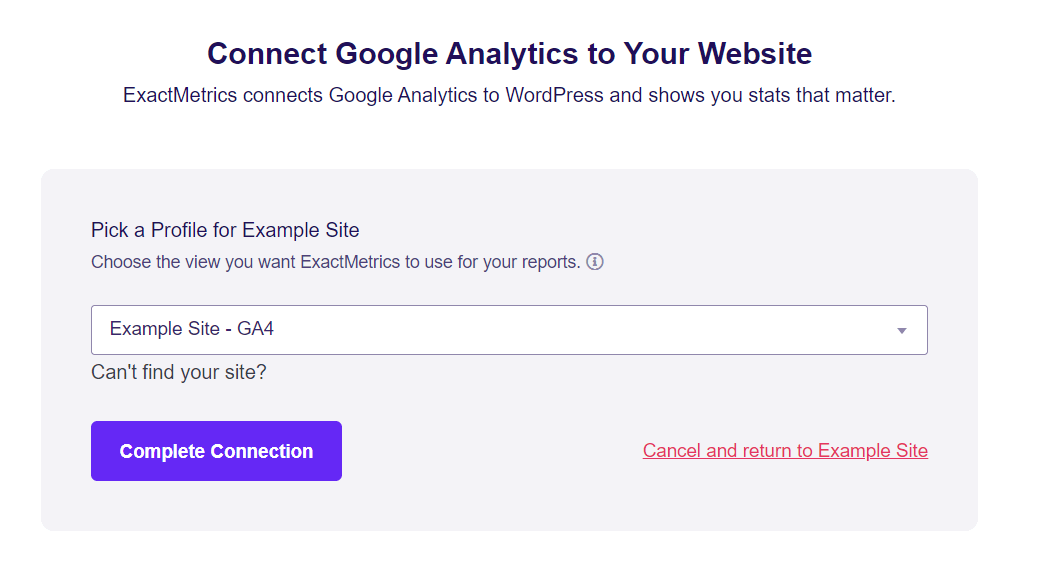 Once you've selected the correct profile, you can click on Complete Connection.
Step 5: Set Up Recommended Settings and Addons
ExactMetrics will then offer some recommended settings based on the website type you selected earlier.
For instance, it will enable Events Tracking and Enhanced Link Attribution by default. And the plugin will automatically track some file type downloads by default. But you can add more file extensions for tracking.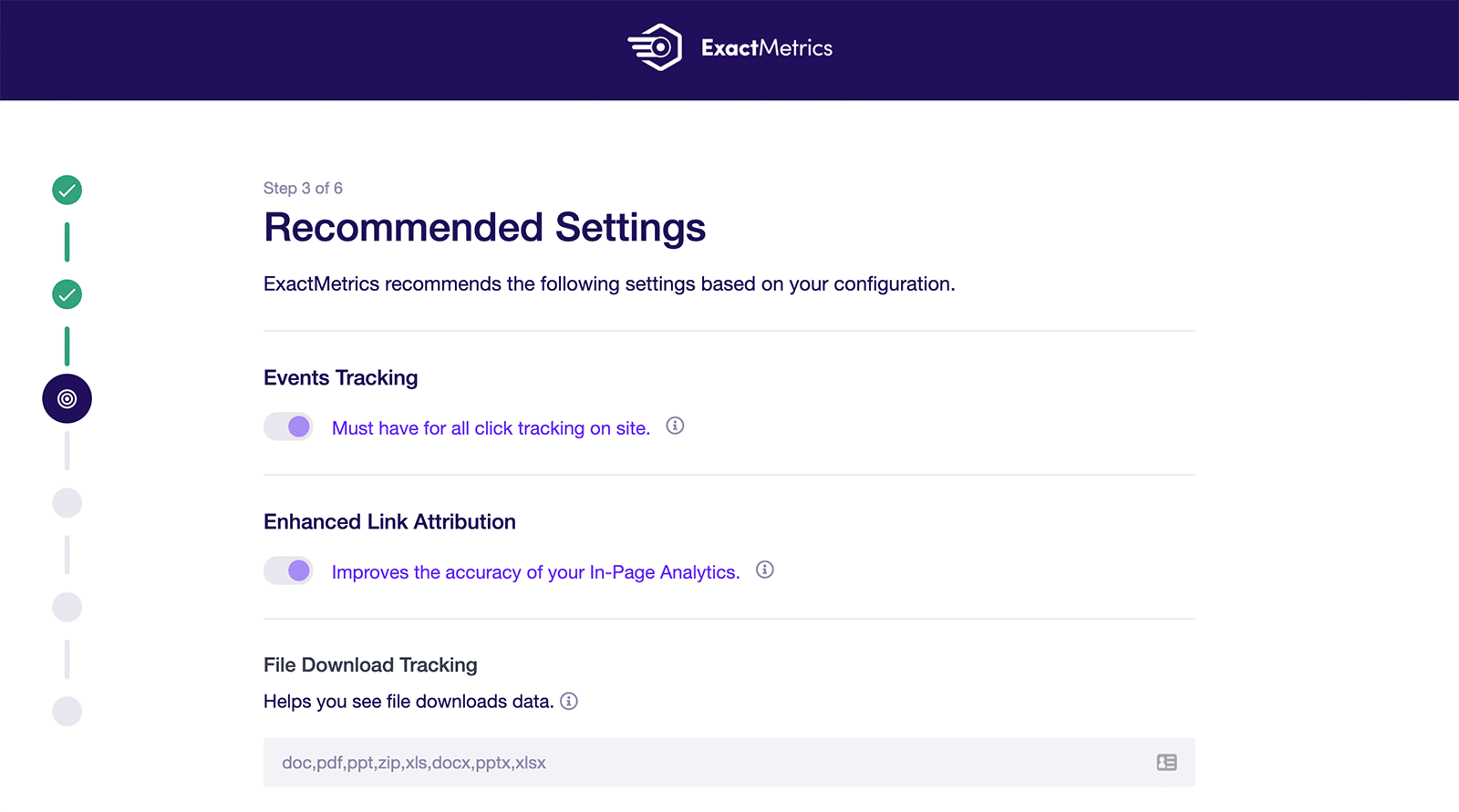 If you scroll down, you'll see more settings. These include Affiliate link tracking, which already has two paths set and you can add more to track affiliate links in WordPress.
You can also select the user roles who can view ExactMetrics reports in the WordPress dashboard. Once you're satisfied with the settings, click Save and continue.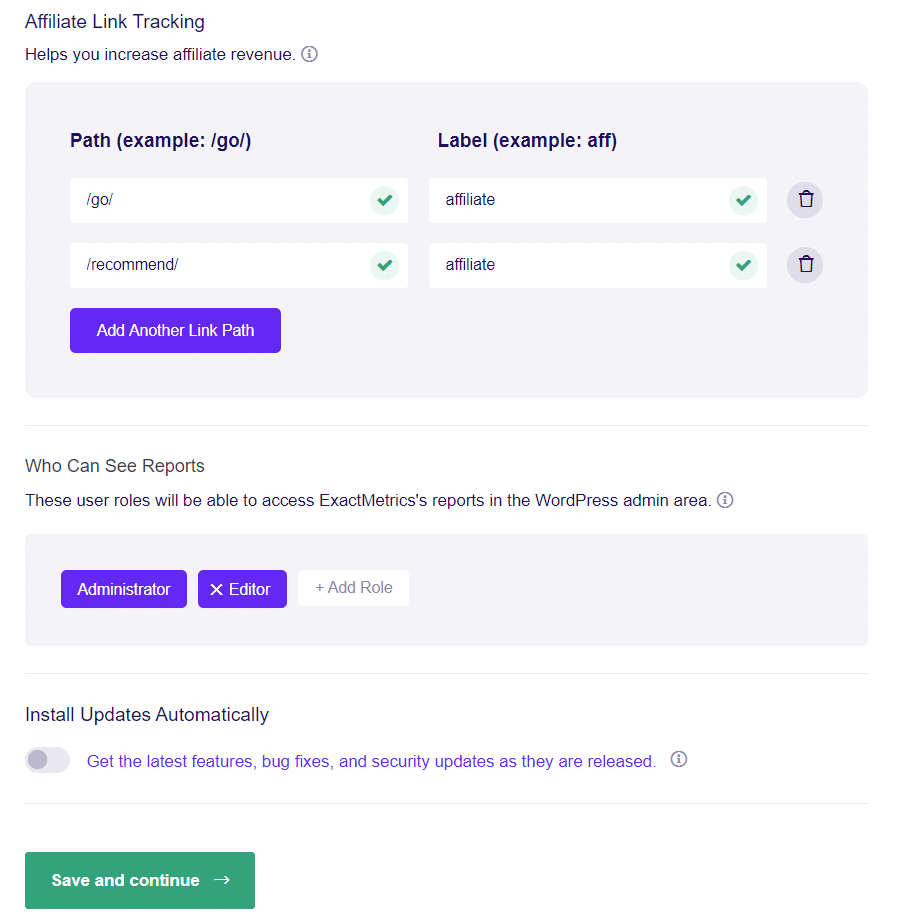 In the next step, ExactMetrics will recommend tracking features, addons, and plugins. Choose the ones you want for your site and click Continue.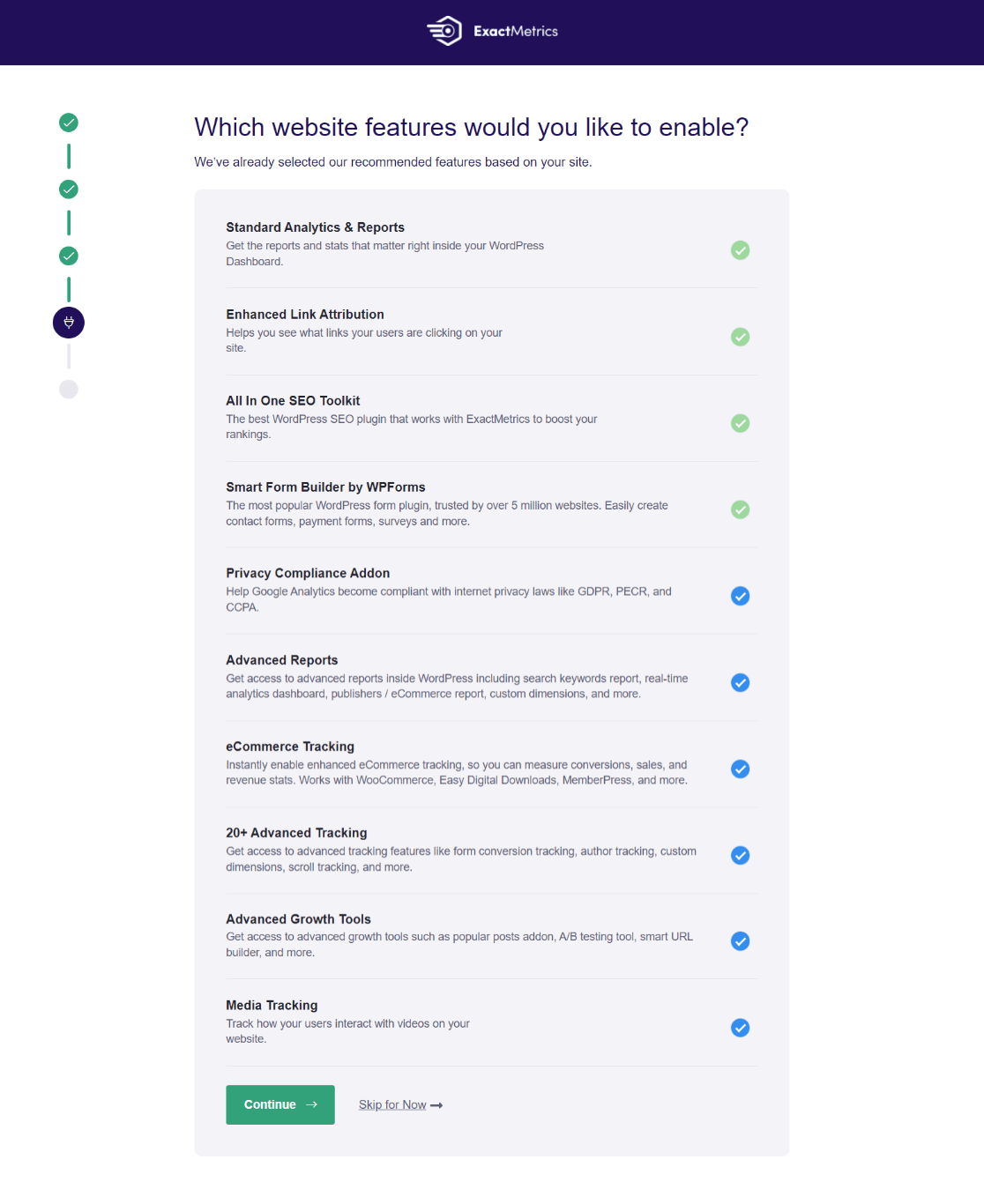 You've now reached the final step in the setup wizard. You've successfully connected Google Analytics to your WordPress website.
Do remember that it could take up to 24 hours for the plugin to gather the data and show you reports in your WordPress dashboard.
And that's it! Click on Finish Setup & Exit Wizard.
Step 6: View Your ExactMetrics Reports
Now that you've completed the setup process for adding Google Analytics, you'll be able to start viewing your site's reports (after a few hours – up to 24). Just head to your WordPress dashboard and click on ExactMetrics » Reports.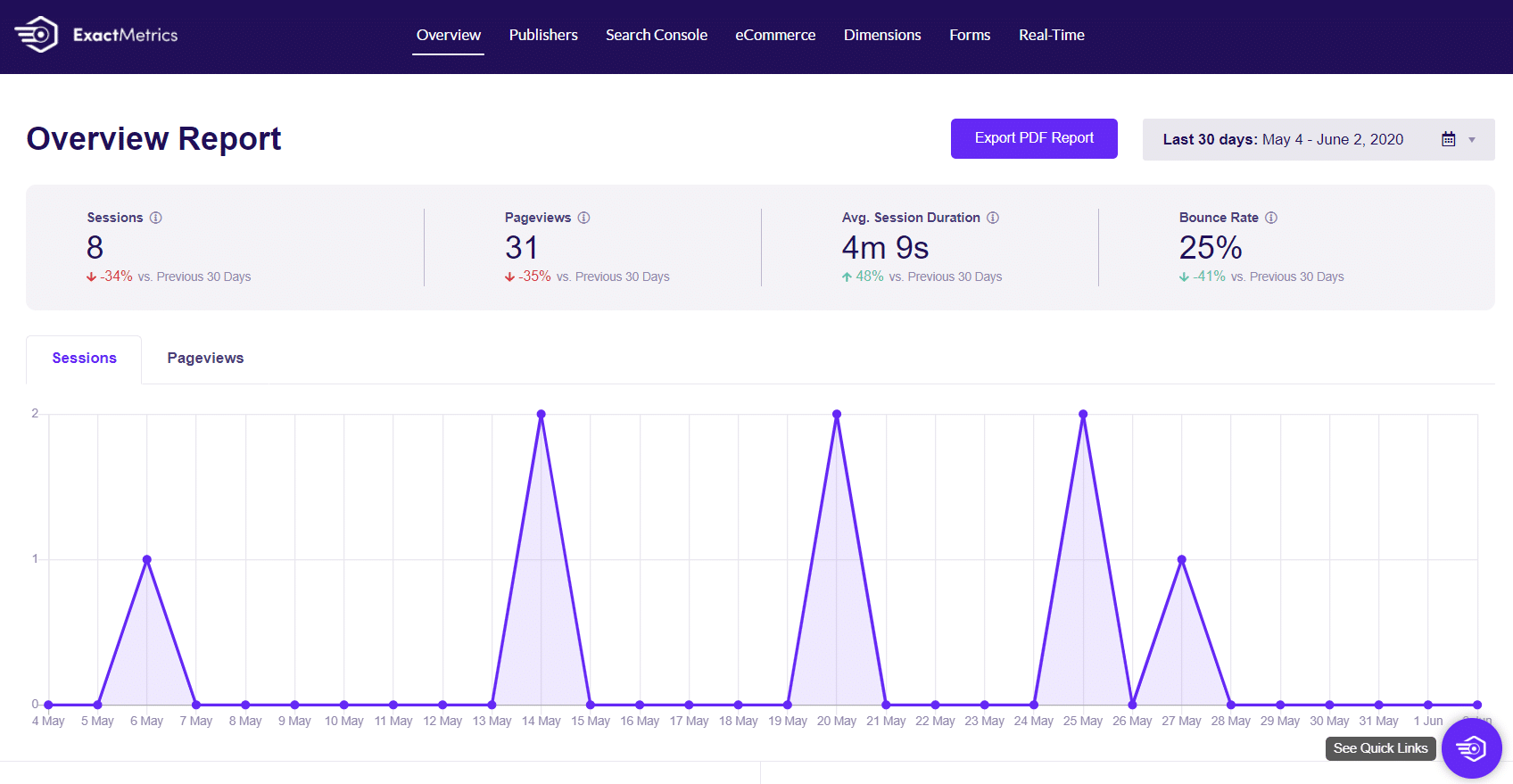 There you have it, folks!
We hope you liked our article on how to add Google Analytics to your WordPress site. If this guide was useful, then you might also want to read our article on How to Track Google Analytics Keywords (Step-by-Step).
And don't forget to follow us on Twitter and Facebook to get to know the latest guides on Google Analytics and WordPress.