Do you ever feel like analytics data doesn't tell you what you really want to know? Meaning you can see what your site visitors are doing, but you can't figure out why they're doing it.
Now you have a tool to fill in the gaps when numbers fail you. Welcome to UserFeedback, the best WordPress plugin for customer surveys, polls, ratings, and other types of feedback.
UserFeedback is designed to give site owners real, qualitative information from actual site visitors.
Marketers have known for a long time that one of the best sources of market research is genuine feedback, direct from your customers.
Now anyone can get that honest input, by asking users how they feel and what they want. With UserFeedback, you don't need any advanced technical or programming skills to access this gold mine of information!
Get the Real Story from UserFeedback
Imagine being able to ask your site users questions, whenever and wherever you want.
Here are a few scenarios where UserFeedback can help:
Asking whether someone was able to achieve their goal on your site
Getting opinions on product offerings and pricing
Requesting a Net Promoter Score (NPS)
Gathering demographic information to better understand your audience
Researching your brand reputation versus the competition
Anytime you need real, unbiased feedback from actual users
Use Built-in Templates or Design a Custom Survey
Making a new UserFeedback survey is easy. Just click on a template design, modify the questions to suit your goals, and publish. Your survey starts displaying and collecting user responses right away.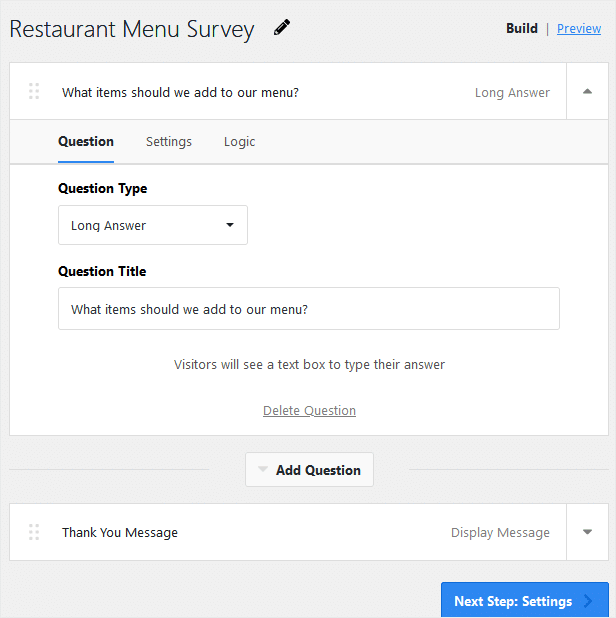 UserFeedback has 25 pre-built templates that cover many common business scenarios, from NPS surveys to B2B Buyer Persona profiles. If you need something else, you can design a fully custom survey from scratch.
It's easy to customize feedback surveys to match your branding or WordPress theme with the UserFeedback editor.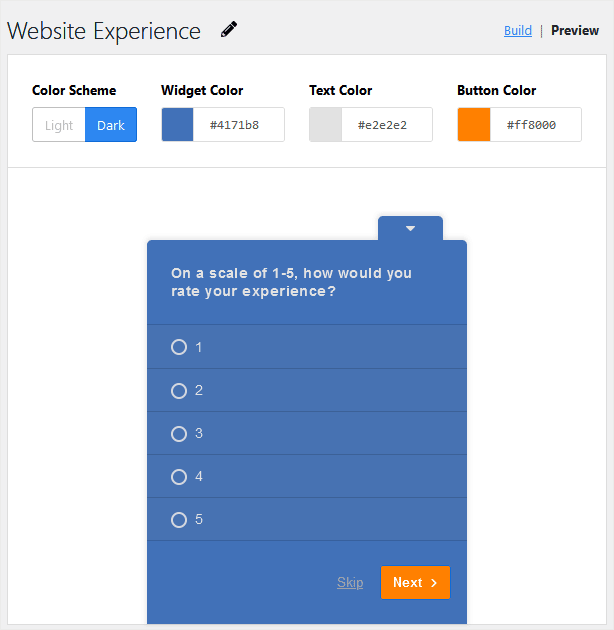 Ask Questions When and Where You Want
You have several options for displaying feedback forms to visitors. Surveys can be added right inside a WordPress post or page, or displayed in a collapsible widget in the corner of the screen.
UserFeedback offers advanced settings for targeting by device and location. You can set surveys to only run on mobile or desktop, for example, and to only show on certain webpages.
You'll also have control over the triggering for each form, how many times a user can see a survey, and how long they run before stopping.
Custom Data Collection
UserFeedback gives you the option to ask up to 7 different question types to accommodate any style of survey:
Checkboxes
Radio Buttons
Single Text Field
Long Answer
Email Capture
Net Promoter Score (Pro)
Star Rating (Pro)
You can create multiple choice questions, yes or no, star ratings, and numeric scales. Conditional logic lets you customize survey questions based on the user's responses.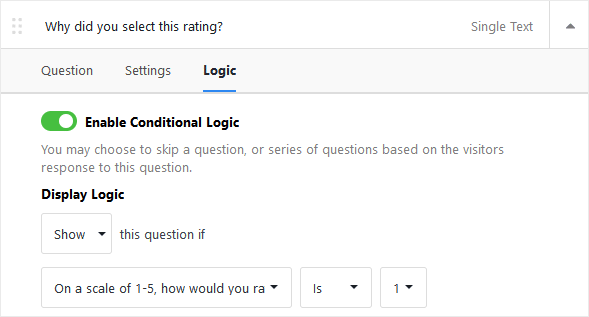 There's no limit on the number of feedback forms you can create and run on your WordPress site with UserFeedback.
Capture Email Contacts With Your Responses
One standout feature included in all versions of UserFeedback is an email capture field that can be added to any survey. That means you can export users' contact information from UserFeedback to your mailing lists, automated email campaigns, or CRM.
Multiple Reporting and Viewing Options
UserFeedback can send email notifications to you (and anyone else) whenever someone completes a survey. It also emails a weekly summary of feedback responses, so you get an updated perspective on your visitors' experience at a glance.
You can also set up emails that only notify you when a specific response is selected using UserFeedback's workflow triggering.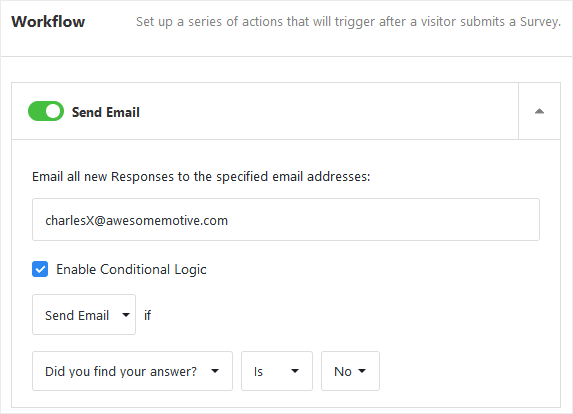 For detailed survey and feedback results, just log into your WordPress dashboard. UserFeedback provides an overview graph, a table with tabulated results, and individual responses if you need to drill down even deeper.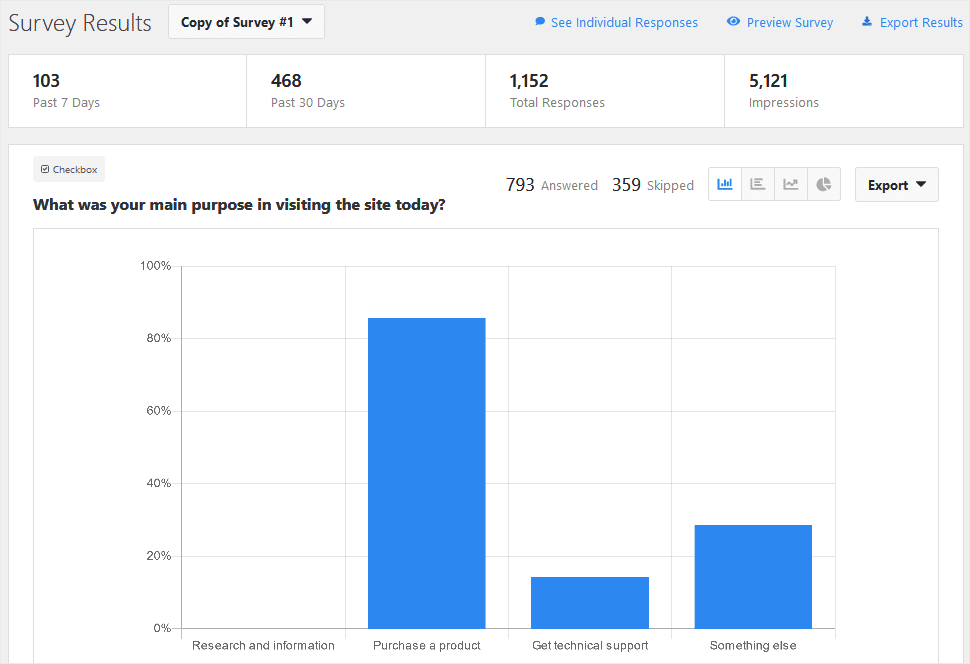 For those with large volumes of data, you can export survey results from UserFeedback in CSV or XLSX formats. Use your feedback to make informed decisions about your products, marketing, site design, and more!
So, are you ready to get real feedback from site visitors, and find out what your best customers really want? Then go try out UserFeedback now!
We hope you're excited to start gathering real feedback from site visitors. Let us know how you're using UserFeedback to improve your site interactivity and user experience.
If you're not using ExactMetrics yet, what are you waiting for? Get started today!
And don't forget to follow us on Twitter and Facebook to see all the latest Google Analytics tutorials and tips.