We're excited to announce that ExactMetrics now supports Google Search Console Domain properties.
With a domain property, you can save time and energy by creating one Domain property instead of several URL properties.
For example, you can now verify just examplewebsite.com instead of http://www.examplewebsite.com, http://examplewebsite.com, https://www.examplewebsite.com, and https://examplewebsite.com.
Verifying with a Domain property will eliminate a lot of the issues users experience when trying to connect Search Console and Google Analytics.
With this update, you can more easily and accurately connect your website with Google Search Console to bring your Search Terms report right into your WordPress dashboard.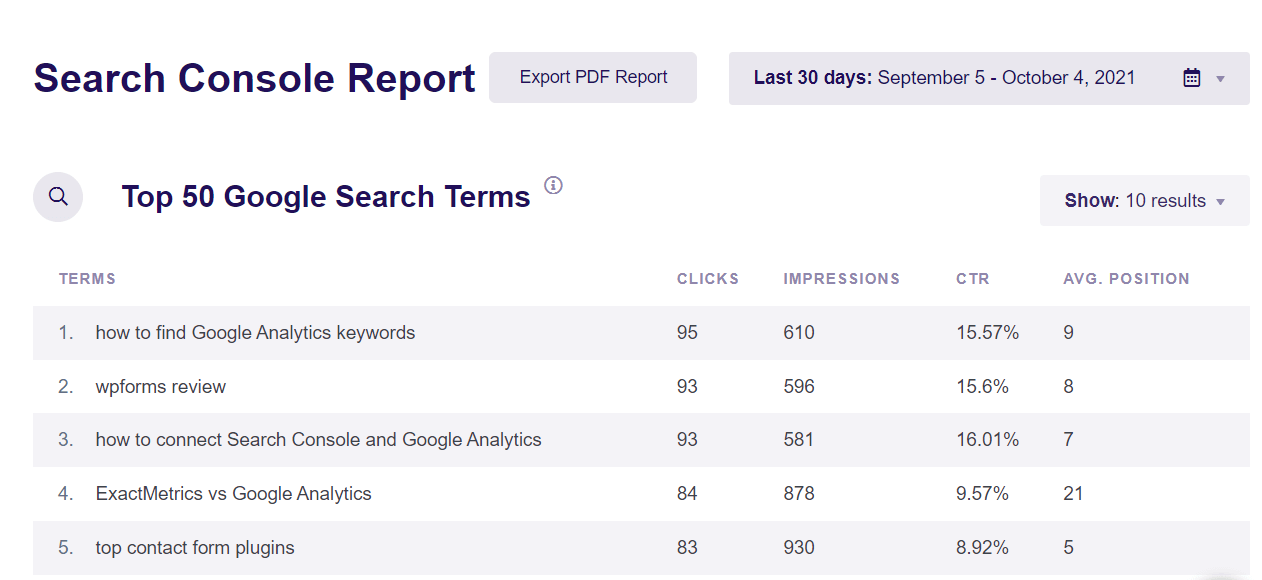 Domain Properties in Google Search Console: What Are They?
When you set up Google Search Console, you'll have the option to set up either a Domain property or a URL prefix property. A Domain property will cover all subdomains and URLs, whereas a URL prefix property will cover just the URL you set up.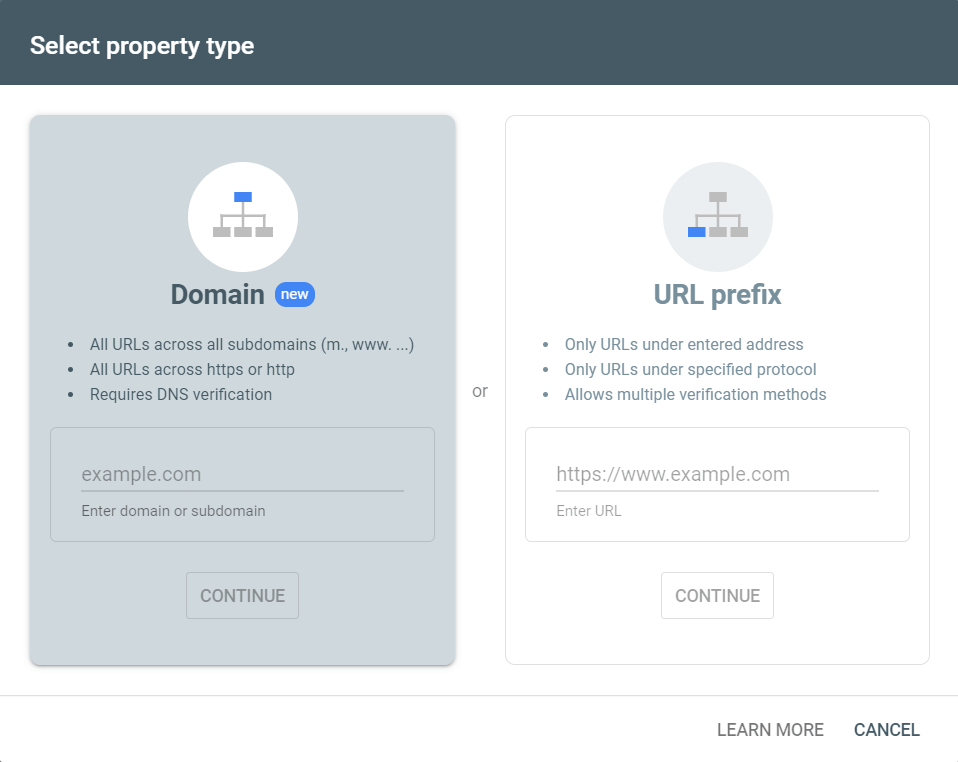 For example, a Domain property could cover:
https://www.example.com
http://www.example.com
https://example.com
http://example.com
A URL Prefix property would cover only one of those URLs.
Benefits of Domain Properties
A Domain property protects you from connection issues between Search Console, Google Analytics, and your website.
For example, let's say you set up http://www.example.com as a URL prefix property. Then, you find you you can get a free SSL certificate through your web host. Awesome! So you go ahead and turn that on. A couple weeks later, you log into Search Console to check on your keywords and organic landing pages, and you find out that the connection has been broken ever since you implemented the SSL certificate and your URL changed to https://www.example.com.
Shoot.
Another common issue that often occurs is when you're connected via URL prefix to http://www.example.com, but your site is also live at http://example.com. That leads to missing data and connection problems.
To make sure neither of these issues happen to you, verify your site using a Domain property.
How to Verify a Search Console Domain Property
To verify a Domain property in Google Search Console, you need to verify that you're the owner of the entire domain, not just the URL.
To do that, you need to verify it with your DNS (Domain Name Service) provider. Some common example of DNS providers are Bluehost, Siteground, and GoDaddy.
To get started, first paste in your domain name (example.com) and click Continue: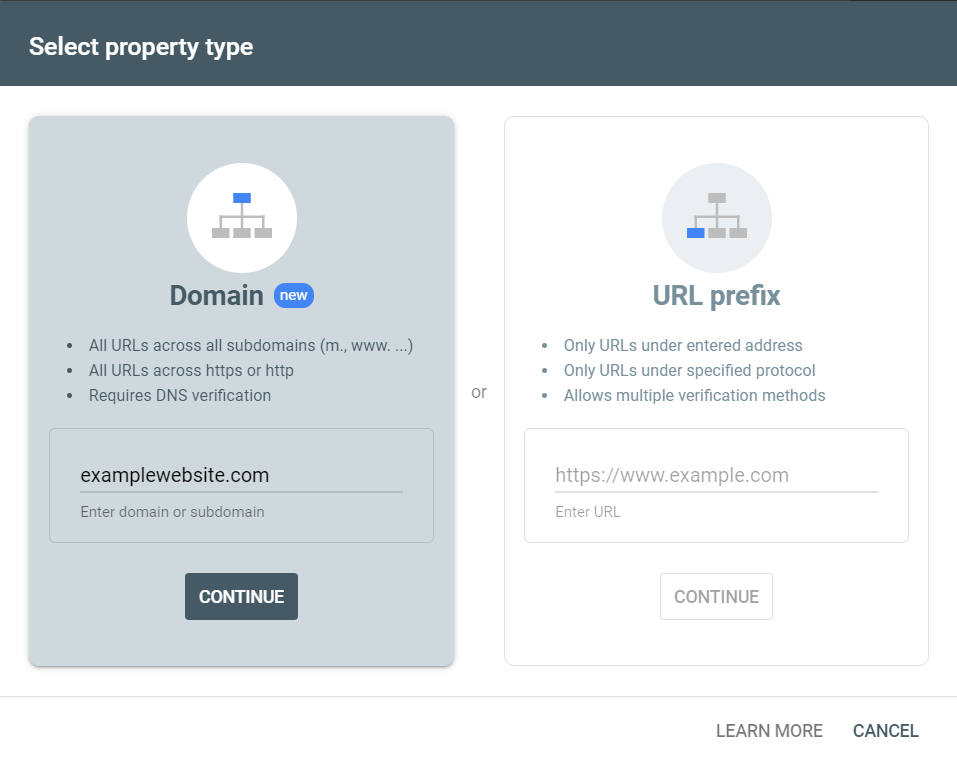 Next, you'll get some specific directions about how to verify via your specific host if Google sees you have one from their dropdown. Or, you can just choose Any DNS provider from the dropdown for the universal instructions.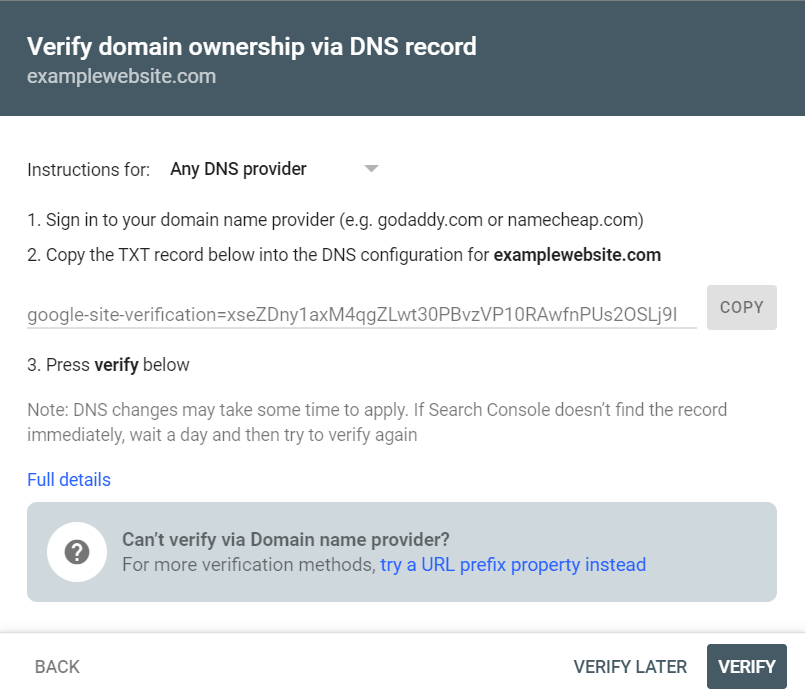 Now, you can copy the TXT record (just that string of code) and paste it into a new TXT record in your DNS. How you do that differs between different DNS providers, but here's how it looks in Siteground:

All you would do here is paste the code from Search Console into the Value field and click Create.
For more help with these steps, visit Search Console Help.
That's it for this update! If you're not an ExactMetrics user yet, what are you waiting for? Get started today!
Don't forget to follow us on Twitter and Facebook to see all the latest Google Analytics tutorials.