Looking for a WordPress calendar plugin that's simple to learn, reliable, and feature-rich?
There are many calendar plugins that'll work okay, but there are only a few that are truly the best. In this article, we're going to look at just the top 5 calendar plugins for WordPress.
But first, let's think for a second about what you might need out of your calendar plugin.
Features to Look For in WordPress Calendars
Before you choose a plugin, you should think critically about what features you're going to need your plugin to have. All of the plugins we have on our list will show your events on a public-facing calendar on your site. What calendar functionality are you looking for beyond that?
A few questions to ask yourself are:
Do you need to sell tickets for your events?
Do you need visitors to be able to schedule an appointment on your calendar?
Does your calendar need to integrate with other apps, like Google Calendar or iCal?
Do you want to display a map in each event listing?
Do you have a lot of events that you need to sort using categories or tags?
Once you know more about what you need from your WordPress calendar, take a look at our list and pick the best one for your unique website and needs.
Top 5 Calendar Plugins for WordPress
We've reviewed and chosen the best calendar plugins, so that you don't have to wade through long lists of them. Here are our picks for the top 5.
Sugar Calendar is the best WordPress calendar plugin that's simple, but provides all the major features you might need for event management. It's lightweight, easy to learn, and powerful enough for most event calendar needs.
With Sugar Calendar, you can create an event calendar that looks great and modern, is searchable, and is super user-friendly (both for you and for anyone checking out your events). This great plugin is our #1 recommendation for anyone needing to get started with an events calendar on WordPress!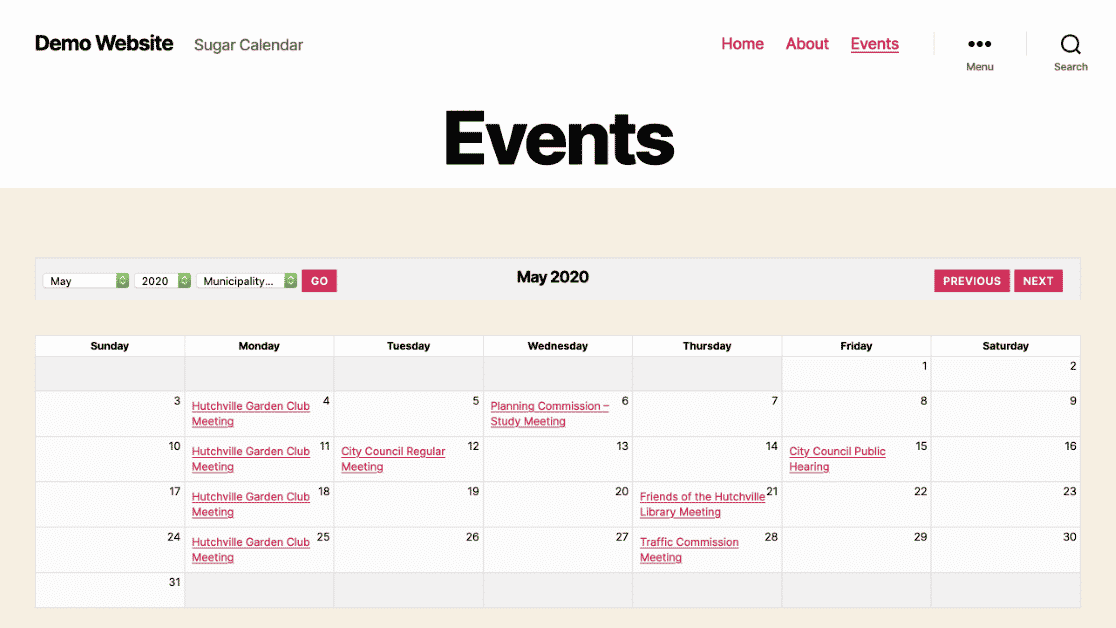 If you do need extra features, Sugar Calendar add-ons include:
Google Maps
Event import
Ninja Forms form embed
Gravity Forms form embed
Advanced recurring events
Frontend event submissions
Event ticketing through Stripe
And more
Sugar Calendar starts at $49 per year.
Get started with Sugar Calendar now!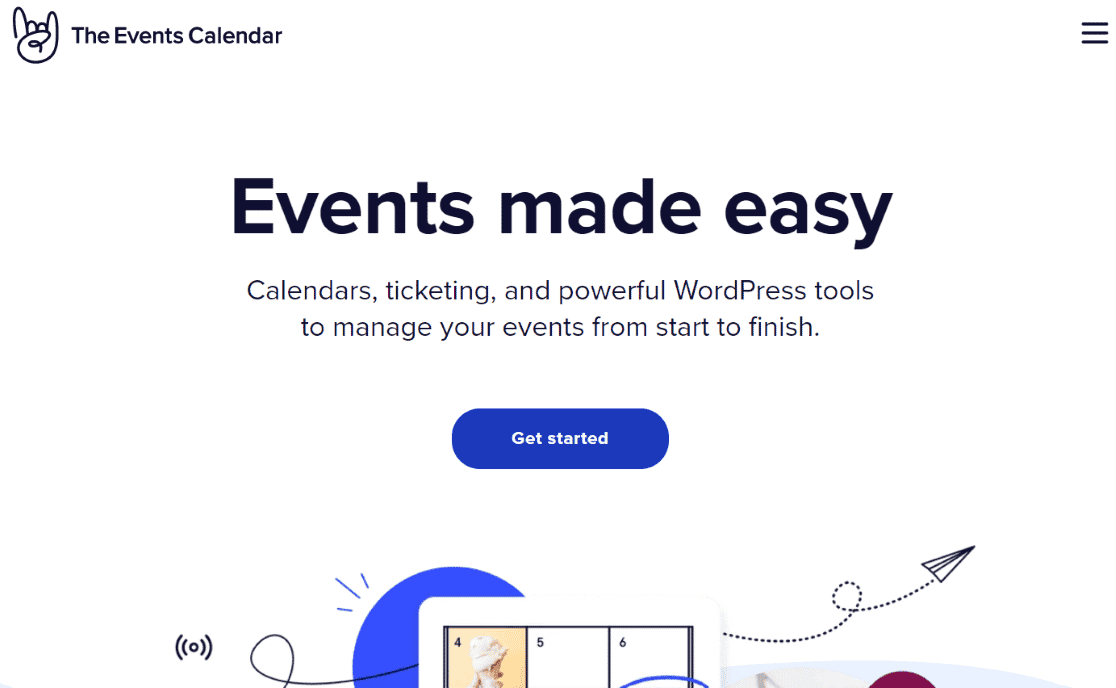 Need a calendar with a few more advanced features? The Events Calendar is a larger, more feature-packed WordPress calendar plugin. Beyond the calendar plugin, this tool has additional bundles you can purchase for ticketing, event marketing, allowing users to submit events, and more.
The Events Calendar Pro features include:
Multiple calendar views, including day, week, photo view, map view, and more
Featured events
Recurring events
Advanced widgets
Customizable design
Keyword search
Subscribe with iCal / Google Calendar / Outlook
The Events Calendar Pro starts at $99 per year.
Get started with The Events Calendar now!
Events Manager is a WordPress calendar plugin that's been around since 2008 and has over 100,000 active installations. It has month/week/day views and a pleasing layout that's customizable, and quite a few features that are available for free.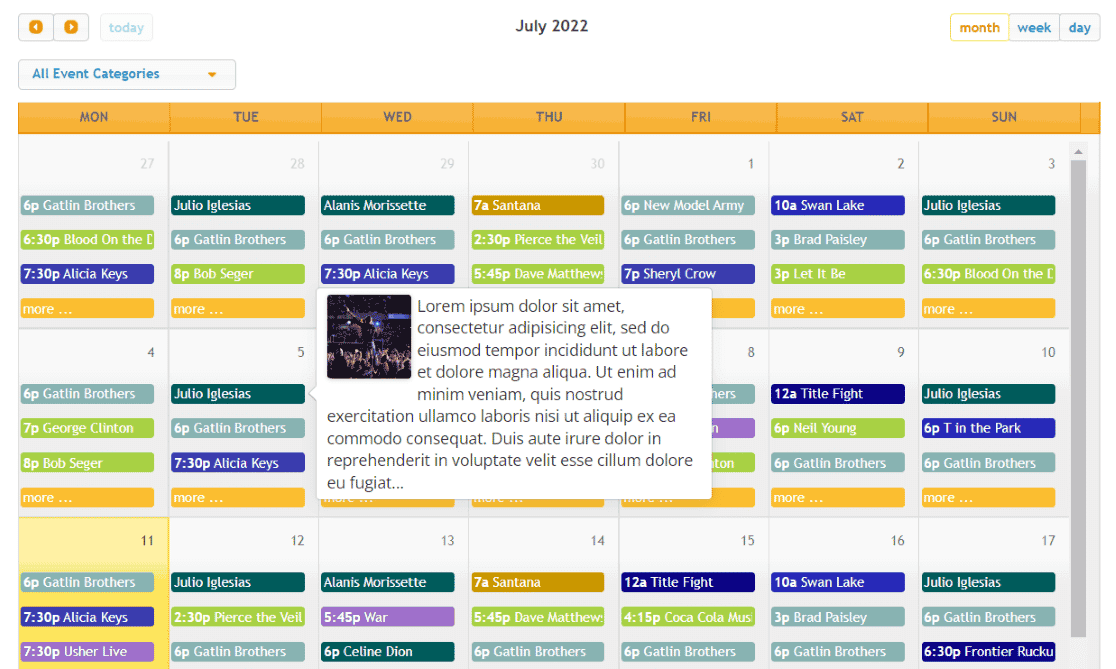 Events Manager features include:
Event registration
Multi-day events
Bookings management
Zoom integration for virtual events
BuddyPress support
Event submissions
Event categories
Custom event attributes
Add to Google Calendar button
iCal feed
Events Manager is free, but does have a Pro addon for $75 per year for additional advanced features.
Get started with Events Manager now!
EventON is a visually exciting calendar plugin for WordPress for both virtual and in-person events. There are multiple different views and ways of displaying your calendar, and quite a few features especially for virtual events. If the core plugin doesn't have exactly what you need, there's a whole library of add-ons available that you can purchase one-by-one to extend the plugin's capabilities.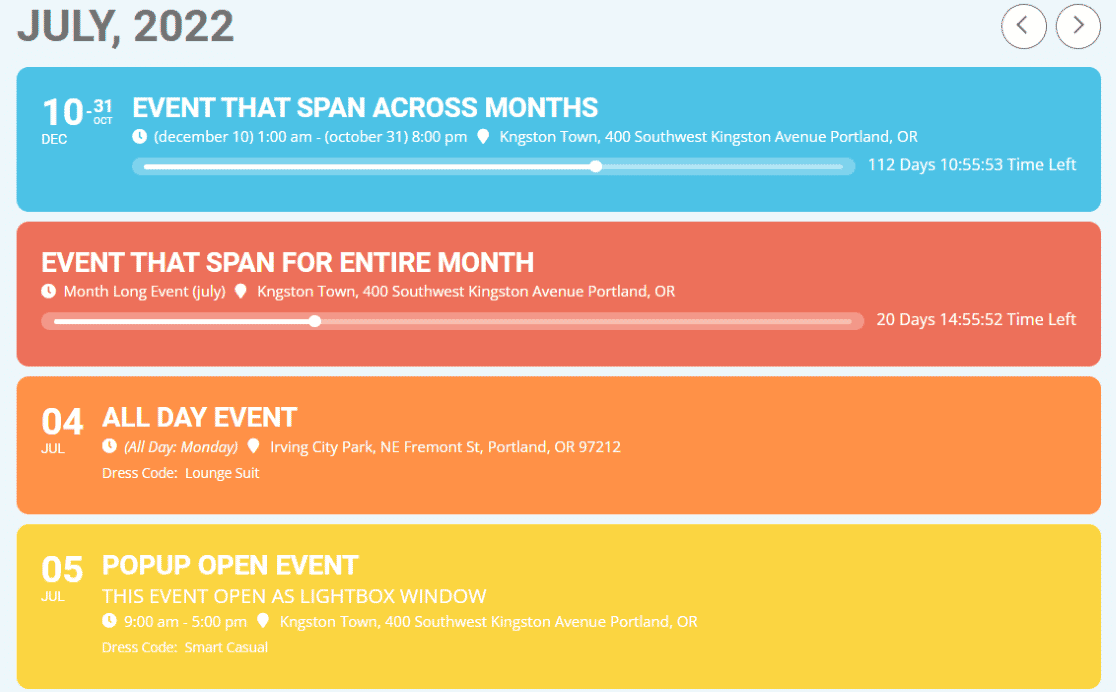 EventON features include:
Virtual live event progress and video
Integrated with Zoom and Jitsi
After-event content
Single or multiple-day events
List health care guidelines for events
Google Maps integration
Custom colors
Widgets
Many different calendar views
Many different options for what happens when you click an event
EventON is $25 for the base plugin, then each add-on is priced separately.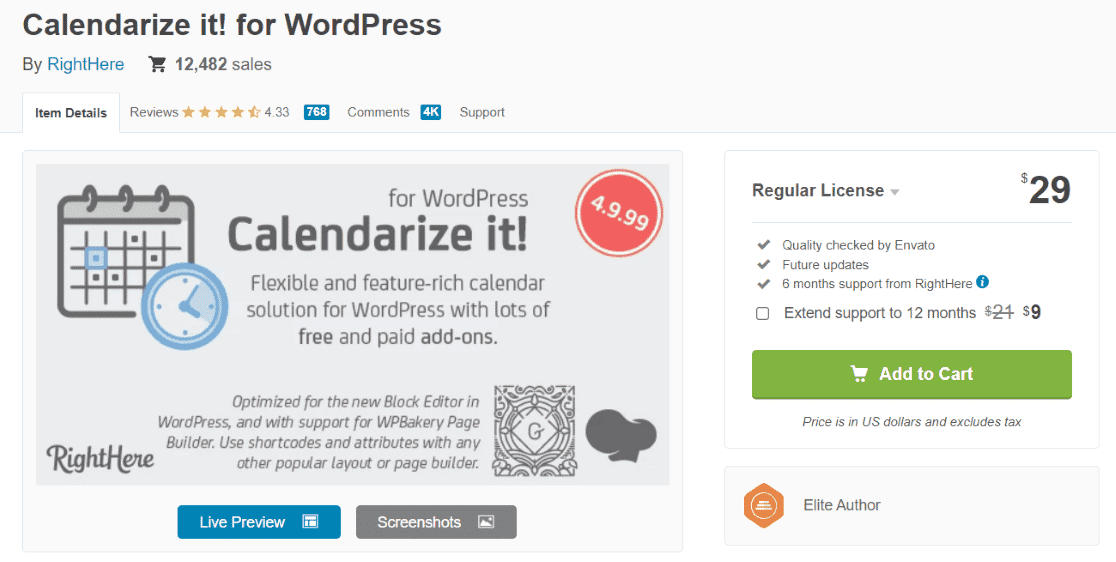 Calendarize it! is another calendar plugin for WordPress and the last one on our list. It has quite a few features for a basic calendar, and has many available addons (both free and premium) to make it more full-featured. It has many standard views including month, week, day, agenda week/day, and more. It also comes with multiple different widgets to show upcoming events.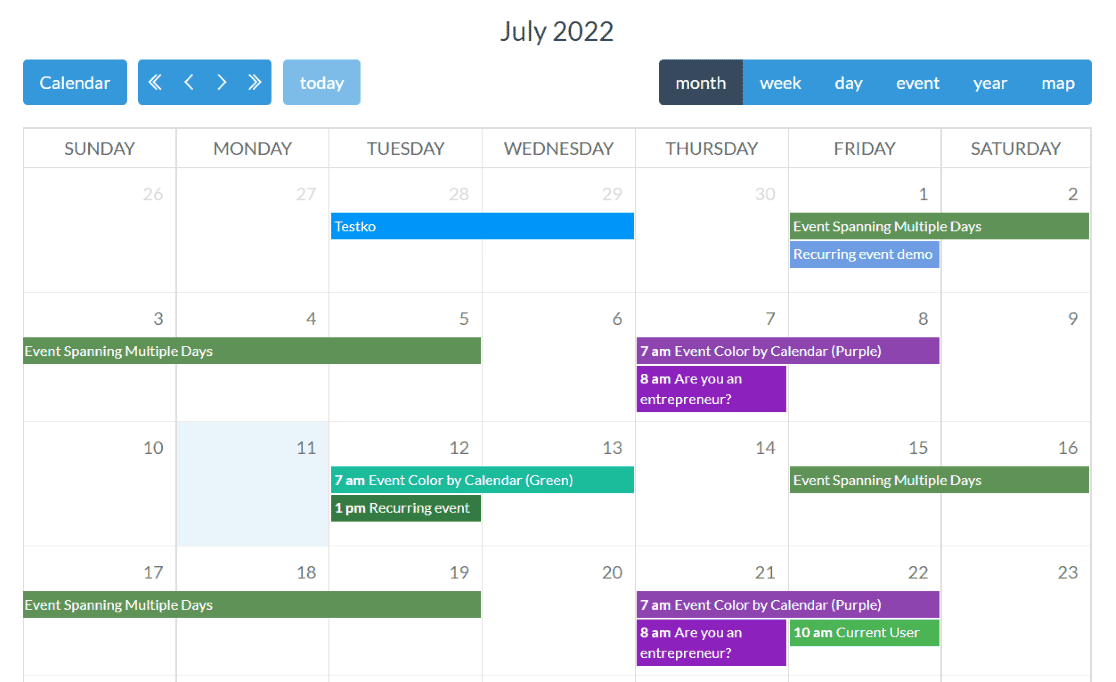 Calendarize it! features include:
Multiple customizable views
Calendars with hidden weeks or days
Calendars showing events only with a certain venue or organizer
Calendar showing blog posts
Ratings and reviews
Social auto publish
Events countdown
Calendarize it! starts at $29. Additional add-ons are priced separately.
Get started with Calendarize it! now!
That's it! We hope you found the best calendar and events plugin for your WordPress website.
If you liked this post, we bet you'd also like 27 Best WordPress Plugins (Free + Paid).
Not using ExactMetrics yet? What are you waiting for?
Don't forget to follow us on Twitter and Facebook to see all the latest Google Analytics tutorials.