It's an exciting time here at ExactMetrics. We've got awesome new enhancements that you're going to love.
Today, we're thrilled to announce the release of new ExactMetrics eCommerce integrations and Project Delight.
We're adding GiveWP and Restricted Content Pro WordPress plugins to our list of eCommerce integrations in this release. In just a few clicks, you can track donations via GiveWP and purchases via Restrict Content Pro with your Google Analytics account.
Plus, we've been listening to your feedback and introducing several improvements under Project Delight. Let's have a closer look…
Introducing New eCommerce Integrations
ExactMetrics offers seamless integration with some of the most popular WordPress plugins and services like WooCommerce, Easy Digital Downloads, and MemberPress.
With this new release, we're improving our eCommerce addon, as ExactMetrics now supports GiveWP and Restricted Content Pro.
GiveWP is the best WordPress donation plugin. It helps you create donation forms, manage donors, and accept donations through multiple payment options through a single platform.
On the other hand, Restricted Content Pro is a powerful membership solution for WordPress. You can lock away exclusive content for valued members, create membership levels, accept payments through Stripe, and a lot more.
And with ExactMetrics, you can now enable eCommerce tracking on your GiveWP and Restrict Content Pro powered websites. Our eCommerce addon will automatically detect GiveWP and Restricted Content Pro on your WordPress site and enable eCommerce tracking without the need to touch a single line of code or hire a professional.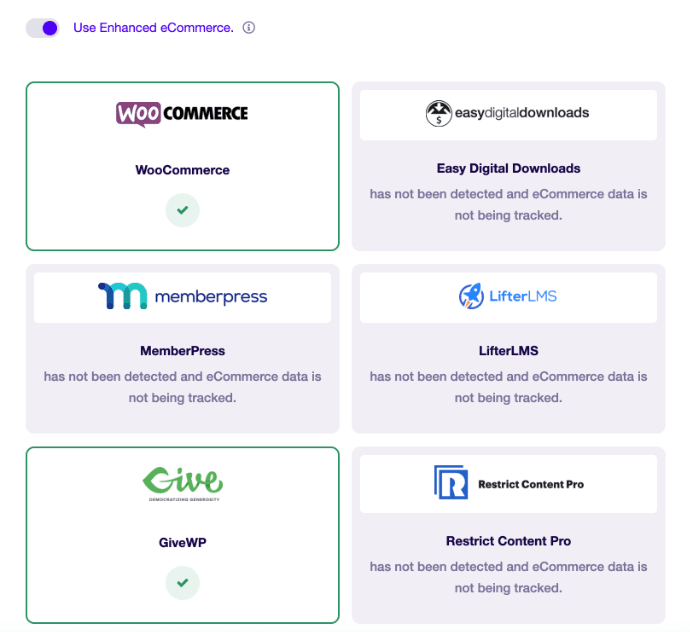 ExactMetrics is the most powerful Google Analytics plugin for WordPress.
It gives you detailed insights into what works best on your site. For instance, it shows where your customers are from, how they interact with your website, which links they click, and which pages they view.
And if you're looking to optimize your online store for more conversions, then ExactMetrics has powerful features to help you out.
Right in your WordPress dashboard, you get all the eCommerce data you need at a glance: transactions, popular products, average order value, and more. Or find out the top conversion sources and invest in the right channel to attract more customers.
Welcome to Project Delight
In this release, we're also introducing Project Delight and improving the overall experience of using ExactMetrics.
This project aims to ensure that all ExactMetrics users find it a delight to use the plugin.
And to deliver a superior user experience, our team has been paying attention to detail to all your needs and feedback.
For instance, you can now easily find the reports and settings through Contextual Insights inside ExactMetrics. It will automatically scroll and highlight the report or settings mentioned in the notification.
This allows you to quickly spot the data you need or change the settings without performing multiple clicks.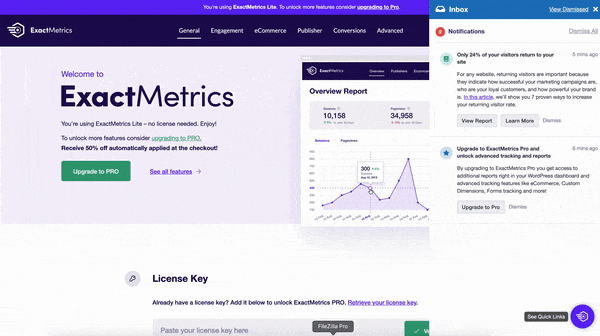 Under Project Delight, we've also improved the look and feel of Popular Posts on your website. You can rest assured that your top content stands out and captures the attention of your visitors.
Plus, the rotation of popular posts in the widget is now even better. It provides more exposure and helps users easily find the best articles on your website while boosting user engagement.
That's it for this release!
The new eCommerce integrations and Project Delight improvements are now available in ExactMetrics. Click here to get started today!
Lastly, the entire ExactMetrics team would like to thank you for your support and suggestions for helping us make it the best premium WordPress Analytics plugin.
Stay tuned for more new features, releases, and updates. If you have any questions or need help, feel free to contact us or reach out to our support team.