Ever struggled with knowing how to use your analytics reports to grow your business?
Going by your gut feelings or best guesses just isn't enough. You need analytics so you can make informed decisions and grow your business with confidence.
But knowing exactly how to use analytics to recognize opportunities and make decisions can be tricky, if you're not a data analysis expert.
Our goal with ExactMetrics is to help you bridge that gap, and to give you not only the data you need, but smart insights on how to use it.
That's why today, we're excited to announce the release of ExactMetrics 6.3 with our new Popular Posts and Contextual Insights features.
These are two incredibly powerful features you'll want to try right now!
Let's dive into the details…
Showcase Top Content and Products
ExactMetrics already helps you track popular posts on your site, but our users have been requesting a way to promote them in WordPress – and we are happy to deliver! Popular Posts allows you to easily showcase your best posts and products with just a few clicks.
Strategically displaying top-performing content adds built-in social proof to your website by highlighting the articles and products you know your visitors already love.
You can choose to display your most viewed, most commented on, or most shared posts. You can also feature specific individual posts by selecting the "curated" option and typing in the post titles.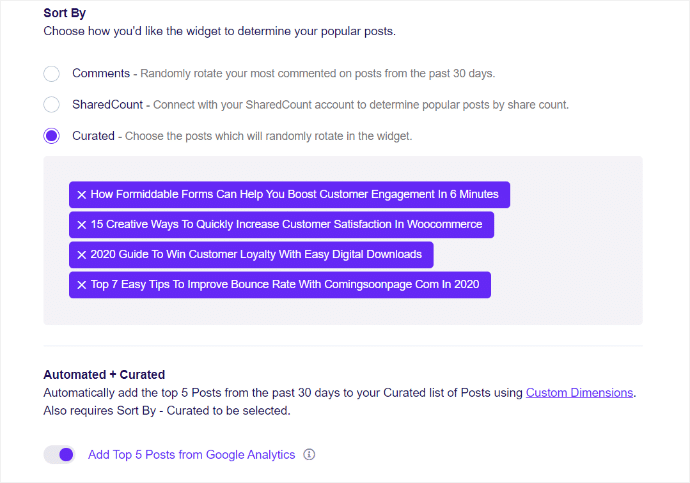 Pro users can also set up custom dimensions to display the top 5 posts in Google Analytics from the last 30 days.
When it comes to the best places to link to other posts, we've got you covered.
Popular posts can be configured to show up in the sidebar, at the end of a post, or in the middle of a post.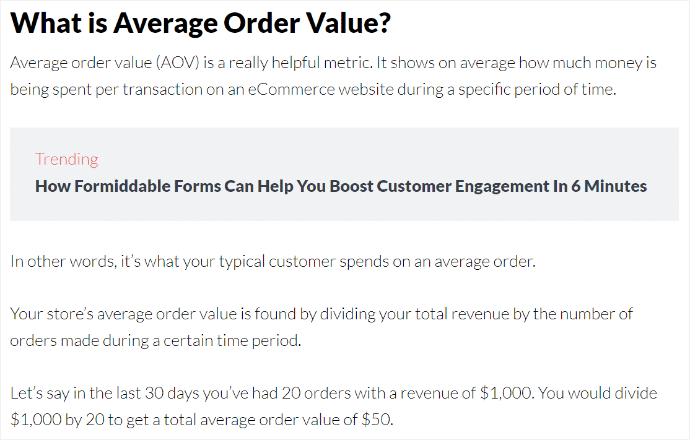 Have articles you don't want popular posts to show up inside of? No problem! You can change the settings to exclude them from featuring popular posts.
The built-in themes and style editor make it easy to customize how popular posts appear. You can choose from many different layouts and change the colors to reflect your brand or site.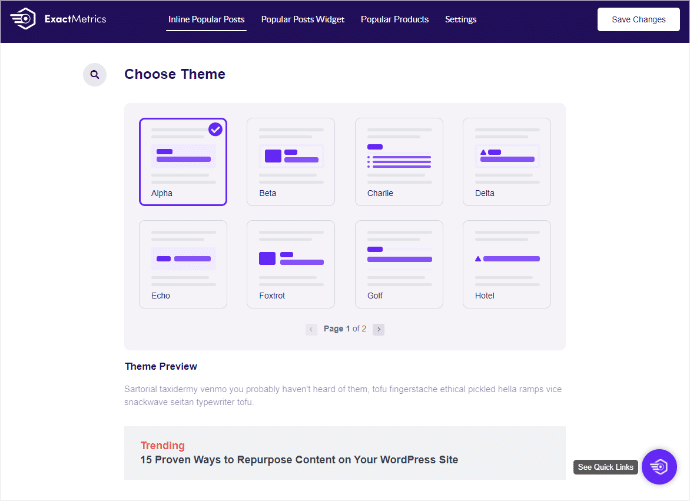 Displaying popular posts has many benefits, including helping to:
Improve user engagement
Boost sales in your eCommerce site
Let's take a closer look at how Popular Posts does this…
1. Improve User Engagement
Struggling to keep users on your site? Popular Posts can help with that!
Popular Posts helps visitors find your best content and directs them on where to go next. This increases pageviews and keeps visitors on your site for longer.
The longer someone sticks around on your site, the better chance you have that they will click an ad, sign up for your email list, or make a purchase.
2. Boost Your eCommerce Store's Sales
Upselling is one of the easiest ways to increase an eCommerce store's sales and can boost revenue by 10-30% on average.
Our new Popular Posts feature gives you the ability to easily upsell and cross-sell products throughout your online store.

There are plenty of options for displaying popular products on your site, including:
At the end of product pages
Inside articles
Listed on pages
In the sidebar
Setting up popular products is just as easy as popular posts with built-in themes and a style editor to customize the layout and colors. You can display 2 to 10 products at a time, with or without listing the price and rating for each product.
Get Enhanced Insights Right Inside WordPress
ExactMetrics 6.3 includes our new Contextual Insights to help you get the most out of your analytics.
Our new smart insights system creates unique tips just for you, based on your analytics.
You won't find these insights in Google Analytics or anywhere else. Consultants who offer this type of advice charge a LOT – but now you can unlock the same insights right in your WordPress dashboard.
So, how does it work?
Let's say a portion of your site traffic is coming from a non-English speaking region. If your site doesn't translate to that country's language, you may lose site visitors.
Luckily, there's a notification for that!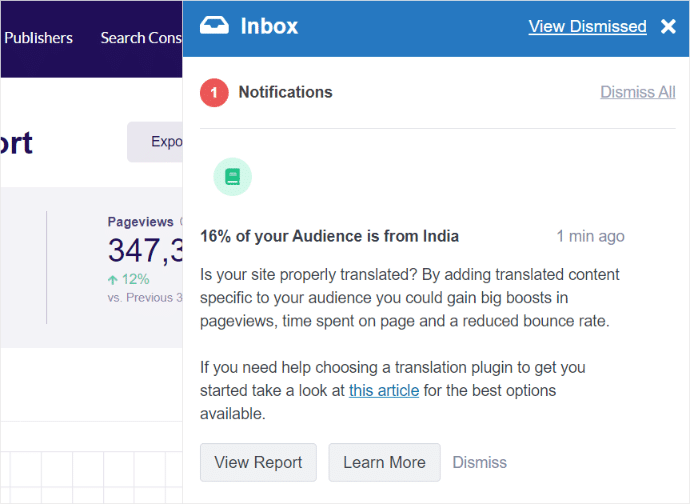 ExactMetrics will notify you about this traffic source and whether or not your site language is being translated.
You'll also get notifications for things like:
Increase in bounce rate
Drops in website traffic
eCommerce conversion rates
Decreased eCommerce revenue
Website scroll depth
Plus, so much more!
Best of all, every notification includes actionable tips so you can learn how to make improvements along the way.
That's it for today!
Want to get your hands on these exciting new features? Get started with ExactMetrics today!
Thank you for your continued support and for helping us make ExactMetrics the best premium WordPress Analytics plugin.
Make sure to follow us on Twitter and Facebook to be the first to know about the new features and exciting updates we have lined up for you.