Looking for ways to increase your average order value in WooCommerce? You're in luck! This article will show you how to get customers to spend more money on each order so you can unlock new revenue.
There are some basics to cover before we dive into how to boost your average order value. To help you navigate the helpful information in this article, we've put together a table of content below:
Ready to begin? Let's start by talking about what average order value is and how it's calculated.
What is Average Order Value?
Average order value (AOV) is a really helpful metric. It shows on average how much money is being spent per transaction on an eCommerce website during a specific period of time.
In other words, it's what your typical customer spends on an average order.
Your store's average order value is found by dividing your total revenue by the number of orders made during a certain time period.
Let's say in the last 30 days you've had 20 orders with a revenue of $1,000. You would divide $1,000 by 20 to get a total average order value of $50.
Why is Average Order Value Important?
The average order value is an important stat to track because it can help you understand your customer's purchasing behaviors, and optimize your site to boost your revenue.
Tracking the average order value and other key performance indicators (KPI) gives you valuable insight into growing your eCommerce business.
You can:
Learn about your customer's buying habits
Get insight on how a marketing campaign is performing
Find new ways to boost conversion rates
See how your pricing strategy is performing
Getting your customers to spend more per order is also a smart way to increase your overall revenue. Finding new customers can cost you time and money, which can be frustrating. One of the easiest solutions is to target the customers already on your site and find ways to get them to buy more.
But before you can boost your average order value, you need to create a benchmark or starting point.
So, how do you do that?
Well, you need to know how your eCommerce site is performing.
How to Track eCommerce Stats
Reviewing analytics reports is one of the best ways to see how your site is doing and where you can improve. Google Analytics gives eCommerce store owners a way to set up custom reports. While helpful, navigating Google Analytics can be overwhelming for many people.
That's where ExactMetrics comes in.
ExactMetrics is the best premium WordPress analytics plugin for eCommerce platforms like WooCommerce. The plugin provides easy-to-read analytics reports that can help you increase your average order value.
You can also gather information about:
User Behavior
Most Popular Products
Marketing Campaigns
Cart Abandonment
Sales Performance
To get started, install the ExactMetrics plugin on your website. The setup wizard will help you connect your site with Google Analytics, and this tutorial will show you how to set up Google Analytics eCommerce tracking.
View the ExactMetrics eCommerce Report
Once you've set up ExactMetrics and Google Analytics eCommerce tracking, you can view detailed reports right in your dashboard. The eCommerce Report provides analytics for your whole store with easy-to-read reports.
To view the report, go to ExactMetrics » Reports and click on eCommerce.
The average order value for your WooCommerce store is in the top right corner.
You'll also see:
Your store's conversion rate
Transactions during a specific time frame
Total revenue
As you scroll down, you'll find additional stats like the Top Products report, which shows the top-selling products on your site. The report tells you how many of each product you've sold, their contribution to your overall sales, and the total revenue they've produced.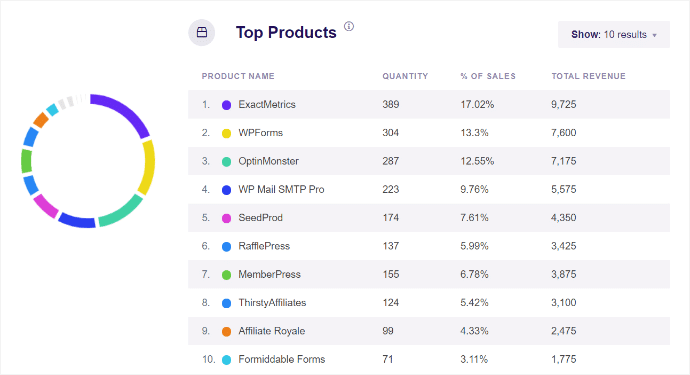 Further down, you'll also see stats related to total products added and removed from the shopping cart during checkout.

Other stats that you may find helpful in the eCommerce Report are your top conversion sources, time to purchase, and sessions to purchase.
There you have it! Your most important eCommerce stats are all in one place. Now you can easily see how your online store is performing and identify areas to improve.
Better yet, you now have stats to compare to as you take steps to increase your average order value.
Average Order Value by Industry
Wondering what a good average order value is for your industry? This can be a super helpful number to have when measuring the success of your eCommerce store. That said, the number can change from one eCommerce site to the next.
Some industries will naturally have a higher average order value depending on the type of product they sell.
For example, a SaaS company will likely have a higher average order value than a retail company selling beauty products.
While it's good to know what the industry benchmark is, don't let it discourage you if your average order value isn't there quite yet. Use it as a goal and implement new strategies to reach it.
5 Ways to Improve Your Average Order Value
Generating more revenue is one of the most appealing things about boosting your eCommerce store's average order value. But finding the right strategy may take some trial and error. We suggest giving the ideas below a try.
1. Provide Product Recommendations
Most shoppers that visit your store are looking for a specific product. So, when they enter your store, they'll search for it right away. If they only purchase that one item, your average order value will be lower.
You can increase it by providing product recommendations that encourage customers to browse.
Highlight related products, popular products, or add a "customers also viewed" section to create social proof and increase conversions.
2. Cross-Sell Products
When a customer visits a product page, you can cross-sell by offering similar items. You could also cross-sell items that customers frequently purchase together.
For example, a customer may visit an eCommerce store like Amazon to purchase a new coffee maker. While on a product page, the customer might see listings for coffee beans and coffee filters.
Another alternative is to create a cross-selling popup campaign that triggers when certain criteria are met. You can use popups to make recommendations based on things like:
Products customers are viewing
Items in their shopping cart
Number of items in their cart
Categories customers are browsing through
When it comes to tools to create strategic popup campaigns in WooCommerce, OptinMonster is an excellent option! Here's an example of a cross-sell popup made using OptinMonster: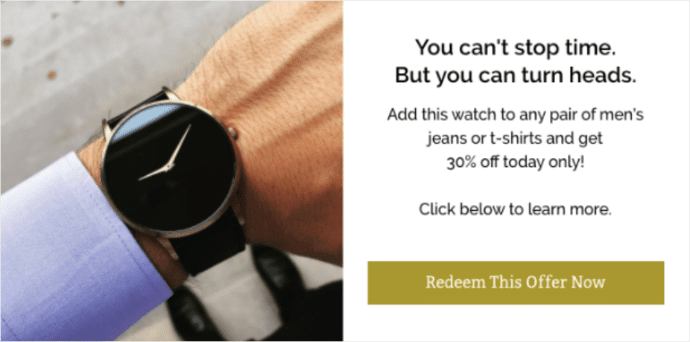 3. Upsell at Checkout
Another way to increase your average order value is to upsell products during the checkout process.
This is another opportunity to highlight related products the customer may be interested in. Instead of doing it while they're still browsing, showcase those related products during checkout.
Check out this guide for more upselling tips and examples proven to boost AOV.
4. Offer Discount Codes
Discount codes are a good way to get customers to spend more money. You could also offer a BOGO or "buy one, get one" deal like the one below.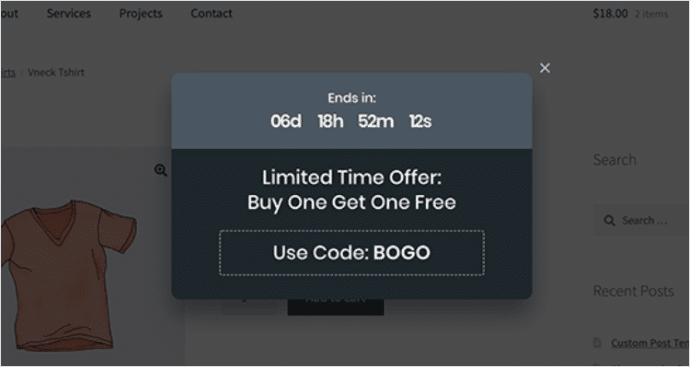 There are a lot of options to choose from when it comes to BOGO deals, including:
Buy one get one free
Buy one, get one half off
Buy two, get one free
The sky is really the limit for this offer, but BOGO discounts are a popular way to increase your eCommerce average order value. The more value you offer, the bigger the incentive to shoppers.
This tutorial will walk you through the process of creating BOGO and other types of smart coupons in WooCommerce.
5. Offer Free Shipping
Studies show that 60% of consumers abandon their cart during checkout due to extra costs like shipping. This has a pretty big impact on your average order value because fewer orders are being placed.
To reduce the number of abandoned carts and sell more per transaction, offer free shipping for orders over a certain amount. Make sure to display the offer in an easy-to-see place on your site.
Consider adding a floating bar at the top or creating a free shipping notification to alert shoppers about the promotion.
Once you've tested out one (or all) of these ideas to increase your average order value in WooCommerce, compare them to your previous benchmarks to see how they performed.
Ready to boost your eCommerce store's performance with the best premium WordPress analytics plugin? Get started today! ExactMetrics Pro has many robust eCommerce features designed to help you grow your business and offers a 14-day money-back guarantee.
Don't forget to follow us on Twitter and Facebook for the latest information and tutorials on Google Analytics!