Want to monitor real-time activity happening on your website?
With the Real-Time reports dashboard in Universal Analytics properties, you'll see continuous updates as users interact with your website. These interactions are reflected in your dashboard moments after they happen.
This guide will detail how to view the number of users currently on your site, their location, page source, pages being viewed, and any goals or events that are occurring in your UA property.
If you have a GA4 property, please see the Beginner's Guide to Realtime Reports in GA4. If you'd like, you can track into both a UA and GA4 property through ExactMetrics' Dual Tracking feature (learn more about How to Set Up Dual Tracking).
If you're having trouble seeing yourself in the Real-Time reports you can check out this guide to narrow down the cause.
This guide will cover and go through each of the following topics:
What You Can Do With The Real-Time Report
Test that you are being correctly tracked in real time while on desktop or mobile (mobile devices may have a few minutes delay).
Test if you've accidentally filtered yourself or your users out of report views.
Test if your newly launched marketing campaign or promotion is driving traffic to your site.
Observe traffic coming from an ad or Facebook post.
Test out your goal completions as you're adjusting your analytics.
How to Find Real-Time Reports in Google Analytics
Step 1: Log into your Analytics account.
Step 2: Choose the correct site profile and view. (When viewing Real-Time reports, note that User-ID views are not compatible).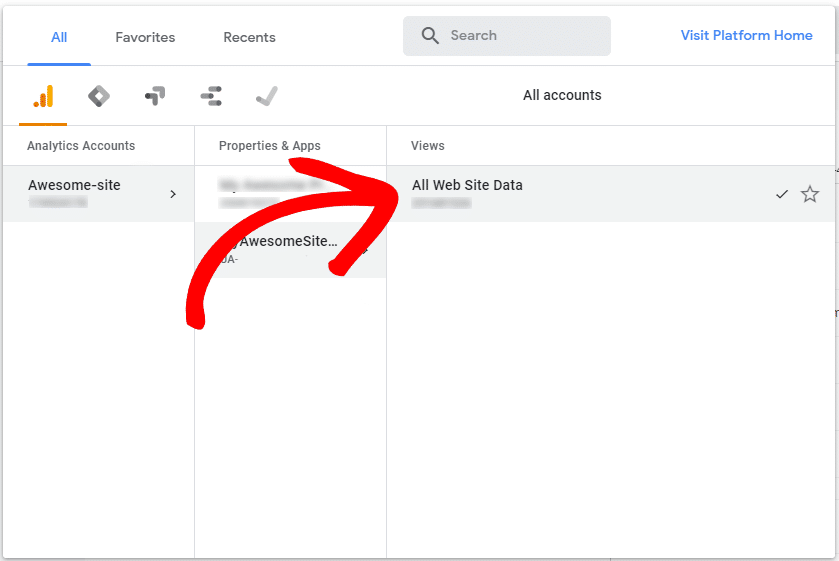 Step 3: Click into Real-Time » Overview.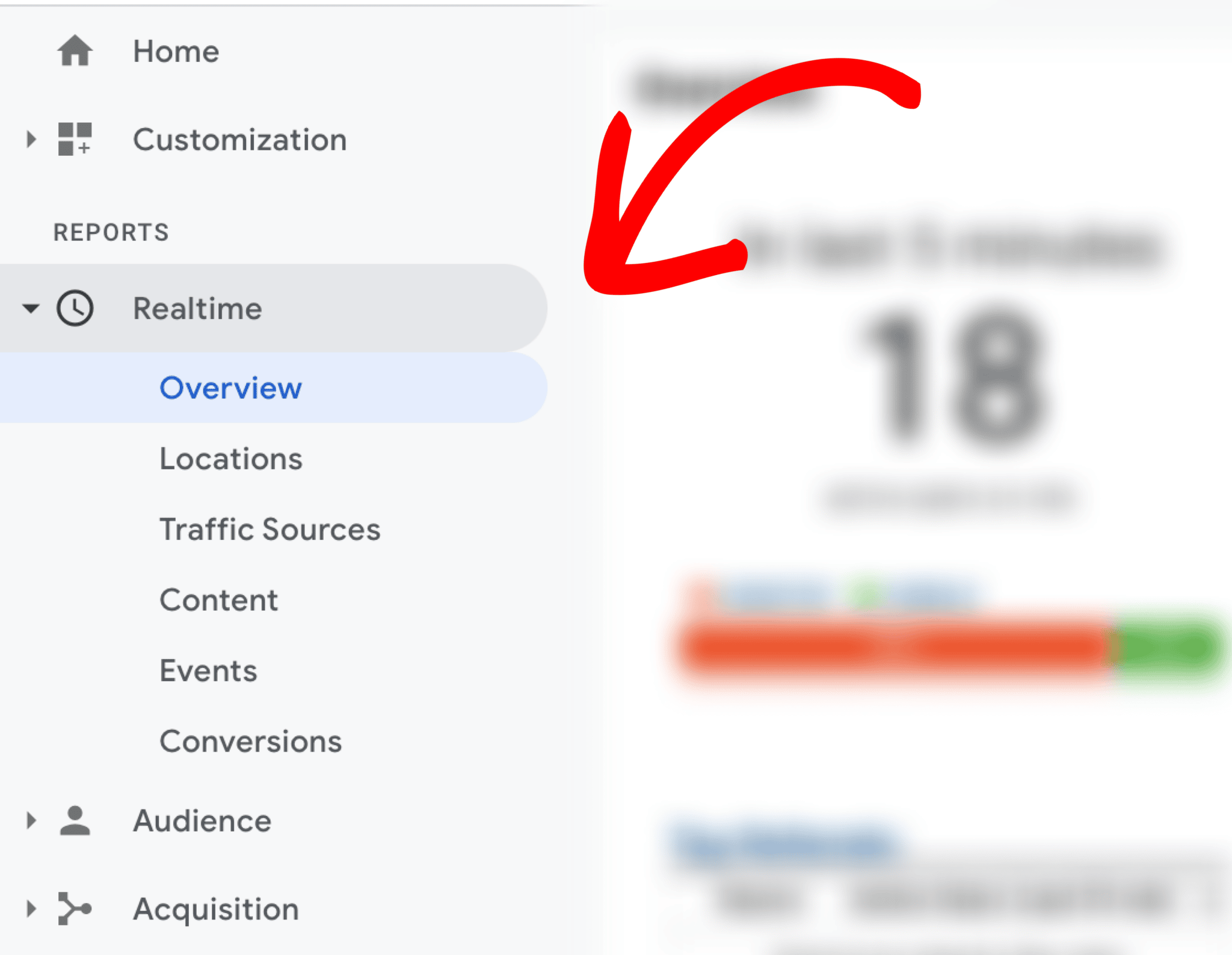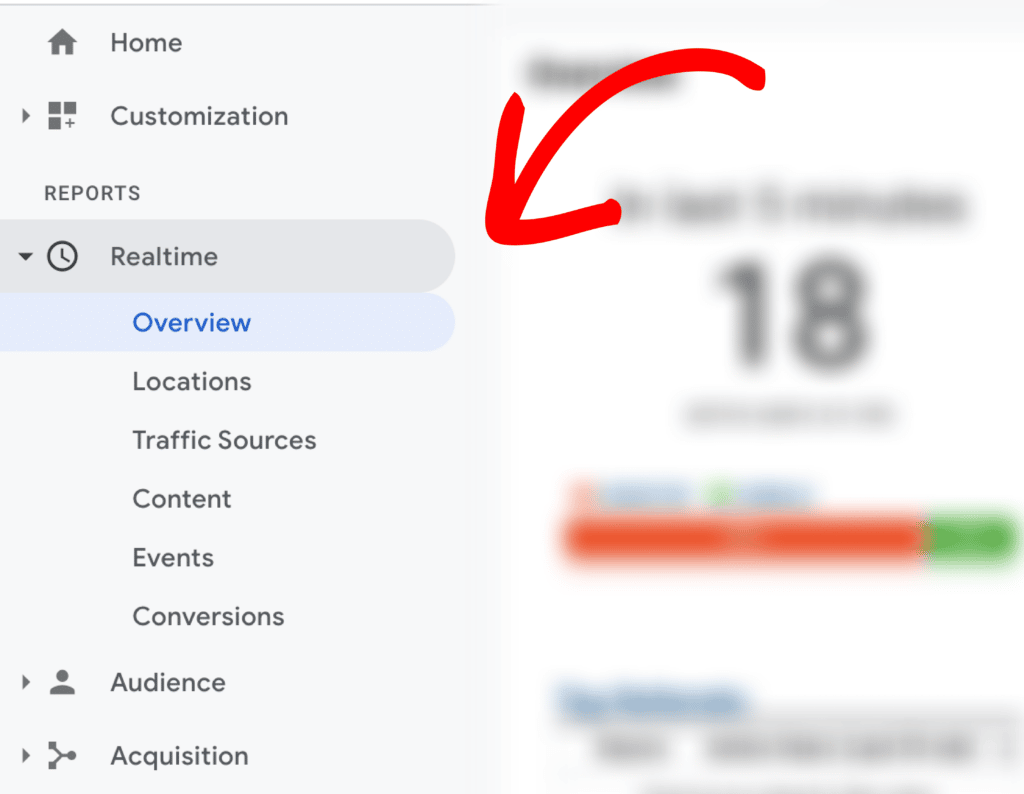 There are six Real-Time Reports that you can view:
Overview
Locations
Traffic Sources
Content
Events
Conversions
The Top Panel of the Report
The panel located at the top of the reports is consistent for each Real-Time report:

This panel displays the following stats:
The number of users that are currently active in a session. These users have at least performed an action or triggered an event in the past 30 minutes.
The number of hits for the past half-hour.
The number of hits that happened within the last minute.
You are also able to Create Shortcut to have the report under the customization section of Google Analytics (you can learn more about the report by clicking on the graduation cap).
What is a "Hit"?
A hit is a user interaction that results in data being sent to Google Analytics.
Common hit types include:
Page tracking hits
Event tracking hits
eCommerce hits.
Each time your tracking code is triggered by a user's behavior, Google Analytics records that activity. Then, each interaction is packaged into as a hit and sent to Google's servers.
Depending on what Real-Time report you're viewing, the metrics displayed will vary. For example, if you're viewing the Locations report, the numbers will be specific to locations.
Overview report


The Real-Time Overview Report shows the following:
The number of current active users on your website.
Which type of device they are using.
The number of page views in the past minute (via graph).
The number of page views in the past 30 minutes (via graph).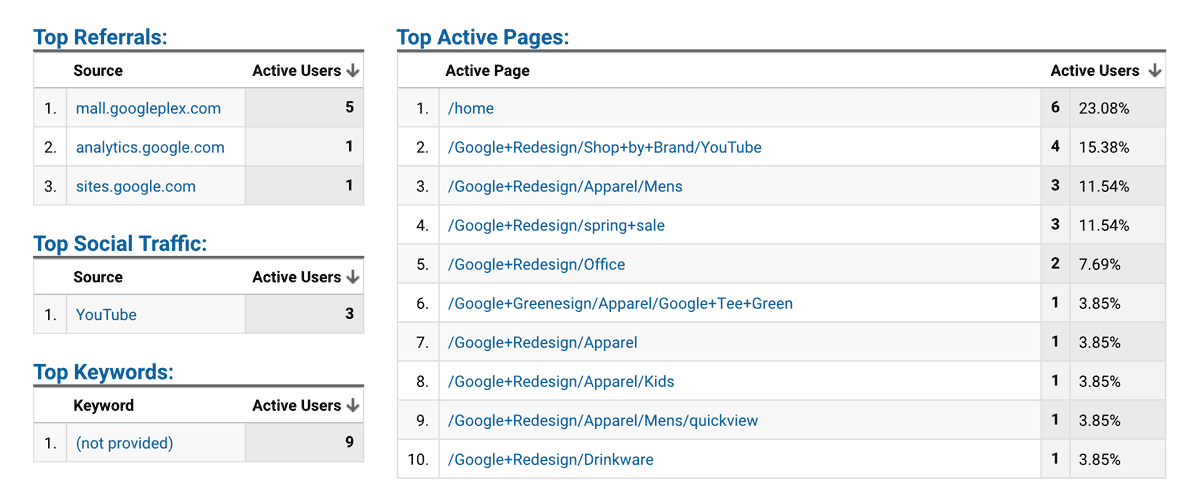 The report also displays the following stats for the past 5 minutes:
Top referral sources
Top 10 Pages with active users
Top Social Traffic
Top Keywords
And a Top Locations map (also within the past 5 minutes):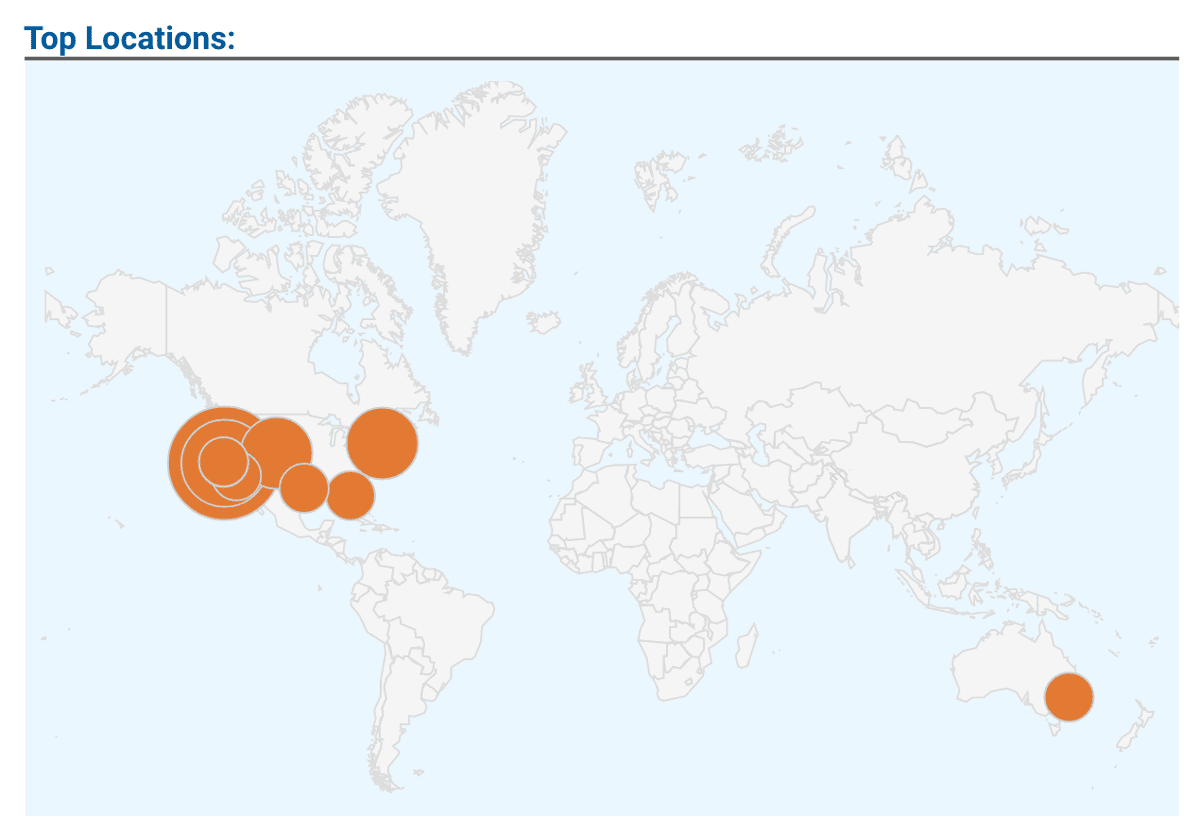 What does "Active Users" mean?
Active users are visitors who have triggered a hit within the past 5 minutes.
The metric "Active Users per Page" is the number of visitors who have triggered a recent hit in the relative page within the past 5 minutes.
The overview report displays brief information within a timeframe. For example, it will show the top 10 active pages for social traffic, location or referral sources, rather than reflecting entire site stats.
Locations

The Real-Time Locations report displays the current number of active users on your site and their geographic locations within the last 30 minutes.
If you click into any country you'll be able to see how many pages were viewed from each city in the past 30 minutes. Clicking a city will filter the users to that city only.
Traffic Sources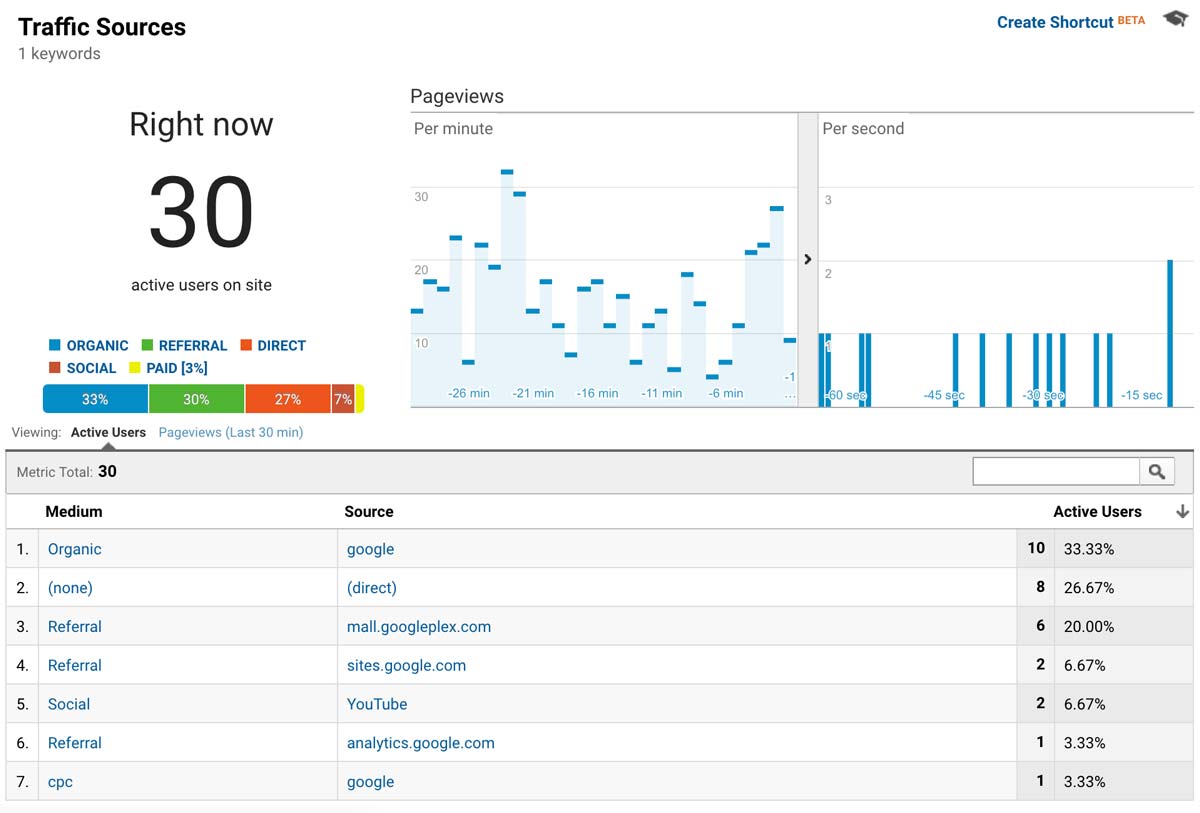 The Real-Time Traffic Sources report displays traffic source and medium statistics of your current active users. There are two dimensions for this report.
Viewing Active Users displays medium and source statistics of active users within the last 5 minutes.
Viewing Pageviews displays the medium and source statistics for pageviews that happened in the past 30 minutes.
This report can be used to view live marketing campaigns. As you monitor your newly launched promotion or campaign, you're able to see real-time feedback. With this data, you can verify if your campaign is performing as expected, or it can highlight where you need to make some last-minute adjustments.
Content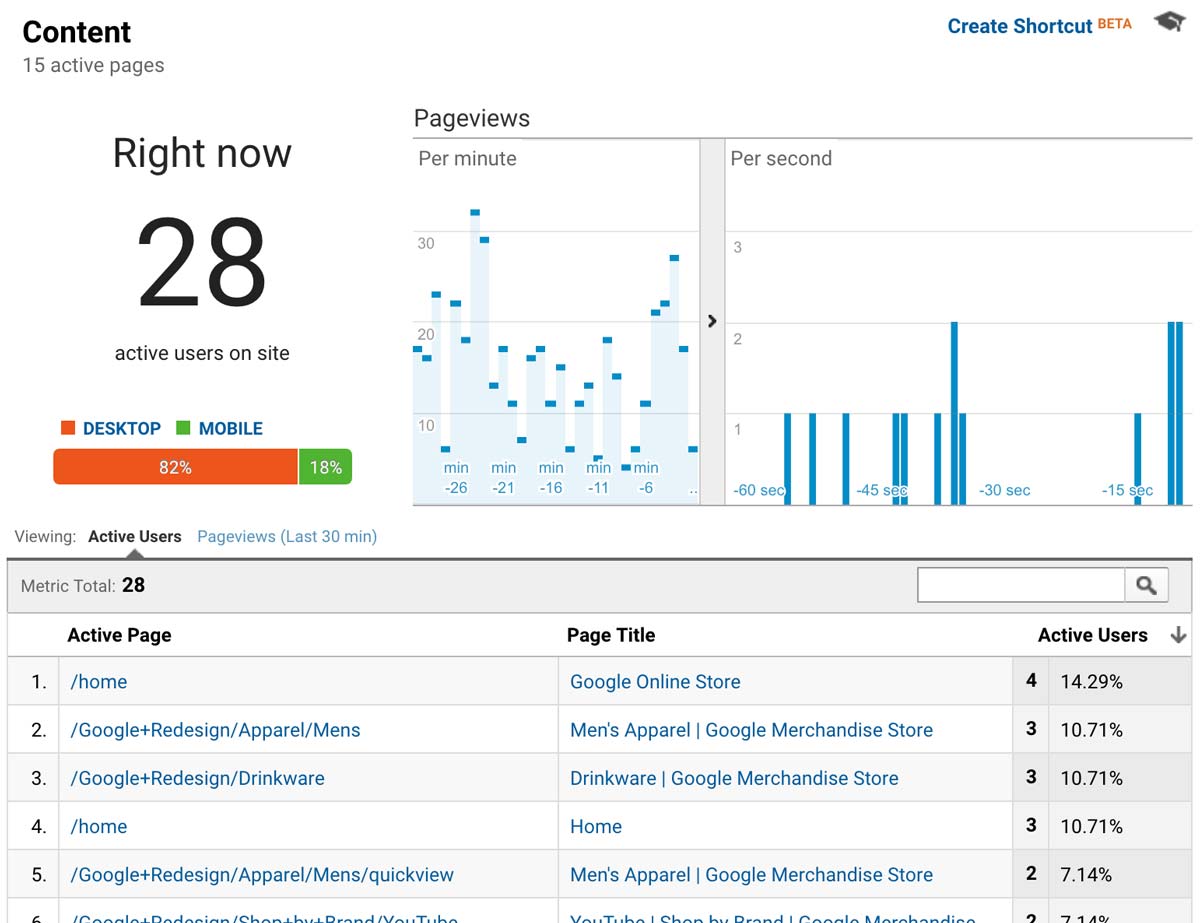 The Real-Time Content report displays pages viewed in the past 30 minutes. You can quickly see which posts or pages are currently popular on your website.
You can view the Active Users and Pageviews dimensions (past 30 minutes) in this report.
To see each page's total pageviews you can click Pageviews (Last 30 min).
Events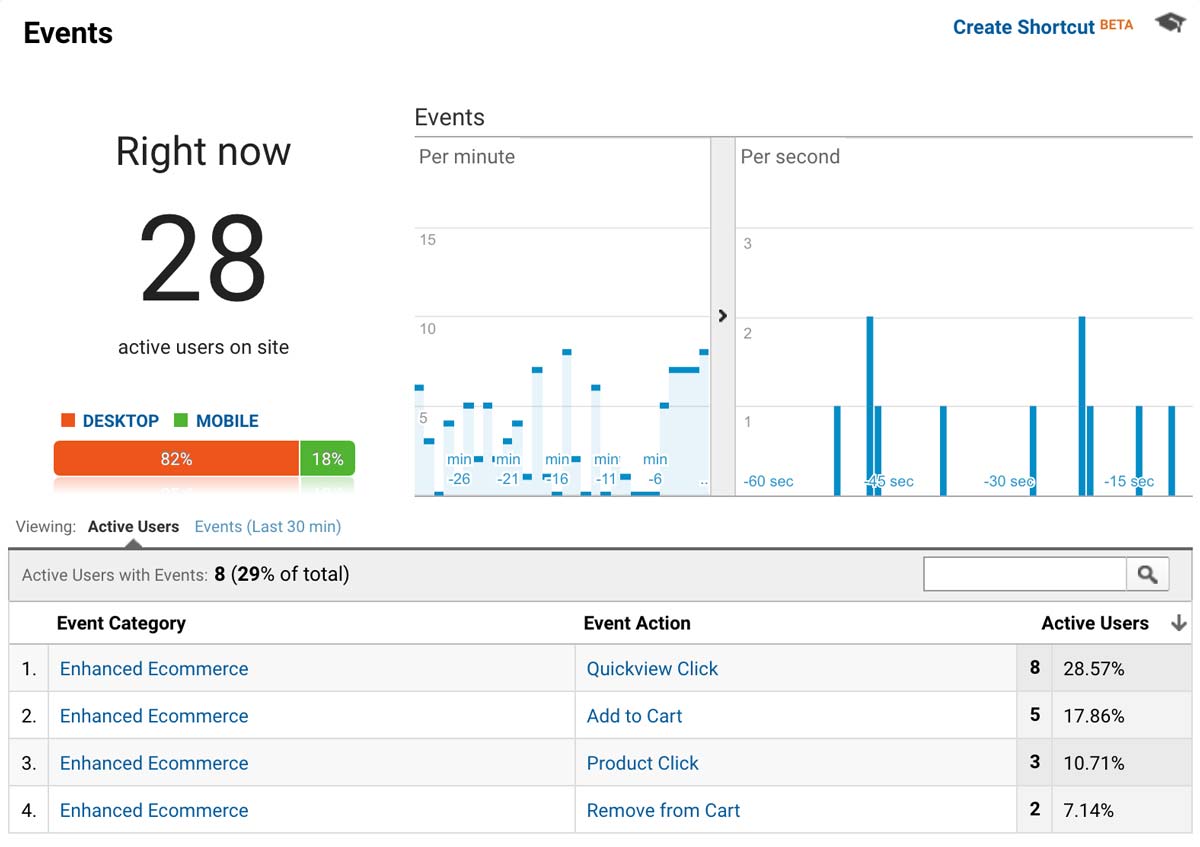 The Real-Time Events report displays the top 20 Google Analytics events by category triggered within the last 30 minutes.
The table is sorted by the highest number of active users who triggered the relative Event Action. To see more details click into the event category.
You can also view the total number of recent events by event category by clicking into the secondary dimension Events (Last 30 min).
Conversions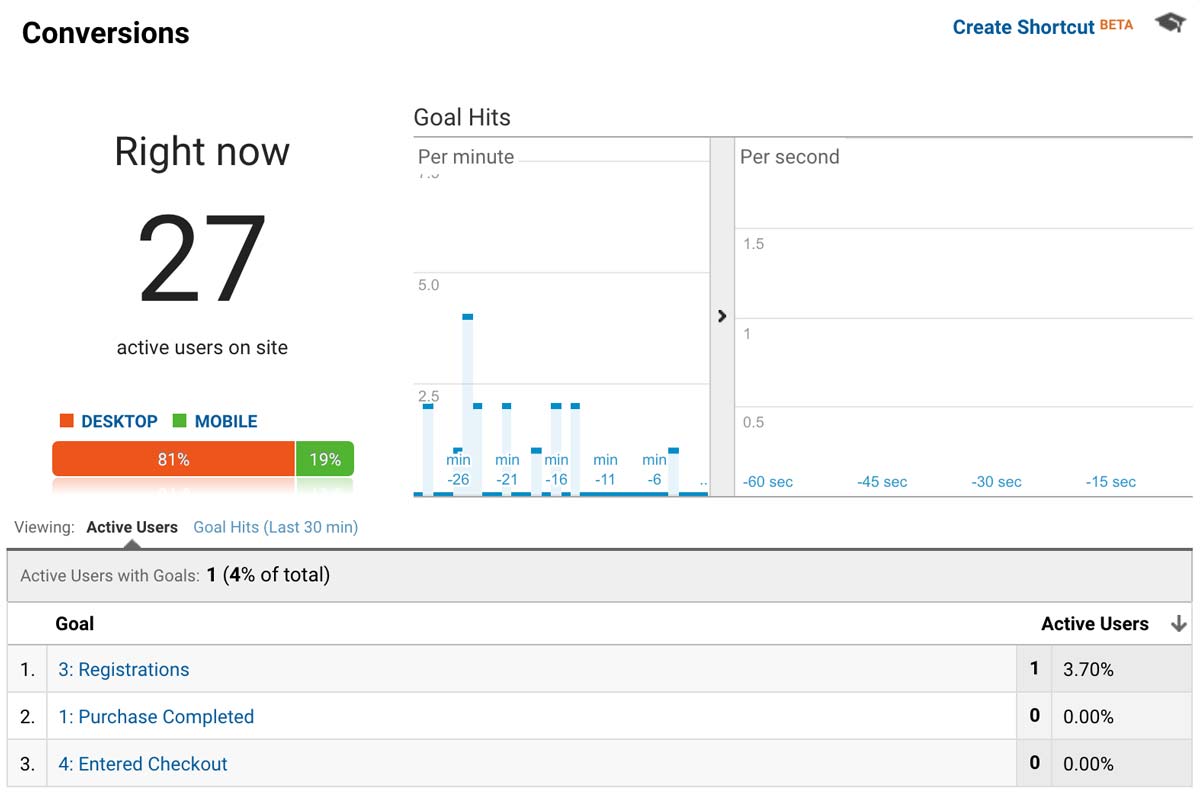 The Real-Time Conversions report displays recent conversions from destination and event goals, as they happen. This is useful for testing goals you've configured, as well as monitoring your marketing product launch in real-time.
Note: Goal types of duration, pages per session and smart goals are not displayed in this report.
The top 20 goals completed by users, number of users and percentage of total number site visitors are displayed within the table.
To view activity for a specific goal, click on the goal to filter the view.
Clicking on Goal Hits (Last 30 min) will filter the view to the number of conversions, sorted by goal, within the timeframe.
You did it! You now know how to view and use Real-Time Reports in Google Analytics.
What's next? Interested in Forms Tracking in Google Analytics? Read about it here: How to Track Your WordPress Form Conversions in Google Analytics.