Do you have forms on your website and need to know how those forms are performing? When you track form submissions in Google Analytics, you'll get data you can use to boost your site's user experience and engagement.
You'll find out how people interact with your forms and which forms convert the best. This helps you improve and optimize your forms to increase conversions, which can lead to more sales, more subscribers, and other benefits!
Using Google Analytics for Form Tracking
Now, if you want to use Google Analytics to track form conversions, you'll find that it doesn't track forms by default.
You'll have to create custom events and custom tracking codes to track form submissions and other form metrics. Unless you're a developer or a professional Google Analytics user, this isn't easy.
This is where WordPress users can take advantage of plugins that automate forms tracking setup. You can use a plugin to track form conversions with just a few clicks, and you don't have to do any coding.
In this article, we'll show you how to track form submissions in Google Analytics. We're going to make it simple by using ExactMetrics, a WordPress plugin for Google Analytics.
Let's get started…
Why Should You Track Form Submissions in Google Analytics?
Form tracking helps you get valuable insights into your user's behavior and how they engage with different forms on your website. And with Google Analytics, you can measure not only form submissions, but several other important metrics:
Form Conversion Rate – You can find out how each of your forms is converting on your website (number of submissions divided by impressions)
Most Popular Forms – Discover which forms get the most submissions, and try to maximize conversions on those forms first
Optimize Your Forms – Compare impressions and conversion rates and optimize forms that don't perform as well
Now, are you ready to learn how to use Google Analytics for tracking form submissions and conversions?
How to Set Up Form Tracking in Google Analytics the Easy Way
As we said earlier, Google Analytics won't track your forms automatically. You need to add special code snippets to your webpages to set up tracking, and then set up custom reports to view your results.
As you can imagine, this can be difficult, especially if you're not comfortable with code or Google Analytics. So, is there an easier way?
With the help of ExactMetrics, you can set up form tracking in no time. It's the best premium WordPress analytics plugin and makes using Google Analytics very simple.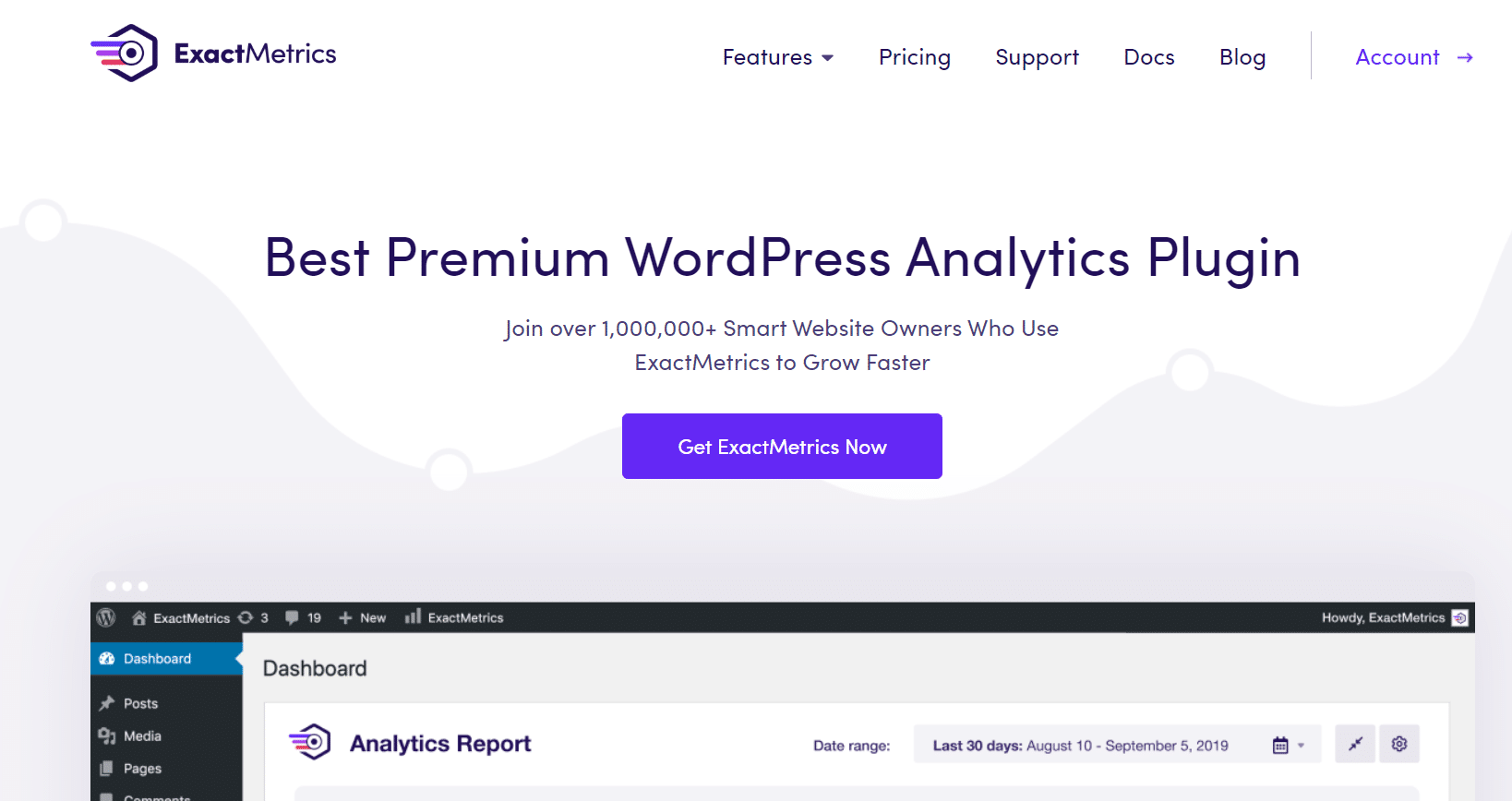 Using this plugin makes it incredibly easy to connect Google Analytics to your WordPress site without any coding. And, you'll see all of your important data from Google right inside WordPress, without logging into your Analytics account.
ExactMetrics gives you comprehensive traffic stats like total visitors, new users, traffic sources, and much more.
In addition, you can use it to easily set up advanced tracking for forms, eCommerce conversions, your site's top search terms, video plays, and other valuable data.
With that, just follow these simple steps and you'll be tracking your forms in no time…
Step 1: Install ExactMetrics Forms Addon
The first thing you'll need to do after installing the ExactMetrics plugin on your website is to install the Forms addon. Make sure you get the ExactMetrics Pro plan or higher to access the addon.
So, go to your WordPress dashboard and then click ExactMetrics » Addons in the main menu. Next, look for the Forms tile and click Install. The addon will automatically activate.
1116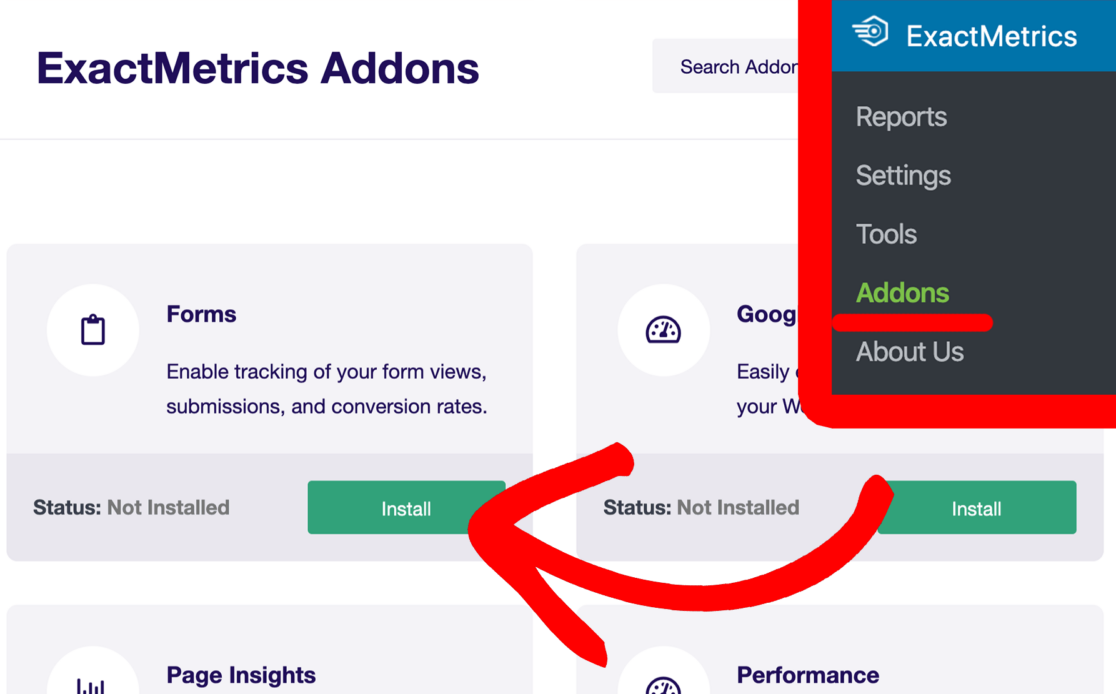 Step 2: View Form Tracking Report in WordPress
After you've installed the addon, ExactMetrics will automatically configure your form tracking in Google Analytics. However, it may take 24 to 48 hours for form submissions to start showing up, as it takes time for Google Analytics to collect data.
Once you have relevant data, you'll find ExactMetrics' user-friendly Forms report in the WordPress dashboard.
You can find the report by going to ExactMetrics » Reports » Forms.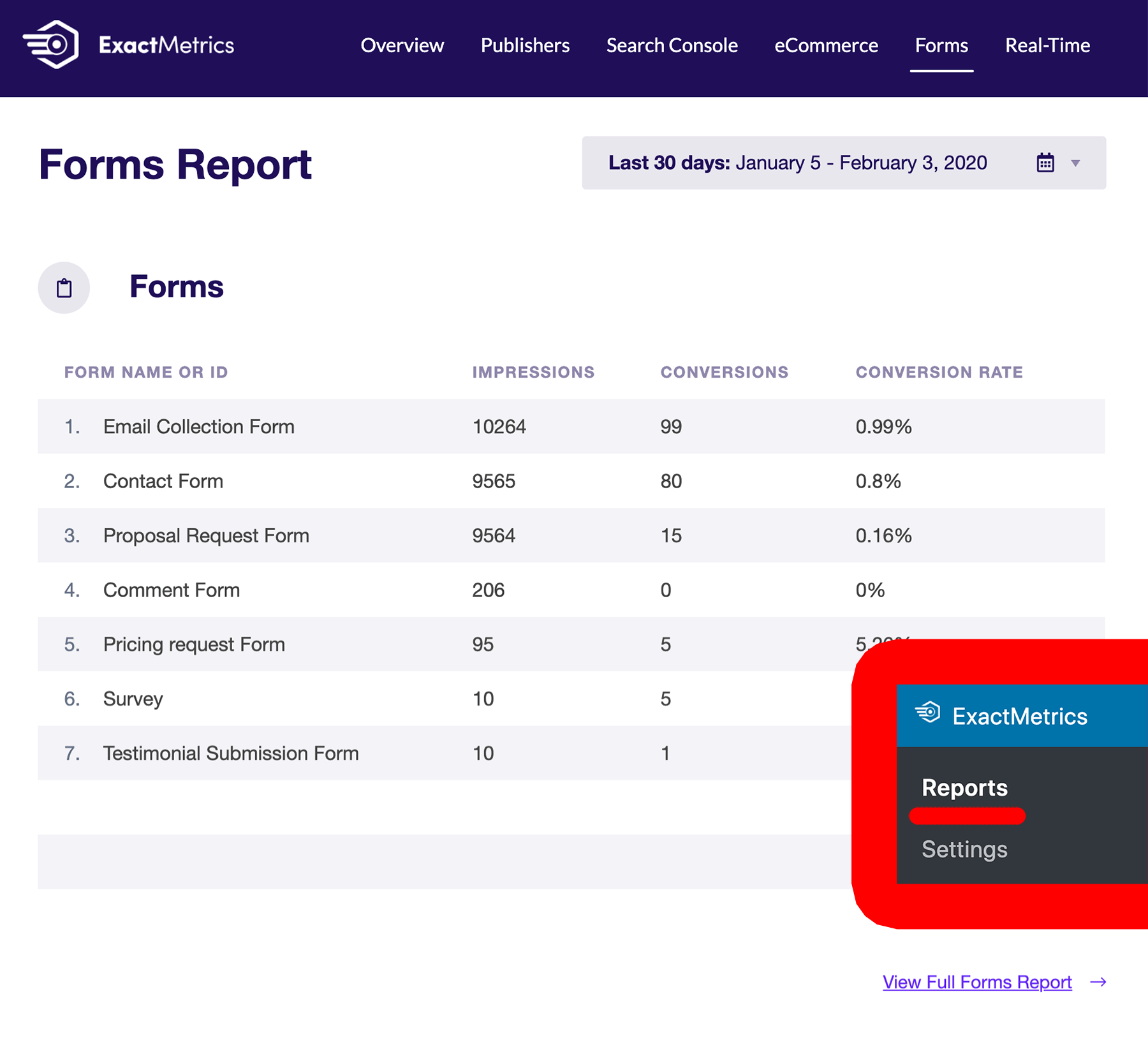 The report will show all the forms published on your website, along with their performance.
You'll see three key statistics in the Forms report:
Form impressions – The number of times a form was viewed by a site user
Form conversions – The total number of form submissions
Conversion rate – A percentage of the people who viewed the form who actually completed and submitted it
This data is extremely useful for optimizing your forms. You can make better decisions about which forms to use more, and which to remove or optimize. And, if you're running a campaign to collect leads, you'll be able to measure your lead capture campaign's performance.
Step 3: View Form Conversions in Google Analytics
One of the huge benefits of using ExactMetrics is that it automatically creates form-related custom events. This allows you to view form conversions inside Google Analytics without having to do any additional configuration.
To view the report, go ahead and log in to your Google Analytics account.
click on the Engagement » Events item in the Reports menu.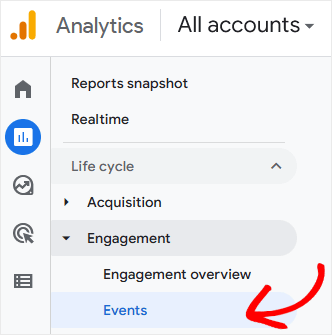 Now, you'll see the Events overview report. It shows a graph of events over time and a chart of top events, along with a list of every event that's tracked on your site.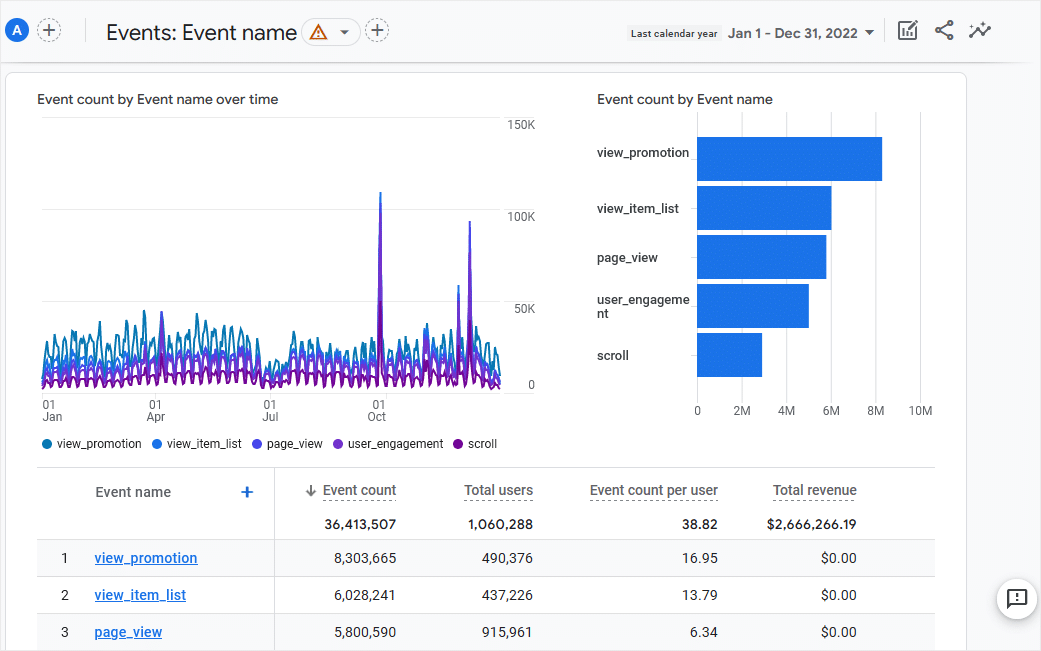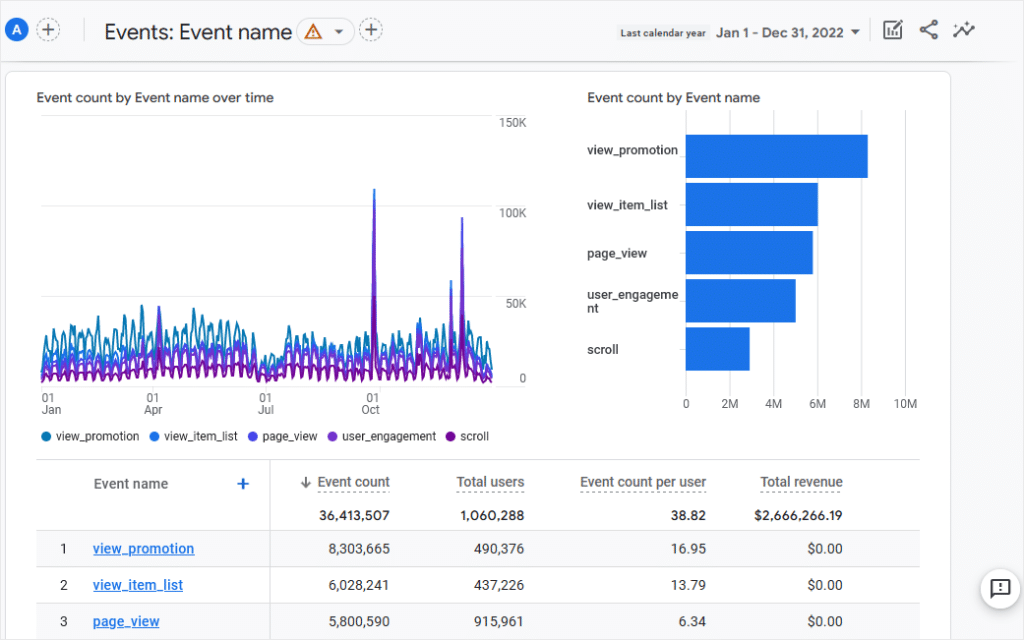 In the column titled Event name, you'll see your form_impression and generate_lead events. The generate_lead event is the custom event associated with a user submitting a form.

Now, to see exactly how many impressions each of your forms received, click on the form_impression link. That takes you to a detailed stats page. Scroll down and you'll see the Form ID box with the names of all of your forms, the Event Count (number of impressions), and the number of Total Users who performed each event.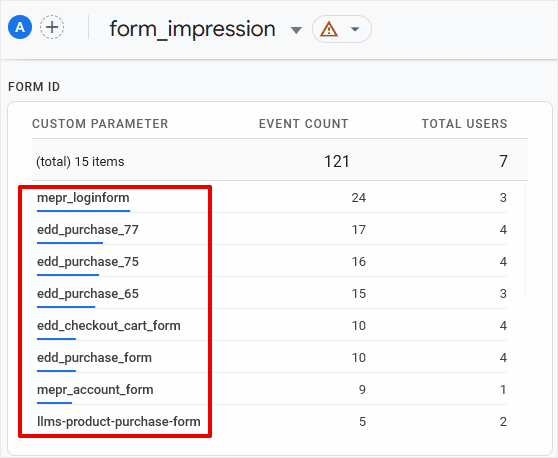 To see how well all of your forms converted, click on the generate_lead link on the previous screen. Now you can see all of your form conversions listed by Form ID, along with the total Event Count and Total Users.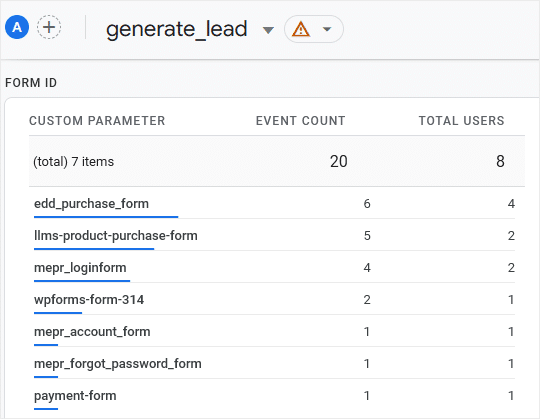 And that's it!
You now know how to track form conversions in Google Analytics. Go through the data and see which forms work and which need improvement. Then, optimize them to get maximum engagement and conversions.
We hope you liked our article on how to track form submissions in Google Analytics. You might also be interested in how to track your site's SEO rankings using Google Analytics.
Don't forget to follow us on Twitter and Facebook to get the latest Google Analytics tools, tips, and tutorials.