Do you need to make Google Analytics settings changes for EU Compliance?
ExactMetrics is built to make compliance as easy as possible for our users.
Learn how to get started with our EU Compliance addon.
Make sure to read our important legal disclaimer at the bottom of this guide.
Depending on what your country's laws and regulations are, you'll need to make some adjustments to settings within your GA account:
Data Retention Settings.
Demographics and Interest Reports setting.
Opt into The GDPR DPA within your account settings.
To start, log into analytics.google.com, and click Admin.

Google Analytics Data Retention Settings:
First, click on Tracking Info within the Property column, and then choose Data Retention.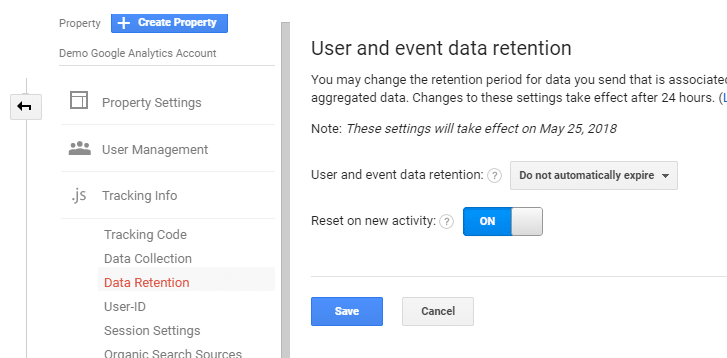 User-data retention: Choose the retention period you want. Our recommendation is usually "Do not automatically expire", unless regulations or laws require you to change this.
Reset on new activity: You may toggle this on or off. Our recommendation is "on", unless regulations or laws require you to change this.
Once done, click back into Admin.
Important Notes:
You will automatically lose all data older than 26 months if you don't make adjustments starting on May 25, 2018.
The setting only affects custom segments applied to reports or custom reports. Standard aggregated Google Analytics data will not be affected.
Once you make adjustments, it will take 24 hours before the updated settings take effect. Within the 24 hours, you can rollback the change without affecting your data.
Once the change takes place, any data lost will be permanent.
Google Analytics Demographics and Interest Reports:
Next, within the Property column, click Property Settings and find the Advertising Features section.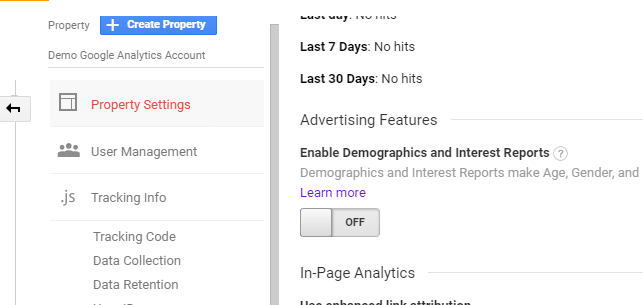 You'll need to turn the Demographics and Interest Reports option to "off".
Then, click Tracking Info on the sidebar and open the settings for Data Collection.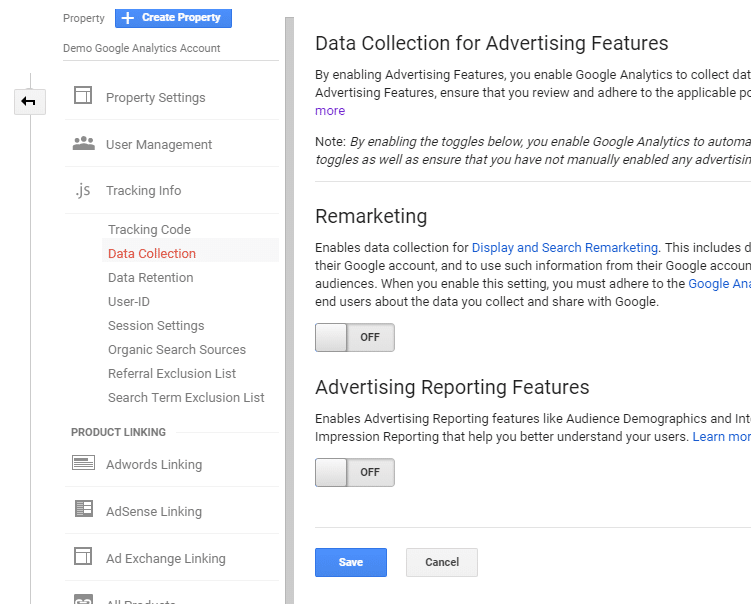 Here, turn both options of Remarketing and Advertising Reporting Features to "off".
Once done, click back into Admin.
Important Notes:
A side effect of disabling these options will cause demographics data in ExactMetrics' reports to not function as expected.
If having this option enabled is important, you can keep this enabled if you configure ExactMetrics to only load until the user gives consent. You can do this through our integration with the CookieBot plugin, the Cookie Notice plugin, the CookieYes plugin, or Complianz.
Opt into The GDPR DPA in Google Analytics
To opt in, click into Account Settings. Find and click the "Review Amendment" button.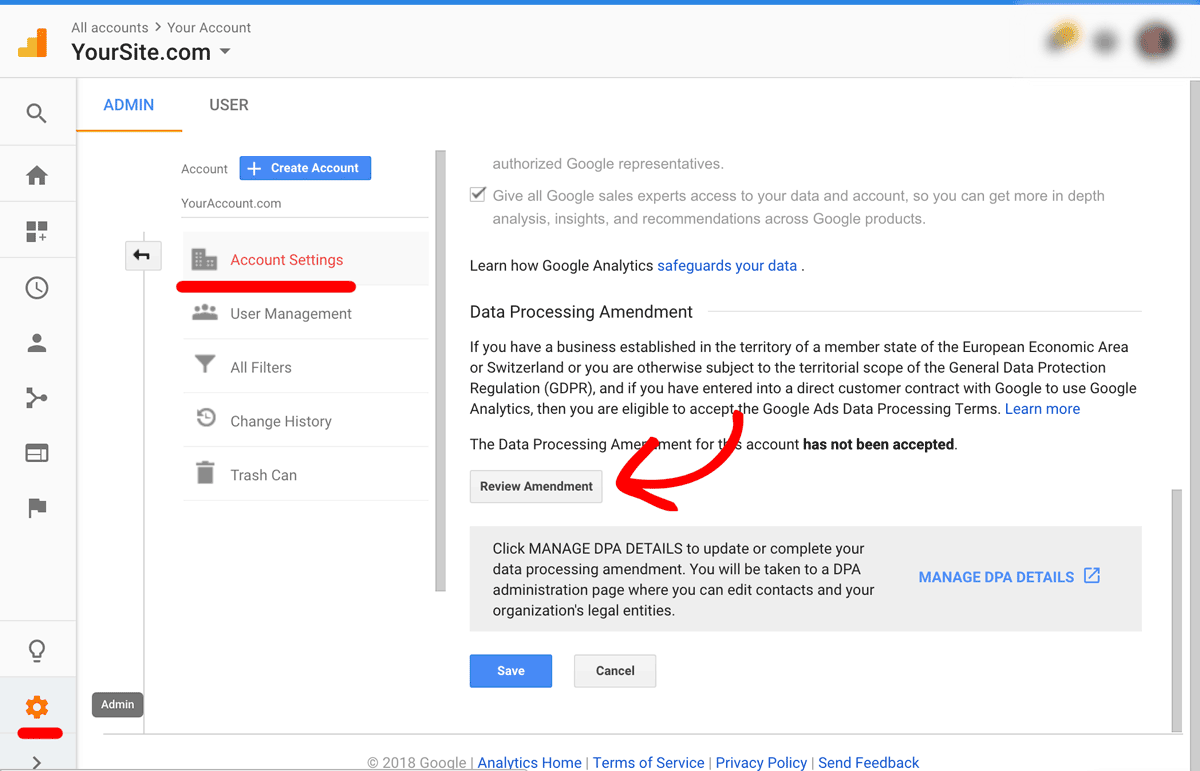 Click Accept when prompted.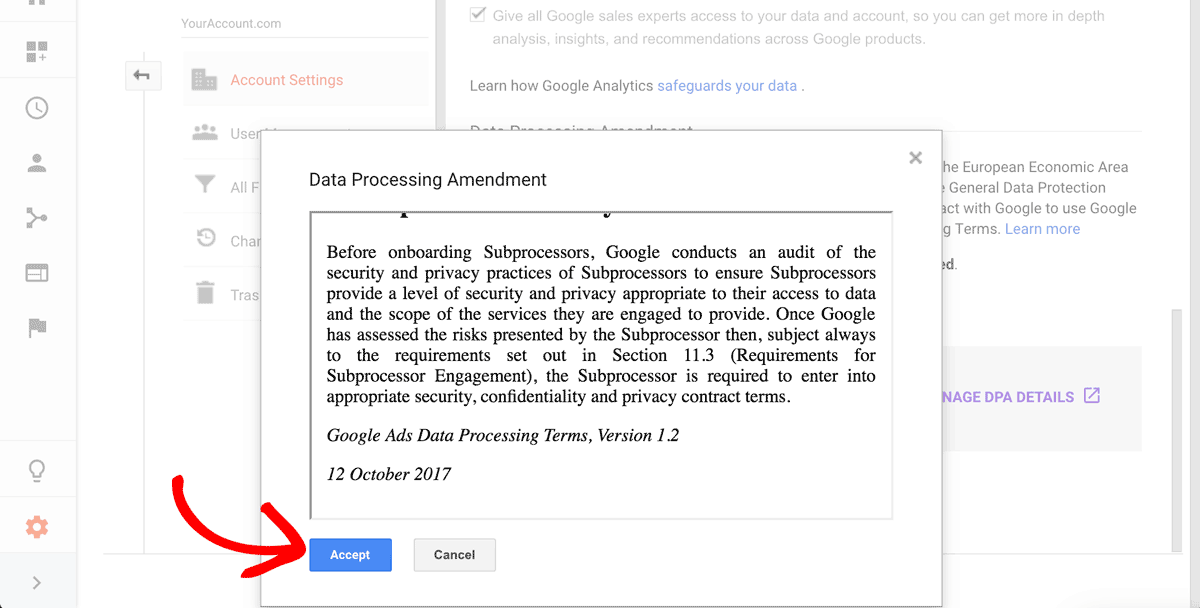 If there is no button present, it means one of the following things:
You have already opted in.
Someone else with access has already opted in.
Google themselves has already opted you in.
Google does not offer the DPA in your jurisdiction.
If you need assistance regarding this, you'll need to contact Google directly. We do not control anything relating to GDPR DPA on Google's side.
That's it! You learned how to adjust various settings within your Google Analytics account.
What's next? Read the rest of our guide on EU Compliance: Getting Started with the EU Compliance Addon.
Legal Disclaimer: This addon is designed to automate some of the settings change required to be in compliance with various EU laws however due to the dynamic nature of websites, no plugin can offer 100% legal compliance. Please consult a specialist internet law attorney to determine if you are in compliance with all applicable laws for your jurisdictions and your use cases.
As a website operator, it is solely your responsibility to ensure that you are in compliance with all applicable laws and regulations governing your use of our plugin.
ExactMetrics, its employees/contractors, and other affiliated parties are not lawyers. Any advice given in our support, documentation, website, other mediums or through our services/products should not be considered legal advice and is for informational and/or educational purposes only and are not guaranteed to be correct, complete or up-to-date, and do not constitute creating/entering an Attorney-Client relationship.