ExactMetrics 7.2 has arrived! With this release, we're adding two new plugin integrations: CookieYes and Complianz. Plus, we're making some often-requested improvements to our email summaries.
If privacy laws are confusing to you, you're not alone. So many website owners are in the same boat! Luckily, ExactMetrics can now integrate with four of the top cookie compliance plugins to give you a helping hand.
We also have some awesome news about the analytics summaries you get from ExactMetrics in your email. Read on for all the details!
New Cookie Consent Plugin Integrations
GDPR and other privacy laws are confusing, and it's hard to navigate all the different tools and suggestions out there for compliance. If you should get it wrong and collect data where you're not supposed to, you can catch a pretty hefty fine.
While no plugin can protect you 100% without talking to a lawyer, the ExactMetrics EU Compliance addon is a huge step in the right direction. Adding a cookie compliance plugin on top of that is even better!
ExactMetrics now integrates with four cookie compliance plugins:
CookieBot
Cookie Notice
CookieYes
Complianz
Now, if a visitor to your website opts out of tracking through one of those plugins, ExactMetrics will detect that automatically and keep Google Analytics from firing.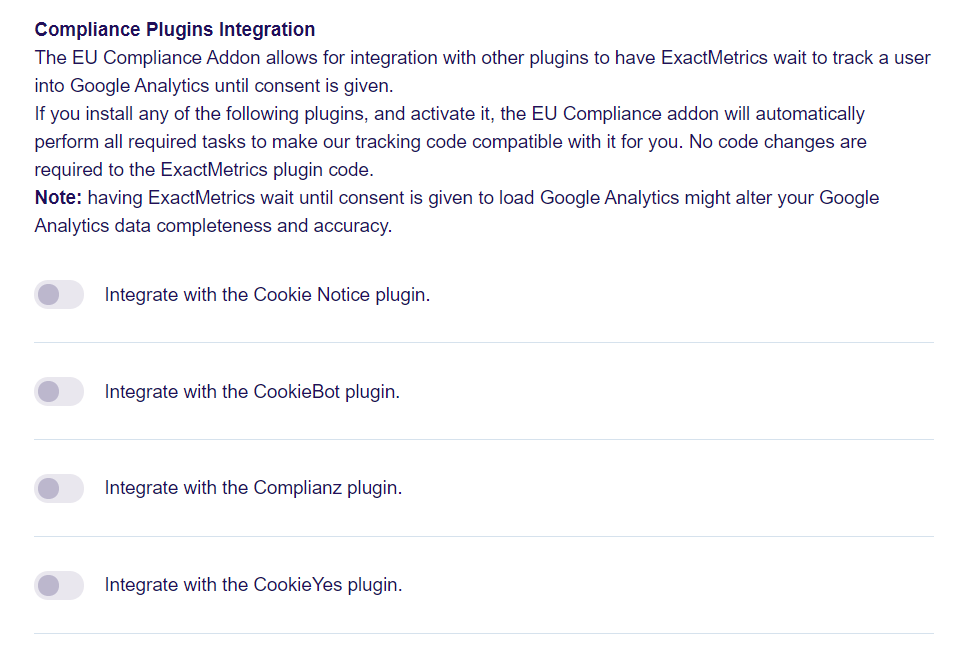 Email Summary Improvements
We're always listening carefully to feedback from our users. Many of you have wondered why our weekly email summary reports include 30 days of data instead of just the last 7 days.
Well, that's a great question! 7 days makes sense, so that's what we're changing it to. Now, each weekly summary will give you traffic data from the past 7 days instead of 30.
Are you going to miss seeing 30 days worth of data? Don't worry, you can still very easily access a 30-day report! 30 days is what our reports default to when you open your WordPress dashboard. You can even bookmark your ExactMetrics Reports page and click on it any time to see your past 30 days of data.
Your bookmark would look like this:
https://yourwebsitehere.com/wp-admin/admin.php?page=exactmetrics_reports#/
That's it for this update! We hope you love these new features. If you have a feature request, please reach out!
If you aren't using ExactMetrics yet, get started today!
Don't forget to follow us on Twitter and Facebook to see all the latest Google Analytics tutorials.