If you're worried about complying with GDPR and other privacy laws, you're not alone. Luckily, there are a lot of great cookie consent plugins and other GDPR compliance plugins for WordPress available.
Using a cookie consent plugin for WordPress is one of the best ways to work at getting compliant. It can display a message to let your visitor know they're being tracked, and provide the option to opt out of that tracking.
In this article, we'll go over our favorite cookie plugins that'll help you get GDPR complaint.
Our Favorite Cookie Consent Plugins
Let's dive into our list.
ExactMetrics is the best premium WordPress analytics plugin. With ExactMetrics, there's a whole list of things you can set up and monitor in Google Analytics and your WordPress dashboard, plus an EU Compliance Addon to help you make your site GDPR compliant.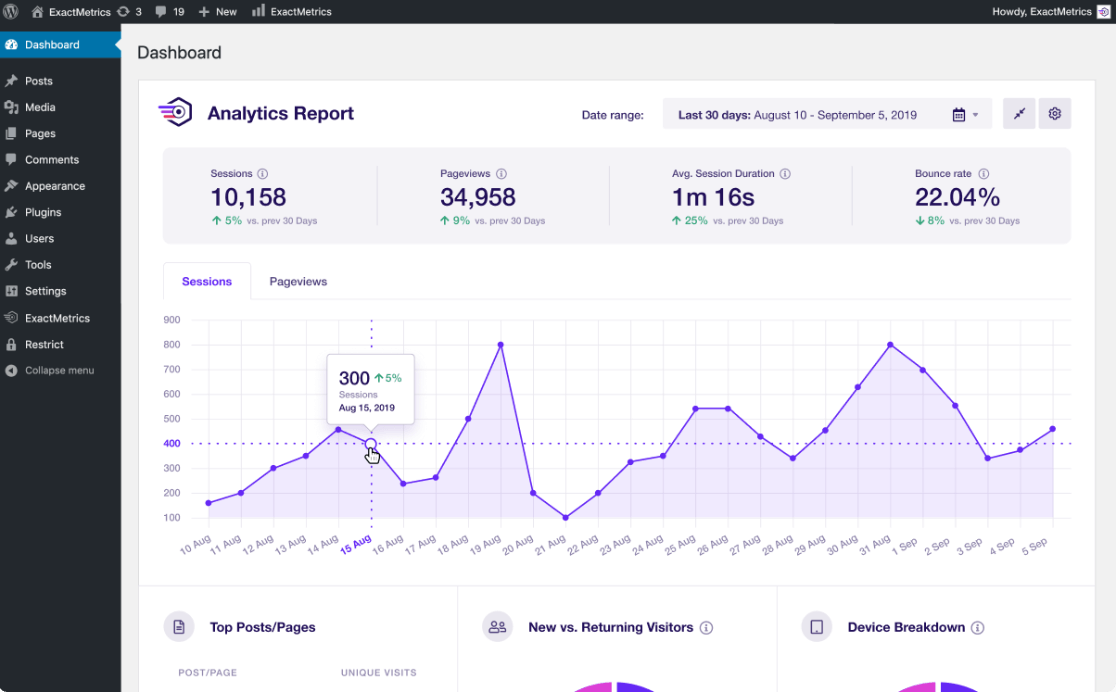 Our most popular features include:
With ExactMetrics, all your most important metrics are right there in your WordPress dashboard.
Not only does our EU Compliance Addon include options to make your use of Google Analytics compliant, but it also integrates with not one, not two, but FOUR different cookie compliance plugins. Those integrations mean that you can be sure your Google Analytics tag does not fire if a visitor chooses to decline cookies.
Get started with ExactMetrics today!
Cookiebot is the first plugin on our list that integrates with ExactMetrics. It's an easy-to-use cookie compliance plugin for WordPress that can show your visitors a notice and ask them to accept tracking.
With Cookiebot enabled, you can both ask visitors to accept tracking and give them the "do not sell my personal information" option to comply with both GDPR and CCPA.
Key features:
Integrates with ExactMetrics
A highly customizable consent banner
An automatically generated and updated cookie policy and cookie declaration
Monthly website scans, detecting all first- and third-party cookies and similar tracking on your site
All cookies and tracking are automatically held back right from the moment the user lands on the website and until the proper consent has been obtained
Free up to 100 subpages, then $10 per month and up
Get started with Cookiebot today!
Cookie Notice is the 2nd plugin on our list that integrates with ExactMetrics. This plugin is broken down into two distinct functions: a cookie notice banner and a cookie compliance application. So, you can use one or both depending on your needs.
Key features of the Cookie Notice banner:
Customizable notice message
Consent on click, scroll or close
Multiple cookie expiry options
Link to Privacy Policy page
Free
Key features of Cookie Compliance:
Intentional Consent provides 3 equal buttons to give site visitors the ability to accept none, some, or all cookies
Consent duration selector
Consent analytics dashboard
Automatic script blocking
Free up until 1,000 visits a month, then $14.95 per month
Get started with Cookie Notice today!
CookieYes is the 3rd plugin on our list that integrates with ExactMetrics and it provides LGPD of Brazil, CNIL of France, and California Consumer Privacy Act (CCPA) compliance.
Similar to Cookie Notice, CookieYes also has a free version and then more features in a pro version.
Key features:
Cookies are not rendered by default and only upon user consent
Single click automatic scanning and categorization of cookies
Display a list of your cookies on your policy page using a shortcode
Can be configured to have a CCPA 'Do Not Sell My Personal Information' control
Fully customizable to look just like your own website's style
The pro version adds more helpful features, such as the ability to scan and auto block scripts, starting at $69 per year.
Get started with CookieYes today!
Complianz is called "The Privacy Suite for WordPress" and it's easy to see why: this plugin provides compliance for GDPR, ePrivacy, DSGVO, TTDSG, LGPD, POPIA, APA, RGPD, CCPA and PIPEDA. It's the last one on our list that integrates with ExactMetrics.
This plugin also provides both cookie notice and consent management functionality.
Key features:
Configure a cookie notice for your specific region and sub-region
Custom CSS and customizable templates
Blocks 3rd party cookies like Google Maps, Facebook, Instagram, AdSense and more
Blocks iframes
Proof of Consent: User consent registration that respects the GDPR data minimization guideline
Periodical cookie scan for changes in cookies, plugins and 3rd party services
Free version
Get started with Complianz today!
WordPress Real Cookie Banner is a cookie banner and consent management plugin. It helps you obtain consent to load services and set cookies for your visitors in accordance with GDPR and the ePrivacy Directive.
This plugin has a high ratio of 5-star ratings and is clearly loved by many of its users.
Key features:
You can use a free sandbox site to try the plugin before you decide to install it
Store all technical and legal information about services and cookies
Content blockers make sure that these features are only executed after you have obtained consent
Completely customizable design
Guided configuration
Automatic website scan
Get started with WordPress Real Cookie Banner today!
GDPR Cookie Compliance is an easy-to-use, well supported cookie compliance plugin. It can help you with GDPR and CCPA compliance, plus consent notice requirements.
Key features:
Give your users full control over cookies
Fully customizable and editable
Consent expiration settings
Includes link to Privacy Policy page
Mobile responsive and SEO friendly
Free version
If you want more features, such as a full screen layout, geo-location, an iFrame blocker, and more, they also have a premium version available for £49 per year and up.
Get started with GDPR Cookie Compliance today!
Beautiful Cookie Consent Banner is a free and beautiful way to get a cookie banner on your WordPress site without loading any external resources from 3rd parties. This plugin does not block any resources unless you purchase the premium version, but works well if you just need the banner.
Key features:
Fully customizable texts, colors, fonts and position of the banner and buttons
Choose from 4 different compliance types: Just Inform, Opt-in, Opt-out, Differentiated
Google Tag Manager support
Developer friendly
Get started with Beautiful Cookie Consent Banner today!
That's our list! We hope you found the right cookie consent plugins for your website.
If you liked this article, we bet you'll also be interested in reading GDPR and Google Analytics: How to Make Your WordPress Site Compliant.
Don't forget to follow us on Twitter and Facebook to see all the latest Google Analytics tutorials.