Are you looking for a way to see a stats dashboard in your WordPress website and find out how each blog post is performing?
With Google Analytics, you can see how people use your website, which pages they visit, where they come from, and a lot more. But it can be tricky to use analytics and find the data you're looking for.
In this article, we'll show you how to set up a stats dashboard in WordPress using an easy way. Let's begin…
Why Use a WordPress Stats Dashboard?
When it comes to finding how your website is performing, you can log in to Google Analytics and view your reports. But it isn't that straightforward…
You'd have to leave your website to view analytics reports. This means going back and forth between your website and Google Analytics. And if you've never used the analytical tool before, it might be difficult to navigate through multiple reports and uncover the data you need.
But with a WordPress stats plugin solves these issues. It helps you see important metrics in your WordPress admin area, and you won't have to leave your site. And it also provides a glance at how each page and post is performing.
Now, are you ready to learn how to add a WordPress analytics dashboard?
How to Set Up WordPress Stats Dashboard
The easiest way of setting up WordPress visitor tracking and viewing a dashboard in your website is through ExactMetrics. It's the best premium WordPress Analytics plugin that helps you add Google Analytics and advanced tracking without editing code.
With ExactMetrics, you can view a dashboard within your WordPress admin area and quickly see how your content performs.
To get started, follow these steps.
Step 1: Install ExactMetrics Plugin
The first thing you need to do is installed the ExactMetrics plugin on your WordPress site. This is a premium plugin, and you'll need it Plus or a higher license to view a stats dashboard and get more tracking features to understand your audience better.
Once the plugin is active, the next thing to do is connect Google Analytics to your WordPress website. And with ExactMetrics, it will only take a few minutes.
Its setup wizard helps you add Google Analytics tracking code to your site without the need to hire a developer or edit code. You can follow our guide on how to add Google Analytics to WordPress.
Step 2: Install and Activate the Page Insights Addon
After that, you'll need to install the ExactMetrics Page Insights addon. It will enable you to view the stats of your individual posts and pages inside the WordPress admin area.
To install the addon, go to ExactMetrics » Addons and then navigate to Page Insights. Now click the Install button, and the addon will activate in a few seconds.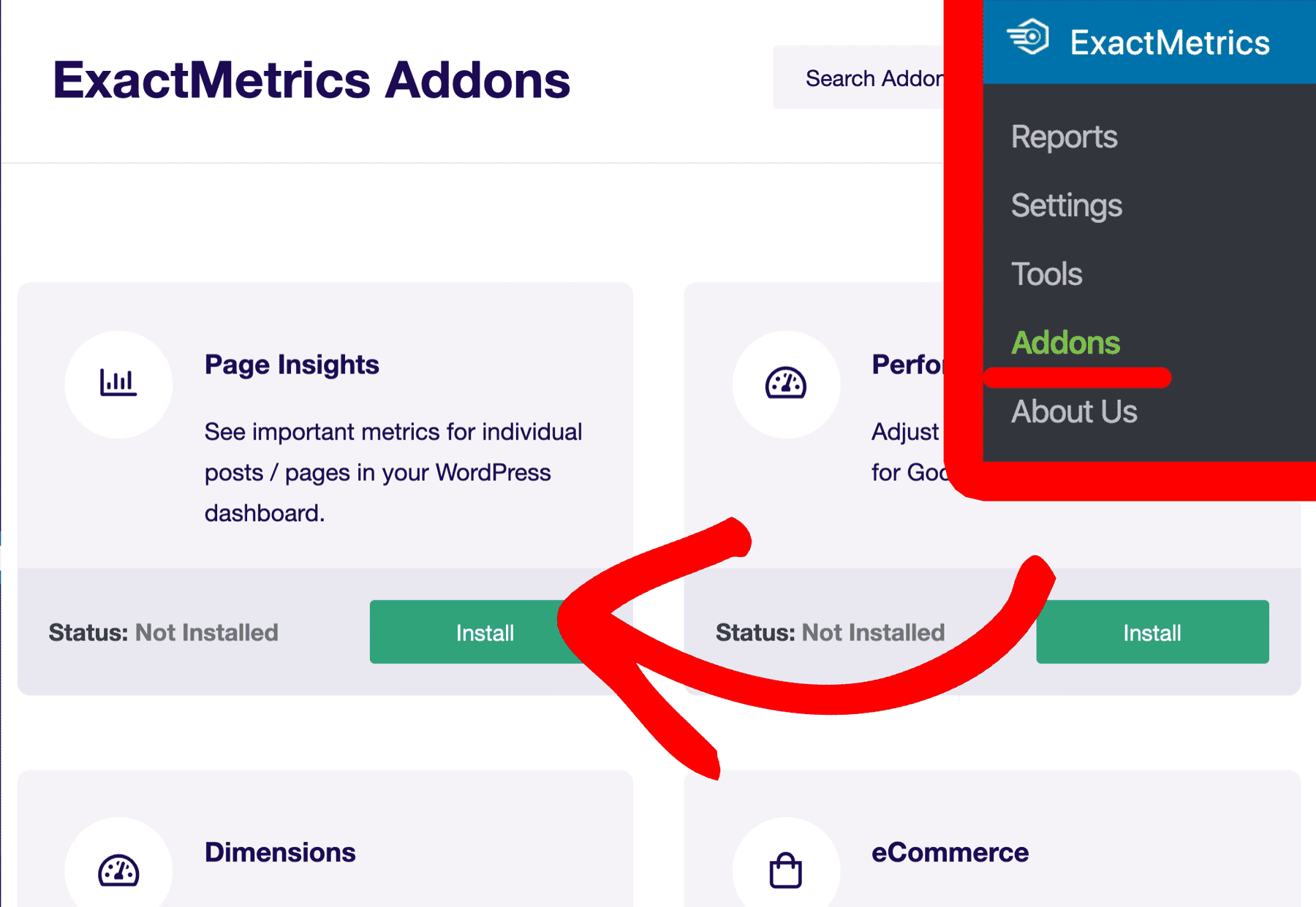 Congratulations! You've activated the Page Insights addon, and now you can view important metrics of how your pages and posts are performing.
Step 3: View Stats of WordPress Pages and Posts
ExactMetrics makes it very easy to see the stats of individual pages and posts. You can view them by going to Posts » All Posts or Pages » All Pages.
You'll see a new column that says Insights. Click on the Insights icon to view the stats of your page.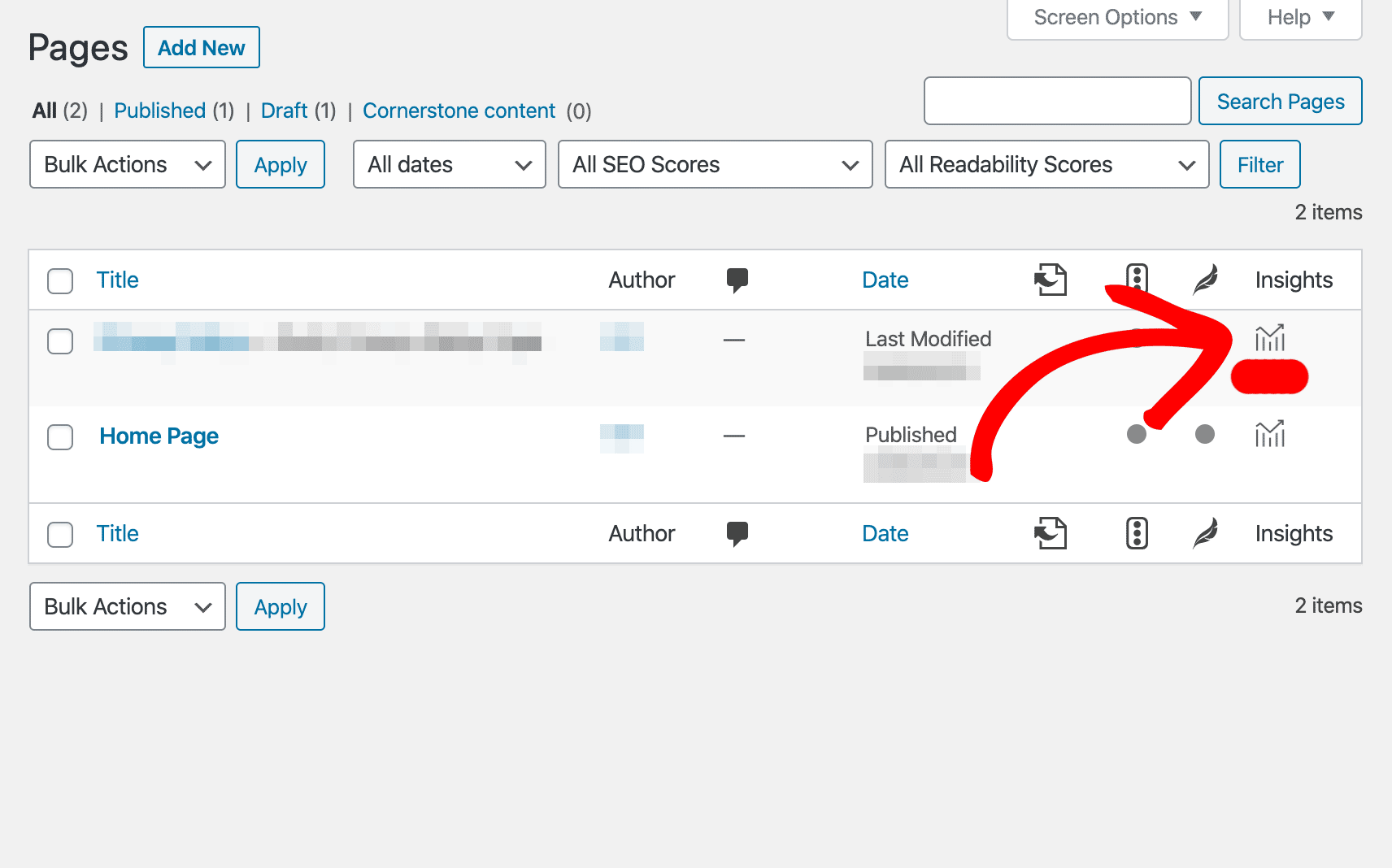 After that, a small window will pop up that will show you different metrics. You can see the number of people that hit the back button or closed the window without interacting with your content through the bounce rate.
Or view entrances, which shows how many times a user viewed your site through that blog post or page. ExactMetrics also provides insights about total page views, time on page, page load time, and the number of exits.
If you want, there's an option to choose between the date range from the last 30 days and yesterday.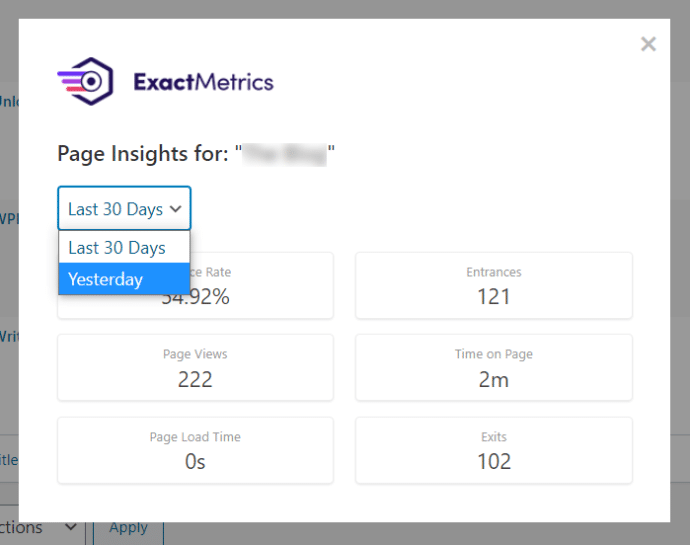 Besides viewing stats inside the WordPress admin area, ExactMetrics also lets you view a blog post or landing page metrics from your site's front-end.
If you're logged in to your WordPress account, just click the Insights button from the top admin bar on any page or post.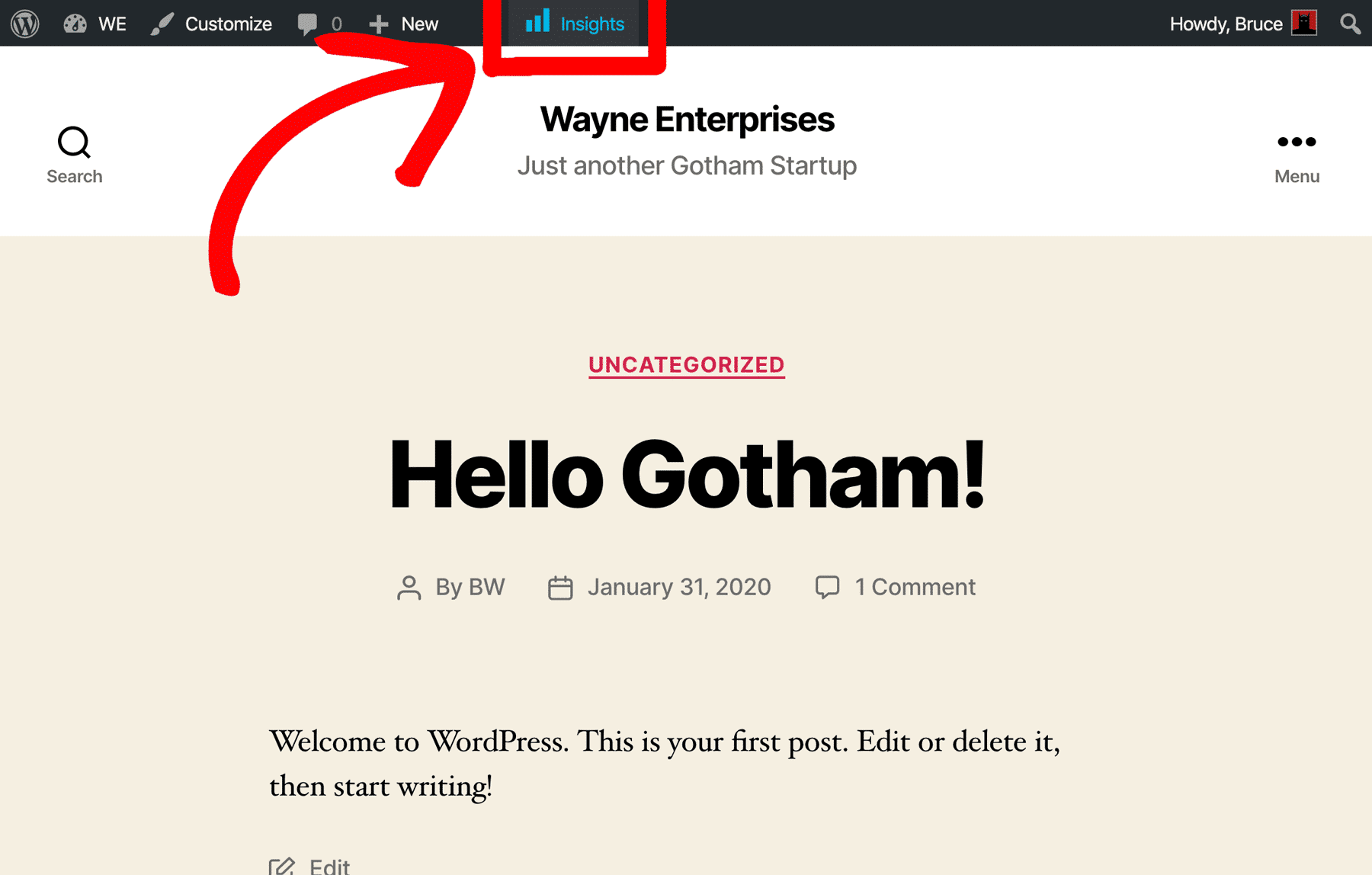 A drop-down window will appear that shows different metrics for the specific page/post. It's an excellent way of quickly checking your content stats without having to leave your site.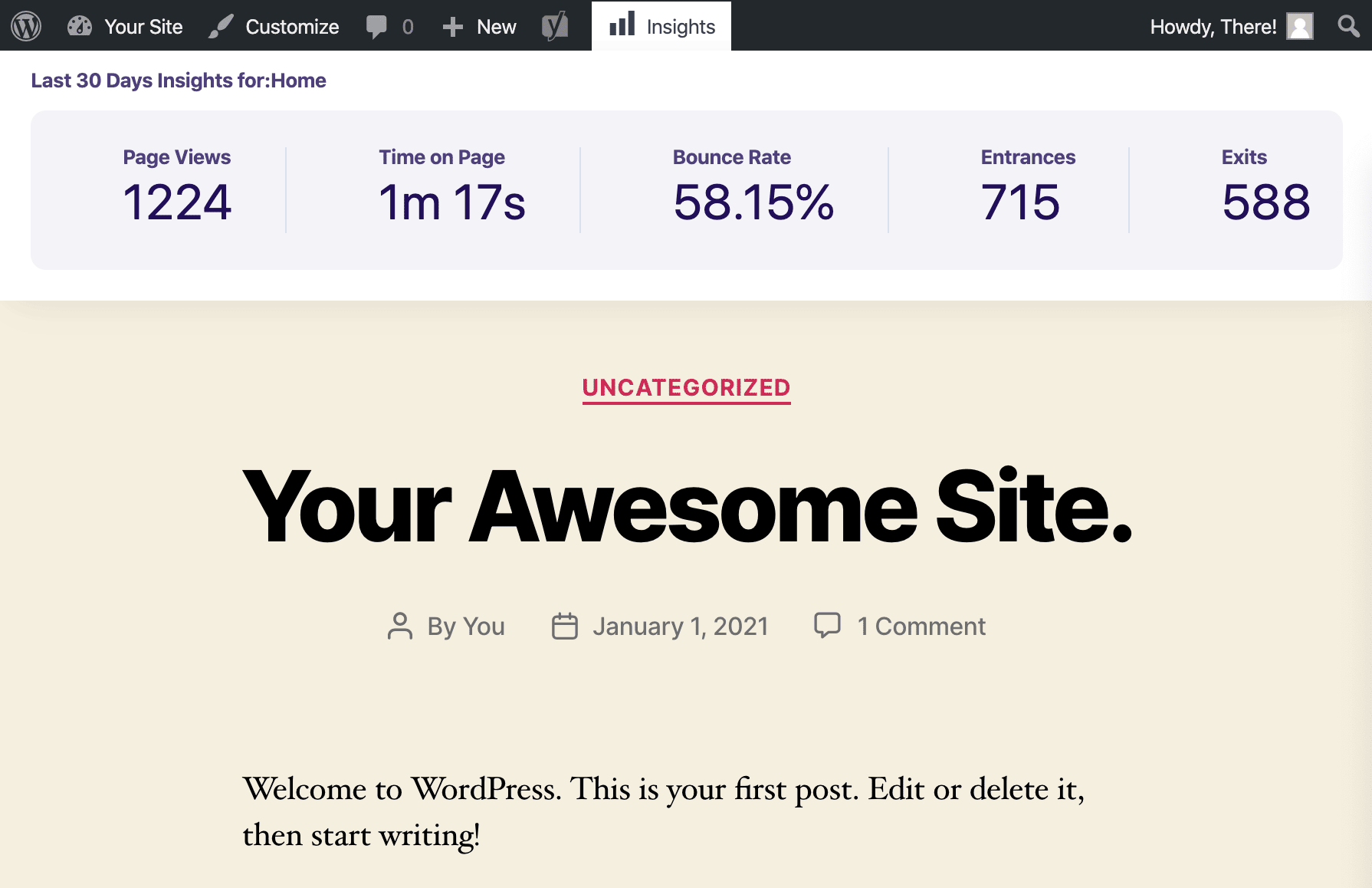 And that's it!
ExactMetrics also offers different reports that you can view in your WordPress admin area. Plus, it makes it very easy to find insights about how people interact with your content, where they click and helps you grow your business.
We hope you liked our article on how to set up a stats dashboard in WordPress. If you found this post helpful, do check out our tutorial on how to track outbound links in Google Analytics.
Don't forget to follow us on Twitter and Facebook to get to know the latest Google Analytics tutorials.