Tracking user engagement on your website is so important. You can't make improvements to your site if you don't know how your visitors are using it!
If you have videos on your site, you've probably wondered how many people are watching them, and whether or not they're engaging enough. If you looked into how to track those videos, you might have felt overwhelmed by needing to use code and set up Google Analytics events on your own.
That's why we created our new Media Addon. You'll be able to track your YouTube, Vimeo, and HTML5 videos with a quick button click and zero coding.
Plus, we're excited to introduce a new integration with AffiliateWP, the best affiliate tracking and management plugin for WordPress. This integration will bring your Affiliate IDs into Google Analytics, giving you extra data specific to your affiliates.
Not only that, but we're also loading a special year-end report into your ExactMetrics dashboard!
Track Videos In One Click With ExactMetrics
No more coding, no more complicated event setup in Google Analytics. Tracking YouTube, Vimeo, and HTML5 videos can now be done with just one click in ExactMetrics with our new Media Addon!
Once you install the video tracking addon, you'll be able to see:
Impressions (how many times your video was seen)
Start clicks (how many times users clicked to start your video)
Progress (what percentage of your video users watched)
Completion events (how many watchers saw the entire video)
When you're armed with this much data about your videos, you can make decisions about whether or not they're in the right place on your page, if your content is engaging enough, where watchers drop off, and more.
New AffiliateWP Integration Means More Data
AffiliateWP is our favorite affiliate tracking and management plugin for WordPress, so we're excited to announce this new integration.
AffiliateWP users can now enable an ExactMetrics integration with one click. The integration will create a new link between AffiliateWP and Google Analytics, sending your affiliate IDs over to Analytics along with your order data.

That means that you'll now have access to extra data that you don't get in your AffiliateWP dashboard, like demographics, landing page conversions by affiliate, and more affiliate-specific data.
You can open Google Analytics to access data like:
What demographics are buying from certain affiliates?
What landing pages are converting best for your affiliates?
How many orders for an affiliate use coupons?
Which campaigns brought in the most affiliate revenue?
With the new integration, you can create segments with Affiliate IDs in just about any report in Google Analytics.
Your 2021 Year in Review
How much growth did you see in 2021? The ExactMetrics team will load a custom, year-end report into your account for you to take a fun look at last year's metrics. This report will be available in your WordPress dashboard from January 1 until January 14, 2022 and it'll include top pages, visits per month, demographics, and more.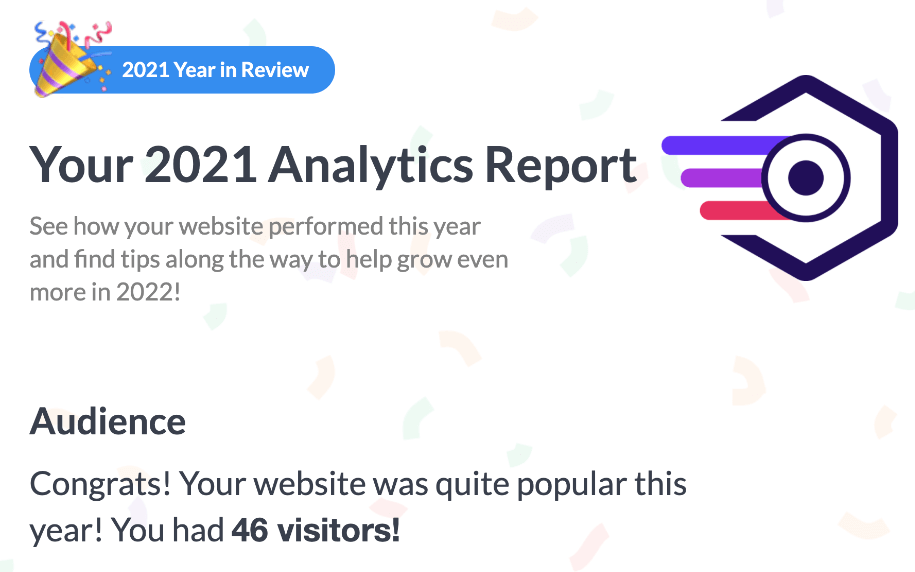 Here's to a prosperous, growth-filled year!
That's all for this update. Thanks as always for using ExactMetrics, and we hope you love this new update!
If you aren't using ExactMetrics yet, get started today!
Don't forget to follow us on Twitter and Facebook to see all the latest Google Analytics tutorials.