Are you looking for a way to set up Vimeo analytics tracking on your WordPress site to see how your embedded Vimeo videos are performing?
By using Google Analytics to measure how people interact with videos on your website, you'll be able to figure out what content is engaging, which videos are resonating with your audience, what might not be working the way you'd hoped, and lots more.
In this article, we'll show you how to set up Vimeo analytics on your WordPress site and how to track your Vimeo videos in Google Analytics.
Why Set Up Vimeo Analytics?
Vimeo is a top platform for hosting and sharing high-quality videos. If you've got Vimeo videos embedded in WordPress, it's important to see how those videos are performing by tracking them in Google Analytics.
Here are a few of the key metrics you'll be able to find:
Video play clicks
Average watch time
Average watch progress
Completion rate
When you have this data, you can see which videos are resonating with and engaging your audience.
And if you drill deep, tracking Vimeo videos in Google Analytics can show your lots more information, like which sources visitors come from before watching your videos. For instance, you can see if a person who watched a video came from social media, organic search, or another source. Then, you can promote your videos on the right channels to attract more views.
Let's dive into how to set up Vimeo analytics in 5 easy steps.
How to Track Vimeo Videos in Google Analytics
ExactMetrics is the best premium WordPress analytics plugin. With ExactMetrics, there's a whole list of things you can set up and monitor in Google Analytics and your WordPress dashboard, including automatic Vimeo video tracking.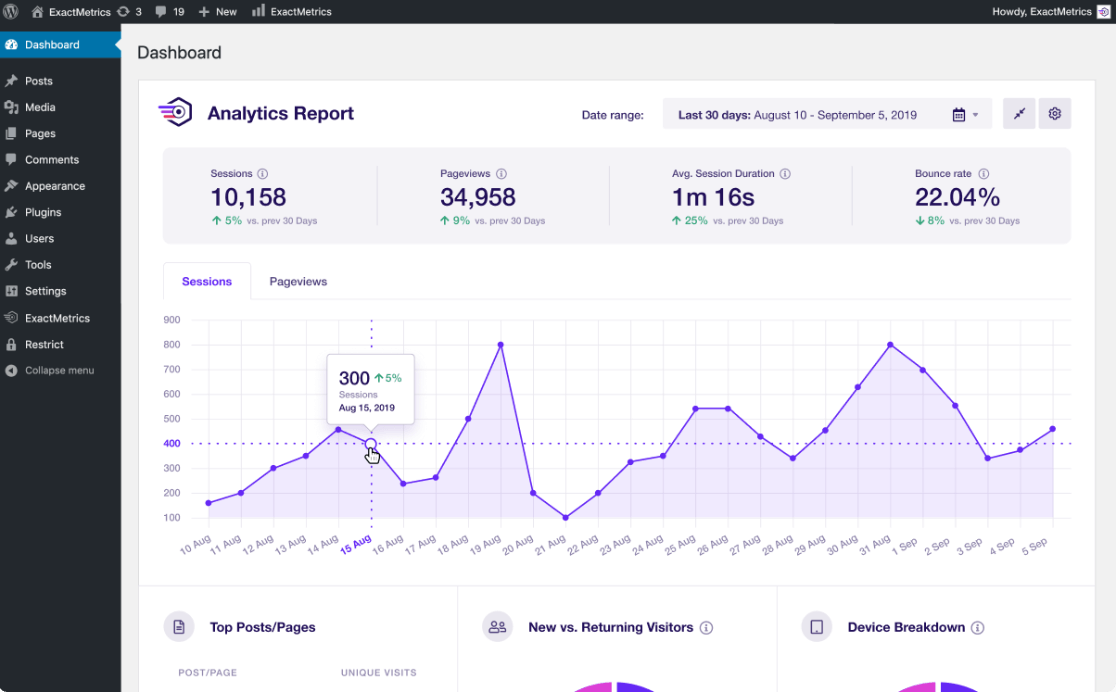 ExactMetrics allows you to easily set up Google Analytics without editing any code or needing a complicated tool like Google Tag Manager. You get advanced tracking right out of the box with an extremely user-friendly interface.
Here are some of ExactMetrics' most popular features:
With ExactMetrics, all your most important metrics are right there in your WordPress dashboard.
To set up Vimeo analytics video tracking using ExactMetrics, just follow these steps.
Step 1: Install ExactMetrics
Already have the plugin? Skip to step 3.
To start, head to the Pricing page and get started with ExactMetrics at the Plus level. Once you complete checkout, download the plugin.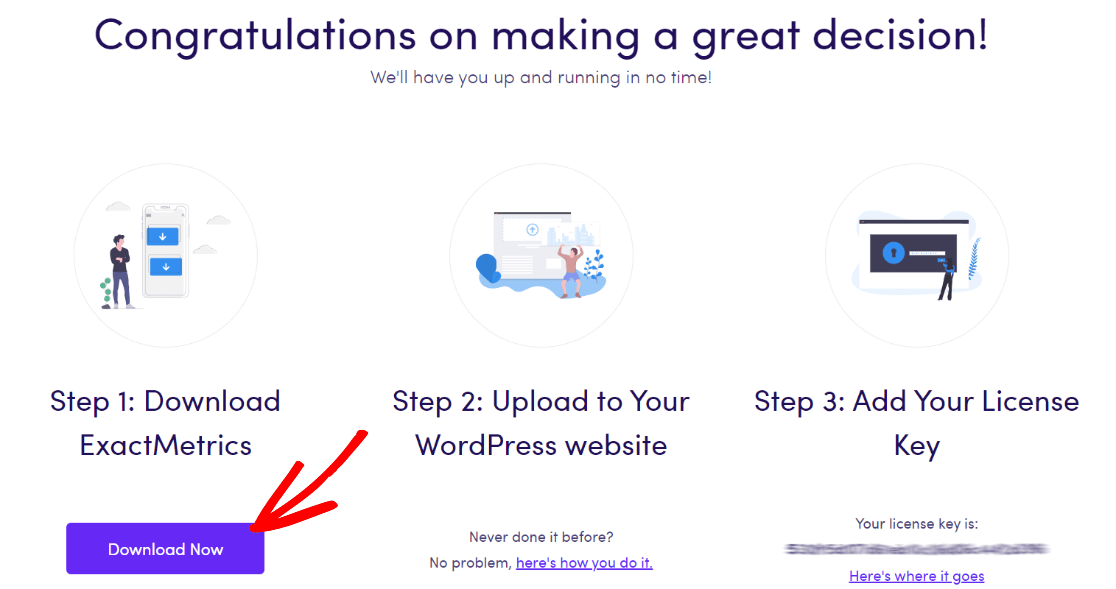 Next, upload it to your website.

Step 2: Connect to Google Analytics
Now that you have ExactMetrics installed, you can add your license key and connect your Google Analytics account. To get set up, click on ExactMetrics under your WordPress Dashboard and click the big green Launch the wizard! button.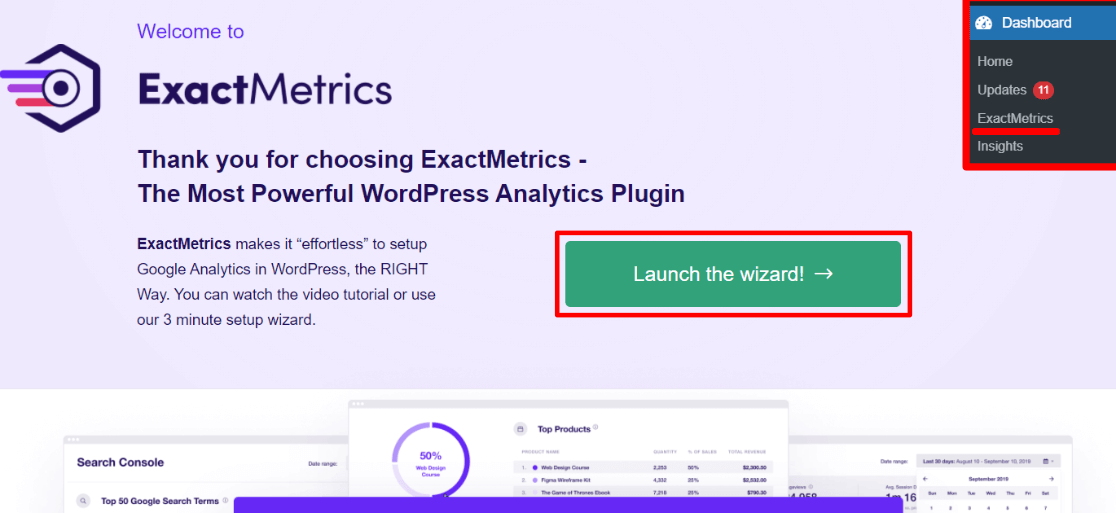 Once you're in the wizard, you'll get to this page where you can add your license key and connect with Google Analytics: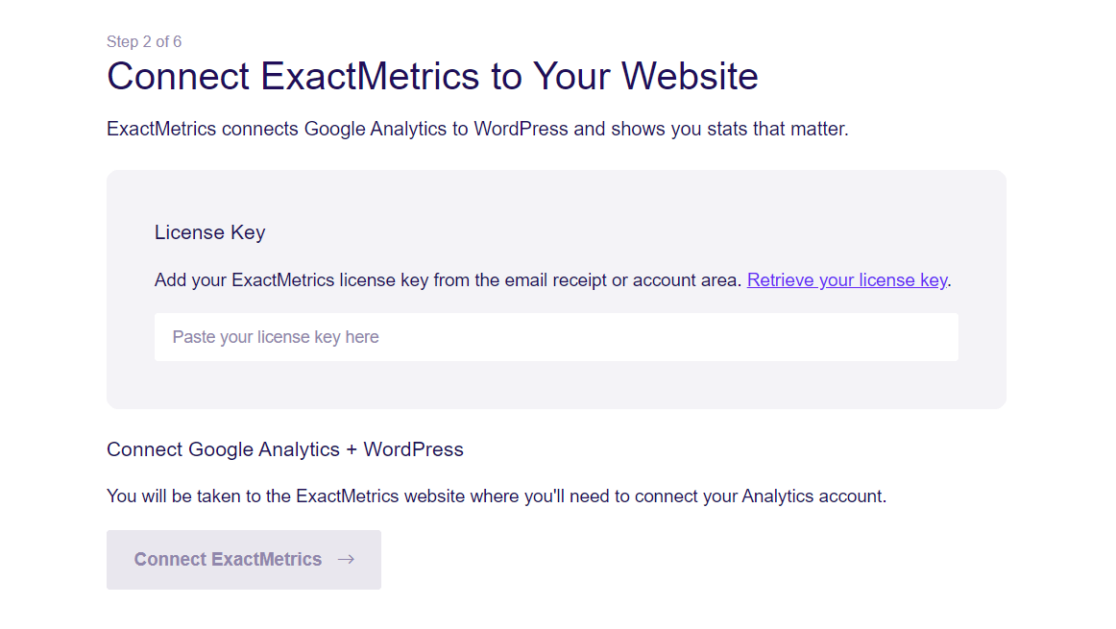 For more details on this step, check out our guide on how to properly add Google Analytics to your WordPress website.
Step 3: Enable Media Tracking
Now, you need to install the ExactMetrics Media Addon to set up Vimeo analytics.
To do that, head to WordPress and go to ExactMetrics » Addons, then scroll down to the Media Addon and click Install.

After clicking install, the addon will automatically activate on your site.
Next, head to ExactMetrics » Settings and click the Publisher tab at the top. Then, click the arrow to expand the section titled Media Tracking. Here, you can turn on media tracking for the types of videos you use on your site.

That's it! Video tracking is now enabled.
Step 4: Track Vimeo in WordPress
Ready to see how your videos are performing? Now that you've installed the ExactMetrics media addon, you'll have access to a Media report with Vimeo analytics as well as tracking for any YouTube or HTML 5 videos.
Head to ExactMetrics » Reports, then navigate to the Media tab:

Now, you'll see data for each of your videos that have been interacted with in your date range: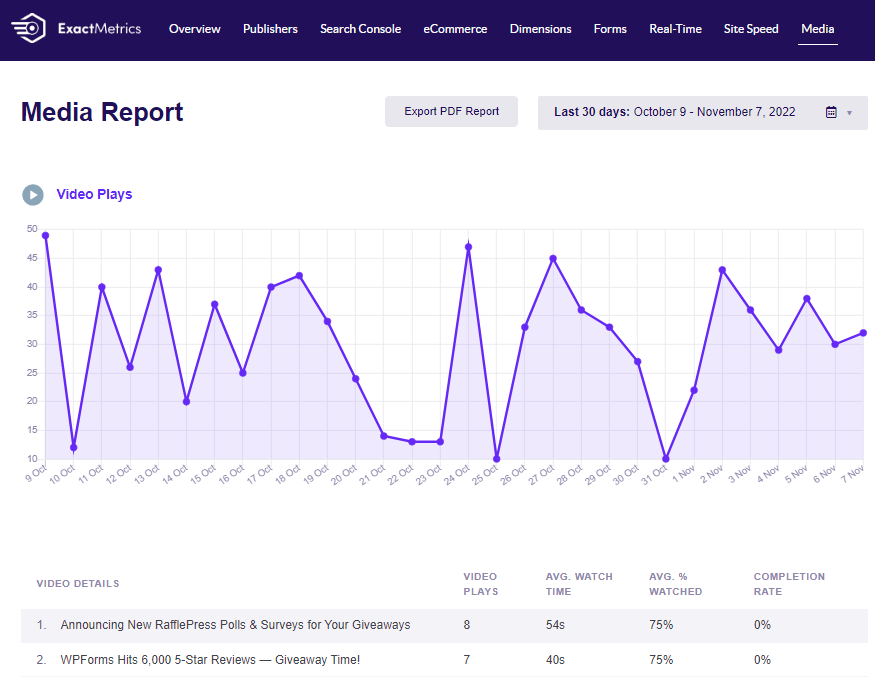 For each video, you'll see plays, average watch time, average percentage watched, and completion rate.
This data will also automatically be sent to Google Analytics as events, so you can uncover more data. Next, let's see where to find Vimeo analytics in your Google Analytics account.
Step 5: Tracking Vimeo in Google Analytics
Once you've given it a few days for video data to be gathered, you can look at how your Vimeo videos are performing in Google Analytics.
ExactMetrics will have configured custom events for you already, and you can see these by navigating to Reports » Engagement » Events. Type video in the table's search bar to see how many video play clicks (video_start) events were recorded.

To break down your analytics for Vimeo and other video types, you'll need to set up a custom exploration report.
By using the dimensions Video Title, Video Provider, and Session default channel group along with Event Count as our metric and a filter for Event Name = video_start, you can create a custom report like this one:

Note: you can skip using the Video Provider dimension if you only use videos from one source.
For help with creating a new custom report, check out How to Create Google Analytics Custom Exploration Reports.
In the example above, our rows show us the title of each video on our site as well as the provider. Meanwhile, the columns show us the number of video play clicks by different channels.
For example, let's say we don't usually link to a video in our emails, but we see that a number of videos have a lot of plays from email traffic. That would be a great sign to start promoting and linking videos in our newsletters and email campaigns to get more views.
With your new video events available to add to any report, you can see which videos are performing, find the ones that aren't doing so well, and dig deeper into your Vimeo analytics.
And that's it!
We hope you liked our article on how to track Vimeo analytics in Google Analytics and WordPress. You may want to also go through our guide on How to Use Google Analytics to Track Social Media.
Don't forget to follow us on Twitter and Facebook for the latest Google Analytics tutorials.