Do you run PPC ads on Google, Bing, or Meta and run an eCommerce store? The new ExactMetrics PPC Ad Tracking addon is for you!
Running PPC ads is a great way to increase your sales and make more money, but they can be complicated to set up and properly track in Google Analytics. You have to generate code, then somehow paste it into your website it in the right spot.
For those of us who aren't familiar with editing website code, that can be really challenging. That's why we built our new addon to add that code for you with a couple simple clicks!
Track Sales from PPC Quickly & Easily
ExactMetrics 7.14 is here, and it includes a brand new addon: The ExactMetrics PPC Ads Tracking addon. It works with WooCommerce, Easy Digital Downloads, LifterLMS, MemberPress, and GiveWP sites to easily track Google, Microsoft, and Meta PPC ad conversions. Or, use it with any website to insert your pixel and track Meta pageviews.
All you have to do is copy and paste the appropriate tag into your ExactMetrics settings in ExactMetrics » Settings » Conversions. That's it! Your conversions will be tracked for you without any further setup.
Google Ads Conversion Tracking
Do you run Google Ads? To track your conversions with Google Ads (beyond simple page visits), you have to add both a Conversion ID and a Conversion Label to your site. Instead of trying to figure out where to place those, you can use the new ExactMetrics PPC Ads Tracking addon to simply copy and paste those tags into your site. No coding required!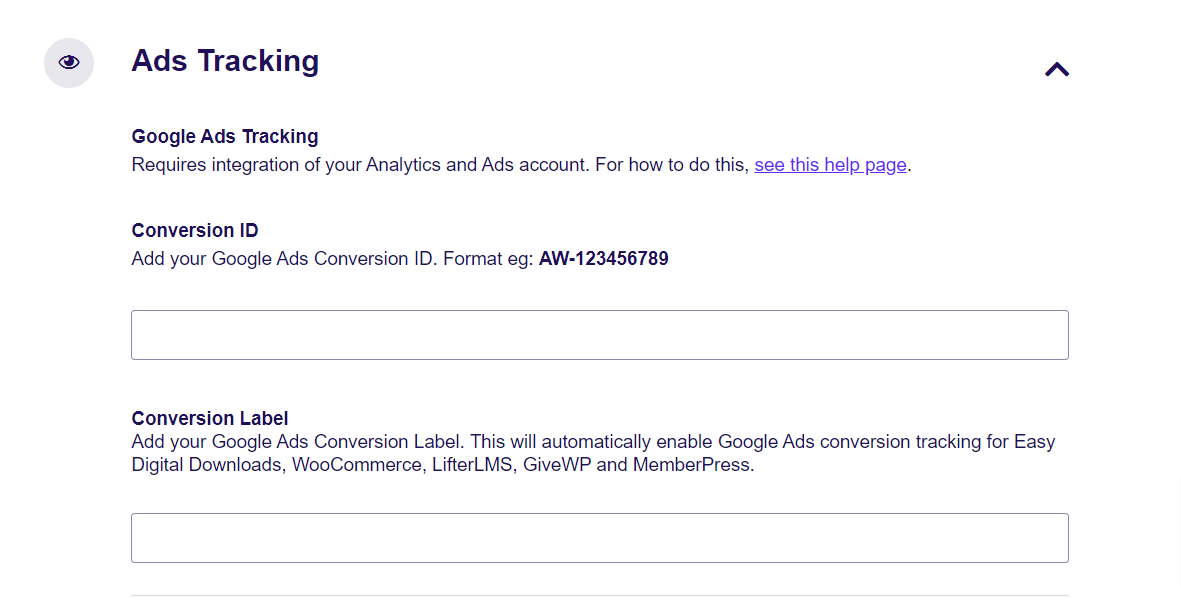 Microsoft Ads Conversion Tracking
If you run Bing Ads, you can now track conversions without touching your website's code. Just install the ExactMetrics PPC Ads Tracking addon and paste your Tag ID into the box. That's it!

Meta Conversion + Page View Tracking
Running ads on Meta (Facebook)? The new ExactMetrics PPC Ads Tracking addon can track both conversions and pageviews, just by pasting your Pixel ID into our box. Tracking page views allows you to set up retargeting ads for people who visited certain pages on your site.

Download the new ExactMetrics PPC Ads Tracking addon today to track your ad conversions, code-free!
Don't forget to follow us on Twitter and Facebook to see all the latest ExactMetrics news, tips, and Google Analytics tutorials.