Are you planning on making 2021 even bigger and better for your website?
Today, we're thrilled to announce the release of the ExactMetrics Year in Review report. It's a limited-time report that shows how your site performed in 2020 and is available from January 1 to January 14.
Find out which posts were the most popular, which country your visitors were from, what keywords people used in search engines to look up your site, and much more.
Here's a closer look at the new report…
See Your Site's Performance in 2020
One of the most challenging things about creating a report that shows your website's performance for the entire year is it's time-consuming. You'll have to manually check each Google Analytics report and then find the data that you need.
But what if you don't have to do any of that?
ExactMetrics Year in Review report provides you a snapshot of which strategies worked and how your site did in 2020 in a single report. No need to spend hours going through different Google Analytics reports and putting together a year-end report.
Using the Year in Review, you can now easily plan for the new year. Find out how many visitors you got in 2020, and then set targets to grow your traffic. That's not all! See your top-performing pages from last year and then uncover similar topics for your content calendar.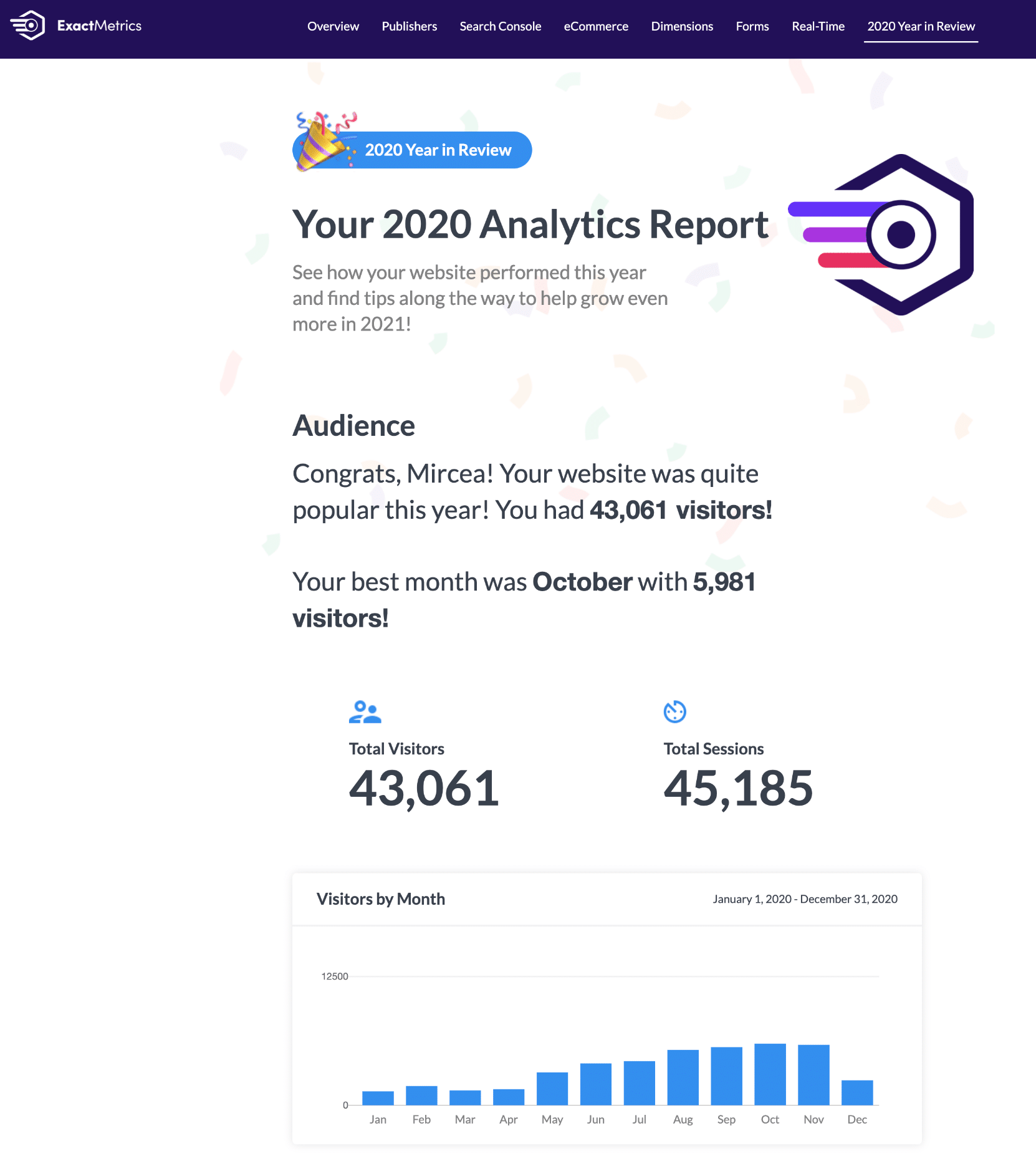 You can also get to know which country your visitors are from and which referral sources send the most traffic to your site. This helps you discover new opportunities to get more traffic to your website.
And with the Year in Review report, you get to view your online store's performance for the whole year. See how much revenue your store made, the total number of products sold, and your most popular product. Then use this data and look for similar products that customers will like and purchase.
Now, remember that the Year in Review report will only be available from January 1 through to January 14, so make sure to make the most of it. Click here to get started with ExactMetrics!
Thank you for your continued support and for helping us make ExactMetrics the best premium WordPress Analytics plugin.
Make sure to follow us on Twitter and Facebook to be the first to know about the new features and exciting updates we have lined up for you.