Do you want to learn how to track your landing pages in Google Analytics to see which ones convert visitors best?
By measuring your landing page performance, you can see which pages convert visitors into subscribers or customers. Then, optimize your landing pages' SEO to rank higher and get more conversions.
In this article, we'll show you how to track Google Analytics 4 landing page conversions easily. Ready to get started?
How to Track Google Analytics Landing Page Conversions
What Are Landing Pages in Google Analytics?
A landing page in Google Analytics is the first page a user views in a session. This could be your blog post, a product page, a lead capture page, and so on. Basically, a landing page is where a user first arrives when they click a link that lands on your website.
Conversions are the end goal of your landing pages, and they vary based on your website and business. For instance, if you're a publisher, a conversion could be getting people to sign up for your newsletter or download your ebook. Similarly, if you're running an eCommerce store, a conversion would be when a visitor makes a purchase.
Now that you understand what a landing page is, let's see why it's important to track them in Google Analytics.
Why Track Landing Pages in Google Analytics?
There are lots of benefits to setting up landing page analytics. Let's take a closer look at some of the things you can do with landing page tracking:
Find Out Which Content Converts Best – By finding out which landing pages get the most conversion, you can understand the type of content that drives business and produce more of it.
Optimize Low Converting Pages – Identify landing pages that may be getting a lot of traffic but aren't converting well. What's the page missing? How can you optimize it to increase conversions?
Track Which Landing Pages are the Most Engaging – Track the average time spent on the page and other engagement metrics to see which landing pages are keeping visitors on your site.
See if Visitors are Finding What They Need – See the average number of pages viewed per session for each landing page to understand which content leads visitors to explore your site further. If it has a high conversion rate, you're doing something right. But, if users are viewing lots of pages and not converting, they're probably not finding the information they need in your linked pages.
Ready to learn how to track Google Analytics landing page conversions?
How to Track Landing Pages in WordPress
If you have a WordPress site, the best and easiest way to track Google Analytics landing page conversions is with the ExactMetrics plugin.
ExactMetrics is the best premium WordPress Analytics plugin, allowing you to easily set up Google Analytics without editing any code or needing a complicated tool like Google Tag Manager. You get advanced tracking right out of the box with an extremely user-friendly interface and Google Analytics reports right inside your WordPress dashboard.
Aside from your landing page report, you'll also gain access to tons of other Google Analytics features and advanced tracking capabilities in just a few clicks.
Here are some of ExactMetrics' most popular features:
ExactMetrics reports are easy to read and bring all your important Google Analytics metrics to one place, so you can easily track your site's performance and make data-driven decisions to grow your business.
One of the biggest benefits of using ExactMetrics is that it actually sets up all your custom tracking in Google Analytics for you.
For instance, if you turn on forms tracking, downloads tracking, and media tracking, ExactMetrics will automatically set up those events and dimensions in Google Analytics. So if you need more data or want to create a custom exploration report, just go to your Analytics account. All the complicated stuff is already set up correctly!
Install ExactMetrics
To track landing page conversions, head to the ExactMetrics pricing page and grab the license level that works for you.
After purchasing, go ahead and download the plugin.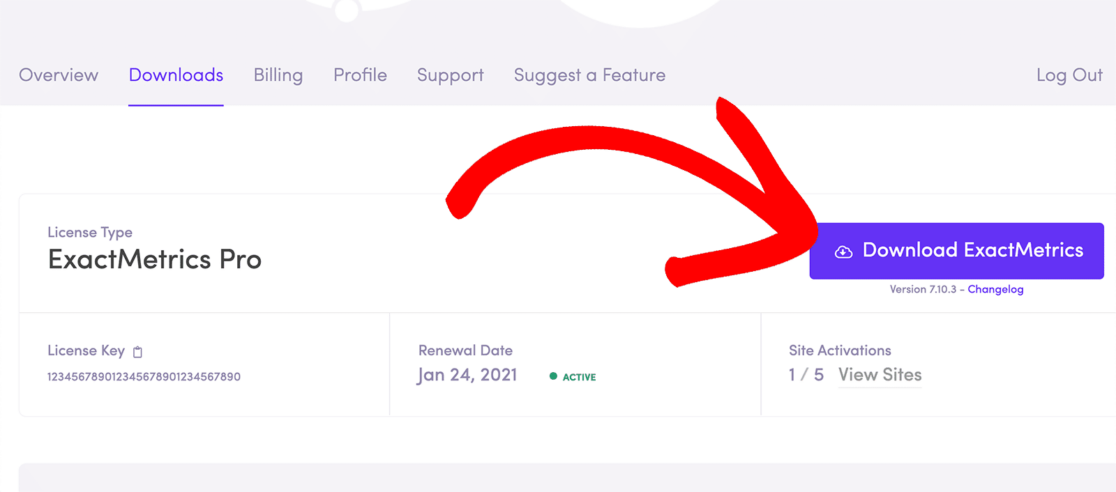 Next, you'll need to install and activate ExactMetrics on your site.

When the plugin is installed and activated, click ExactMetrics in your WordPress menu and Launch the wizard.
You'll enter your license key, and the setup wizard will walk you through connecting your Google Analytics account in a couple of clicks.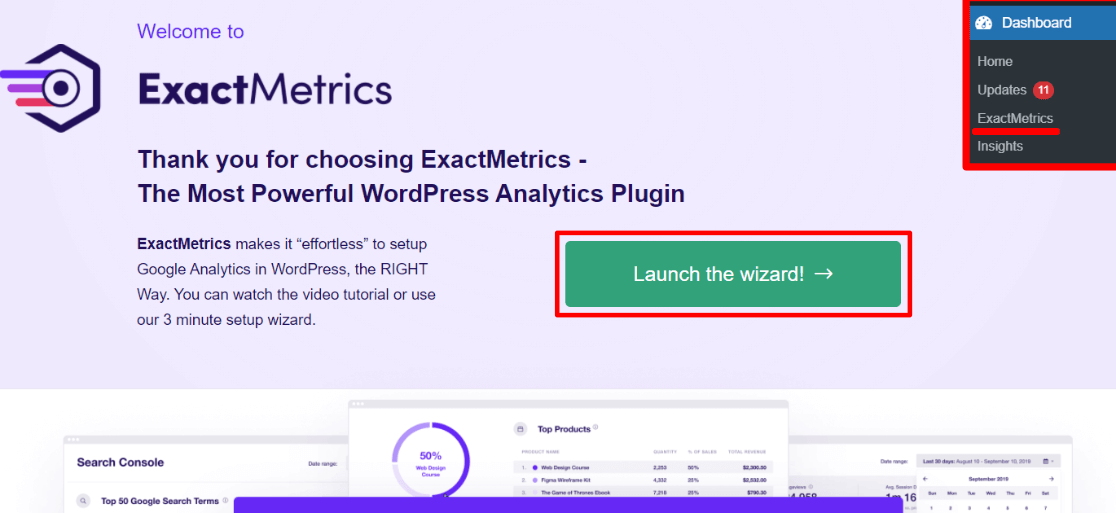 If you need more detailed instructions for this step, check out How to Add Google Analytics to Your WordPress Site.
Once ExactMetrics is set up on your site, it'll automatically track landing page conversions, and you can easily see how your landing pages are performing right inside WordPress.
Let's see where to find the report.
View Landing Page Conversions
After ExactMetrics is set up and you've given it some time to collect data, go ExactMetrics » Reports from your WordPress admin menu. The first report you'll see will be the Overview report. Here, you can quickly view sessions, pageviews, and more.
To see your top landing pages, click the Traffic tab at the top and then Landing Page Details.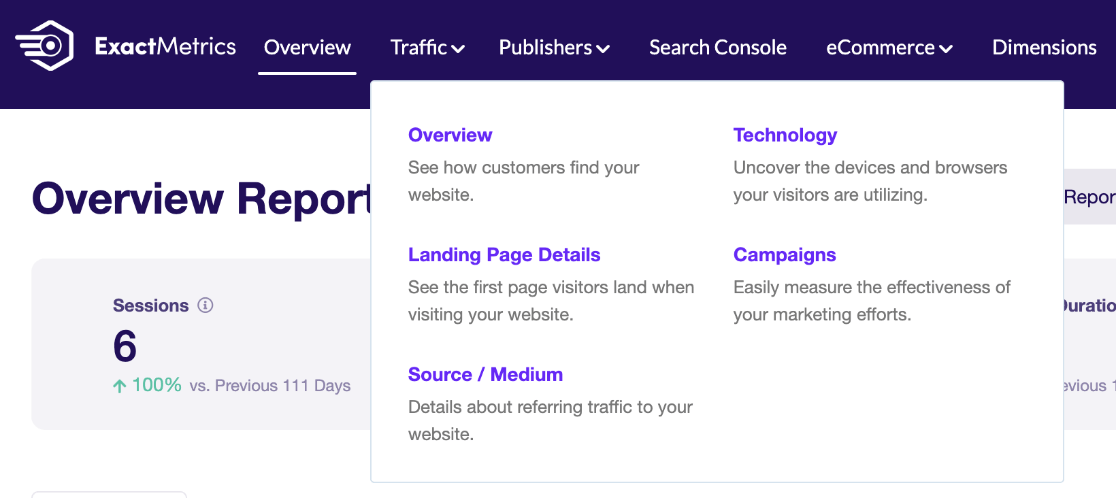 Now, you can see what your Top Landing Pages are along with metrics for each. Easily view:
Sessions
Engaged Sessions
Pages per Session
Purchases
Conversion Rate
Revenue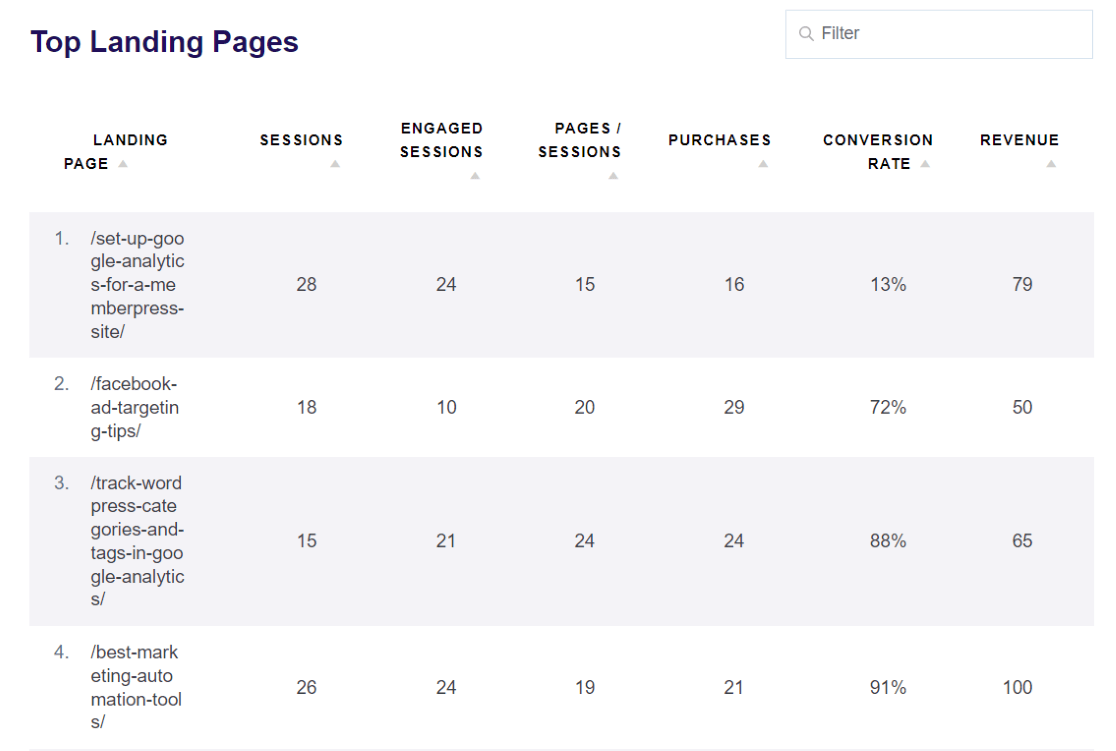 Use this data to see which pages you can optimize to convert better. For example, in the sample above you can see that #1 has the most sessions but only a 13% conversion rate. On the other hand, #4 has around the same number of sessions with a 91% conversion rate.
Why is that page converting so much better? Does it have a different call-to-action (CTA)? More engaging content? And most importantly, what can you do to optimize pages that aren't getting as many conversions?
To see the average session duration for each landing page, click Publishers » Overview in the top menu of ExactMetrics.

Here, you'll see your top landing page titles along with the number of visits, average duration, and bounce rate.

To quickly see more data in Google Analytics, just click the button at the bottom that says View Full Top Landing Pages Report.
It'll automatically take you to the Pages and screen: Page path and screen class report inside your Analytics account.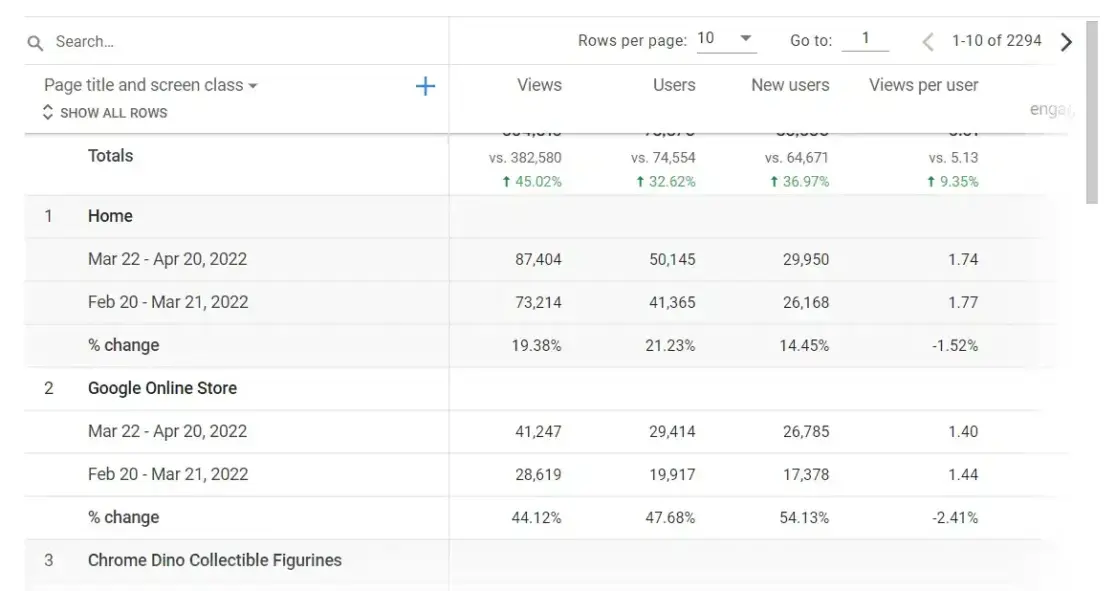 That's it! See how easy it is to track Google Analytics landing page conversions when you use ExactMetrics?
If you want to find your landing page report in Google Analytics, we'll show you how to do that next.
How to See Landing Page Conversions in Google Analytics
Google Analytics doesn't show your landing page report by default, but we'll show you how to add it to your navigation for easy access.
From your account, click Reports in the sidebar, and then click Library at the bottom. Under Collections, find Life cycle, and click the link to Edit collection.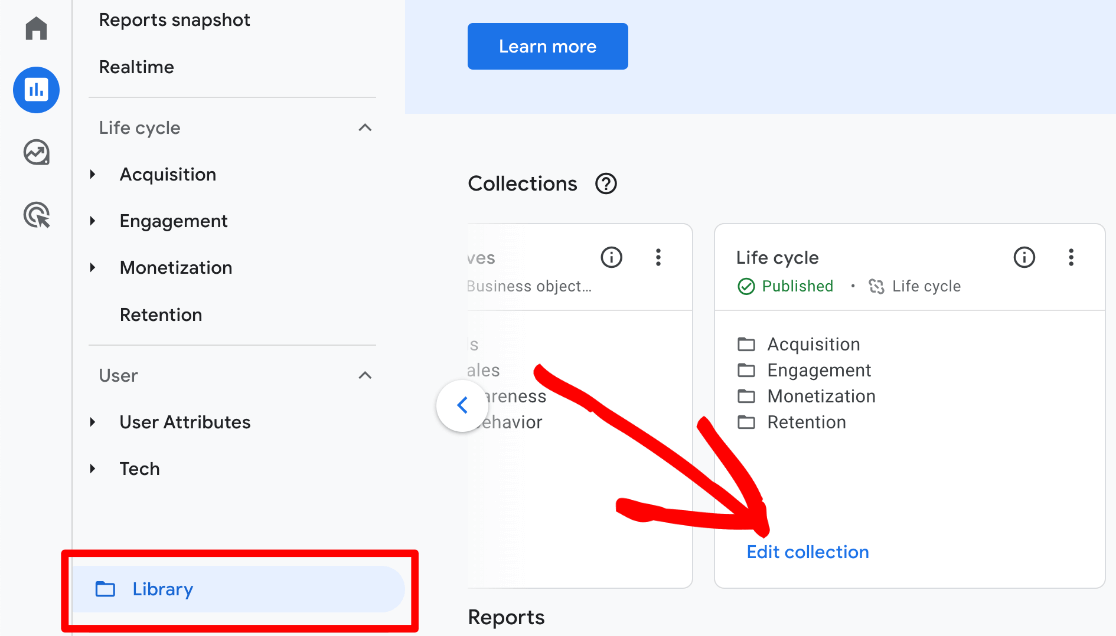 In the right column, find Landing page in the list of reports and drag it to the left column, under Engagement.
Click Save at the bottom and then Save changes to current collection.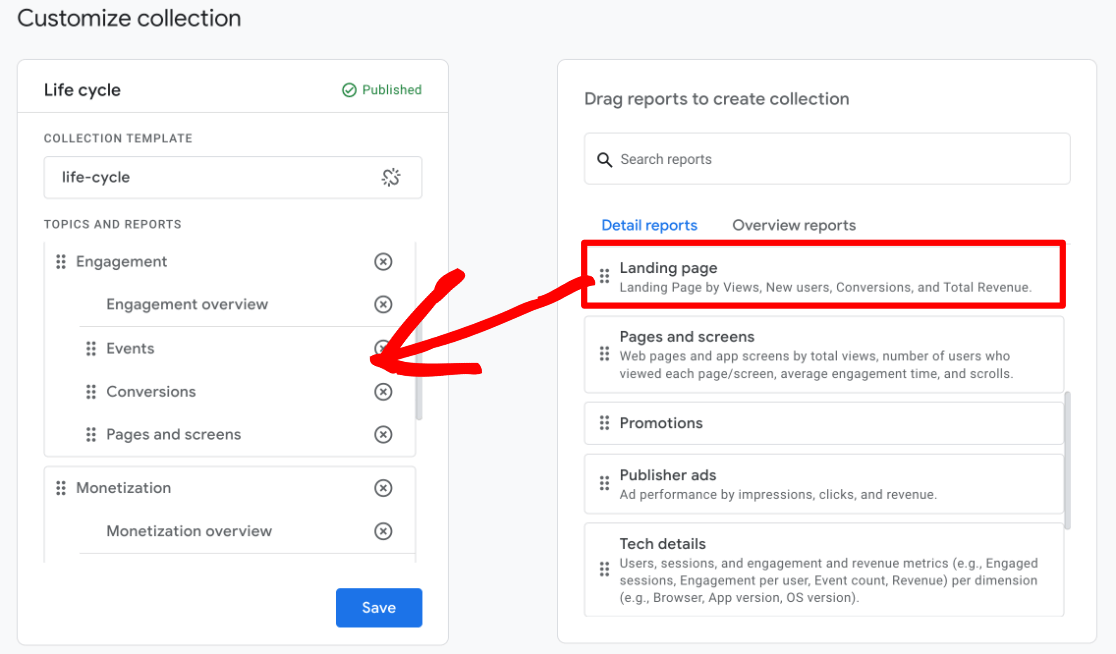 You can now access the report by going to Reports » Engagement » Landing page. Scroll sideways in the table to see landing page Conversions.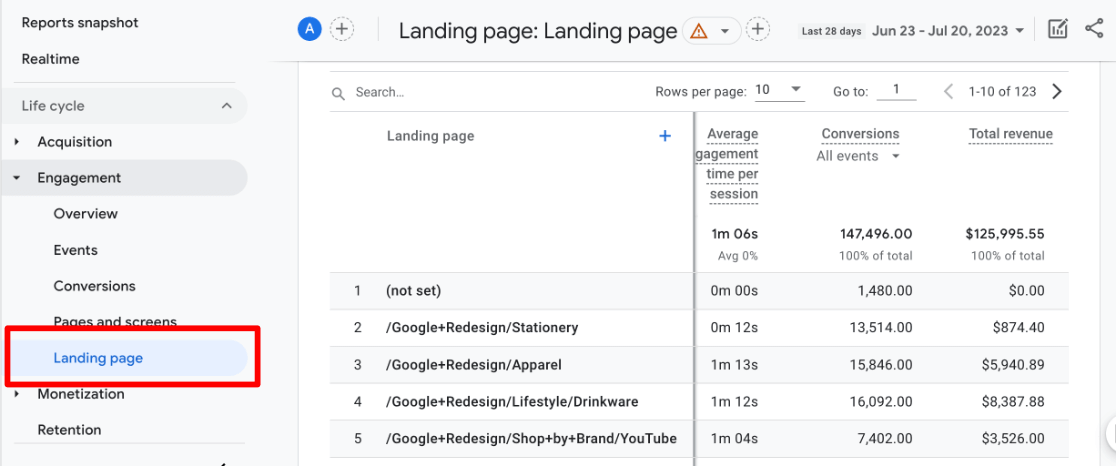 By default, you can also see sessions, users, new users, average engagement time per session, and revenue.
Want to see how well landing pages are converting for different sources and mediums (organic, referral, etc.)? Click the + sign next to Landing page and add Session source/medium as a secondary dimension.
Landing page tracking helps you measure performance, improve your website, and grow your business.  So, we hope you liked learning how to track Google Analytics landing page conversions. Next, check out How to Share Your Google Analytics Reports.
Not using ExactMetrics yet? What are you waiting for?
Don't forget to follow us on Twitter and Facebook to see all the latest reviews, tips, and Google Analytics tutorials.