Are you looking for a way to track your landing pages and see which one gets the most conversions on your website?
By measuring your landing page performance, you can get insights about your content marketing efforts. You can see which pages attract visitors and convert them into leads or customers.
In this article, we'll take a look at how to track Google Analytics landing page conversions. Let's begin…
What is a Landing Page in Google Analytics?
Simply put, a landing page in Google Analytics is the first page a user views in a session. It's when a user clicks on a link and lands on your website.
Now, this could be your blog post, a product page, a lead capture page, a contact us page, and so on…
Usually landing pages have an end goal. For instance, if you're a publisher, your blog post is your landing page and the end goal could be to get people to signup for your newsletter or download your ebook.
And if you're running an online store, then your product pages are your landing pages and the goal here is to get visitors to buy your product.
Now that you understand what's a landing page, let's see why it's important to track them.
Why Track Landing Pages Conversions in Google Analytics?
There are many benefits of setting up Google Analytics landing page conversion. Here's a closer look:
Identify Content That Converts Best – By finding out which landing pages get the most sales, you can learn about the kind of content people like, so you can come up with similar topics.
Optimize Low Converting Pages – If any content is getting a lot of traffic but isn't converting, then tracking can help you identify those pages, so you can optimize them for conversions.
Improve User Experience – Make sure your landing pages work on all devices and your CTA (call to action) buttons are working properly, so that people have a great user experience and easily convert.
Better Understand Your Audience – If people don't find what they're looking for on a page, they'll probably hit the back button. To avoid that, you can find out about your visitors' interest and promote relevant products and services on your landing page.
So, are you ready to learn how to track Google Analytics landing page conversions?
How to Set Up Landing Page Conversion Tracking
To track landing page conversions on your WordPress website, the best way is through ExactMetrics. It's the best premium WordPress Analytics plugin, as it makes it super simple to use Google Analytics.
You can use the plugin to easily add Google Analytics to your WordPress website, that too without coding. And it's more than just that. ExactMetrics sets up advanced tracking right out of the box.
For instance, you can track affiliate links clicks, file downloads, eCommerce tracking, form conversions, outbound link tracking, and much more with a click of a button.
Besides that, you can view your Google Analytics reports inside your WordPress dashboard. ExactMetrics reports are easy to read and brings your important information in one place, so you can easily make decisions to grow your website.
To track landing page conversions, simply install ExactMetrics on your WordPress site and it will automatically track their performance.
Let's go through different ExactMetrics reports and metrics that can help you track landing page conversions.
Overview Report
When you install ExactMetrics, go to Reports from your dashboard. The first report you'll see will be the Overview report. Now, scroll down and view Top Posts/Pages. This will show you the most viewed posts and pages on your website.

It gives you an idea about which posts are driving traffic to your website, so you can optimize them for conversions. And you can find more topics around them to attract visitors.
Publishers Report
If you head over the Publishers report in ExactMetrics, the first metric you'll see will be of Top Landing Pages. You can get a more insights about your top pages through this report.
For each landing page, you see the total number of visits, average duration, and bounce rate. Visits tell you the traffic on that page, while the average duration is the time a user spends on the page. And the bounce rate is when someone closes or hits the back button without interacting with your website.

Using the data from this report, you can narrow down which landing page is converting more. Or you can optimize pages that are getting a lot of traffic but not contributing to your sales or revenue.
Plus, like we said before, it opens up opportunities for new content topics. You can see which landing pages are performing and then cover similar topics on your website. This will help boost your search engine rankings, add authority around a topic, and result in more people visiting your site and converting.
eCommerce Report
Next, if you click the eCommerce tab, you can view the performance of your online store. Do note that you'll need ExactMetrics Pro or high plan to use eCommerce addon and view its reports.
You'll also have to set up eCommerce tracking in Google Analytics to view data.
Once that's done, you can see different metrics under eCommerce. From the onset, you can get an overview of your online store.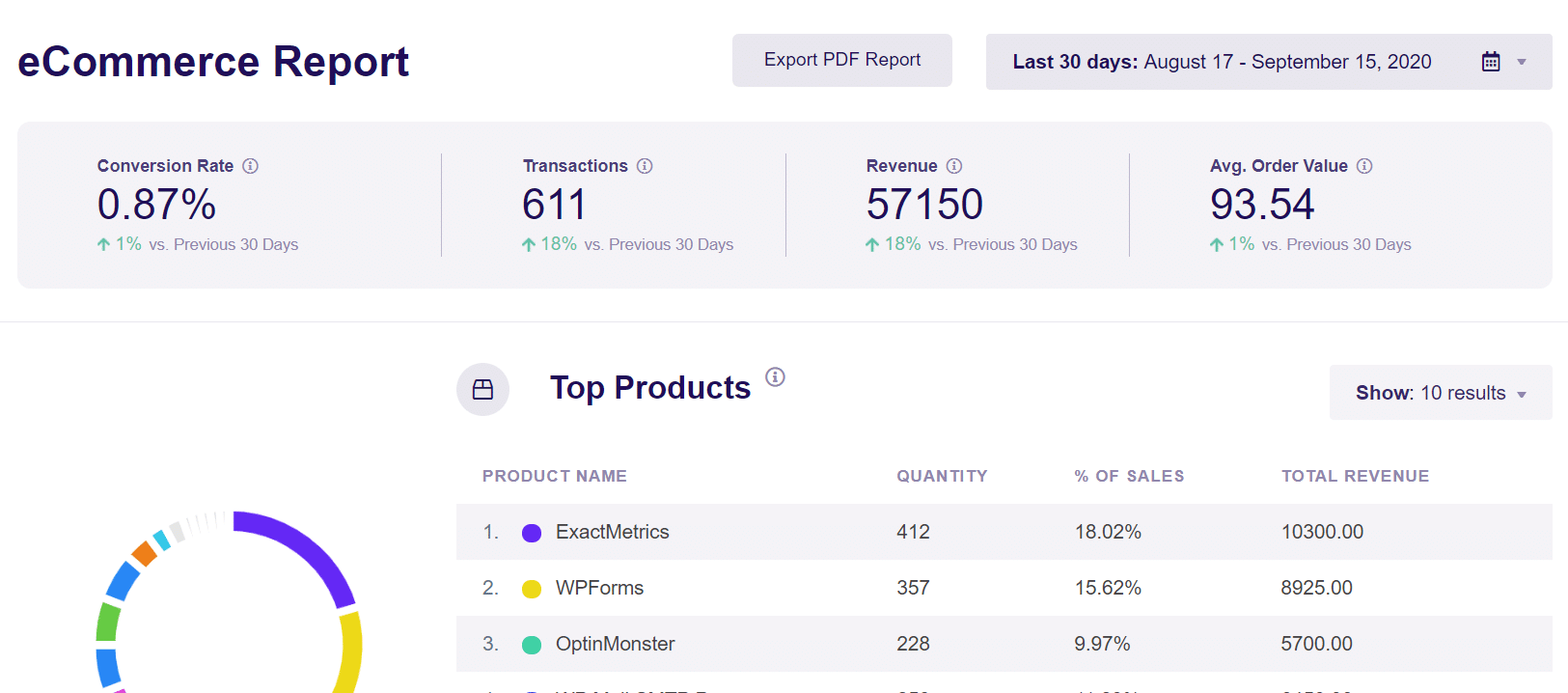 But if you scroll down, you'll see your Top Conversion Sources metric. Now, this data is extremely valuable for your online store. It shows which websites send you the highest converting traffic.
You can find out which landing page do visitors from these sources land on and then. So, you can replicate them and boost your site's conversions.
And you can even create collaborations with these websites, submit guest posts, or create a partnership to increase landing page conversions.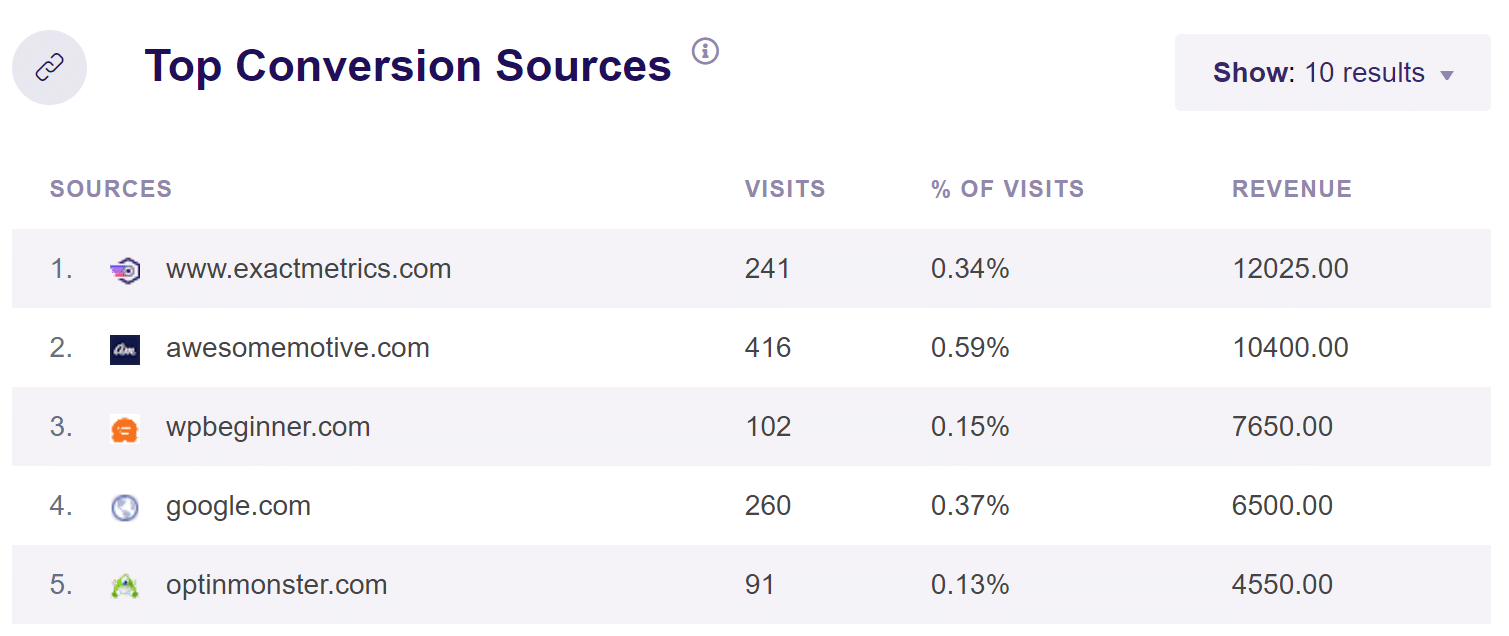 Forms Report
The last ExactMetrics report you can see to track landing page conversions is the Forms report.
By tracking form conversions, you can see which landing page (that's containing the form) is performing best. It helps you replicate the landing page design and form templates for your website.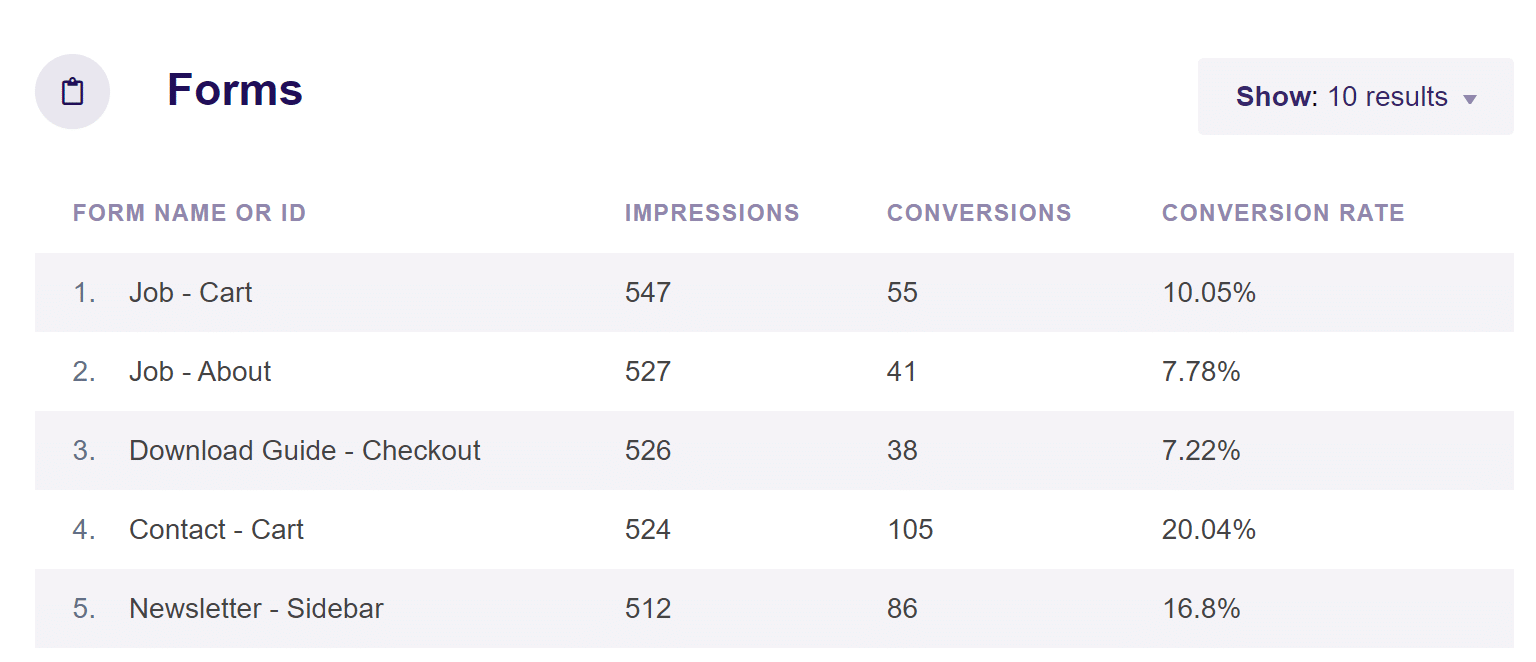 How to Track Landing Pages in Google Analytics
ExactMetrics automates a lot of processes on your WordPress website. But you can manually track landing page conversions in Google Analytics as well.
If you want to see landing page conversions, then you'll have to set up goals in Google Analytics.
Goals are activities users complete on your website and are called conversions. You can create a goal for each interaction. For instance, you can create a goal when a user completes the registration process or when someone buys a product.
To start, login to your Analytics account. Then navigate to Behavior » Site Content » Landing Pages.

In the last column, Conversions, you can see the number of transactions, revenue, and eCommerce conversion rate for each landing page.
You can change the goal from the dropdown menu and select the goal for which you want to see your landing page conversions.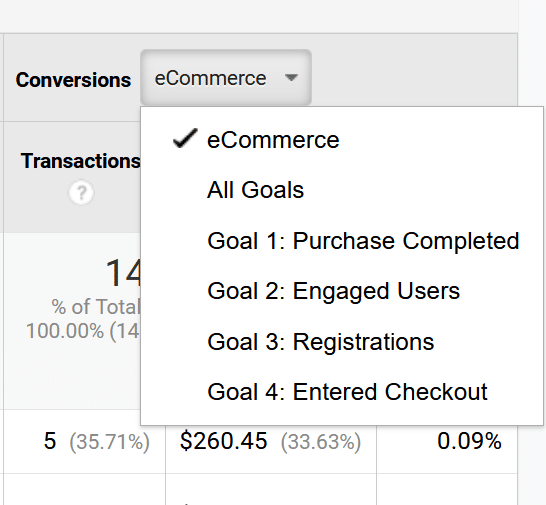 And that's it!
By tracking landing page conversions in WordPress, you can easily measure you site's performance while growing your revenue.
We hope you liked our post on how to track Google Analytics landing page conversions. You can also take a look at our post on how to share Google Analytics reports with others.
Don't forget to follow us on Twitter and Facebook to get to know the latest tutorials on Analytics.