Do you want to track the performance of your eCommerce store? As a store owner, you need data to make decisions and grow your business.
And by setting up eCommerce tracking in Google Analytics, you can get insights about how people interact with your online store, which products sell the most, and where your traffic is coming from.
But using Analytics can be overwhelming, especially for new users. This is where plugins like ExactMetrics come in handy.
In this article, we'll show you how to set up Google Analytics eCommerce tracking the simple way. Let's start…
What is Google Analytics eCommerce Tracking?
Ecommerce tracking is a feature in Google Analytics that lets you track your online store's performance. You can track the number of orders, conversion rate, total revenue, popular products, time of purchase, and much more.
The data you get from Google Analytics makes it easy to grow your business and better understand your customers. Here's what you can do from the insights you get:
Find out the source of your web traffic
Measure the number of transactions and revenue of your store
Identify which products customers like and purchase the most
Uncover your popular pages
Create a personalized experience for customers from different locations
Get more sales by optimizing your conversion funnel
Now, are you ready to learn how to set up Google Analytics eCommerce tracking?
How to Track eCommerce Conversions in Google Analytics
When it comes to setting up eCommerce tracking in Google Analytics, you should know that it requires coding. As you signup for an Analytics account, you'll have to add a tracking code to your website.
This can be difficult if you don't know how to code. That's because the smallest of errors can cause your code to break. As a result, you won't be able to track your eCommerce site's performance.
So, is there a way out for this problem?
With ExactMetrics, you can easily set up Google Analytics on your WordPress site (without editing code) and track your online store.
ExactMetrics is the best premium WordPress Analytics plugin. It makes it super easy to use Google Analytics. You can track your file downloads, outbound links, affiliate links, and more automatically.
Not only that, but it helps you get insights about your visitors and uncover data that matters. This means you don't have to worry about navigating through Google Analytics to find the right report and then extract data from it. ExactMetrics brings all your important reports insides your dashboard.
That said, just follow these steps for setting up eCommerce tracking.
Step 1: Install and Activate ExactMetrics eCommerce Addon
The first thing you'll need to do is install the ExactMetrics eCommerce addon. But make sure you've signed up for the Pro license to use the addon.
To install the eCommerce addon, go to your WordPress dashboard and then navigate to ExactMetrics » Addons. Now, go to eCommerce or you can also search for the addon in the search bar. Click Install.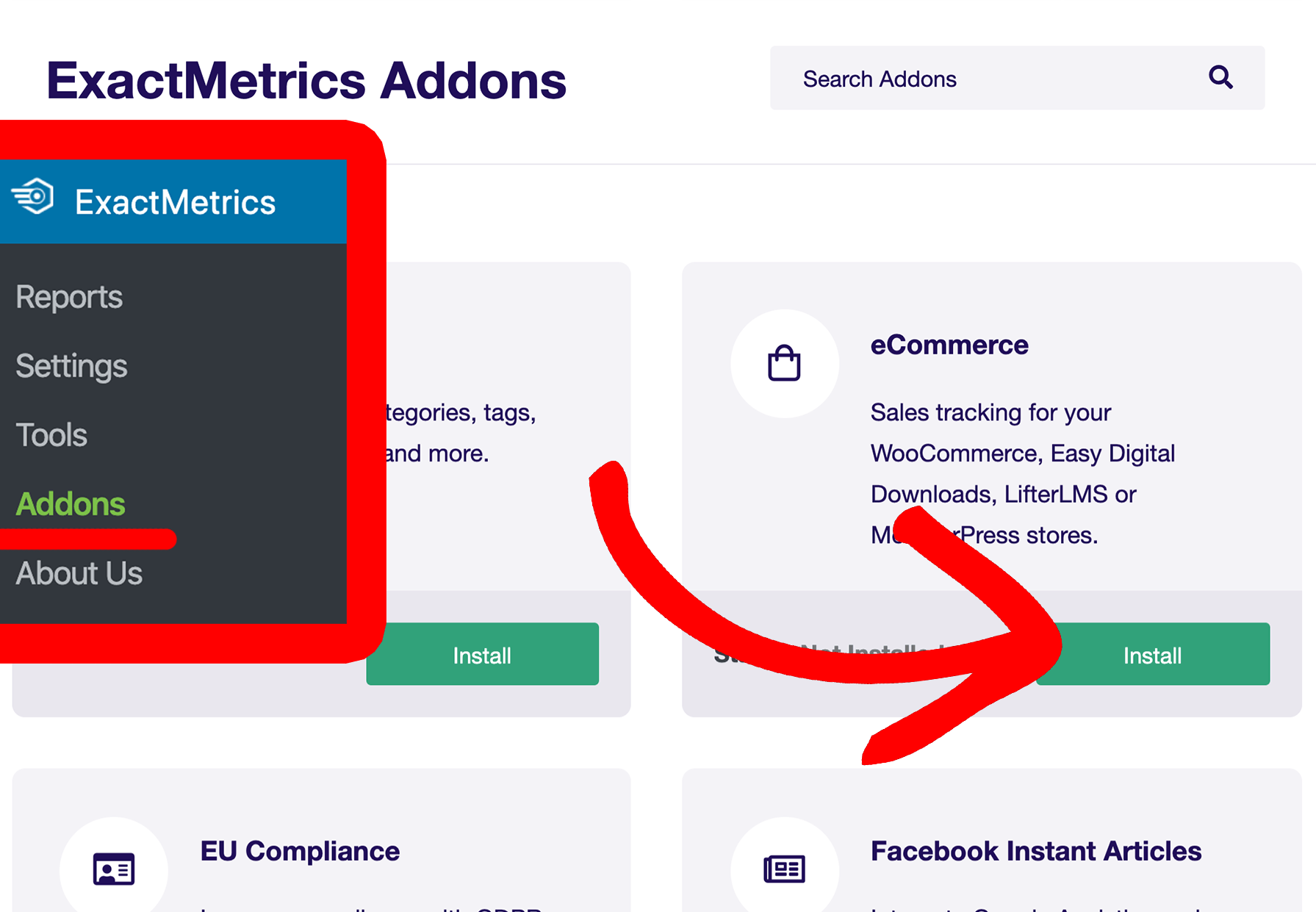 After you click the install button, wait for a few seconds and the addon will automatically activate.
Step 2: Enable Enhanced eCommerce in Google Analytics
Next, you'll have to enable Enhanced Ecommerce option in Google Analytics. It is through this option that Analytics can detect and track your online store.
And to enable it, login to your Google Analytics account and then select the website or property for which you want to set up tracking.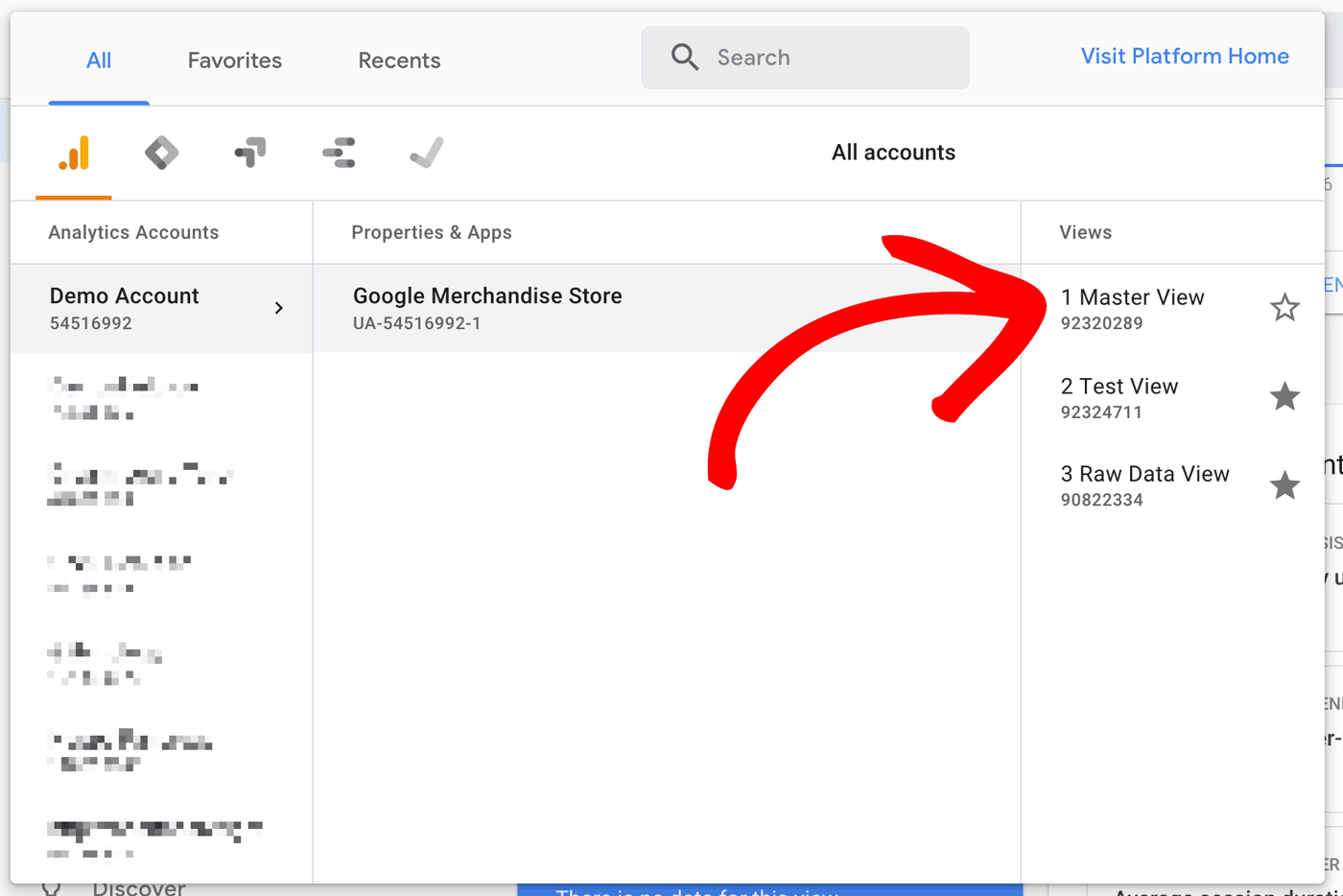 Then click on Admin.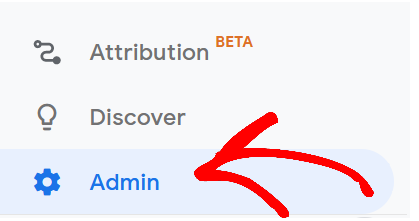 Next, click on Ecommerce Settings. You can find it under the View column (located on the far right).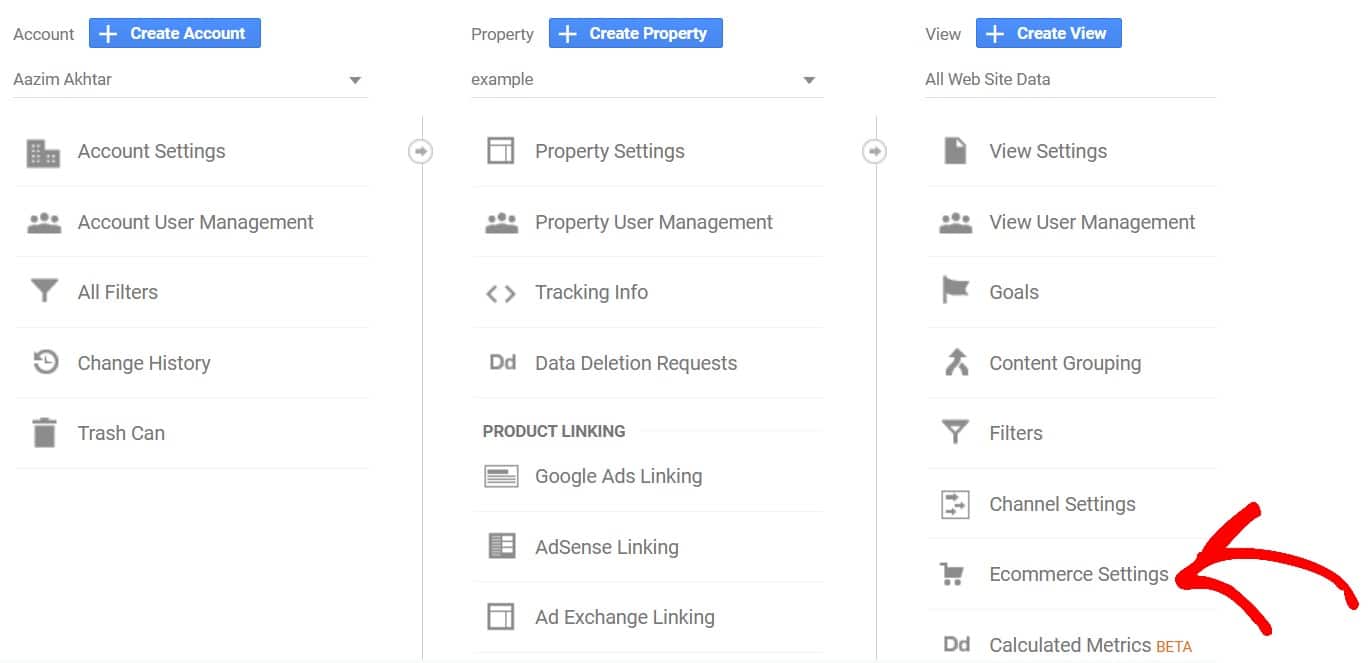 On the next screen, go ahead and click on the toggle switch to Enable Ecommerce and Enable Enhanced Ecommerce Reporting.
You can even add funnel steps here if you want or just leave this setting as is. Lastly, make sure to click Save.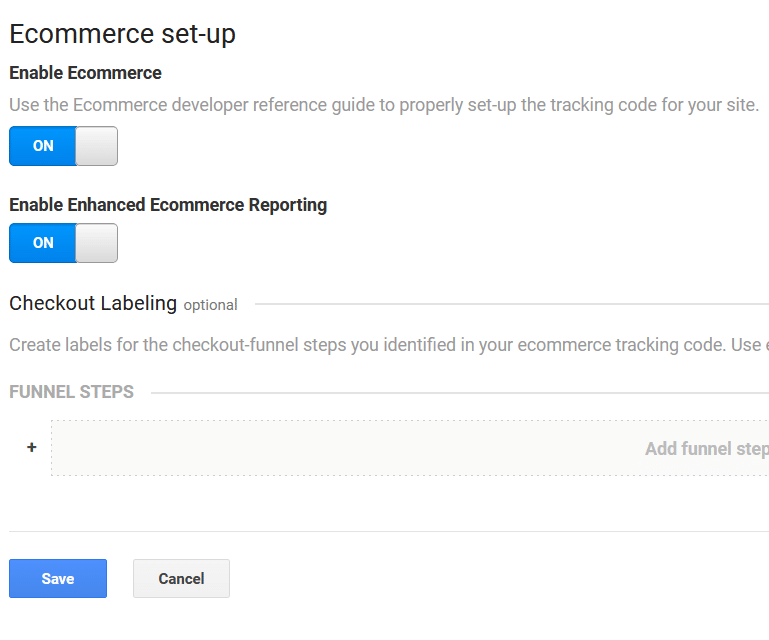 Step 3: Enable Enhanced eCommerce in ExactMetrics
Once you've enabled Enhanced eCommerce in Google Analytics, you'll also have to enable it in ExactMetrics.
And it's very simple, just go to your WordPress dashboard. Then navigate to ExactMetrics » Settings » eCommerce. Now, click on the switch that says Use Enhanced eCommerce.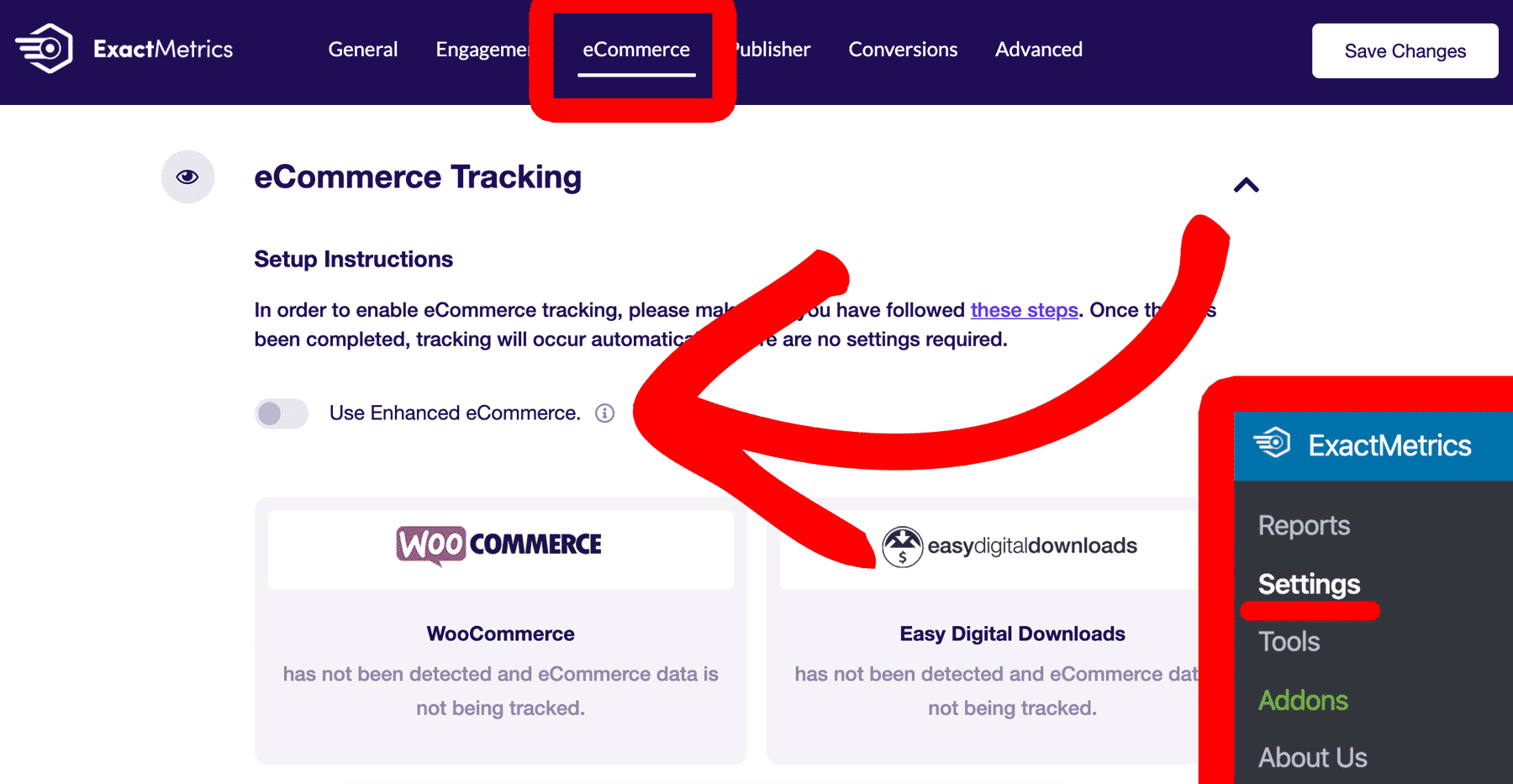 That's it!
ExactMetrics will now automatically detect your online store and start tracking. Be it a WooCommerce store or a membership website, the WordPress plugin will help you get insights about customers. No additional set up required!
But do note that it usually takes between 24 to 48 hours for Google Analytics to gather data and show it in its reports.
Speaking of reports, let's look at how you can view them in your WordPress dashboard and in Analytics.
How to View eCommerce Reports in WordPress
With ExactMetrics, you can view eCommerce reports without having to leave your website or switch between tabs (or windows). It presents all your important data in a clean and easy to understand reports in your dashboard.
You can view them by navigating to ExactMetrics » Reports and then selecting the eCommerce tab.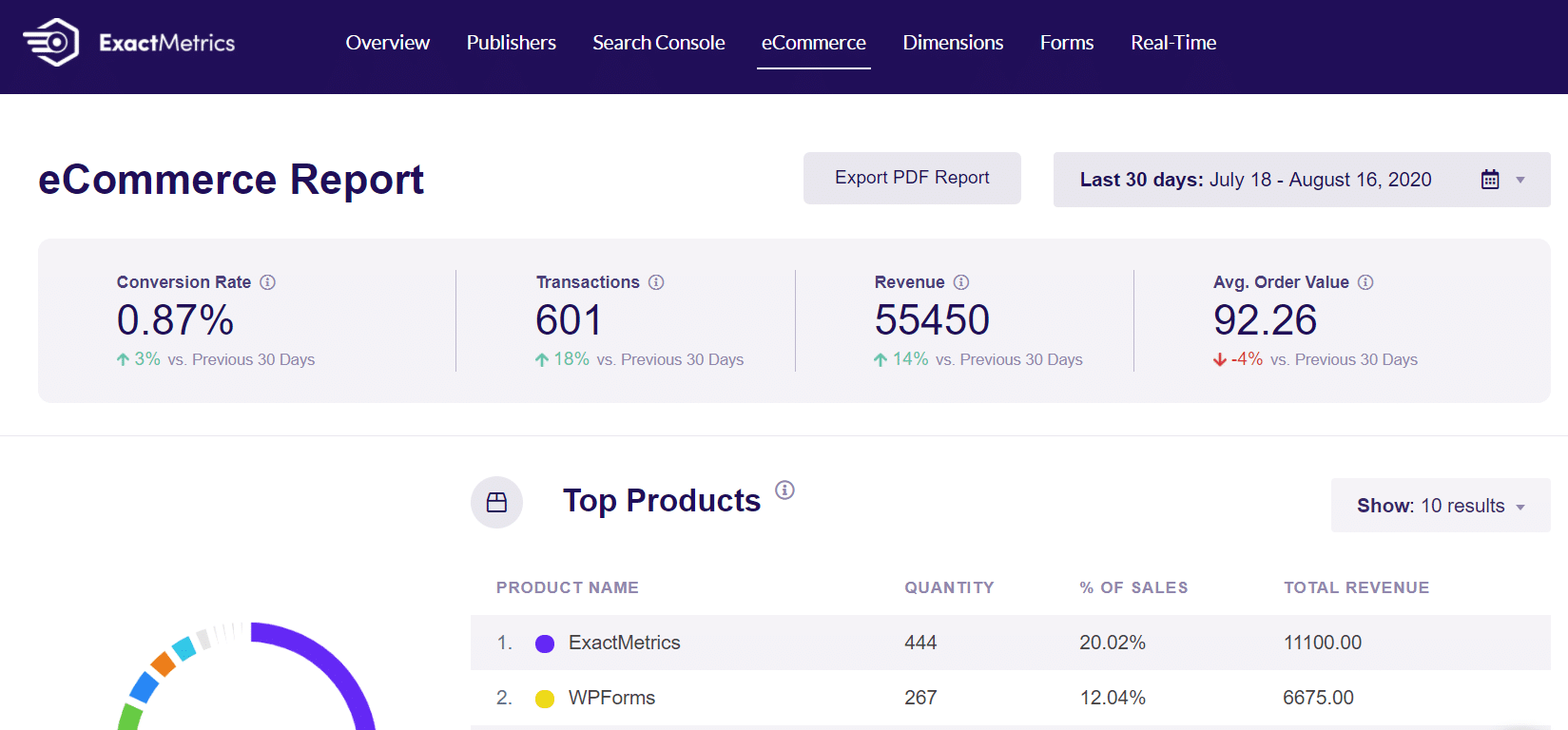 It shows the conversion rate, number of transactions, revenue, and average order value for your online store. Using the date picker, you can change the date range and if you want to share the report with others, simply click the Export PDF Report button.
Now, if you scroll down, you can see more reports like your Top Products. This shows which items people and like purchase the most. For each product, you can see the quantity sold, their percentage of sales, and total revenue.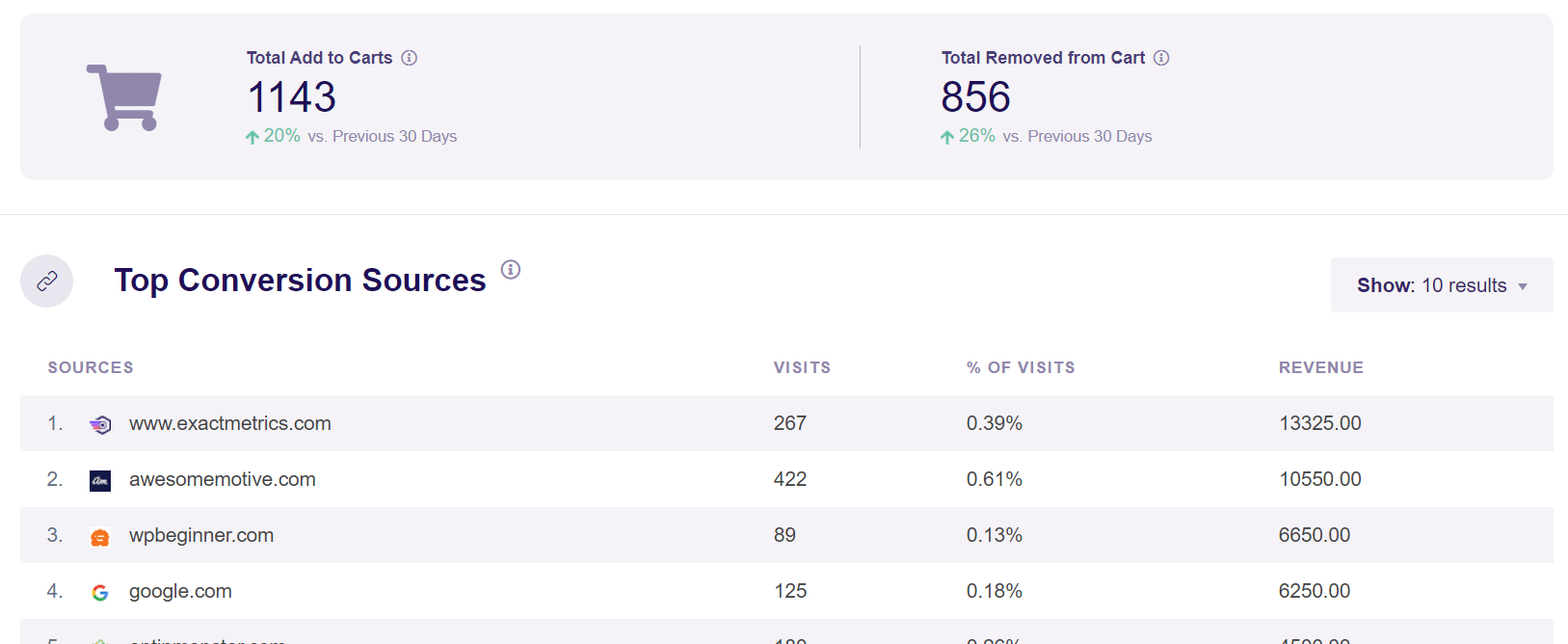 ExactMetrics also shows how many items were added to carts and how many were removed. This helps you reduce cart abandonment and boost conversions.
And if you're wondering where your customers come from, then you can see the Top Conversion Sources report. These are websites that send converting web traffic. Using the data, you can create exclusive discounts for customers from these sources and look at similar websites for promotion.
How to View Google Analytics eCommerce Reports
You can also view your online store's performance data in Google Analytics. Just click on Conversions and then Ecommerce » Overview. This will give you a quick overlook of your store's performance.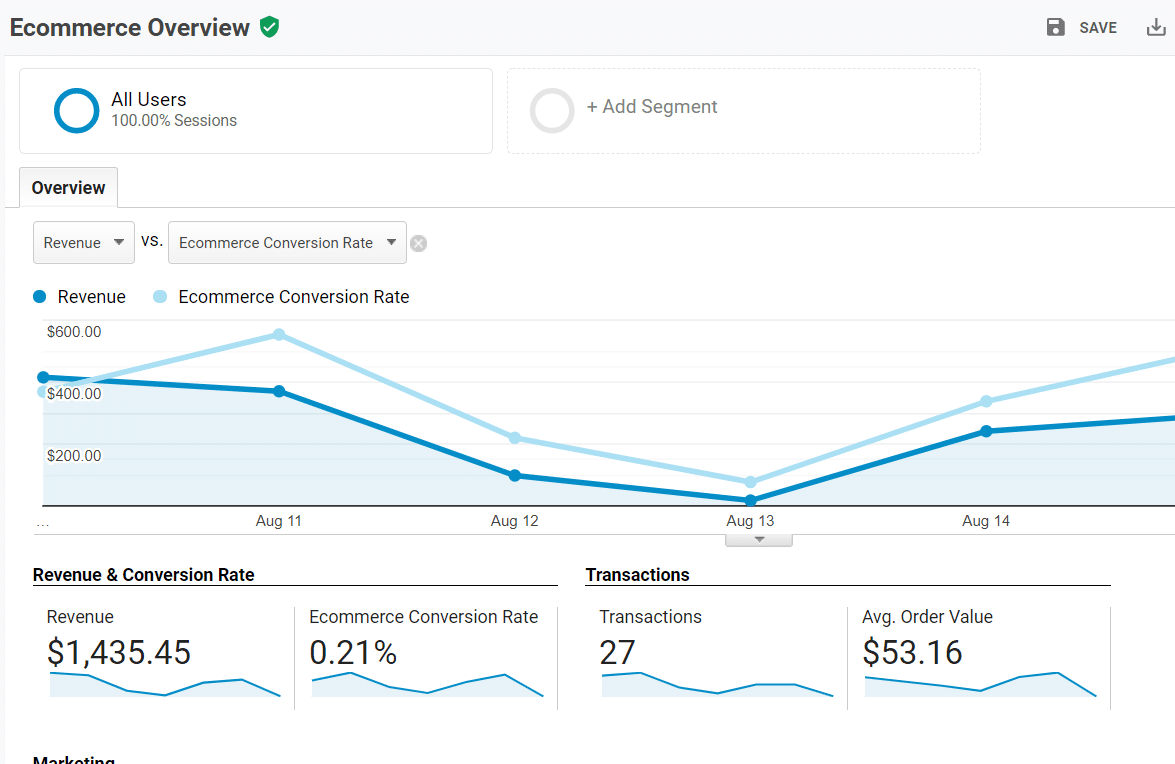 And if you want more details, then you can click more reports from the options under Ecommerce. For instance, if you click on the Product Performance report, you get information about your best-selling products.
Google Analytics shows the total revenue for each product, their unique purchases, quantity, average price, and more.

Likewise, if you want to track each transaction, then you can view the Sales Performance report. And if you want to view how your marketing efforts are performing, then go to Marketing report and view the data about internal promotions, coupon codes, and more.
With that, you've made it to the end of the tutorial!
We hope you liked our post on how to set up Google Analytics eCommerce tracking. You can also read our article on how to set up MemberPress tracking in Google Analytics.
And don't forget to follow us on Twitter and Facebook to get to learn more about Google Analytics.