Are you looking for a way to find out if your social media strategies are working? If yes, then you need social media analytics tools.
They help you measure the performance of your social campaigns, so you can focus your time and effort on things that work.
In this article, we'll take a look at some of the best social media analytics tools, including paid and free options. So, let's begin…
Why Use Social Media Analytics Tools?
Social media analytics tools gather data about different social platforms and help you can make business decisions. You can see which type of post brought in the most engagement, so you can create similar posts.
And if you're running a social campaign, then you should know how successful it was in generating likes, comments, and clicks.
So, social media analytics tools are important for your marketing strategy. You can evaluate each social media post against your goals and see if it was able to achieve them.
With that, are you ready to select a social media analytics tool for your website?
Best Social Media Analytics Tools (Paid)
We'll kick things off with a list of premium analytics tools to measure your social media campaigns.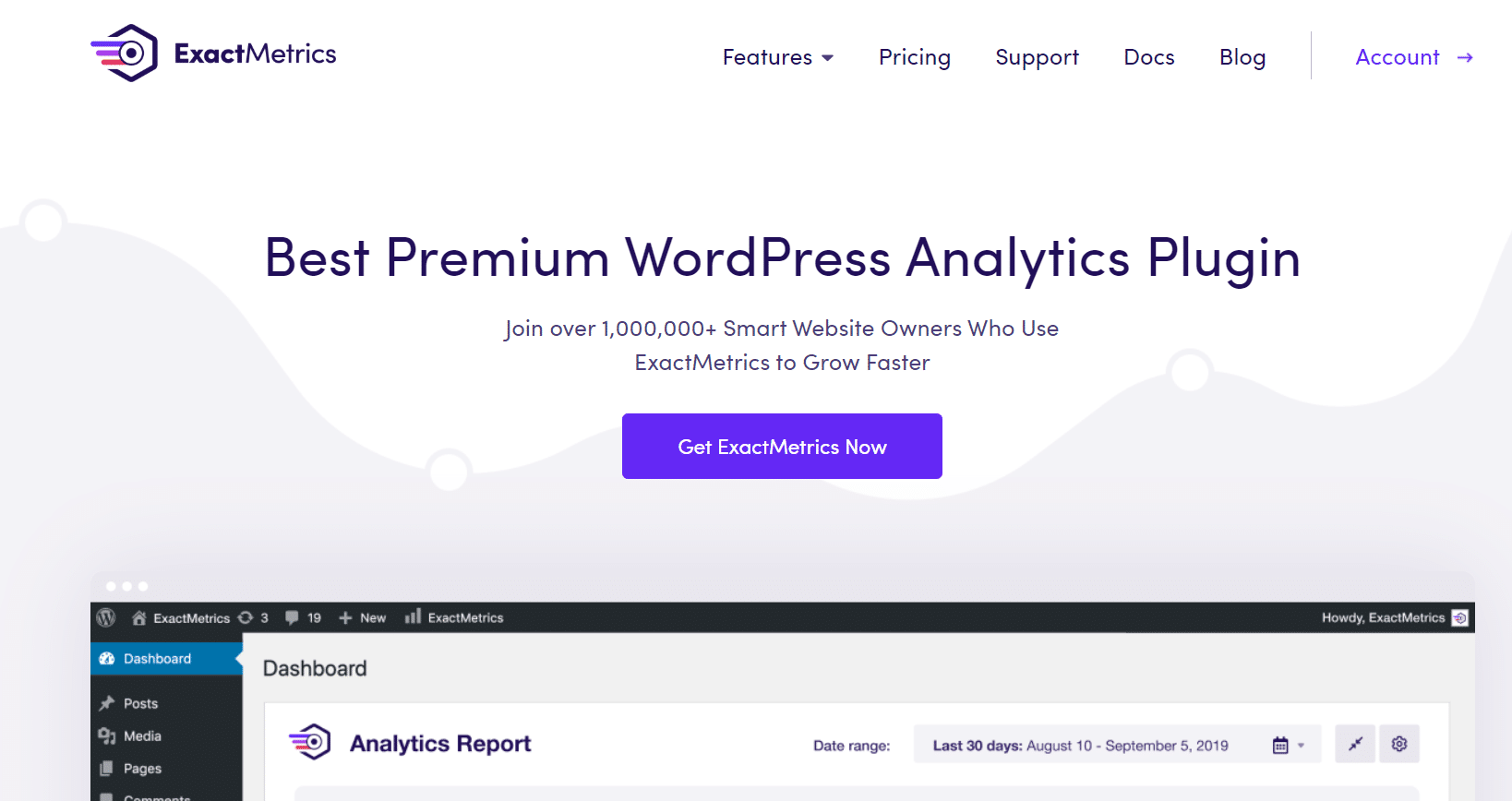 ExactMetrics is the best premium Analytics WordPress plugin. It makes it super easy to set up and use Google Analytics on your website.
Using the plugin, you can track your social media performance, see which channel drives the most traffic to your website, and create custom URLs with UTM parameters for tracking.
Besides that, ExactMetrics helps you set up advanced tracking that's not possible if you use the native Google Analytics tool.
Here are some key features of ExactMetrics that make it the best social media analytics tool:
Track referral traffic sources
Use URL Builder to create custom links for social
Get easy to read reports in WordPress dashboard
Download any report as PDF and share it with others
Set up eCommerce tracking
Automatically track file downloads, outbound links, and more
Get started with ExactMetrics today!
Sprout Social is another popular social media analytics tool you can use for your WordPress website. It's easy to use and offers extensive tutorials and training materials to get you started.
With Sprout Social, you can easily measure your social media efforts and get a clear picture with detailed reports. And if you want, you can even custom the reports according to your business needs.
Sprout Social also lets you manage and schedule your social media posts. So, when you combine that with its analytics features, you get a complete solution.
Here are some of its main features:
Easily track campaigns across multiple social networks
Easy to use tool
Offers training and educational materials
Customizable reports
Works for popular social media platforms
Group different social accounts into a single report
Get started with Sprout Social today!
HootSuite is a premium tool for measuring your social media performance. Like many other tools, Hootsuite combines social media management with analytics. So, you can add, remove, schedule, and monitor your posts from a single platform.
With this social media analytics tool, you can see the number of clicks, shares, views, comments, and reach your social post got. And you can also keep track of your follower growth.
To make the most of HootSuite, you can use different report templates and then customize them as per your requirements. You can then export any report as a PDF file, spreadsheet, or PowerPoint presentation.
You can also check out these features offered by HootSuite:
Get a 360-degree view of your social performance
Choose from different report templates
Easily customize your reports
Measure social campaigns across different channels
Export reports and share with others
Improve customer response time
Get started with HootSuite today!
Buffer is an all in one social media solution for scheduling and monitoring your social posts. But what makes Buffer one of the best social media analytics tool is that you get recommendations on how to grow your reach, engagement, and sales.
You can view the performance of all your social accounts in the same dashboard. Buffer also allows you to track key metrics for each account, measure your stories, individual posts, hashtags, and audience reached.
Here are a few features of Buffer you might want to look at:
Connect 25 social accounts
Get detailed insights in a single dashboard
Easily create workflows and schedule posts
Find out the best time to publish posts
Measure Instagram stories reach
Get recommendations
Create and customize detailed reports
Get started with Buffer today!
Free Social Media Analytics Tools
Now that we've covered some of the best paid analytics tools, let's look at the free social media analytics tools offered by each social network.
Facebook offers its own analytics for measuring and monitoring your posts. Using the tool, you can track each post reach, page views, likes, comments, shares, engagement, and much more.
To view Facebook analytics, make sure you're the admin of the page. Then simply click on Insights option to view the stats for your social content.
The tool also helps you see your existing and overall audience, track demographics like age, gender, interest and hobbies, life events, and more. And if you're running Facebook Ads, then you can keep track of the amount spent and engagement you generated.
Key features of Facebook Analytics:
Get an omnichannel view of where your visitors come from
Measure visitor retention
Discover the lifetime value of different audience groups
Optimize your conversion funnel
Track the journey your audience takes
Divide audience into segments
Get started with Facebook Analytics today!
Twitter Analytics is the next free tool you can use for measuring how your tweets are performing. It helps you see if your Twitter campaigns are having an impact or not.
You can measure each individual tweet and see the engagement they drove. And you can better understand your audience by learning about their interests.
Here are some of the features you get in Twitter Analytics:
Measure Tweet activity
Explore interests, locations, and demographics of your audience
Track Twitter Cards performance
Get insights about your paid campaigns
Easy to understand dashboard
Learn about your top tweets, mentions, followers, and more
Get started with Twitter Analytics today!
LinkedIn Page Analytics allows admins to see how their LinkedIn pages are performing. Whether you have a page for your company or any other topic, you can see how people are interacting with it.
And if you've updated your page, then you can see how those changes performed. For instance, if you posted a new video, you could measure the engagement on your page.
Apart from that, LinkedIn Analytics helps you understand your audience's demographics and find their source of traffic. And if you've integrated your page with Career Pages, then you can see Talent Brand analytics.
Check out some main features of LinkedIn Page Analytics:
Get updates analytics
Understand your followers and learn about their demographics
Find out where people are coming from
View Talent Brand Analytics
See how your Pipeline Builder campaigns are performing
Measure the performance of your paid ads
Get started with LinkedIn Page Analytics today!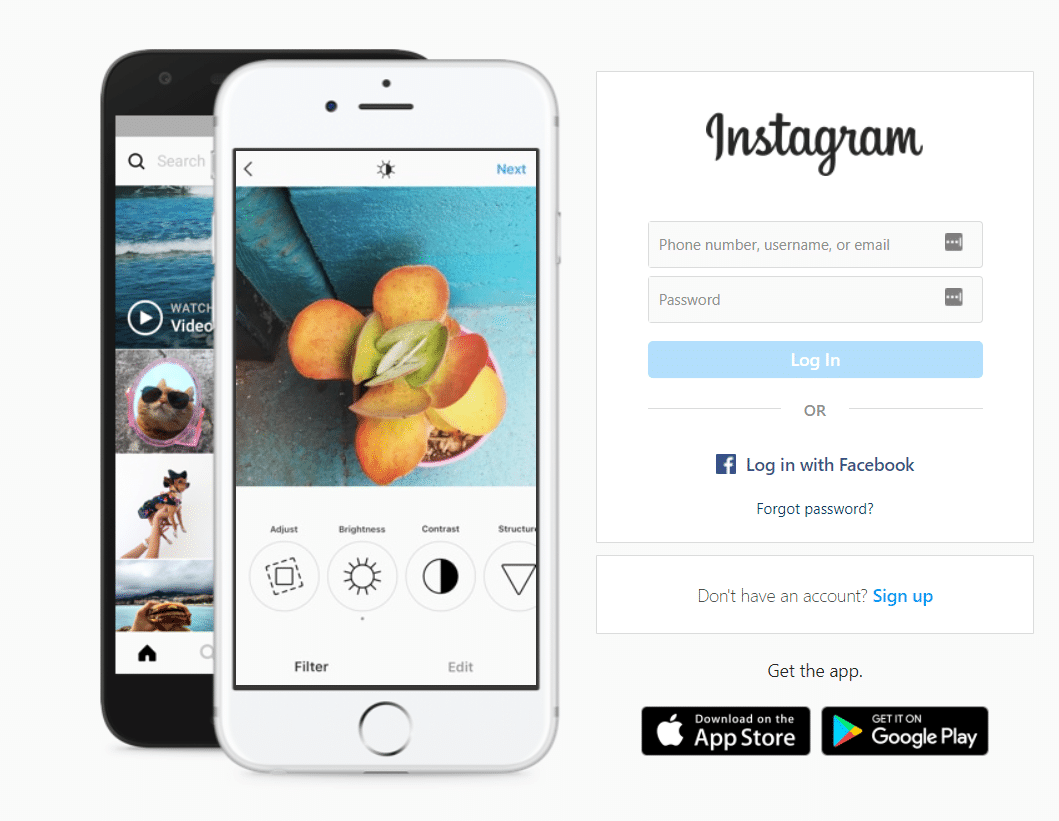 Instagram Insights is a social media analytics tool for your Instagram posts and stories. Using the native built-in analytics, you can keep track of how your marketing efforts on Instagram are performing.
For instance, you can see which post performed well and what type of content brought in the most engagement. Instagram Insights lets you view how many followers interacted with posts, how many likes, comments, impressions, reach, and saves the post got.
Here's a quick look at the key features of the tool:
Track each post's performance
View likes, replies, sticker apps, and more
Learn about your audience's demographics
Track how many people view your stories and posts
Find out how many people viewed your profile
Get started with Instagram Insights today!
Pinterest Analytics is another free tool you can use for your Pinterest pins. The native analytical tool lets you measure the performance of your content.
But do note that the native tool is only available for business accounts. So, make sure to upgrade your account if you want to know how each pin is doing.
With Pinterest Analytics, you can see impressions, clicks, saves, and pin types for each of your posts. And you get a simple and clean dashboard to view your stats.
Key features of Pinterest Analytics:
Easy to read dashboard
Measure engagement of all your pins
Get account insights
View how many people interact and save your pins
View most popular pins
Get started with Pinterest Analytics today!
YouTube Analytics is the best place to start tracking the performance of each YouTube video. The tool is available under YouTube Studio and offers basic metrics to see how each content is performing.
You get to view the overall reach, engagement, and audience for your channel. And under each of these options, you can see more insights. For instance, the tool tells you the traffic type, traffic sources, keywords people use, and more.
Using YouTube Analytics, you can see the watch time, average view duration, and top videos of your channel. And you can learn more about your audience by looking at your unique visitors, average views per viewer, subscribers, age and gender, top countries, and top subtitles.
Here are some important features offered by the analytical tool:
Measure each video's engagement and reach
See where your audience is coming from
Easy to understand reports
Optimize your content with average watch time data
Find out your best performing videos
Get real-time analytics
Get started with YouTube Analytics today!
And that's it!
If you want a complete solution that integrates all your social accounts in one place, then we recommend using any of the paid tools.
But you can also keep an eye out on your social content performance by using the built-in analytics tool offered by each social network.
With that, we hope you liked our article on the best social media analytics tools. You can also go through our post on how to set up user tracking in WordPress.
Don't forget to follow us on Twitter and Facebook to stay updated with the latest guides on Google Analytics.