Are you looking for a faster, easier way to optimize website content for search engines like Google? In this post, we're going to review the best SEO content checker tools to help you get higher search rankings and more website traffic.
What Is an SEO Content Checker?
An SEO content checker evaluates your web page to see how search engine friendly the content is. It tells you what to change, and why, in order to get your web pages ranked higher with Google, Bing, and other search engines.
These tools are also called SEO content analyzers, content analysis tools, SEO writing assistants, and on-page SEO tools.
So, what exactly do SEO content checkers do? They grade the content on your web pages based on search engine ranking factors, mainly the following:
Keywords – SEO content tools check whether you're using your main keywords and related keywords enough, and in the right places.
Page Title – Check the length and content of your page title.
Page Description – Does your page meta description have relevant keywords, and is it the right length?
Headings – Are you using a variety of headings, and using keywords in the text?
Reading Difficulty – Content checkers grade your writing to see if the difficulty level is appropriate for your topic and audience.
Links – SEO content tools will check outgoing links to see if they're broken, and whether you have included enough links.
Content Length – Some tools suggest word counts based on their analysis of similar articles.
Image Optimization – Are your images optimized, with keywords in alt text and titles?
Competitive Analysis – Many SEO content checking tools search the web to find high ranking pages from other sources. Then they analyze these pages to find areas where your content falls short in comparison, with tips on how to repair each issue.
Okay, now we know what to look for in a content analysis tool for SEO, let's move on to our top picks!
Our Favorite SEO Content Checking Tools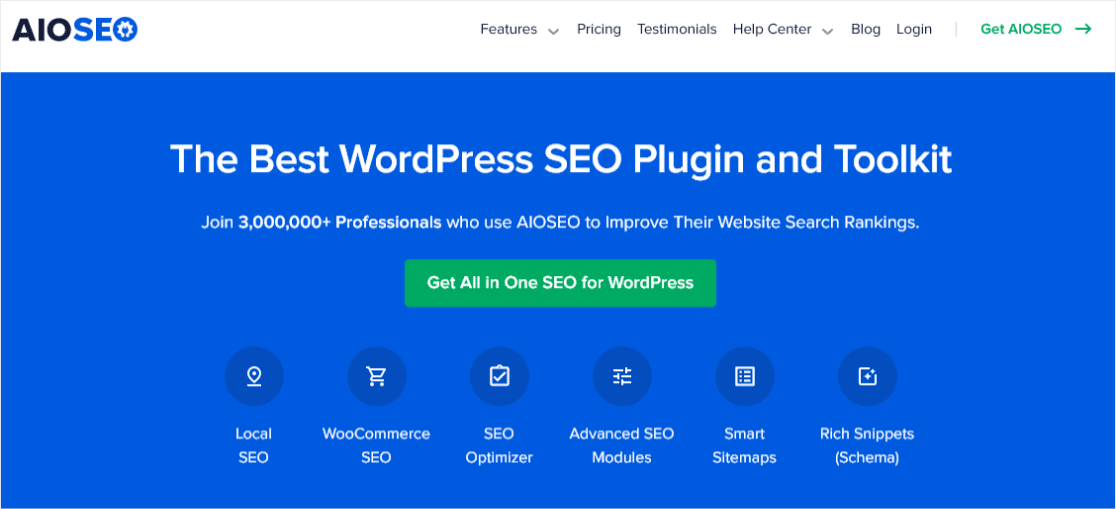 The All in One SEO WordPress plugin gets our top pick as the best SEO content checker for two reasons.
First, it includes a comprehensive set of SEO content checking tools right in the WordPress page editing screen. That means no extra windows or tabs, and no need to copy and paste your text. You'll find grades and checklists that cover all the major search engine ranking factors. Each page or post receives an overall TruSEO score that ranks from 0-100.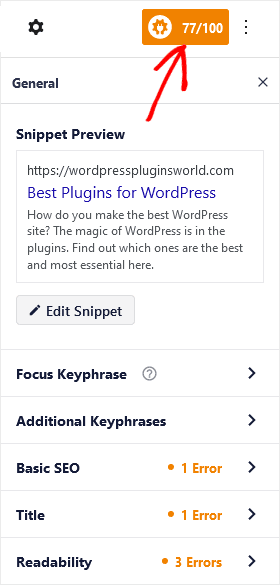 Second, AIOSEO clearly shows you what to change to improve your web page or post's SEO score. Your changes are reflected in the TruSEO score for each page. When you revise your content based on AIOSEO's checklists, you can see your page's TruSEO score improve immediately, so you know when you're done optimizing!
All in One SEO's on-page SEO analysis is based on a focus keyphrase that you enter for each page, plus any secondary keyphrases you'd like to add.
As a bonus, AIOSEO has an eCommerce addon for WooCommerce that optimizes product pages and categories for online shoppers. This is available in all paid versions of All in One SEO.
Move up to the Plus level of AIOSEO and above, and you'll get even more image and local SEO optimization abilities. Not only that, it allows you to install the plugin on multiple sites.
For best results, use the Internal Link Assistant. This tool shows existing internal and external links on your page. Not only that, it suggests other pages on your site to link to in order to improve internal linking structure.


One final benefit of using AIOSEO for your on-page content optimization is that it includes site-wide tools that give you a high-level overview of your SEO health and help you optimize your entire site.
When you consider the large set of features and tools included with All in One SEO, it's our best value choice for anyone seeking an SEO content checker tool.
Okay, this pick isn't exactly a content checker according to our criteria. However, Google Search Console gives you special information that makes all the other tools on this list work better.
First, Search Console shows whether your pages are indexed in Google. It doesn't matter how optimized your web pages are, if they're not in Google's search engine they can't be found by anyone.
Not only does Search Console tell you which pages are indexed, it shows you the pages on your site that get the most clicks from organic searches.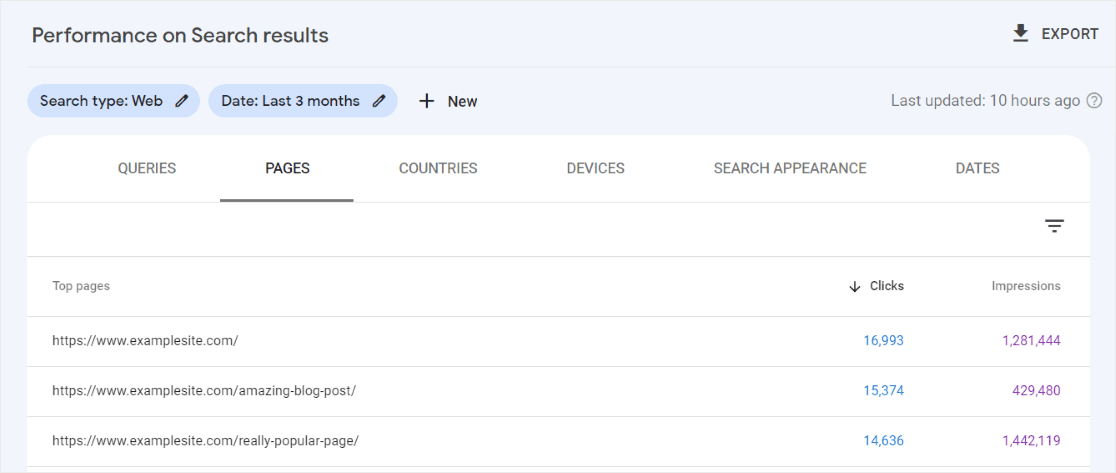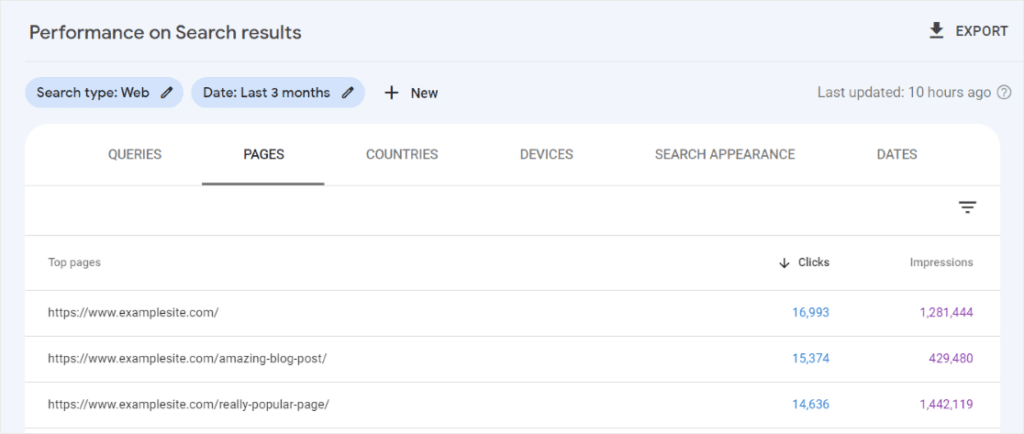 Search Console also helps you refine your target keywords. It shows you what keywords your site ranks for and how high those rankings are, so you can track SEO improvements.
Google Search Console reveals the search terms people use to find your website. This lets you know what kind of content your audience is really searching for, so you can create more of it.
If you suspect your site has received a penalty from Google for scraped content, suspicious backlinks, or similar SEO tactics, Search Console is the place to find out and fix those problems.
Learn more about Google Search Console here!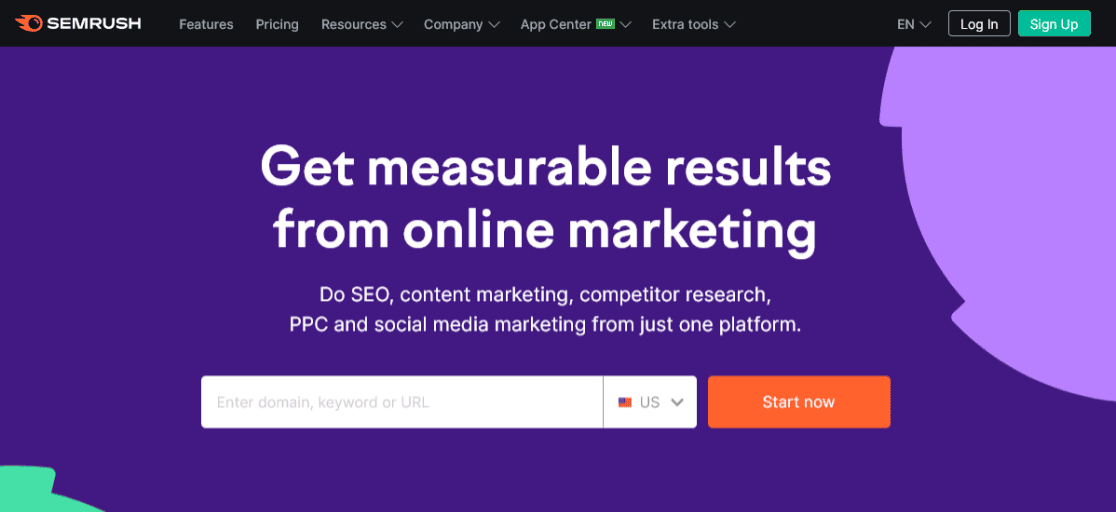 Semrush is one of the most popular SEO platforms online. While its core focus is keyword research of all kinds, there are a few special tools for analyzing and optimizing your on-page content.
The SEO Content Template helps you structure an article based on your keywords and the top ranked pages related to those keywords.
The SEO Writing Assistant analyzes your text for the following critical SEO factors, with specific tips to fix any issues:
Keyword usage in content, title, and meta descriptions
Content and paragraph length
Readability and tone of voice
Competitors' related keywords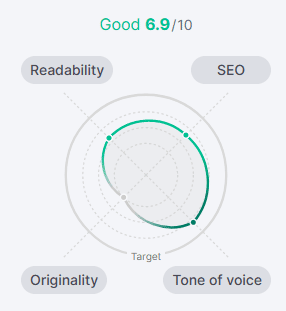 Outside of the on-page SEO Content Checker, Semrush has a large selection of tools to analyze different aspects of your site and SEO. Like Search Console, it can show you what search queries people use to find your site, and where your keywords rank in search engines.
The only drawback for new users of Semrush is that it can be confusing to know which tool to use for best results, or how they are different. Also, because this is a premium SEO platform with many professional level tools, it can get expensive for beginners.
Learn more about Semrush here!



MarketMuse is a newer content checker tool that has a slightly different approach. Content analysis in MarketMuse is based on entering a central topic, rather than a keyword or phrase.
MarketMuse uses artificial intelligence to aid research and analysis, with the claim that it leads to more natural language in content and less keyword stuffing.
The platform includes five applications:
Research – Enter a topic and MarketMuse analyzes 1000s of related pages to help you build a content plan
Compete – This app analyzes the top 20 pages that rank for your chosen topic, and shows gaps where you can gain an advantage
Optimize – The main content editor and on-page SEO tool. Optimize uses your topic to generate a list of recommended keywords and density, display competing high-ranking pages, and give you a content score. It also displays a target score and ideal word count for each content piece.
Questions – Use your topic to generate a list of questions that you can use to build an outline, to add relevant headings, or to create an FAQ.
Connect – Connect gives you suggestions for internal and external links, based on your topic.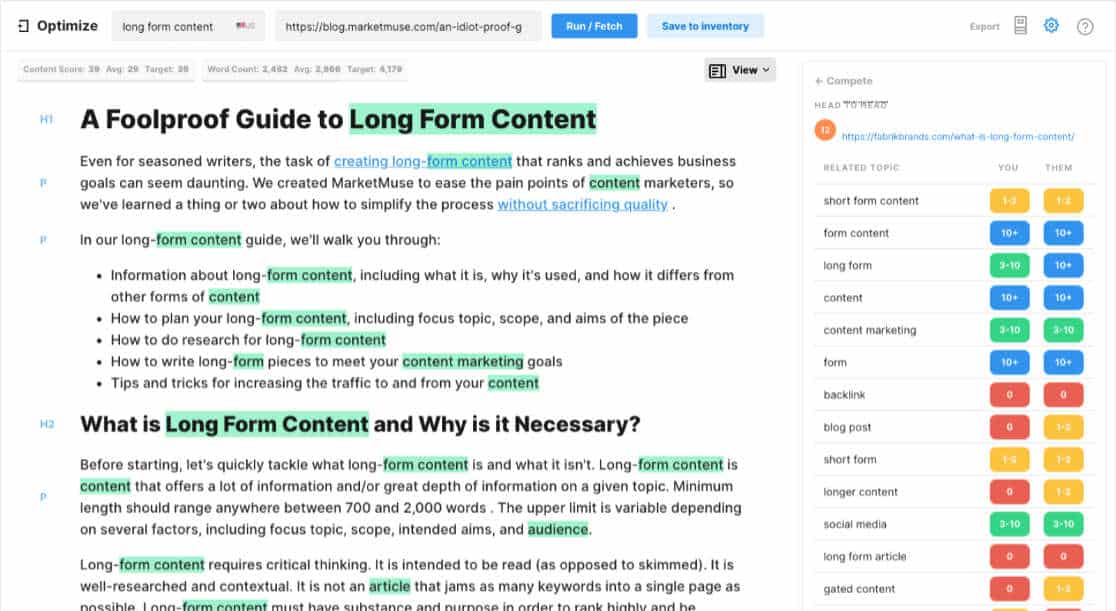 The main tool for content creators is Optimize, where you actually write and edit text. It's an attractive, colorful interface with a number of views and built-in tools to help you create a highly optimized piece of content.
Learn more about MarketMuse here!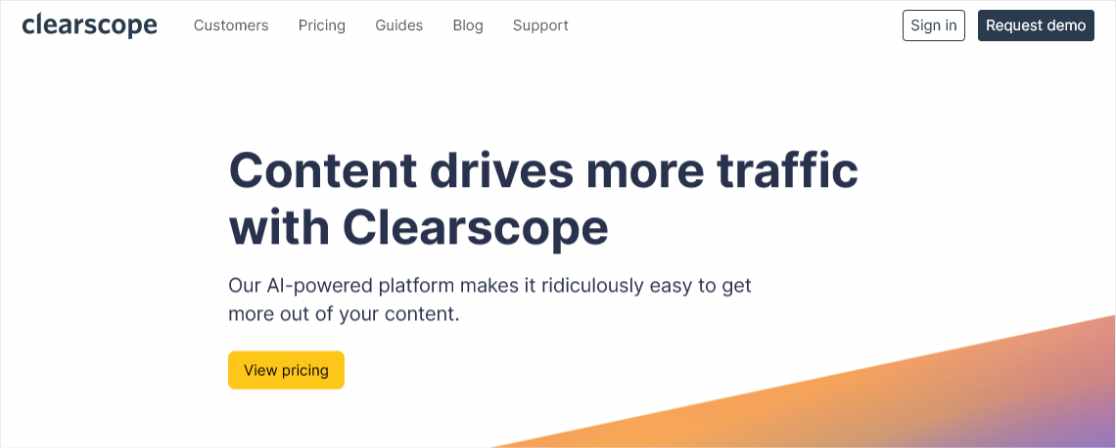 Clearscope is an amazing SEO content tool that gets great results. This content checker uses AI to ensure you're writing the most relevant content based on your chosen keywords.
How does Clearscope work? First, you enter a keyphrase and Clearscope creates a report. The report includes keyword lists, questions, competitor sites, and much more.
After generating a report, you can either use that information to build an outline or go ahead and enter text into the Editor screen. The Editor includes sidebars that show you a content score (from F to A++) and target length, suggested keywords, and all the other information you need to write an optimized article.
One unique feature in Clearscope is the Term Map. This shows you relevant terms and secondary keywords in your content versus the top 10 ranking pages for your main keyword. It's a quick and visual way to see the keyword gaps and opportunities for you to gain an advantage.
Clearscope also includes a Google Docs addon and a WordPress plugin for content optimization directly in those apps.
The biggest downside of Clearscope is the expense, which makes it more suitable for content agencies and larger organizations.
Learn more about Clearscope here!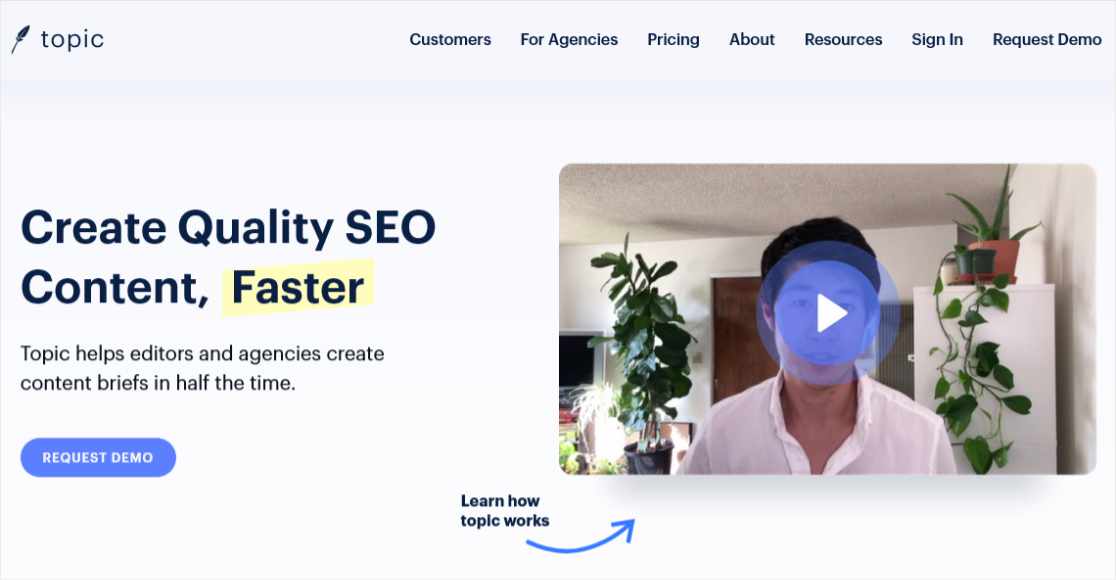 Topic is an SEO content checking tool that focuses on the writing workflow, from creating a brief through outlining and drafting the final content piece.
First, you enter a topic or keyphrase in the Content Research tool, and Topic generates a list of keywords, headings, and questions.
Then, using the information from the research stage, Topic has an Outline Builder that uses AI to help you create an outline. You can drag and drop headings and topics until you have an optimal content structure that includes all suggested keywords.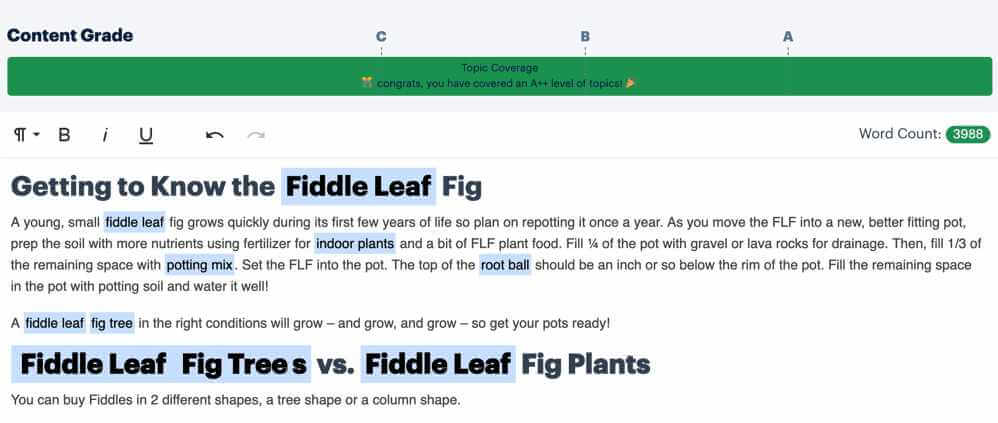 Finally, when you enter your article text into the Content Grader, Topic gives your content a score and a list of recommendations for improvement. This mainly consists of a keyphrase list that shows how many other high-ranking sources use the same keywords, so it's not as powerful as some of the other on-page tools on our list.
If you're looking for a more basic, streamlined tool for on-page SEO content analysis, Topic might be a good choice.

Frase markets itself as an AI-powered content optimizer. This includes the ability to generate machine-written content if that's what you want.
Enter a keyword into Frase and edit your content in the main text editor window. This screen includes all the additional SEO tools in a sidebar, so you don't have to navigate from one screen to another.
The SEO tools include the following:
Research – Shows search results for your main keyphrase, headings, and questions.
Outline – Outline shows you headings from other high ranking pages in a drag and drop editor.
AI Write – This tool can generate or rewrite new text for your body content, titles, descriptions, and more.
Optimize – The Optimize tool is focused on keyword use and placement. Different views show you long-tail keywords, main topics, and top-ranking competitor keywords.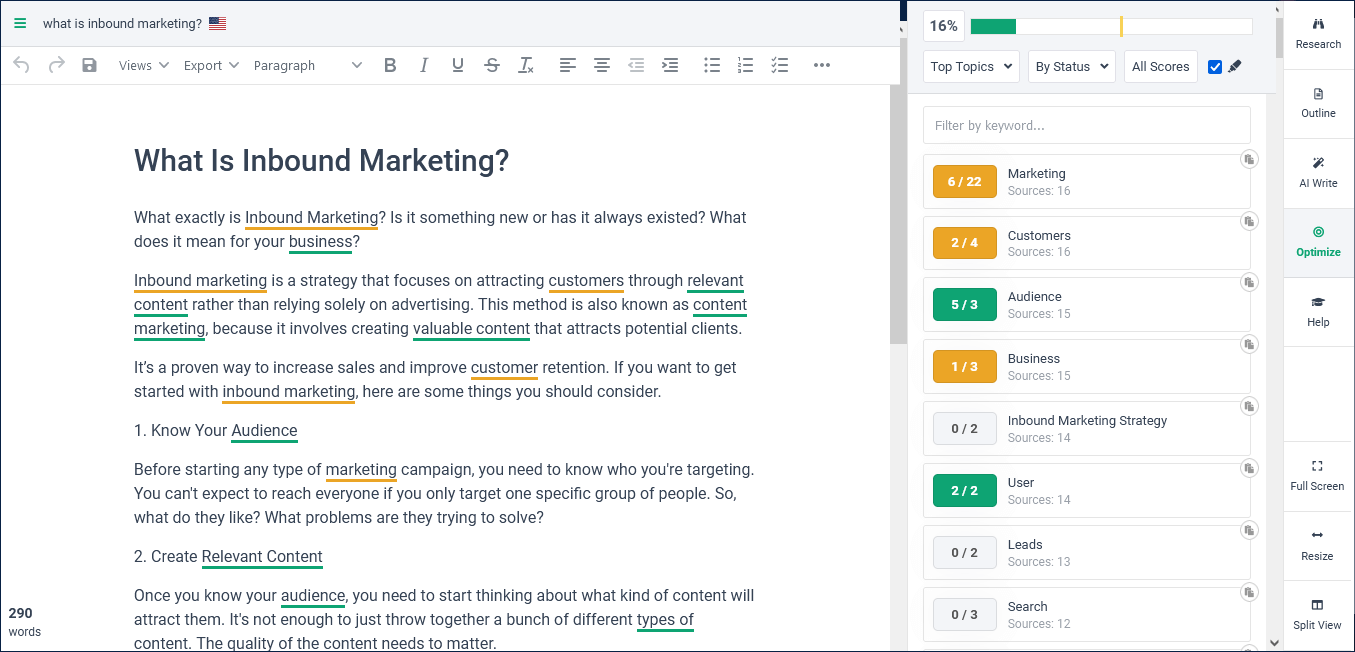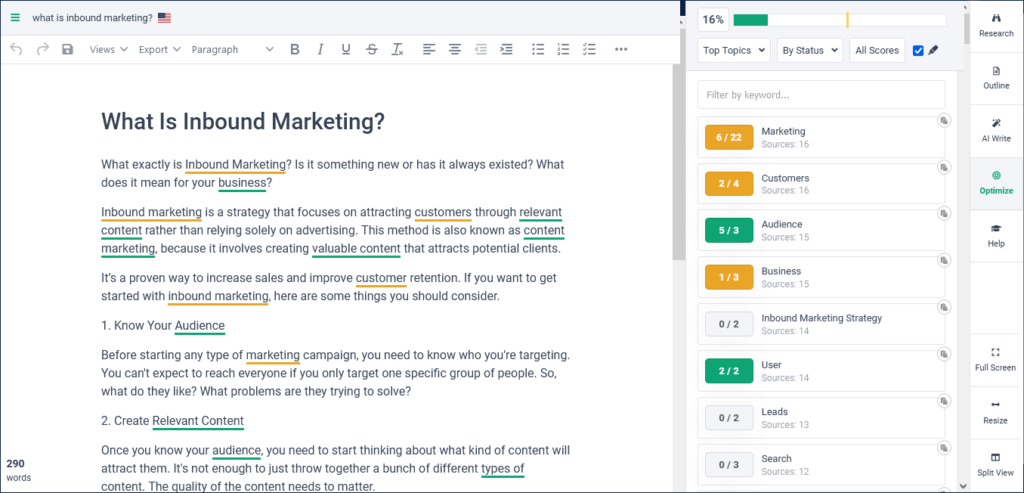 Links – This tool recommends external links based on competing pages, and integrates with Google Search Console to suggest valid internal links within your own site.
All in all, Frase offers a nice, logical workflow that presents all the tools and data you need on one screen.
Final Wrap-up: Which SEO Content Checker Is the Best?
All of the tools on this list are guaranteed to improve your on-page SEO and ranking results. The best choice will come down to your business needs, whether the tool is easy enough to use, and budget.
Considering these three factors, our top pick is the All in One SEO plugin for WordPress. Of course, if you don't use WordPress, you need to select another product. We hope this list can help.
All in One SEO is suitable for anyone from small business owners to corporate content managers. The on-page SEO scoring and recommended fixes are easy to view and repair, right inside the WordPress editor. That keeps the content creation and analysis workflow super efficient for both writers and SEO specialists.
AIOSEO covers all the fundamental ranking factors to get your web pages ranked on page 1 of Google search results.
More Than Basic On-Page SEO
In addition to its mastery of basic SEO, All in One includes a ton of extra tools and functionality that the other products here don't even attempt to address. That includes optimization for WooCommerce content, social media integration, schema markup, and other advanced tools.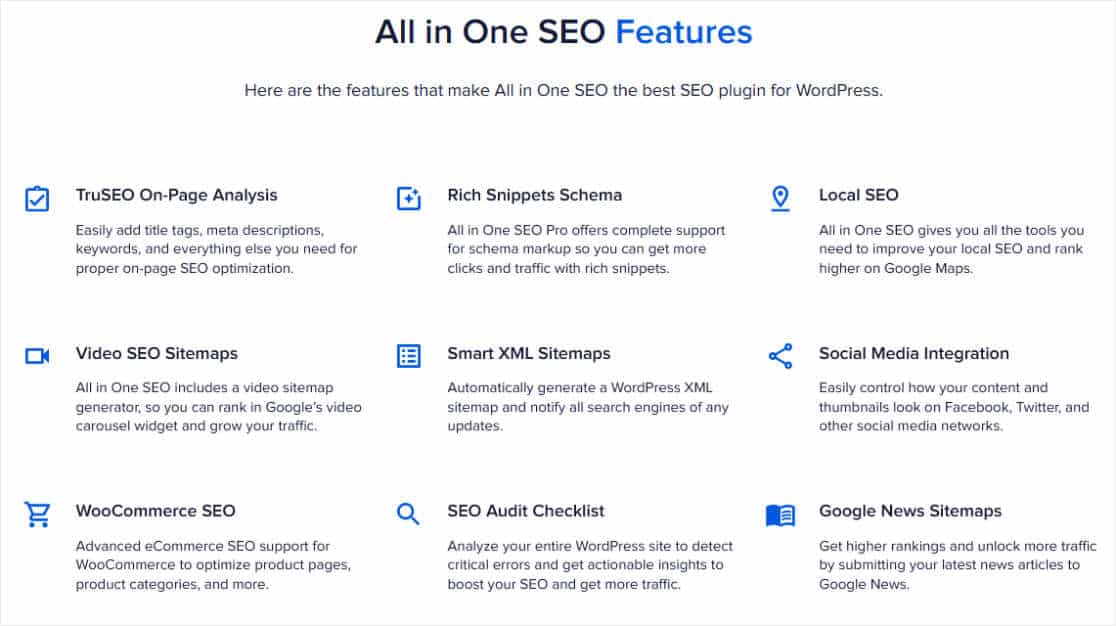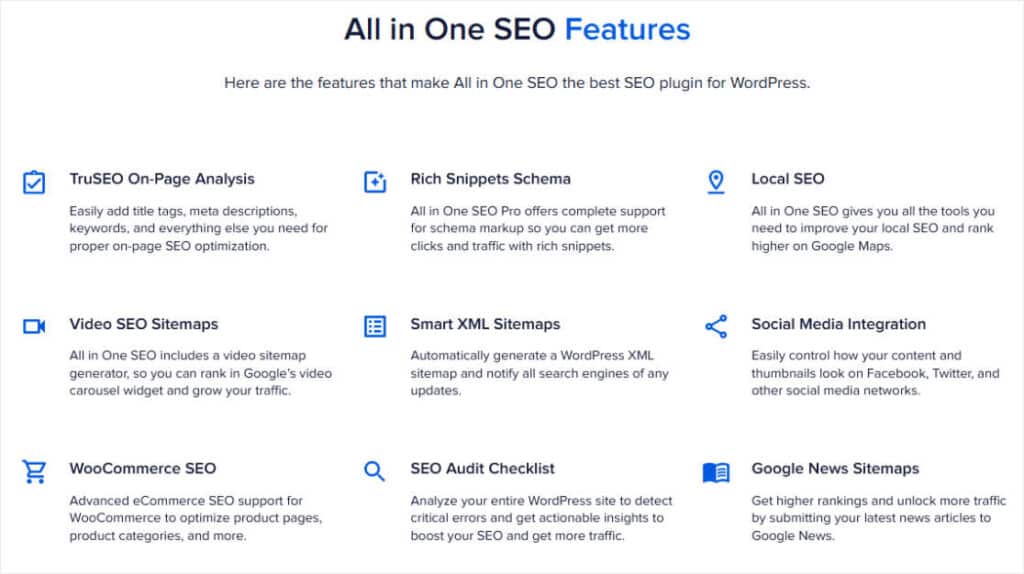 In spite of all these features, the AIOSEO tools are fairly easy for beginners to pick up quickly. You'll see clear instructions on what to do, and why, for every tool in the platform.
Finally, AIOSEO is very affordable compared to some of the other SEO content tools, especially for users who operate multiple sites. Many of the other tools charge per article or report, but a single AIOSEO license is good for unlimited pages and content.
Check out full details on AIOSEO features and pricing here!
That's all for our review of the best SEO content checker tools!
We hope this roundup was helpful. If you liked it, you may want to check out this complete guide to on-page SEO in WordPress.
Don't forget to follow us on Twitter and Facebook to get the latest information and tutorials on Google Analytics.