Looking for a popup plugin to help you generate leads or make more sales online? We've put together an expertly reviewed list of the best WordPress popup plugins for beginners to make high-converting, beautiful popup boxes.
Popups are a common sight on most highly optimized websites. They're used to capture email addresses and contact info, register users for events, and highlight your sales and special offers.
What Is a Popup?
A popup is a window that "pops up" on a user's screen while they're visiting a website. Popups, also called popup boxes or popup windows, are mostly used for sales and marketing purposes. However, they can also be used for alerts, notifications, and other functions.
In this article, we're talking about popups used to increase conversions on your WordPress site. A conversion, in website terms, is when a visitor takes an action that you've defined as a goal, like signing up for a newsletter or making a purchase.
So, if every person who visited your website signed up for your newsletter, the conversion rate for signups would be 100%. This is probably an impossible goal, but increasing conversion rates is a goal that all businesses should share. If you convert more of your existing traffic, you can earn more from your website without increasing the number of visitors.
What Does a WordPress Popup Plugin Do?
A WordPress popup plugin simplifies the creation of popups so that anyone with a WordPress website can make their own popup boxes without programming.
Adding popups to your WordPress site can help you achieve these benefits:
Supercharge your subscriber signups and email list growth
Make more sales by highlighting products and discounts
Increase your audience for webinars and lead magnet content
Grab visitors' attention as they're about to exit your site or abandon a shopping cart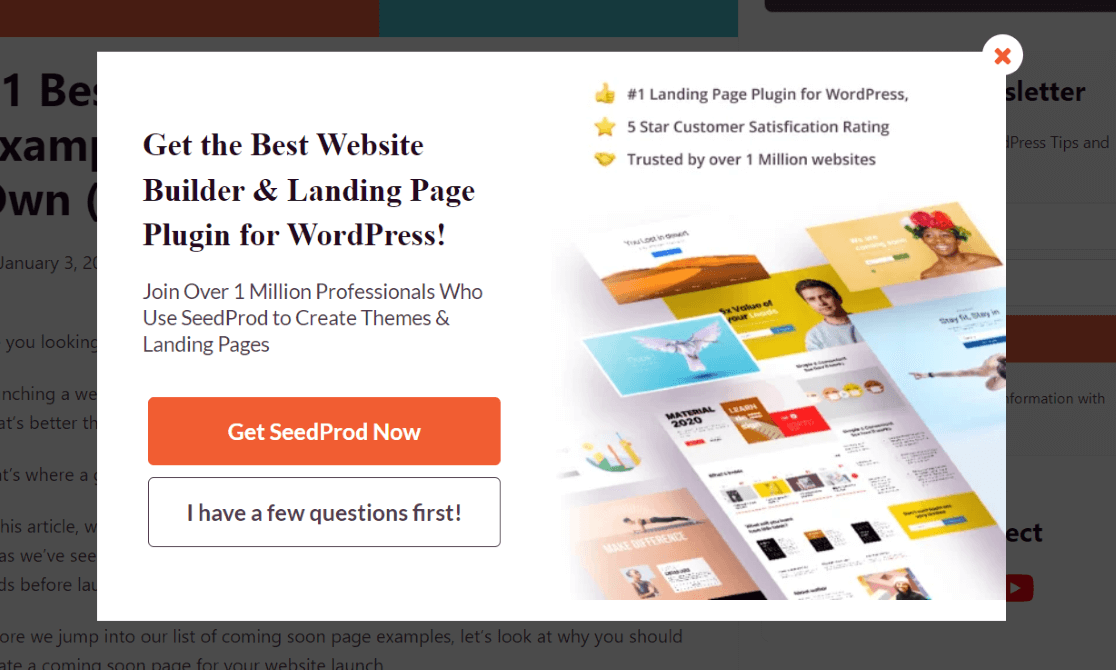 Features to Look for in the Top Popup Plugins
When you're seeking out the best WordPress popup plugin for your site, what should you look for in terms of minimum features?
In our experience, the following list of features and tools will give you a great start in creating your first popup in WordPress. Not only that, the best popup plugins can extend as your needs and skills grow. Our top picks are also suitable for marketing pros who want to build sophisticated campaigns with advanced triggering cues, user personalization, and automated list building.
Basic features included with the best popup plugins for WordPress:
Templates that allow beginners and non-designers to make great looking popup designs that convert well
Easy, drag-and-drop editing to control popup layout and fields
User-friendly integrations with email platforms and other marketing tools
Compatibility with form building plugins to embed more complex forms in popup campaigns
Popup triggers that meet your needs based on user interactivity, audience segmentation, and workflow
All of these features can contribute to boosting your popups' effectiveness and conversion rates. Make sure you understand how each of these functions work so you can choose the best tool for your marketing needs.
Okay, that gives you some ideas about the essential features you'll need in a popup tool, let's jump right into our list of the best popup plugins for WordPress.
Our Top WordPress Popup Plugins
OptinMonster is a full-featured platform for converting website visitors into subscribers and customers. While OptinMonster does have an excellent WordPress plugin to help create and manage popup windows on WordPress sites, it also works with just about any other website building platform or content management system.
What makes this plugin the best popup builder for WordPress? OptinMonster's user-friendly tools make it easy to get results immediately in 3 simple steps:
Step 1: Create your offer using one of OptinMonster's 100+ professionally designed templates and 6 campaign types (lightbox, welcome mat, floating bar, etc.). Customize your campaign with the drag-and-drop popup builder, and add audio and animation effects with absolutely no programming required!
Step 2: Set up your target audience and popup triggers so you show your popup windows in the right place, at the right time, to the right people. You can choose where on the screen your popup displays, decide on which pages popups should appear on your website, and segment your target audience by behavior, location, and other criteria.
Step 3: Use OptinMonster's analytics reports to get conversion rates and other stats, then adjust your campaigns to improve results. Built-in A/B testing helps you optimize campaigns to maximize conversions.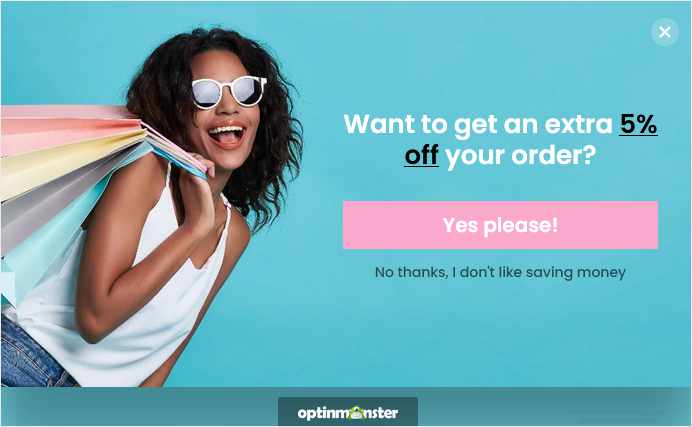 OptinMonster checks all the boxes for a complete popup building solution, with these top features:
Popup plugin for WordPress with an easy-to-follow workflow that allows unlimited popups and campaigns
Beautiful templates let beginners make high-converting popup windows with no design experience
Drag-and-drop editor makes it incredibly simple to make a popup from scratch or customize a template
Exit Intent® triggering technology saves abandoned carts and increases subscriber signups
Connects easily to many email and CRM platforms to automate marketing tasks
OnSite Follow Up Campaigns®, OnSite Retargeting®, and Cookie Retargeting give you sophisticated options for personalization
Test headlines, content, and layouts with OptinMonster's A/B testing
Stellar customer service and support for users worldwide
Aside from the technical specs, OptinMonster University offers a free education in list building, conversion strategies, and using popups for positive business results. This complete set of courses and videos gives you professional digital marketing tips guaranteed to drive your conversion rates, website traffic, and sales to the next level.
Thanks to its impressive feature set, flexibility, and ease of use, we've named OptinMonster as the best WordPress popup plugin you can buy. While it's simple enough for those with no coding or design skills, professional marketers and designers will still find it powerful enough to run any campaign they can imagine.
Get started with OptinMonster today.
Popup Maker is one of the best free WordPress popup plugins for making professional looking popups. It's one of the most popular and highly rated popup plugins on WordPress.
The Popup Maker plugin gives you multiple options for campaign types with standard popup windows, slide-in boxes, modals, and notifications.
The free version of Popup Maker allows you to trigger popups with a timed delay or on-click. It also lets you select which page or pages to display your popup boxes on.
Your template and targeting options are somewhat limited, but you still get the ability to connect to form plugins like WPForms. You can also send lead generation info from Popup Maker to various email platforms to automate list building and mailing campaigns.
Popup Maker does offer a paid version with more advanced features, although the upgrade lacks some of the more powerful tools of the top competitors.
Paid plans get these upgraded capabilities:
Unlimited popups and impressions
Email integrations with popular email services
Embedded videos in popups
Advanced targeting based on user, device, shopping cart contents, and more
We don't think the popup design and editing tools in Popup Maker are as intuitive and easy to use as some of our other top picks. However, if you're looking for the best free popup plugin, you should definitely give Popup Maker a look.
Get started with Popup Maker today.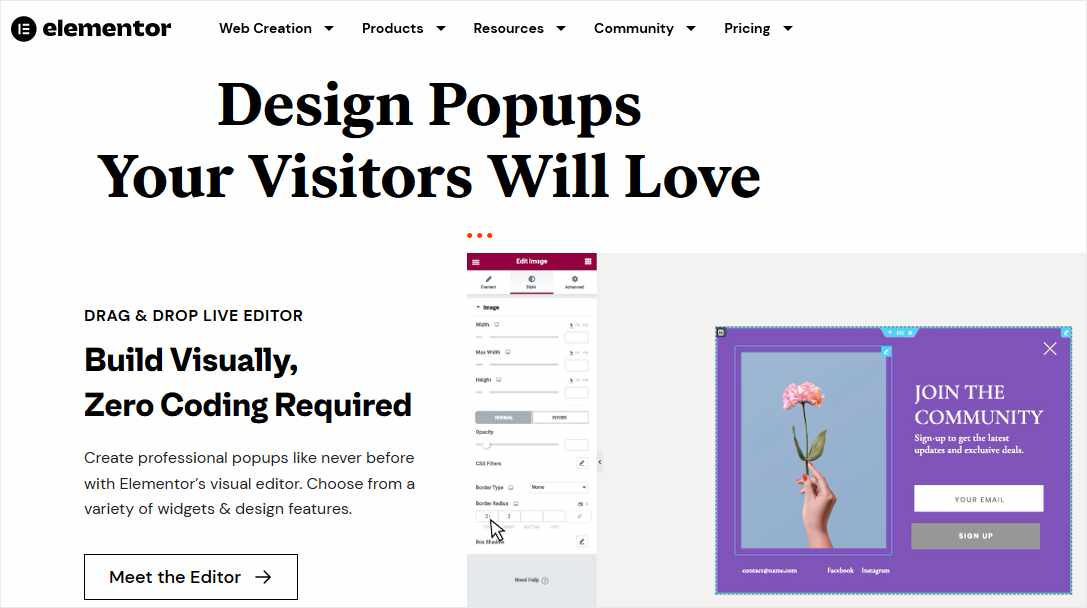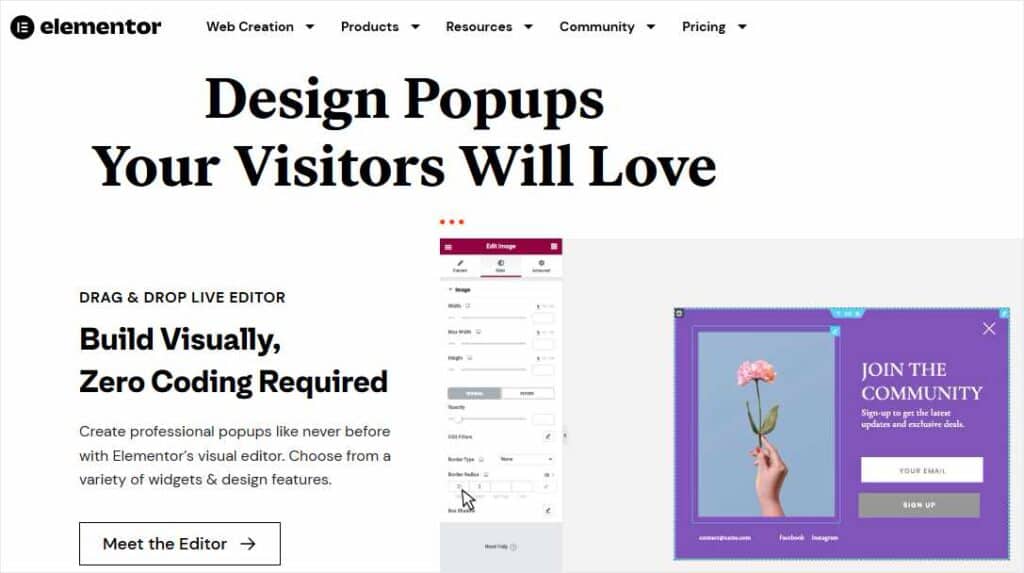 Elementor Pro is a page and theme builder plugin for WordPress that you can use to make landing pages, forms, and popups of all types.
Elementor's popup builder has a live drag-and-drop editor that is simple and powerful, similar to the visual editor it uses in its page builder tool.
The popup tool included with Elementor Pro also comes with these features to make beautiful, highly functional popups:
Professionally designed templates for lead capture, email subscriptions, sales promotions, welcome mats, and other purposes
Fully customizable colors, fonts, and other elements to blend seamlessly with your site design
4 placement options and 6 triggers including page load, inactivity, click, and scroll-to-element
Include or exclude popup campaigns from any page or post
Advanced targeting settings for logged in users, by referral source, and by device
Form builder included for custom forms, along with email integrations
While Elementor does have a free version of its page builder plugin, to get the popup maker you'll need to purchase a license for Elementor Pro. This gives you access to several additional tools for creating WordPress pages, websites, and themes.
Elementor Pro is a complete site-building platform for WordPress with multiple modules, which may be too much for some users. But, if you like making and designing everything yourself, and have some technical skills, Elementor may be the right solution for you.
Get started with Elementor Pro today.
The Bloom plugin by Elegant Themes is specifically designed for creating opt-in forms and capturing leads with popups. Bloom calls itself the "ultimate email opt-in plugin," so it may not be the best choice for other types of popup boxes.
However, it is optimized for making lead generation popups. The first step in setting up a campaign on Bloom is to connect with an email provider. This enables the plugin to add your new contact information to a list. Bloom works with many of the major email platforms, including Sendinblue, Constant Contact, AWeber and more.
Bloom offers several campaign types including a lightbox-style popup, fly-in, inline, and below post forms. You can also create an opt-in widget and place it in any widget-enabled area in WordPress.
The popup builder in Bloom does create nice looking forms and offers plenty of templates. Unfortunately, it doesn't give you quite as much control over customization as our top pick, OptinMonster.
One area where Bloom stands out is with its robust campaign trigger options:
Timed delays based on time on page
After-commenting triggers lets you react when a user leaves a comment
End-of-content and scroll percentage triggers give you more control over when popups display
After-purchase popup boxes let you communicate with your best customers at a critical time
Inactivity triggers help to re-engage users who are distracted or need a prompt
When you purchase an annual subscription to Bloom, it comes with a bundle of WordPress tools and plugins. That includes the Divi theme, one of the most widely-used WordPress themes in the world. If you're looking for an integrated theme and popup plugin that work together on your WordPress site, you should check out Bloom.
Thrive Leads comes as a standalone plugin, or as part of the Thrive Suite. The suite is a package of software that includes WordPress theme and page builders, a lead generation popup maker (Thrive Leads), an online course manager, and several other tools.
The Thrive Leads plugin is competitive with other premium WordPress popup plugins in terms of pricing, so we'll discuss the standalone tool.
Thrive Leads will increase your conversions and list growth with a number of advanced features:
Inline, post-content, lightbox, scrolling mat, and ribbon type popup campaign types
Several dozen templates with attractive contemporary designs
Targeting based on categories, tags, posts, and other criteria to focus popups on the right audience
A/B testing tool automates conversion rate optimization
Simple, relevant reports show how your popup campaigns are performing
SmartLink and SmartExit triggering technologies
The template selection isn't as extensive as some others, but if you like Thrive's designs you should be happy with the popup options. If you do like the Thrive Suite platform, the easy integration is a bonus.
The whole package is designed to help you build high-converting websites, blogs, landing pages, and popups. So if you're looking for a complete WordPress site building tool set or just a WordPress popup plugin, check into Thrive.
Get started with Thrive Leads today.
HubSpot's WordPress plugin includes a popup building tool for capturing contact info and sending it straight into your marketing campaigns.
Although this HubSpot popup tool is more basic than some of our other selections, it's free. And, it will integrate perfectly with some of HubSpot's other free marketing services and tools.
Here's what you can do with HubSpot's WordPress plugin, in terms of popups:
Easily design and customize popup forms with beginner-friendly editor
Several built-in popup styles help your forms match your website style
Personalize popup forms with user data from your HubSpot CRM
Add new user contact info automatically to HubSpot lists
In depth reports on user engagement with popup windows
The design tools for popups are somewhat limited in HubSpot's plugin, but you do get a lot of other stuff. Email marketing, contact management, chat and chatbot software, analytics, and much more make this a great marketing package for a free solution.
The main reason you'd want to use HubSpot's WordPress plugin for popups is it's ability to seamlessly connect to HubSpot's other marketing services, like customer relationship management (CRM) and email. If you don't want to use HubSpot and its multiple functions, you might prefer a different solution for WordPress popups.
Get started with HubSpot's WordPress plugin today.
Final Grade: What's the Best Popup Plugin for WordPress?
From our viewpoint, the best WordPress popup plugin is OptinMonster. It's not simply a tool for making popup boxes, but a full-service marketing platform for capturing leads and converting traffic into subscribers and customers.
With a wide selection of trigger and targeting options, OptinMonster lets you optimize online conversions without annoying users who aren't your intended audience. The plugin's beginner-friendly operation gives new users the ability to create professionally designed forms, and automate marketing and list building.
One extra, unique benefit of OptinMonster is that it's not dependent on WordPress. If you ever move your website from the WordPress platform, you'll be able to save your campaigns and popup designs and use them nearly anywhere.
In conclusion, if you want to make popups on WordPress, or elsewhere, and supercharge your sales, marketing, and list growth, go grab OptinMonster now and make your first campaign!
And that's all for our roundup of the best WordPress popup plugins, we hope it's helpful.
If you liked this article, you might want to read our post on the best email newsletter plugins for WordPress.
And please don't forget to follow us on Twitter and Facebook to see all the latest reviews, tips, and Google Analytics tutorials.