Ready to set up WordPress conversion tracking to see if your visitors are taking action on your site? Are your SEO and other marketing efforts paying off?
Setting up conversion tracking is the best way to measure how your site is performing. Google Analytics can tell you a lot of things, but without goals and conversions set up, it's hard to actually draw conclusions from your data.
In this article, we'll go over conversion tracking in WordPress and Google Analytics. You'll learn how to set it up and how to find your data.
Let's dive in.
What is Conversion Tracking?
Website conversion tracking is using analytics to monitor whether your website visitors are taking certain actions to convert them from just a visitor to a subscriber, lead, or customer.
When people visit your website, you want them to take certain actions like signing up for a newsletter, purchasing a product, clicking an affiliate link, making a donation, or filling out a form. These actions are what we call conversions.
Every website and business is going to have unique goals for their website and a unique set of conversions that matter the most to them. For instance, a publisher's biggest goals might be for visitors to sign up for a newsletter, click an ad, or click an affiliate link. An online store, however, would want to track product sales as conversions.
Benefits of WordPress Conversion Tracking
If you're reading this article, you're probably already aware of the fact that conversion tracking is an important part of tracking your website's effectiveness. If you want to know how your website and your marketing efforts are doing, you have to go beyond just looking at your basic traffic numbers in Google Analytics. How many of those website visitors are actually taking an action on your site?
With conversion tracking, you can track:
Total product purchases and revenue
File downloads
Form submissions
Ad clicks
Affiliate link clicks
Marketing campaign clicks
Page views
Video watches
And more
Without conversion tracking, it's pretty hard to track your return on investment (ROI). Don't blindly throw money into different campaigns or initiatives without knowing if they're really working! Set up conversion tracking now.
Table of Contents
How to Set Up Conversion Tracking in WordPress
In this article, we're going to be using ExactMetrics, the best premium Google Analytics plugin for WordPress. Instead of going over the much more complicated way of setting up each type of conversion tracking manually, we'll show you how to do it quickly and easily using the ExactMetrics plugin.
With ExactMetrics, there are many metrics and conversions you can set up and monitor in Google Analytics and your WordPress dashboard.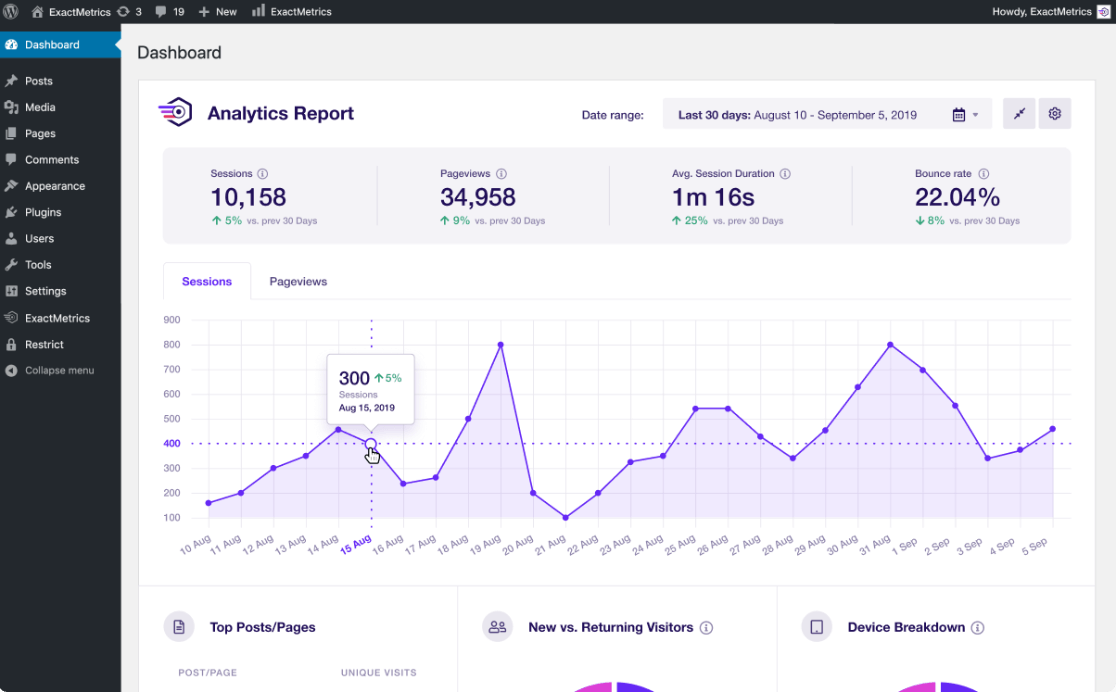 Our most popular features include:
With ExactMetrics, all your most important metrics are right there in your WordPress dashboard.
The best part about conversion setup in ExactMetrics is that you can do it without touching any code. Without the plugin, you'd have to add your own code snippets to your site. Plus, in GA4, you'd have to build your own reports to see your data in a way that makes sense.
Thankfully, you don't have to do either of those things with ExactMetrics installed on your site!
Here's how to get started.
Step 1: Install ExactMetrics
To start, head to the Pricing page and get started with ExactMetrics at the Pro level, if you want all the conversion tracking we're about to go over. Once you complete checkout, download the plugin.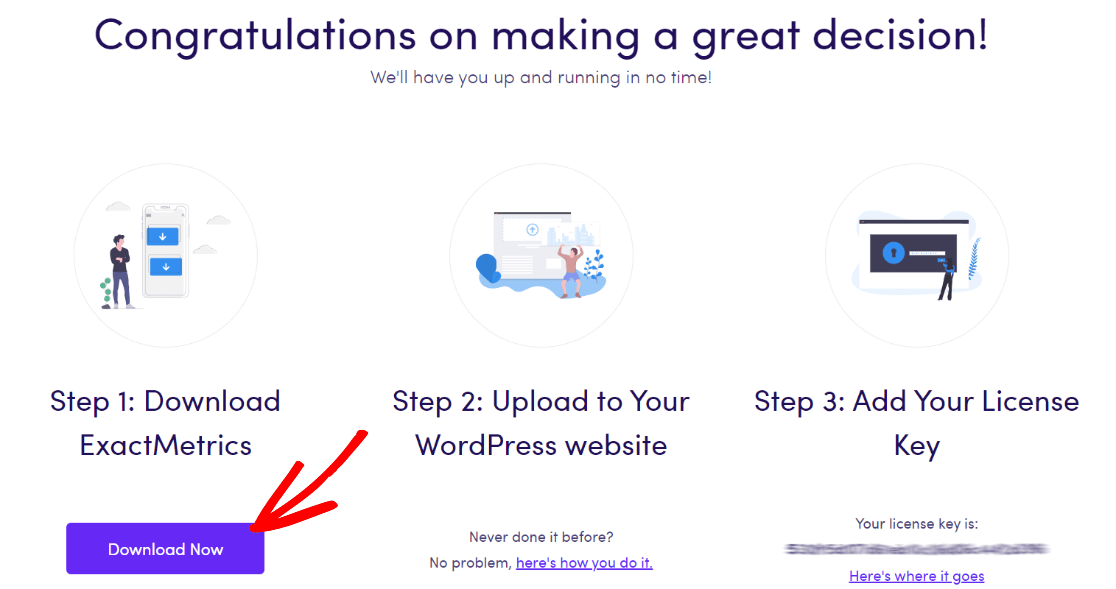 Next, upload it to your website.

Step 2: Add Your License Key and Connect to Google Analytics
Now that you have ExactMetrics installed, you can add your license key and connect your Google Analytics account. To get set up, click on ExactMetrics under your WordPress Dashboard and click the big green "Launch the wizard!" button.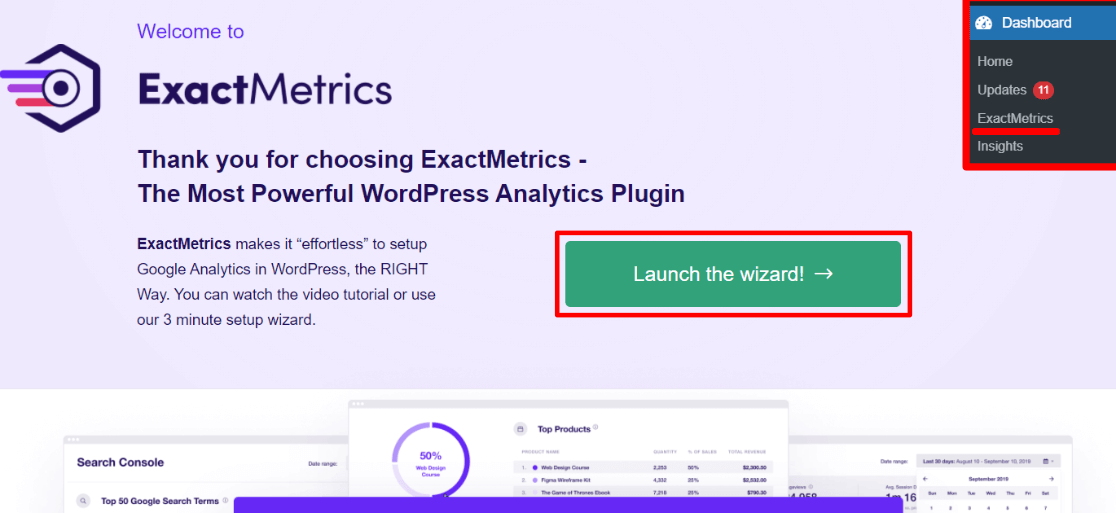 Once you're in the wizard, you'll get to this page where you can add your license key and connect with Google Analytics: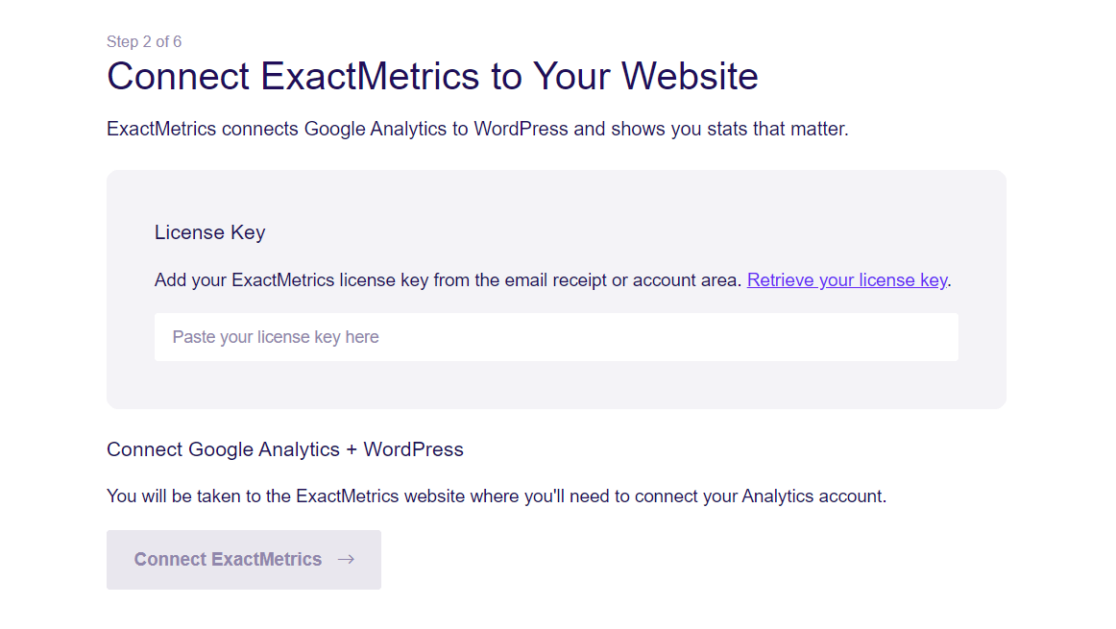 For more details on this step, check out our guide on how to properly add Google Analytics to your WordPress website.
Now, let's go over each type of conversion tracking.
eCommerce Conversion Tracking
In the past, eCommerce has been such a headache to set up in Google Analytics. Not only can it be difficult for the average user, but many have to hire a developer and/or Analytics expert to get it set up correctly.
Now, all you have to do is install ExactMetrics, turn on our eCommerce addon, and that's it! We'll do the hard part of tracking all your products and providing data on product purchases, conversion rate, transactions, revenue, average order value, and more. Just head to the eCommerce tab to see all your data!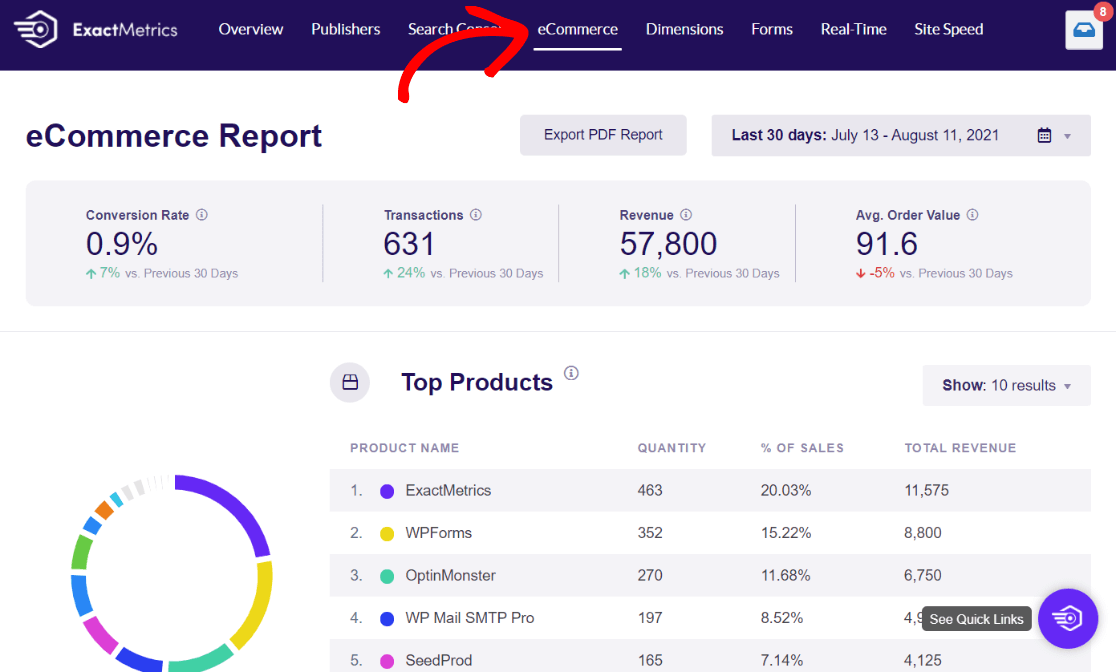 Plus, ExactMetrics integrates easily with WooCommerce, Easy Digital Downloads, MemberPress, LifterLMS, GiveWP, and Restrict Content Pro. That makes setup and tracking with those platforms incredibly easy.
For more on eCommerce tracking, check out How to Set Up Google Analytics eCommerce Tracking (Simple Way).
Form Conversion Tracking
Setting up form conversion tracking will not only help you see how many form submissions you get, but also how many times each form was viewed and its conversion rate.
The best part is, form conversion tracking happens out of the box with ExactMetrics. You don't have to complete any extra setup! Just head to ExactMetrics » Reports » Forms to view your report.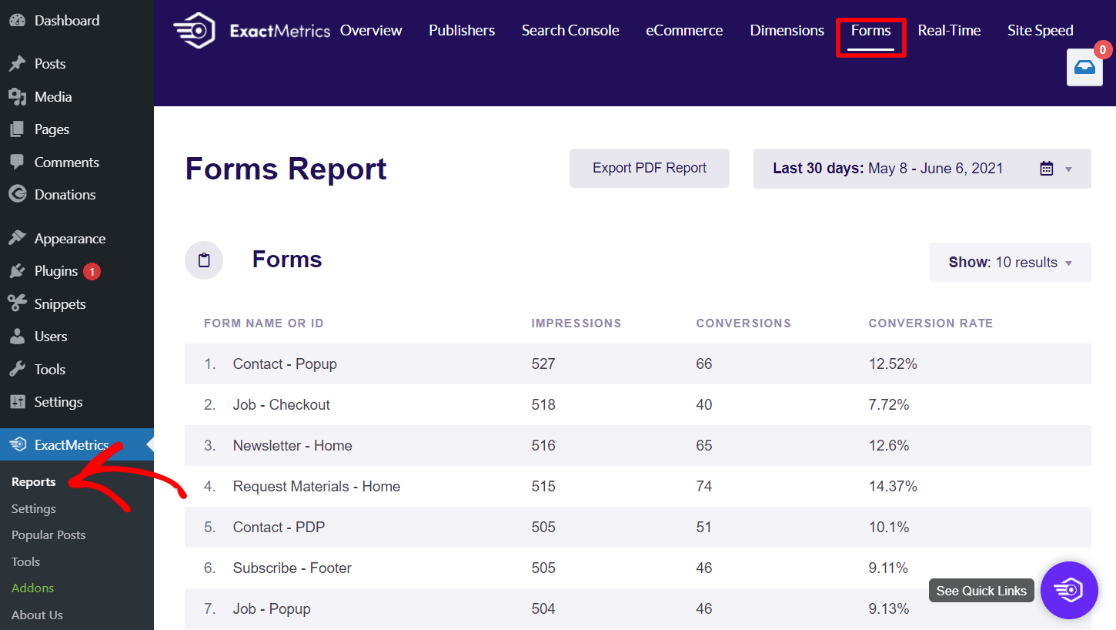 With this data, you can watch your forms to see which ones are converting and which ones aren't. Use the information about the forms that aren't converting to make tweaks that increase your conversion rate.
Plus, ExactMetrics automatically creates events in Google Analytics. So, if you're familiar with Google Analytics, you can click over to the form conversions report from your ExactMetrics report to see extra data like which channel the users came from (social, organic, etc.) and who converted most often.
For more on form conversion tracking, read How to Track Form Submissions in Google Analytics (The Easy Way).
Google Ads Conversion Tracking
Do you run ads on Google's Ads platform? Do you want a simpler way to track conversions from your ad campaigns?
ExactMetrics is your solution.
With our Ads addon, you can connect your website to Google Ads and Google Analytics quickly and easily. Plus, if you're using WooCommerce, Easy Digital Downloads, or MemberPress, ExactMetrics can also track your conversions from your ads without any conversion tracking code insertion. Just put your conversion ID and Label into ExactMetrics and you're done!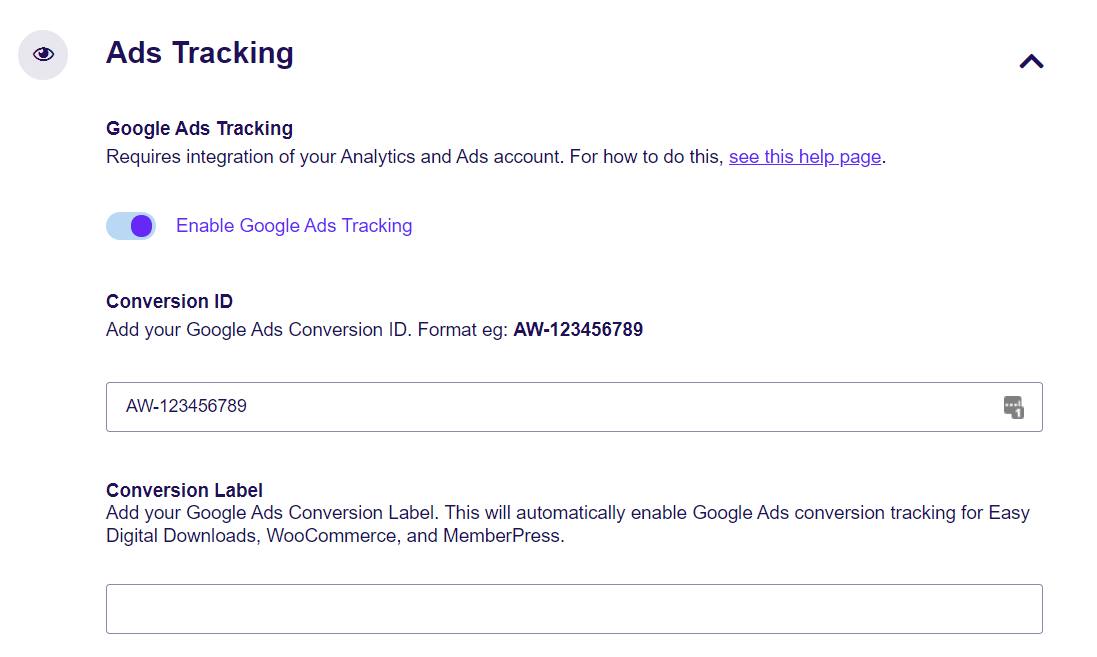 When you're tracking the performance of your Ads in Google Analytics, you can see a lot of data about your campaigns that will help you decide which ads are working, and which ones aren't.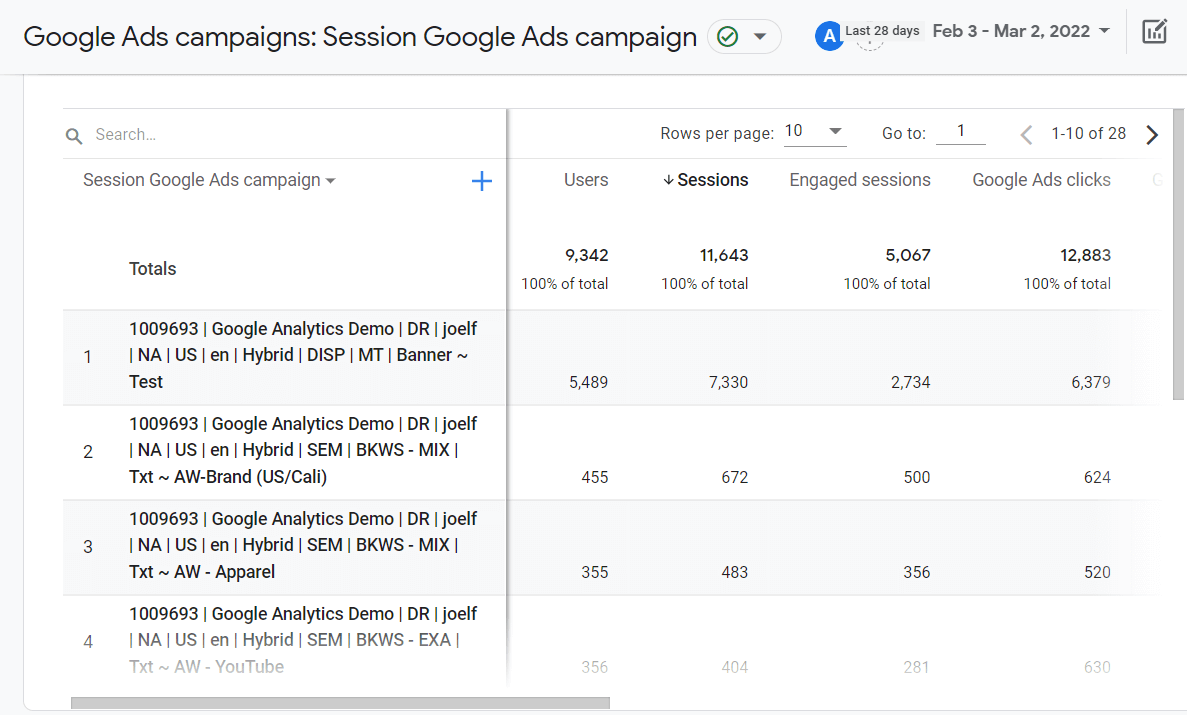 For more on linking Google Ads with your website and Google Analytics, read How to Link Google Ads to Google Analytics in 2 Minutes or Less.
Affiliate Link Click Tracking
Are you a publisher that uses affiliate links to make money with your website? Do you have a good way to track how many clicks are happening on your affiliate links?
Affiliate link click tracking is another feature of ExactMetrics. To use it, make sure you have your messy affiliate links redirected to a URL that looks like it's on your domain, such as yourdomain.com/affiliate/affiliate-here.
An awesome plugin that can help you redirect your affiliate links is Pretty Links. With it, you can redirect all your links to a URL that you can then track with ExactMetrics.
When you're tracking your affiliate link clicks, you can see which links are getting the most clicks, which pages those links are getting clicked on from, and more.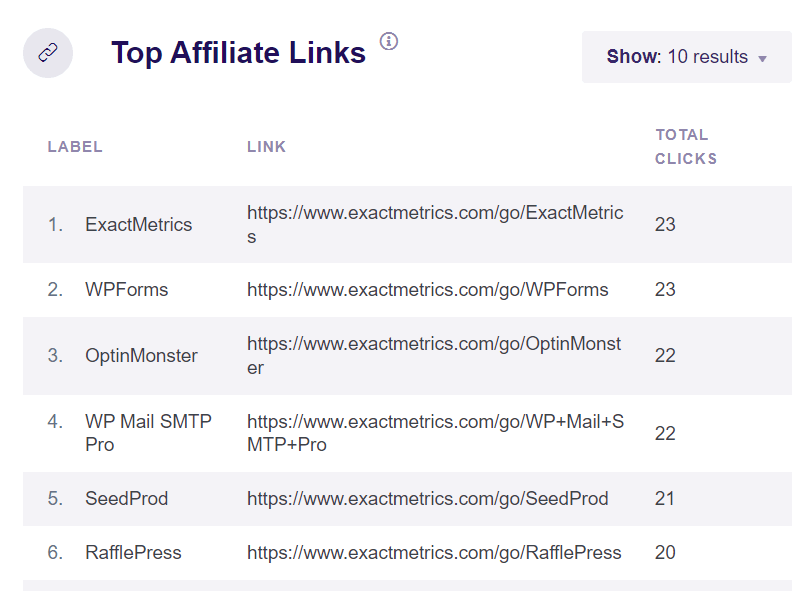 For more on affiliate link tracking, read How to Track Affiliate Links in WordPress (the Easy Way).
Marketing Campaign Tracking
Did you know that you can add a few extra words onto the end of your URL to tell Google Analytics how to track it?
It's called UTM tracking or Campaign tracking, and it's a great way to see extra data about links to your site that you share across the web.
For instance, let's say you're running a Black Friday sale. You're planning to share links to your sale on social media, through email, and in a banner in your website's sidebar. By giving all of those links the same tag, you can track them all as a Black Friday campaign and see how it performs across all of those platforms.
Cool, right?
To help you out with your campaigns, ExactMetrics has a built-in campaign URL builder. Just log in and head to ExactMetrics » Tools » URL Builder.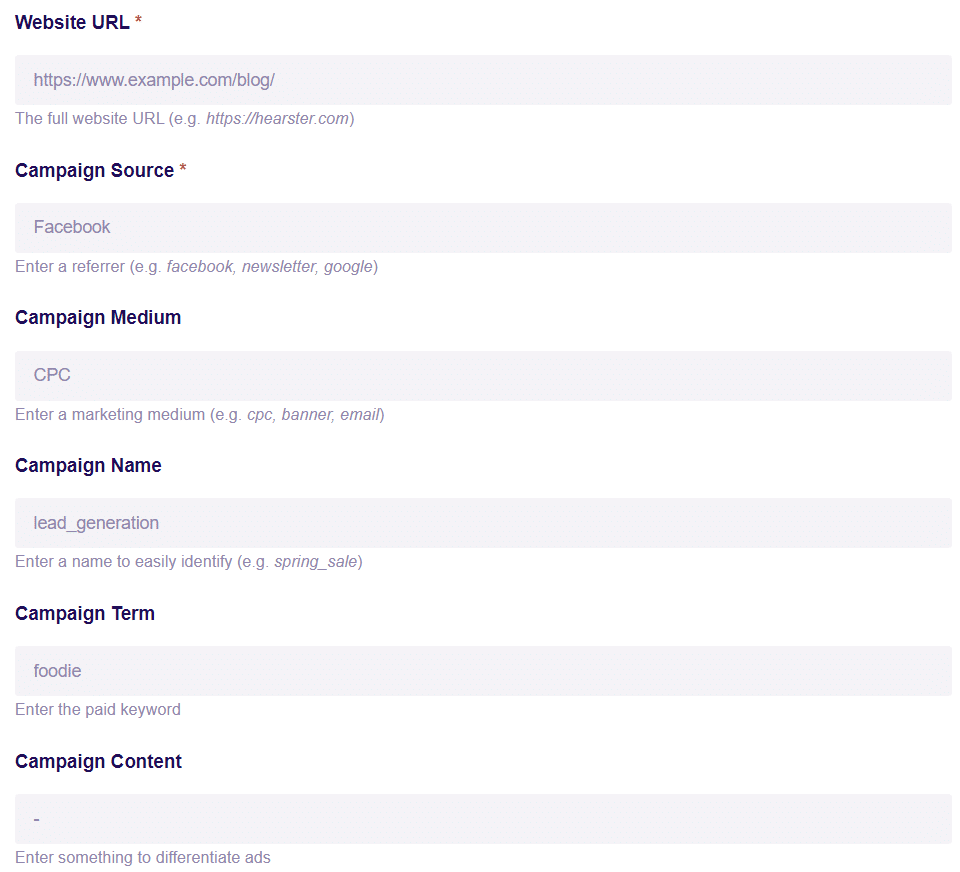 Once you've shared your custom URLs and they've been clicked, open Google Analytics and head to Acquisition » Traffic Acquisition. Then, click the dropdown to change your dimension to Session campaign.

Video Play Tracking
Do you have videos embedded on your website? Want to know how many people are watching them, and whether or not they're watching through to the end?
With the ExactMetrics Media addon, you can track your embedded videos in just a couple clicks. Just install the addon and a Media report tab will appear, and ExactMetrics will begin tracking video plays, average watch time, average percent watched, and completion rate.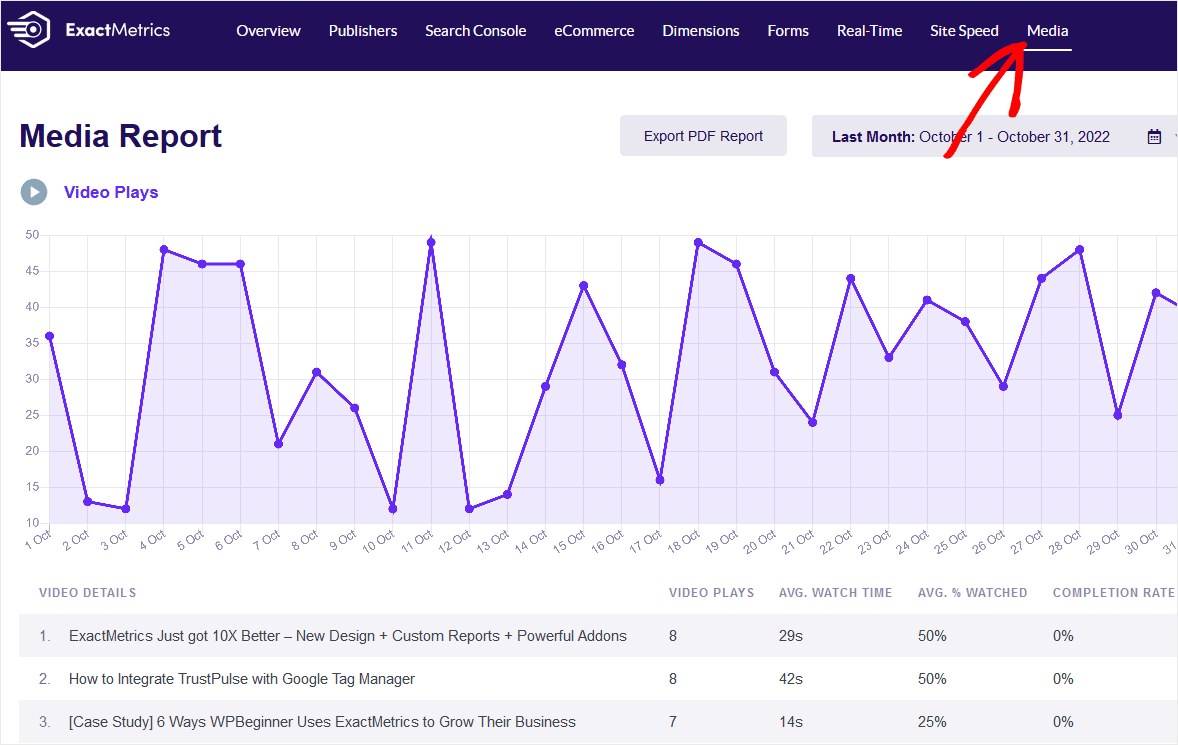 We hope you've learned all about conversion tracking in our guide to tracking conversions in WordPress.
If you liked this article, we think you might also like 30 Epic Marketing Hacks for Explosive Traffic Growth.
Don't forget to follow us on Twitter and Facebook to see all the latest Google Analytics tutorials.