The ExactMetrics eCommerce Funnel report is your essential tool for optimizing your online store's sales process. This guide will help you navigate the significance of each sales step.
The Funnel report provides a clear overview of your sales process, consisting of three key stages:
View Item: The initial interaction with potential customers, establishes top-of-funnel interest.
Add to Cart: The step which shows your customer's purchase intent.
Purchase: The end goal of your customer's journey.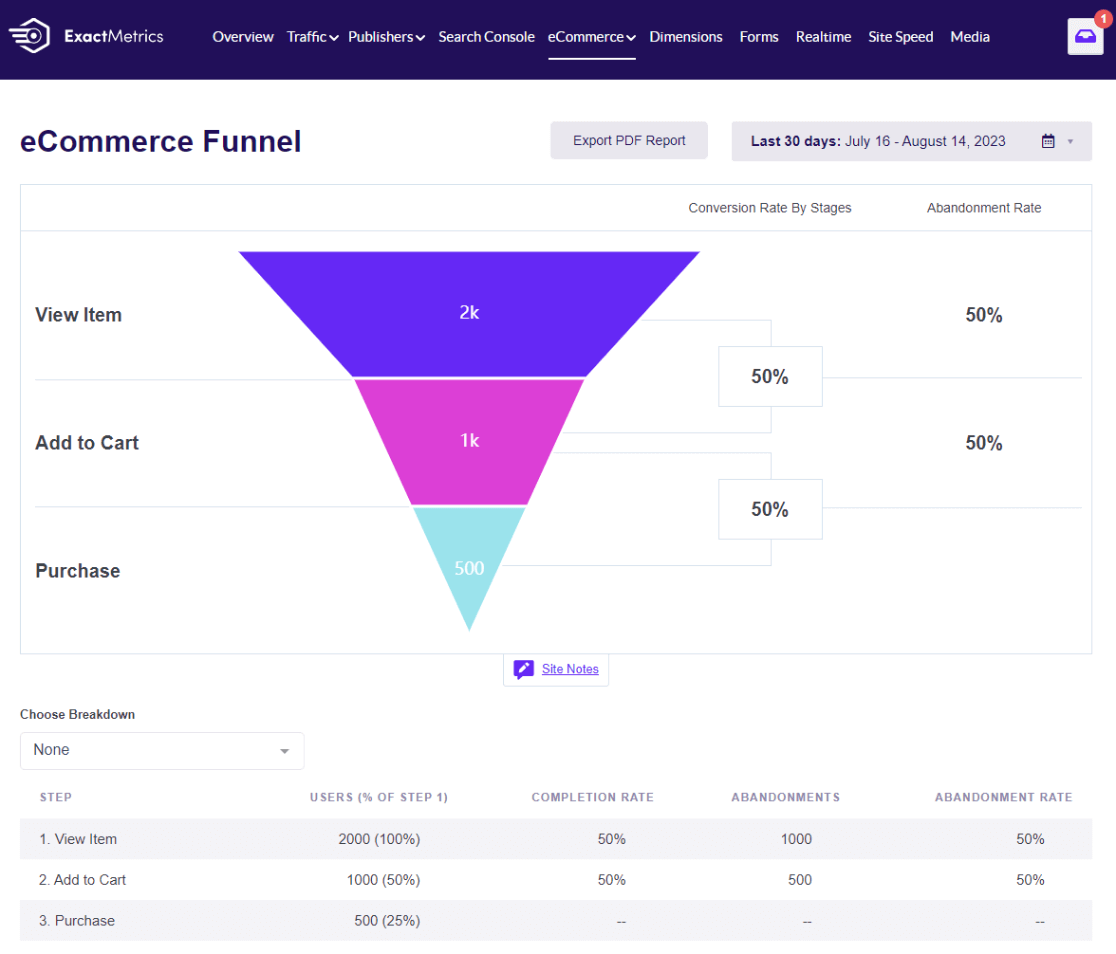 Each of these stages is accompanied by valuable insights:
Users (% of step 1): Tracks customer engagement and identifies potential drop-off points. A higher percentage denotes a healthier funnel.
Completion Rate: Reflects the percentage of customers moving to the next stage. A higher completion rate ensures a smoother user journey.
Abandonments: Indicates users who exit the funnel without completing the desired action.
Abandonment Rates: Highlights friction points within your sales process.
To drive better conversion rates and revenue generation:
View Item: Begin with building a strong initial touchpoint. Enhance your product pages with engaging images and detailed descriptions.
Add to Cart: Simplify cart management and provide clear call-to-actions for smoother transitions and increased Add to Cart actions.
Purchase: The ultimate goal in revenue generation. Focus on reducing abandonment rates through streamlined checkouts and trust-building signals.
Taking these steps ensures you make the most of your Funnel report, leading to improved sales performance. Remember, each stage in your funnel contributes to the journey towards higher conversions and increased revenue.
You've now learned how to effectively utilize the eCommerce Funnel report to your advantage.