Ever wonder which links people click that take them away from your website? There are many reasons to use external or outbound links, like citing other sites as sources of information.
By tracking which external links get the most clicks in Google Analytics, you get to find out where your visitors are going after they've been on your website.
In this article, we'll show you how to track outbound links in Google Analytics using a simple method. Let's start…
Why Track Outbound Links with Google Analytics?
Now you might be wondering if there's any advantage of tracking outbound links, even though people might click on it and leave your site. Well, there are benefits of finding out which external links visitors click, like:
Get to Know Your Visitors Better – You get a better understanding of your users and see which links they click, where they go to from your site, and how they behave with your content.
Discover New Content Topics – Outbound link tracking can help discover new content ideas. If people click on a link to read an article on another website, then you can create a similar blog post for your site.
Create Partnerships – When people click on an external link, it means you're sending traffic to that website. You can form a partnership with these sites, like collaborate on more content, submit a guest post to get backlinks or signup for an affiliate program.
That being said, are you ready to learn how to track outbound links in Google Analytics?
Set Up Google Analytics Outbound Link Tracking
Google Analytics is the most popular analytics tool in the world. But when it comes to setting up external link clicks, the process can be tricky, especially for beginners.
For instance, Universal Analytics (Google Analytics previous version) wouldn't track outbound links by default. You'd have to hire a developer to enter a code for every outbound on your site. Or use Google Tag Manager to set up tags for all your links and track them in Analytics.
Not only that but setting up analytics can still be a pain as it requires editing code. Now, unless you're a developer, adding code is easy.
But what if there's a simpler way?
Using ExactMetrics, you can automatically track external link clicks. There's no need to touch a single line of code, hire a developer, or manually set up tags for each link. The plugin takes care of it for you. To get started, just follow these steps.
Step 1 – Install and Activate ExactMetrics
The first step is to install the ExactMetrics plugin on your WordPress website. It's the best premium WordPress Analytics plugin that helps you set up Google Analytics and advanced tracking without coding.
With the plugin installed, you can track how people interact and behave on your website. It not only tracks outbound links automatically but also shows which files get the most downloads, which affiliate links get a lot of clicks, and much more.
You can use different addons to get more insights about your visitors. For instance, ExactMetrics helps track eCommerce store performance, form conversions, set up custom dimensions, and automate processes to ensure GDPR compliance.
Step 2 – Add Google Analytics to Your Site
After ExactMetrics is up and running on your site, the next step is to connect Google Analytics using the plugin.
ExactMetrics offers a setup wizard that helps to add Google Analytics to your website without editing code. Just follow the steps, and by the end of the setup process, the plugin will automatically add the tracking code.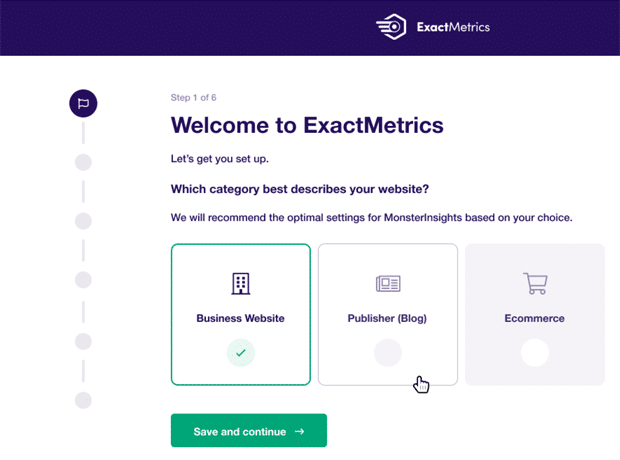 You can follow our guide on how to add Google Analytics to your WordPress site.
Step 3 – See Your Outbound Links Report in WordPress
Next, you can view the outbound links report inside your WordPress dashboard. That's one of the advantages of using ExactMetrics. It brings all your important stats in one place, and you don't have to leave your site.
Remember, you'll need ExactMetrics Plus or a higher plan to view the analytics dashboard and see the outbound link clicks.
To view the report, go to your WordPress dashboard and then navigate to ExactMetrics » Reports » Publishers. Now go to the Top Outbound Links report and see which external links people click the most.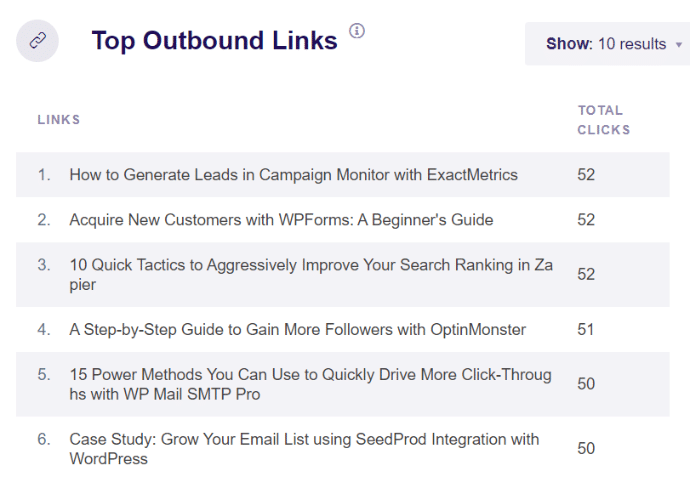 Now, what if you want to see the report in Google Analytics?
How to View Outbound Link Reports
ExactMetrics helps save time by showing you reports on your WordPress website. But if you're looking to see the data in Google Analytics, click the View All Outbound Links Report button at the end of the Top Outbound Links report in ExactMetrics.
This will take you to the report in Google Analytics. Or you can log in to your analytics account and navigate to Behavior » Events » Top Events. You can see the external links under the Event Category as outbound-link.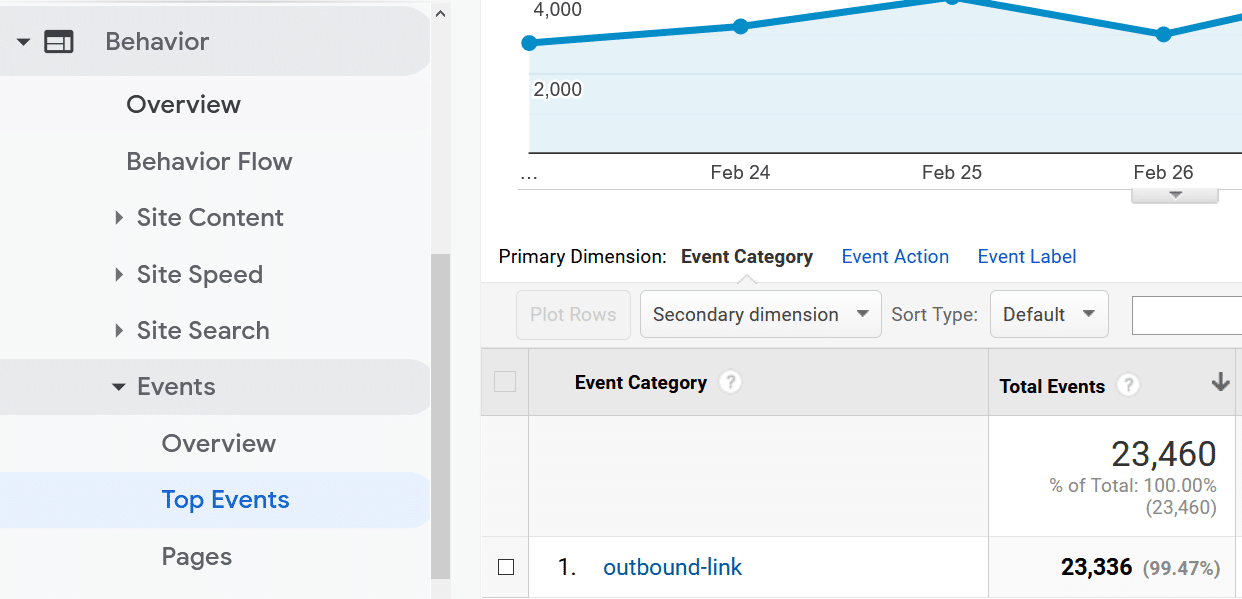 If you click on it, Google Analytics will show the external links along with their number of clicks under the Total Events column.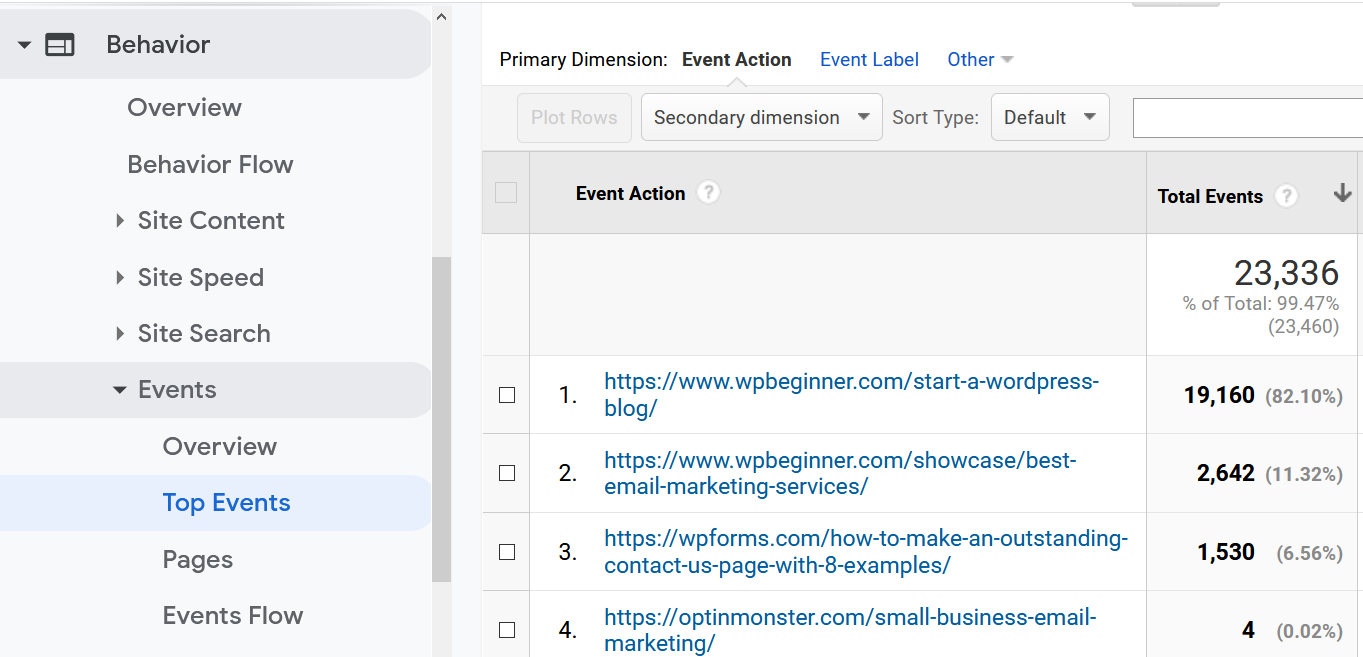 Now, you can get more insights by using the Secondary Dimension option. For instance, search source in the secondary dimension tab and see where your visitor comes from before clicking the link.
Or you can look for which device or browser people use to click on the external links on your website.
And that's it!
You can now easily track the number of clicks each outbound link gets without entering a code or manually set up tracking.
We hope you liked our article on how to track outbound links in Google Analytics. You can also check out our post on simple ways to grow your business with Google Analytics.
Don't forget to follow us on Twitter and Facebook to get to know the latest Google Analytics tutorials.