The ExactMetrics team is always at work creating new tools for WordPress site owners to make analytics easier and help you grow faster.
Our latest update includes a huge improvement in your ability to track users' engagement with video content on your website.
You can see the new metrics in the ExactMetrics dashboard, in a brand new report with more in-depth analysis of video viewing times and other media stats.
Let's take a look at all the details on ExactMetrics' updated video tracking!
New Media Report, More Detailed User Behavior
The new Media Report in ExactMetrics gives you more data on how users are interacting, not simply whether they viewed a page or started a video.
For example, you might want to know:
How many plays did each of your embedded videos receive?
How much of each video did the average viewer watch?
How many people actually finished watching an embedded video?
To get the Media Report, simply go to your WordPress dashboard and click ExactMetrics » Addons. Go to the Media addon and click the Install button.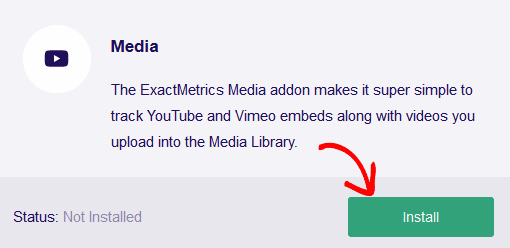 The new Media addon will install and activate itself. Now, you can go to the Reports screen and click the Media tab to see the full Media Report.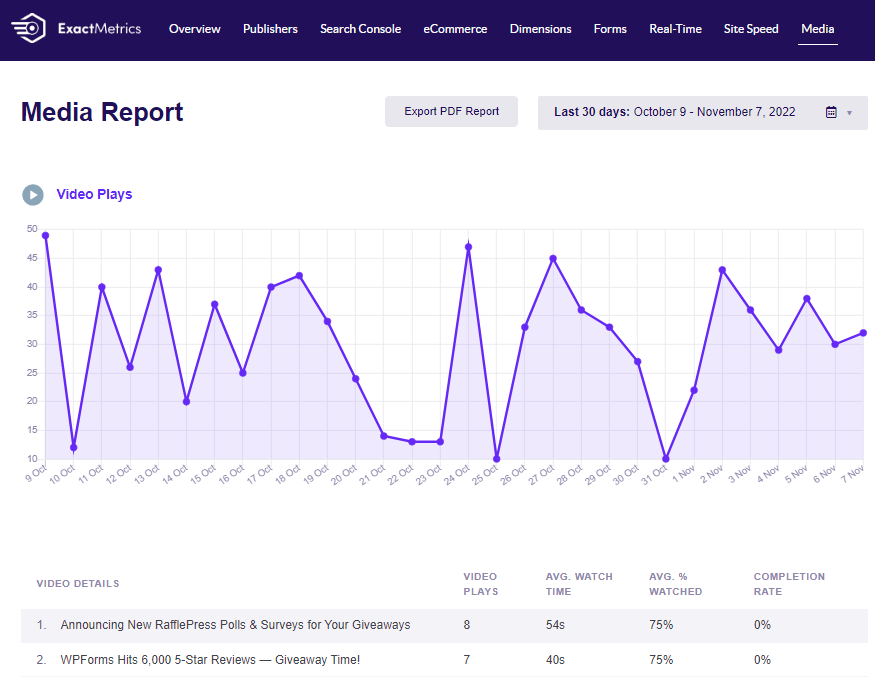 There, you'll see your daily Video Plays, Average Watch Time, Completion Rate, and other metrics in the Media Report overview screen.
How to Use the New Media Report
These detailed video stats can help you find out what kind of videos are most engaging and useful for viewers, so you can make similar content.
You can also figure out which videos have lower average watch times, and where most people quit watching. That's good info if you want to improve your existing videos and make better content in the future.
Or, if you have videos with a high completion rate but low number of plays, you may simply need to promote that content more to get more shares and more site traffic.
ExactMetrics automatically tracks YouTube, Vimeo, and HTML5 video statistics. These are the most popular formats for embedding video content on your website.
You no longer need to get into Google Analytics to hunt for this data or create a custom report, now it's right in WordPress with the rest of your traffic stats in ExactMetrics!
We hope these new tools give you greater perspective on your marketing and site traffic metrics. If you liked this post, you might want to check out our list of marketing hacks to explode your website traffic.
Still not using ExactMetrics? What are you waiting for?
Don't forget to follow us on Twitter and Facebook to see all the latest Google Analytics tips and tutorials.