Are you wondering which Google Analytics metrics are important for your business and which should you keep an eye on?
Google Analytics can provide insights about your website visitors and how they behave on your site. It also helps to track your marketing campaigns and find out which strategies are working. But it can be overwhelming to use Analytics if you don't know which metrics to track.
In this article, we'll show you some essential Google Analytics metrics every business should track, so you can focus on data that matters.
Let's dive right in…
1. Top Performing Content
Tracking your blog posts and landing pages can help you understand which topics people like on your website. You can identify content that gets a lot of traffic and conversions and then come up with similar topics to cover on your site.
Besides that, tracking top-performing content also shows which strategies are working and which aren't. This way, you can replicate the tactics that get more visitors and sales while improving the tactics that didn't work.
With ExactMetrics, it's easier than ever to spot the performance of your content. It brings important Google Analytics metrics insides your WordPress dashboard. For instance, in its Overview report, you can see the Top Posts/Pages.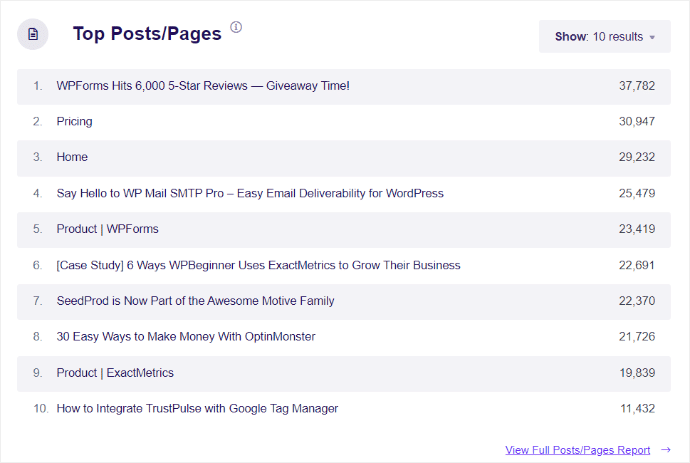 And if you upgrade to the Plus or higher license plan, you can unlock the Publishers report. In this report, you get to see more Google Analytics metrics that will help you better understand your blog posts' performance.
Using the Top Landing Pages report, you get to see the total visits, average duration, and bounce rate for each landing page.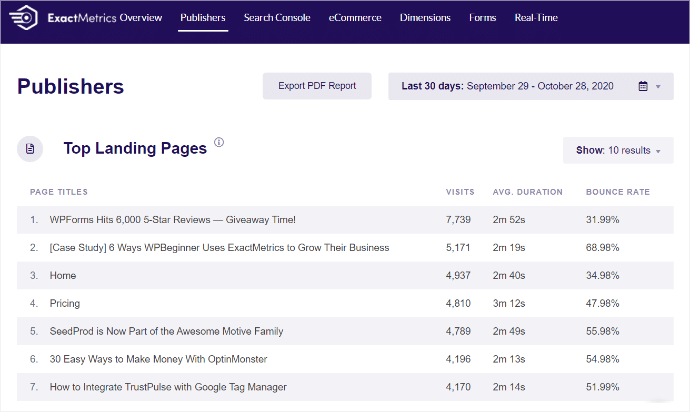 Another helpful report is the Top Exit Pages. It shows how many people exit your website from a particular page. You can use these metrics to find out why your visitors are leaving from a blog post and try to boost user engagement.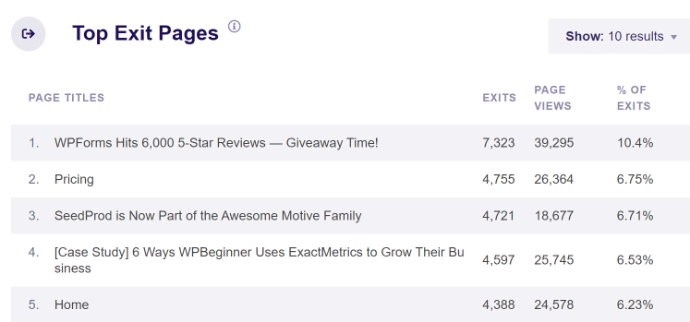 2. Interests and Demographics of Your Audience
With Google Analytics, you can better understand your audience and get the data you need to create content and offer products that people will like. And the simplest way of doing that is by tracking the demographics and interests of your visitors.
By finding the age and gender of your audience, you can create marketing campaigns and personalized messages for different customer segments. This helps build trust, and you'll get to know which type of content and products to offer to your visitors.

Not only that but enabling demographics and interest reports in Google Analytics can help uncover the categories people like the most. This way, you can create content and offer products according to your visitors' interest, and boost conversions.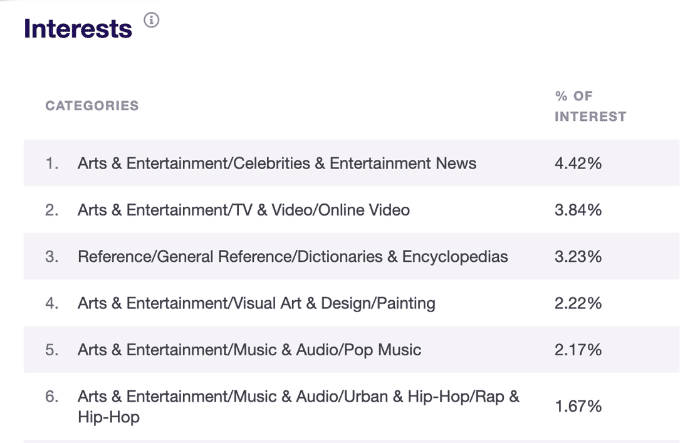 3. Traffic Sources
Another way of getting to know your visitors better is by identifying where they're coming from. In Google Analytics, you can easily track the traffic sources. And ExactMetrics makes it even easier to see the stats inside your WordPress admin area.
You can see which device people use to view your content and products. The plugin also shows which country your visitors are from and which referral source sends the most traffic to your site. Using this data, you can focus on traffic sources that bring in a lot of traffic and attract more visitors.

Besides that, ExactMetrics helps to set up eCommerce tracking and shows your top conversion sources. You can find out which referral site sends customers your way and how much money each source generates.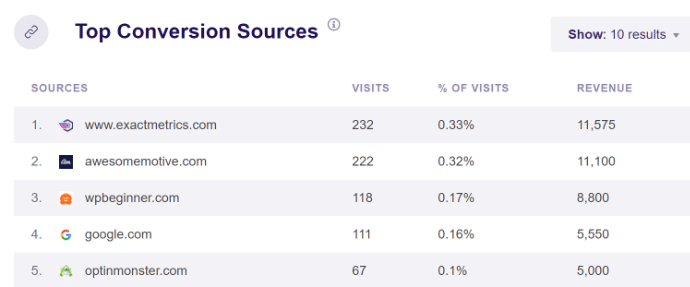 4. Search Console Report
Along with different traffic sources, Google Analytics also helps track which keywords people enter in Google to find your website. By connecting Google Analytics with Google Search Console, you can see the search terms that get many clicks and their average rankings.
And using ExactMetrics, you can view the Search Console report to see which keywords drive the most traffic. In the report, you get to see metrics, including the number of clicks, impressions, click-through rate (CTR), and average position.

The data from the Search Console report is extremely valuable. You can track the performance of SEO strategies and see if keyword rankings are improving. If a search term is ranking in the top 10 search results, you can find similar keywords and come up with new blog post ideas.
On the other hand, you can find keywords close to reaching the top 10 search results and optimize them in the content to boost their keyword rankings. This way, you'll increase your organic traffic.
5.Link and Button Clicks
Once users are on your website, how do you know where they click? By setting up link click tracking in Google Analytics, you get a better picture of your visitor's behavior.
Unfortunately, Google Analytics doesn't track link clicks by default. But with ExactMetrics, you don't have to set up tracking or edit code manually. The plugin adds link tracking to your website right out of the box.
For instance, if you offer downloadable content to your visitors, then ExactMetrics will track file downloads. You can specify the file extensions you'd like to track, and the plugin will take care of the rest.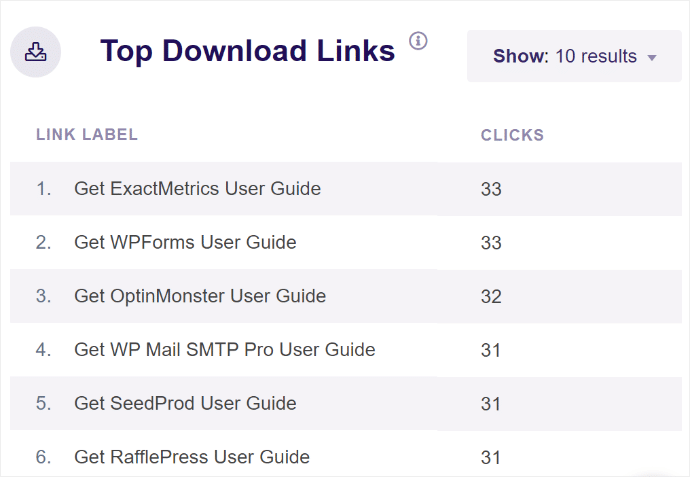 And if you have affiliate links on your site, ExactMetrics will automatically track them in Google Analytics. You'll need to add the path and label for your links, and ExactMetrics will start tracking affiliate links.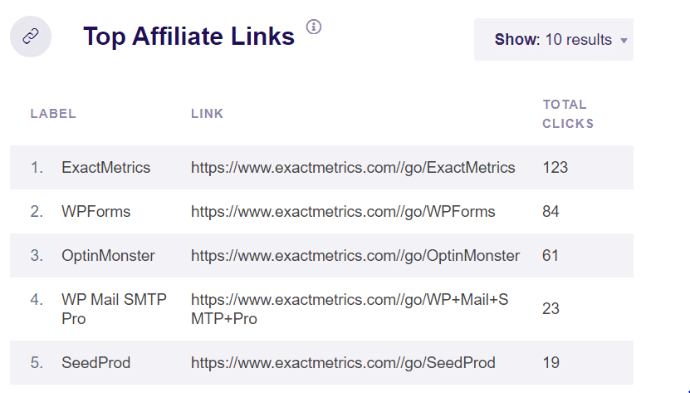 Another type of link ExactMetrics helps to track are outbound links in Google Analytics. These are external links that people might click and leave your site. By tracking outbound links, you can plug the gap and create similar content to keep visitors on your website.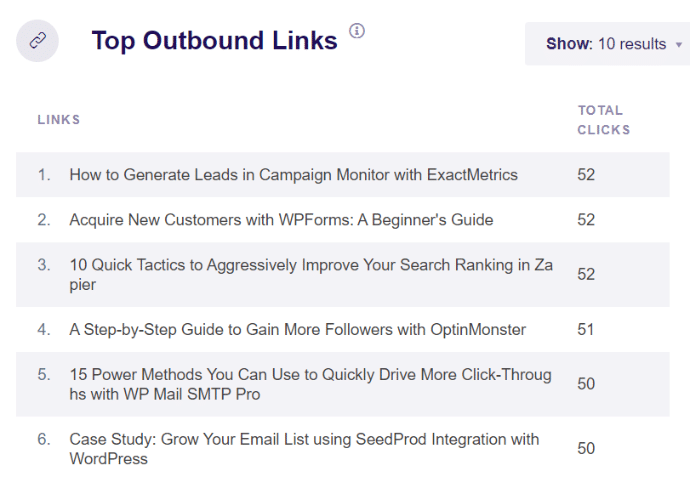 6. Form Submissions and Conversions
Forms are great for boosting user engagement and interacting with your visitors. You get to collect feedback from your users, resolve their issues, and gather leads. But how do you know which form is converting better?
With ExactMetrics, you can set up form tracking in just a few clicks. Its Forms addon helps track all types of forms on your WordPress website and shows detailed reports in your admin area. In the report, you can see the impressions, conversions, and conversion rates for each form.

By tracking form submission and conversion metrics, you can find out which type of form is generating the most engagement. And if you're running a lead generation campaign, then tracking form conversions can show whether a campaign was successful or not.
7. eCommerce Conversions
Next, Google Analytics helps to track your online store's performance and shows insights to help grow your revenue. And with the ExactMetrics eCommerce addon, you can set up tracking within minutes and don't have to worry about editing the tracking code.
The plugin will help you see data like the conversion rate, number of transactions, revenue, and average order value in your dashboard. Plus, you can also find out your top product and see which item people buy the most.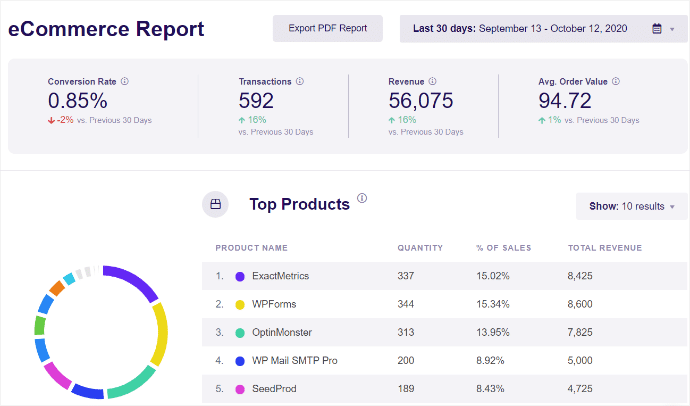 In the report, you'll find more important metrics such as total items add to carts, total removed from cart, time to purchase, and sessions to purchase.
Using this information, you can view your eCommerce store's performance at a glance and see which campaigns are getting results.
8. Site Speed
The last metric that every business should track is how fast their website loads. If your site takes a lot of time to load, it will result in a poor user experience, and people might hit the back button. This not only means you're losing potential customers, but it's also bad for your SEO.
That's because Google will now make site load speed as part of its ranking factor and use it to measure your website's user experience. It will look at the Core Web Vitals of your site, including the responsiveness of your website, its loading speed, and overall visual stability.
To find out how quickly your webpages load, you can use the ExactMetrics Site Speed report. It will show an overall score for desktop and mobile and other important metrics to help you measure your website's load time.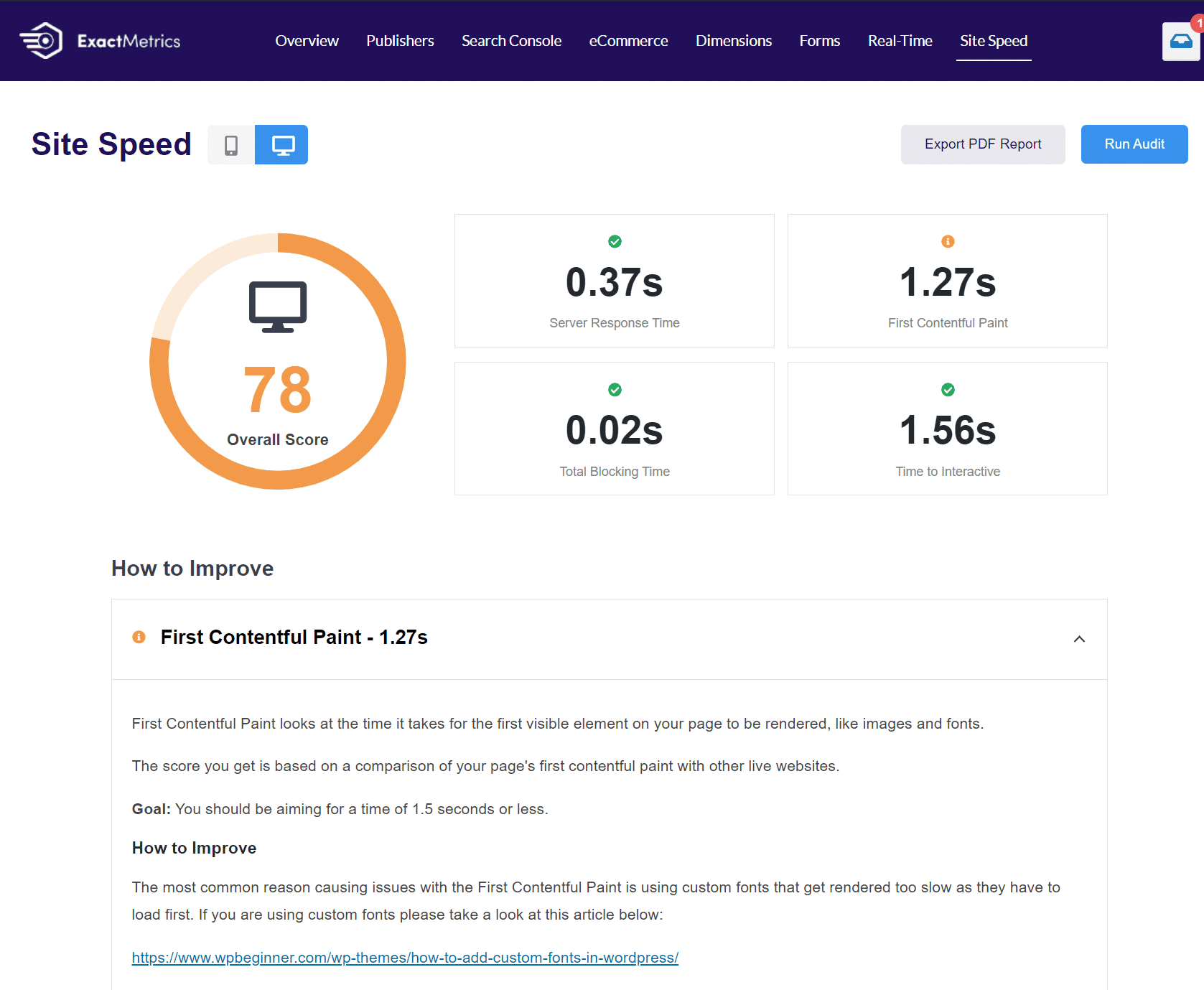 You can also find what each metric means, what goal you should aim for, and get suggestions on how to improve each metric. This way, you'll know the areas of improvement for your website and boost its speed to deliver an exceptional user experience.
That's it!
With these Google Analytics metrics, you'll have all the necessary data to take your website to the next level. You can create engaging content, focus on traffic sources to attract more visitors, improve user experience, and better understand your audience.
We hope you liked our article on Google Analytics metrics every business should track. You can also check out our guide on how to set up a stats dashboard in WordPress.
And don't forget to follow us on Twitter and Facebook to get to know the latest Google Analytics tutorials.