Do you want to track stats for YouTube videos embedded on your website? How about checking the number of visitors to your website from your YouTube channel? This guide to Google Analytics for YouTube will show you how to track video plays, referral traffic from YouTube, and other important metrics related to streaming video content.
Why pay attention to these numbers? If videos are an important part of your sales or marketing plans, you need to know exactly what's going on with your video engagement and traffic.
First, let's look at a few ways you can measure the impact of YouTube and your video content on your business and website traffic.
Embedded Video Stats
Do you have embedded YouTube videos on your WordPress site? Putting video content on your site is a great way to increase user engagement and the time people spend on your site.
Whether you use YouTube or some other video format, you need to be able to answer questions like these:
How many times do the videos on your website get played?
How far do viewers get, on average, before pausing or leaving a video?
What percentage of viewers watch the entire video?
This is the kind of data that helps you improve your content so that it's more engaging and appealing. If the average viewer only watches the first 20% of a video, why are most people stopping at that point? Maybe you can edit the video to fix whatever's making viewers bounce, and also avoid similar issues in future videos.
Fortunately, it's easy to get these detailed statistics on embedded videos by connecting Google Analytics to your site. Keep reading and find out how!
Referral Traffic From YouTube
YouTube has been called the 2nd most popular search engine after Google, because so many people go there to find information they need. While that claim may not be true, it's true that you need to treat YouTube like a search engine for your video content.
When you publish videos on your YouTube channel, you should be optimizing those videos with relevant keywords and links in the video description. You could link back to your homepage, or to a landing page that is targeted toward the viewers of your video.
Many YouTube descriptions include a link to a landing page with an opt-in form. That's a great way to add new subscribers to your blog or newsletter list. And, you can track those form conversions if your YouTube account links to an opt-in form.
In any case, it's important to track referral traffic from your YouTube account. If these visitors have already engaged with your video content, they've expressed an interest in you and could turn into valuable customers and fans.
Outbound Links
Another traffic stat you might want to check is the number of visitors that go from your website to your YouTube channel by clicking outbound links.
This can tell you how well you're promoting your YouTube channel on your website. Do you have links in the right places, where users are most likely to see and click on them? Are you showing video watchers links to other related content on your YouTube channel?
Tracking the links that users click as they navigate your site can help you see how traffic flows, and how to make changes to optimize user experience.
Now, let's look at the easiest way to set up tracking for YouTube video content with Google Analytics on your WordPress site.
How to Set Up Google Analytics for YouTube
You can find all of the video and traffic stats we mentioned above in various reports in Google Analytics. However, the best way to get all that data in one place in your WordPress dashboard is to use a plugin like ExactMetrics.
ExactMetrics is the best premium Google Analytics plugin for WordPress. It gives you access to all the numbers that matter for sales, marketing, and improving user experience on your site.
It also gives you embedded YouTube video stats at a glance, right in WordPress. Just follow these simple steps to set up ExactMetrics and connect Google Analytics:
Step 1. Install ExactMetrics on Your WordPress Site
First, you'll need to sign up for an ExactMetrics Plus or higher license to use the Media addon.
Next, go to your account area and download the ExactMetrics plugin. It will download as a ZIP file onto your computer.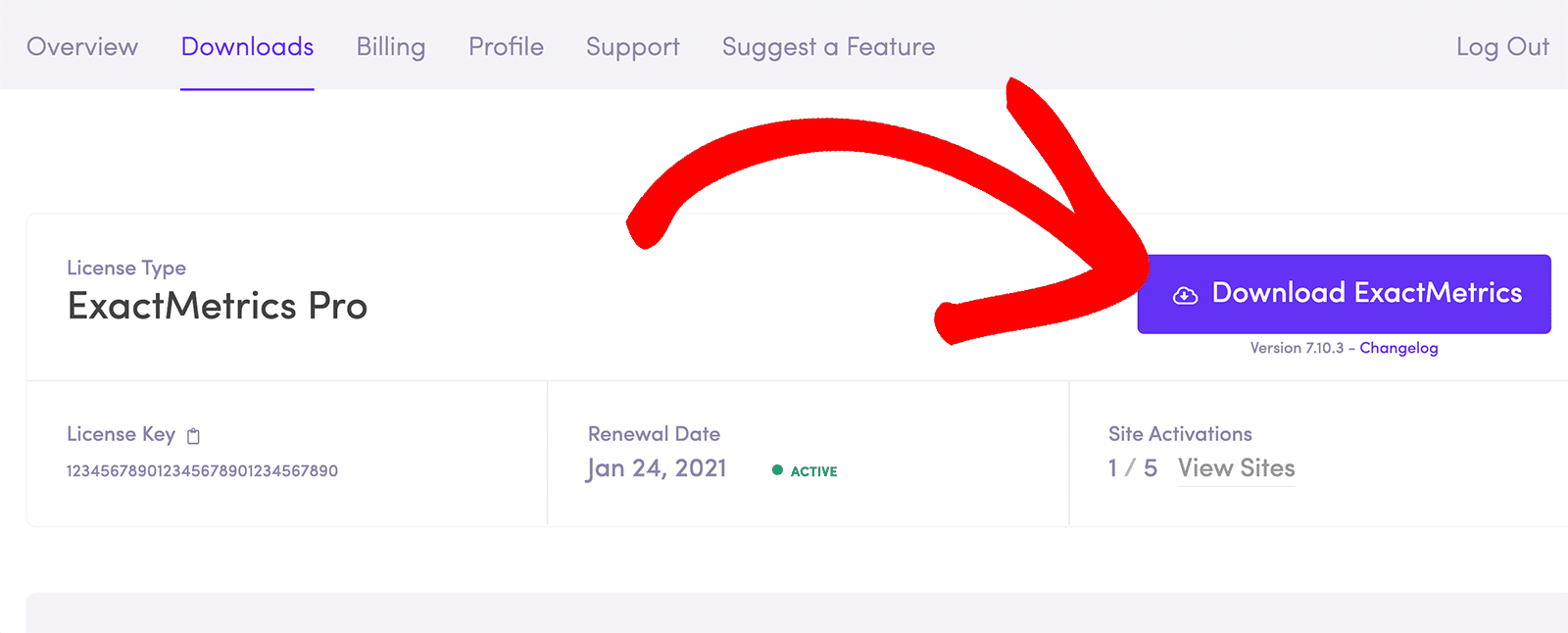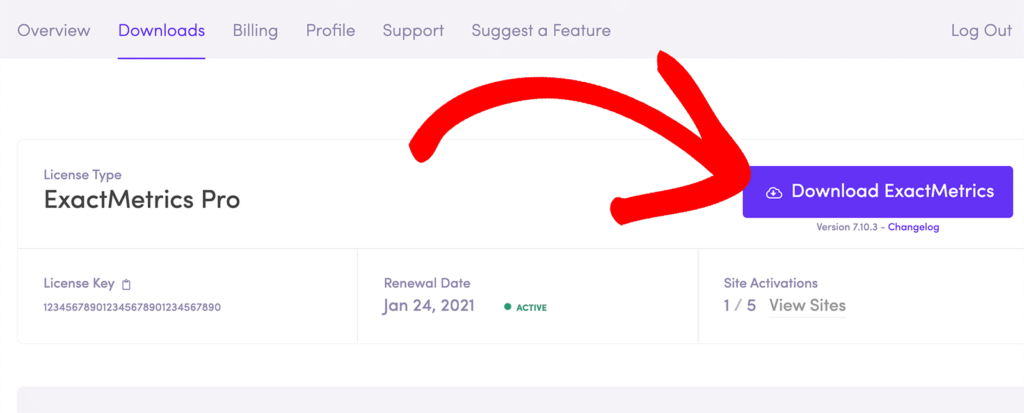 After that, upload the ZIP file to your website by going to Plugins » Add New in the WordPress dashboard.

Click Upload Plugin on the next screen and select the plugin file you downloaded. Once the upload completes, click Install.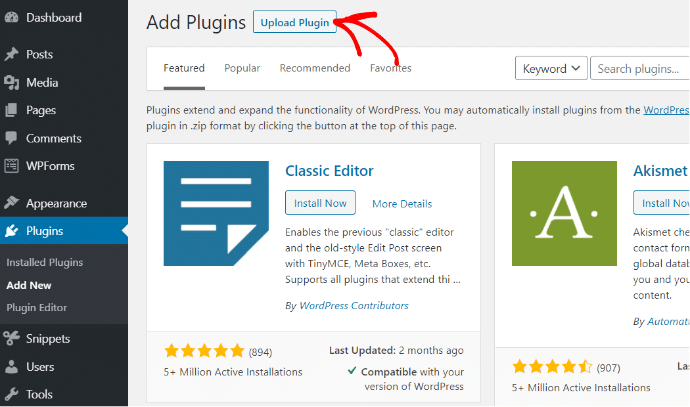 When that process finishes, activate ExactMetrics by clicking the Activate Plugin button.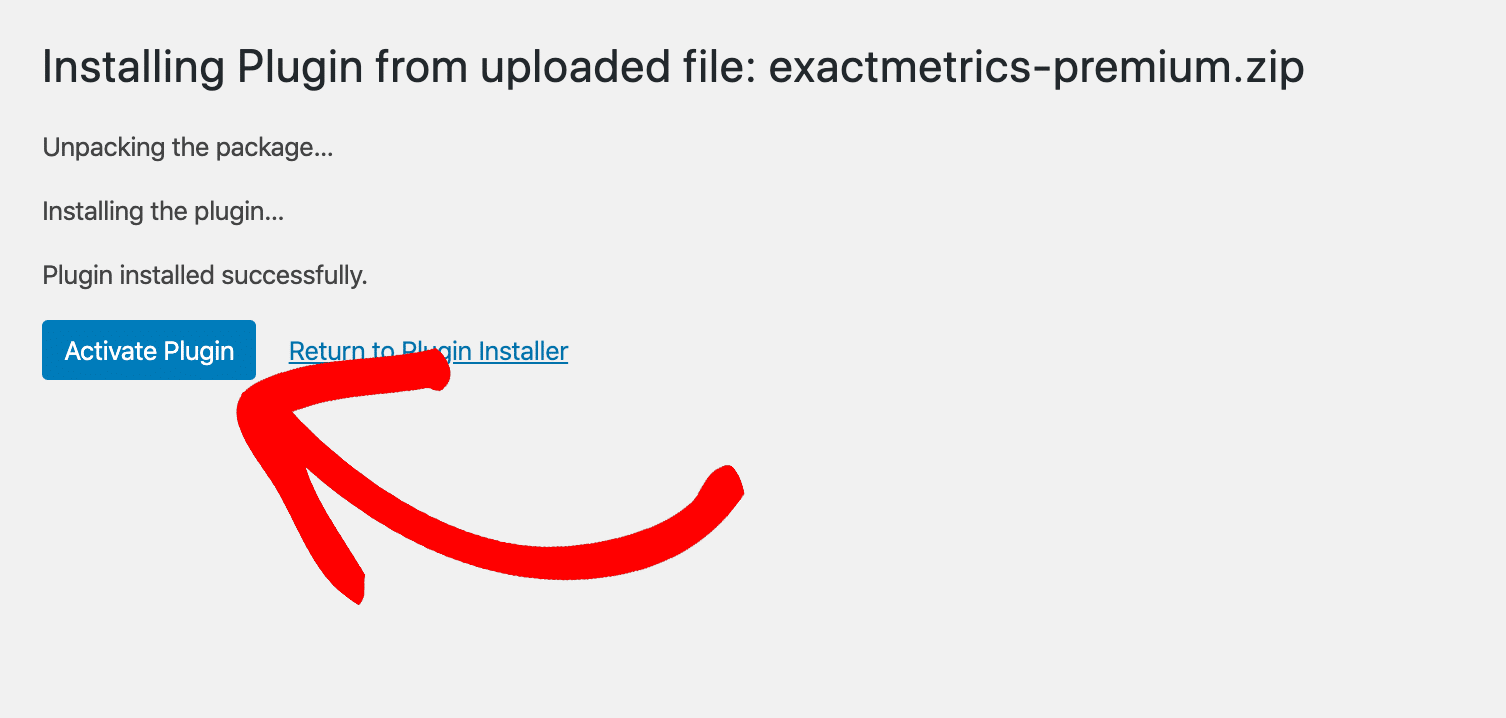 That's it! Now that ExactMetrics is active on your site, you'll need to connect to a Google Analytics property. Just follow the ExactMetrics Setup Wizard, and the plugin will guide you through adding the Google Analytics tracking code to your website.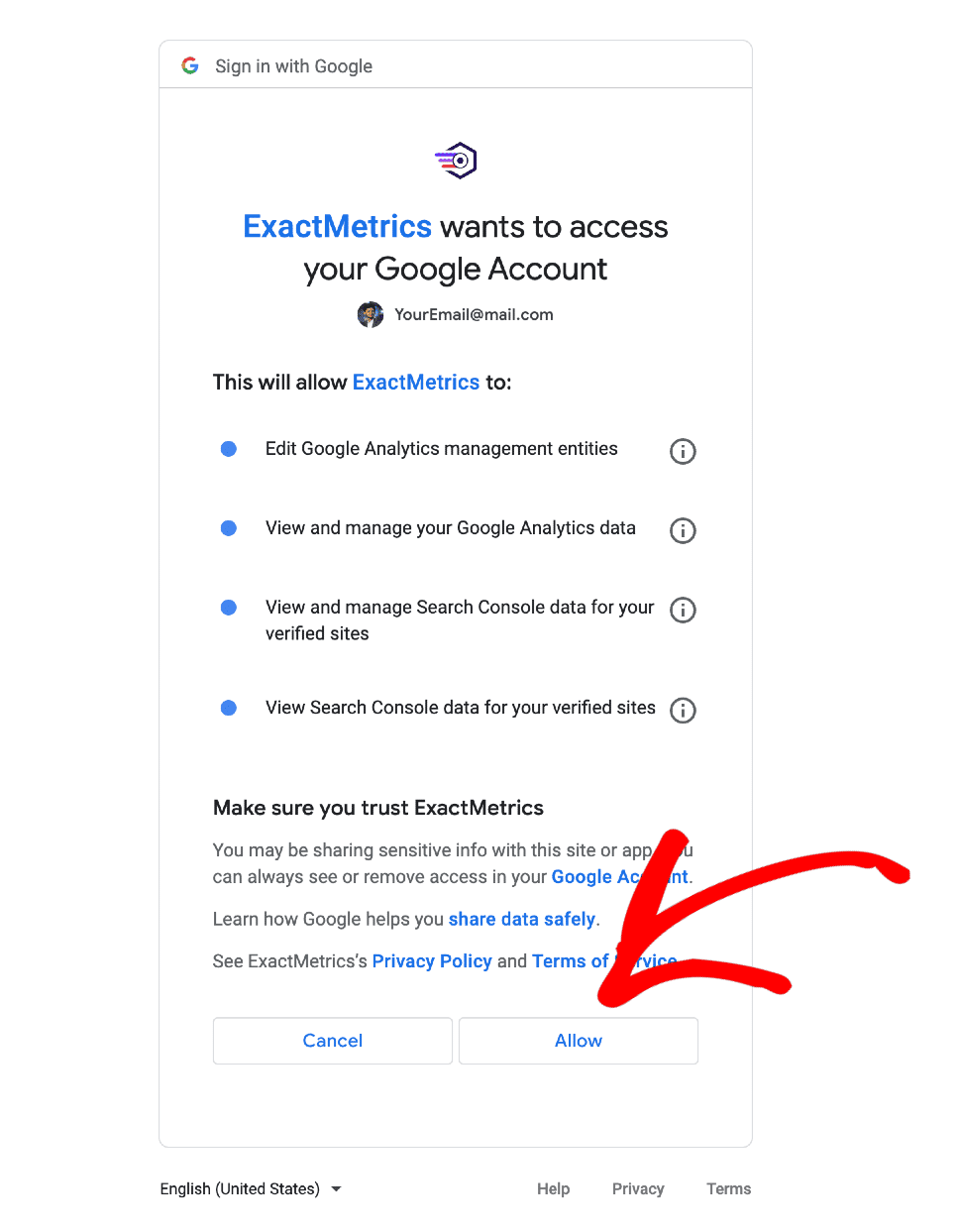 Don't worry, it only takes a few clicks and there's no coding or programming.
For more details on setting up ExactMetrics, follow this guide: How to Add Google Analytics to Your WordPress Site.
Step 2. Install the Media Addon and Enable YouTube Tracking
After you finish the setup wizard, it's easy to enable ExactMetrics' advanced media tracking abilities. Log in to your website and go to ExactMetrics » Addons in the dashboard.
Scroll down to the Media tile and click Install.
Note: If you used the Setup Wizard to configure ExactMetrics, you may have already installed and activated this addon. If so, skip this step!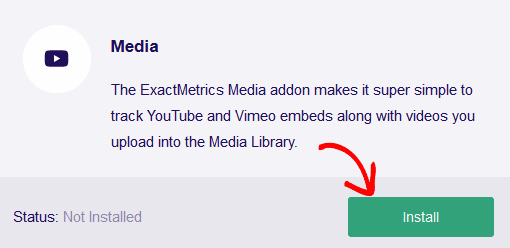 Now, the Media addon will install and activate itself. You're ready to move on to the next step.
Step 3. View Video Engagement Report in WordPress
You may have to wait a day or more after installing ExactMetrics before it collects enough data on videos to see it in your report.
At that point, all you need to do is log in to WordPress and go to the ExactMetrics » Reports screen. Then click the Media tab.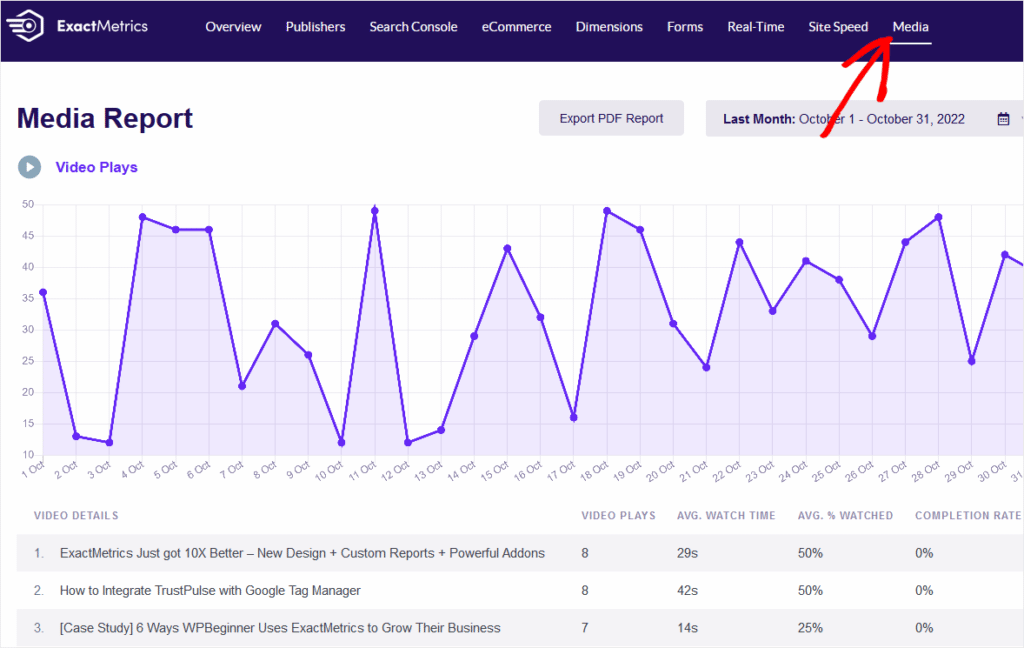 Here's where you'll see the user engagement metrics we discussed earlier. You'll see a graph of daily video plays so you can track day-to-day viewing patterns.
You also get a table with detailed stats on each of your embedded videos for the selected time period:
Number of plays
Average viewing time
Average percentage watched
Completion rate (percentage who watched the entire video)
Once you start gathering this information, you'll find all sorts of ways to use it to improve your content and video marketing.
Okay, we also mentioned referral traffic from your YouTube channel, and outbound links from your website to YouTube. How do you see those in ExactMetrics?
How to View YouTube Referral Traffic and Outbound Links
To find out how much referral traffic your site is receiving from YouTube, click ExactMetrics » Reports. Under the Overview tab, scroll down to find the Top 10 Referrals table.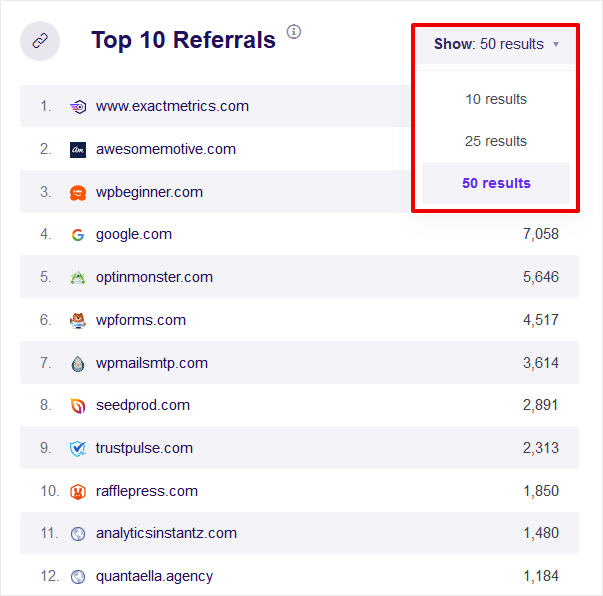 This shows you the top sources of traffic to your site from other websites, with number of sessions in the right column. You can expand the list to display the top 50 traffic sources by using the drop-down box at the top right.
If YouTube isn't in the top 50, click the View All Referral Sources link to go to a report that shows all your referral traffic sources.
Now, let's go on to checking the outbound link traffic on our site.
Click the Publishers tab in ExactMetrics' Reports screen. Now, you can scroll down and see the Top Outbound Links table: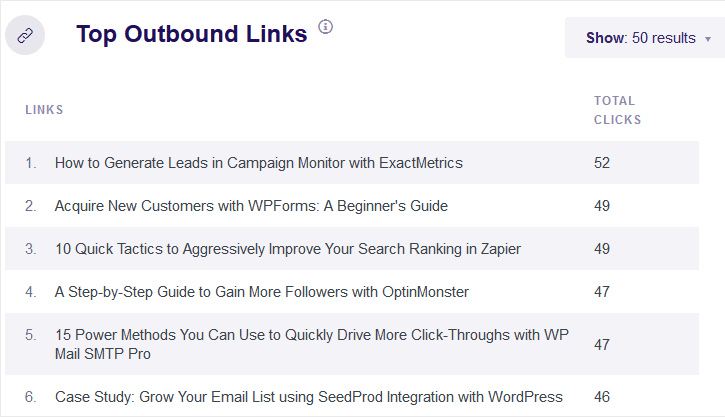 Like the referral traffic table, the list expands to show the top 50. Click on View All Outbound Links Report to see a full report with all your outbound link traffic.
Okay, that's all it takes to set up tracking for your YouTube videos with Google Analytics and ExactMetrics.
We hope these advanced stats help you with making better video content and getting more traffic and new users from YouTube.
Are you ready for detailed video statistics in your WordPress dashboard, plus much more? Get started with ExactMetrics now!
If you liked this article, you might want to check out this list of other critical Google Analytics metrics every business should track.
And don't forget to follow us on Twitter and Facebook to see all the latest Google Analytics tutorials!