WordPress is an awesome platform for building an SEO friendly website that drives business. Having a WordPress website is the first step, and the second is reading about and taking advantage of WordPress SEO tips that'll help you grow.
So, you're in the right place! In this article, we'll go over our top WordPress SEO tips and tricks that are going to give your website the advantage over your less-optimized competitors.
Getting Started with WordPress SEO
WordPress is an incredibly SEO friendly website platform. It creates a site with just the right structure and ability to be optimized.
However, that doesn't mean that you can create your website and just leave it at that. The only way it's SEO friendly is if you take the time to set up your SEO!
One of the best aspects of WordPress is all of the available plugins. You can make a basic WordPress website, then use plugins to really make it unique and exactly what you need it to be. A plugin can turn it into a store, a membership site, or just about anything you can think of. And when it comes to SEO, the plugin you pick can really take your site from unoptimized to SEO friendly and ready to take your search rankings to new heights.
The WordPress SEO plugin that we recommend is the All in One SEO plugin.
It really is "all in one" with tons of SEO features for whatever type of website you run. Some of those features are:
Rich snippets schema
TruSEO on-page analysis
WooCommerce SEO
Local SEO
Social media integration
Go ahead and get started with AIOSEO now!
PS: If you need to try it out before buying the pro version, you can grab the free version and start there.
10 WordPress SEO Tips to Do Now
Here's our list of the best WordPress search engine optimization tips to start with right away. The full list can get a little overwhelming if you try to tackle it all at once, so go ahead and bookmark this article and come back to try just a few tips at a time.
1. Find Reliable Hosting
Before we even get to the actions you can take on your website to key in your SEO strategy, let's talk about your hosting.
If your site goes down sometimes, even for a short time, that can negatively affect your SEO. A slow website, too, definitely affects your SEO. Google takes into account how fast your website is when they're creating those search engine results, so if your website is slow, that could push you down the list.
So, choose a reliable host with a speedy website as one of their features. Here at ExactMetrics, the hosts we recommend the most are Bluehost, Siteground, and WP Engine.
2. Don't Hide from Google
Makes sense that you wouldn't want to hide from Google, right? There's a checkbox in WordPress that's awesome to use when you're just setting up your website (or have a site that you don't want found in search), but when you want to rock your SEO, it needs to be unchecked! It's something that's so easy to overlook, but so vital to getting listed.
Find this magical checkbox in your WordPress dashboard under Settings » Reading » Search engine visibility. Make sure this box is unchecked!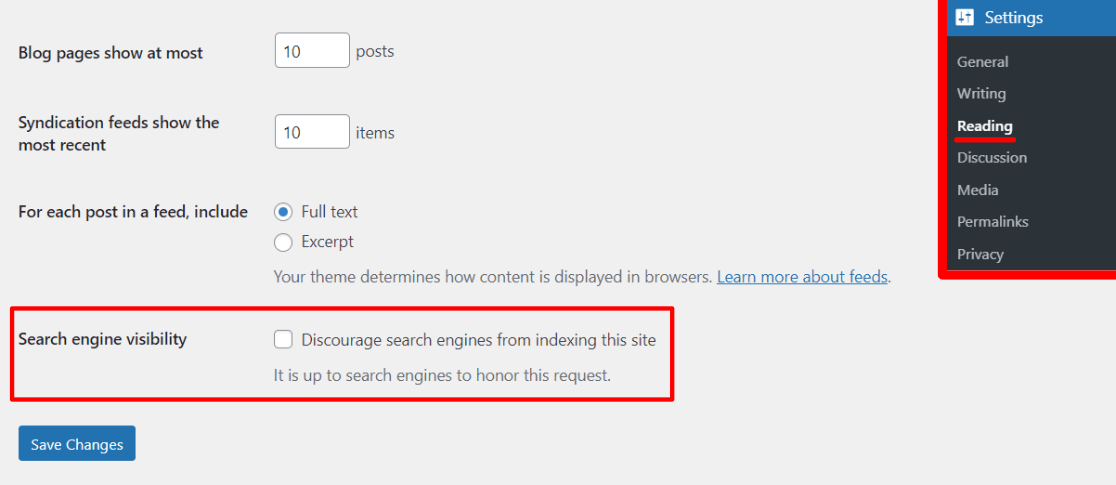 3. Set Your Preferred Domain
Did you know that your website can be live at both www.yoursite.com and yoursite.com? Yep, and Google considers those to be different sites! As you can imagine, that's not a great situation for your SEO.
To avoid this, you can set your preferred domain within WordPress. Navigate to Settings » General to find the WordPress Address (URL) and Site Address (URL) boxes. In most cases, you want these to be the same.

4. Choose SEO-Friendly Permalinks
A permalink is the "permanent link" where your content lives. You want your content's URL to be descriptive and contain keywords. So, instead of something like yoursite.com/?p=14, you want yoursite.com/blog-post-title-here.
To change your Permalink settings, head to Settings » Permalinks.
NOTE: If your website is already live and indexed in Google, changing your permalinks will result in broken links. Please be careful with this setting!
The ideal permalink setting in WordPress is the Post name option. It'll be the most descriptive and keyword-rich. Having the date in the URL is okay, but not ideal. It dates your content and adds unnecessary characters to the URL.

5. Create an XML Sitemap
Think of a sitemap as a red carpet to Google's crawler bots. You're giving those bots a whole tour of your website, pointing out the way to all your pages. This helps those crawlers navigate your site and find and index all of your content, including pages, posts, images, and more.
The easiest way to create a sitemap is with a plugin like All in One SEO. Just head to their Sitemap settings, choose what you want on yours, and it'll create one for you!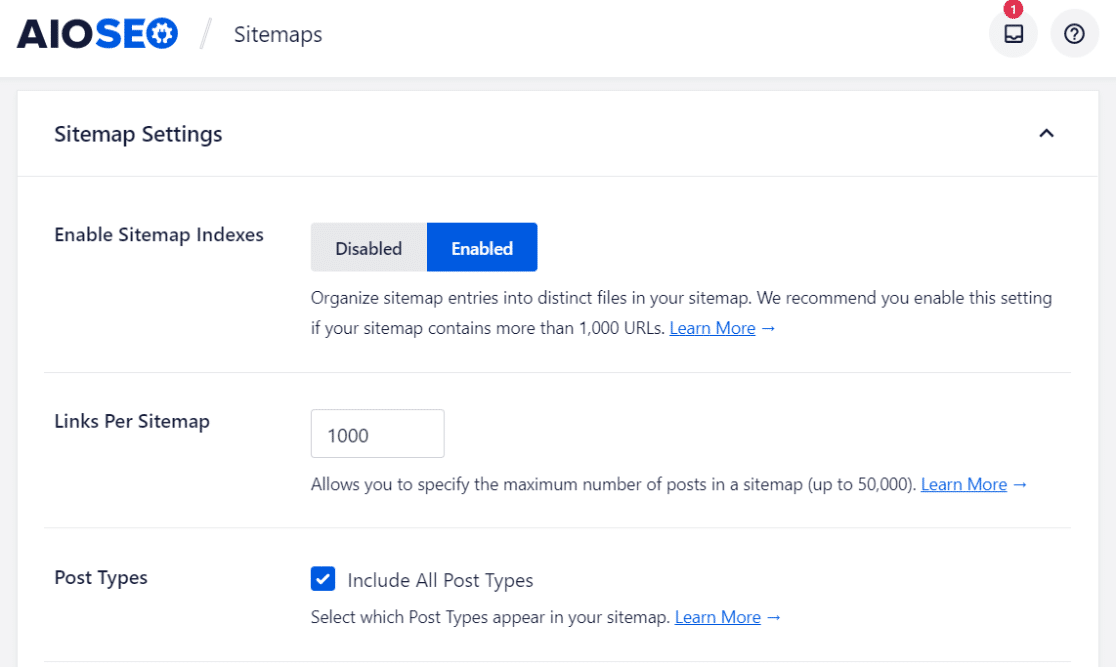 6. Perform Keyword Research
If you want your target audience to visit your site, you need to first know what kinds of terms they're searching. You probably have some good guesses, but guessing isn't the best way to go about optimizing your site.
To find out what your audience is searching, you can use a keyword research tool. There are a lot of them out there! You can pay for some pretty amazing ones, but free tools will work, too. We suggest SEMRush, Ahrefs, Ubersuggest, and Answer the Public.
First, you'll want to research your top keywords overall for your site. For instance, at ExactMetrics, we're a Google Analytics plugin for WordPress. So, our best keywords are variations of that phrase.
Then, you can move out from there to find supporting topics and ideas, maybe around different features or services.
For more help with keyword research, read How to Do Keyword Research for Your WordPress Blog over at WPBeginner.
7. Optimize Titles and Meta Descriptions
Having an optimized, keyword-rich title and meta description for each post and page is the first big step to optimizing your site. After all, these are like an ad for your content in search!
See how ExactMetrics appears for this search query:

You can see our URL, our title, and meta description in the Google result. Google often changes your meta description in their search results to match the searcher's query, but you still want to make sure those are optimized. Let's take a look at our All in One SEO title and meta description settings on that page: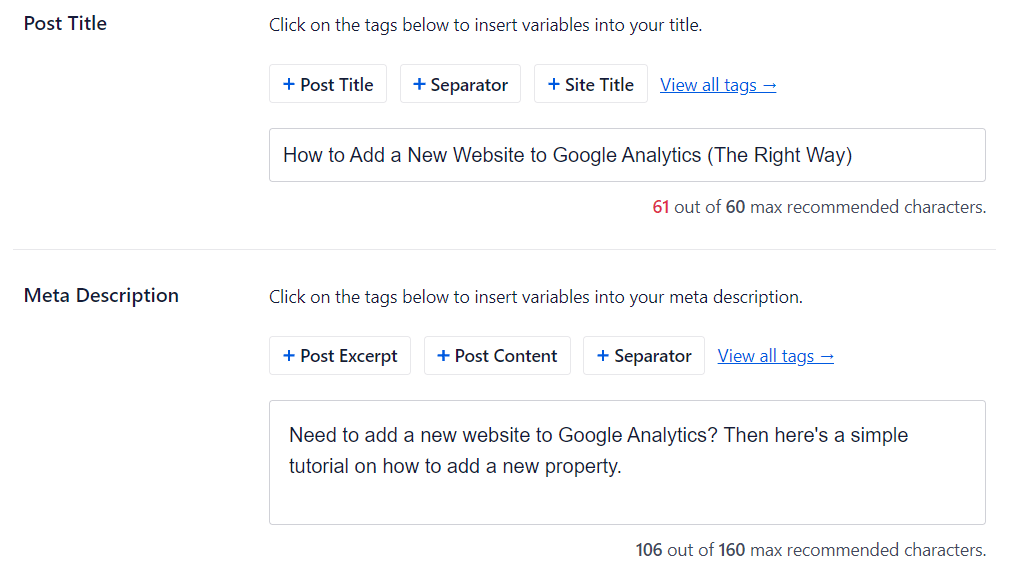 If possible, you want to perform keyword research for every page or piece of content on your site, then update the title and meta description accordingly.
8. Focus Your Content
Every piece of content your create should be focused on one idea. Use keyword research to find the best keyword phrases to target for that idea, and choose one as your main keyword.
Then, let your SEO plugin help you optimize!
For example, for this article that you're reading right now, our focus keyphrase is "WordPress SEO Tips." When we enter that phrase into All in One SEO, it reviews our whole article to check for opportunities for us to optimize it better.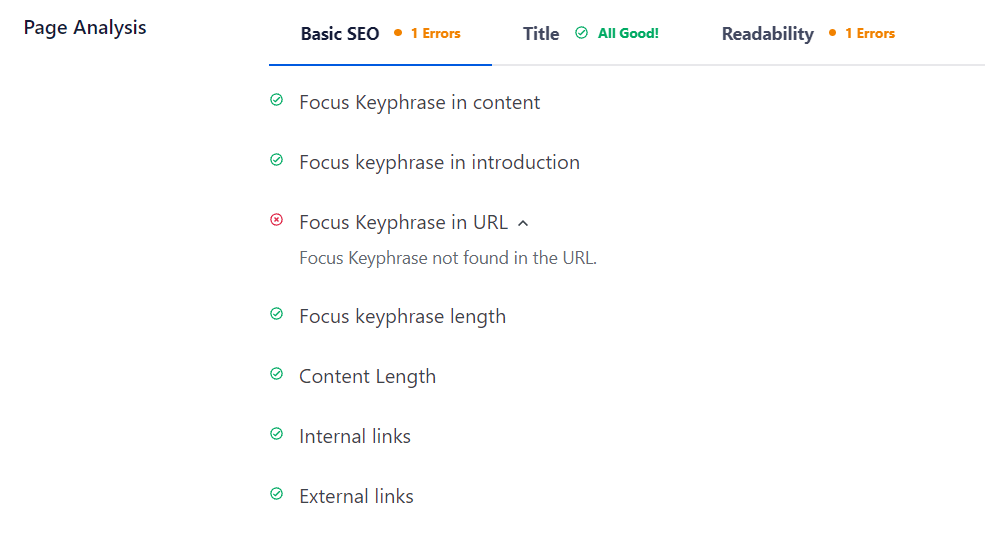 Use this feature to your advantage by really working on optimizing each piece of content on your site. This is a huge part of SEO and one of our most important WordPress SEO tips!
9. Use Links Wisely
Links are important parts of any content, and they can definitely help your SEO. There are three types of links that you need to know about for SEO:
Internal links are links within your content that link to other pages on your own site. For example, since you're reading this article, you might be interested in this one, too: 10 Best SEO Plugins for WordPress for 2021 (Tried and Tested). That's an internal link that leads from this article to the one linked. Internal links are not only a great way to lead your users to other great content, but they also help Google crawl your site.
External links are links that go to websites outside of your own. So, when we link to our friends at All in One SEO, that's an external link. These are okay for SEO, but try not to overuse them. After all, you want visitors to stay on your site, not go somewhere else! If you do use external links, make sure they open in a new window.
Backlinks are links to your site from another site. So when we linked to All in One SEO, we gave them a backlink. Backlinks are must-haves for SEO! They're like a vote for your website that Google takes into consideration when ranking your content. Learn more about backlinks over at WPBeginner.
10. Optimize Your Images
Your images can contribute to your site's overall SEO health. If you optimize them correctly, they can actually help you rank!
The four things every image uploaded to WordPress should have are:
A short but descriptive file name. Not random letters and numbers. Example: swirly-lollipop.jpg vs. n19305.jpg.
A file size that's not far beyond what it needs to be. Need a 600 pixel wide image for your article? Don't upload one that's 3600. Big file sizes will slow down your website!
Descriptive alternative text. Alternative text is what a screen reader will read off for a visually impaired visitor to your website, so make sure the text tells what's in the picture. You can use keywords here if they make sense.
A short title. Keep it simple but also use a keyword if it works here.
For more on optimizing your images, read Beginner's Guide to Image SEO – Optimize Images for Search Engines.
That's it! Those are the basics for how to SEO optimize your WordPress site. Now, take things a step further by reading How to Use Google Analytics for SEO (10 Effective Ways).
Don't forget to follow us on Twitter and Facebook to see all the latest Google Analytics tutorials.