Do you want to make a WordPress sitemap for your website? Creating and submitting a sitemap is a critical step for search engine optimization (SEO) on your website.
A sitemap helps search engines like Google and Bing discover what's on your website. It's essentially a list of your webpages and addresses, with some additional information added like when the page was last updated and how frequently the page is revised.
What Is an XML Sitemap?
An XML sitemap is a map for search bots that tells them which pages on your website they should crawl, and how often they should check pages for new content. Sitemaps for search engines are created using XML, or eXtensible Markup Language, which is a standard computer language that defines and stores in a shareable manner.
Luckily, you don't need to know how that all works to make a WordPress sitemap. All you really need to know is that XML is the preferred format for sitemaps. Even with no programming knowledge or expert technical skills, it's very easy to create a sitemap in WordPress.
We'll use an easy tool to automatically create a sitemap and generate the XML.
Which is the Best XML Sitemap Plugin?
You can find a number of tools and plugins that allow you to make a sitemap. In this tutorial, we'll be using the best tool for WordPress. All in One SEO (AIOSEO) is the best XML sitemap plugin for easily generating a sitemap, submitting it to search engines, and improving your search rankings.
As the best search engine optimization plugin (SEO) for WordPress. It includes everything you need to optimize your WordPress site, whether you're a beginner or an SEO pro.
AIOSEO offers Smart XML Sitemaps that are automatically generated and submitted to Google and Bing, the two largest search engines. The plugin can also create HTML and RSS sitemaps, if you happen to need those formats.
In addition to all that, AIOSEO makes separate sitemaps for news and video content, so they can be displayed the right way in search results.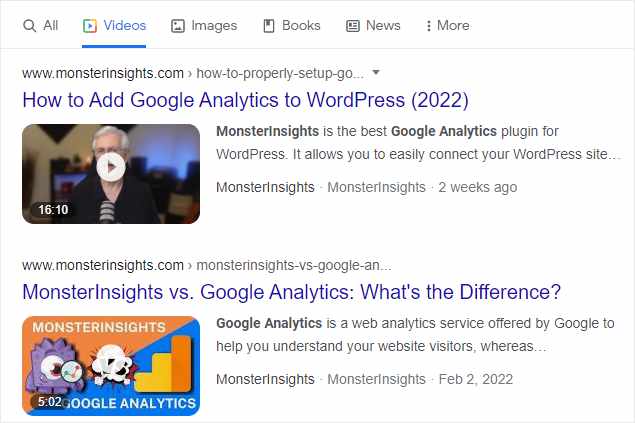 AIOSEO's sitemap generator dynamically updates sitemaps as you make changes to your site, and keeps search crawlers informed of new content and other revisions.
It can also help you remove content that isn't indexed, prioritize higher-converting content, and make sure that eCommerce products are properly indexed and tagged so they can show up in search results.
Plus, All in One SEO makes optimizing your site simple with its user-friendly tools. It helps you manage SEO for both your entire site and individual web pages with features like:
Full website SEO Audit with clear, easy steps to optimize
On-page SEO analysis with TruSEO score and detailed checklist for every post and page
Dedicated tools for Local SEO and WooCommerce SEO
Ready to learn the best and easiest way of making a WordPress sitemap? Let's dive in.
How to Make a Sitemap for WordPress
Sitemaps are one of the basic elements you need to ensure your site and its content are visible on search engines. A good sitemap helps you improve your search rankings, which leads to more site traffic and new visitors. Just follow these 3 easy steps to learn how to make a sitemap for WordPress.
Step 1: Install All in One SEO Plugin
The first thing you must do is get the AIOSEO plugin. If you want the advanced News and Video Sitemap generators, make sure and get the Pro plan or above.
Alternatively, you can also use the free version of AIOSEO to make your sitemap. If you need help installing the Lite version, check out this tutorial.
After you purchase your AIOSEO license, go to the My Account page. Click the Download AIOSEO button to save the plugin on your computer as a ZIP file.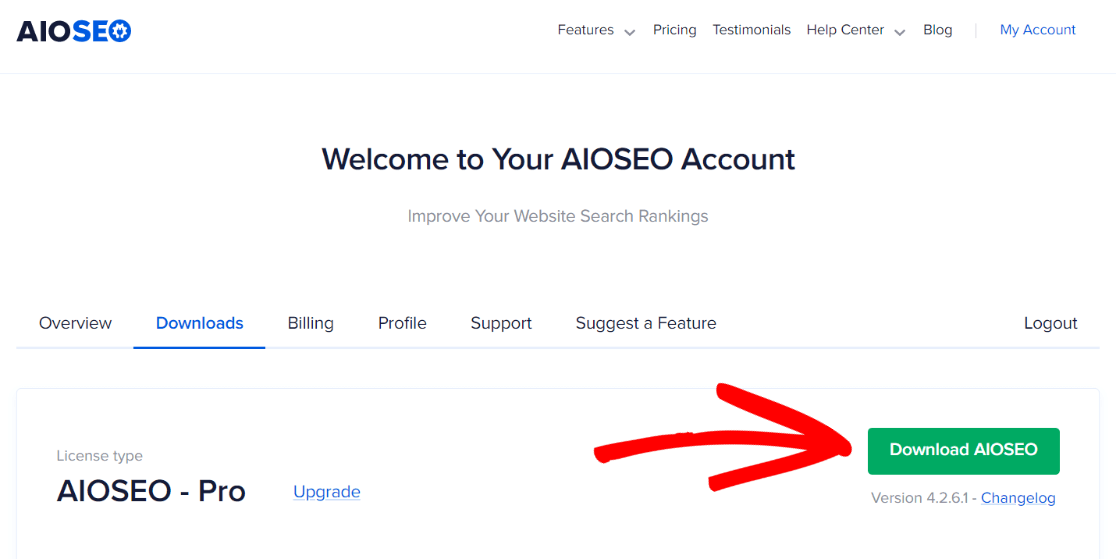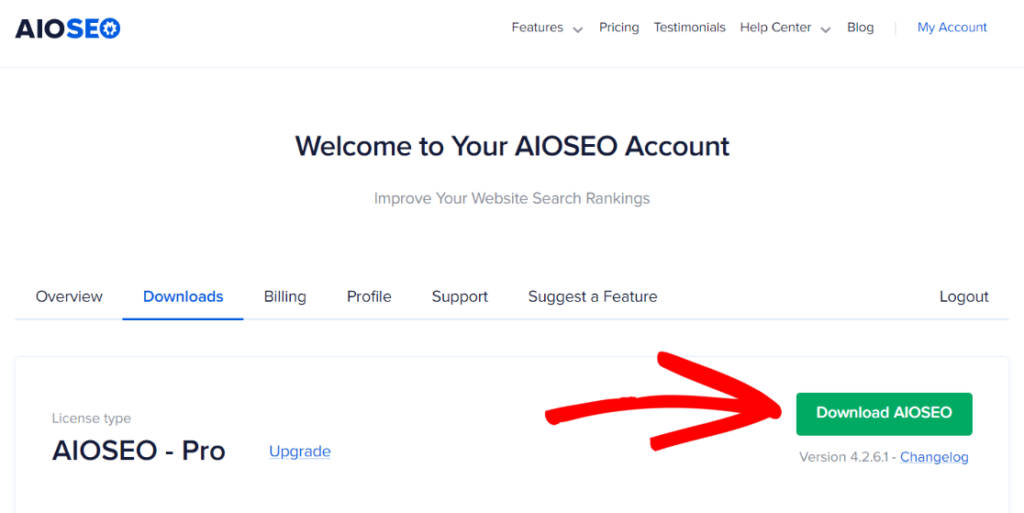 Now, while you're still on the My Account page, go ahead and copy the license key that's just below the download button.
At this point, you'll need to log into WordPress to finish your installation. Open up the WordPress dashboard and click Plugins » Add New.

Click the Upload Plugin button on that screen, then browse and find the file you just downloaded from AIOSEO.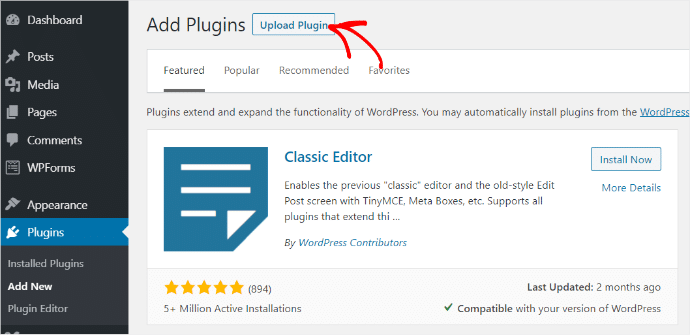 Now, click Install Now to finish the installation, then Activate Plugin to enable the plugin to work on your site.

That's it, your AIOSEO plugin is activated and ready to optimize your site!
Before we move on though, let's go ahead and install the Video and News extensions. That way, if you have content that you want to be optimized for video or news search results, you can make those sitemaps, too.
How Do I Add News and Video Sitemaps?
To enable sitemaps for news and videos, simply go to the WordPress dashboard menu and click All in One SEO  » Feature Manager. On this screen, find the tiles named Video Sitemap and News Sitemap.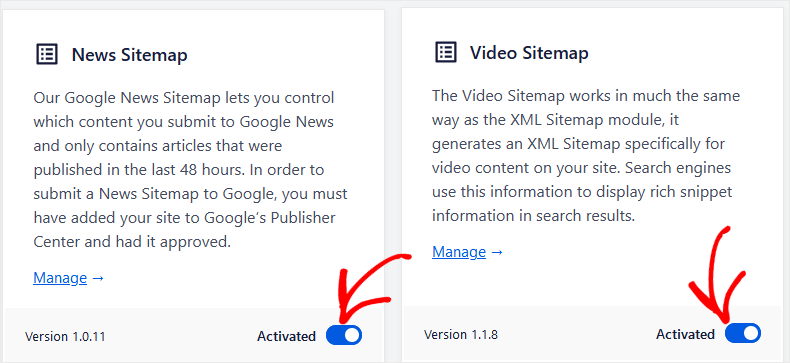 Here, you'll just flip the switches to Activated, and you're all done!
Just be aware that you'll need to complete a few extra steps if you want news content to display in Google News.
Step 2: Enable WordPress Sitemap Generator
All right, now you've installed and activated the AIOSEO plugin and optional extensions for video and news sitemaps. Let's move on and look at our sitemaps in AIOSEO. It generates them automatically, so we're almost finished already.
Go to All in One SEO » Sitemaps. You'll see the Sitemaps settings page with 5 tabs: General Sitemap, Video Sitemap, News Sitemap, HTML Sitemap, and RSS Sitemap.

Let's start with the general sitemap. This is your main XML sitemap that shows search engines all the pages and posts published on your WordPress site.
In the General Sitemap tab, you'll see a switch labeled Enable Sitemap. This switch should be turned "On" by default. If it's not, click to turn it on now.

If you click on the Open Sitemap button, you'll open a new tab that shows your Sitemap Index. For WordPress sites, this should show at least two separate entries, one for a posts sitemap and one for a pages sitemap.


Now, to see what an actual sitemap looks like, click the /…/post-sitemap.xml link. Here's a look at MonsterInsights' XML sitemap for our blog posts.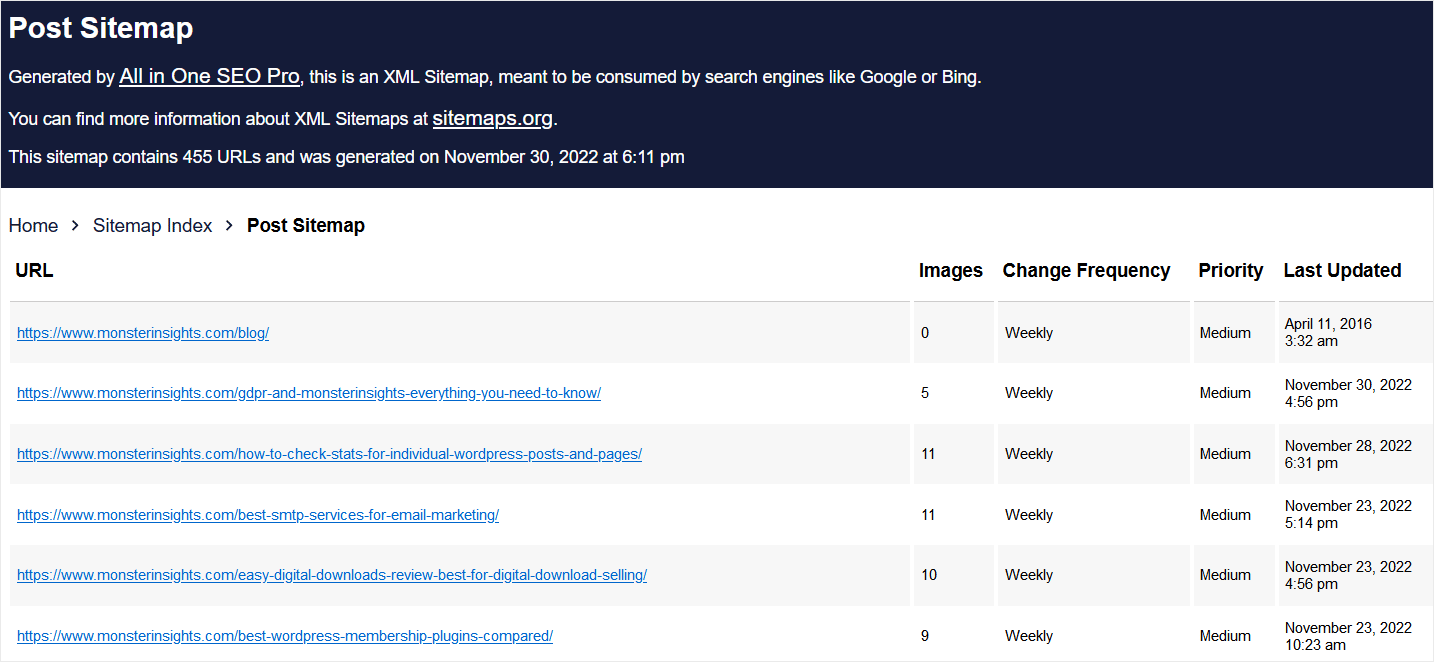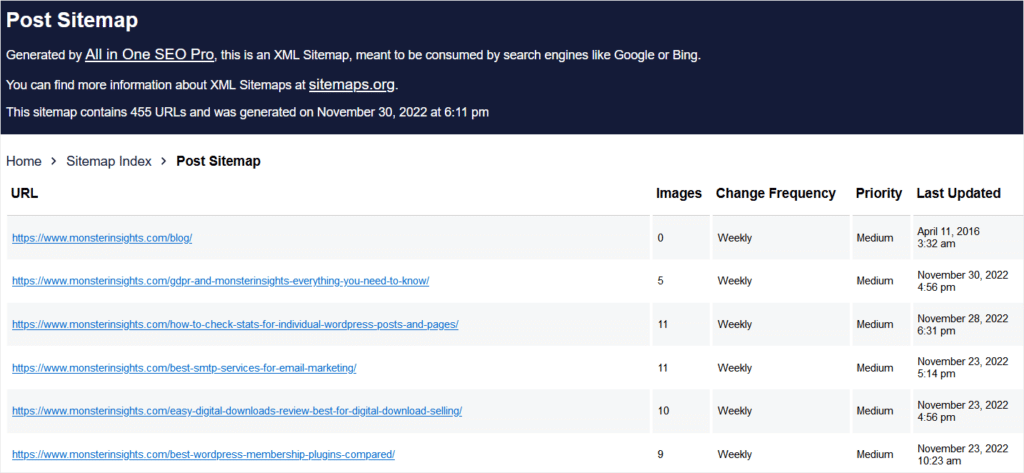 As you can see, the sitemap shows search crawlers how many images are on each post, how frequently the content is generally updated, the crawling priority, and the date the post was last updated.
Okay, that's all there is to creating and enabling your XML sitemap for WordPress. Now, search crawlers from Google and Bing will use your sitemap to navigate your content the way you want them to. And, the sitemap will be updated every time you add or revise your web content, with zero effort on your part.
Step 3: Confirm Sitemap Submission to Search Engines
When search bots crawl your website, they look for XML sitemaps by default. So, Google and the other search engines will easily find the XML sitemaps you generate with AIOSEO.
However, you can also manually submit your sitemap to Google, Bing, Yandex, and other search engines. It likely won't make a big difference, but in some cases you may want to try and speed up the process of crawling and indexing your content.
Let's use Google as an example. To submit a sitemap to Google manually, you'll need a Google Search Console account with your website added as a property.
So, go ahead and log into Search Console now. In the left sidebar, click the Sitemaps menu item.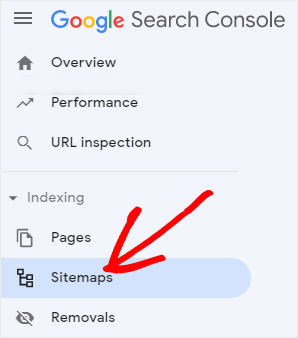 On the next screen, you'll just enter the URL of your website's sitemap.
How Do I Find My Sitemap URL?
Usually, this is your main domain followed by /sitemap.xml. This XML file contains all your other sitemaps for WordPress posts and pages.

Click Submit and you're done!
Submitting your sitemap manually doesn't guarantee that Google will crawl your content any faster. But, at least you'll know that they have the latest update.
After you've submitted your sitemaps, you'll see whether they were successfully accepted in a list below the Add a new sitemap box.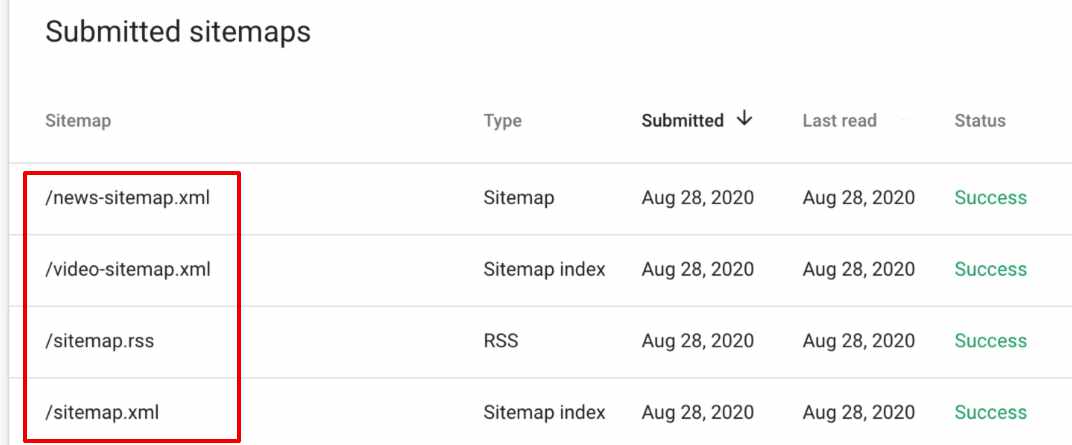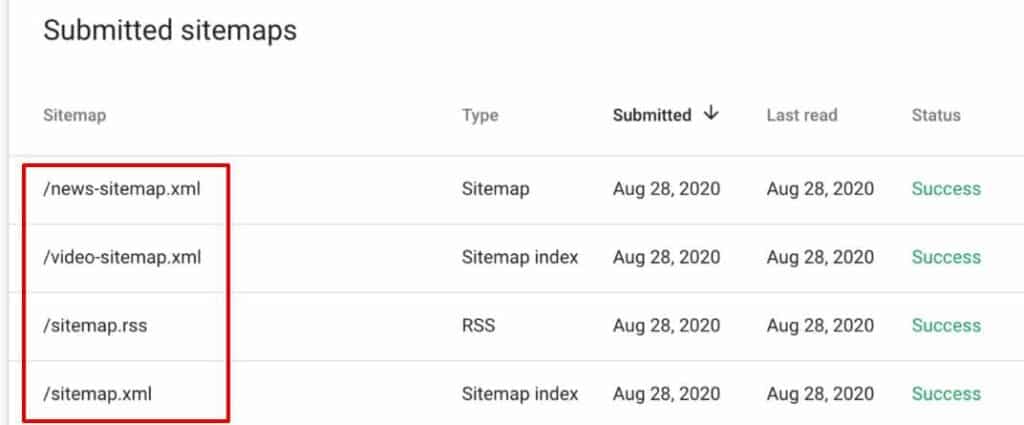 Here, you should confirm that your submitted sitemaps' statuses show as "Success." That means Google will use this information the next time it crawls your site to analyze your content, whenever that may be.
That's all for our tutorial on how to make a sitemap in WordPress. Hopefully, you learned something new about SEO, search engines, and how you can manage search engine indexing by using a WordPress sitemap.
If you liked this article, you might want to also read this post on how to connect Search Console to Google Analytics and WordPress.
And please follow us on Twitter and Facebook to get the latest tips and tutorials on Google Analytics and WordPress.