Are you looking for the best SEO plugins for WordPress to boost your site's search engine optimization (SEO) and increase your organic traffic?
Optimizing your site for search engines is important for growing your business. By targeting different keywords and ranking higher in search results, you can attract more traffic to your site.
But with so many SEO plugins and tools available for WordPress, it can be hard to pick the right one for your business.
So, in this article, we'll show you some of the best SEO plugins for WordPress. You can even use some of these tools together to streamline your SEO strategy.
Awesome SEO Plugins for WordPress
All in One SEO is the best SEO plugin for WordPress. It offers a wide range of features that you can use to improve your website's rankings. You can create XML sitemaps, image sitemaps, add meta titles and descriptions to your posts and pages, and much more.
Other advanced features you get in All in One SEO is the ability to redirect pages, set up schema, easily build internal links, and set up advanced canonical URLs.
Another thing that makes this the best WordPress SEO plugin is that it supports eCommerce plugins like WooCommerce right out of the box. You can easily integrate it into your online store and optimize it for search engines.
Get started with All in One SEO today!
ExactMetrics is one of the best SEO plugins for WordPress because it lets you connect your Google Analytics account with Google Search Console, track your focus keywords and SEO scores from All in One SEO or Yoast, watch analytics to see if optimization efforts pay off, and more.
Using the Google Search Console report, you can see the keyword rankings for your website and where your visitors are coming from. Not only that, but you can see the number of clicks each keyword gets, its total impressions, and click-through rate (CTR).
With the help of this data, you can improve your keyword rankings, find new search terms to target and optimize on your site, and uncover new content topics. It also helps you improve rankings of keywords that are close to the first page and with a little push, they can reach the top 10 search results.
Get started with ExactMetrics today!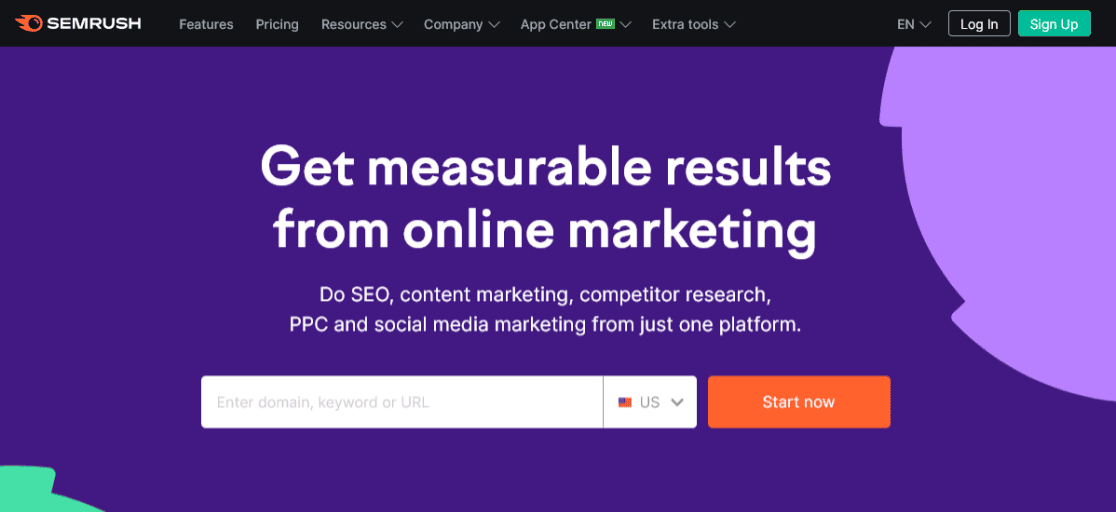 Semrush is a complete SEO tool that's used by many professional SEO experts, marketers, and business owners. You can perform detailed keyword research, check which sites are ranking on a search term, identify the search intent, and much more.
Semrush is excellent for competitor research as well. Just enter a URL and the tool will show you which keywords your competitor is ranking for, which are its top pages that drive traffic, get a complete backlink profile, and more.
You can even add your sites to track their performance, perform a site audit, and create reports. Using Semrush, you can improve your content for SEO and boost your rankings.
Get started with Semrush today!
Ahrefs is another popular WordPress SEO tool and offers a lot of features for optimizing your website. It's similar to Semrush, as you can use it for all your SEO activities. You can do keyword research, backlink analysis, competitor analysis, and keep track of your own site's SEO performance.
Another feature that makes Ahrefs a powerful SEO tool is its ability to find backlinks. You can find out which new links your competitors get. And you can even find broken links of your competitors, so you can reach out to those websites and replace it with your own site's link.
And with features like internal backlinks, you can optimize your content by finding where your blog post is linked on your own site. This can help you create new links to boost your rankings. Besides that, you can perform site audits, identify content gaps between your own content and your competitors, and more.
Get started with Ahrefs today!
Yoast SEO is another popular WordPress SEO plugin that's used by millions of users. It offers a wide range of features that help you optimize your content so that it ranks higher in search engines.
With Yoast SEO, you can easily add a meta title and description to all your posts and pages. It also helps you create a sitemap for your website, so you can submit it to search engines for indexing.
But what makes Yoast SEO one of the best WordPress plugins is it helps you better optimize your content for search engines. Just add a focus keyphrase and get instant feedback such as where the keyword is in the introduction, meta description, and title.
You can also view an overall SEO analysis of your post along with improving the readability of your post. And it offers different color indicators, ranging from red to green, to help you see if you've met all the requirements.
Get Started with Yoast SEO today!
Google Ads Keyword Planner is a free tool by Google for advertisers. Many people think of it as only for running Google Ads, but did you know that you can use it for performing keyword research?
It's safe to say that no other tool has the insights that Google itself has about what people are searching for on the internet. So, using Keyword Planner, you can get average monthly searches for a search term.
And you also view the bidding values and competition levels for each keyword. Competition helps you see how difficult it is to rank for the search term. Bidding value is mainly for advertisers, but you can still get an idea of whether the keyword is transactional or informative in nature.
Get started with Google Ads Keyword Planner today!
Rank Math is another user-friendly WordPress SEO plugin. It offers a setup wizard so you can get started quickly with your site's SEO. Besides that, the plugin is loaded with features. You can track your keyword rankings in Google, use the LSI keyword tool, and optimize unlimited keywords on your posts.
Rank Math also supports Google Search Console and Google Schema Markup. So, you can view data from your Search Console in your WordPress dashboard. And using the plugin, you can optimize your site for Google rich snippets.
With Rank Math, optimizing your content is very easy for SEO. It intelligently suggests internal linking options for your posts. And with its redirection tool, you can create, edit, manage and delete redirects with ease.
Get started with Rank Math today!
KeywordTool.io is as the name suggests, an SEO tool that you can use for keyword research. It's a top free SEO tool you can get your hands on.
There are plenty of options to find the right search terms to target on your WordPress site using KeywordTool.io. You can get keywords for Google, YouTube, Bing, Amazon, eBay, Play Store, Twitter, and Instagram using the tool. And you can even filter the country and language for your search term.
The tool generates over 750 long-tail keyword suggestions. But to view the total search volume, trend, cost per click (CPC), and competition, you'll have to upgrade to its paid version.
Get started with KeywordTool.io today!
Broken Link Checker is an important SEO WordPress plugin to have on your website. It monitors and tests all your internal and external links on your website and looks for broken links.
The tool is useful in providing a smooth user experience for your visitors while making sure the website's health is good. It helps you remove bad links, which can cause a negative impact on your site's SEO.
You can monitor broken links from your dashboard or get notified via email. And other features include the option to view broken links differently on your posts, prevent search engines from following broken links, and much more.
Get started with Broken Link Checker today!
Redirection is another free SEO plugin for WordPress and is extremely useful if you want to efficiently manage your redirections. You can use the plugin to set up 301 redirections, keep track of 404 errors, and more.
Plus, you can easily monitor all the redirects happening on your website using this plugin. It shows a log file including information about your redirects along with other information like which browser and referrer your visitors used.
Get started with Redirection today!
And that's it!
We hope you liked our post on the best SEO plugins for WordPress. You can also go through our article on how to set up WordPress visitor tracking.
Don't forget to follow us on Twitter and Facebook to get the latest reviews, tips, and Google Analytics tutorials.