Looking for a few awesome WordPress affiliate plugins to use to grow your sales?
On our list, we have plugins for every kind of affiliate. Whether you're a publisher with affiliate links on your site or a seller with affiliates selling your products, we've included plugins that'll help you grow your sales.
Let's dive into our list.
Top 10 Affiliate Plugins for WordPress
Affiliate plugins can help you either manage affiliates and a program of your own, or help you track link clicks when you're participating in affiliate programs, like Amazon, for instance. Whichever type of affiliate plugin you need, here are a few to check out.
ExactMetrics is the best premium WordPress analytics plugin. With ExactMetrics, there's a whole list of things you can set up and monitor in Google Analytics and your WordPress dashboard, plus an affiliate link click tracking feature.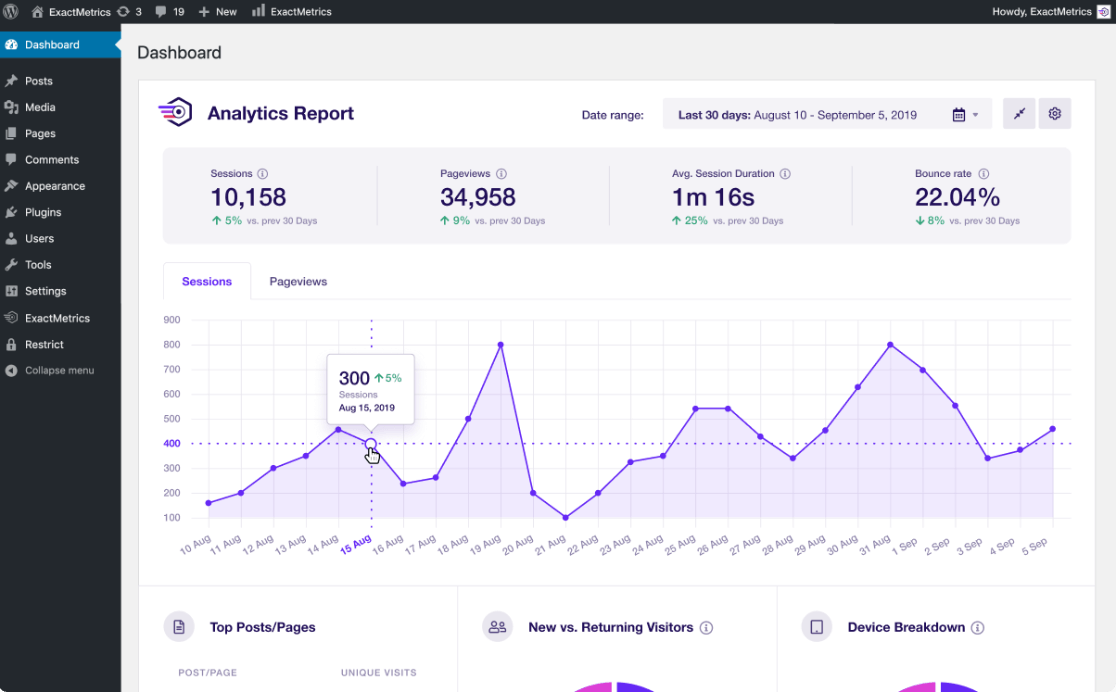 Our most popular features include:
With ExactMetrics, all your most important metrics are right there in your WordPress dashboard including affiliate link clicks.
To set up affiliate link tracking in ExactMetrics, use a plugin like Pretty Links (the next one on our list) to redirect your affiliate links from your own domain, then tell ExactMetrics which ones to track. Then, not only will your affiliate link clicks be tracked in your WordPress dashboard, but the click information will also be tracked as an event in Google Analytics, so you'll be able to access even more data to increase the effectiveness of your affiliate links.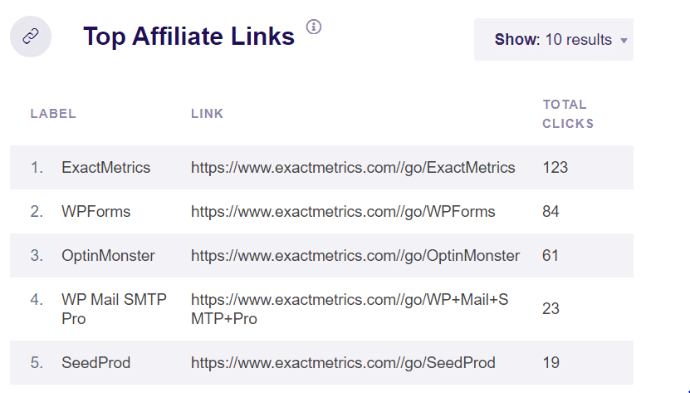 For a full tutorial on the ExactMetrics affiliate link tracking feature, read How to Track Affiliate Links in WordPress (the Easy Way).
Get started with ExactMetrics today!
Pretty Links is an affiliate link management plugin for WordPress that helps you shrink, beautify, track, manage and share any URL on or off of your WordPress website. Create links that look like they're on your own domain, but link to your affiliate instead.
For example, our link to Pretty Links is: https://www.exactmetrics.com/refer/pretty-links-pro/, but the link goes to prettylinks.com with UTM codes for our affiliate link. That pretty link is so much nicer for sharing!
While the free version of Pretty Links will let you create redirected links that are shorter and much nicer to look at, the Pro version has many more features that you'll want to check out, like:
Advanced redirect types
Link categories and tags
Automatic linking
Expiring links
Add affiliate link disclosures
And more!
Get started with Pretty Links today!
AffiliateWP is the best plugin for creating a full-featured affiliate program on WordPress. This affiliate plugin is for those who are selling products or services with the help of affiliates. You can have an unlimited number of affiliates and it comes with reliable, advanced affiliate and referral tracking.
AffiliateWP integrates seamlessly with WordPress, letting you control affiliates right from your dashboard. In addition, here are some of the other key features:
Create your affiliate program quickly and easily
Track affiliates with advanced referral tracking
Integrate with some awesome other WordPress plugins, like WooCommerce, Easy Digital Downloads and WPForms
Connect coupon codes with specific affiliate accounts
Use automatic affiliate registration to streamline your process
Built-in referral link generator for your affiliates
Payouts service
Get started with AffiliateWP today!
ThirstyAffiliates is another popular WordPress affiliate plugin you can use to manage all your affiliate links as a member of affiliate programs. It can help you cloak your long affiliate links, easily insert your affiliate links into your content, and more.
The plugin is awesome for affiliate link management. Instead of having to change a link on every page where you're using it, you can change it once inside of ThirstyAffiliates to change it across the site.
Besides that, here are some more key features:
Can uncloak Amazon links automatically to comply with their terms
Will automatically check for broken links
Integrates with Google Analytics
Automatically link certain keywords to certain affiliate links
Use categories to easily keep track of all your links
Protects your affiliate commissions from theft
Get started with ThirstyAffiliates today!
EasyAffiliate is another great affiliate management and tracking plugin for sellers who want to run an easy affiliate program. EasyAffiliate lets you quickly create your own affiliate program and monitor your sales, clicks, and payments.
This plugin also integrates with WordPress, so it brings your affiliate program right into your WordPress dashboard. It also provides an affiliate dashboard for your affiliates to visit at any time, with access to metrics, creative assets, payments, and other account activity
Some more key features:
Real-time clicks and affiliate stats reporting
Ecommerce integrations: MemberPress, WooCommerce, PayPal, and Easy Digital Downloads
Pay your affiliates super-fast and ultra-conveniently with PayPal 1-click payouts
Fraud detection
Email marketing integrations: Mailchimp, ActiveCampaign, and ConvertKit
Get started with EasyAffiliate today!
WP Affiliate Manager is another plugin for ecommerce store owners looking to set up an affiliate program to sell more products or services. This plugin can help you with recruitment, registration, login, and the management process of an affiliate program.
This one has some pretty great features, including:
Integrations with ecommerce plugins, payment plugins, forms plugins, and more
Real-time reporting
Automatic or manual affiliate approval
Set payout rates per affiliate
Affiliate coupon tracking
Referral link generator for affiliates to use
And more!
Get started with WP Affiliate Manager today!
YITH WooCommerce Affiliates is a free affiliate plugin for WooCommerce store owners. With this plugin, they can create affiliate profiles and customize commissions. It's a simple but effective way to create an affiliate program!
YITH WooCommerce Affiliates has all the basic features you need:
You can set how long a referral ID will be kept as a cookie
Create new affiliates from registered site users
Commission status changes automatically each time order status changes
Automatically calculates all totals and refunds
Affiliates can access their own dashboard
Get started with YITH WooCommerce Affiliates today!
Adsanity is a plugin for managing ads on your WordPress site, including affiliate ads. This plugin is for members of affiliate programs who want to earn money for sending traffic and sales to those programs.
With AdSanity, you can create and add affiliate ads to WordPress using widgets and shortcodes. You can also use it to add Google AdSense ads to your site, along with any other affiliate ads.
A few more key features include:
Designed to be light and fast
Graphical stats on a per-ad basis
Awesome customer support
Google Analytics tracking add-on
Ad block detector add-on
Custom ad sizes
And more!
Get started with AdSanity today!
SliceWP is another WordPress affiliate plugin for store owners wishing to set up an affiliate program to bring in more sales. This plugin was created by a team who found themselves unsatisfied with other affiliate plugins out there. It's easy and quick to set up and get going.
This plugin has some great key features:
Ecommerce plugin integrations: WooCommerce, Easy Digital Downloads and more
Automatic tracking of commissions and visits
Automatic email notifications of generated commissions
Custom pages where your affiliates can log in and manage their affiliate account
Generate affiliate coupon codes
Auto-approve affiliates
And more!
Get started with SliceWP today!
Post Affiliate Pro is an affiliate platform that works on WordPress with their WordPress plugin. Post Affiliate Pro is the most established affiliate network software on the market. It has been around since 2004.
The plugin connects the platform to your WordPress site. Some features of the plugin and the affiliate network software are:
Integrates with all the major WordPress ecommerce platforms
Integrates WordPress user signup with Post Affiliate Pro signup
Integrates Post Affiliate Pro click tracking into WordPress
Coupons
Many different kinds of banners
Top affiliates report
Trends report
Site replication
Get started with Post Affiliate Pro today!
Those are our top 10 affiliate plugins for WordPress! We hope you found the right affiliate plugin for you and your unique website.
If you liked this article, we think you might also be interested in reading How to Track Link Clicks in Google Analytics and WordPress.
Don't forget to follow us on Twitter and Facebook to see all the latest Google Analytics tutorials.