Are you looking for an easy way to measure the performance of your WooCommerce store? You're in the right place! Setting up Google Analytics Enhanced eCommerce will give you detailed insights into customer shopping behavior and product performance.
With a better understanding of how customers engage with your WooCommerce store, you can learn how to optimize your site and increase your revenue.
This article will show you how to set up Google Analytics Enhanced eCommerce in 3 easy steps. But before we get started, let's discuss what Enhanced eCommerce is and some of the benefits of using this version of WooCommerce Google Analytics.
What is Enhanced eCommerce?
When it comes to tracking customer behavior for WooCommerce, Google Analytics is a must.
Although Google Analytics' standard tracking code will provide some insight into customer behavior, it's not nearly as robust as the enhanced alternative.
Setting up Enhanced eCommerce tracking in your Google Analytics account provides more detailed reports for your WooCommerce store. The data collected by Enhanced eCommerce reports make it easier to analyze shopper behavior than with traditional eCommerce tracking.
Some of the reports you get with Enhanced eCommerce tracking include:
Shopping Behavior
Checkout Behavior
Product Lists Performance
Sales Performance
If you're looking for a way to improve how your eCommerce store performs, Enhanced eCommerce tracking is the way to go.
Now, let's get into how to set it up!
How to Set Up Enhanced eCommerce Tracking in 3 Steps
Setting up enhanced WooCommerce Google Analytics is simple with ExactMetrics. Just follow the steps below and your Enhanced eCommerce tracking will be up and running in no time!
Step 1: Install ExactMetrics and the eCommerce Addon
When it comes to tracking eCommerce analytics, the best plugin you can use is ExactMetrics.
You can connect your site to Google Analytics in minutes without editing any code. The plugin also comes with some pretty robust features, including advanced eCommerce tracking.
Best of all, you can access easy-to-understand reports and data right from your WooCommerce site's dashboard!
To get started, all you have to do is install the ExactMetrics plugin on your website and follow the setup wizard to connect it to Google Analytics.
Next, install and activate the ExactMetrics eCommerce Addon to set up Enhanced eCommerce for your WooCommerce site.
To activate the addon from your WordPress dashboard, go to ExactMetrics » Addons and find eCommerce.
Click Install to automatically activate it on your site.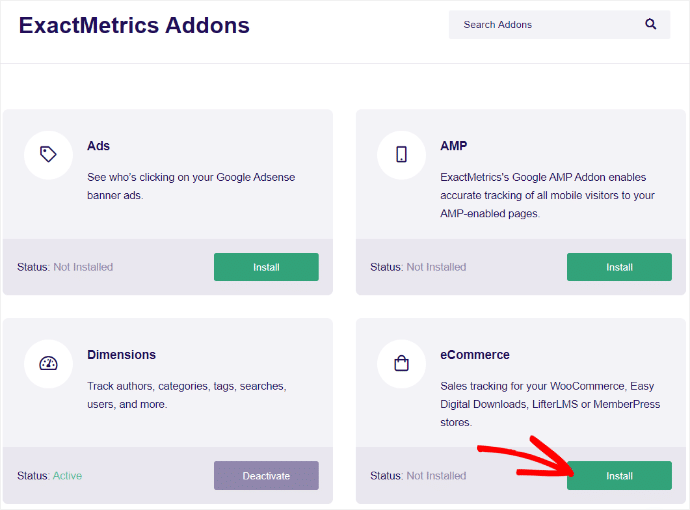 Once the addon is active, it's time to enable Google Analytics Enhanced eCommerce in your Google Analytics account.
Step 2: Enable Enhanced eCommerce Tracking in Google Analytics
Log into Google Analytics and select the website you'd like to enable Enhanced eCommerce tracking for.
Then click Admin in the bottom left corner of the menu.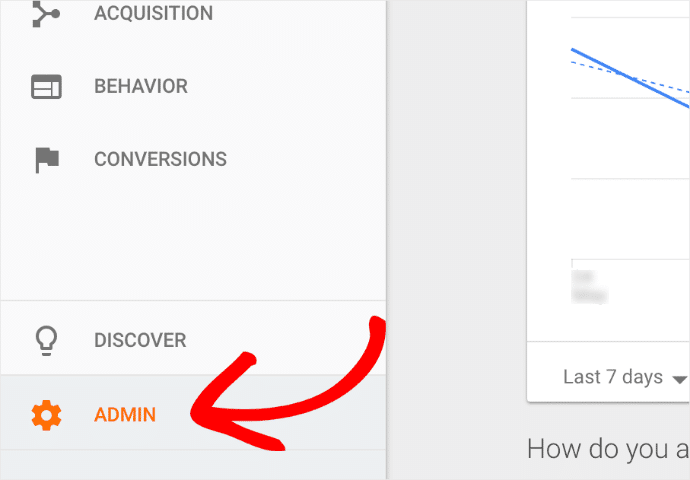 Next, select eCommerce Settings in the far right column.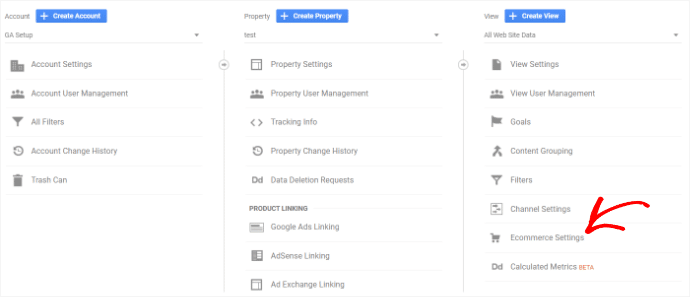 On the next screen, click the sliders to turn on eCommerce tracking and enhanced eCommerce reporting.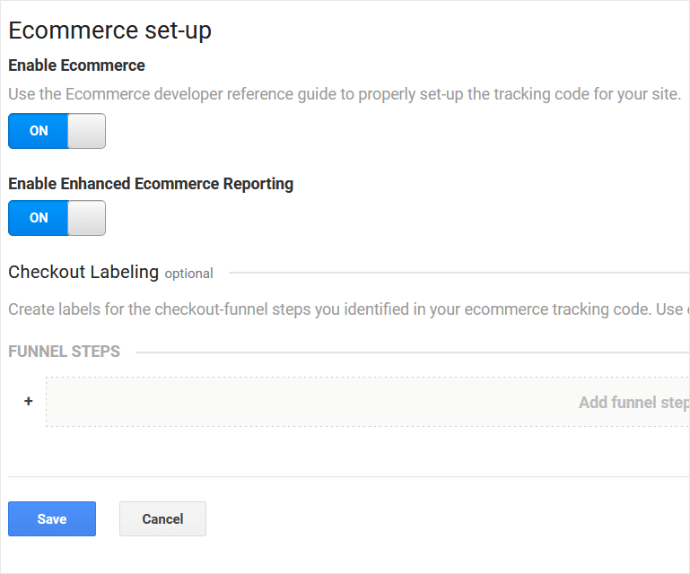 Click the Save button and head back over to your site to enable Enhanced eCommerce in ExactMetrics.
Step 3: Enable Enhanced eCommerce in ExactMetrics
To turn on eCommerce tracking in ExactMetrics, go to ExactMetrics » Settings and switch to the eCommerce tab.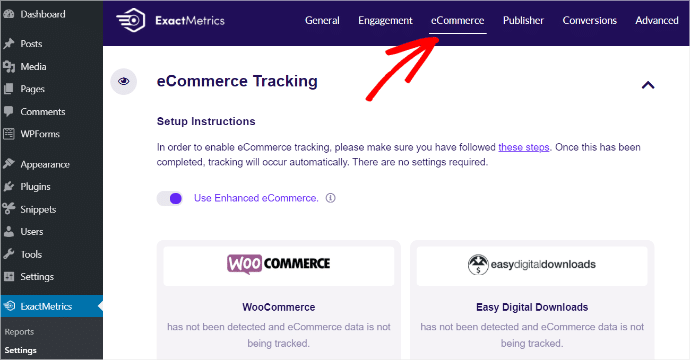 The toggle for "Use Enhanced eCommerce" should already be turned to on. If not, go ahead and enable it.
That's it! You've successfully configured Enhanced eCommerce for your WooCommerce store.
What's really cool about using ExactMetrics for eCommerce tracking is that you don't have to configure any extra settings. Once the addon is activated, it automatically detects and connects your eCommerce software for you.
You can now access important stats about your store's performance right in your WordPress dashboard using the eCommerce Report from ExactMetrics.
How to See WooCommerce Google Analytics
To see the eCommerce Report in your WordPress dashboard, select ExactMetrics » Reports and navigate to the eCommerce tab.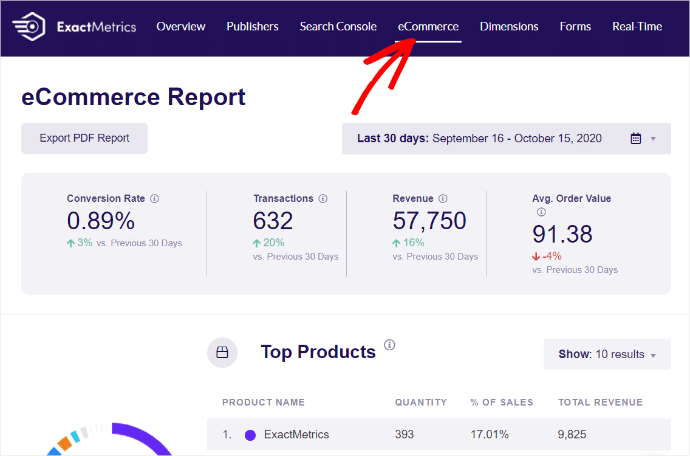 At the very top, the eCommerce Report shows you a quick overview of your WooCommerce Google Analytics.
These stats include:
Conversion Rate
Transactions
Revenue
As you scroll down, you'll see additional reports. The next one is the Top Products report, which displays the best-performing items in your store. It also tells you the quantity ordered, percentage of sales, and the total revenue they bring in.
Taking the time to review this report can give you insight into which products to promote more to boost your sales. It can also help you identify poor performing products to either eliminate or optimize the product page for.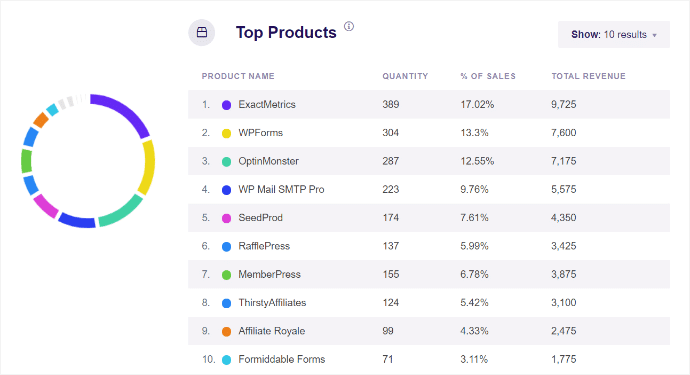 After the Top Products report, you'll see a list of your Top Conversion Sources. This is a really great resource for tracking WooCommerce Google Analytics.
The report shows which websites send the most converting traffic to your eCommerce site. In the report, you'll find the referral site URL, the number of visits, the overall percentage of site visits from that source, and the revenue they generate.
Not sure what to do with this information?
Use it to determine what sources you should focus on to promote your products.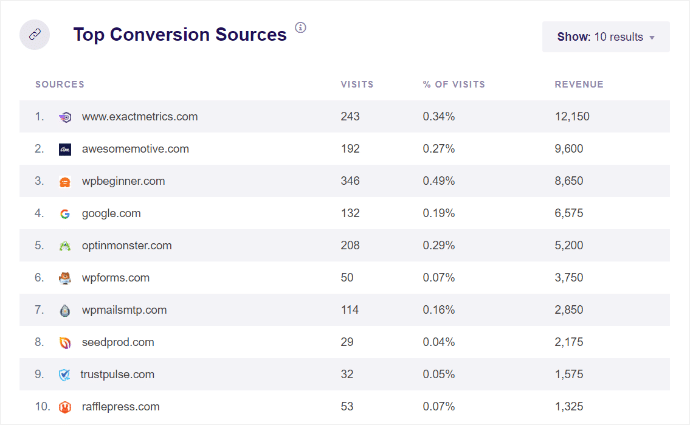 The ExactMetrics eCommerce addon also includes Total Add to Carts and Total Removed from Cart reports. These reports will tell you the number of products customers have added to the cart and the number that they removed at checkout.

The final two reports are the Time to Purchase and Sessions to Purchase, which show you how long it takes for a customer to convert on your eCommerce site.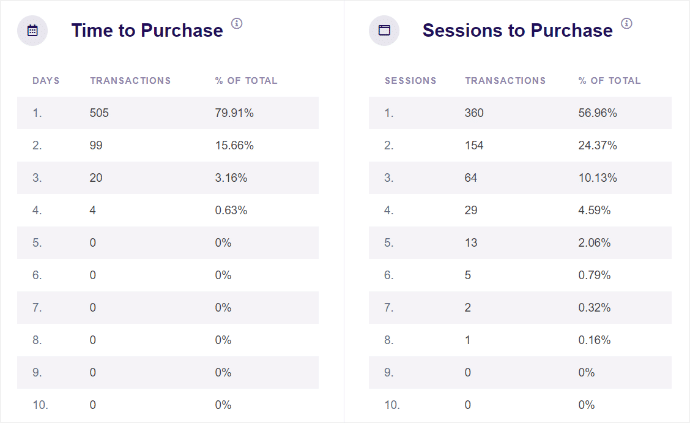 With that, you now know how to access Google Analytics Enhanced eCommerce reports for WooCommerce without leaving your site!
Ready to get started with the best premium WordPress analytics plugin used by over 1,000,000 website owners? Get ExactMetrics Pro today to enjoy advanced eCommerce tracking reports and a 14-day money-back guarantee!
We hope you found this article on how to set up WooCommerce enhanced eCommerce helpful. You may also want to check out our guides on boosting eCommerce conversation rates and your average order value.
For more tutorials and tips on analytics for WordPress, follow us on Facebook and Twitter.