Wondering if you can track link clicks in Google Analytics and WordPress? Good news: You can!
Whether you're hoping to track clicks on links to other sites, affiliates, call to action buttons, or any other kind of links, you can do just that.
In this article, we'll go over how to track multiple kinds of links or buttons in Google Analytics for a WordPress site. Ready to get started?
What Links Can I Track with Google Analytics?
There are many different types of links that you can track with Google Analytics. Let's take a look at the most common and important ones:
Outbound links: Links leading to other domains outside of your own site
Affiliate links: Many bloggers and other content creators use affiliate links to generate revenue (to Amazon products, for example)
Form submit buttons: Make these buttons trigger a goal or event so you can see your converting traffic in Google Analytics
File download links or buttons: Find out how many visitors are downloading your available assets
Click to call links: Visitors on mobile can click a "tel" link to call you
Add to cart buttons: See how many times your products are getting added to carts
Call to action buttons: Have a button in your header or somewhere else that leads to a conversion page? Track how many clicks that's getting.
Media clicks: How many people are clicking the play button on your videos?
Those are the main types of links and buttons to track on a WordPress site. Tracking these links used to be more difficult and involved using custom code for each link or button.
Luckily, there's a pretty amazing plugin for WordPress that can help you set up Google Analytics tracking for all of these different types of links in only a few clicks.
How to Track Link Clicks in Google Analytics
How to Set Up Link Click Tracking
ExactMetrics is the best premium WordPress analytics plugin. With ExactMetrics, there's a whole list of things you can set up and monitor in Google Analytics and your WordPress dashboard, plus a ton of link and button click tracking features.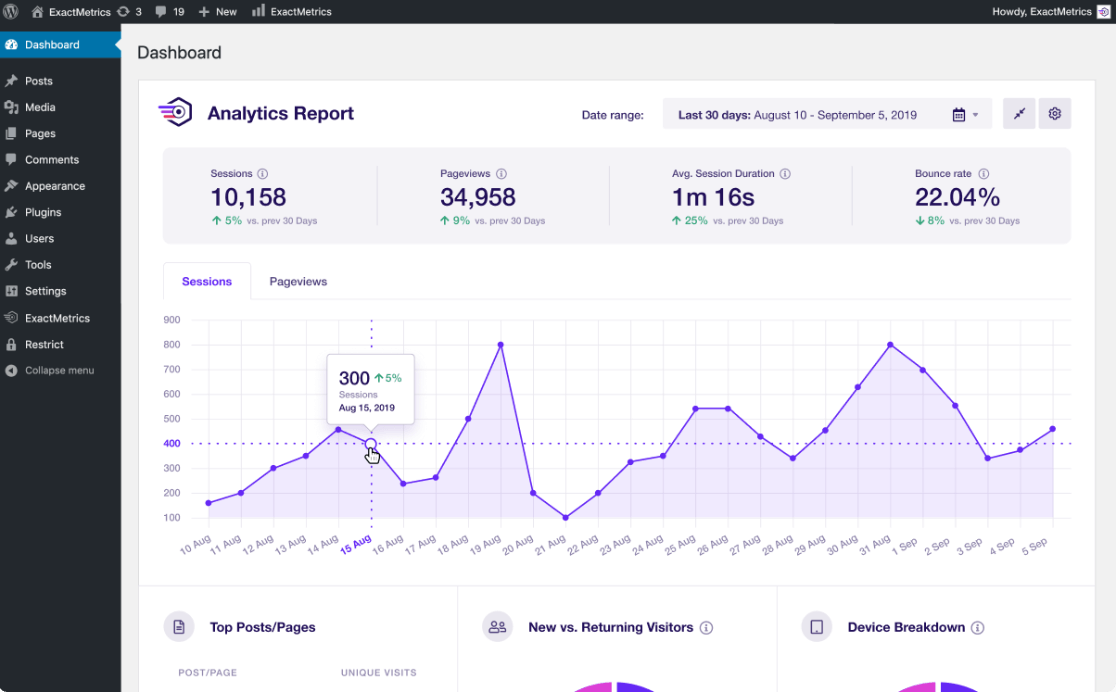 ExactMetrics allows you to easily set up Google Analytics without editing any code or needing a complicated tool like Google Tag Manager. You get advanced tracking right out of the box with an extremely user-friendly interface and Google Analytics reports right inside your WordPress dashboard.
Plus, you gain access to tons of additional Google Analytics features and advanced tracking capabilities with just a few simple clicks. Some of our most popular features include:
To get started, head to the pricing page and grab the license level that works for you.
After, that you'll need to download the plugin and install it on your WordPress site.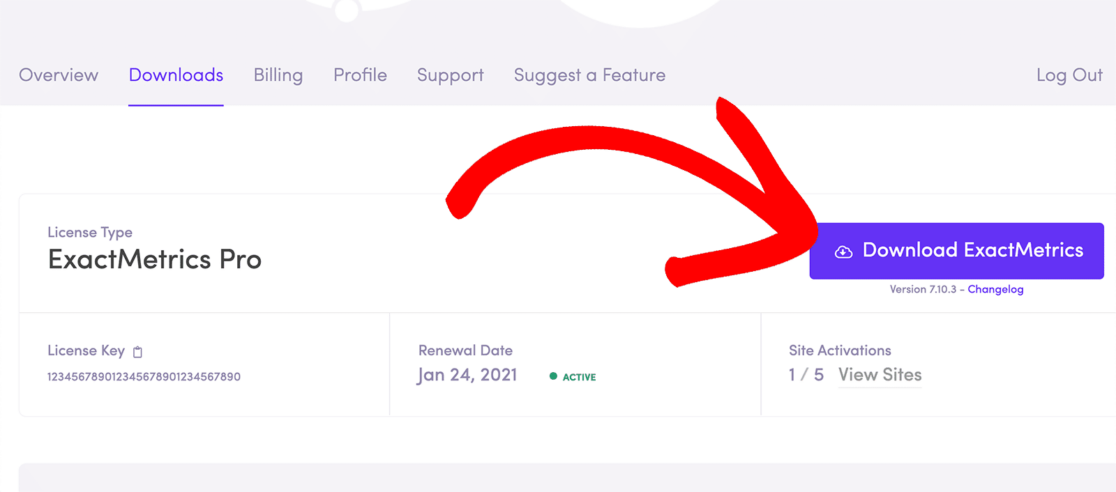 After you've installed and activated ExactMetrics, launch the setup wizard to connect your Google Analytics account to ExactMetrics. For step-by-step instructions on getting started, check out How to Add Google Analytics to WordPress.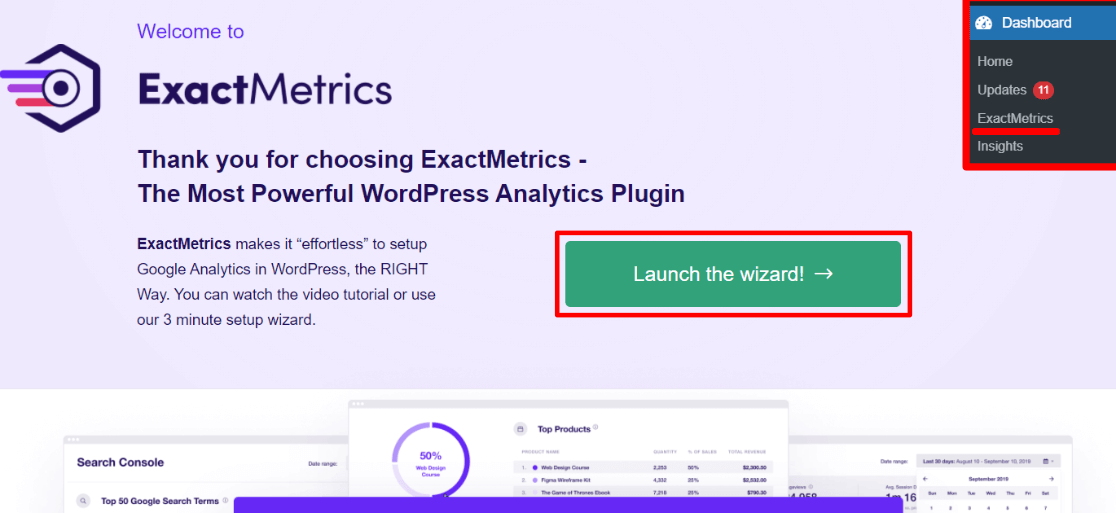 Now that the plugin is connected to Google Analytics and setup on your site, we'll go over some different link types and talk about how to track them using ExactMetrics.
Track Outbound Links
Tracking outbound links is incredibly helpful for several reasons. First of all, you can track what your audience is the most interested in, then try to add content on your own site that satisfies that need.
For instance, let's say you have a link to a certain product, and you're not an affiliate for it. If it's getting lots of clicks, perhaps you should reach out and see if they have an affiliate program.
Or, maybe you're linking out to some statistics on email marketing (or whatever's relevant to your industry). If that link is getting a lot of clicks, maybe it's worth it to add a post on your own site about those statistics.
To track outbound links with ExactMetrics, all you have to do is install the plugin, which you already did! ExactMetrics will automatically begin tracking your outbound links.
You can find the report in your WordPress dashboard under ExactMetrics » Reports » Publishers » Overview.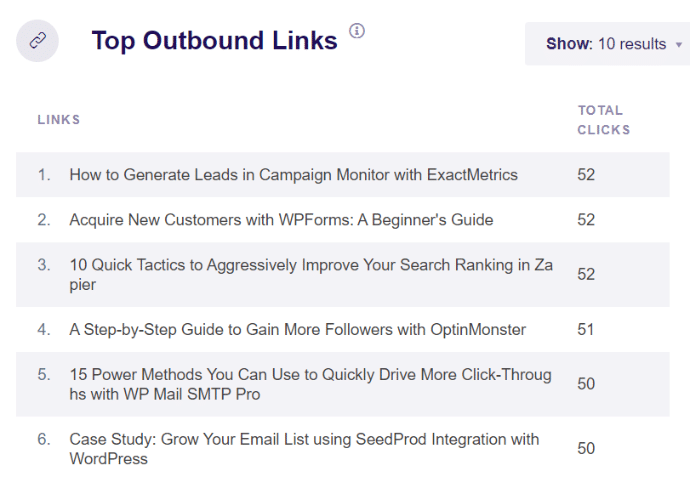 For more information on tracking outbound links with Google Analytics check out How to Track Outbound Links in Google Analytics (Simple Way).
Track Affiliate Links
If you're an affiliate, tracking your links is really important. Sure, you might get some data about how many clicks there were in a report from your affiliate, but wouldn't it be great to see that data in your own analytics?
Plus, with the affiliate link data in your Google Analytics account, you can find more data about those link clicks. What pages were visitors on when they clicked? What are the demographics of those who clicked the most? Did your traffic that clicked affiliate links come mostly from organic, referral, or another channel?
Affiliate link tracking is easy to set up using ExactMetrics, and you'll see your top affiliate links report in WordPress.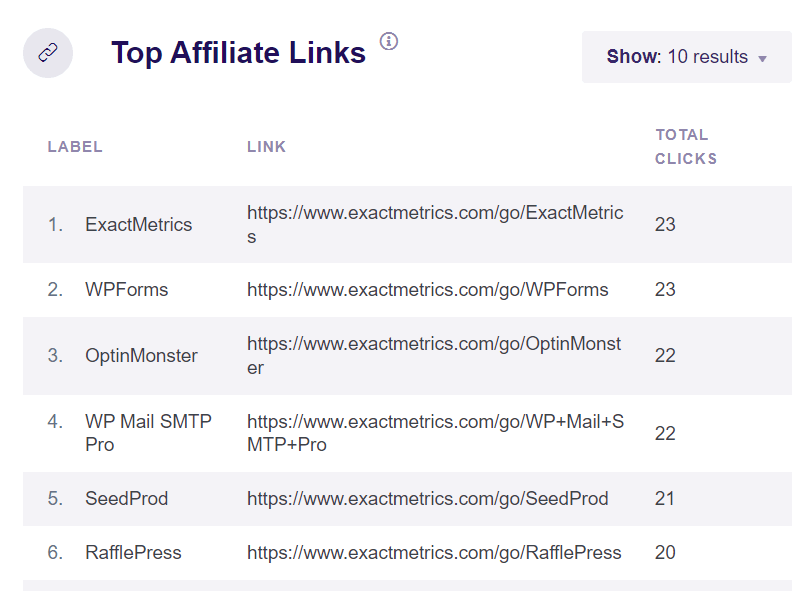 For a full tutorial, read How to Track Affiliate Links in WordPress (the Easy Way).
Track Form Submit Buttons
How many of your visitors are submitting your forms? You can see these numbers at a glance in the ExactMetrics dashboard. All you have to do to use this feature is set up ExactMetrics at the Pro level. Then, install the Forms addon, and your form submissions will automatically be tracked in Google Analytics.
Plus, you'll also be able to see the number of impressions and the conversion rate for each form in WordPress, so you can easily see how they're performing.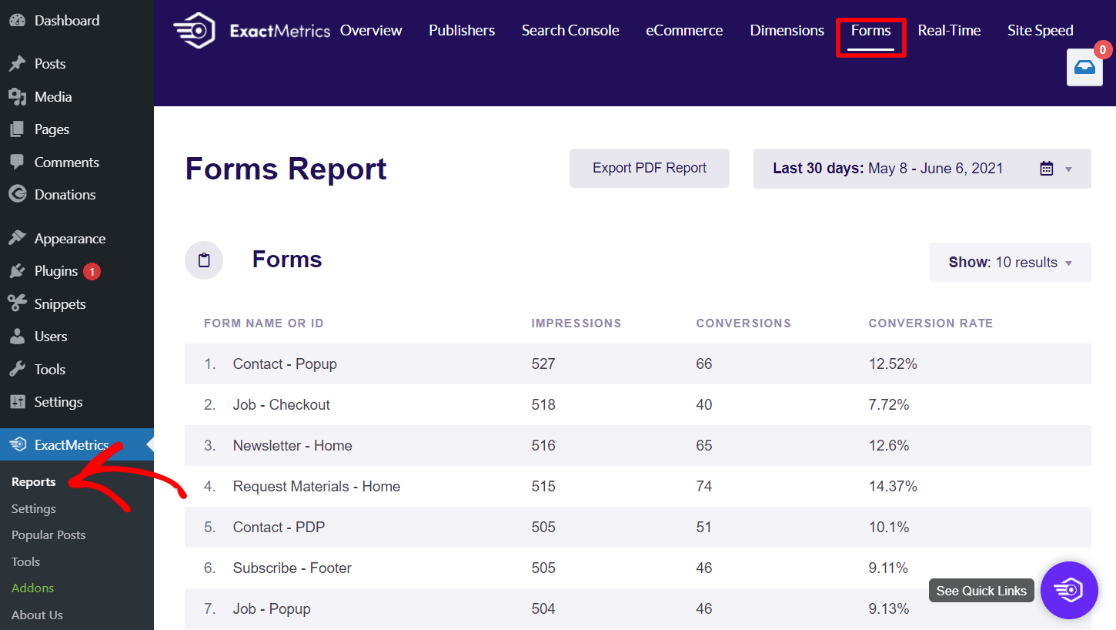 For a full tutorial on tracking form conversions, check out How to Track Form Submissions in Google Analytics (Easy Way)
Track File Download Links or Buttons
If you have files available for download on your site, you definitely want to know how many of your visitors are downloading them.
Luckily, ExactMetrics can track those downloads with no coding needed. Simply install the plugin, configure the types of files you'd like to track, and they'll be tracked automatically. You can track pdf, zip, docx, xlsx, and more.

Once you have file download tracking set up, you'll get a report of all the downloads on your site under ExactMetrics » Reports » Publishers » Overview.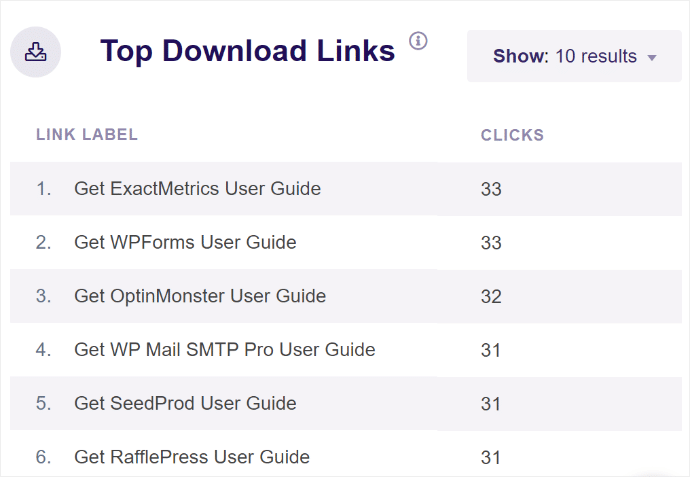 To view more data for your file download links in Google Analytics, just click View All Download Links Report at the bottom of your ExactMetrics report. For a full tutorial, check out How to Set Up Google Analytics File Download Tracking.
Track Click-to-Call and Email Links
Want to know how many people are clicking on the telephone link on your site to call you from their mobile device? How about clicking the link to send an email? If you're a local business that relies on people contacting you, it's definitely important to track those calls or emails.
When you install ExactMetrics, the plugin will automatically create the events for you in Google Analytics. In your Analytics account, you'll see your email links under Reports » Engagement » Events, where mailto is the number of clicks on your email link.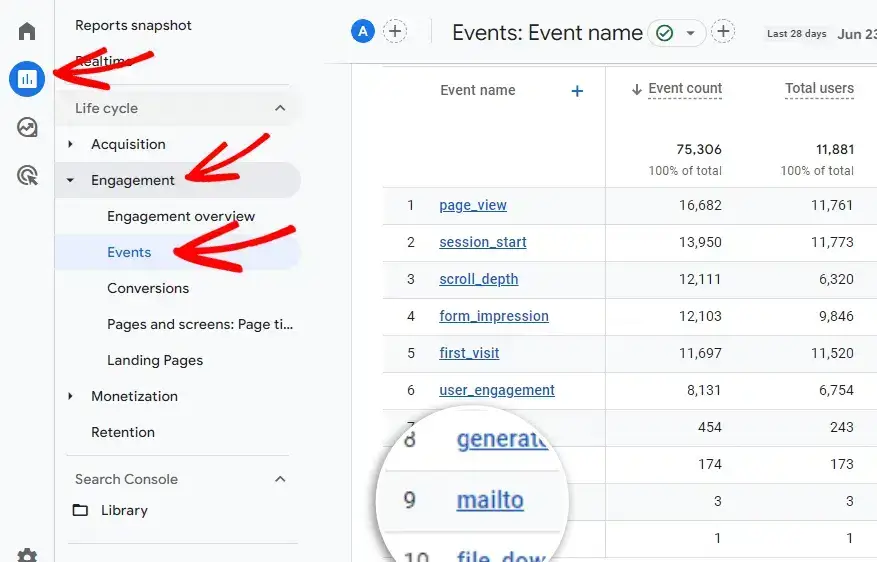 Similarly, you can track click-to-call links in Google Analytics automatically with ExactMetrics. You'll find your data in the same area with the event titled tel.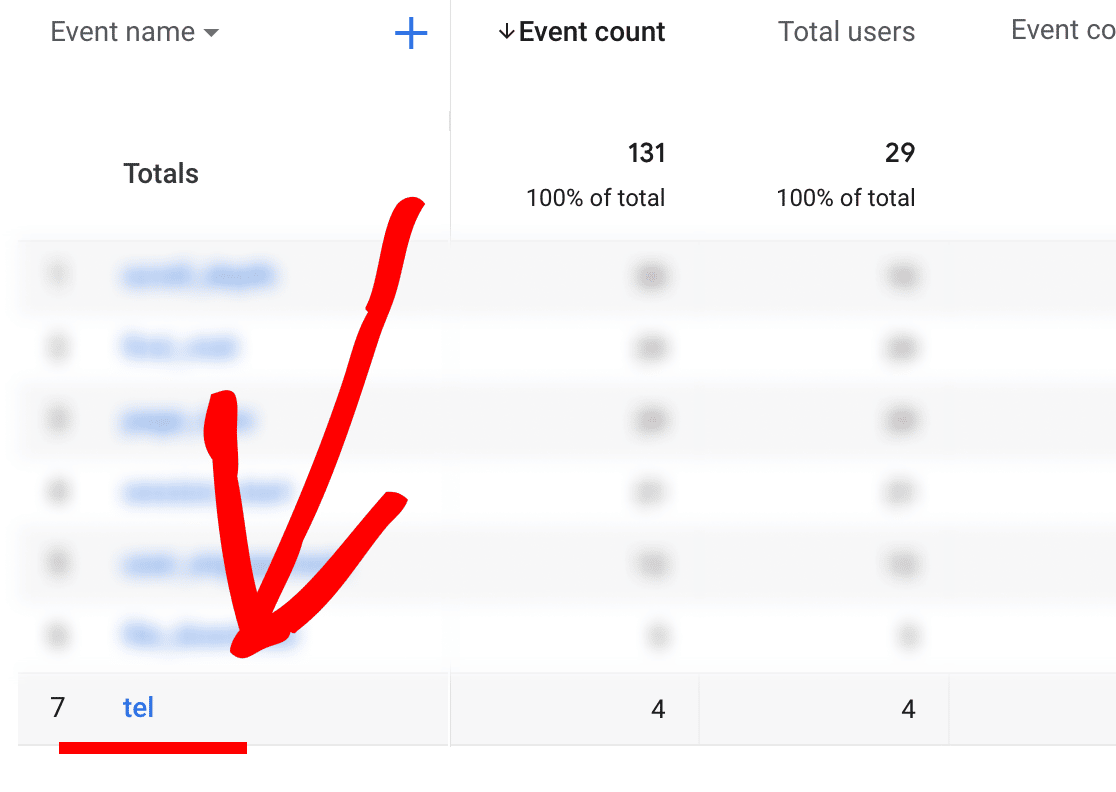 For a full tutorial, check out How to Track Phone Calls in Google Analytics (the Easy Way).
Track Add to Cart Button Links
If you're running an eCommerce store, this is a big one. How many times are shoppers adding items to their carts?
ExactMetrics Pro users have a 1-click eCommerce tracking setup for Google Analytics and a whole eCommerce report that they can access within their WordPress dashboard.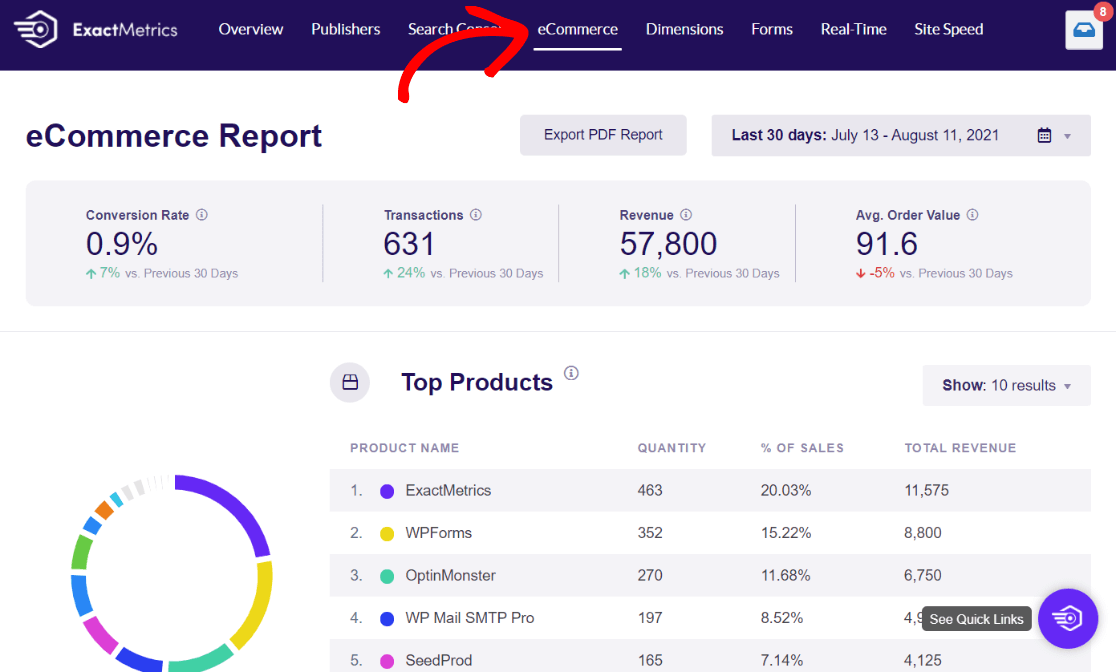 Plus, ExactMetrics tracks add to carts automatically. As long as you set up eCommerce tracking, your eCommerce report will include Add to Cart events:

For a full tutorial on tracking add-to-cart button clicks, check out How to Track Add to Cart in Google Analytics.
Track Media Clicks
How many of your visitors are clicking on your videos? Are they watching them halfway through, or more? Find out with the ExactMetrics Media Addon. With the Plus plan and up, you can simply install the addon to track video events.

Then, you'll be able to see Google Analytics metrics for your videos right inside WordPress by navigating to ExactMetrics » Reports » Media.
Quickly see the number of times the video play link was clicked, average watch time, average percentage watched, and completion rate.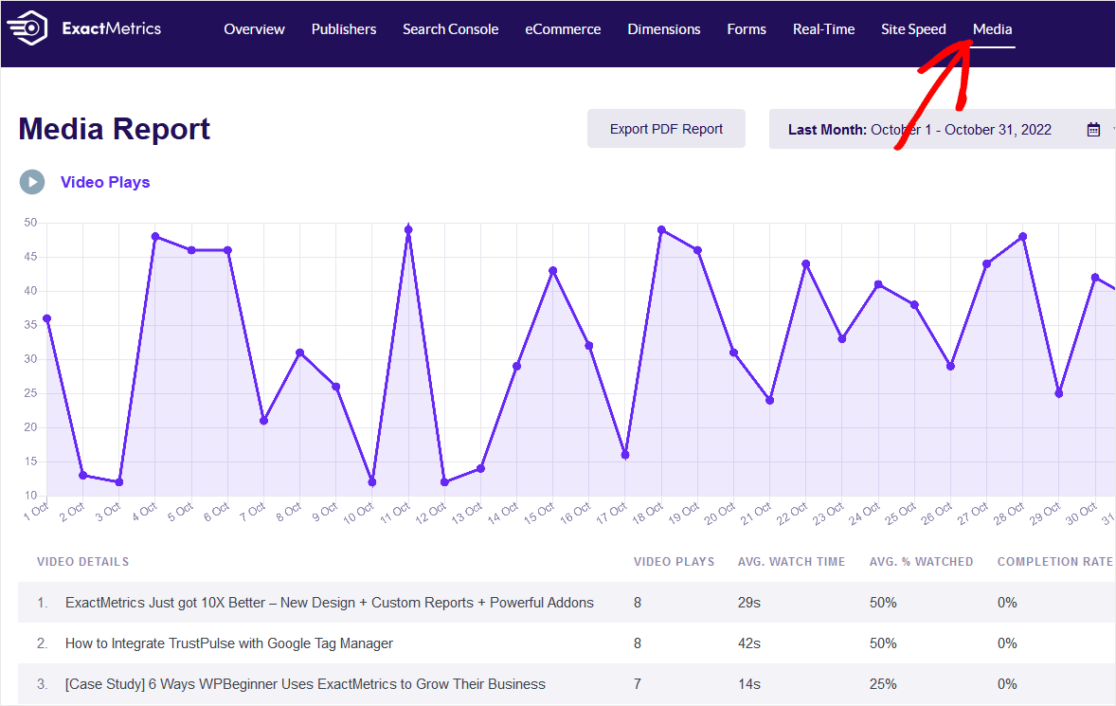 For more on tracking media, check out our guide for How to Enable Google Analytics Video Play Tracking.
Track Call to Action Links and Buttons
Want to know how many times your users are clicking those carefully placed call-to-action buttons on your site?
Aside from the automatic link tracking we've discussed so far, ExactMetrics also makes it easy to track your custom links, like call-to-action buttons with a feature called Custom Link Attribution.
To make Google Analytics track custom links with ExactMetrics, you just need to add a little code snippet (data-variable tags) to the HTML of your links.
<a href="https://www.monsterinsights.com" data-vars-ga-category="Custom Category" data-vars-ga-action="Custom Action" data-vars-ga-label="Custom Label">Example</a>
So, if you're tracking clicks on a header CTA to your donate page, for instance, your link might look like this:
<a href="https://www.yoursite.com" data-vars-ga-category="CTA" data-vars-ga-action="click" data-vars-ga-label="header-donate-button">Donate Today!</a>
After inserting that code, you'll be able to see custom link click events in Google Analytics. Check out our full tutorial for How to Track Google Analytics Custom Events (WordPress).
That's it! We hope this article has helped you track your link clicks and buttons in Google Analytics and WordPress.
Start Tracking Your Links Today!
Did you know there are even more "extra" things you can track in Google Analytics when you use ExactMetrics? Check out Google Analytics Custom Dimensions: Complete Beginner's Guide.
Don't forget to follow us on Twitter and Facebook to see all the latest Google Analytics tutorials.