So, you've installed ExactMetrics and added Popular Posts to your blog posts and pages, however you'd like better control over what posts are featured each time.
Below you will find three of the ways you can optimize your featured posts that appear by excluding posts, including posts, or having the most popular displayed.
We'll go over the different methods for controlling posts and how to configure those methods as well to show your site users the best information possible.
The sorting methods are listed below from easiest to the more involved:
To view the sorting options for Popular Post you'll need to navigate to
ExactMetrics
»
Popular Posts
.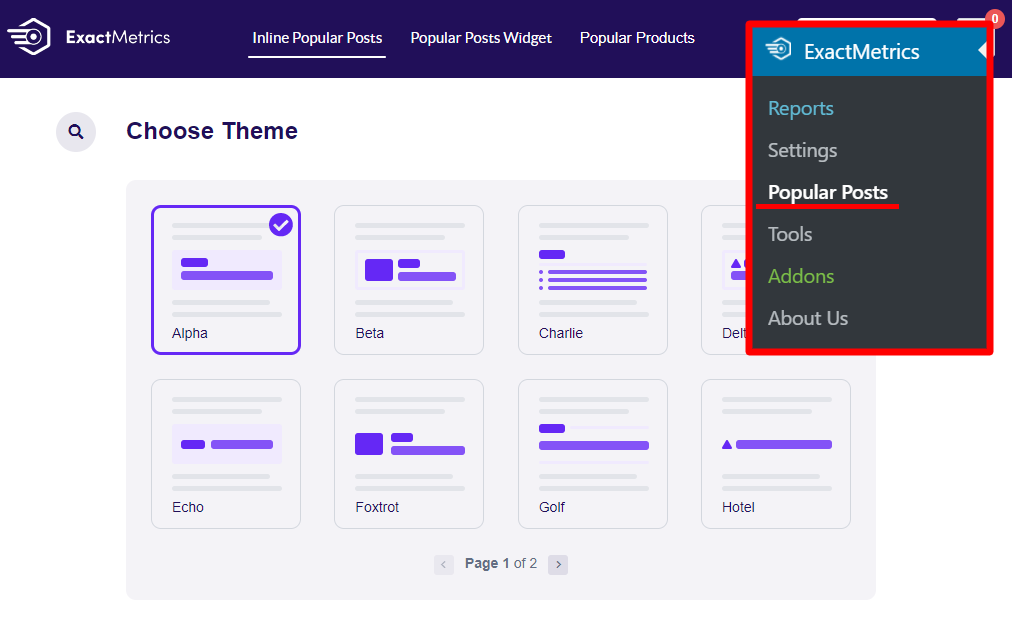 You can set the sorting options for both the Popular Posts Widget and the Inline Popular Posts independently of each other so you can have different posts displayed in each area.
Sort By – Comments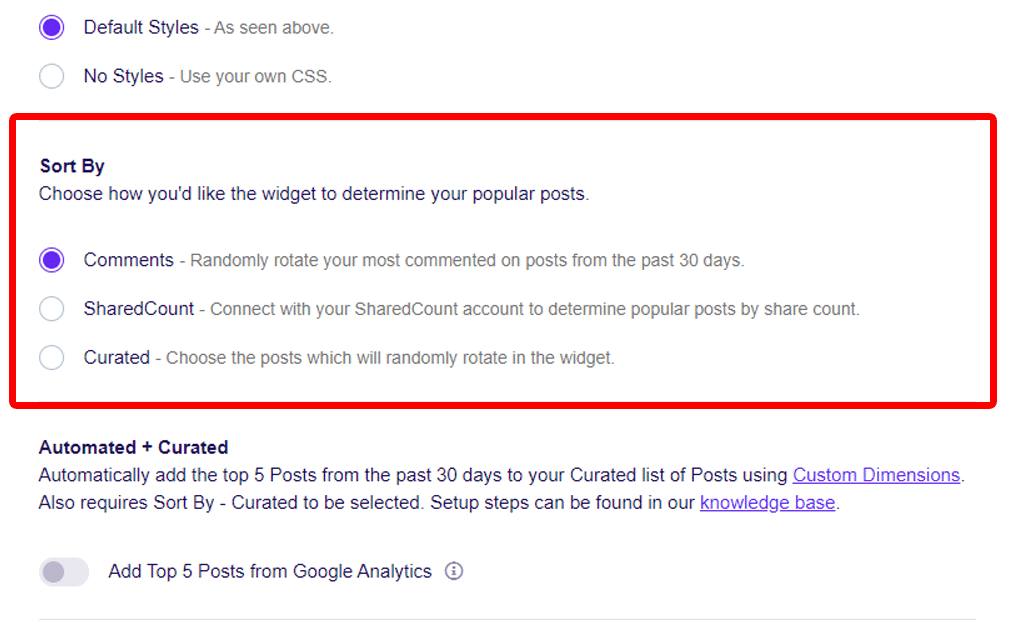 The quickest and easiest way to get your most interacted posts displayed on your pages from the last 30 days is to sort by comments. This will randomly rotate your most commented displayed to your site visitors.
Sort By – Curated
The next method of sorting your posts to be displayed is by using Curated.
The curated method will take any selection of posts that you have chosen to be displayed to your site visitors and rotate through them randomly.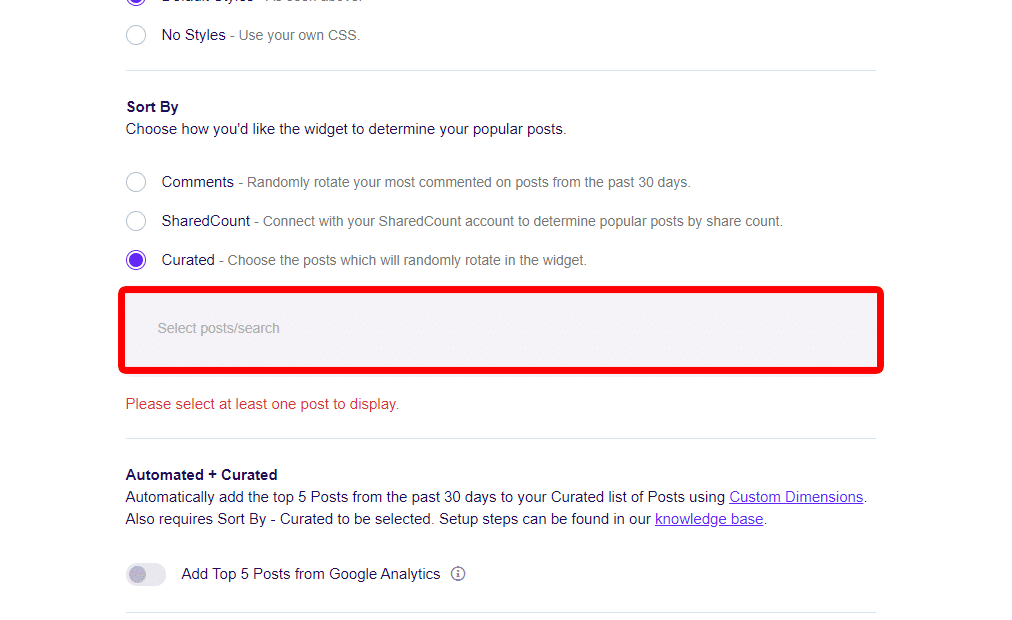 You can quickly search through your posts by clicking on the text box and starting to type the name of the post you want to include. Once it shows the post you can then select it to include it in your list of posts to show.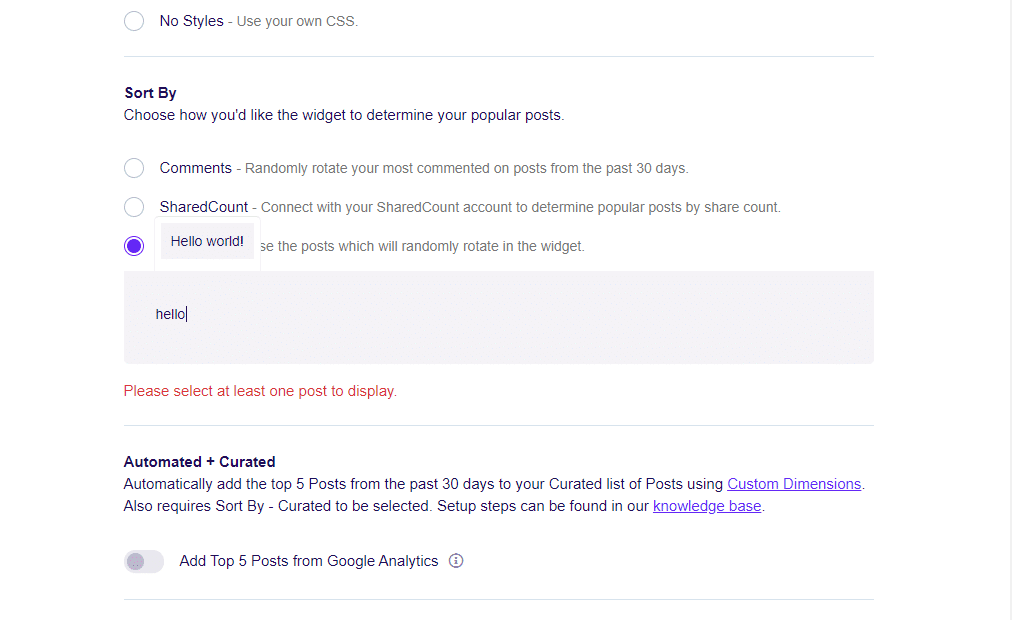 There is no limit to the number of posts that you can select, but you just need to make sure there is at least one post selected otherwise it won't show any at all.
Sort By – SharedCount
The final method shown here uses SharedCount.
SharedCount is a social media engagement tool that provides information about your social engagement. With it you can track your likes, shares, tweets and other interacted data over a number of different platforms.
If you don't already have an account set up with SharedCount, go to https://www.sharedcount.com/signup and sign up.
Once you've verified your email address you can then copy your API key from your dashboard.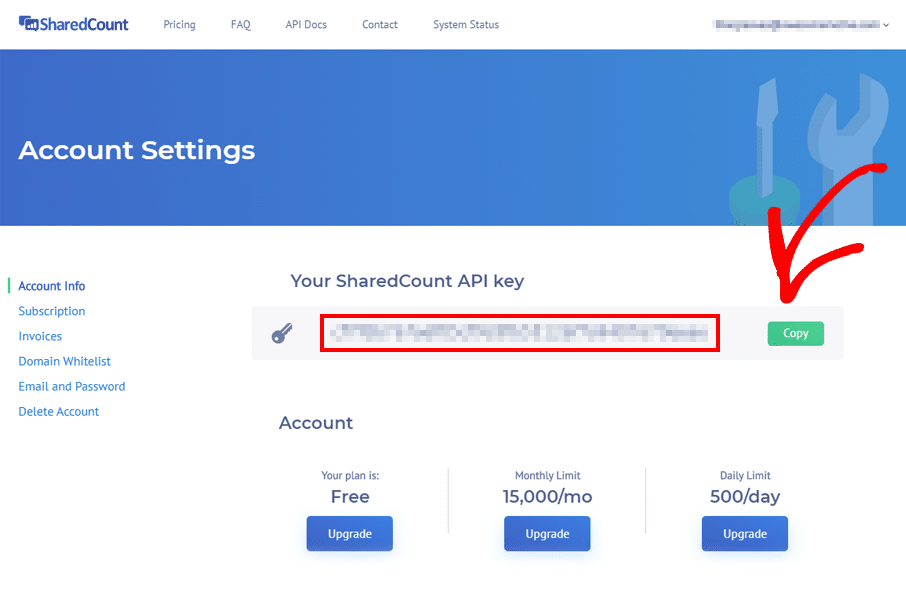 Once you have copied your API key from your SharedCount dashboard you can then go back to your ExactMetrics Popular Posts settings and enter it in the SharedCount text box.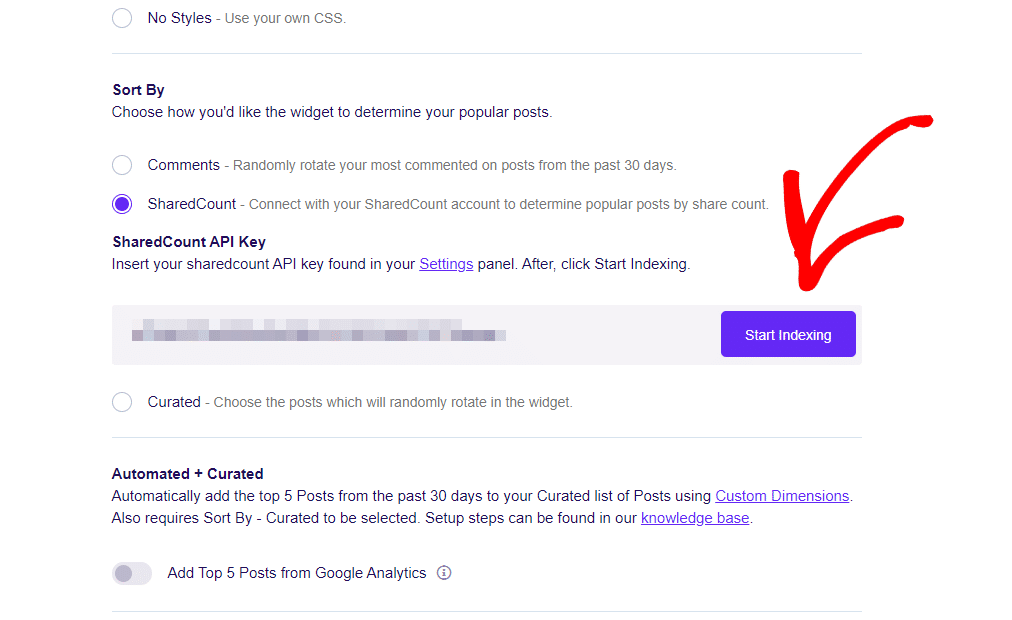 As soon as you enter the API key and click 'Start Indexing' your site will start to be read by SharedCount immediately. You can leave the page after that as SharedCount will continue to index all your pages while you are away.
The time it takes for your site to be fully indexed can vary depending on how large your site is and how many posts and shares you have.

It can take up to 7 days for the posts to start appearing in your widget or inline popular post blocks. You can follow the progress of your indexing on the SharedCount dashboard.
Congratulations! You now know how to sort your posts like a pro and can pick which method suits your site's needs.
Where to from here? Learn more about how to include your most visited sites via Google Analytics data here!