Are you looking to track internal link performance with Google Analytics?
There are 3 different ways to track your site's internal links. Tracking these links can give you insights on whether or not your visitors are finding your most valuable content:
User Flow in UA and Path exploration in GA4 (easiest to implement).
Setup Enhanced link attribution, and then use the page Analytics by Google (GA Chrome Extension) and navigate to the page. (UA only)
Track your most crucial Call-To-Action with Events Tracking by setting up onClick events (most advanced implementation).
When tracking your internal site links, you do not need to use UTM parameters. You can use UTM parameters with external links instead.
In all versions of ExactMetrics, you can use our URL builder to generate your UTM link.
How to Track Internal Link Clicks with Users Flow in Google Analytics.
The User Flow panel allows you to see the most common paths your users take on your site.
To view this, go to analytics.google.com » Audience » Users Flow.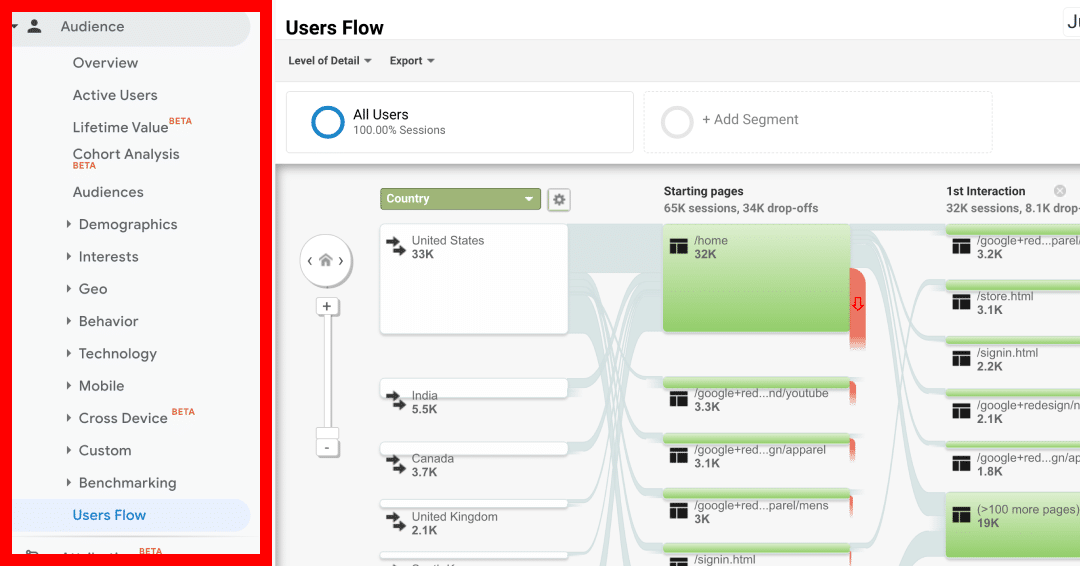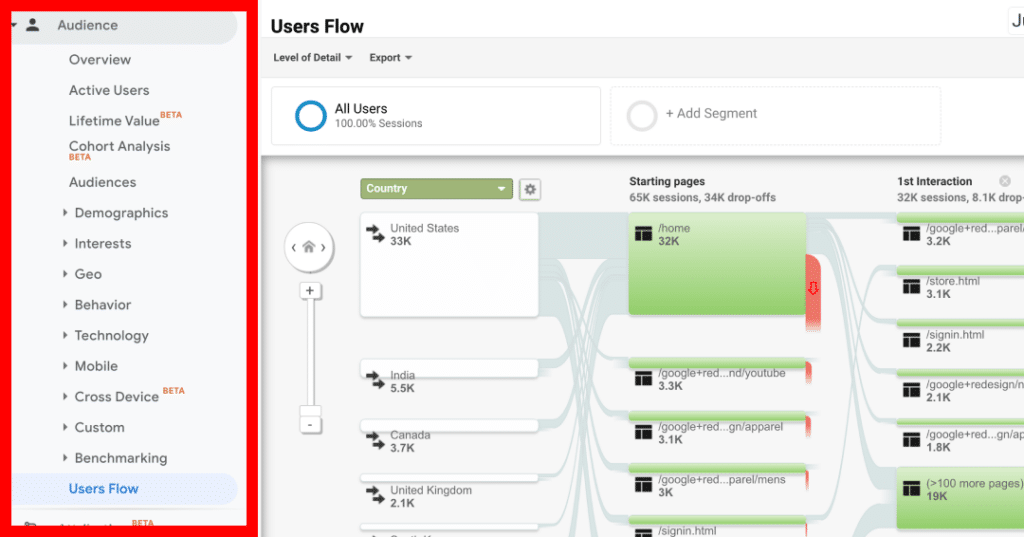 To understand this report, here's a breakdown:
The green boxes represent pages and display URLs.
The curved gray lines represent visitors flowing from page to page. Thicker lines mean more users follow that path.
The red lines represent the percentage of visitors that exit the site after visiting that page.
The default dimension is country, but it can be adjusted to another dimension or a custom dimension that you set up with ExactMetrics if you're using our Custom Dimensions Addon.
How to Use Path Exploration in GA4 to Track Internal Link Clicks
Log into your Google Analytics account and navigate to Explore » Path Exploration.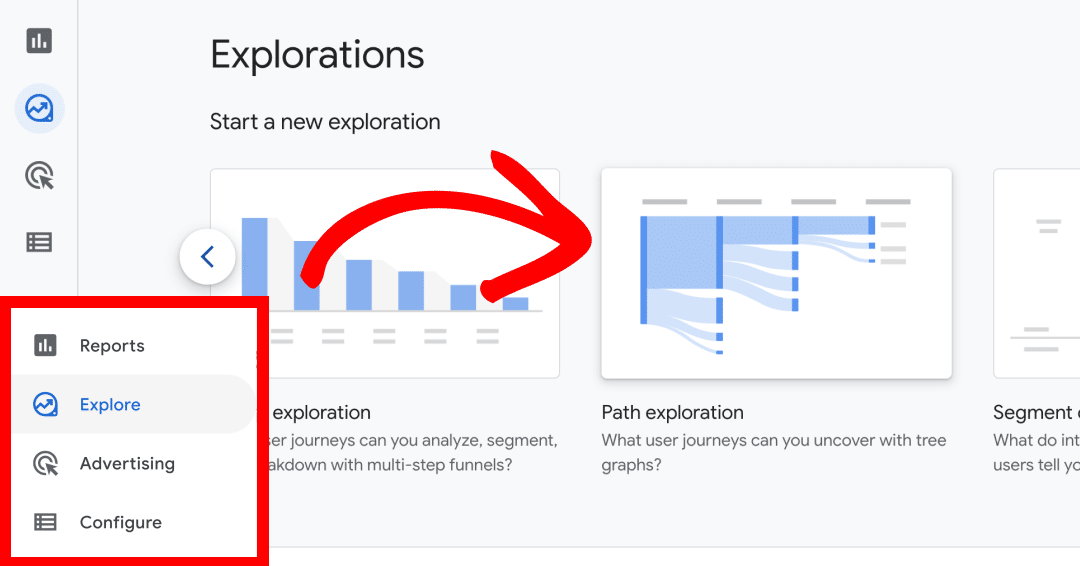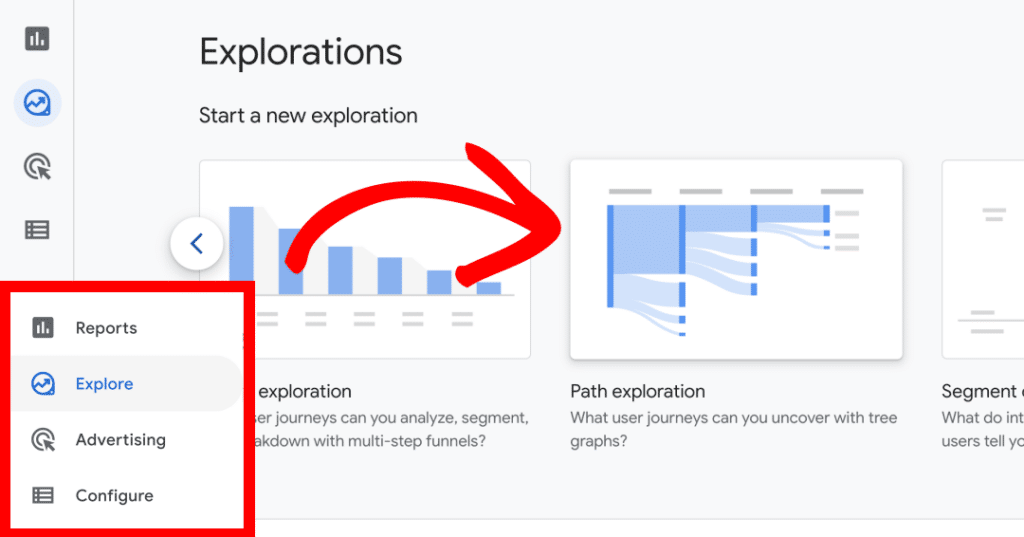 You will see the STEP +1 column and need to select Page title and screen name from the dropdown.
Also in the STEP +1 column, you will be able to see internal page visits based on their page title and they will have the number of views as well.
You can also click on Event Name, like session_start, to change what is called the STARTING POINT, in the first column to any event you want to start with. Session_start will be the default starting point.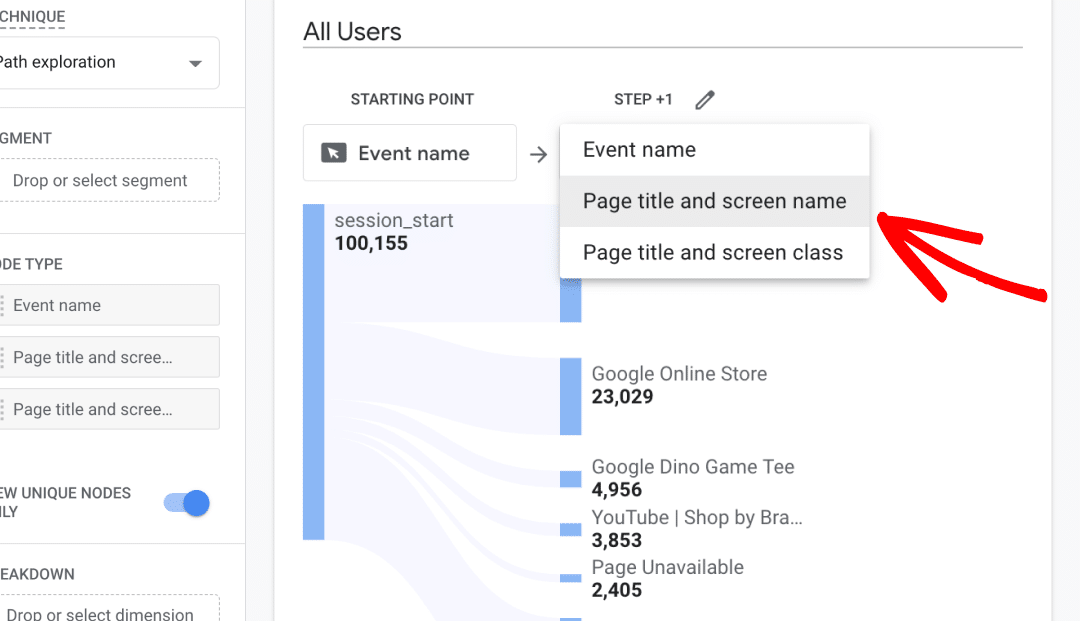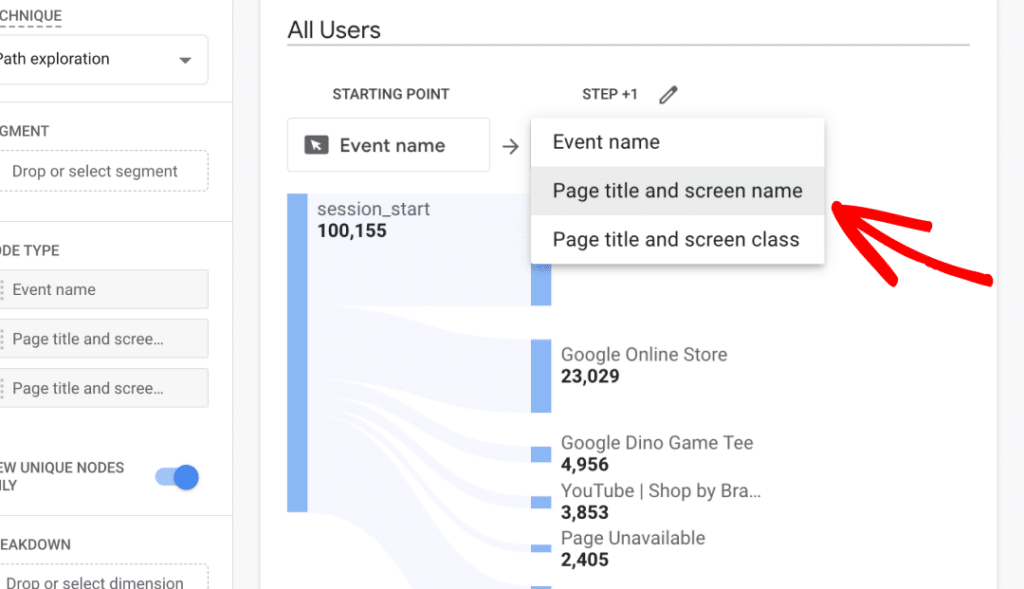 Track Internal Links with Enhanced Link Attribution + the Page Analytics by Google Browser Extension
Open your browser to navigate to an actual page on your site.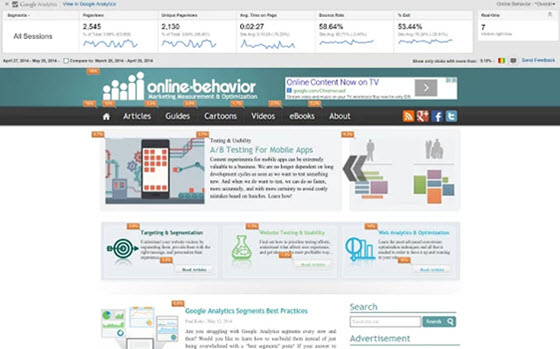 Use the Page Analytics extension to view an easy-to-understand, heat-map-like visual representation of each page's clicks on your site.
Track Internal Link Clicks With Events Tracking by Adding Custom Link Attribution
You can set up event tracking by using our custom link attribution feature. Please follow our separate guide for that: How to Add Custom Link Attribution: Setup Custom Link Categories, Labels, and Actions.
What's Next?
Looking to measure how well your site performs in Google Search results? Learn how to connect your site to Google Search Console: How to Connect Google Search Console to Google Analytics