Looking at your referral traffic in Google Analytics and wondering what it really is and how it works?
In general, referral traffic is a very good thing. It means that other websites are linking to yours and sending you some traffic!
There are a few different ways you can look at your referral traffic in Google Analytics and use that data to help you make some important marketing decisions.
In this article, we'll talk about what referral traffic really is, how you can find it in Google Analytics, and how you can use it in your marketing plans.
What is Referral Traffic in Google Analytics?
Referral traffic in Google Analytics is visitors who click on a link to your site from somewhere else on the internet. If you're a restaurant, for instance, and a local food blogger makes a list of great restaurants and links to your site in his list, any visitor that visits your site through that link will be referral traffic.
Referral traffic is awesome for SEO! If you're getting links from other websites pointing to yours, Google might see your site as being more important and trustworthy. When Google thinks your content is important and trustworthy, the search engine might start to rank your site higher in search results.
So, more links mean more referral traffic and more Google search engine benefits.
The Google Analytics referral traffic report shows you which websites are sending traffic to yours. This information is really helpful, as it can help you grow your business! We'll take a look at this more later. First, we'll show you how to find your referral traffic in Google Analytics.
Referral Traffic Reports in Google Analytics
Now that you know what referral traffic is, let's take a look at where to find it in Google Analytics.
If you're a WordPress user, make sure to check out ExactMetrics first — you can get your referral traffic report right inside your WordPress dashboard instead of having to open Google Analytics, plus tons of other features to make Google Analytics easier: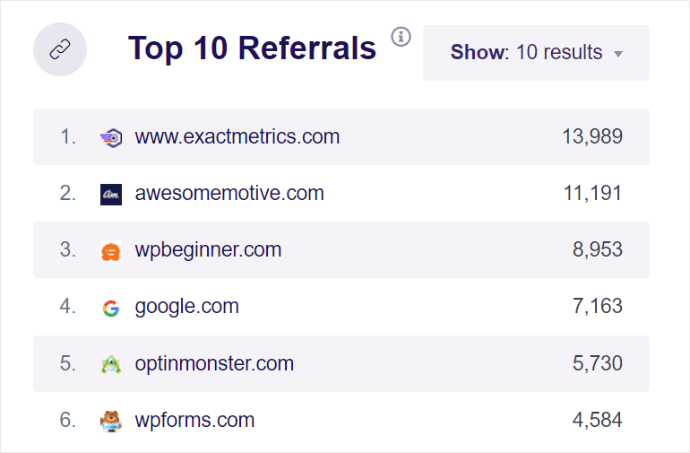 Check out ExactMetrics features now.
Now to find the report in Google Analytics, we'll start by going to the Reports tab, then Acquisition » Traffic acquisition: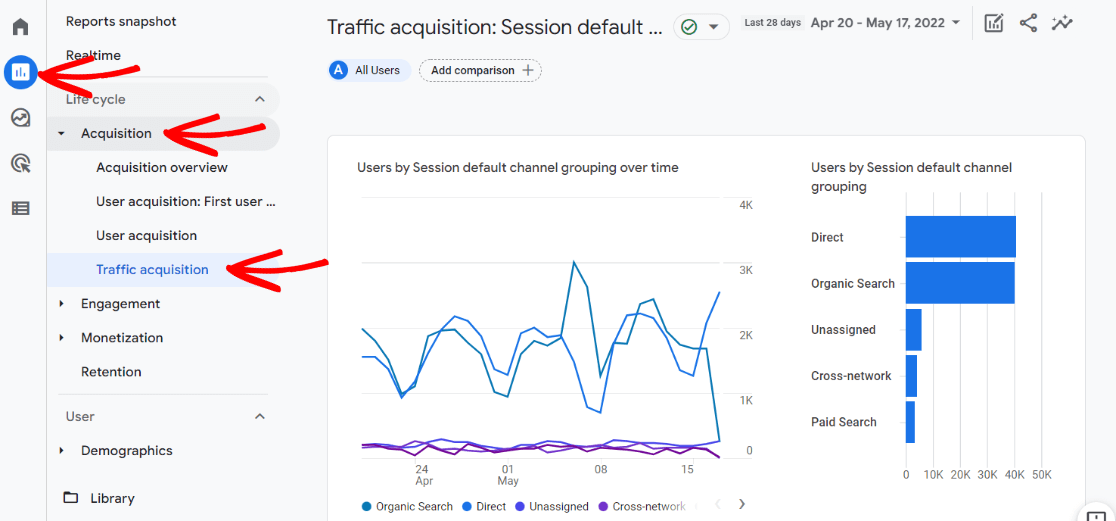 Next, scroll down to the table and find the Referral row: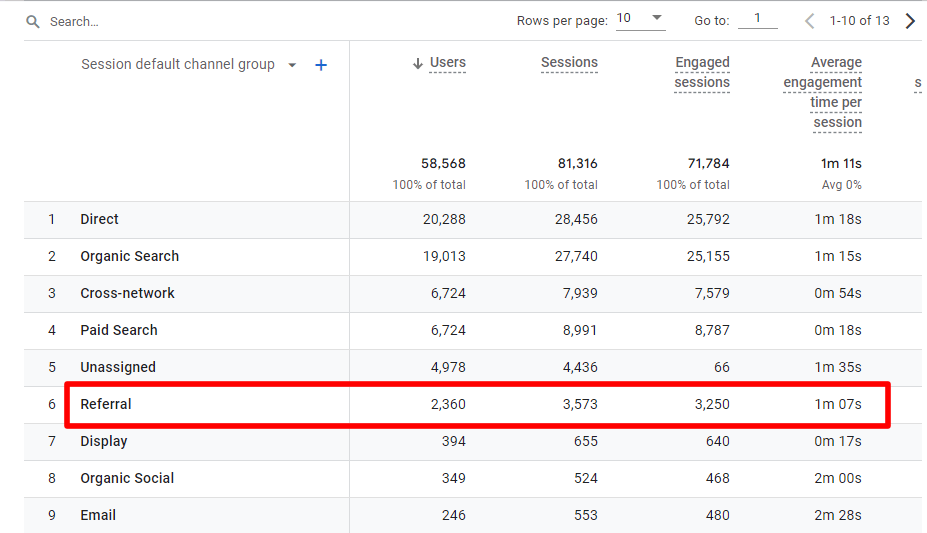 If you just want to see your overall referral traffic, you can stop there. If you want more information about your referrals, go ahead and type "referral" into the search bar and hit Enter:
Now, click the little blue plus sign:

From the box that opens up, choose Traffic source » Session source: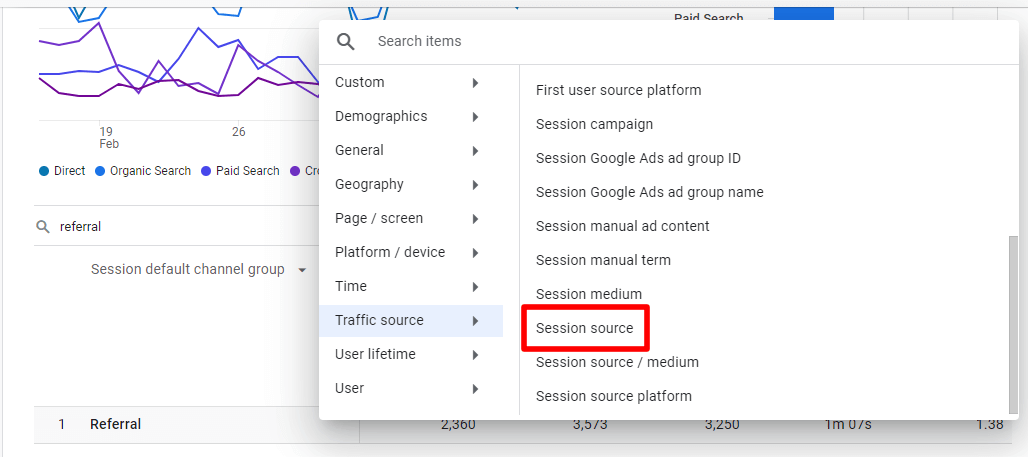 Finally, you'll have a report that shows not only how many referral sessions you had overall, but it'll break those sessions down by the websites that sent you the traffic: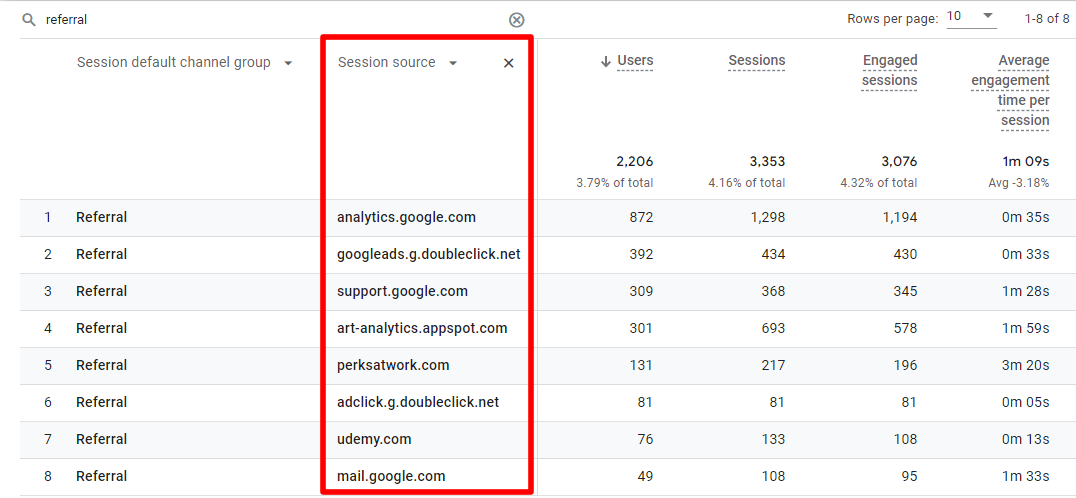 Referral Traffic Marketing Ideas
Alright, so you've got referral traffic. That's great…but what now? What can you do with this data?
The first thing you can do is reach out to websites that are sending you referral traffic. Do you see any further opportunities with them? Maybe they could include your site in another article or you could write a guest post for them.
Use the list of sites that link to yours to investigate what other sites you might be able to get links on. Is there a certain type of site that's linking to yours that you could find more of? Examples include directories, different types of bloggers, or other informational sites.
If you want more referrals, would it make sense for your business to launch an affiliate program? Check out How to Set Up a WordPress Affiliate Program (Complete Guide).
That's it!
If you liked this article, you might also like to check out our Google Analytics Email Tracking Guide.
Not using ExactMetrics yet? What are you waiting for?
Don't forget to follow us on Twitter and Facebook to see all the latest reviews, guides, and Google Analytics tutorials.