Are you needing to add a new website to Google Analytics 4 and you're wondering what the steps are to set it up properly?
Google Analytics is a powerful tool that you can use to understand how your visitors are behaving on your website. You can get insights about where your traffic comes from, which pages are most popular, how much revenue you're making, and lots more.
In this article, we'll show you how to add a new website to Google Analytics. We'll also explain how you can add the tracking code to your WordPress site without any coding.
So, let's start the tutorial…
Adding a New Google Analytics 4 Property
You can add up to 100 Google Analytics 4 properties to a single account. So, you don't have to switch between accounts to view different sites if they all belong together under the same account. For instance, if you have one or multiple subdomains (news.youriste.com, shop.yoursite.com), you can create a separate property for each one under the same account. You can also create properties for a mobile app and a website under the same account, or even track them together within the same property.
But it can be intimidating to add a new website to Google Analytics if you're new to the tool. So, follow these few simple steps to set up your new property.
Step 1: Log in to Google Analytics Account
The first step is to login to your Google Analytics account. You can do that by going to the Google Analytics website.
Once you're signed into an account, if you create a property, the property will be located in that account. So, make sure you're signed into the account you want your site or app to be under.
And if you don't have a Google Analytics account, then go ahead and create a new one. Google Analytics is tied into your Google account, so make sure you're signed into the account you want to have Analytics under.
Step 2: Select a Property and Go to Admin Section
Note: Skip this step if you've just created your account. Google will take you straight to creating a property.
Once you're logged in, the next step is to add a new website to Google Analytics.
First, select a property in the account that you want to add the new website to. You can select a Universal Analytics or Google Analytics 4 property.
Then go to the Admin section, which is located in the bottom left corner and has a gear icon. It's in the same place whether you're in Universal or GA4.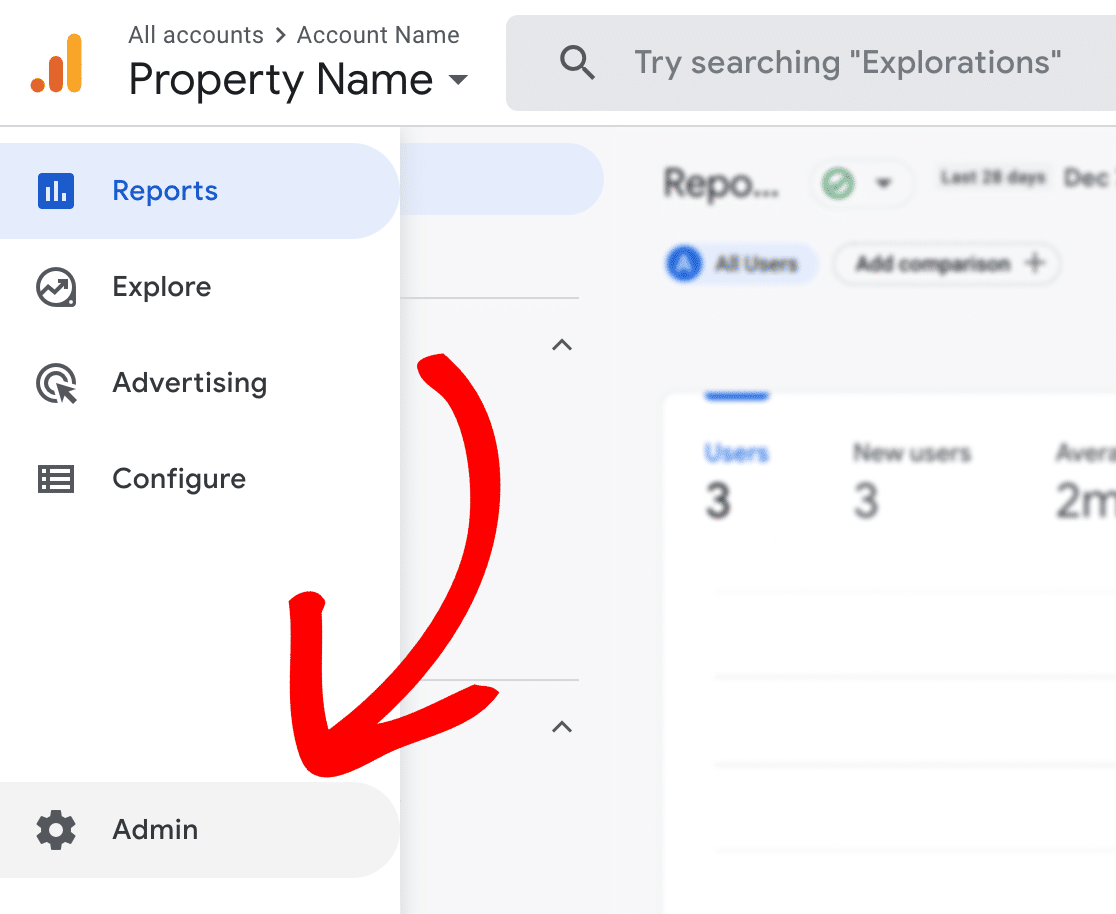 Step 3: Create a Property in Google Analytics
Now, under the Property column, click on the blue button called + Create Property.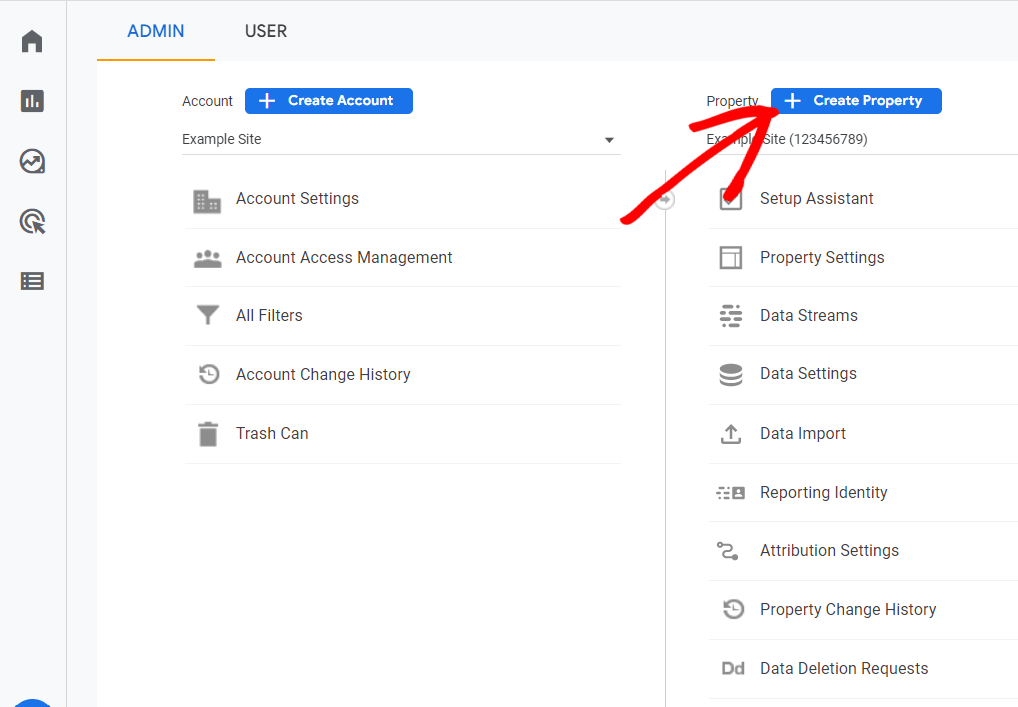 Google Analytics will then ask you to enter a property name, select a reporting time zone, and choose a currency.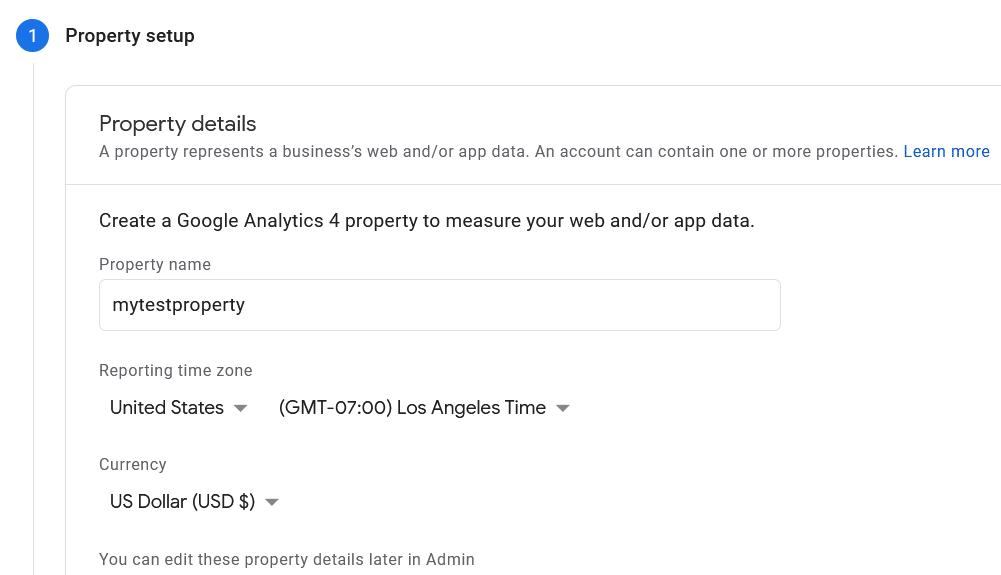 On the next screen, you will have to enter your business information. First, select an Industry Category for your website.
Then choose a business size, and select how do you intend to use Google Analytics with your business. You can select more than one option to explain how you'll be using Analytics.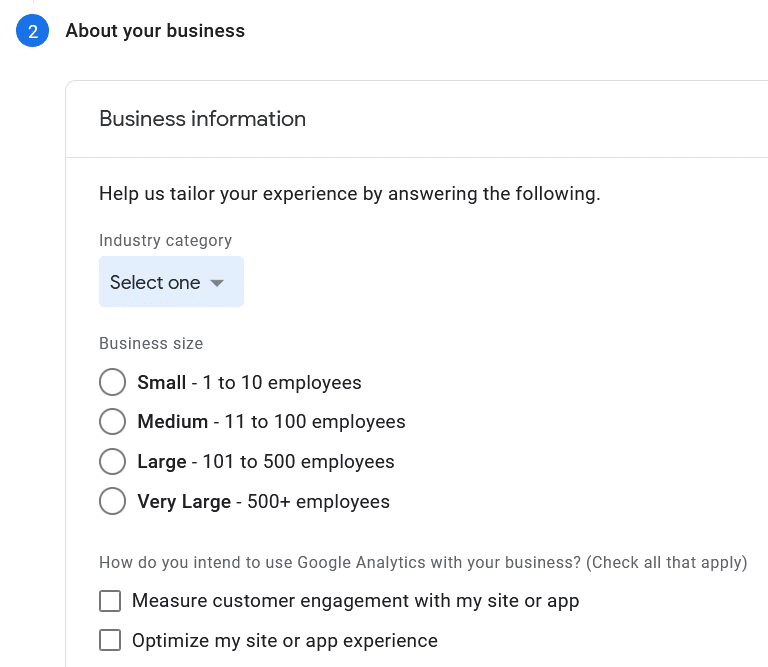 Now as you click Create, you may see a Terms of Service popup. Click I Accept.
Next, you'll be instructed to create your data stream. This is just where you tell Google what property type you're setting up, whether it's web or app. We'll go over the Web setup. So, choose Web: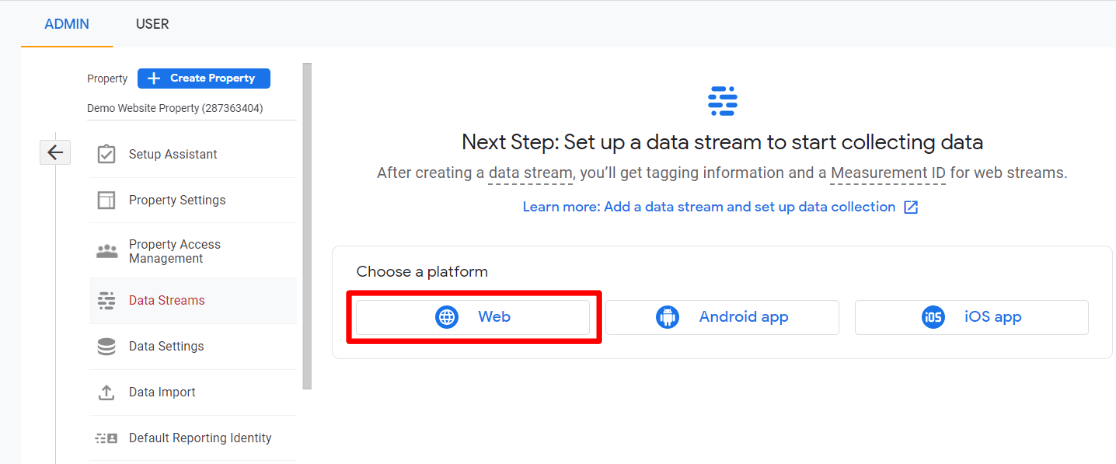 Then, fill in your URL and give the stream a name. Click Create stream.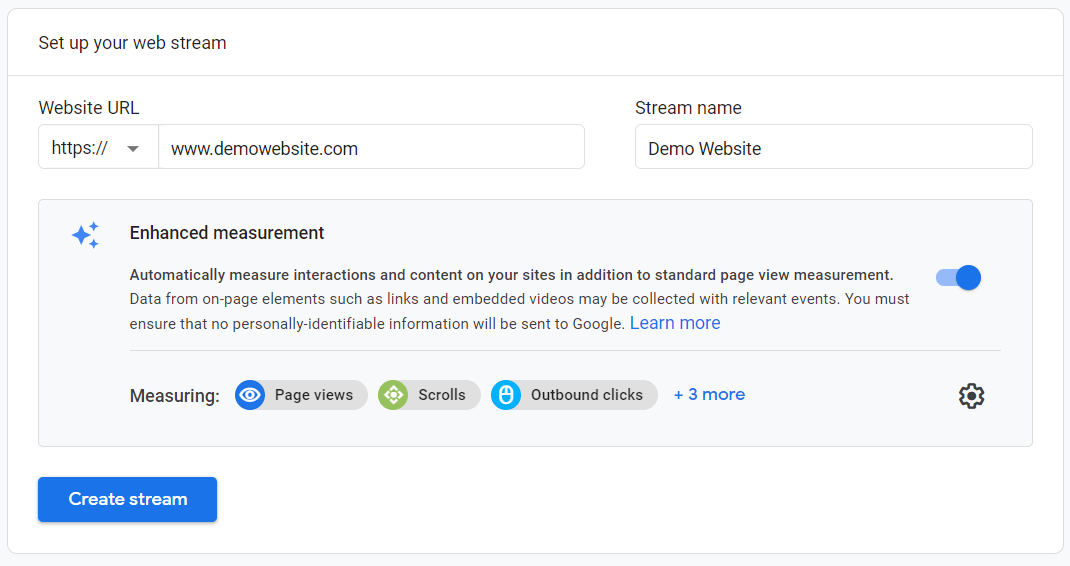 That's it, your property is created! Now, though, you still need to install the tracking code on your website.
But inserting the tracking code requires coding. And if you don't have any knowledge about how to code, then it's better not to mess with it or you'll risk harming your website.
If you're on WordPress, you're in luck! We have the easiest way possible for you to install Google Analytics on your site: ExactMetrics.
Set Up ExactMetrics on WordPress
ExactMetrics is the best premium WordPress Analytics plugin for WordPress. Using ExactMetrics, you don't have to edit any code at all to install Google Analytics.
To set up Google Analytics in WordPress, the first thing you'll need to do is install the ExactMetrics plugin.
Once you've purchased ExactMetrics, you can download the plugin from your account area. Just login and go to the Downloads tab. Then click on Download ExactMetrics to get the ZIP file. Alternately, you can grab the lite version to try for free.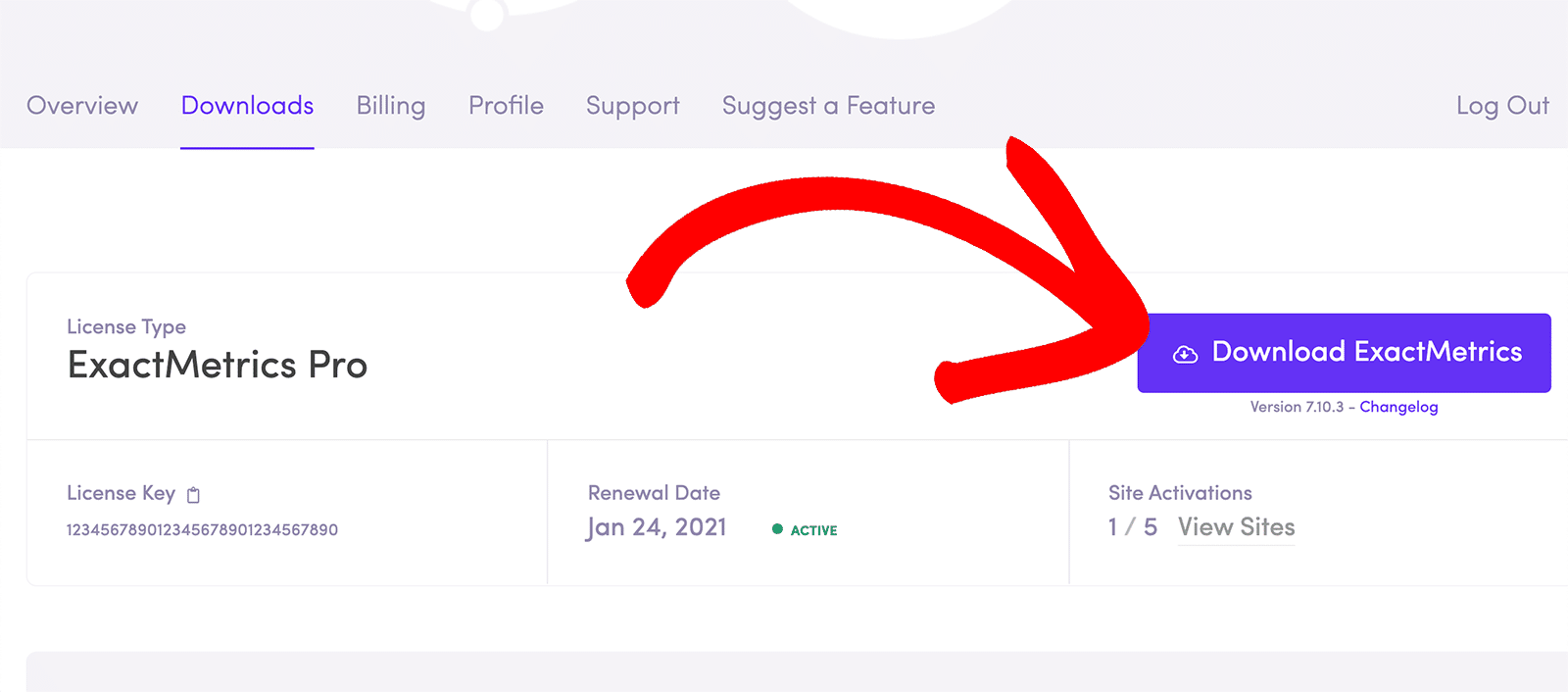 Now head over to your WordPress website and go to Plugins. Then click Add New and on the top, you'll see an option, Upload Plugin.
Next, click on Choose File and navigate to where you saved the ExactMetrics ZIP file. Upload the ZIP file and then click Install Now.
Once the installation is complete, click on Activate Plugin to use ExactMetrics.

You should see ExactMetrics in your WordPress options on your left. To add Google Analytics, go to ExactMetrics, and then select Settings.
Here you'll see a wizard that will guide you through the setup process. Click on Launch Setup Wizard.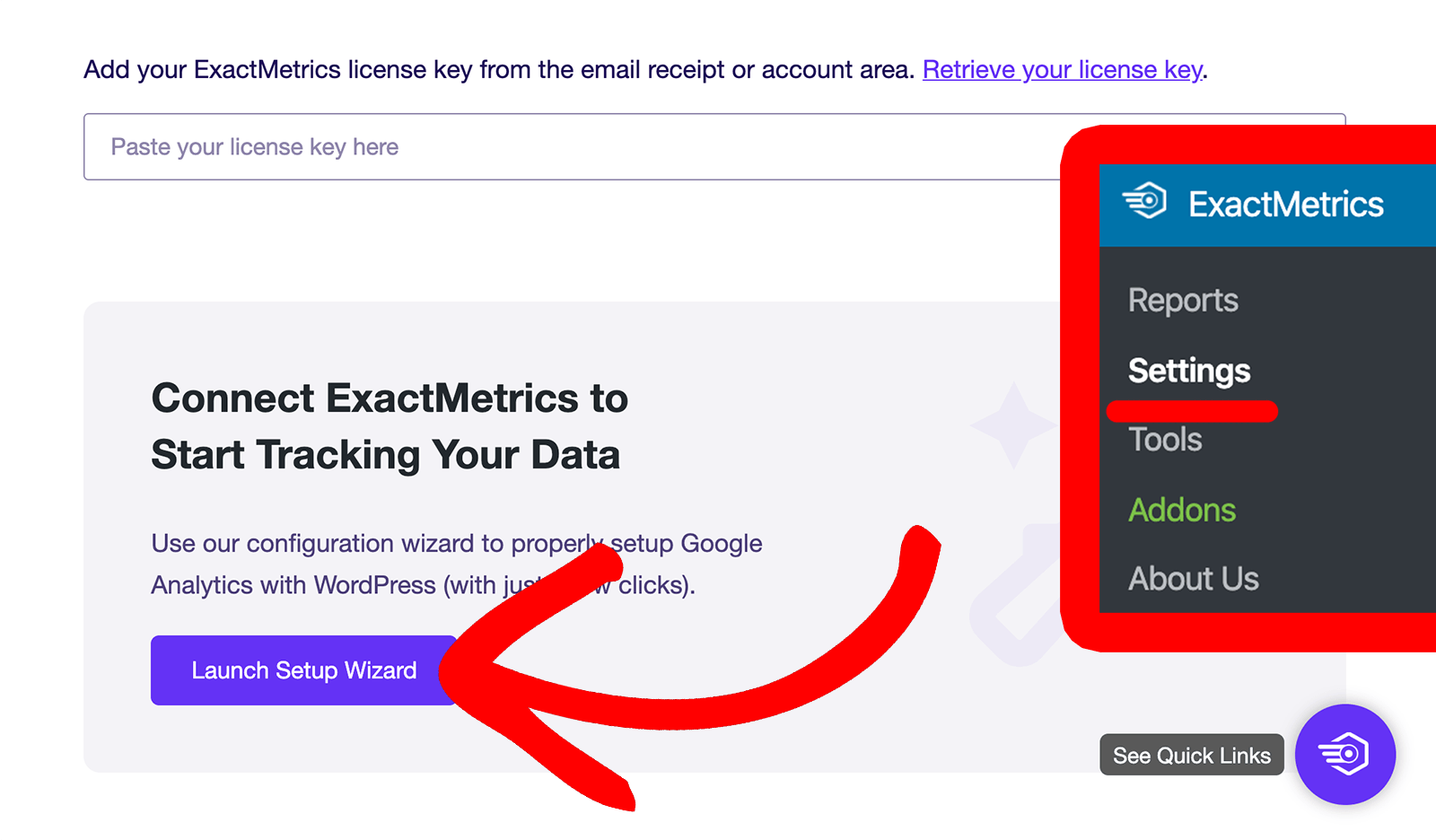 The setup wizard will then ask you about the type of website you want to connect. You can choose from 3 options: Business website, Publisher (Blog), or Ecommerce.
Select your website type and click Save and Continue.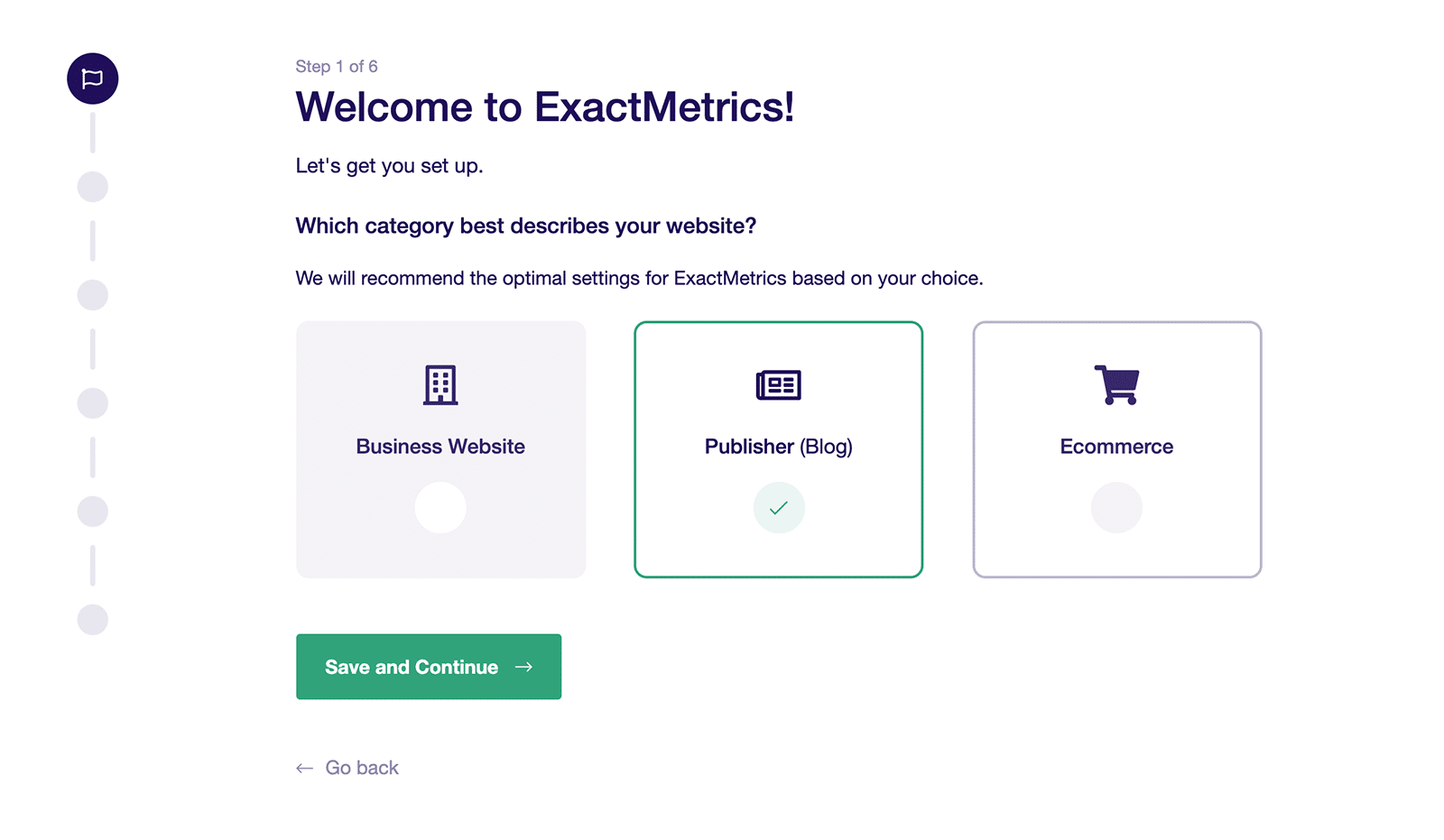 In the next step, you'll have to connect your Google account. Now select the account that you used earlier to add a property to Google Analytics.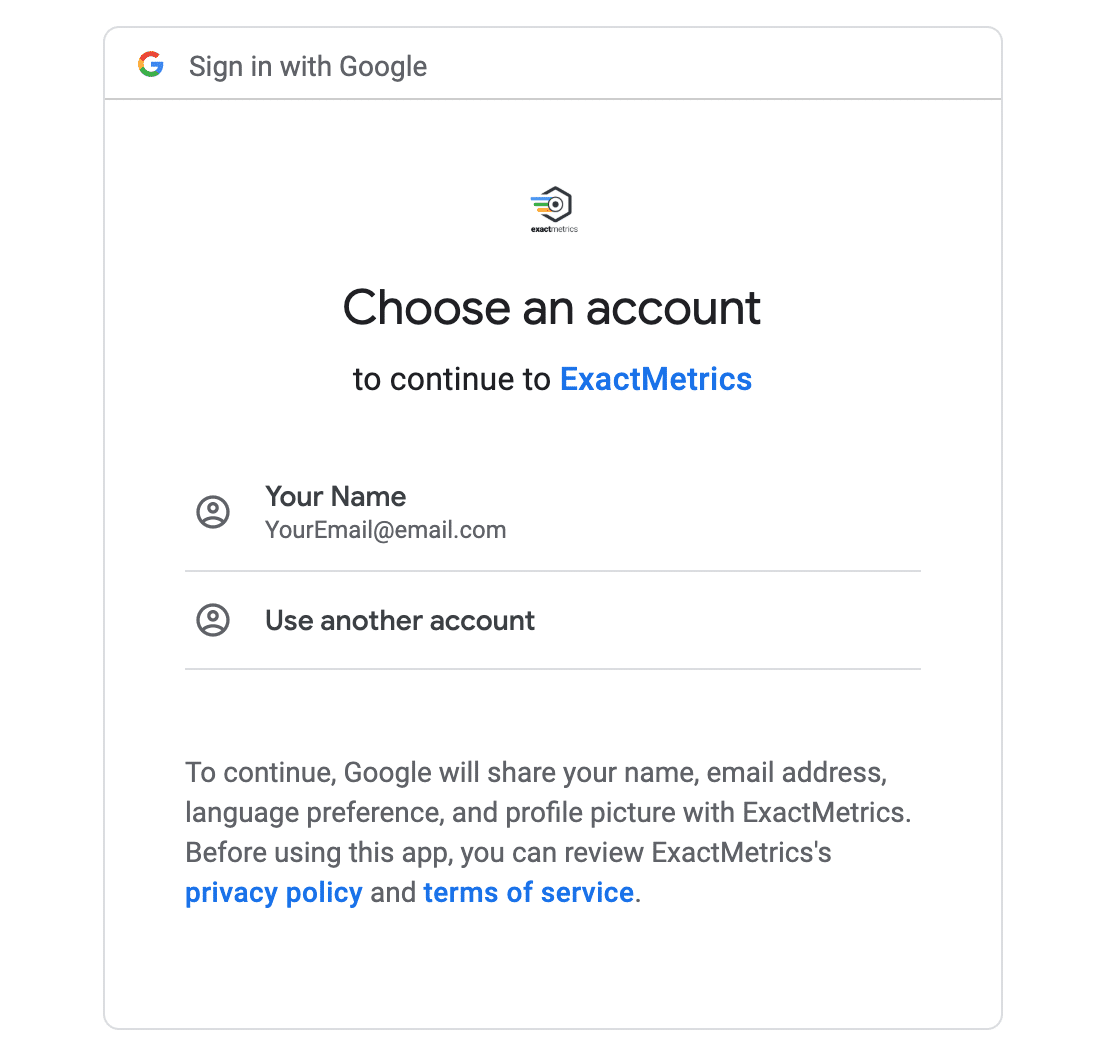 Next, you'll have to grant permissions for the plugin to properly set up tracking.
Select all the options and then click Allow.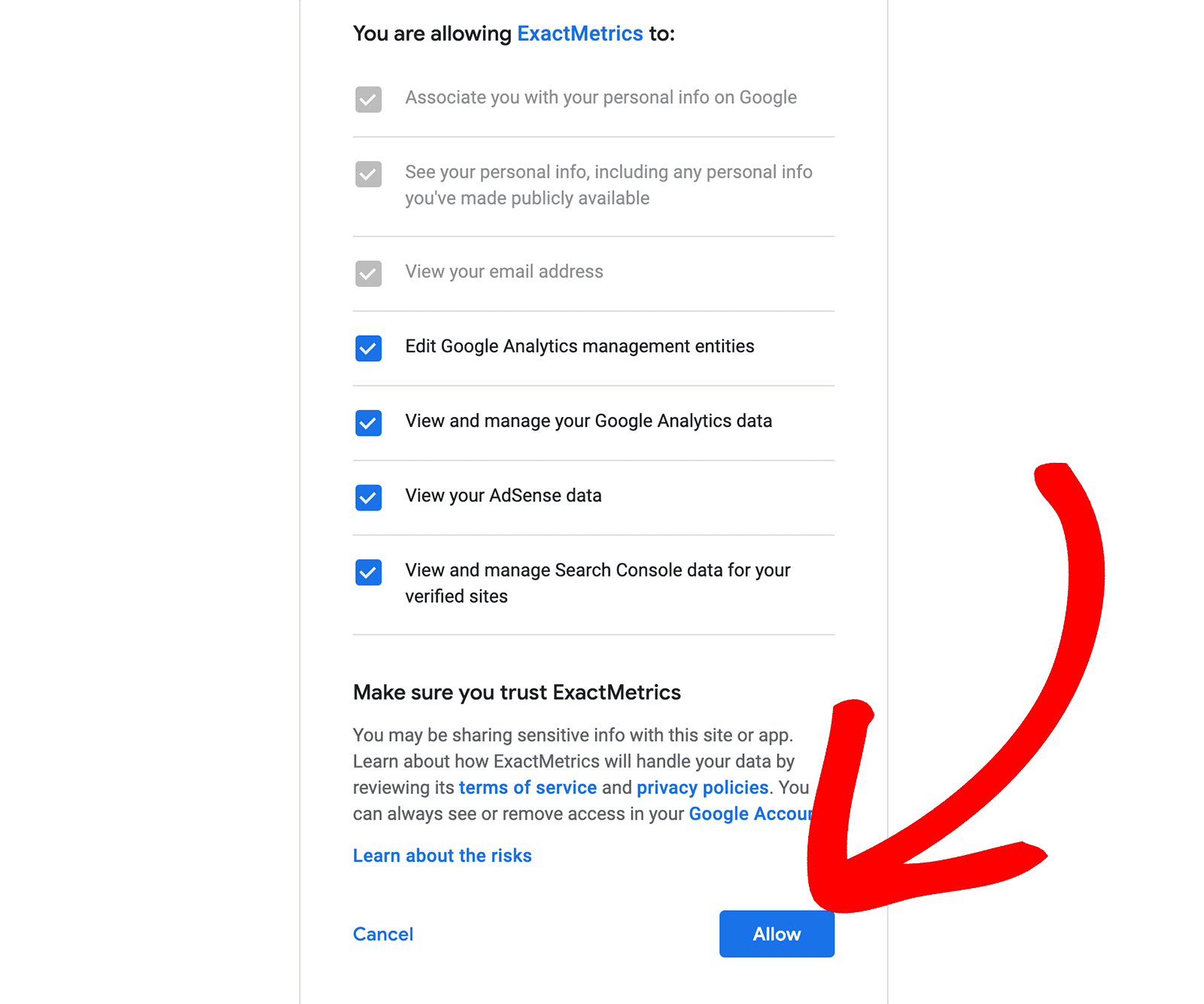 Once you've connected your Google account, the last step is to select the property you want to track. Here, choose the property name that you created in step 3.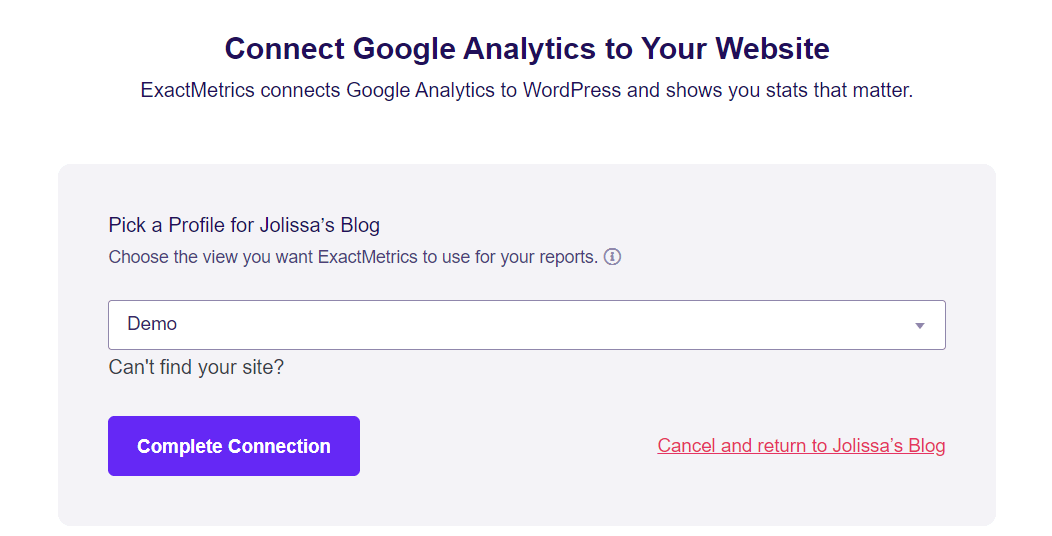 Now, click Complete Connection and you've successfully added Google Analytics to your new website without any coding.
And that's it!
You now know how to create a property in Google Analytics and add a tracking code to your WordPress website.
We hope you found our article on how to add a new website to Google Analytics helpful. A few more articles we think you might like:
How to Track Link Clicks in Google Analytics and WordPress
30 Epic Marketing Hacks for Explosive Traffic Growth
Not using ExactMetrics yet? Get started today!
And don't forget to follow us on Twitter and Facebook to get to know the latest tutorials on Google Analytics.