Want to log into Google Analytics to monitor your website's visitor data? Through Google Analytics, you can track how people use your site, what pages they visit, how they found your site, and lots more.
Analytics provides data that helps you understand your visitors' behavior. Using that data, you can grow your business by making the right decisions.
But what good is any of this if you're not sure how to access and use your Google Analytics account?
In this article, we'll guide you through how to log into Google Analytics. We'll also show WordPress users how you can get your analytics right inside your dashboard. Plus, we'll give you a few other crucial Google Analytics tips.
Let's get started.
Log into Google Analytics: Step-by-Step Tutorial
Just follow these steps and you'll be able to access your Google Analytics data in no time.
Step 1: Launch Google Analytics Website
The first step is to go to the Google Analytics website.
In the right top corner, click on Sign in to Analytics.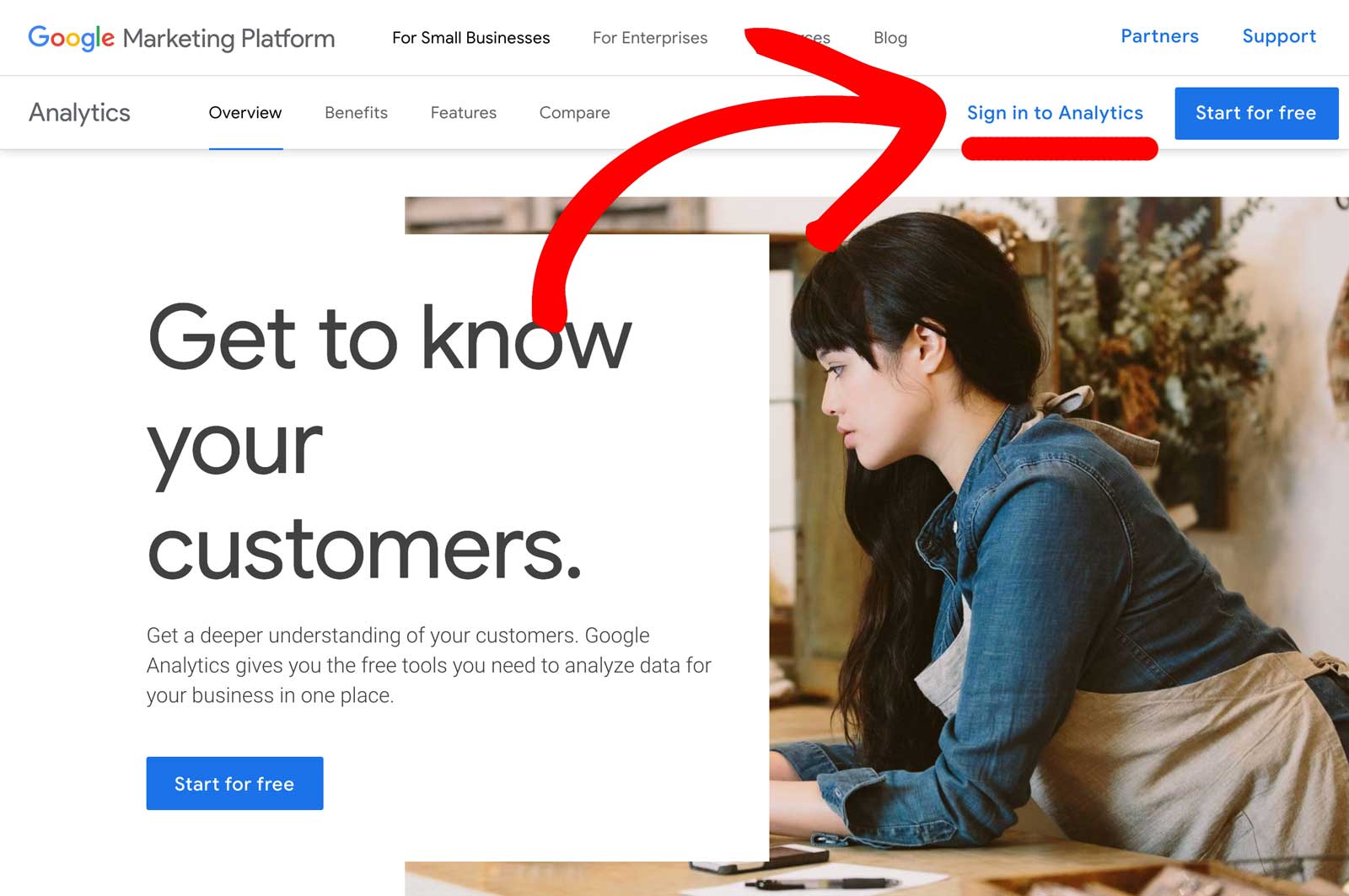 If you don't have a Google Analytics account set up yet, you'll need to click the blue Start for free button.
Step 2: Enter Your Email or Phone
After clicking on the link, you'll be taken to a screen where you can enter your Google account email address. You can also use your phone number to login. Click Next to continue.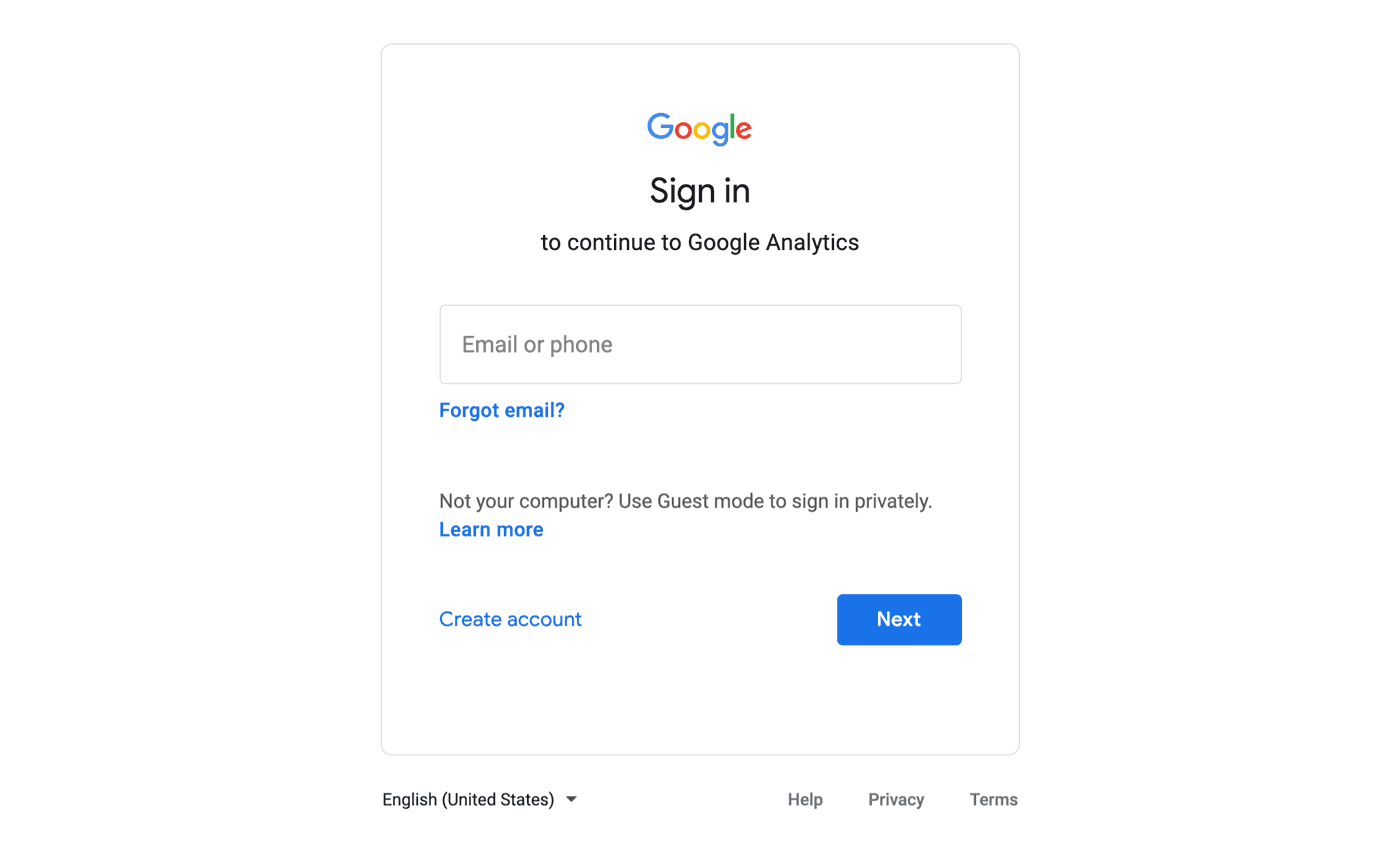 Make sure you enter the account that you used to create a Google Analytics account (if you haven't yet, here's how). Otherwise, you won't be able to see your data.
Step 3: Enter Your Password
Next, you'll have to enter the password of your selected account. Click Next once you're done.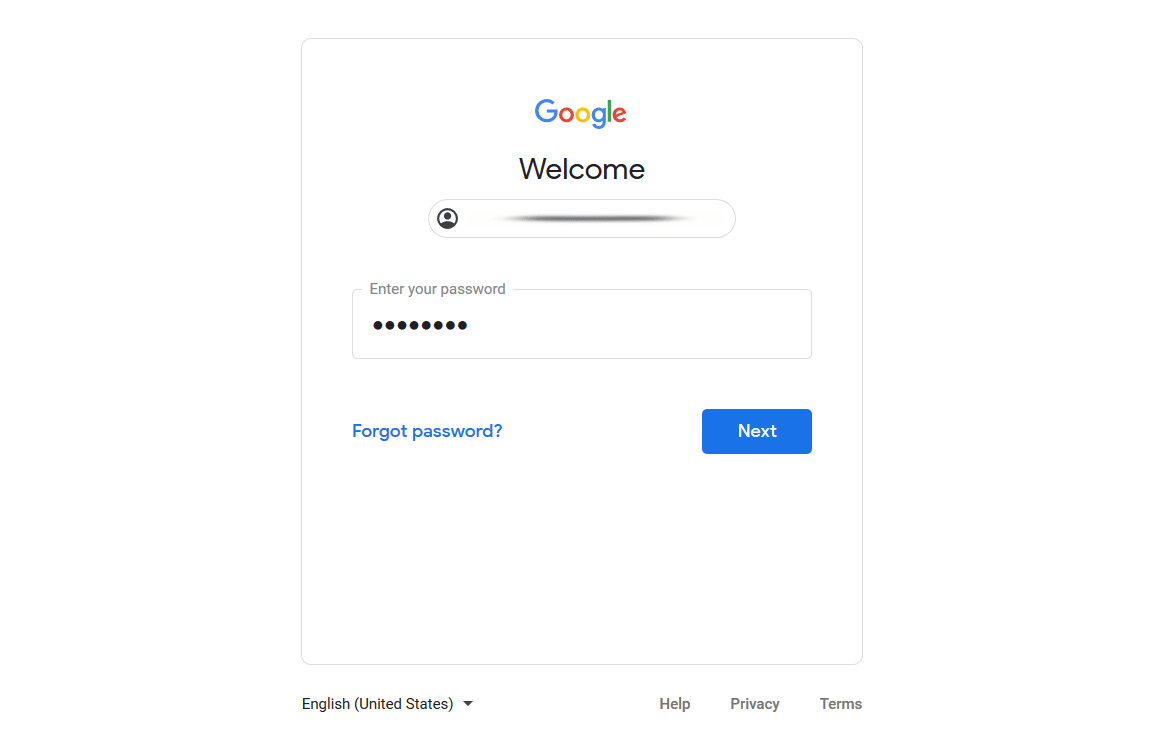 If you've forgotten your password, use the Forgot password? link to recover it.
You've now successfully logged in to your Google Analytics account. You can view different reports and access data to understand your users and check your site's performance.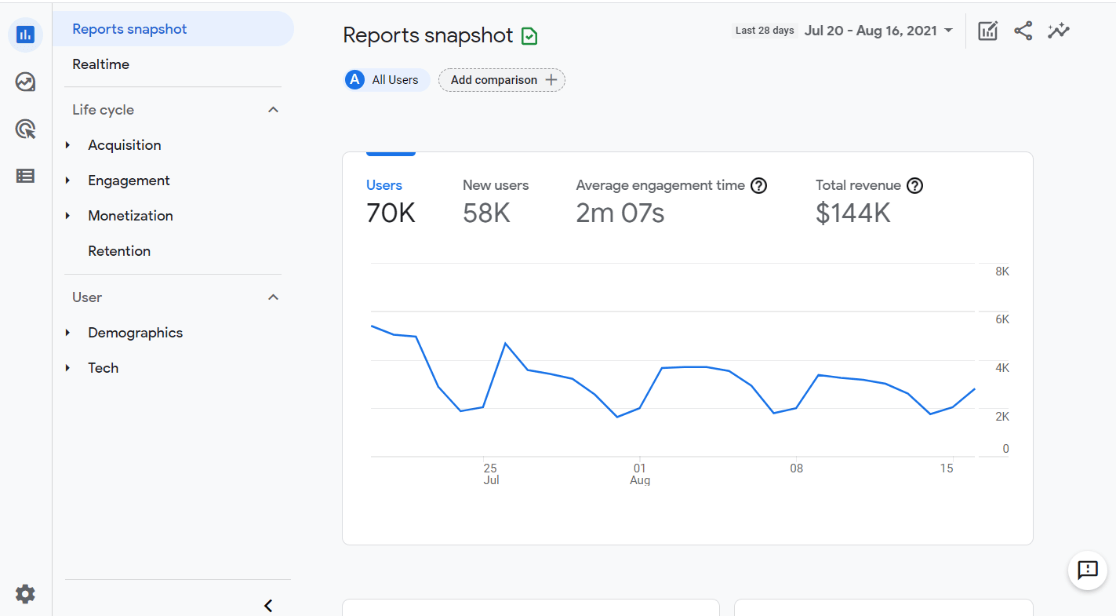 Google Analytics is a really big tool with tons of tracking options and customizations. While that's awesome, it also makes it really complicated for a regular, non-expert user.
If your website is on WordPress, though, you have an really cool option to simplify your analytics and get the stats that'll help you grow your business: ExactMetrics.
How to View Google Analytics In a WordPress Dashboard
ExactMetrics is the best premium WordPress Analytics plugin. It takes Google Analytics and makes it much less complicated, and adds your stats right into your WordPress dashboard for easy everyday access.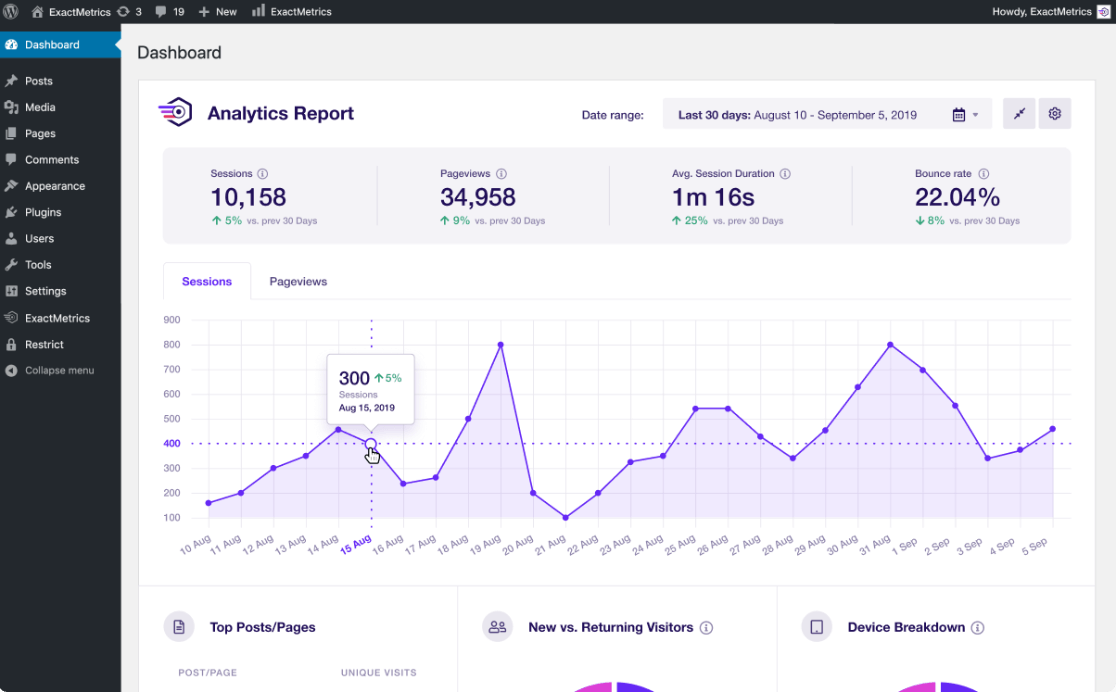 With the help of the plugin, you can add Google Analytics to your WordPress site without coding.
With ExactMetrics, you can view important Google Analytics reports right inside your WordPress dashboard. So, you don't have to worry about navigating through Analytics and finding your most important data.
ExactMetrics offers a whole bunch of the most important reports you need. Along with traffic stats, you can also see new and returning visitors, device breakdown, top 10 countries, top 10 referrals, top posts/pages on your website, outbound links, downloads, eCommerce, and more.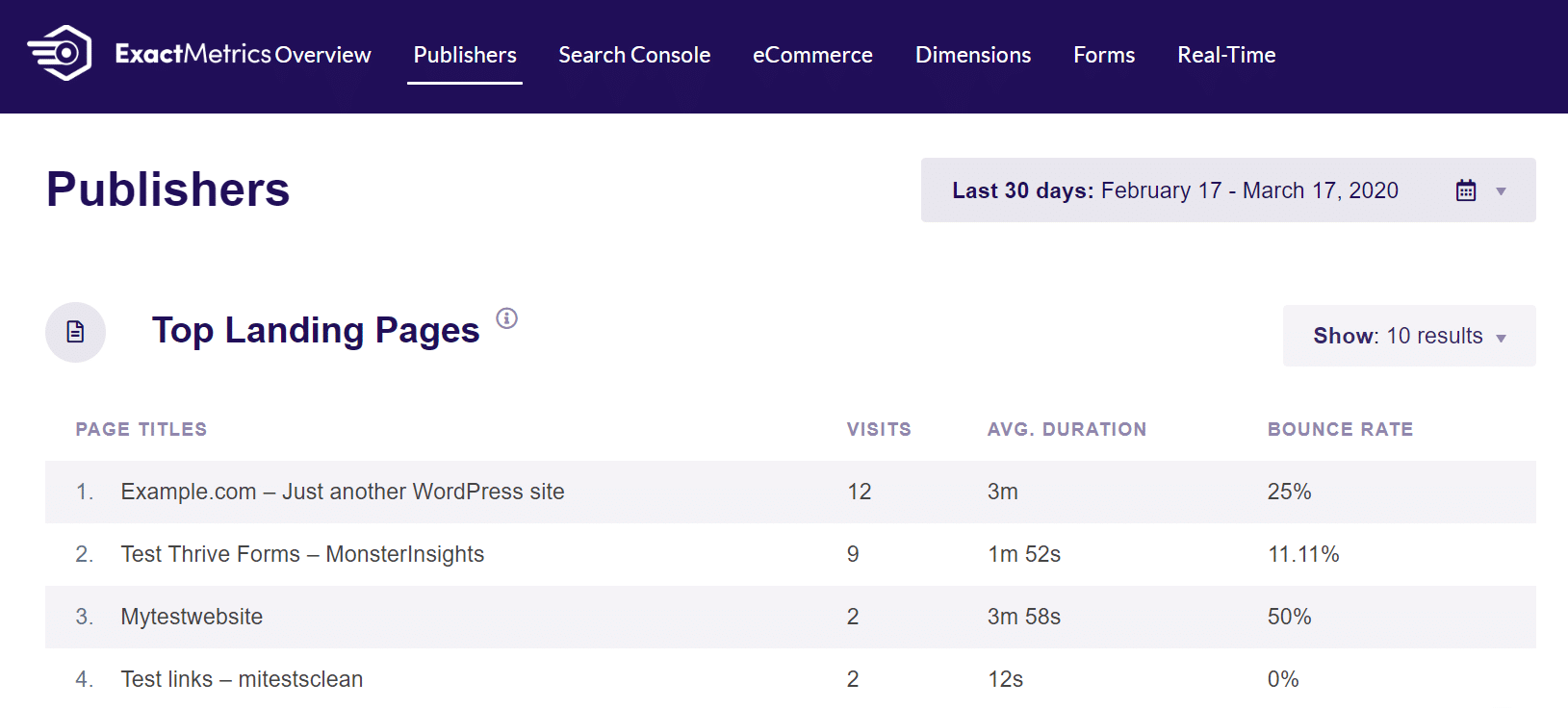 Other ExactMetrics reports include:
Search Console Report – View your organic keywords, their CTR, and average position on Google.
eCommerce Report – Using ExactMetrics eCommerce addon, you can track sales, average order size, top products, and more for your online store.
Dimensions Report – You can set up custom dimension tracking in Google Analytics thanks to ExactMetrics and track stats like popular categories, authors, post types, and tags.
Forms Report – If you have different forms on your site, then using the ExactMetrics Forms addon, you can track their conversions.
Real-Time Report – Track your visitors in real-time and see your site's performance stats minute by minute.
An additional benefit of using ExactMetrics is that you don't have to worry about logging into Google Analytics every time.
Once you've set up Analytics on your WordPress website using ExactMetrics, all you have to do is view the reports to scale your business.
Crucial Google Analytics Tips
Once you've signed up for Google Analytics, there are still some important things you should do to set it up and make it work in the way you need. Here are a few crucial Google Analytics tips to get you started:
Tip 1: Grant Access to Other Users
Do you have other people on your team who should be able to access your site's Analytics? You'll want to add them as users on your property.
To do that, open your Google Analytics account and head to Admin » Account Access Management: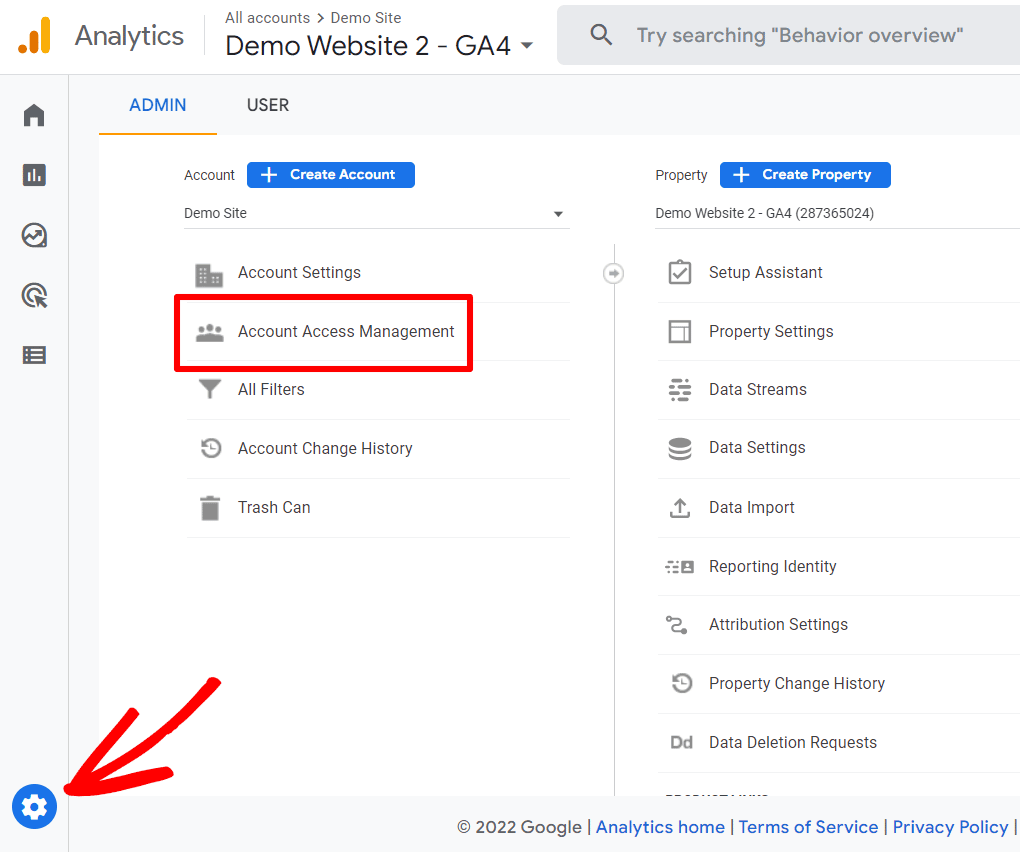 On this screen, click the blue plus sign button to add a new user:

On the next screen, you'll enter the email address for your new user and choose their role. Read the description of each carefully so you know just what you're providing access to within your account. Only you and other select individuals should be granted admin access.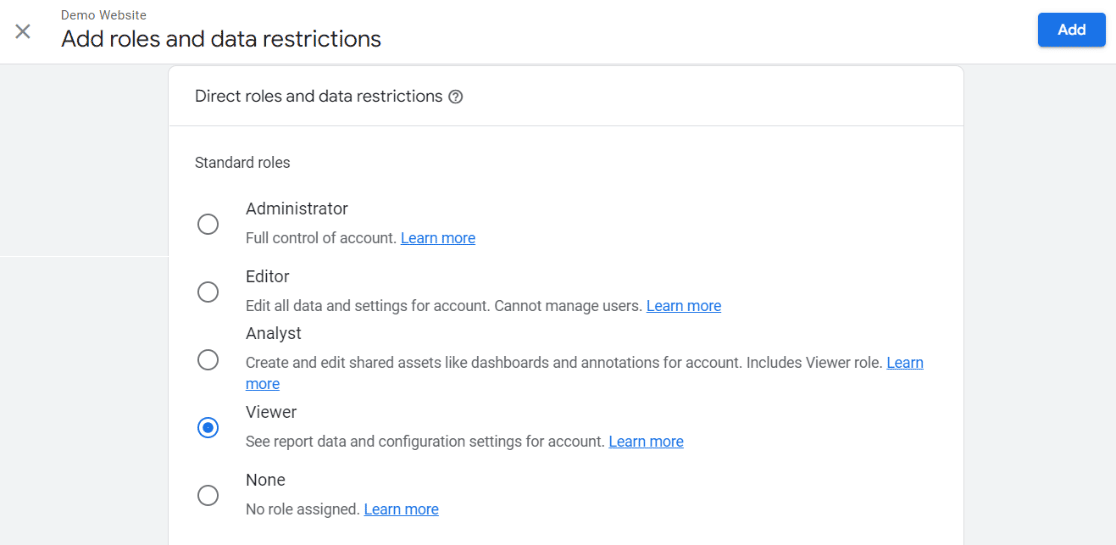 Once you click the blue Add button, that's it! Your user is added.
Tip 2: Set up Conversions
If you really want to see on a daily basis how your website is doing, setting up conversions is the best way to do that. What do you ultimately want your users to do on your website? Do you want them to submit a form? Click to call your business? Watch a video? Download an ebook?
If you're tracking those actions, then you can be sure about how your website is really performing.
If your website is on WordPress, we have some good news for you. Conversion tracking is super easy if you're using ExactMetrics! Check out our Ultimate Guide to Conversion Tracking in WordPress for more on how it works.
If you're not using WordPress, try using this guide from Google Analytics on event setup.
Tip #4: Set up eCommerce Tracking
Do you sell physical or digital items on your website? If so, it's incredibly important to correctly set up your eCommerce tracking. Without setting it up, Google Analytics won't be able to see things like your revenue and products. If you want to be able to track how your products and your overall store is doing, you must set up eCommerce tracking.
For more on setting up eCommerce tracking in WordPress, check out How to Set Up Google Analytics eCommerce Tracking (Simple Way). If you're not using WordPress, try this tutorial.
Tip #5: Check Your GDPR Compliance
Do you need your site to be GDPR compliant? It's always a good time to think about what measures you have in place to be compliant with privacy laws across the globe. If you're using ExactMetrics, you can use our EU Compliance Addon to make your compliance journey easier and faster.
To learn more about this, read GDPR and Google Analytics: How to Make Your WordPress Site Compliant.
With that, we hope you liked our article on how to log into Google Analytics. You can also go through our guide on How to Track Google Analytics Keywords (Step-by-Step).
Don't forget to follow us on Twitter and Facebook to see all the latest Google Analytics tutorials.