Did you know that an average consumer will visit your website 3 or 4 times before doing business with you? And, most don't convert on their first visit, which is why Google Analytics conversion paths can help you see a clearer picture of where those visitors first came from.
By default, Google Analytics credits a user's last visit with their conversion. So for instance, if someone finds your website via Google search (organic), then comes back later by typing in your URL (direct) and completes a conversion, Analytics will tell you that the user completed a conversion via the direct channel. It won't tell you that the user first found you via organic search.
You won't know to credit organic with first bringing in that user.
UNLESS you use the conversion paths report.
You can see a customer's interactions with your website and find out how he got to a conversion by using the conversion paths report in Google Analytics.
The Google Analytics conversion paths report will tell you:
Which channel was attributed to a user's first visit, even if he didn't convert
Which channel was attributed to a user's visit when he converted
The channel paths your visitors took to convert (Organic » Direct, for instance)
Let's dive in for a closer look at conversion paths.
Why Use the Conversion Paths Report?
The conversion paths report is incredibly helpful when you're planning out marketing campaigns and budgeting time or funds. Without using the report, you might miss something pretty big.
For example, let's say you ran some ads on Facebook to try to get more people to read an important blog post and, inevitably, sign up for your newsletter. You had quite a few clicks, but not as many sign-up conversions as you were hoping for. So, you're thinking about not running your planned second ad.
Then, you remember the conversion paths report. You open it to find that your Facebook ad didn't drive a lot of conversions on users' first visits, but a good number of them came back again via organic or direct, or even social a second time, and signed up.
It turns out your Facebook ad was actually pretty effective! If you hadn't looked at the conversion paths report, you wouldn't have known and you'd have lost out on a good, conversion-driving ad.
Find Conversion Paths in Google Analytics
To find top conversion paths in Google Analytics (GA4), navigate to Advertising in the slide-out sidebar, then Conversion Paths.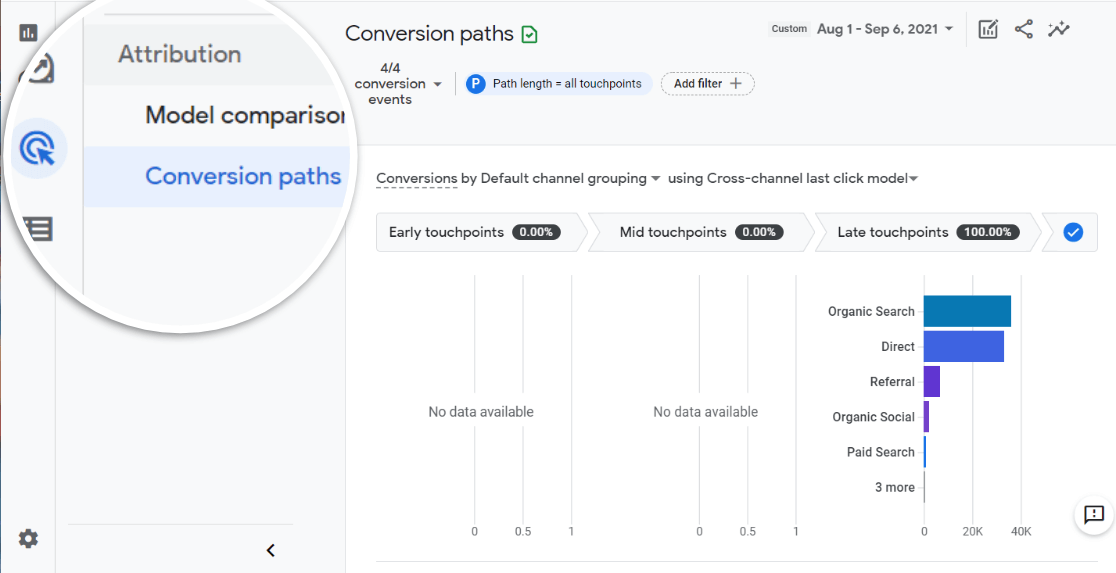 Scroll down to the table to see your report: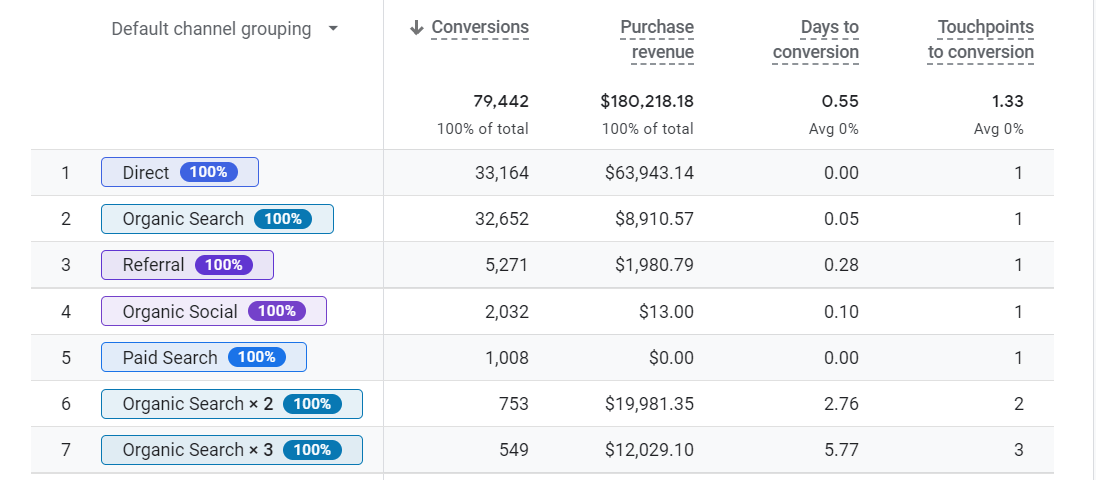 Here, you can see that when you get down to rows 6 and 7, there are conversion paths beyond just a single visit. In row 6, we can see that 753 conversions happened after a user visited via organic search twice. In row 7, they visited via organic 3 times before converting.
How to Get More eCommerce Reports
With ExactMetrics at the Pro level, you can easily set up Google Analytics eCommerce tracking on your WordPress site (without editing code) and get awesome reports for your store.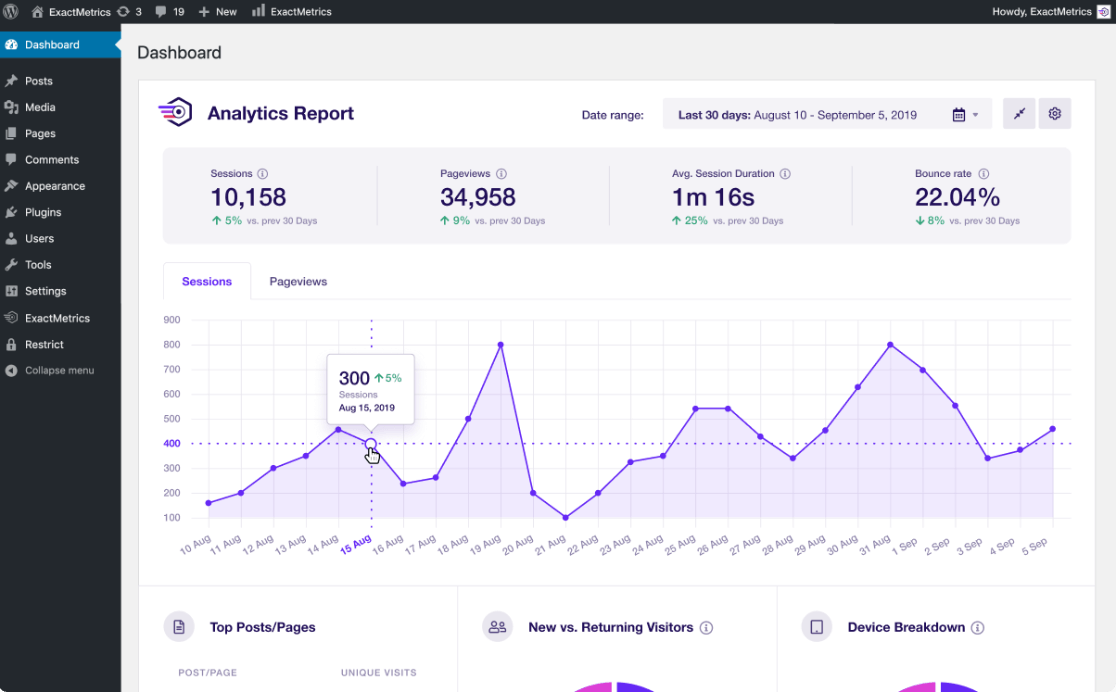 ExactMetrics is the best premium WordPress Analytics plugin. It makes it incredibly easy to set up and use Google Analytics. You can track your revenue, top products, conversion sources, file downloads, outbound links, affiliate links, and more automatically.
Let's take a look at some of the eCommerce reports you can access with ExactMetrics.
First, when you open the eCommerce tab, you'll see an overview of your most important metrics and your top products.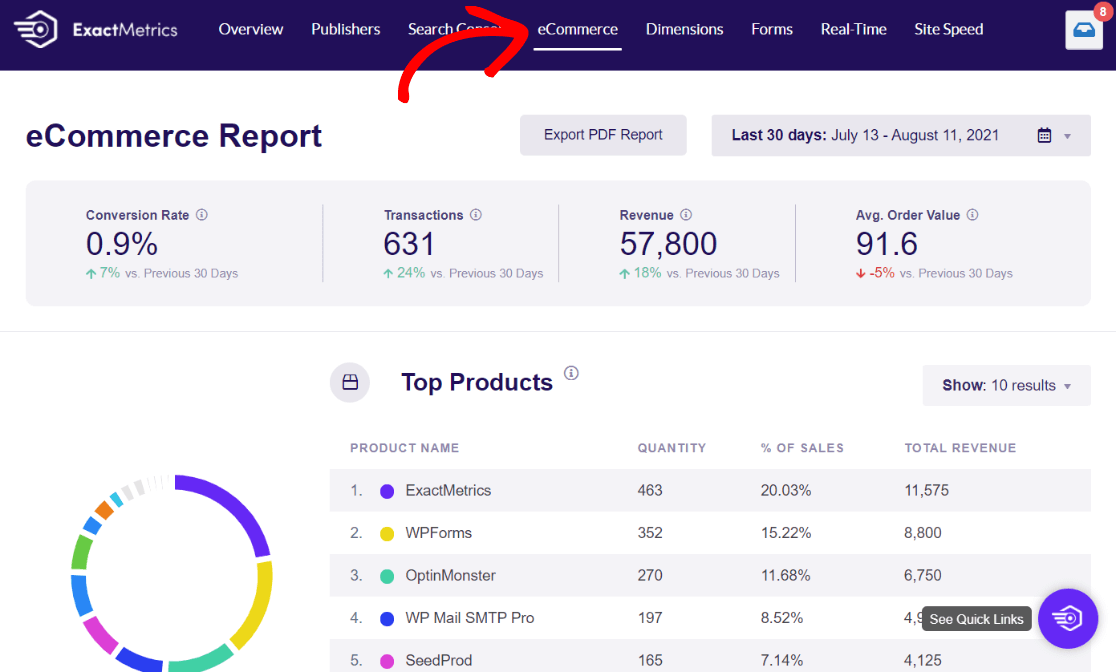 Next, you'll see cart adds and removals:

Then, there'll be a top conversion sources report: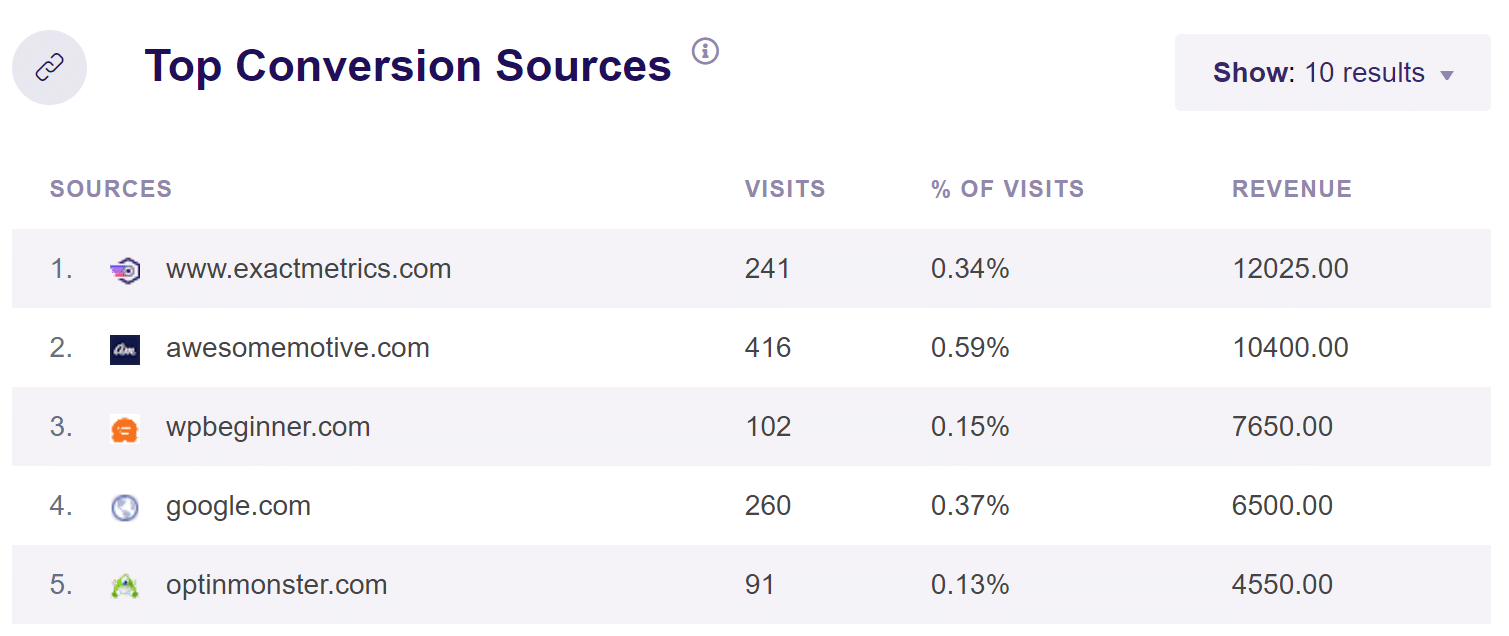 Want to see the individual steps that led customers to purchase? With ExactMetrics' User Journey Report, you can!
Easily see UTM parameters, Order Total, Steps to Purchase, and more for every Transaction.

To see the conversion path such as which pages and products a customer clicked leading up to purchase, just click any Transaction ID.
You can see every step they took and how long each one took. Use this information to help you optimize your site to lead to conversions and spot pain points in the user experience.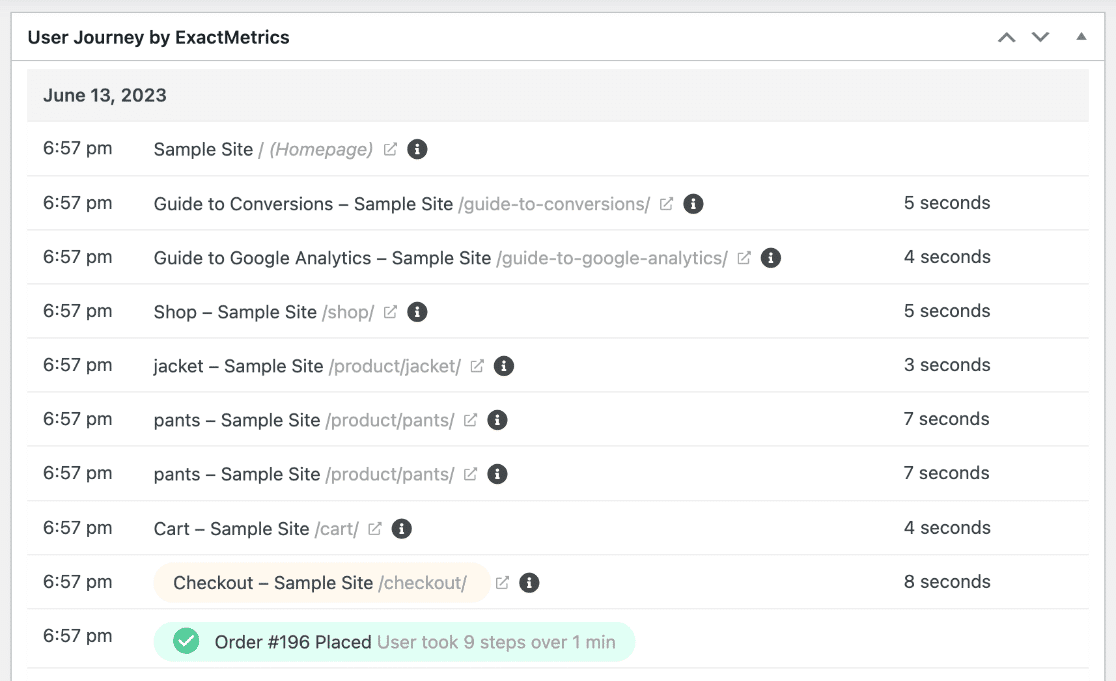 Ready to simplify Google Analytics and get easy tracking for forms, eCommerce, outbound links, and much more?
Get started with ExactMetrics today!
For some awesome ideas bout how to improve your online store, check out our Simple Ways to Boost Your eCommerce Conversion Rate.
Don't forget to follow us on Twitter and Facebook to see all the latest Google Analytics tutorials.