Do you have files available for download on your site, and you want to know how many people are downloading them?
That's a great idea! Tracking file downloads will give you a look at how many people are engaged with your site and consuming your content. You can also count a file download as a conversion and track how many of your visitors are converting.
In this post, we'll show you how to track file downloads in Google Analytics and WordPress. Let's go.
Can Google Analytics Track File Downloads?
Yes it can! There are a couple different ways to track your file downloads in Google Analytics, depending on what other tools you're using.
Once you're tracking those downloads, you can use that data to really understand what's happening on your website and make improvements.
For most websites, a file download probably counts as a conversion. A conversion is when a visitor comes to your site and performs an action that's meaningful to your business, like filling out a form with their contact information, watching a video, purchasing a product, or downloading a file.
Tracking conversions can help you:
Plan marketing campaigns
Understand your visitors' wants and needs
Diagnose problems with your website or marketing strategy
So, that's why it's so important to keep track of how many people are taking action on your website.
How to Track File Downloads with Zero Coding
Here are the steps to take to track Google Analytics file downloads in WordPress with zero coding:
To track file downloads on your WordPress website with Google Analytics, without having to touch any code or go through complicated setup, we highly recommend using the ExactMetrics plugin.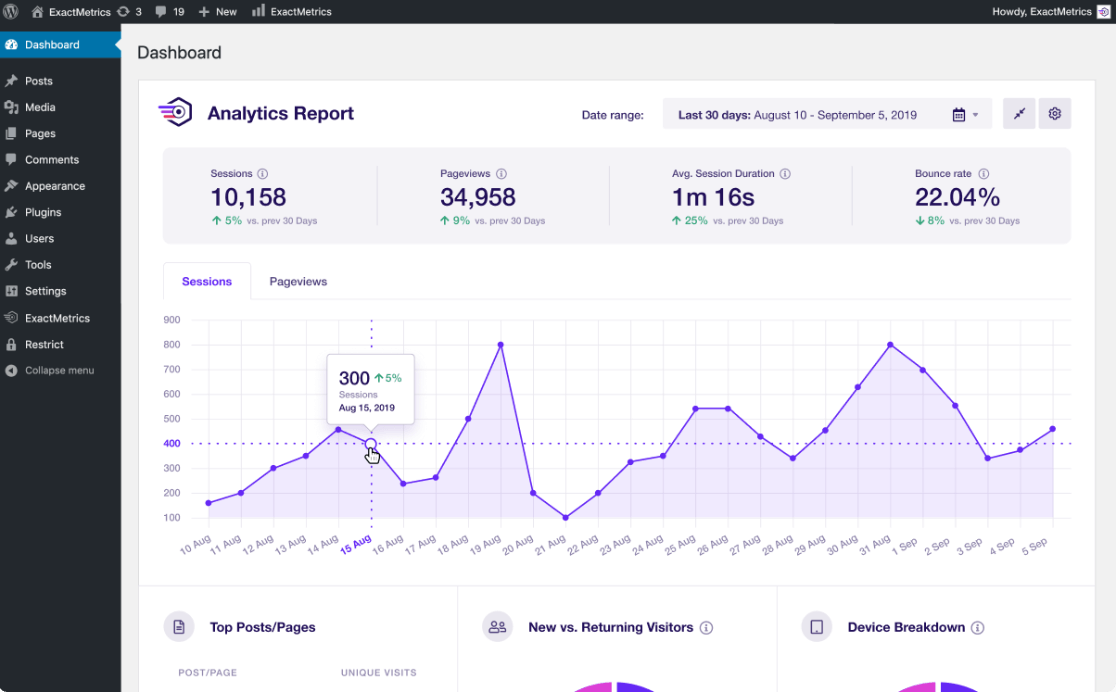 ExactMetrics is the best premium WordPress analytics plugin. With ExactMetrics, you can quickly and easily track your website's most valuable Google Analytics metrics and stats right in your WordPress dashboard.
Our most popular features include:
File download tracking
Top outbound and top affiliate link clicks
Site speed report
Scroll tracking
Form tracking
Easy enhanced ecommerce tracking
Let's go over step-by-step how to use ExactMetrics to easily track file downloads in Google Analytics.
Step 1: Install ExactMetrics
So to start, head to the Pricing page and get started with ExactMetrics at the Plus level or above. Once you complete checkout, download the plugin.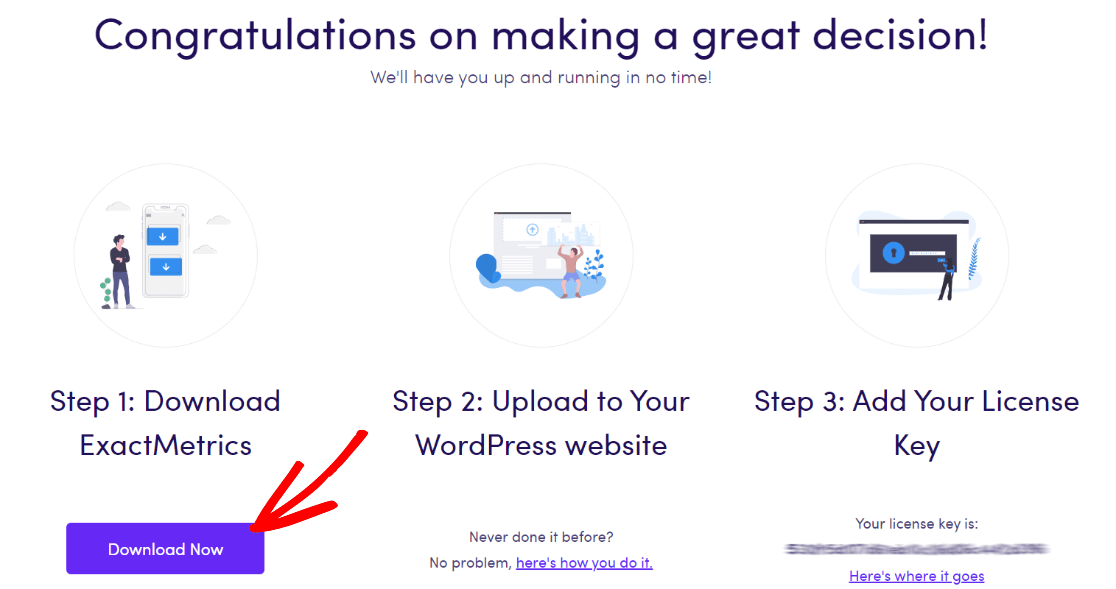 Next, upload it to your website.

Step 2: Add Your License Key and Connect to Google Analytics
Now that you have ExactMetrics installed, you can add your license key and connect your Google Analytics account. To get set up, click on ExactMetrics under your WordPress Dashboard and click the big green "Launch the wizard!" button.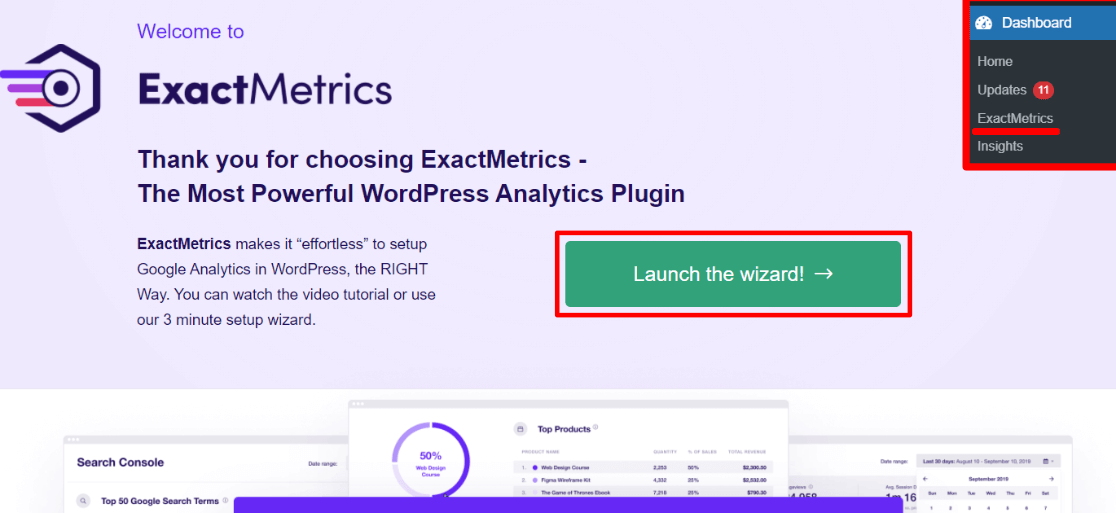 Once you're in the wizard, you'll get to this page where you can add your license key and connect with Google Analytics: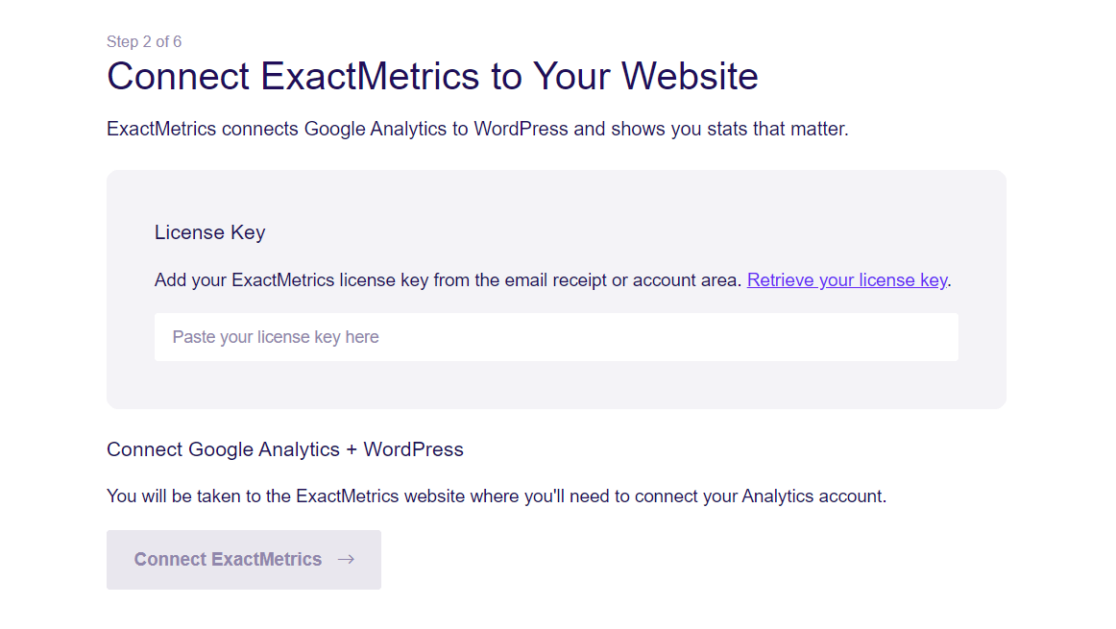 For more details on this step, check out our guide on how to properly add Google Analytics to your WordPress website.
Step 3: Choose File Download Tracking Extensions
During the onboarding flow, you'll come to a box where you'll input which file extensions (pdf, docx, zip) you'd like to track downloads for. If you're already an ExactMetrics user or you miss this step during setup, you can access this setting under ExactMetrics » Settings » Engagement: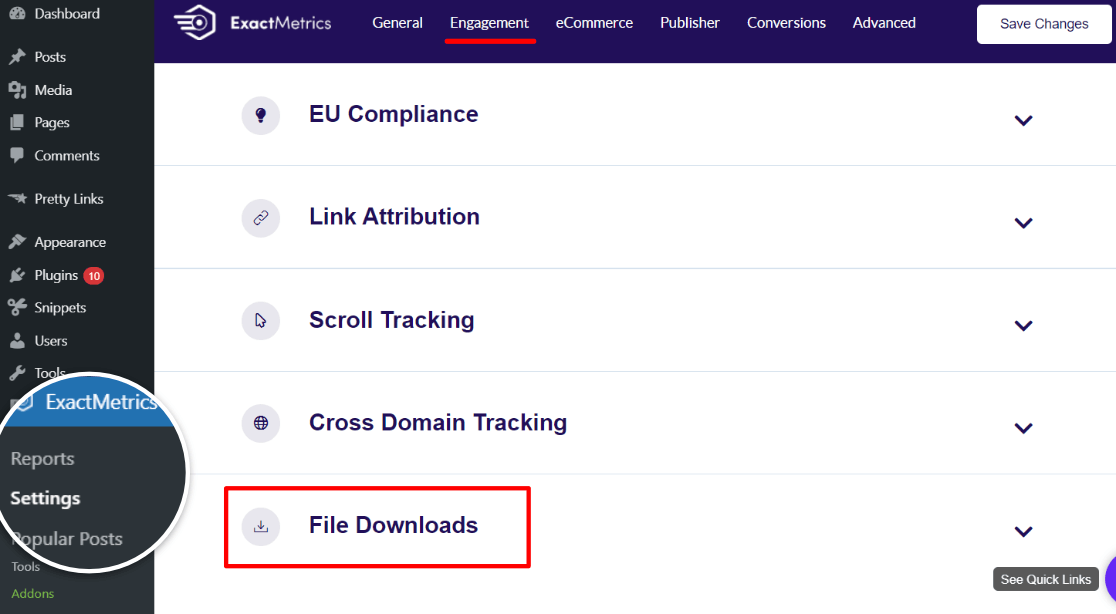 In the box, include which file extensions you want to track, separated by a comma. Pictured here are all the extensions that are tracked by default:

That's it! You're now set up to track file downloads.
How to Find File Download Reports
After setting up file download tracking, you'll start collecting data. To find your report, head to ExactMetrics » Reports » Publishers and scroll down to Top Download Links: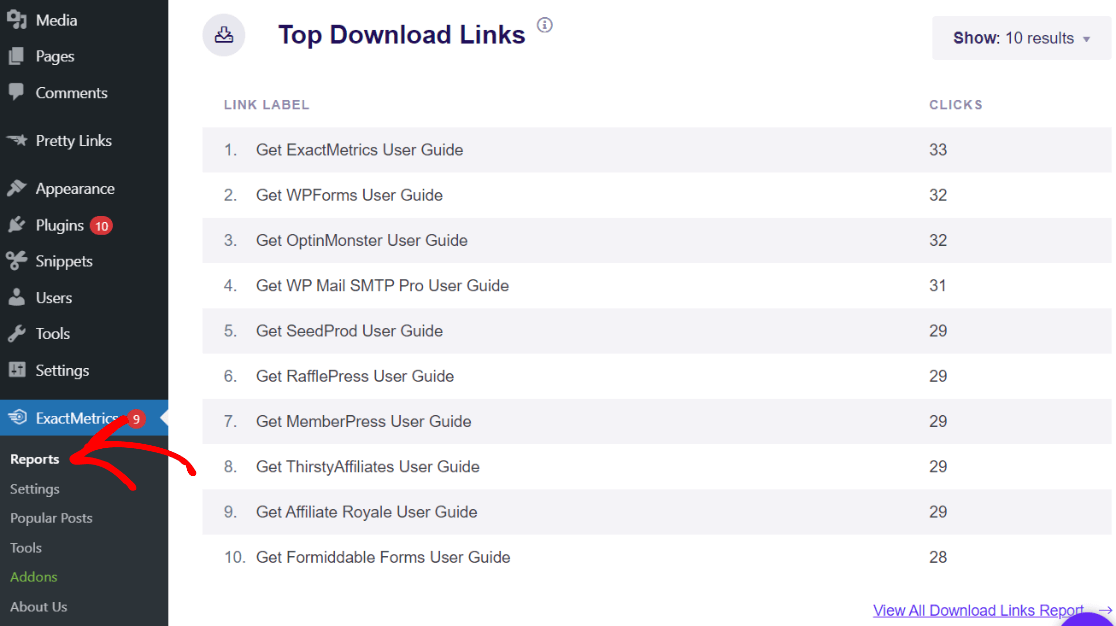 To view the full report, click the View All Download Links Report link at the bottom of the list. The link will take you directly to the full download Events report in Google Analytics.
That's it! You're now all set up to see how people are interacting with the downloads on your site.
Want to allow visitors to upload files to your WordPress site? Check our list of the 7 Best WordPress File Upload Plugins (Expert Pick).
Not using ExactMetrics yet? What are you waiting for?
Don't forget to follow us on Twitter and Facebook to see all the latest reviews, tips, and Google Analytics tutorials.