If you run a blog or website, accepting and managing files might be an important aspect of your online business. Thankfully, there are a number of excellent WordPress file upload plugins that can help with this.
Choosing the right plugin for uploading files on a WordPress site can streamline your workflow, save you time, keep your file sharing and management process organized, and even enhance the user experience on your site.
In this article, we'll share the best WordPress file upload plugins and explore their key features. By the end of this guide, you'll have a much clearer idea of which plugin is the best choice for you. So, let's dive right in…
How Do I Let Users Upload Files to My Website?
Adding a file upload feature to your website provides a lot of benefits, but WordPress doesn't offer a built-in solution for this. Luckily, a plugin for uploading files in WordPress can give your site this functionality in just a few clicks and is extremely useful across various industries.
However, with so many options available, picking the right one for your needs can often be a challenge. That's why we've narrowed it down to a curated list of the best WordPress file upload plugins, free and paid.
But first, let's take a closer look at what file upload tools do.
What Does a File Upload Plugin Do?
At the most fundamental level, a file upload plugin lets you, your team, or your website's visitors upload PDFs, signed documents, images, videos, and other file types directly to your site in a hassle-free manner while ensuring the security of your website and users' data during transfers. Beyond this, many of these tools let you create file upload forms, specify permitted file types, set maximum file sizes, manage your file downloads, and more.
A file upload plugins provide tons of use cases such as:
User-Generated Content: Enable users to upload guest blog posts, reviews, images, content for a contest or giveaway entry, and more. This not only engages your user base but can also provide fresh content for your site.
Boosted Customer Support: Accepting screenshots or other relevant documents from users gives you more precise details about their issues, so you can swiftly address and resolve their concerns.
Item or Service Specifications: A file upload option can allow customers to attach images and additional context to their product questions. It's also helpful for collecting specifications for customized merchandise or reference images and videos for providing an accurate service quote.
Digital Goods and Services: Allow users to upload their work, such as digital art and audio files, to a digital marketplace. Or, accept finished work from freelancers you hire, such as a graphic designer or copywriter, directly on WordPress without needing to give them access to your website.
Potential Hire Information: Enable applicants to upload resumes, cover letters, and other files directly on a job board or hiring page.
Educational Materials: Allow students to easily turn in assignments for an online course, share collaborative projects with other students, upload study guides, and more.
Best File Upload Plugins for WordPress
Let's start off with WPForms, a heavyweight when it comes to enhancing your website's functionality. This plugin is the best WordPress form builder available. Its comprehensive set of features makes constructing an upload form and managing file sharing both easy and intuitive.
With its beginner-friendly drag-and-drop builder and 1,000+ pre-built templates, WPForms is designed to be used right out of the box. You can easily add a file upload field on any form to accept multiple file uploads in various formats including documents, photos, and videos.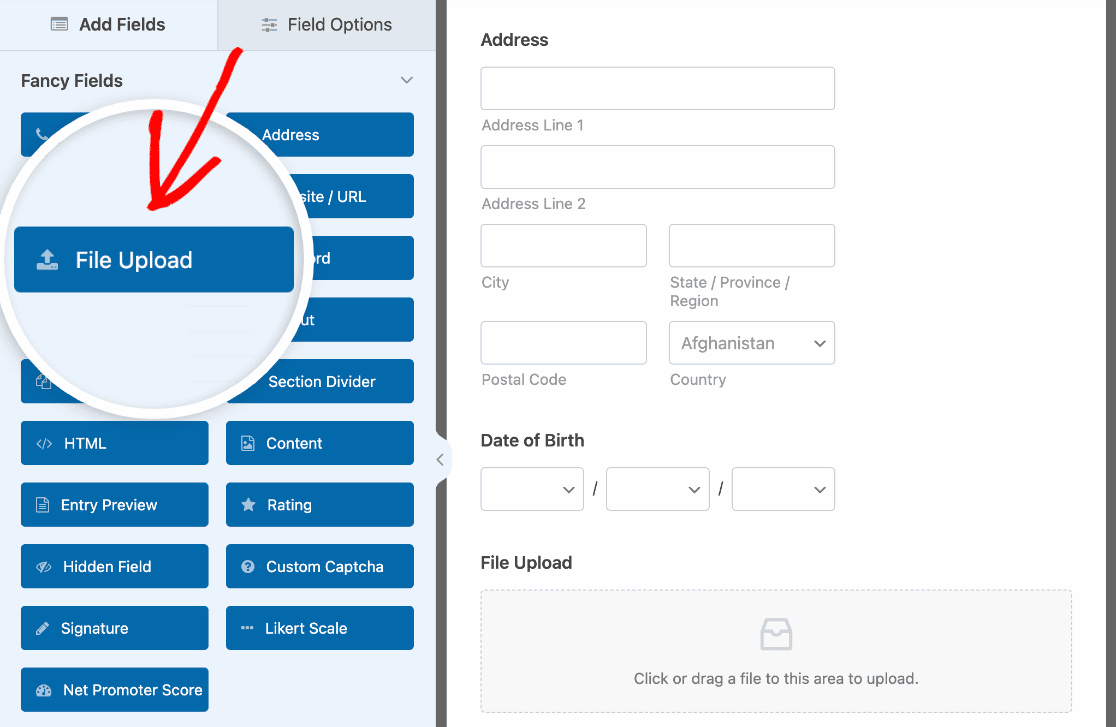 Let's take a look at some of WPForm's standout features:
Mobile responsive form templates, easy drag-and-drop-builder, custom fields, and smart conditional logic.
Add a file upload option to any type of form such as surveys, contact forms, order/payment forms, opt-in forms, and more.
Specify accepted file types and set size limits on uploads.
Use the native Gutenberg block or shortcodes to embed forms anywhere on your site including in a post, on a page, or in a widget area like the sidebar. It also integrates seamlessly with popular page builders like SeedProd and Elementor.
Built-in features to manage spam submissions and improve security.
Use AJAX forms to accept file uploads without refresh.
View uploaded files and form entries right from your WordPress dashboard. Easily export file details to Google Sheets or receive files as an email attachment.
Integration with popular marketing platforms, email service providers, and payment gateways. It also integrates seamlessly with ExactMetrics to track form submissions in Google Analytics.
When you combine all these features, it's clear why we think WPForms is the best file upload plugin for WordPress websites. It's user-friendly, versatile, and secure – a must-have for any website owner looking to build online forms, accept file uploads, and manage submissions effectively.
Pricing: Starts at $49.50 / year.
File Upload Types is a dedicated, free plugin for expanding your WordPress file upload capabilities. By default, WordPress limits the types of files users can upload. It will trigger an alert, Sorry, this file type is not permitted for security reasons, if users attempt to upload a file type outside of the allowed extensions.
File Upload Types is a handy tool that solves this issue by enabling additional file types to be uploaded on WordPress that aren't natively supported.
One of the plugin's notable features is that it lets you determine which file formats users can upload to your site. Activating or deactivating your allowed file types is as simple as toggling the extensions on or off in your WordPress admin area. This attribute helps address vulnerability issues and aids in safeguarding your site from receiving unwanted or potentially harmful files.
Here are some more key features of File Upload Types by WPForms:
Beginner-friendly and doesn't require any code.
Enables many popular file types that aren't natively supported in WordPress such as .zip, .svg, .ai, .xml, .csv, and more.
Supports custom file types.
An internal file extension whitelist provides full control.
Works seamlessly with WPForms.
File Upload Types is an excellent plugin that you can download for free from the WordPress.org directory to enable different file types on your website. That said, it's meant to be used alongside other plugins since it lacks a front-end file upload form. It's compatible with other file upload plugins, but of course, it meshes particularly well with WPForms.
Pricing: Free.
If free and simple is your priority, WordPress File Upload, a plugin by Iptanus, should be on your radar. Unlike traditional form builders, this tool lets you place a straightforward file uploader in a post, page, or sidebar using shortcodes.
It allows visitors to upload images, videos, PDFs, music, posts, and other files directly on your site. The plugin gives you control over all of your uploaded files from your dashboard where you can view, manage, and organize files.
More of WordPress File Upload's features include:
A file uploader to place on your site via a simple shortcode.
Email notifications each time a file is uploaded.
Manage and organize all files from your dashboard.
Choose where your files are stored.
Put filters and actions in place for before or after a file is uploaded.
Multilingual support.
Whether you want to receive guest posts for a blog, client documents, job applications, or something else, WP File Upload is a practical solution. You'd need to upgrade to WordPress File Upload Pro for features like multiple file uploads, unlimited file size, block editor integration, and visual customizations, but the free version is a good choice for no-hassle file uploads.
Pricing: Free (WP File Upload Pro starts at €20.00).
Formidable Forms is another popular WordPress form plugin with a file upload feature. It allows you to build complex forms, and its drag-and-drop interface makes setting up complicated forms much easier. Plus, the plugin provides ample templates to get you started.
The most notable thing about Formidable Forms is its deep customization options. You can create really complex file upload forms that include things like dynamic fields, calculated fields, automatic image resizing, and other advanced form functions with zero coding knowledge.
Check out more of Formidable Forms' features:
Drag and drop form builder to design complex forms without code including repeater fields, calculated fields, and advanced conditional logic. Add a file upload field to any form including polls, surveys, and quizzes.
Supports multi-file uploading and multiple file types with options to exclude certain formats.
Ability to set size limits and offer automatic image resizing before upload.
Use Integrated Views to transform entries into front-end content.
Uploaded files are stored in your WordPress media library. They can also be sent as email attachments.
Integrates seamlessly with ExactMetrics to track form conversions.
Considering its robust functionality, Formidable Forms is surprisingly easy to set up and use. Advanced features and its ability to handle large and diverse file types combined with tools for image resizing and integrated front-end content make it well-suited for complex file upload forms and websites that regularly manage user registrations and file submissions, like Avatars.
Pricing: Starts at $39.50 / year.
Looking for a large file upload plugin for WordPress? Take a look at Big File Uploads. As the name suggests, this tool is specifically designed to handle large files that are often difficult to upload using standard methods.
This free file upload plugin for WordPress boosts the size limit of your WordPress media uploader, so you can upload large files on the backend of your website. It won't give you any functionality for adding or managing files, but it does integrate with media library plugins like Infinite Uploads for cloud storage.
Big File Uploads will bypass the upload limits set by your server or hosting provider and break down large files into smaller chunks during upload. This means you can upload files of virtually any size, including high-resolution images, hefty documents, and lengthy videos.
Here are some of the plugin's key features:
Lightweight and simple configuration.
Built-in file chunking to prevent timeout errors.
Set the max file size in Megabytes (MB) or Gigabytes (GB) and specify size limits by user roles.
Integrates seamlessly with the WordPress Media Library and other plugins for file management and storage.
Smart recommendations based on available space in your temporary uploads directory.
If you're dealing with large files regularly and need a plugin to increase the maximum upload file size in WordPress, Big File Uploads can provide a vital solution, but it may not be necessary for smaller websites or bloggers.
Pricing: Free.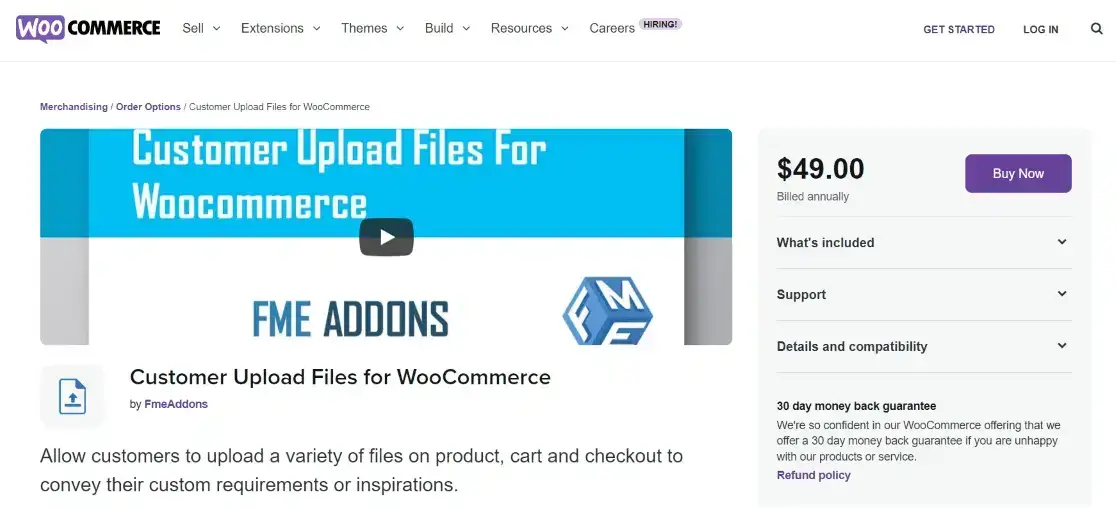 If you run an eCommerce business using WooCommerce, this one's for you. Customer Upload Files for WooCommerce is a handy WordPress plugin tailored to fit your online store needs. You can easily enable file uploads on product pages to allow customers to send specifications, references, or any additional information required.
Key features of Customer Upload Files for WooCommerce include:
Supports an array of file types for customers to send illustrations, photos, documents, and more.
A customizable file upload button lets you change the color, text, and positioning to fit your brand aesthetic.
Ensure you have control over uploaded files by specifying the permitted file size, type, and quantity.
What makes Customer Upload Files for WooCommerce an excellent choice is its native compatibility with WooCommerce and its user-friendliness it is. It effortlessly integrates with your online store, minimizing the hassle that may come with using other non-WooCommerce plugins.
Pricing: Starts at $49 / year.
If you're in search of an advanced plugin that's both feature-packed and free to manage your site's files, File Manager may be the answer. This plugin turns your WordPress dashboard into a full-fledged file management system, allowing you to upload, download, edit, delete, move, archive, and extract files without ever needing to access your cPanel or an FTP client.
The plugin supports uploading files from both the backend and front-end side of your WordPress website. Shortcodes let you attach a file upload field to any page without too much technicality, and you can manage and manipulate files directly from your dashboard.
Important highlights of File Manager include:
Create, edit, rename, delete, share archive, and extract (zip, rar, tar, gzip) files easily.
Drag-and-drop function for moving, copying, and uploading files.
Flexibility and design customization when adding frontend uploaders with shortcodes.
Control over permitted file types for both uploads and downloads.
Ability to set file size limits and automatically resize uploaded files.
Supports custom code with a built-in integrated development environment (IDE) and syntax checker.
Built-in file search functionality, browsing history, and root directory.
Backup and restore features for WordPress theme files, plugin files, and uploads folder.
All in all, File Manager delivers the power to directly edit files from your dashboard, helping you save valuable time, simplify workflow, and increase performance. It's probably not the best option for most WordPress beginners. But, if you're an administrator or seasoned webmaster seeking a feature-rich solution with enhanced control over server files, File Manager just may be your new best friend.
Pricing: Free for basic file operations (Pro version starts at $25 for 1 site).
What Is the Best File Upload Plugin for WordPress?
After careful review, WPForms is undoubtedly the best file upload plugin for WordPress. The plugin simplifies the complex task of creating file upload forms and managing file submissions. It does all the heavy lifting for you, ensuring smooth, secure, and efficient file transfers. WPForms is incredibly user-friendly, feature-rich, and perfect for both beginners and experienced users alike.
The plugin offers powerful versatility, a drag-and-drop form builder, security protection measures, and ample customization for file sizes, file types, visual design, and more. Plus, you can use it seamlessly with File Upload Types by WPForms to easily expand the list of permitted file types on your WordPress website.
WPForms isn't just a WordPress file upload plugin; it's a comprehensive solution that enhances the overall functionality of your website. Whether you run a blog, website, or an online store, WPForms is an excellent choice to handle your file upload and form needs.
If you're looking for a plugin to handle a different aspect of file uploads such as increasing the size limit of backend files on WordPress, we hope you found the perfect solution in our list.
Shaking up our list, we present an unconventional file upload plugin, ExactMetrics. Now, you may be thinking, isn't ExactMetrics a Google Analytics plugin? Yep, that's right!
Tracking your file upload forms is a crucial part of the equation, and that's where ExactMetrics can help. The plugin integrates with all WordPress form builders such as Gravity Forms, WPForms, and Contact Forms 7. So, you can easily start tracking form submissions on your site in only a couple of clicks.
ExactMetrics helps you set up Google Analytics and tons of advanced tracking for things like file downloads, video plays, eCommerce, social media, and more in just a few minutes. Then, it brings all of your important reports directly to your WordPress dashboard.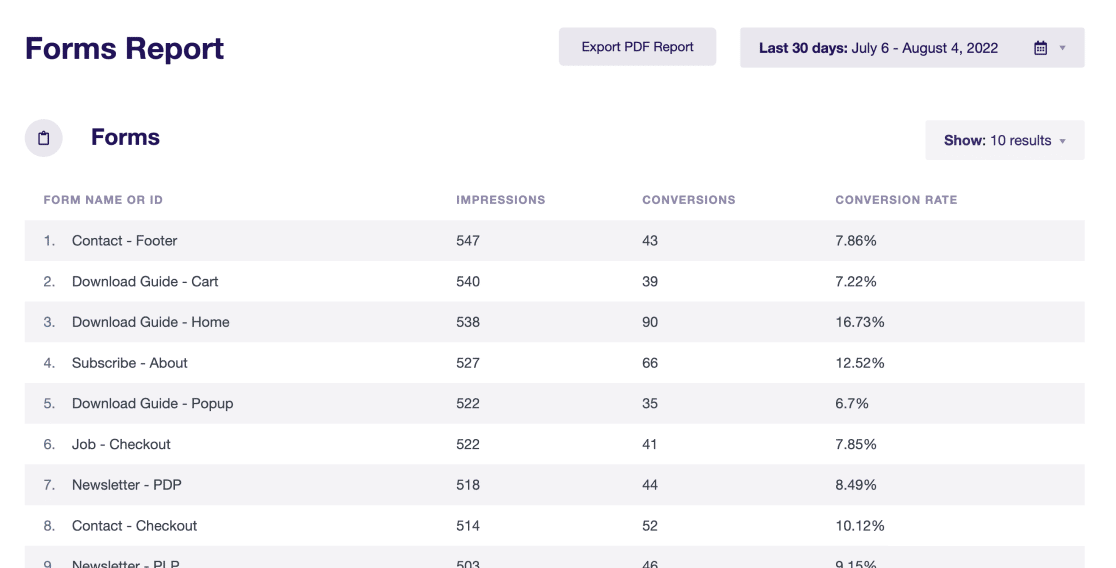 By understanding user behavior on your site, you can shape your content strategy, improve your form conversion rates, provide more of what your visitors are looking for, and much more.
Well, that's it! We hope this article helped you find the best WordPress file upload plugin for your website.
If you enjoyed learning about file upload plugins for WordPress, you'll definitely want to check our list of the Best WordPress Booking Plugins (Free + Paid Options).
Not using ExactMetrics yet? What are you waiting for?
Don't forget to follow us on Twitter and Facebook to see all the latest reviews, tips, and Google Analytics tutorials.