The ExactMetrics team is always striving to improve our users' experience and support your business growth! The latest update, ExactMetrics 7.8, includes new integrations with the User Journey addon to improve your sales and marketing with more and better data.
Our latest User Journey addon integrations help you get better eCommerce results by tracking site visitors as they move through the sales and payment processes.
Let's take a closer look!
See User Journeys in Top eCommerce Plugins
We expanded ExactMetrics' ability to connect to the most popular eCommerce plugins on WordPress. Although ExactMetrics already had User Journey for WooCommerce, we've been working to create new User Journey integrations for other widely used eCommerce tools.
And now, we're proud to introduce an improved User Journey addon for users of these top plugins:
Track Every Step in the Buying Process
ExactMetrics User Journey reveals user behavior on each step of their journey through the purchasing process. It tracks customers even if it takes them multiple visits, or days, to complete their purchase.
You can quickly view the pages they visited, the products they viewed and added, and how long it took for each step related to checkout and payment.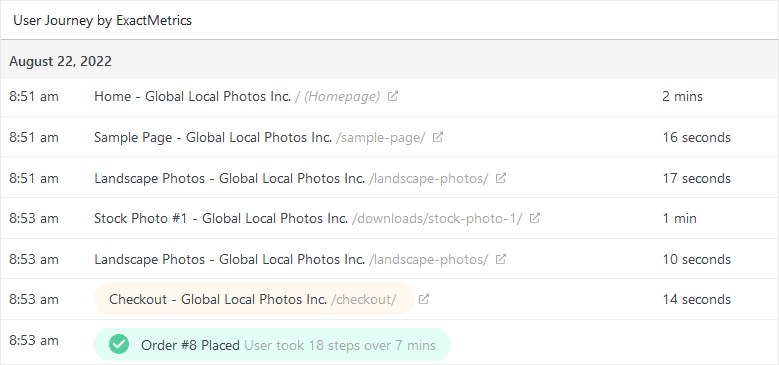 These in-depth details show you potential snags in your eCommerce funnel, so you can fix them and create an optimal customer experience.
Here are some common scenarios that you'll be able to troubleshoot:
Buyers spend a long time looking at certain products, then move on to buy something else. Maybe the product images or descriptions need work? Or your product selection isn't ideal for your target audience?
Customers use the back button frequently to return to product or category pages, slowing down progress. You might want to add popular products to the bottom of individual product pages, or add breadcrumbs, to streamline buyer navigation.
A particular blog post that links to a product page converts more readers into buyers than any other post. Can you create more content that is similar to the high-converting post?
There's no end to the useful information you'll discover in the User Journey addon. You'll be able to solve problems with online sales that you probably weren't even aware of.
Activate the new User Journey addon today and boost eCommerce earnings from customers who are already on your site!
The expanded User Journey addon is available in ExactMetrics now, so get started today.
Don't forget to follow us on Twitter and Facebook to see all the latest announcements and Google Analytics tutorials.